Low-FODMAP Curry Chicken and Potatoes using Slow-Cooker; Gluten-free, Dairy-free
January 1, 2019
Printer Friendly Version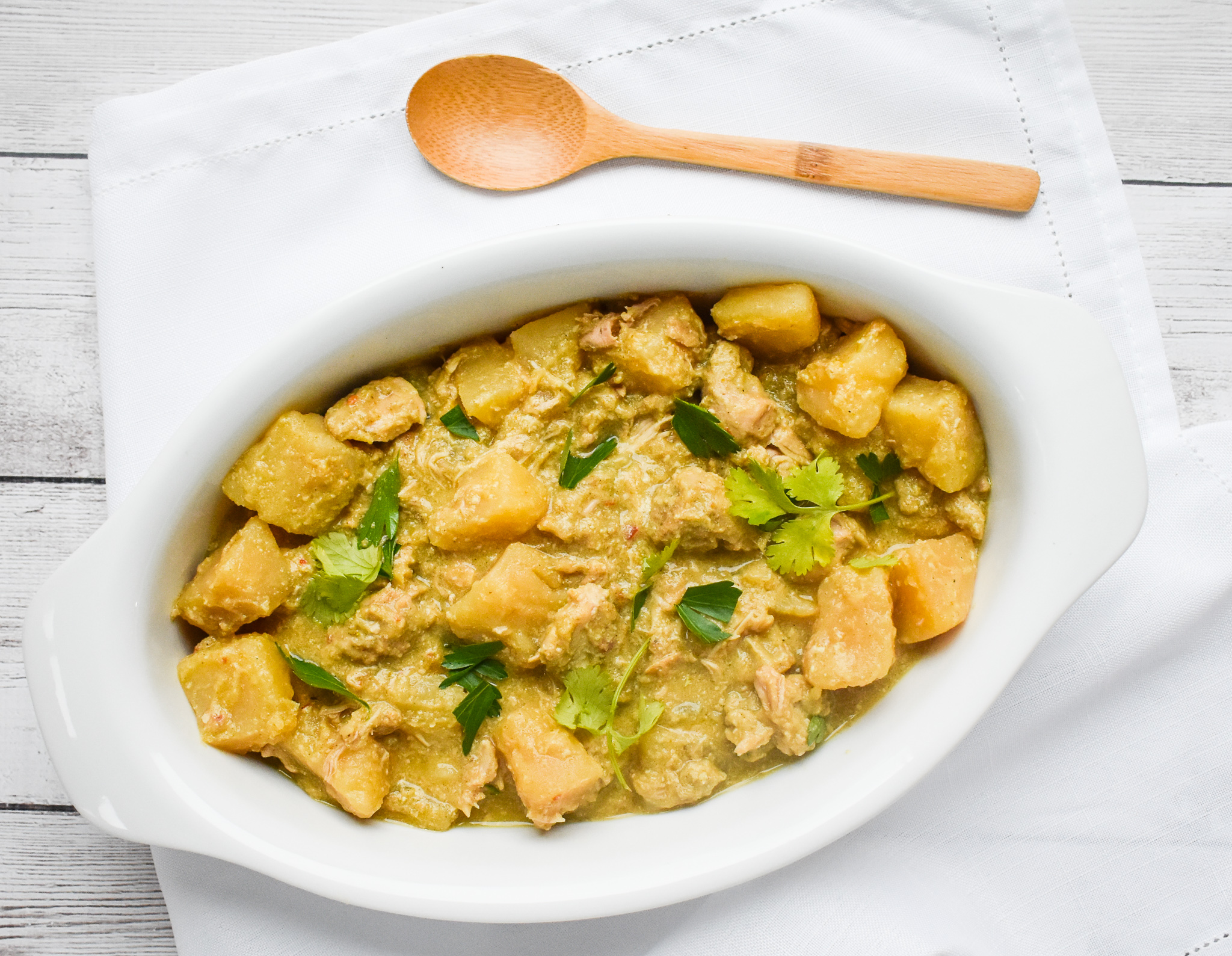 Hearty and flavorful. This recipe for low-FODMAP Curry Chicken and Potatoes is a wonderful meal on a chilly night.  Using the Slow-Cooker makes prep a dream.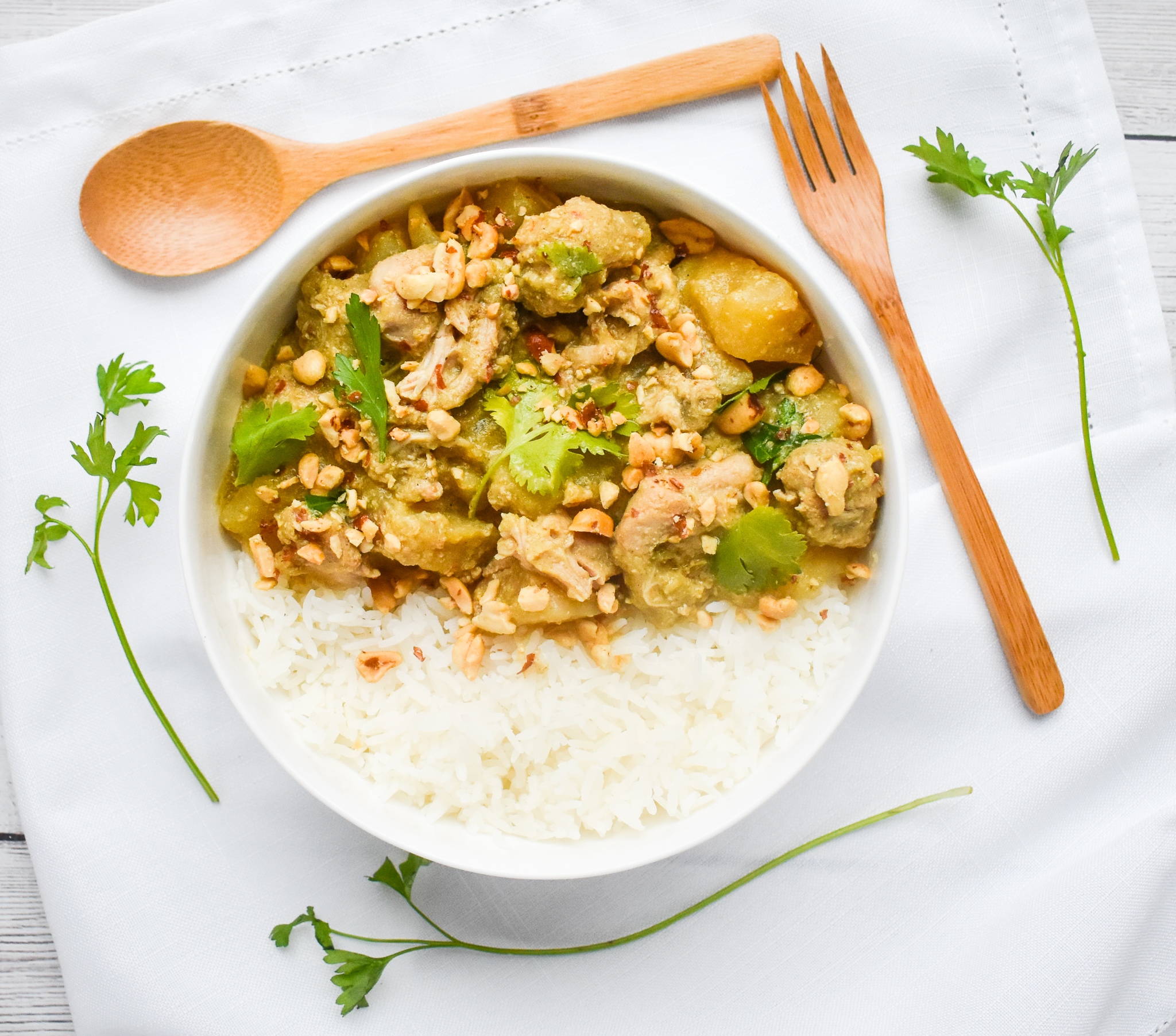 Curries contain a medley of spices with health benefits- stemming from anti-inflammatory and antioxidant properties, which can help digestion, reduce risk of cancer and improve memory.  Plus they taste amazing.
Check out my other recipes for low-FODMAP Slow Cooker meals like low-FODMAP Chili, low-FODMAP Baby Back Ribs and low-FODMAP Sweet and Sour Meatballs.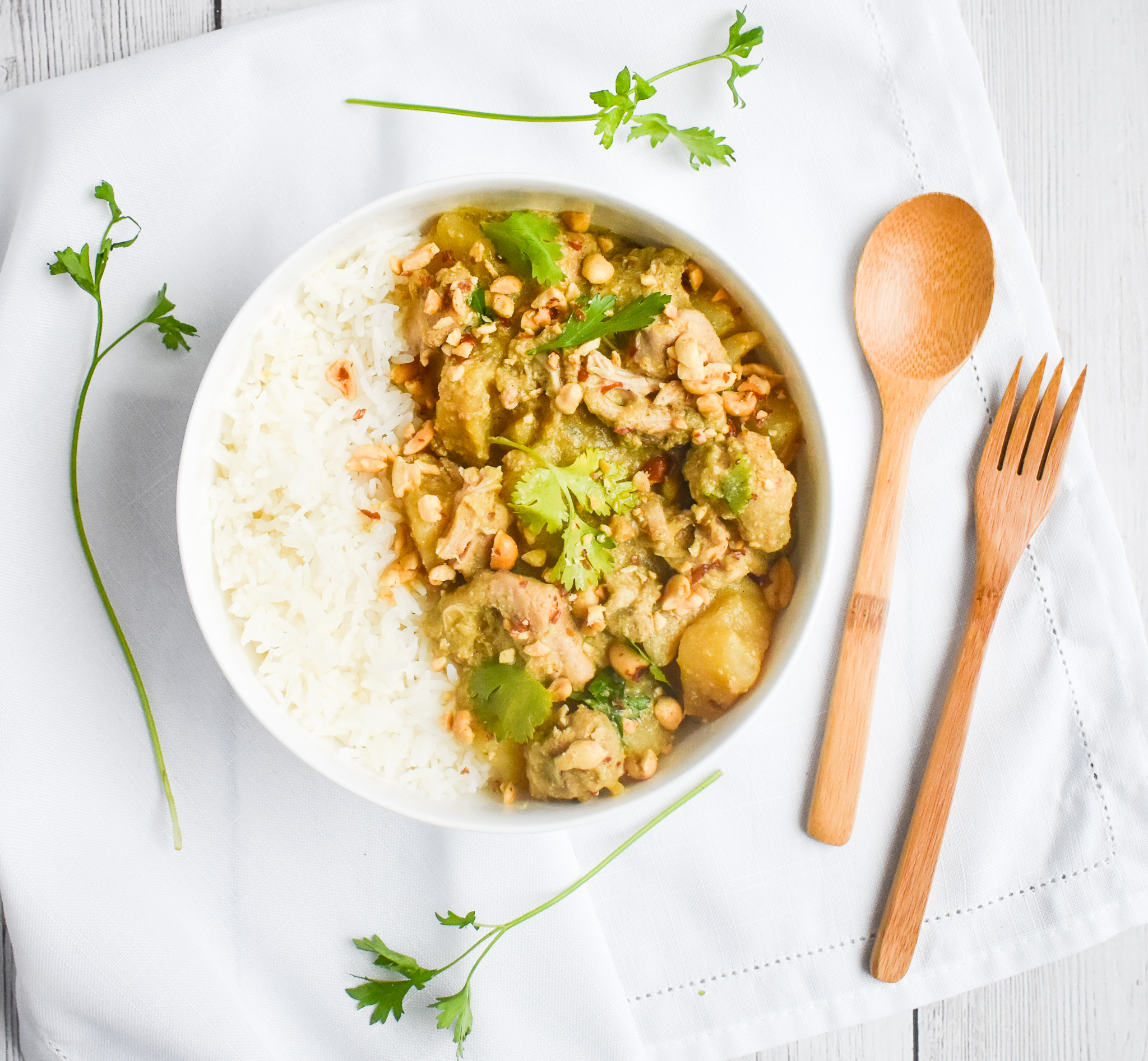 Or try one of the other recipes on the blog- we have over 450 more low-FODMAP recipes!
Be healthy and happy,
Rachel Pauls, MD
---
Low-FODMAP Curry Chicken and Potatoes using Slow-Cooker; Gluten-free, Dairy-free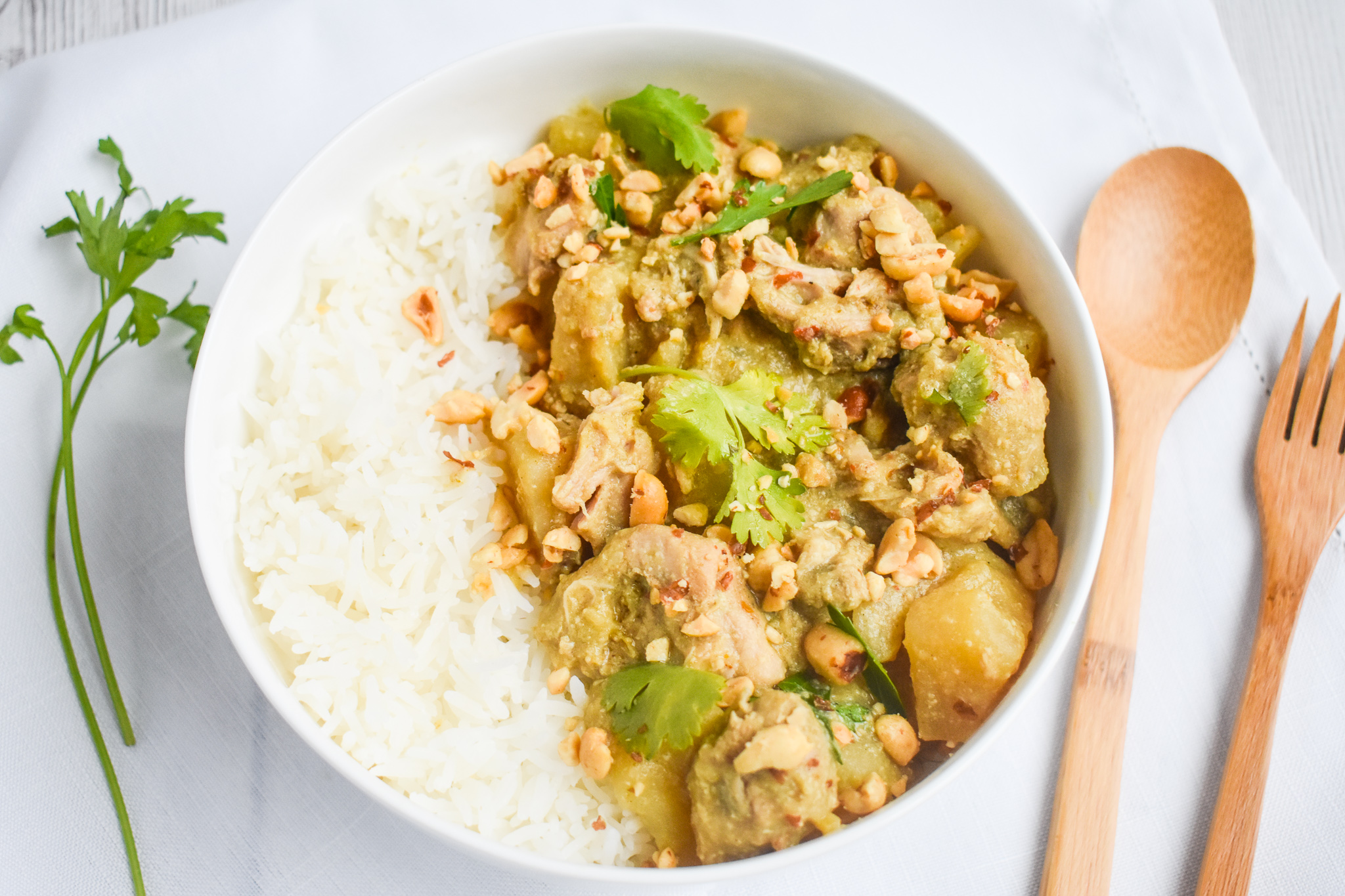 Although this recipe has not been tested, a single serving should be low-FODMAP based on the ingredients
Serves 7-8
Prep time: 20 Mins
Cook time: 4 hours
Total time: 4 hours, 20 min
Ingredients
3-4 medium russet potatoes, peeled and cut into 1½-inch pieces
3 tablespoons chopped fresh ginger
2 tablespoons yellow curry powder (check no high-FODMAP additives)

Mine contained: spices, turmeric (no onion or garlic)

1/2 teaspoon crushed coriander
1/2 teaspoon crushed red pepper
1 teaspoon kosher salt
1/2 teaspoon black pepper
2 tablespoons brown sugar
6 (about 1.5 lbs) boneless chicken thighs (skin on or off); cut into chunks

can also use chicken breasts, but the meat will be slightly more dry

1 (14-oz.) can unsweetened full fat coconut milk

2 ounces is one low-FODMAP serving

½ cup low-FODMAP chicken broth (see my recipe link for my favorite way to make using a slow-cooker)
Freshly chopped cilantro, chopped parsley and chopped peanuts (optional) for serving
Directions
Place the potatoes in a 6-quart slow cooker
Mix the ginger, curry powder, red pepper flakes, brown sugar, coriander, salt, and pepper in a large bowl
Add the chicken and toss to coat
Place the chicken in the slow cooker, pouring over any loose spice
Add the coconut milk and low-FODMAP chicken broth
Cover and cook until the chicken is tender and cooked through, on low for 6 to 7 hours or on high for 4 to 5 hours
Garnish the curry with chopped cilantro, parsley and chopped peanuts
Serve over steamed rice or low-FODMAP Rice-Quinoa medley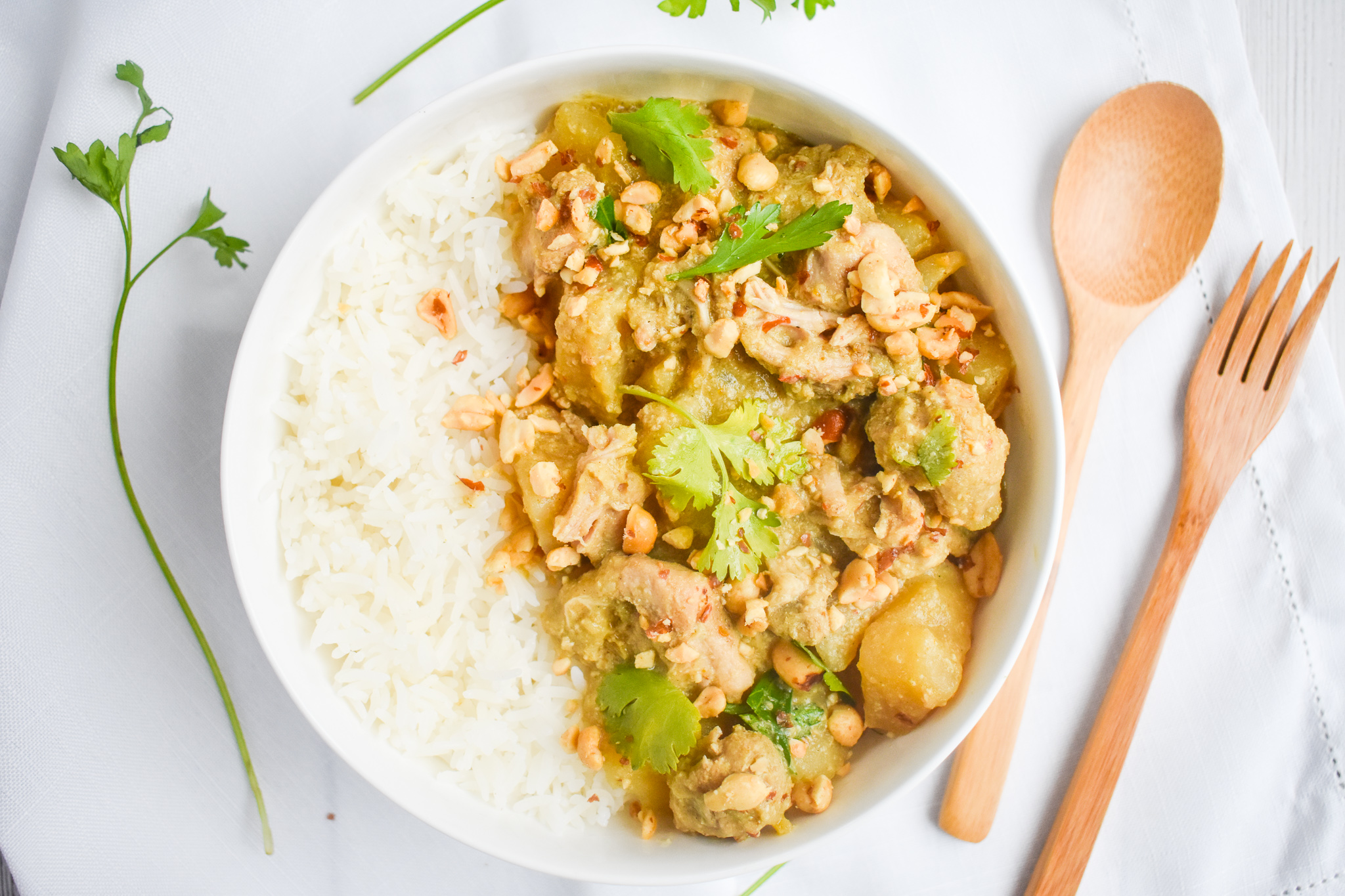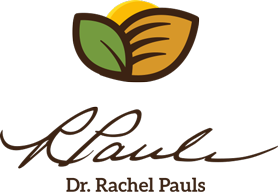 Printer Friendly Version
Comments Rating
( reviews)