Low-FODMAP Crunchy Thai Peanut Salad; Gluten-free, Vegan
April 1, 2023
Printer Friendly Version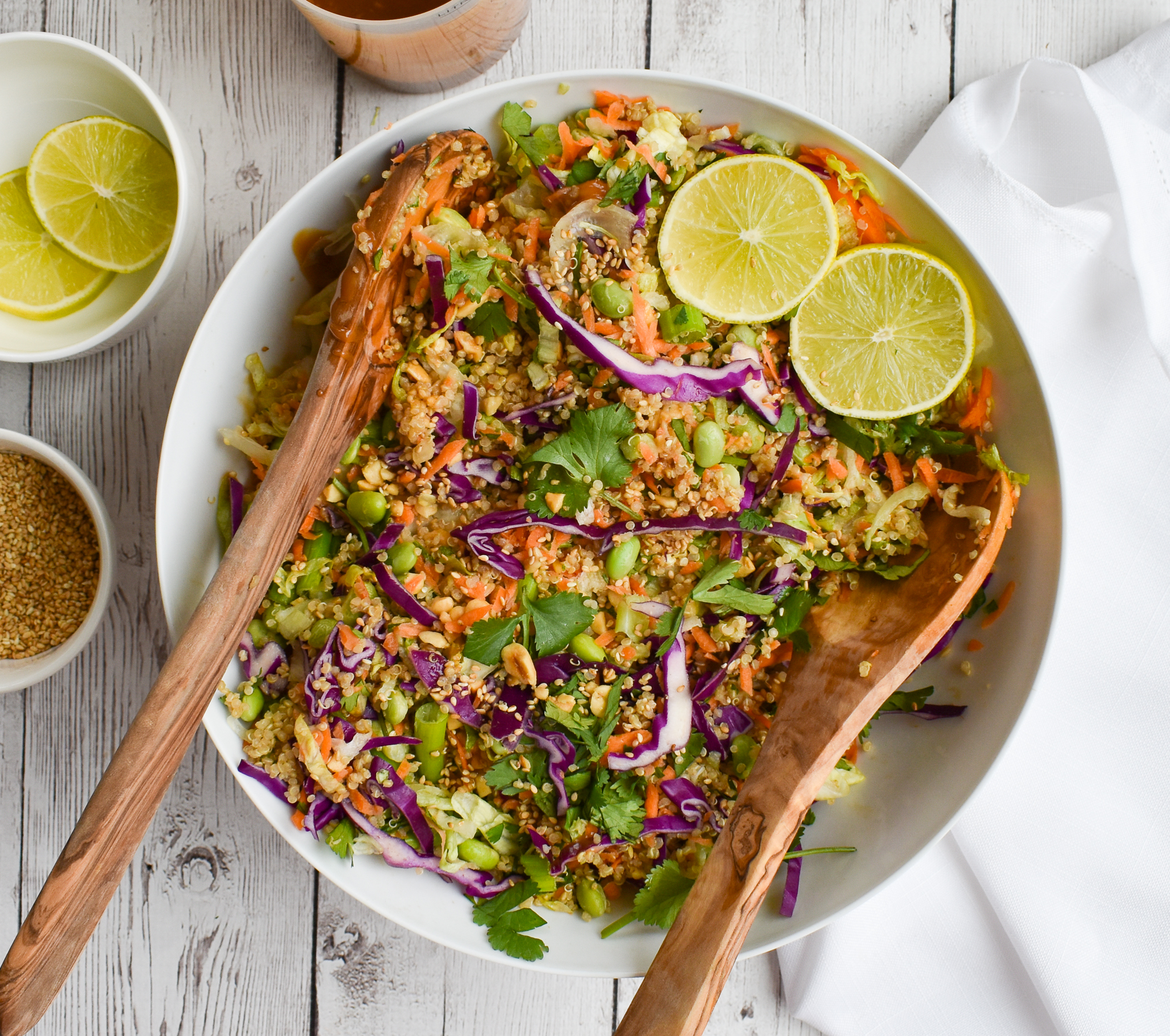 Low-FODMAP Thai Peanut Salad.  Is your mouth watering yet?
These photos say it all.
Crunchy.
Savory.
Peanutty.
Flavorful.
Low-FODMAP Thai Peanut Salad is loaded with vitamins, fiber, and antioxidants, plus it is gluten-free and vegan.
A true winner for any event.
I use my super delicious low-FODMAP Asian Peanut Salad Dressing for the topping, and layer this salad with lettuce, cabbage, carrots, scallions, and cilantro.  Warm quinoa and edamame provide hearty protein and more texture, while the peanuts and seeds add flavor and crunch.
You really will love this recipe.  And so will your tummy!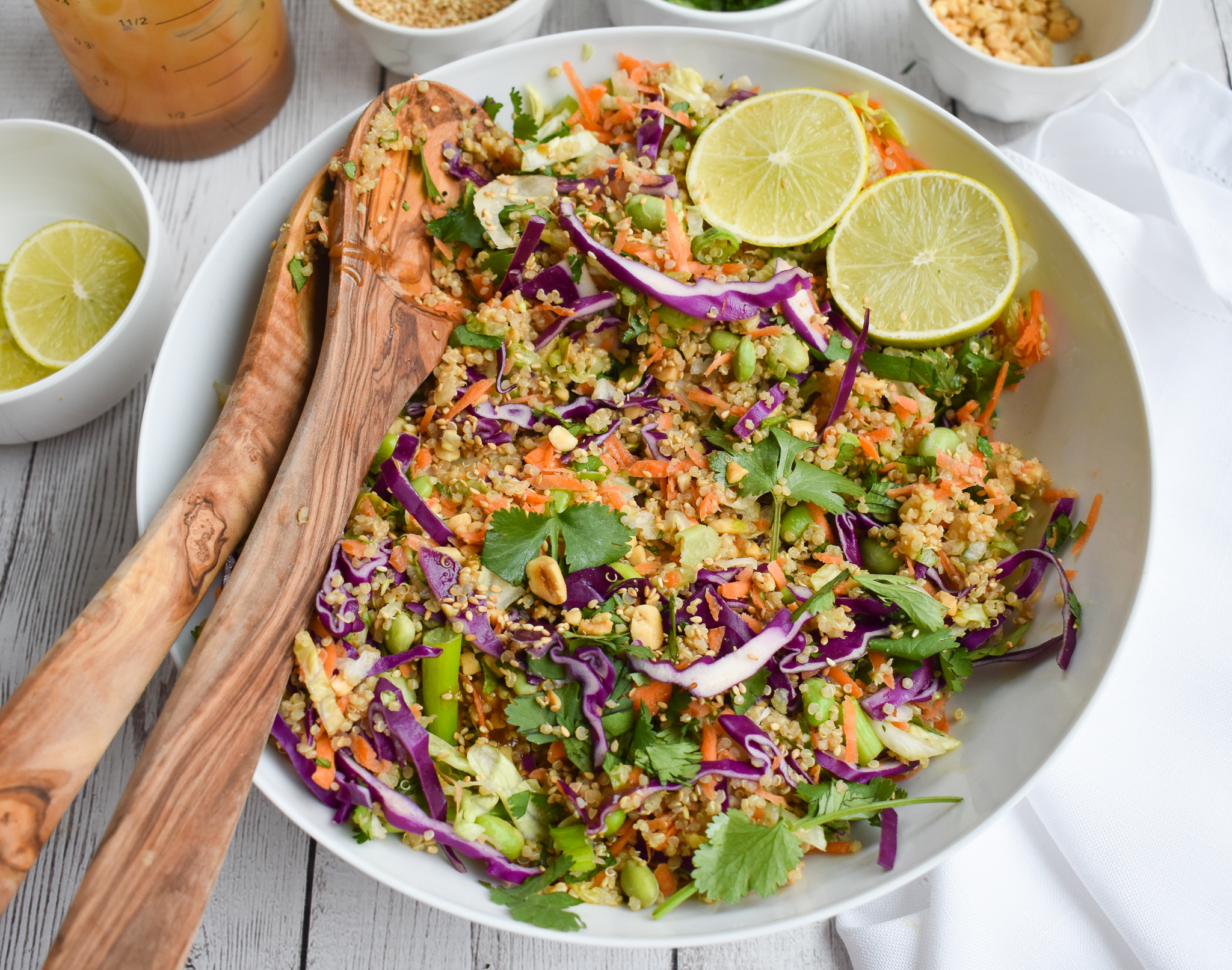 If you are wondering about soy and the low-FODMAP diet, I completely understand that you could be confused.  Some types of soy are more easily digested than others, so you have to pay attention to the nature of the soy you are eating.   Here are some examples:
Mature whole soybeans contain the fiber from the soy, which is high in GOS and fructans. Therefore, these foods are high in FODMAPs

Examples: soy milk made with whole soybeans, and soy flour

Immature whole soybeans are picked before they have finished ripening, so their FODMAP content is lower than mature soybeans
Sometime soy protein is available without the FODMAP-containing fiber and thus tests lower in FODMAPs

Example: soy milk made with soy protein.  Soy milks in the U.S. would not meet this criteria, but could pass in other countries

Soaking soy for a long time leaches the FODMAPs from the final product

Examples: tempeh, extra-firm tofu

Soy processing that does not involve this soaking process is not low FODMAP

Examples: soft and silken tofu

Fermenting soybeans reduces the FODMAP content
Try some of my other amazing low-FODMAP Asian recipes after you enjoy this meal!
You may also love:
Or check out over 500 more low-FODMAP recipes on the blog.  IBS-friendly!
Be healthy and happy,
Rachel Pauls, MD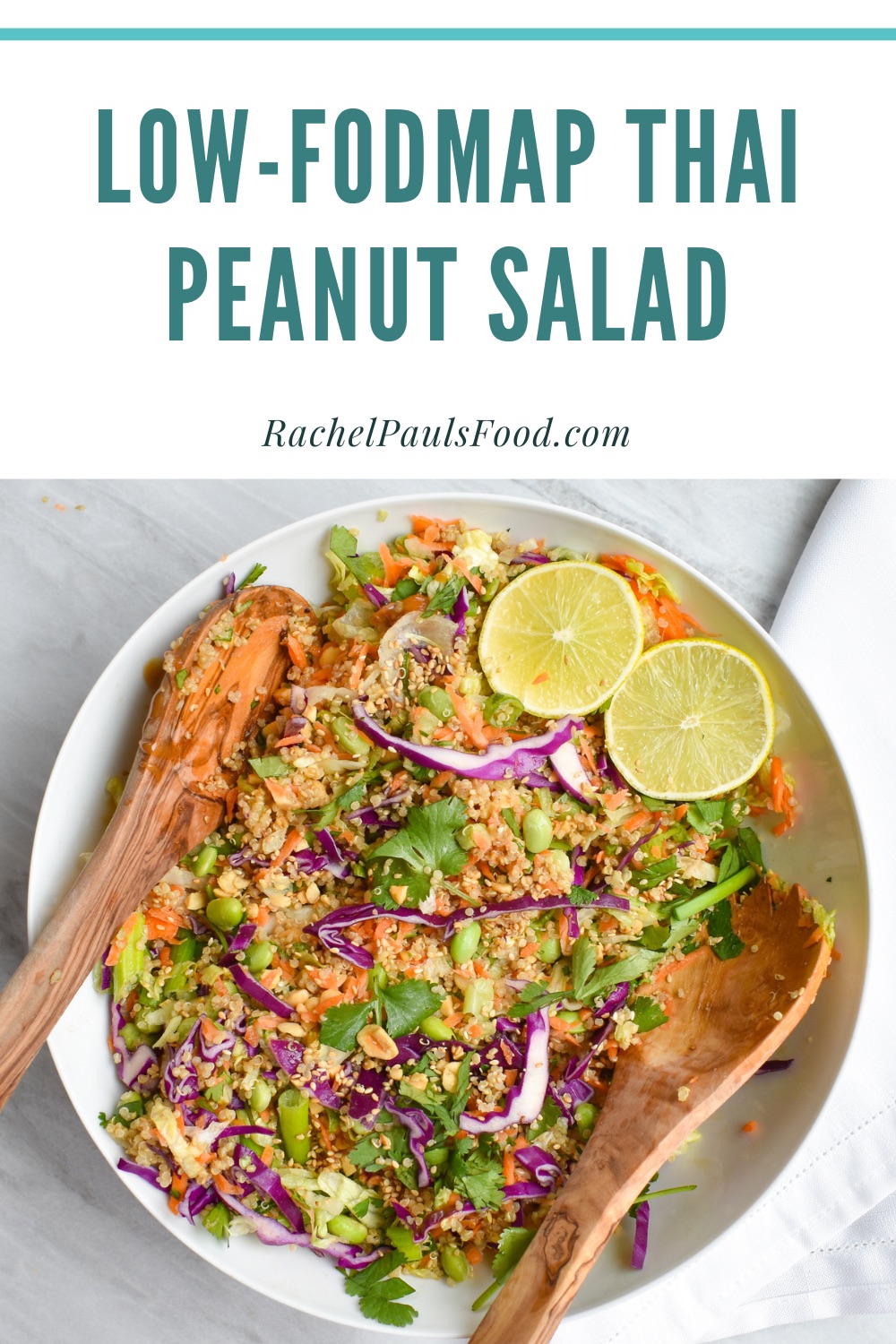 Although this recipe has not been lab tested, a single serving should be low-FODMAP based on the ingredients (*using available FODMAP data at time of posting)
Serves: 8-10
Prep time: 10 min
Cook time: 15 min
Total time: 25 min
Ingredients
Low-FODMAP Asian Peanut Salad Dressing, prepared

If you like a lot of dressing, then double the recipe

12 ounces (340g) edamame, frozen

90 grams is one low-FODMAP serving due to fructans

1 cup dry quinoa, uncooked
4 cups (300g, 10 oz) iceberg lettuce, finely chopped or shredded

Only trace FODMAPs are found in iceberg lettuce

2 cups (200g, 7oz) red (purple) cabbage, finely chopped or shredded

3/4 cup (75g) is one low-FODMAP serving due to fructans

2 cups carrots, finely grated (300g, about 3 large carrots)

Trace FODMAPs are detected in carrots

1 bunch cilantro, roughly chopped

Discard the leaves, you will have about 1 cup of cilantro
One cup (16g) is one low-FODMAP serving

1 cup (50g) green scallion tips (about 8 scallions, tips only)

75 g is one low-FODMAP serving due to fructose
The green scallion is low in FODMAPs.  Do not substitute the bulb!

8 tablespoons (90g) roasted and unsalted peanuts, chopped

Only trace FODMAPs are found in peanuts

4 tablespoons (44g) toasted sesame seeds

Less than 66g is one low-FODMAP serving
Directions
In 2 separate saucepans, cook your edamame and quinoa according to the package instructions, or use the microwave
While this is cooking, prepare your Low-FODMAP Asian Peanut Dressing (if not already done so) and all of the veggies (iceberg, cabbage, carrots, green onion, cilantro)
Place the vegetables in a large salad bowl (about 17 inch size)
Drain the edamame and toss this into the bowl with the quinoa, then the peanuts and seeds, then drizzle or toss with dressing (you may have leftover dressing)
Serve immediately, or refrigerate until ready to eat
SO GOOD! Delicious hot or cold.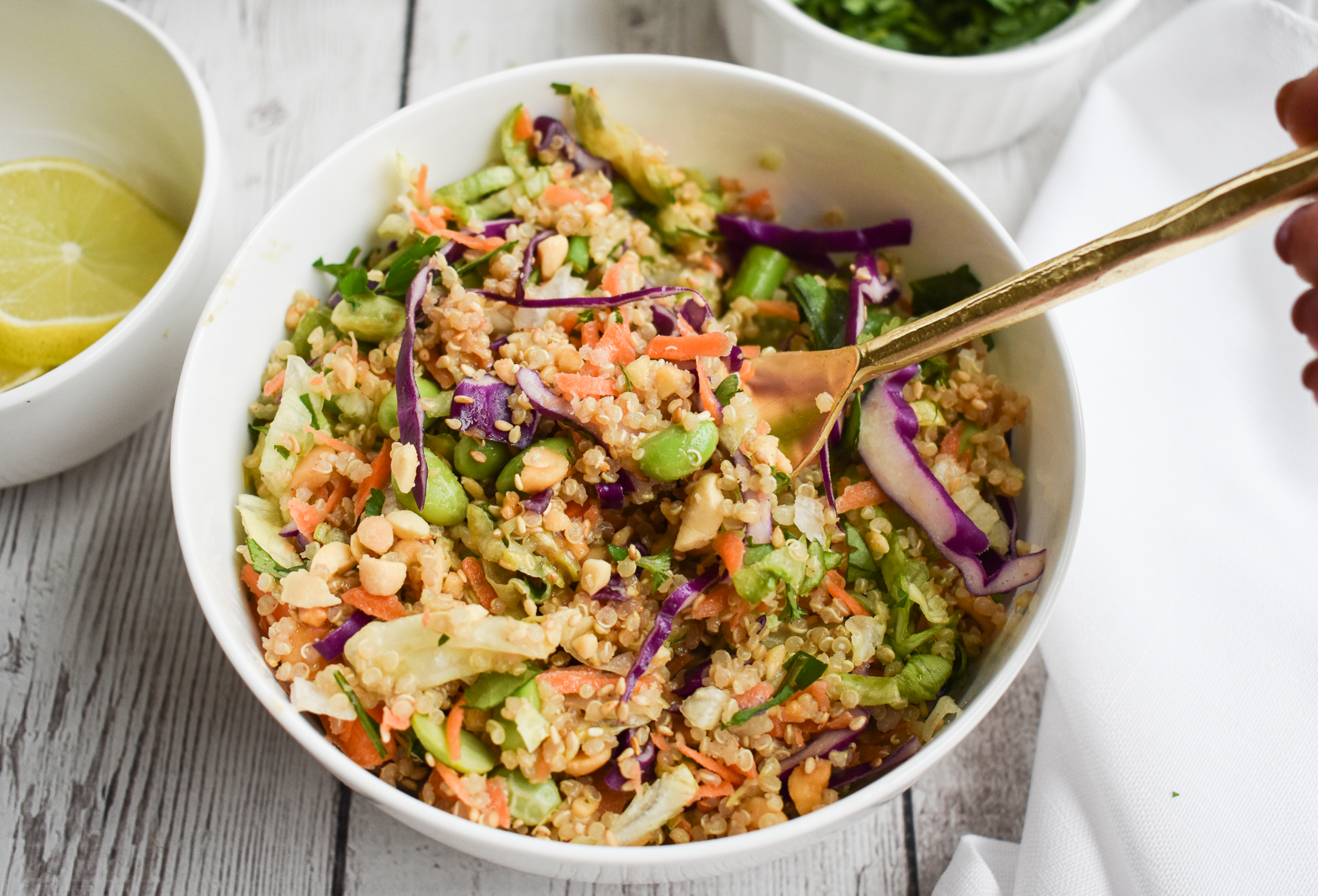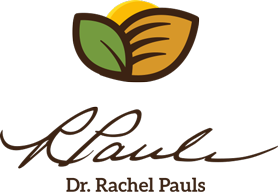 Printer Friendly Version
Comments Rating
( reviews)