Low-FODMAP Corn Dogs; Gluten-free, Dairy-free
May 28, 2022
Printer Friendly Version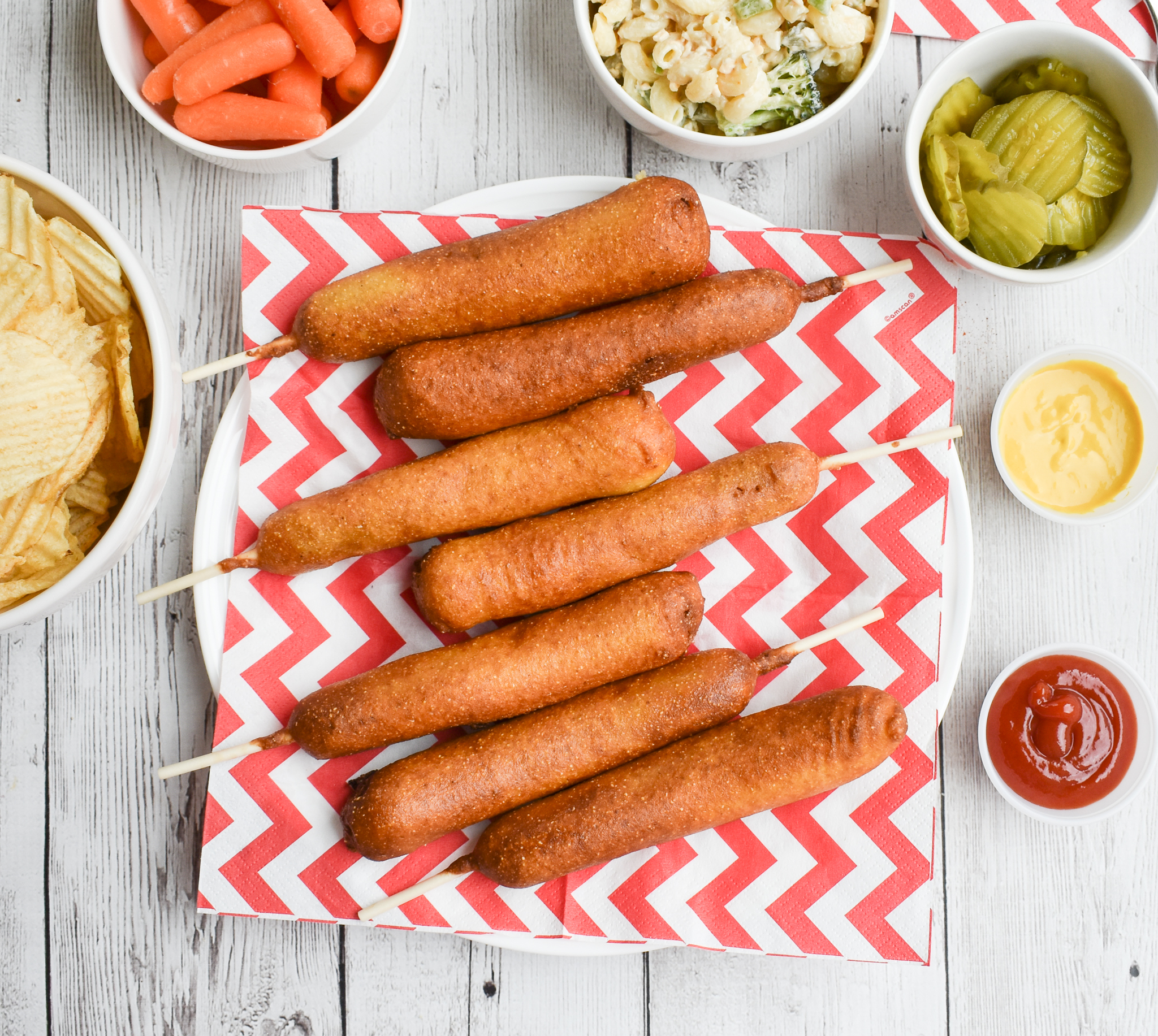 I couldn't resist.
When my youngest son told me that corn dogs are his favorite lunch in the school cafeteria, I knew I had to create a low-FODMAP, gluten-free version for my blog.
You heard that?!
Corn dogs.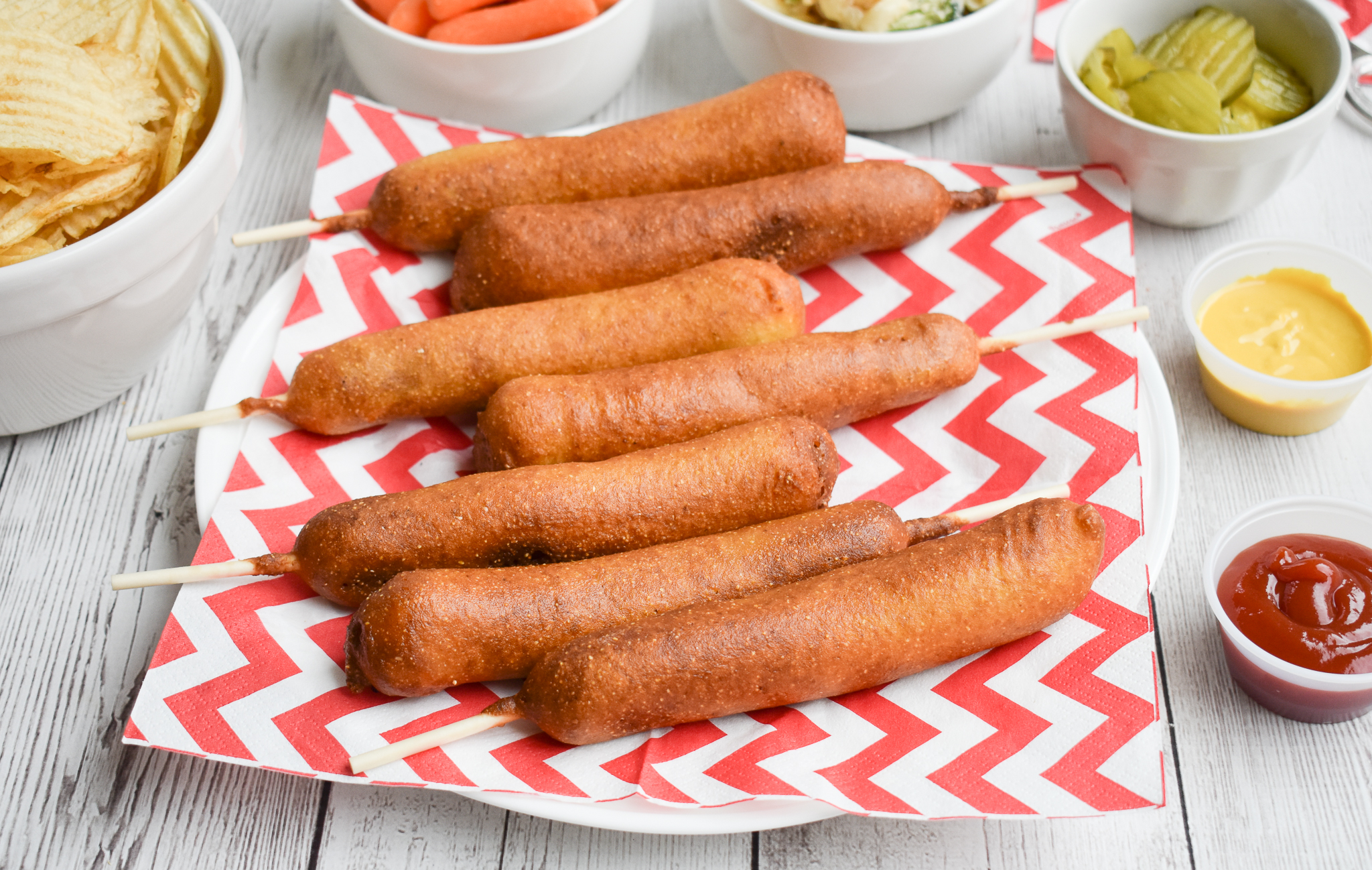 Not a healthy food,
Certainly not a 'diet' food.
But a delicious, summertime, kid-friendly food, that we all know and love.
Why not enjoy these on the low-FODMAP diet?  YOU CAN.
This is a recipe for the kid in all of us.  Yum.
Note: If high fat food is a trigger for your IBS, then avoid this recipe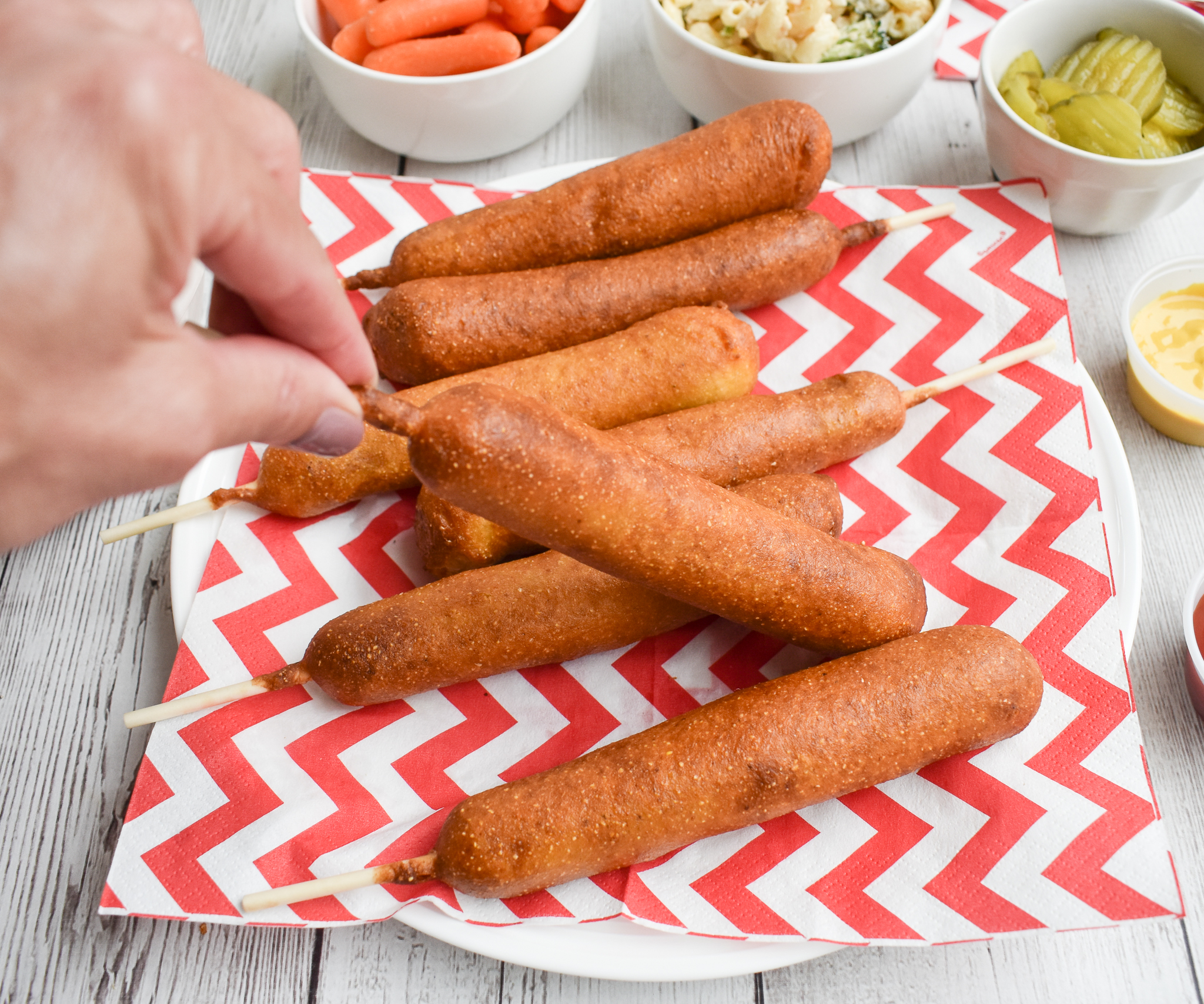 You may also love:
Or check out over 450 more low-FODMAP recipes on the blog.  IBS-friendly!
Be healthy and happy,
Rachel Pauls, MD
P.S.  Check out my new COOKBOOK for over 100 low-FODMAP recipes, low-FODMAP Meal Plan, FODMAP Tips and everything you need!!  It's the BEST!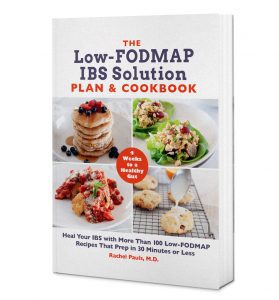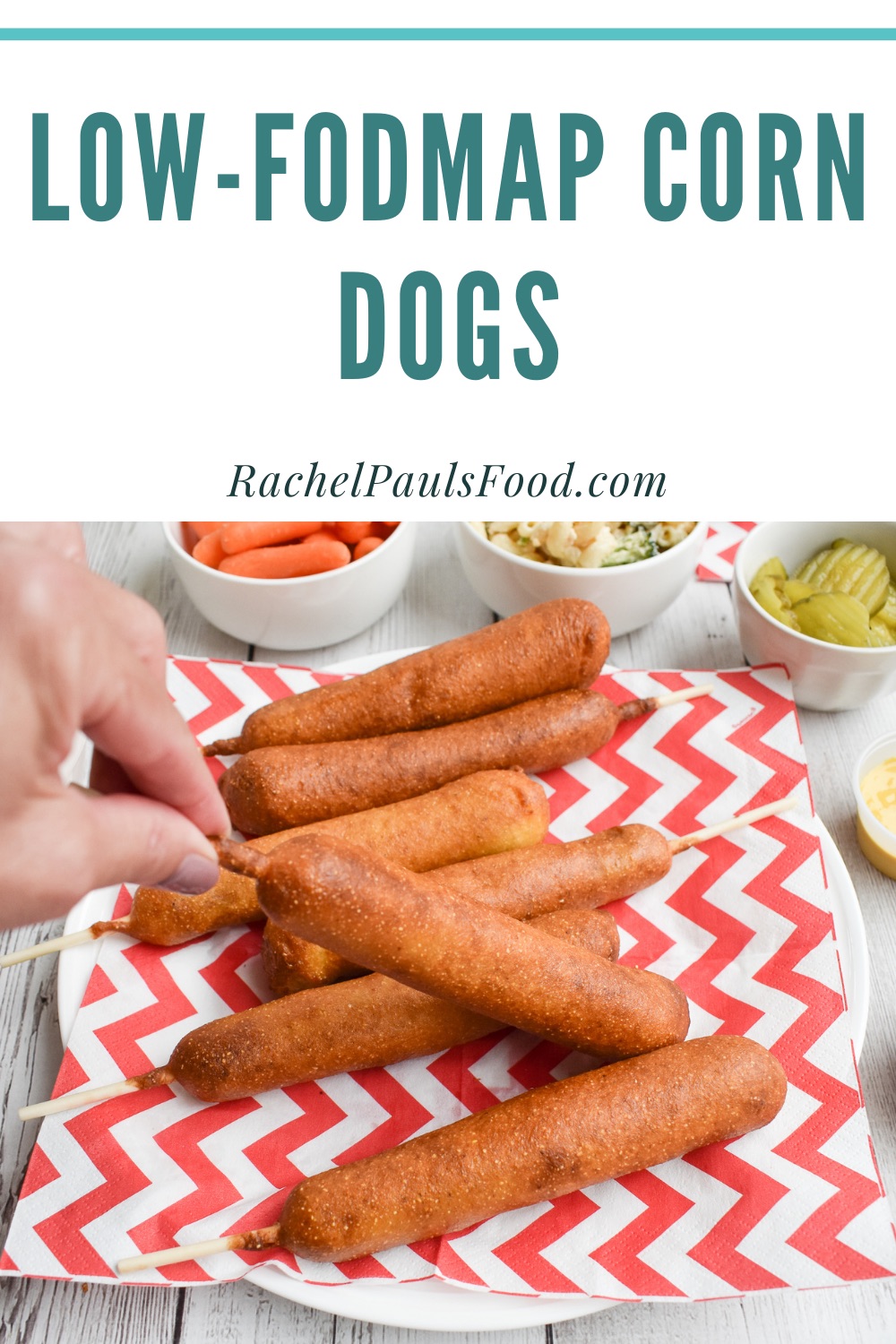 Although this recipe has not been lab tested, a single serving should be low-FODMAP based on the ingredients (using available FODMAP data at time of posting).  Note: if you don't tolerate high fat foods due to your IBS, then avoid this recipe
Serves: 8
Prep time: 15 min
Cook time: 20 min
Total time: 35 min
Equipment: Large pot or Dutch Oven for frying, lollipop sticks or bamboo skewers, tall glass or bottle for batter
Ingredients
8 low-FODMAP, gluten-free hot dogs (1 standard package)

Jumbo hot dogs are easier to skewer and pick up when done, I recommend those over standard sized dogs

1 & 1/4 cups gluten-free cornmeal (select a fine grind)
1 & 1/4 cups Authentic Foods GF Classical Blend (this does not contain added xanthan gum or leaveners)

If you don't have this, then substitute 1 cup superfine rice flour, 2 tablespoons potato starch and 2 tablespoons tapioca starch or flour

2 tablespoons sugar
2 teaspoons baking powder
1/4 teaspoon kosher salt
1 large egg, room temperature
1 cup low-FODMAP milk mixed with 1 tablespoon of white vinegar or lemon juice to create a 'buttermilk', room temperature

Options for low-FODMAP milk include unsweetened almond milk (dairy-free) or lactose-free milk

2 teaspoons olive oil
2 tablespoons maple syrup
Frying oil, 2-3 cups depending on your pot

Select your preferred high smoke point oil, for deep frying (I use canola oil or peanut oil)

8 lollipop sticks or bamboo skewers
Note: You will have extra batter, since dipping the dogs requires the glass to be full.  I suggest making bite-sized corn dogs (cut wieners in half and spear with toothpicks), or frying low-FODMAP pickles with remaining batter -yum!
Directions
Pour oil in your pot or Dutch oven to 2-3 inches deep
Set up a wire rack or paper towel lined plate
Warm oil to 350˚F over medium to medium high heat

I recommend using a cooking thermometer if you don't have a deep fryer

While oil is warming, pat hot dogs completely dry with paper towels, then insert a lollipop stick or bamboo skewer into each hot dog. Make sure the sticks are deep enough that the dogs lay flat in your Dutch oven
Whisk together dry ingredients ( low-FODMAP, GF flour(s), cornmeal, sugar, baking powder and salt)
In a second larger bowl, whisk together wet ingredients (low-FODMAP buttermilk, egg, oil and maple syrup)
Pour dry ingredients into the wet ones and whisk to combine
Pour batter into a tall narrow glass or bottle (with a mouth wide enough to fit your hot dog easily) almost to the top
Slowly dip hot dogs one by one, then place immediately into the oil

You want to put the hot dog straight down into batter and give it a little twirl to fully coat, then spin gently as you lift up. Let excess drip off
If there are air bubbles, then dip again and repeat process of twirling (I found this video very helpful)

Hold corn dog at an angle in the hot oil for 5-7 seconds to let it seal, then drop into oil

If you don't ease them in the oil slowly then they will stick to the bottom of the pot

Fry until golden, about 3 minutes, turning as needed. You can do 2-3 at a time or one by one, just be aware that the more you crowd the pot, the lower the oil temperature will become

If the oil is too cold, the dogs will taste oily.  If too hot, they can burn

Transfer to a paper towel lined plate or wire rack to cool until all are finished
Serve immediately

For leftovers, heat in a preheated 300F oven until warmed through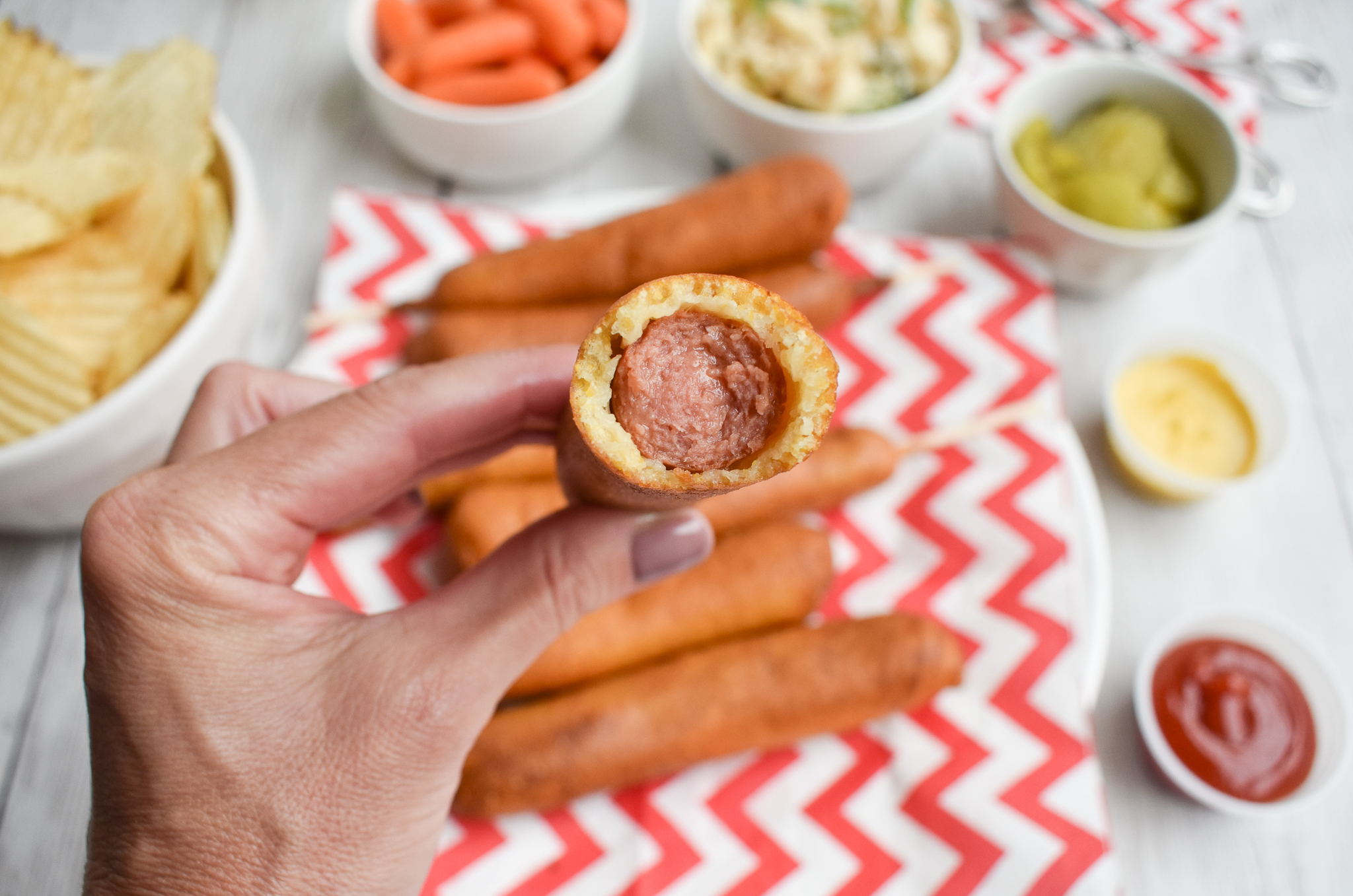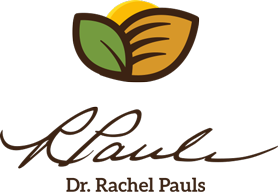 Printer Friendly Version
Comments Rating
( reviews)