Low-FODMAP 'Copycat' The Cheesecake Factory Original Cheesecake; Gluten-free, Lactose-free
May 19, 2019
Printer Friendly Version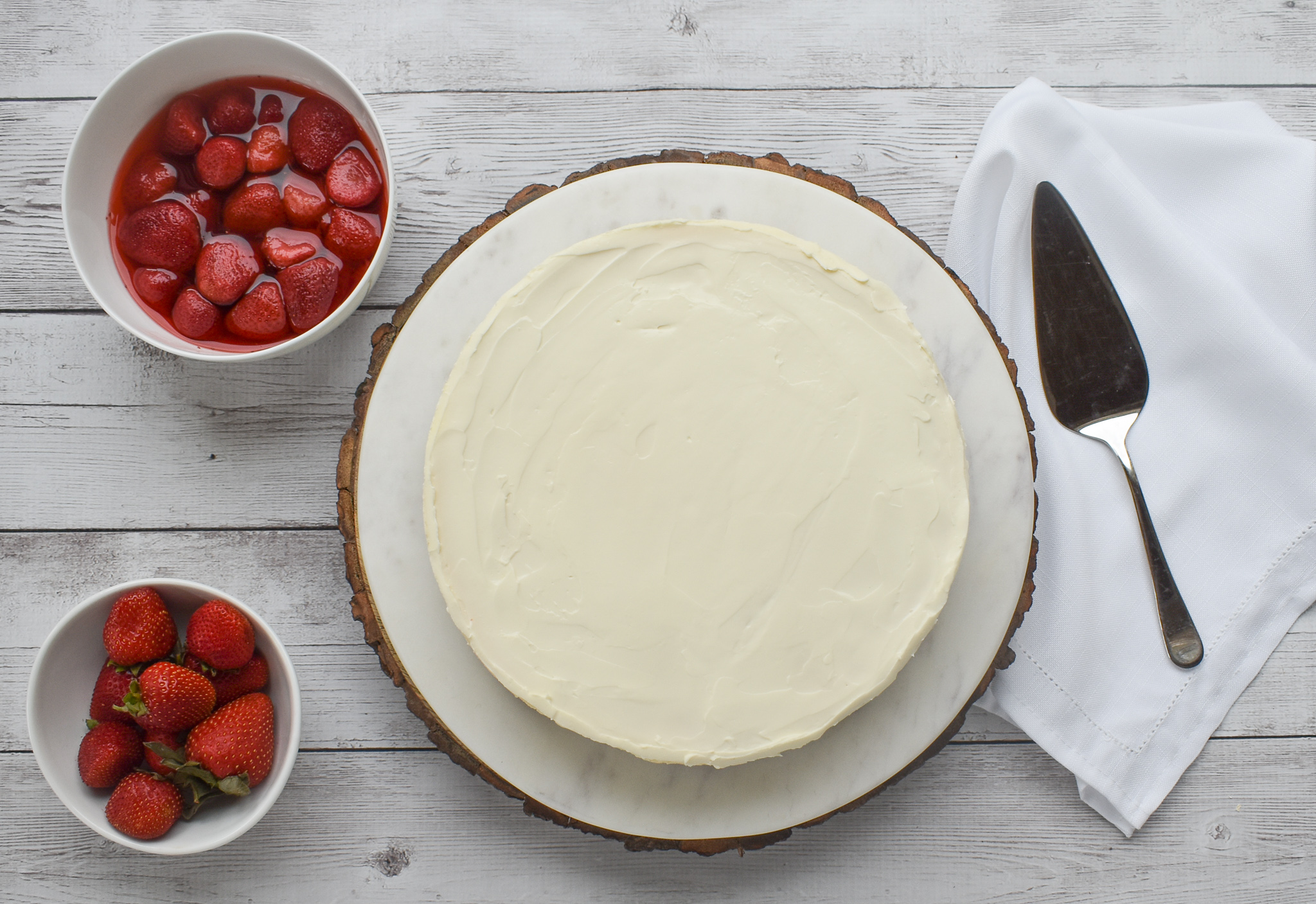 Who isn't a fan of The Cheesecake Factory?  What made them famous is their 'original' cheesecake, which this recipe creates in a low-FODMAP copycat version that is to-die-for.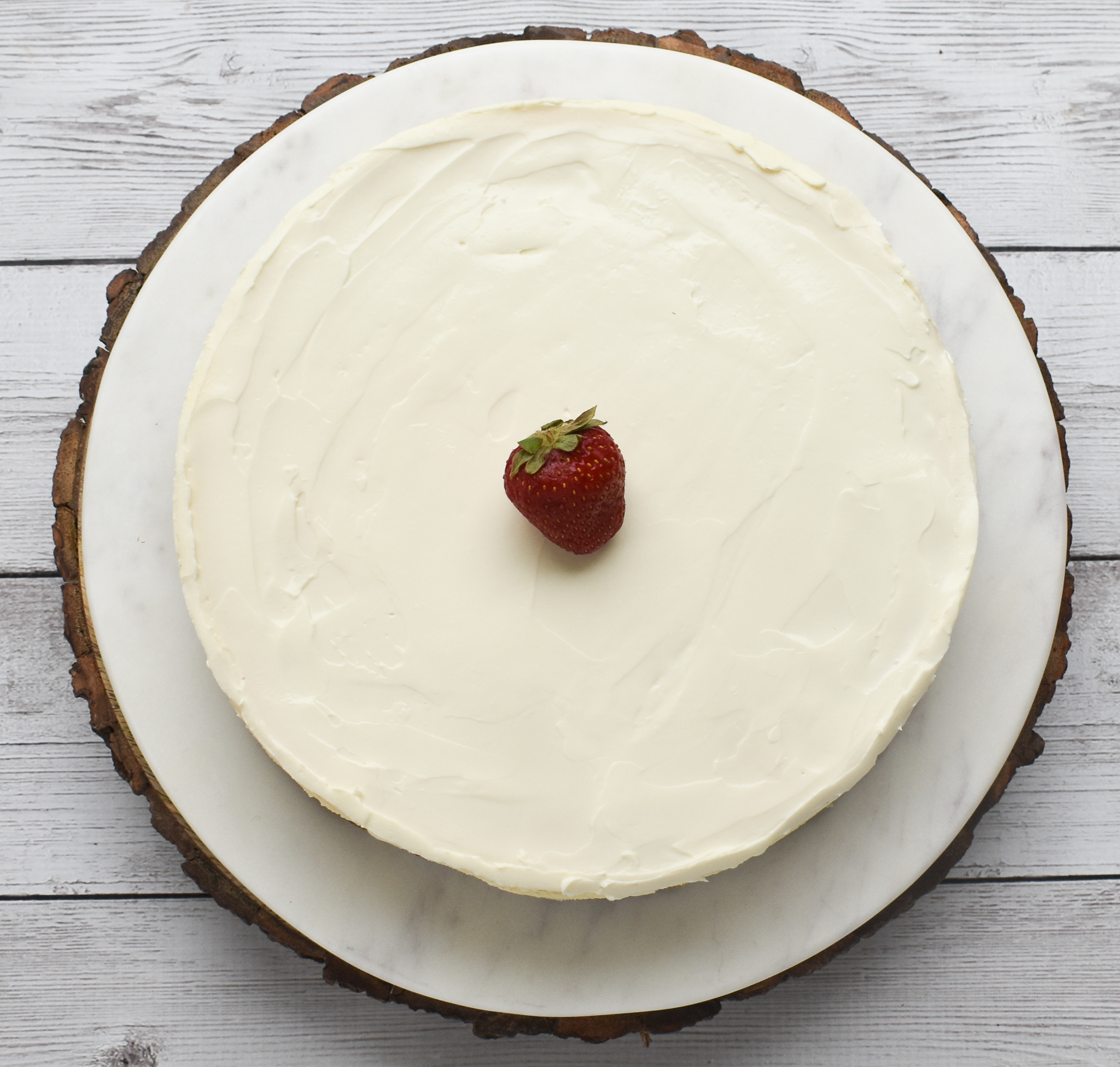 The availability of lactose-free dairy products means that those of us on the low-FODMAP diet don't have to deprive ourselves of our favorite treats!  The only thing that isn't absolutely copycat is the low-FODMAP crust.  Since graham crackers are not low-FODMAP I opted for my vegan, low-FODMAP Oat and Nut Crust instead.  So good.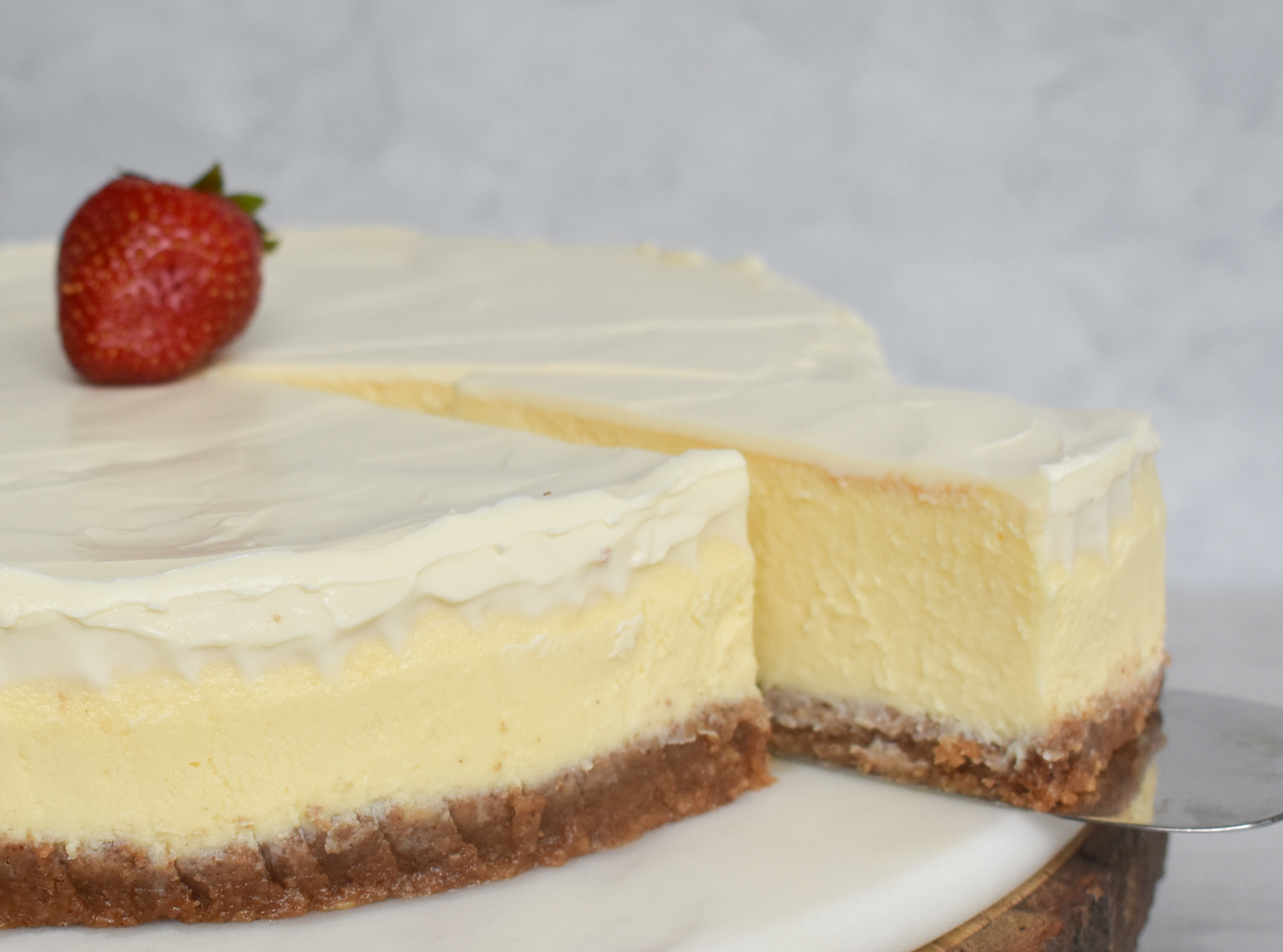 Side note: Green Valley Organics makes lactose-free cream cheese and sour creams and these are sold at Whole Foods and other stores.  I used their brand for this recipe.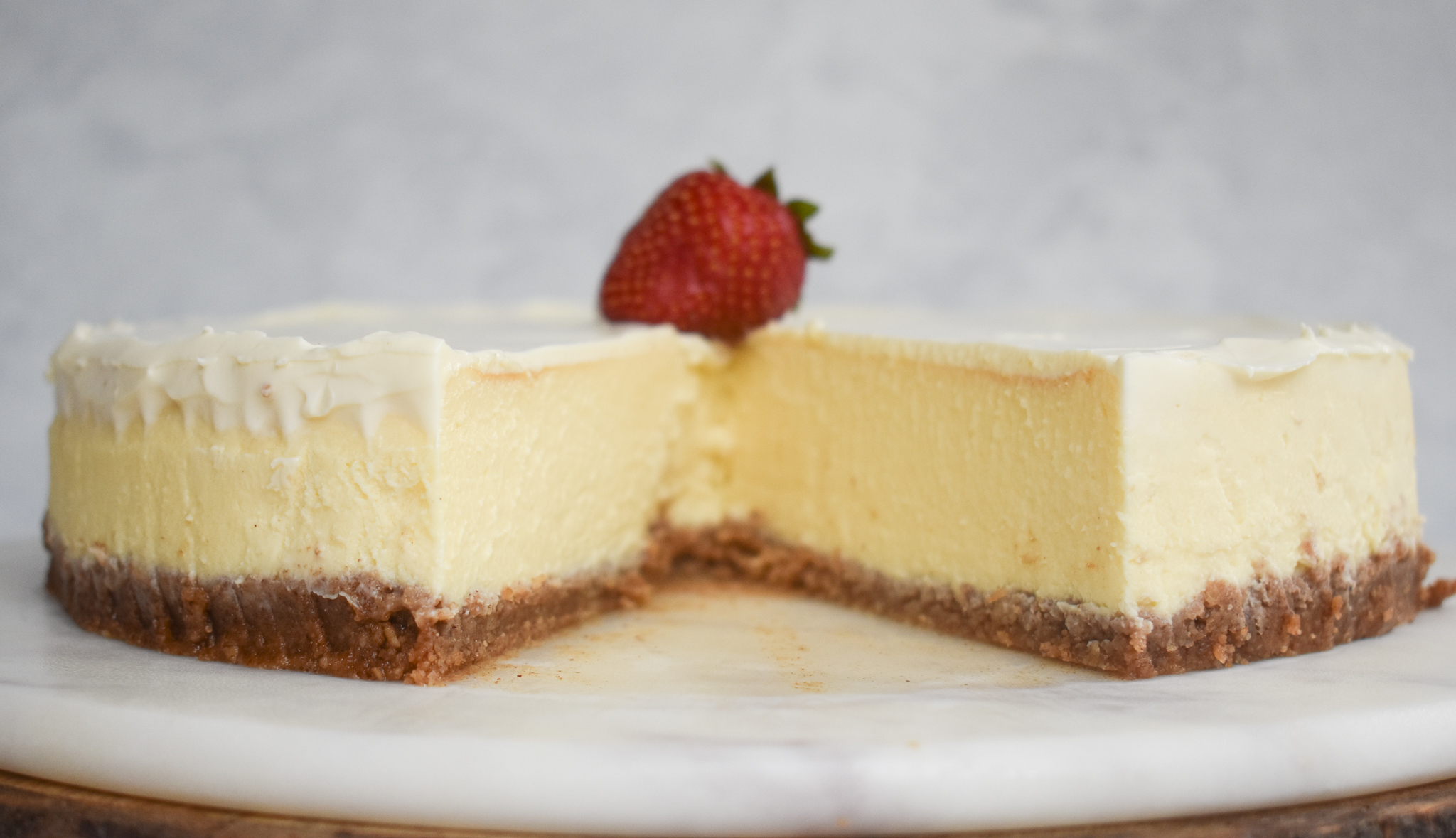 This low-FODMAP 'Copycat' The Cheesecake Factory Cheesecake recipe can be topped with low-FODMAP Strawberry Coulis, low-FODMAP Caramel Sauce, low-FODMAP Fudge, low-FODMAP Coconut Whipped Cream, or your preferred topping.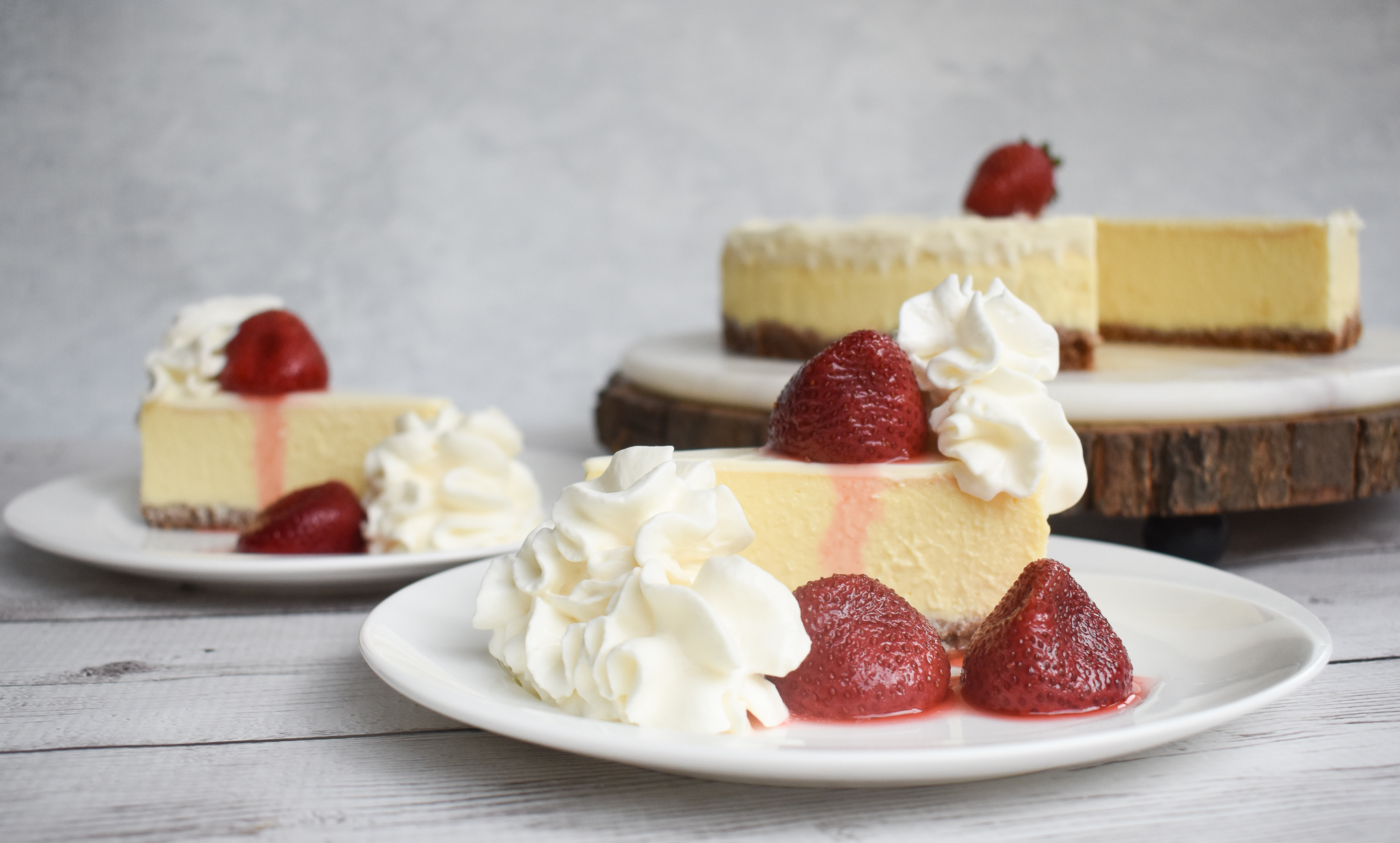 You may also love my low-FODMAP Chocolate Cake Pops and low-FODMAP 'Copycat' Starbucks Lemon Loaf recipes.  Or check out over 400 more low-FODMAP recipes on the blog.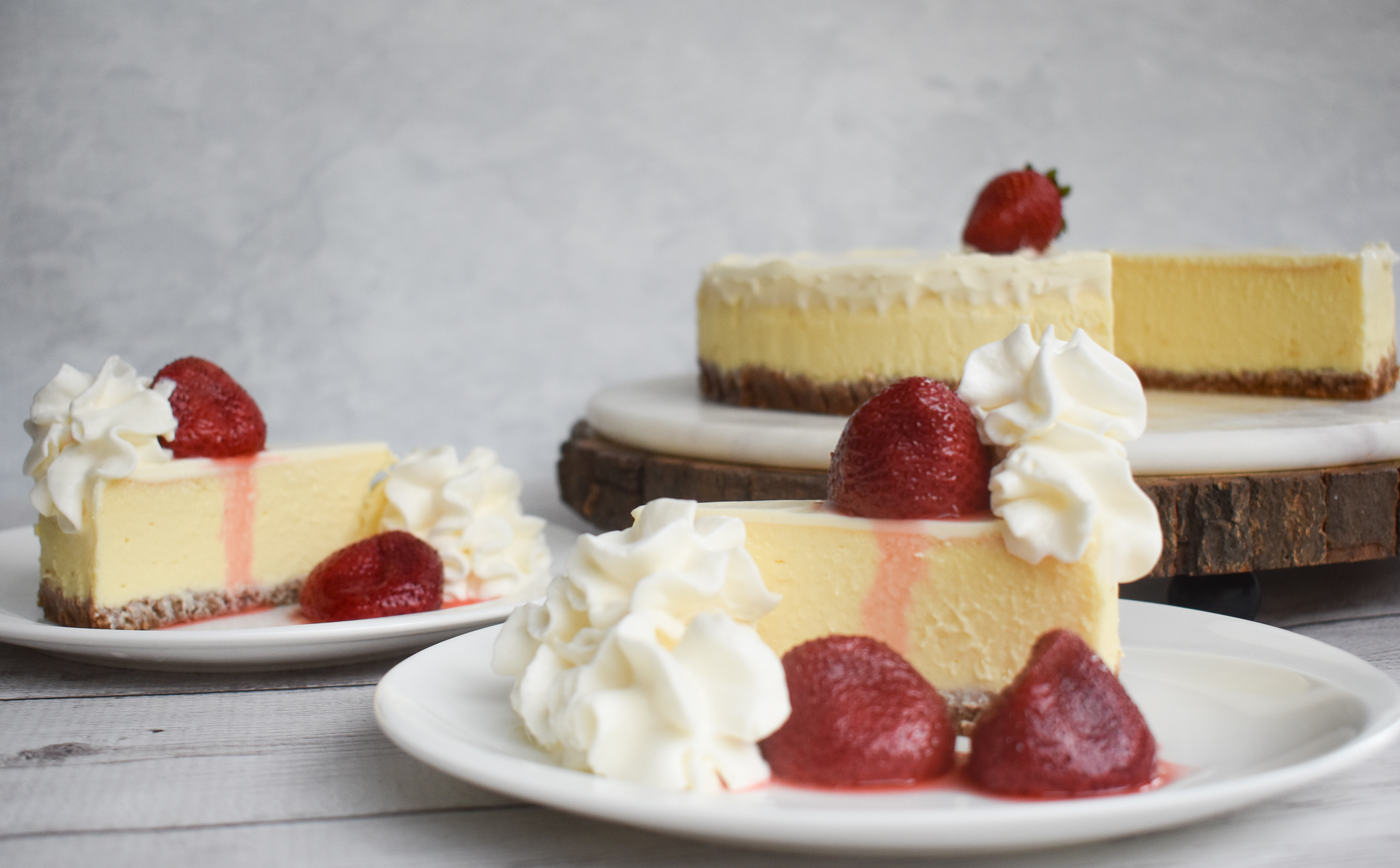 Be healthy and happy,
Rachel Pauls, MD 
---
Low-FODMAP 'Copycat' The Cheesecake Factory Original Cheesecake; Gluten-free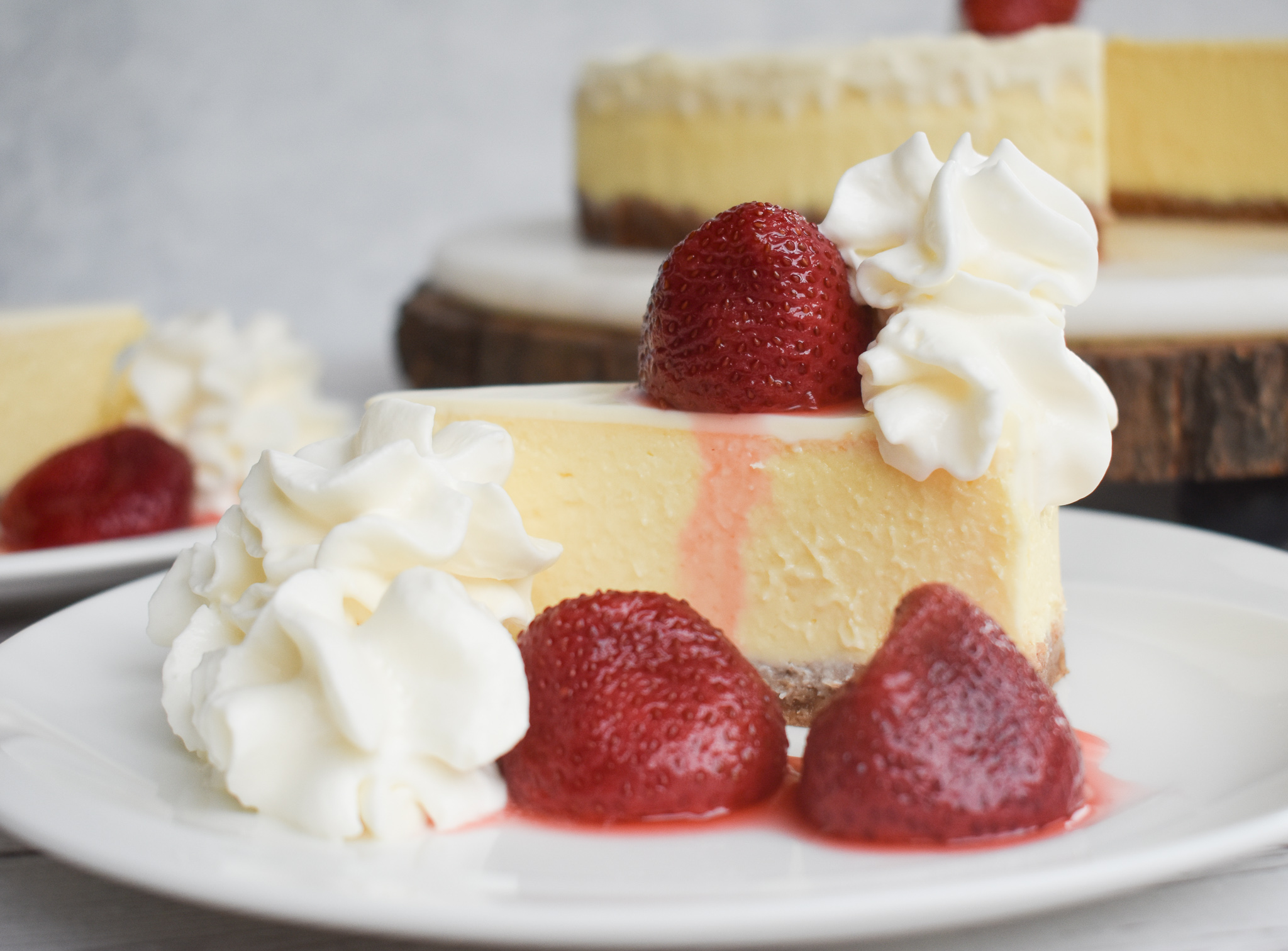 Although this recipe has not been lab tested, a single serving should be low-FODMAP based on the ingredients USING AVAILABLE FODMAP DATA AT TIME OF POSTING
Serves 12 or more
Prep time: 30 min
Bake time: 90-105 min
Total prep: 2 to 2.5 hours
Cool time: 4 hours or overnight (can also span 2 nights if you prepare low-FODMAP crust in advance)
Bake 350 F
Equipment: 9 inch springform pan lined with parchment or silicone liner, aluminum foil for wrapping pan, baking pan to create water bath
Ingredients
For low-FODMAP Crust: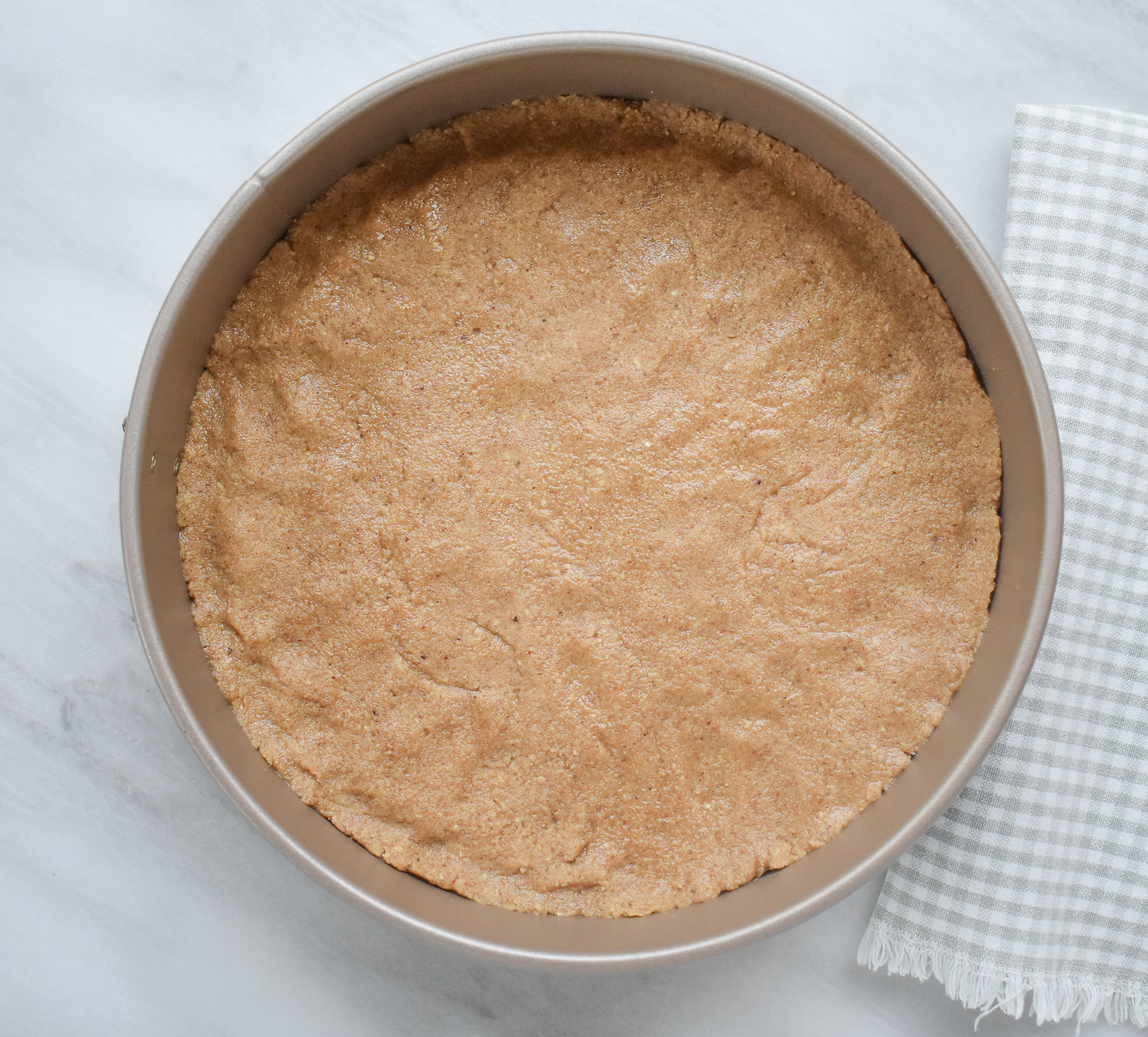 For low-FODMAP Cheesecake
4 (8 oz) packages lactose-free cream cheese, room temperature
1 & 1/4 cups sugar, plus 2 teaspoons for low-FODMAP Cheesecake topping
1 cup lactose free sour cream, divided into ½ and ½ cups (keep 1/2 cup in the fridge for later, allow 1/2 cup to come to room temperature)
2 teaspoons vanilla extract
5 large eggs, room temperature
For low-FODMAP Cheesecake Topping
Tips on making a low-FODMAP Cheesecake:
Before you start, I wanted to share a few pointers.  True confession, I had never baked cheesecake in my life before trying this recipe.  However, I was determined it would turn out, so I read everything I could find to instruct me.  Here are some of the tips to share with you:
Start with room temperature ingredients to ensure you don't have a cracked cheesecake surface
Do not over mix the ingredients once they are all combined (too much air in the cheesecake will lead to cracks and falls)
Bake it in a water bath (as I describe) to allow for even cooking and no cracking or burning
Wrap the pan in aluminum foil well so the water doesn't seep into the crust
Bake it slowly and try not to check it too soon
Lactose-free cream cheese bakes slightly different.  You will not be able to adapt a standard recipe to the typical baking times
You can't test the doneness of a cheesecake like a regular cake.  A few ways to check:

It should have a slight 'jiggle' in the center but not in the whole cheesecake
The surface should be firm and not gooey to a light touch in the center
A instant-read thermometer in the dead center of the cheesecake should read 150 F (only try this once ideally)
The edges should look slightly dry and the surface shiny
This website helped me a lot.  As you can see this low-FODMAP Cheesecake turned out perfect!

Allow it to cool slowly- I like to open the oven door for a bit and then transfer it out of the oven and then to fridge.  Too rapid cooling will lead to cracks
Chill overnight for best results to allow it to set completely and for the flavors to evolve
Cut with a sharp thin knife, dipping in hot water before every cut to ensure clean, even slices
Good luck!  It actually was easy when I followed these tips 🙂
Directions
Bake low-FODMAP Pie Crust (can also do a day ahead)

Preheat oven to 350 F
Press low-FODMAP Oat-Nut Crust onto bottom of prepared 9 inch springform pan lined with parchment
Wrap a large piece of foil around bottom of pan and chill for 15 minutes
Remove from freezer or fridge and bake at 350 F for 20-25 minutes
Store in freezer if preparing the day before, then remove with the lactose-free cream cheese so it comes to room temperature as well

When ready to make low-FODMAP Cheesecake, preheat oven to 350 F and place rack in center of your oven
Prepare your water bath: Place a large pan filled with 1/2-3/4 inch water in oven (make sure your springform pan will fit comfortably in this baking pan)

If you skip this step the bake time may be altered.  Slow cooking is key for a cheesecake success
See baking tips above

Prepare low-FODMAP Cheesecake filling:

In a large bowl, whisk eggs until light yellow and set aside
Using an electric mixer with flat paddle attachment, on medium speed, beat lactose-free cream cheese, 1 & ¼ cups sugar, ½ cup lactose-free sour cream and vanilla until smooth and creamy
Scrape down sides of bowl
With mixer running on low speed, slowly add whisked eggs to the low-FODMAP cream cheese mixture
Blend just until eggs are incorporated (do not overmix)

Pour filling into prepared low-FODMAP crust and tap on counter to settle any bubbles
Remove the water bath from oven and carefully place low-FODMAP cheesecake into the preheated water bath
Bake until set (see baking tips above and video link if desired) center should only have a slight jiggle, about 90-105 minutes depending on your oven
Open oven door and turn off oven, let low-FODMAP cheesecake cool in oven for 30-60 min
Remove cake to a wire rack to cool completely
Prepare low-FODMAP Cheesecake top layer once cooled: Combine remaining ½ cup lactose-free sour cream and 2 tsp sugar; spread over low-FODMAP Cheesecake
Cover and refrigerate at least 4 hours (this is necessary to set cheesecake)
Gently remove cheesecake from springform pan by running a knife around edges then lifting away the ring.  Next, gently elevate parchment away from bottom metal base of the pan.  Using your hands to support the bottom crust, peel the parchment gently away while laying the cheesecake on your choice of serving platter
Serve with low-FODMAP Strawberry Coulis, low-FODMAP Caramel Sauce, low-FODMAP Fudge, low-FODMAP Coconut Whipped Cream and low-FODMAP berries

My strawberries were prepared for the low-FODMAP coulis but not pureed for this recipe…so delicious!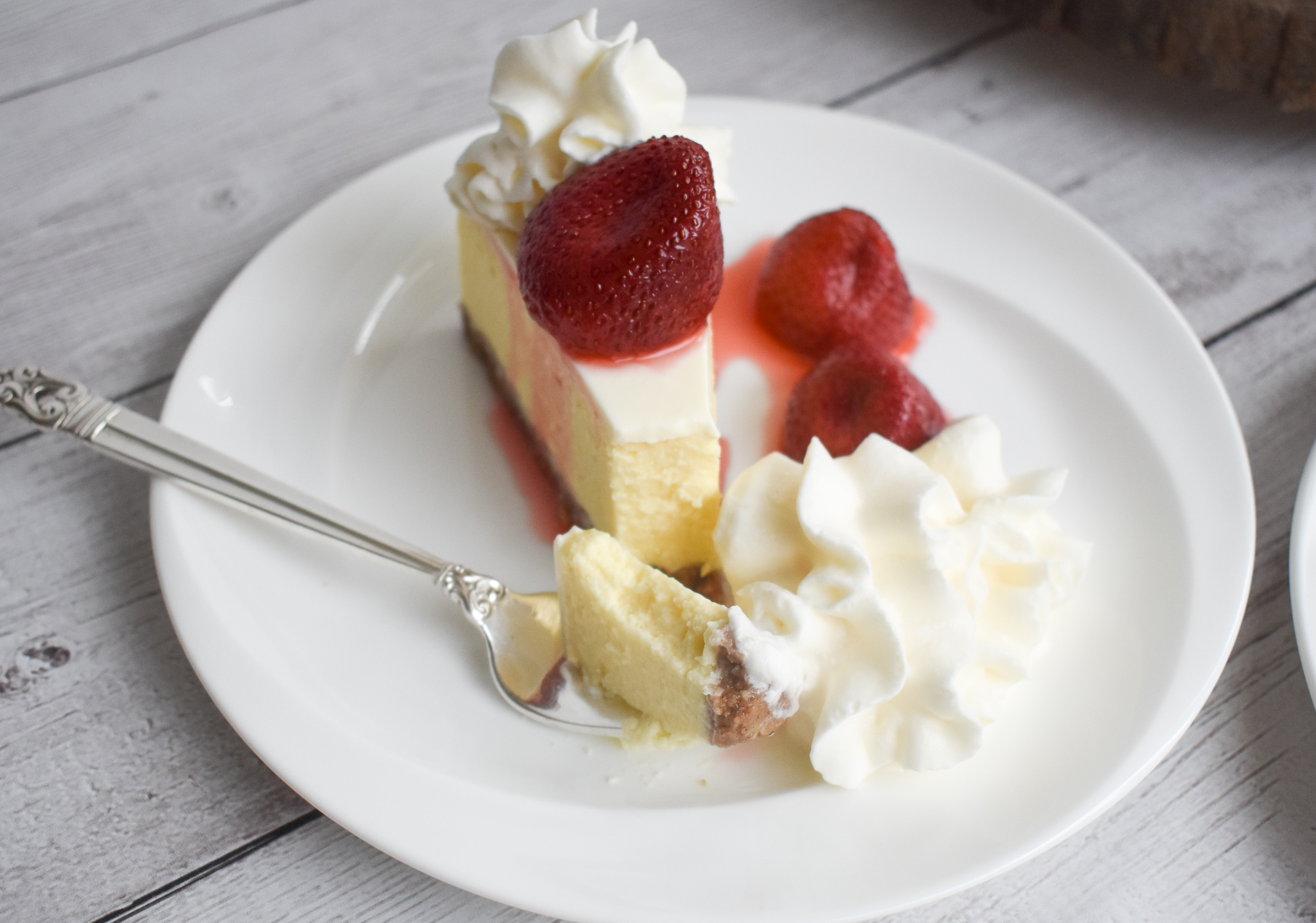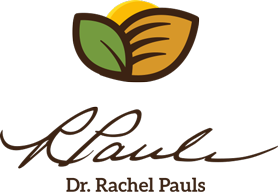 Printer Friendly Version
Comments Rating
( reviews)