Low-FODMAP 'Copycat' Starbucks Cinnamon Chip Scone Recipe; Gluten-free
June 28, 2019
Printer Friendly Version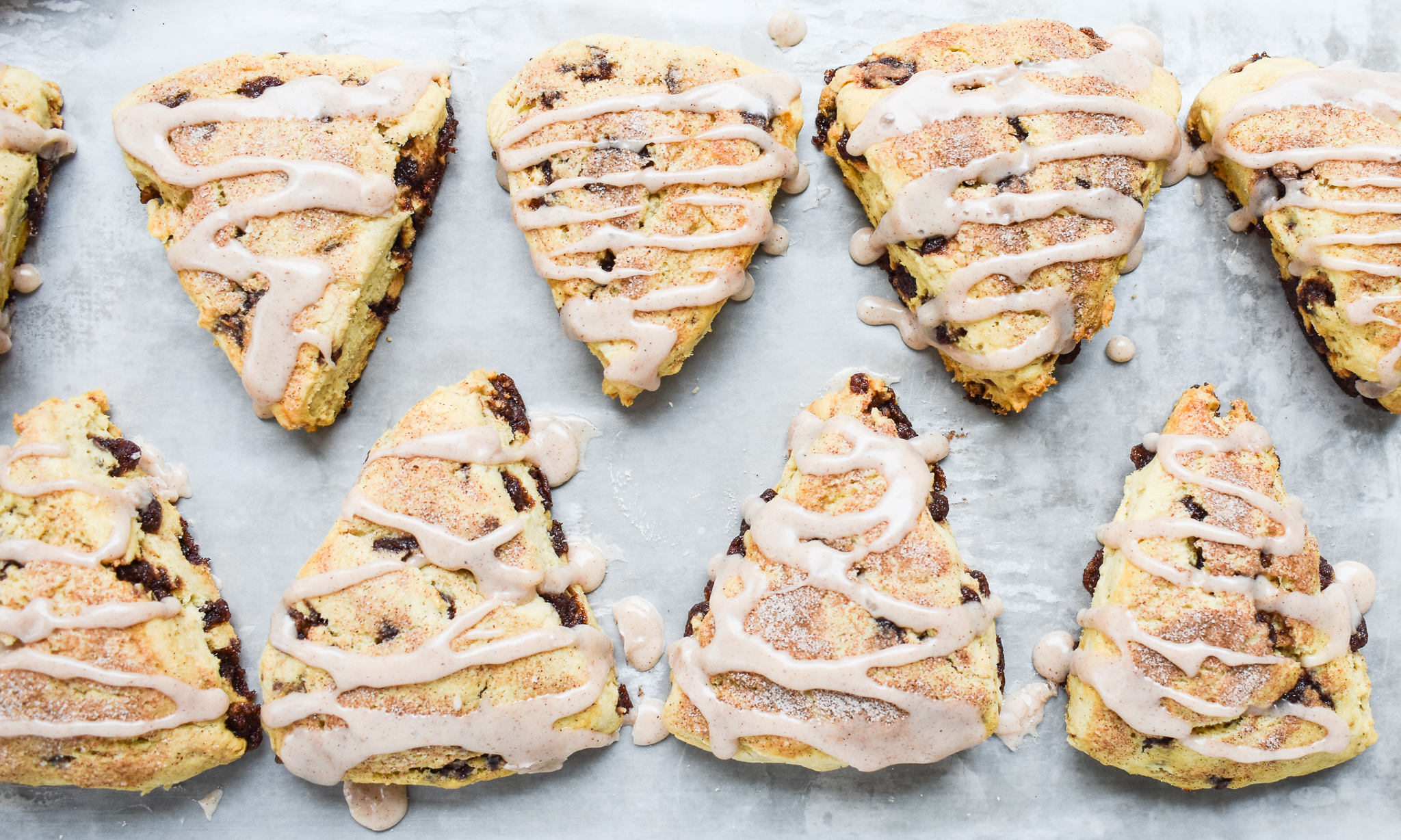 OK, personal story time! When I was pregnant with my second child I had such terrible heartburn that breakfast was the only meal I enjoyed comfortably.  I got into the habit of going to Starbucks each morning and buying a decaf toffee-nut latte with a cinnamon chip scone. It was my favorite meal of the day.
Yeah, I know coffee was probably not the best thing for my heartburn, but what can I say.  I figured it was a lost cause anyways 😉
For the past several years, however, I have not had the pleasure of this decadent treat.  Not only is their version high-FODMAP, I don't think they even sell it anymore!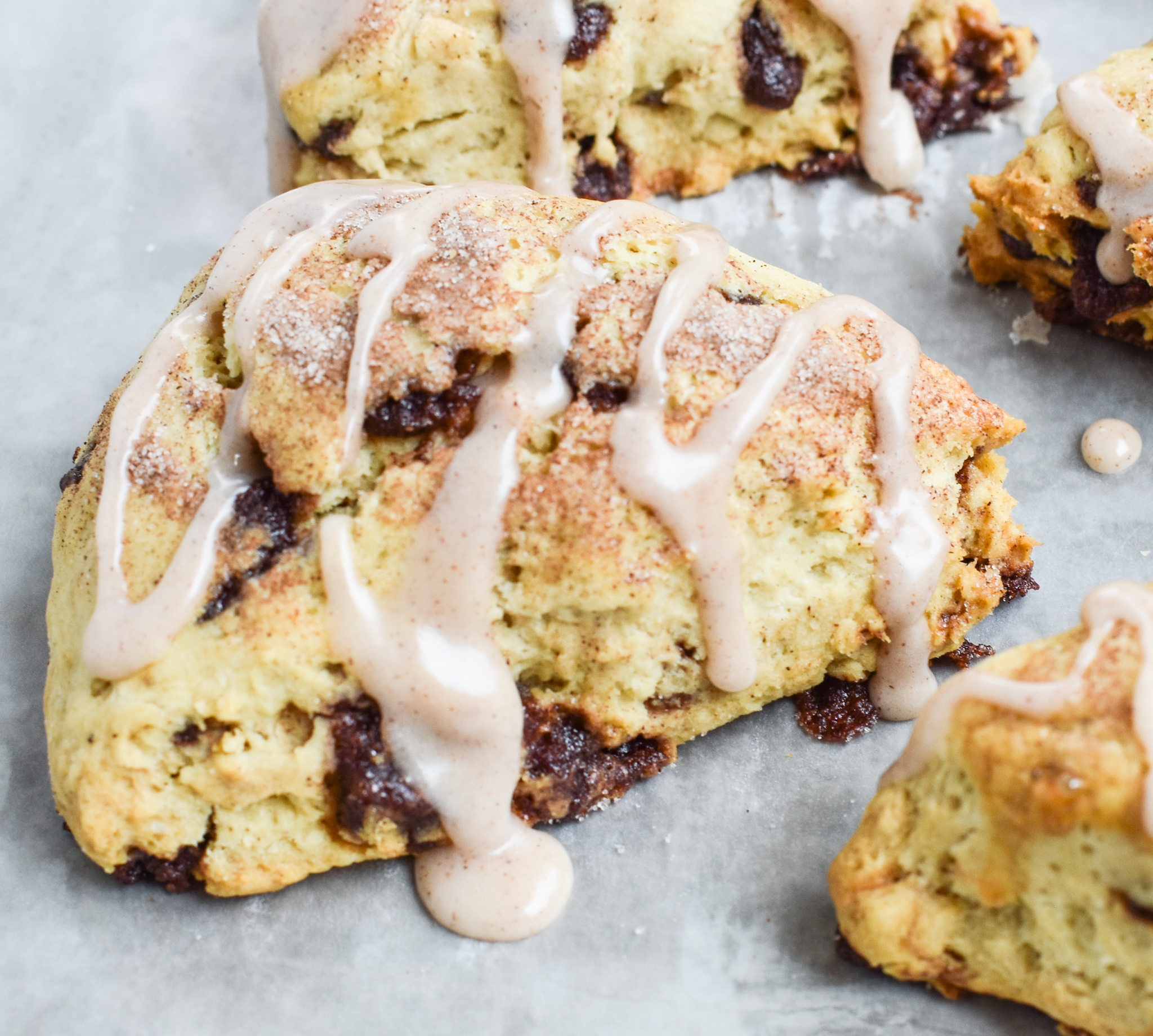 To satisfy my nostalgic craving, I began crafting a low-FODMAP 'Copycat' Starbucks Cinnamon Chip Scone recipe.  But I was not impressed with store-bought cinnamon chips.  Hard to find, expensive and with questionable ingredients….I didn't even see 'cinnamon' listed on the label!    Clearly that would not do for my recipe.
So… I got ambitious. I decided to make my own homemade low-FODMAP Cinnamon Chips (easy) and use them in this low-FODMAP Cinnamon Chip Scone recipe (fabulous).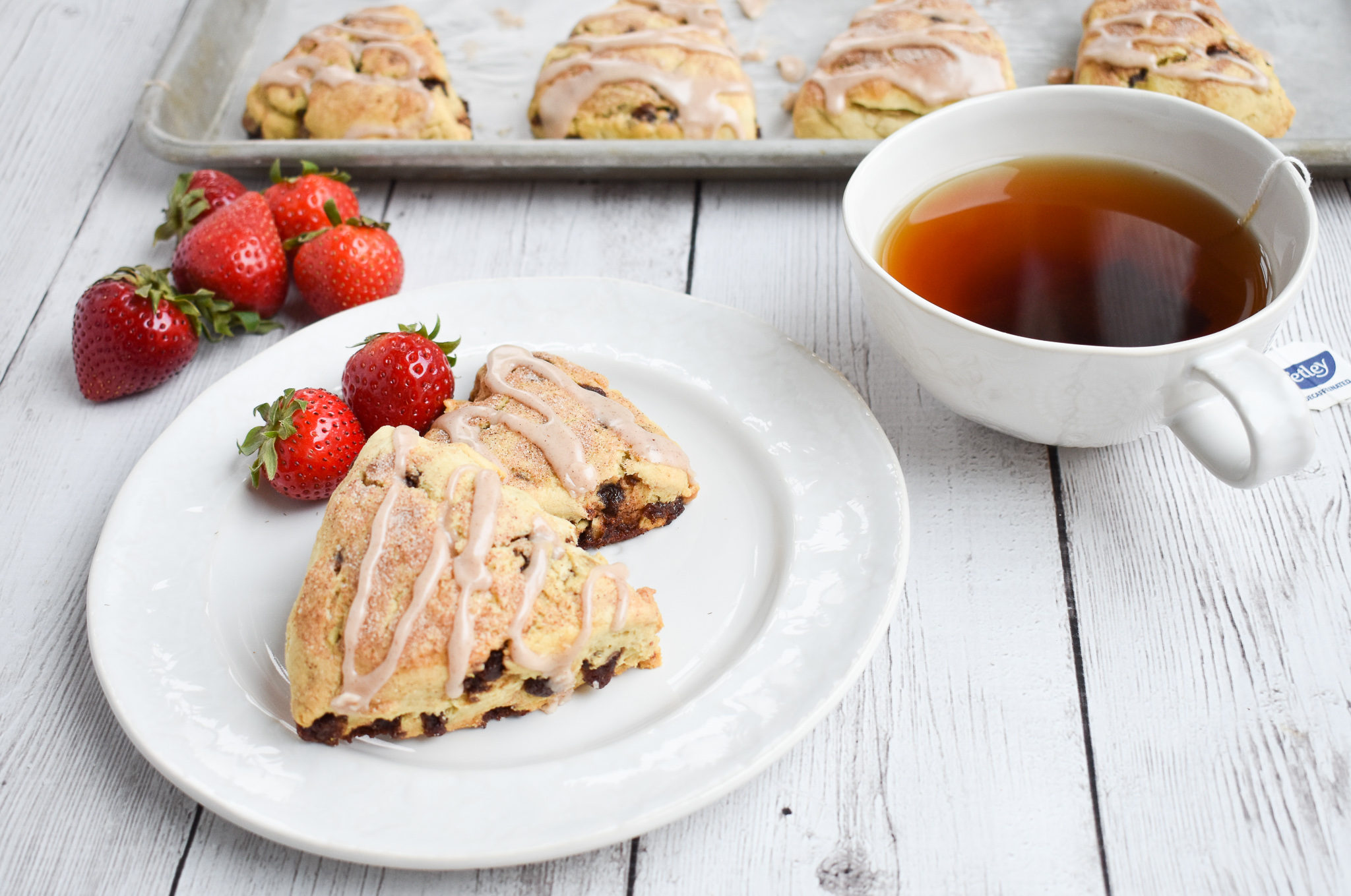 Guess what? I totally nailed this low-FODMAP Cinnamon Chip Scone recipe (even better than Starbucks). Plus I love the flexibility to just dust these with cinnamon-sugar, or add my low-FODMAP glaze.
You may also love my low-FODMAP Cake Pops, low-FODMAP Copycat Starbucks Lemon loaf and low-FODMAP Coffee Cake.  Or check out over 400 more low-FODMAP recipes on the blog.
Be healthy and happy,
Rachel Pauls, MD
---
Low-FODMAP 'Copycat' Starbucks Cinnamon Chip Scone Recipe; Gluten-free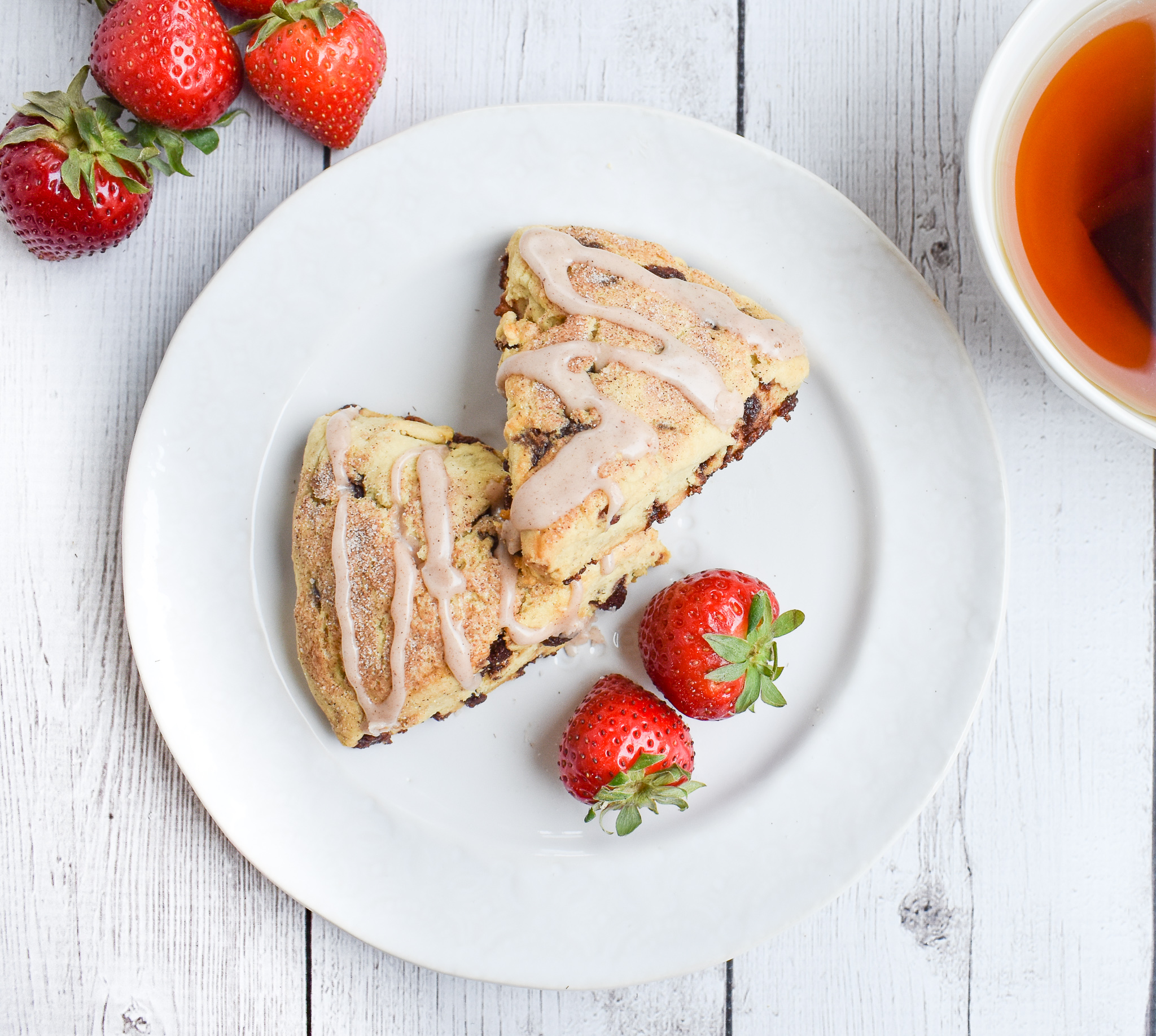 Although this recipe has not been lab tested, a single serving should be low-FODMAP based on the ingredients *using available FODMAP data at time of testing
Serves 12
Prep time 20 min
Bake time 20-22 min
Total time 45 min
Bake 400 F
Ingredients
2 cups Authentic Foods GF Classical Blend, plus additional flour for patting out dough (this is my favorite brand, check out my low-FODMAP bake off blog to see why!)

can also substitute your preferred low-FODMAP, gluten-free flour

1/4 cup granulated sugar
4 teaspoons double acting baking powder (ex: Clabber Girl brand)
1/2 teaspoon baking soda
3/4 teaspoon xanthan gum (if not added to your low-FODMAP flour choice)
1/2 teaspoon salt
1/2 cup cold unsalted butter, cut into small pieces

If you choose a vegan spread alternative, be sure to chill it well
I used butter
1 cup low-FODMAP Cinnamon Chips (WE MADE OUR OWN using only 5 ingredients! see recipe here )

2 large eggs, divided
2 teaspoons pure vanilla extract
3/4 cup coconut cream (canned), room temperature
Cinnamon and granulated sugar mixture, to sprinkle on top

2 tbsps sugar and 1/2 tsp cinnamon combined
I keep this ratio of cinnamon sugar (larger amounts) in a shaker in my pantry to enjoy over low-FODMAP toast and waffles 🙂

Low-FODMAP Glaze – see my low-FODMAP cinnamon bun recipe for this easy glaze (I added 1 tsp cinnamon to this glaze for these low-FODMAP cinnamon scone recipe)
Directions
Preheat oven to 400ºF
Position rack in center of oven
Line heavy baking sheet with parchment paper or silicone baking liners
Combine low-FODMAP flour, sugar, baking powder, baking soda, xanthan gum, and salt in large bowl of electric mixer using flat paddle
With mixer on low, cut butter into flour mixture until it resembles a coarse meal

You can also use your hands to help combine any big chunks

Set aside this mixture for later incorporation
Beat 1 egg in the same (or another) large bowl of electric mixer until very light and foamy (about 1 minute)
Add vanilla extract and flour mixture and start the mixer on low speed, then pour the coconut cream on top of the flour
Mix at medium-low speed for about 30 seconds until the dough just comes together
Stir in the low-FODMAP cinnamon chips by hand
Use lightly floured hands to gently pat out dough into two 6-inch thick rounds on a floured surface, about ½ inch thick (dough will be sticky and you may need to lightly coat it with some excess flour)
Use a sharp knife, dough cutter or pizza wheel to cut each circle in half and then cut each half into 3 pie shaped wedges
Put scones 2 inches apart on prepared baking sheet
In a small bowl, beat the second egg
Brush scones with beaten egg
Sprinkle scones liberally with cinnamon & sugar mixture
Place scones in center of oven
Bake 20 -22 minutes or until golden and cooked through
Cool 10 minutes on a rack
Top with low-FODMAP glaze (with added cinnamon) if desired

Place glaze in plastic bag and cut hole in corner, drizzle over low-FODMAP scones in criss cross fashion

Serve immediately, or store in refrigerator until use (to re-heat place in preheated 350F oven for 10 minutes)
Flaky and so delicious!  Bet you can't wait to try my low-FODMAP Cinnamon Scones recipe 😉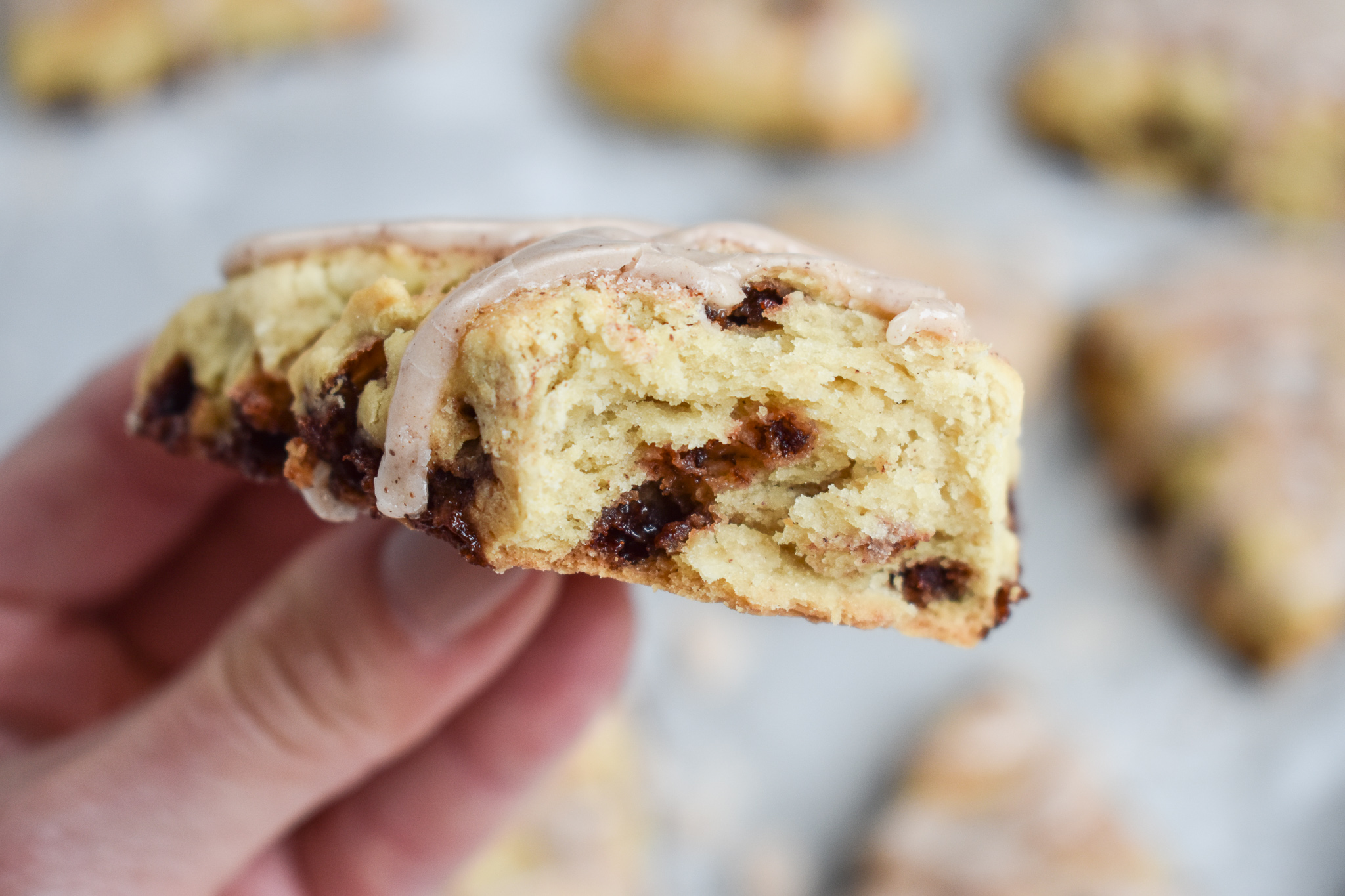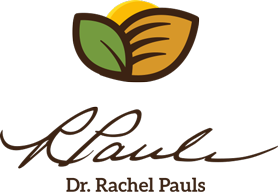 Printer Friendly Version
Comments Rating
( review)