Low-FODMAP Cinnamon Sugar Banana Chips; Gluten-free, Vegan
August 15, 2021
Printer Friendly Version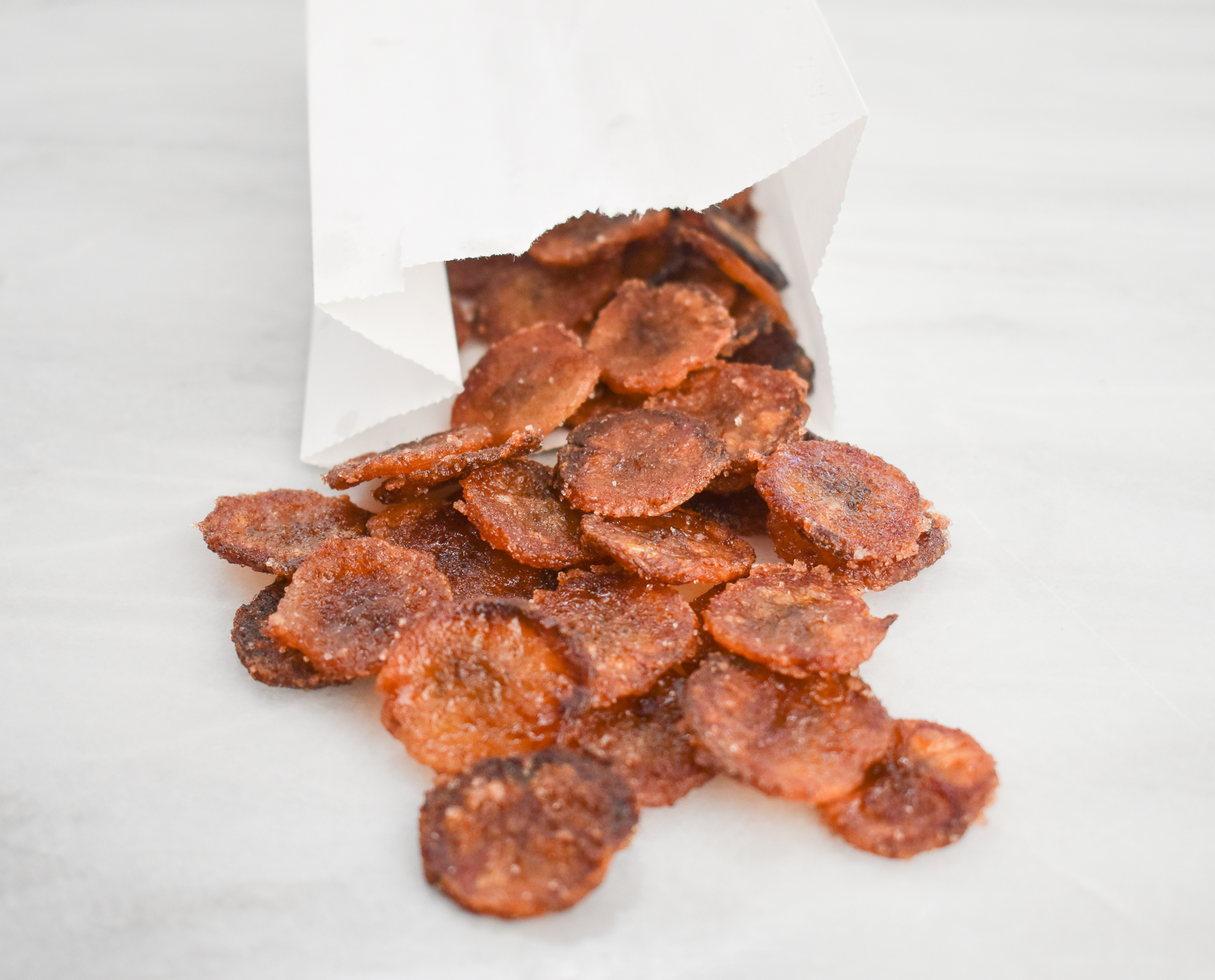 Low-FODMAP Cinnamon Sugar Baked Banana Chips were calling my name.
So easy, delicious and snack-tastically healthy…ready in under 30 minutes, and only 5 ingredients!
These little slices of low-FODMAP banana are the ideal sweet, salty and crispy-chewy treat, without the calories and fat that many snack foods contain.  Plus, they are packed with potassium, fiber and other vitamins to boot.
Unlike a store-bought banana chip, these are bursting with real banana flavors.  My kids are addicted. Perfect for back-to-school!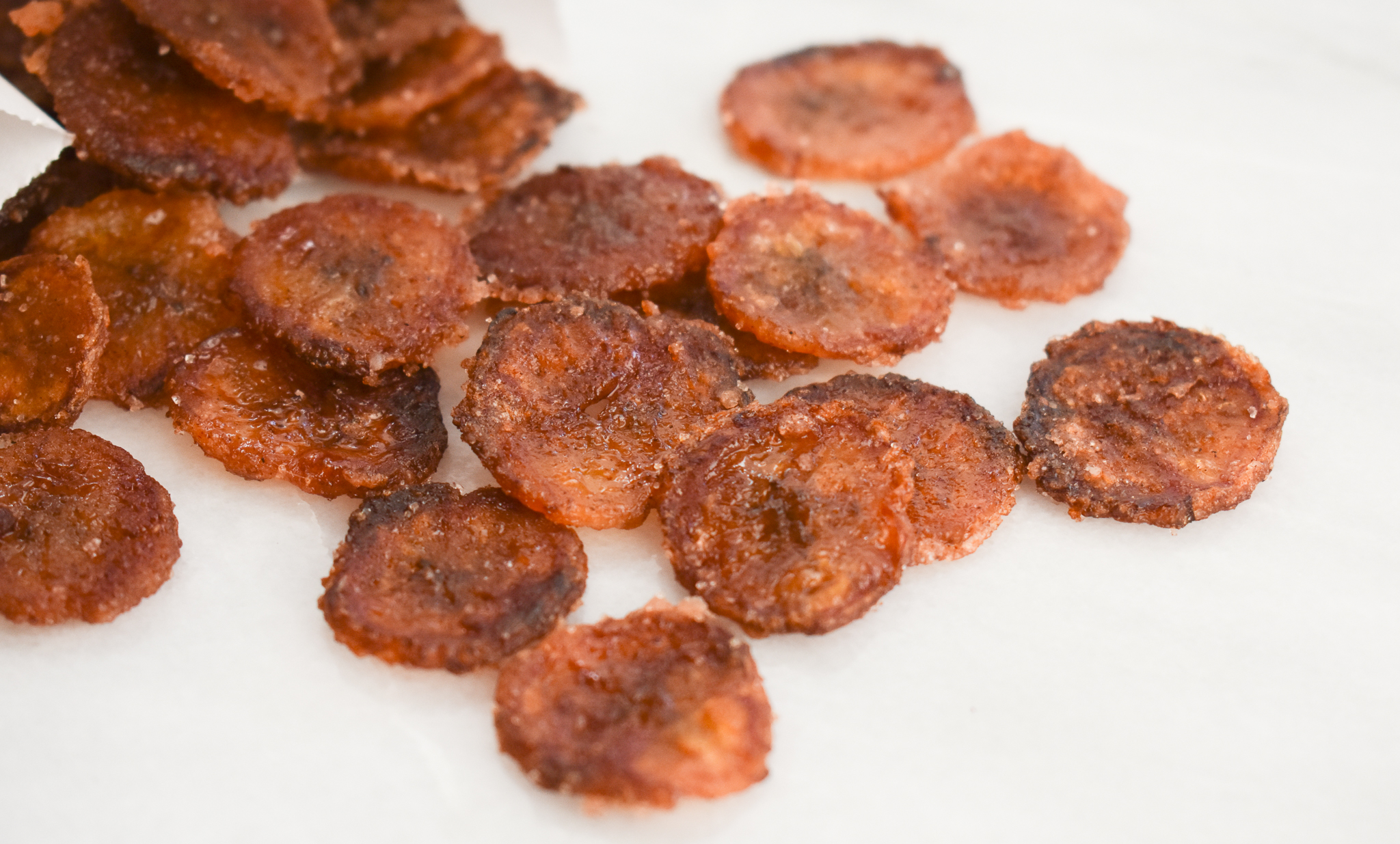 *FODMAP fact:1 whole medium (100-150 gram) UNRIPE banana (hard, green) is one low-FODMAP serving, a more ripe banana is limited to 1/3 fruit per serving.  The Monash app lists 100g of unripe banana as a single low-FODMAP serving, while FODMAP friendly lists 150 g of unripe banana as a single low-FODMAP serving.
Cut these low-FODMAP Cinnamon Sugar Baked Banana Chips extra thin to make them super crispy.  I love to crumble them over low-FODMAP yogurt, low-FODMAP ice cream and more!
You may recognize the recipe is like the one that Chrissy Teigan has shared on her Instagram a while back.  I love getting inspired by popular recipes, that way none of us FODMAPpers ever feel deprived.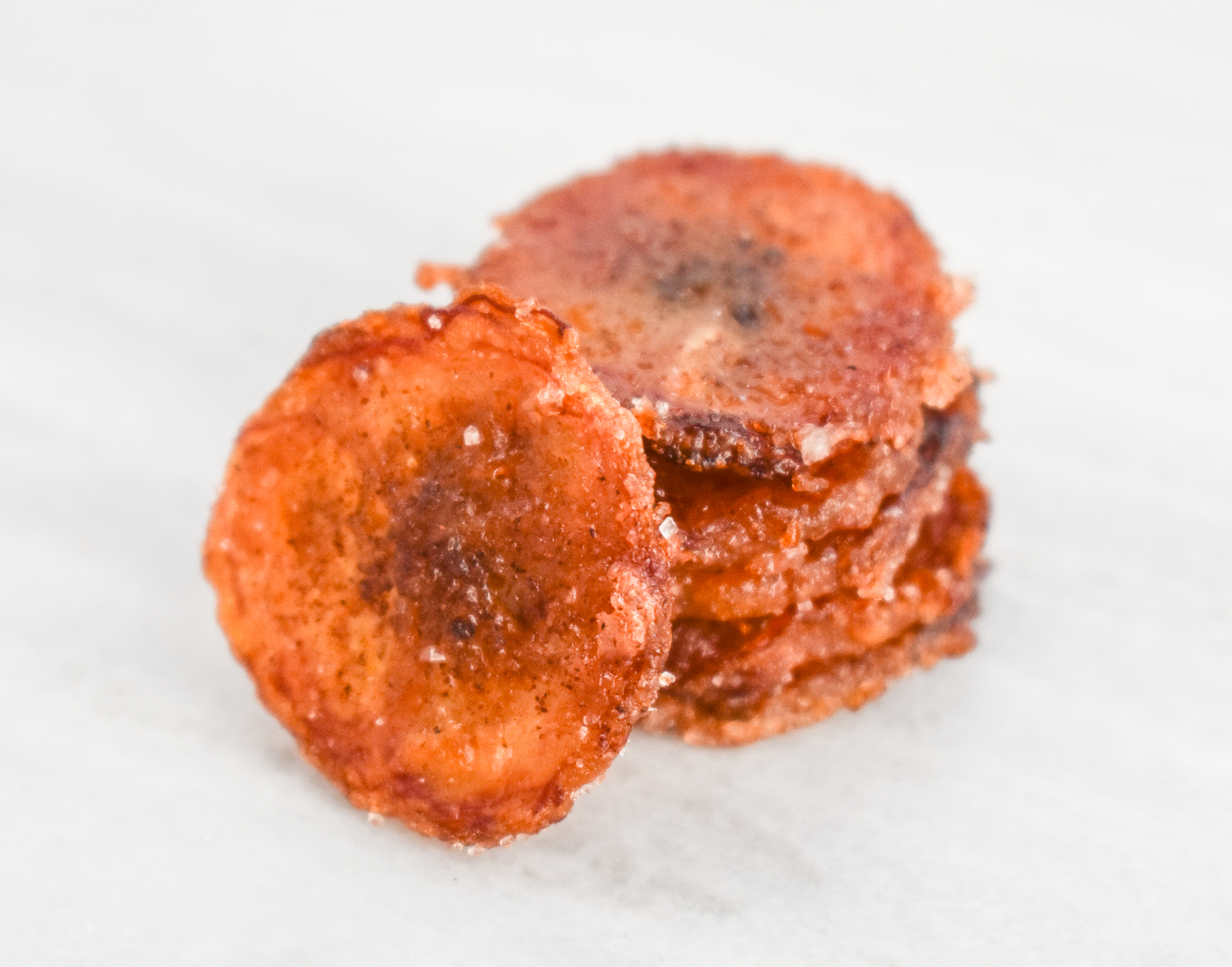 You may also love my:
Or check out over 400 more low-FODMAP recipes on the blog!  IBS-friendly.
Be healthy and happy,
Rachel Pauls, MD
P.S.  Check out my new COOKBOOK for over 100 low-FODMAP recipes, low-FODMAP Meal Plan, FODMAP Tips and everything you need!!  It's the BEST!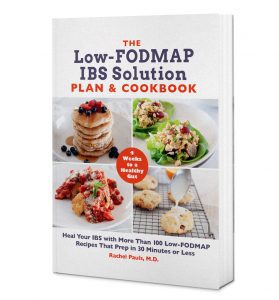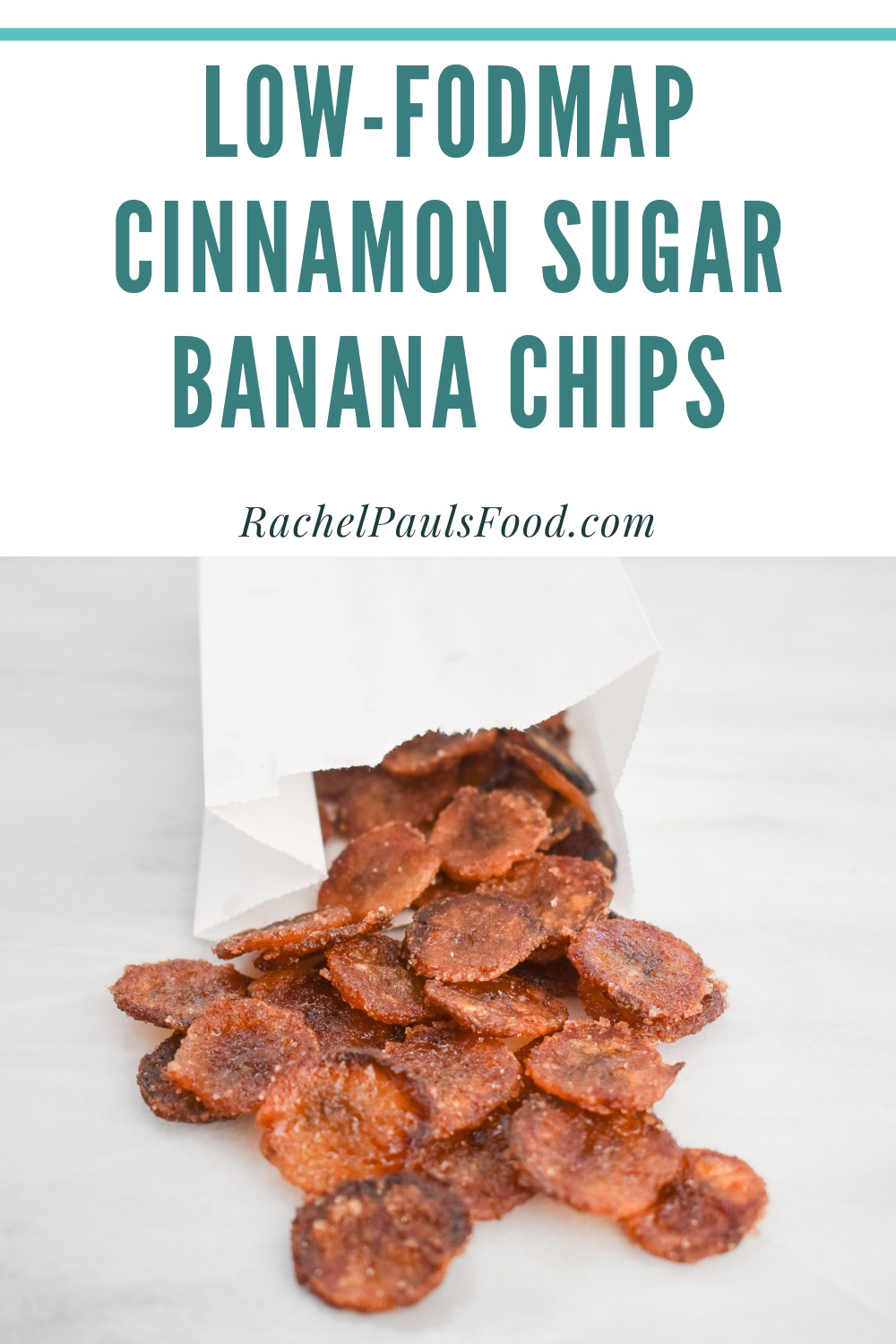 Although this recipe has not been tested, a single serving should be low-FODMAP based on the ingredients (using available FODMAP data at time of posting).  However, since baked banana has not been formally tested for FODMAP servings, it is unclear if the baking process would alter the carbohydrates and thus render a serving size similar to that for a 'ripe' banana.  If you are on the FODMAP elimination phase, we suggest 6 servings from this recipe.
Serves: 2-6
Prep time: 5 min
Bake time: 15-25 min
Total time: 20-30 min
Bake 400 F
Equipment: 1-2 large baking trays, silicone baking mat or parchment paper
Ingredients
2 medium, unripe bananas (100 g each)

Choose ones that are very hard so they are easier to slice

3 tablespoons melted coconut oil
3 tablespoons granulated sugar
3/4 teaspoon cinnamon
1/8 teaspoon sea salt or Kosher salt
Directions
Preheat oven to 400°F and line your baking sheet with parchment or silicone liners (you may need more than one sheet if you slice very thin)
Chop bananas into evenly thick discs, thinner will be quicker to bake and crispier in texture (I used a mandolin slicer)
In a medium bowl, place your melted oil with the banana discs
Toss discs with the oil then lay them on your baking sheet
Place in your oven for 8-10 minutes until slightly golden
Meanwhile, combine cinnamon, sugar and salt in a small bowl
Remove tray from oven and sprinkle the cinnamon/sugar mixture over the banana slices

I used quite a bit of the mixture on every chip

Replace in oven and bake again for 3-8 minutes depending on their thickness
Remove again, then flip chips one by one and sprinkle the second side

This part is a bit tricky, they can be sticky and a little hard to flip if they are still soft
I took it slow and used a small offset spatula (the type used for frosting a small cake)

Return the banana chips to your oven for 3-8 minutes longer or until desired crispness
Serve once cooled, or store in airtight container at room temperature for 3 days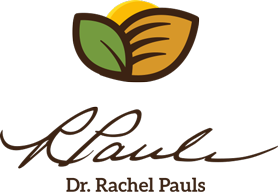 Printer Friendly Version
Comments Rating
( reviews)