Low-FODMAP Chocolate 'Poke' Cake; Gluten-free, Dairy-free
June 19, 2021
Printer Friendly Version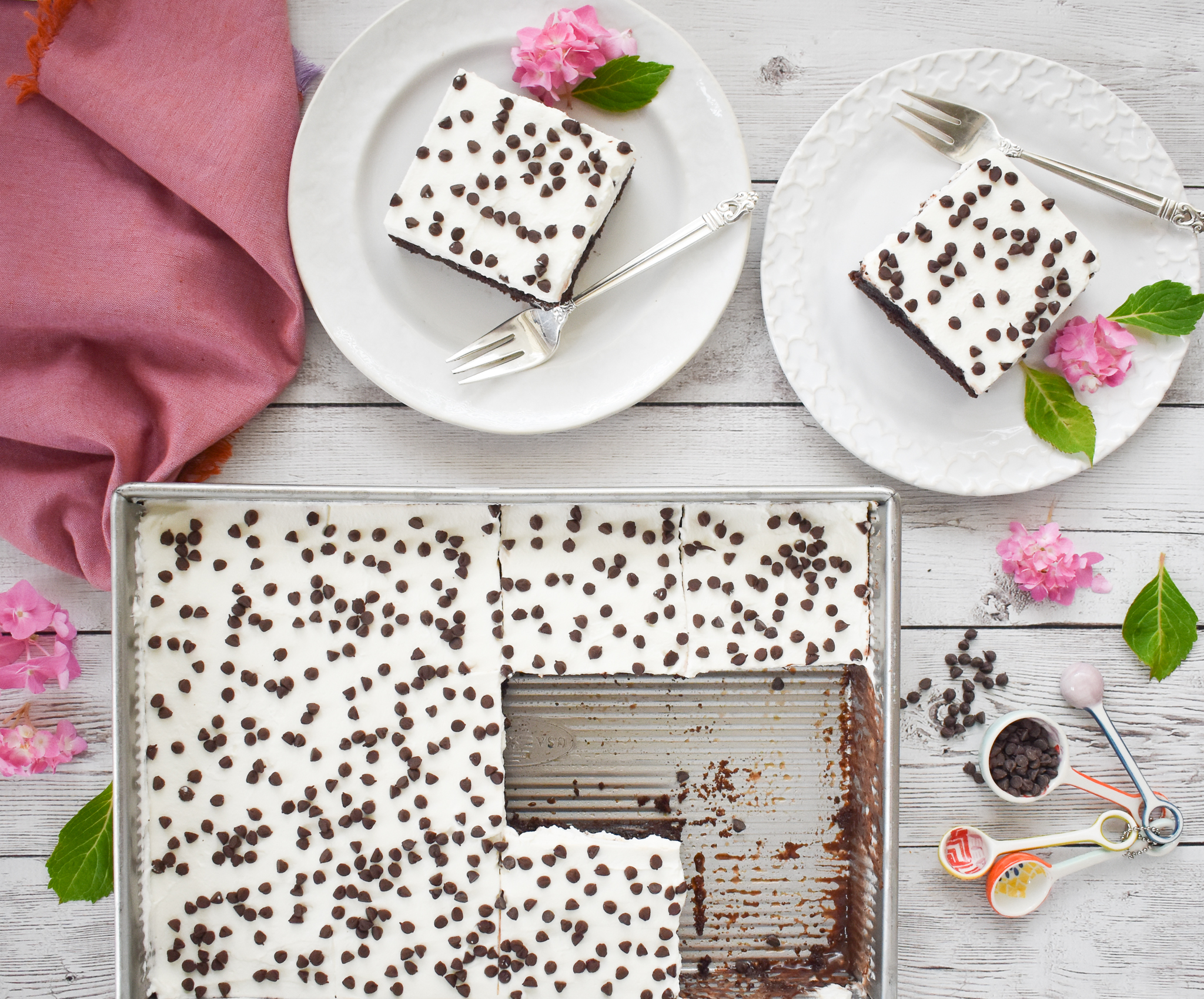 Here we go, FODMAPPERs!  Another delicious baking shortcut!  This will be the MOISTEST cake you will ever have.  Low-FODMAP, GLUTEN-FREE and amazing!
I have had my eye on 'poke cakes' for some time now.  Such a fun way to enjoy a gooey, saucy cake.  They are so easy, but a guaranteed crowd pleaser.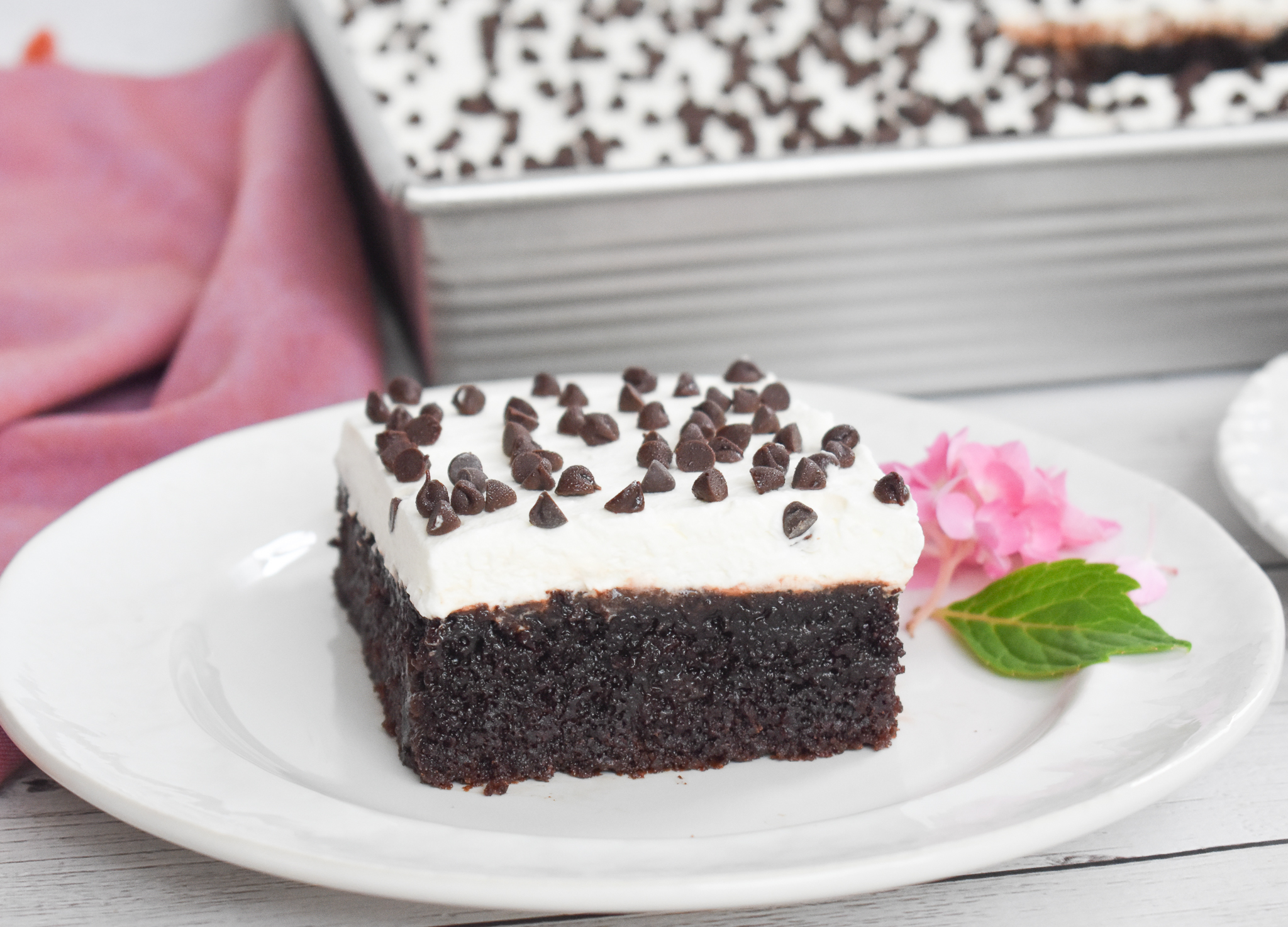 Here is my answer to your 'poke cake' fantasies using my versatile low-FODMAP Happy Baking Chocolate Cake mix.  I made a low-FODMAP warm chocolate 'pudding' to pour over the top that is not too thick, and it sinks into the cake crumb perfectly!
You can serve this poke cake without any frosting, or enjoy it with my low-FODMAP Chocolate Buttercream, low-FODMAP Vanilla Bean Whipped Cream or low-FODMAP Ice Cream.  Or try regular heavy whipped cream if you tolerate dairy!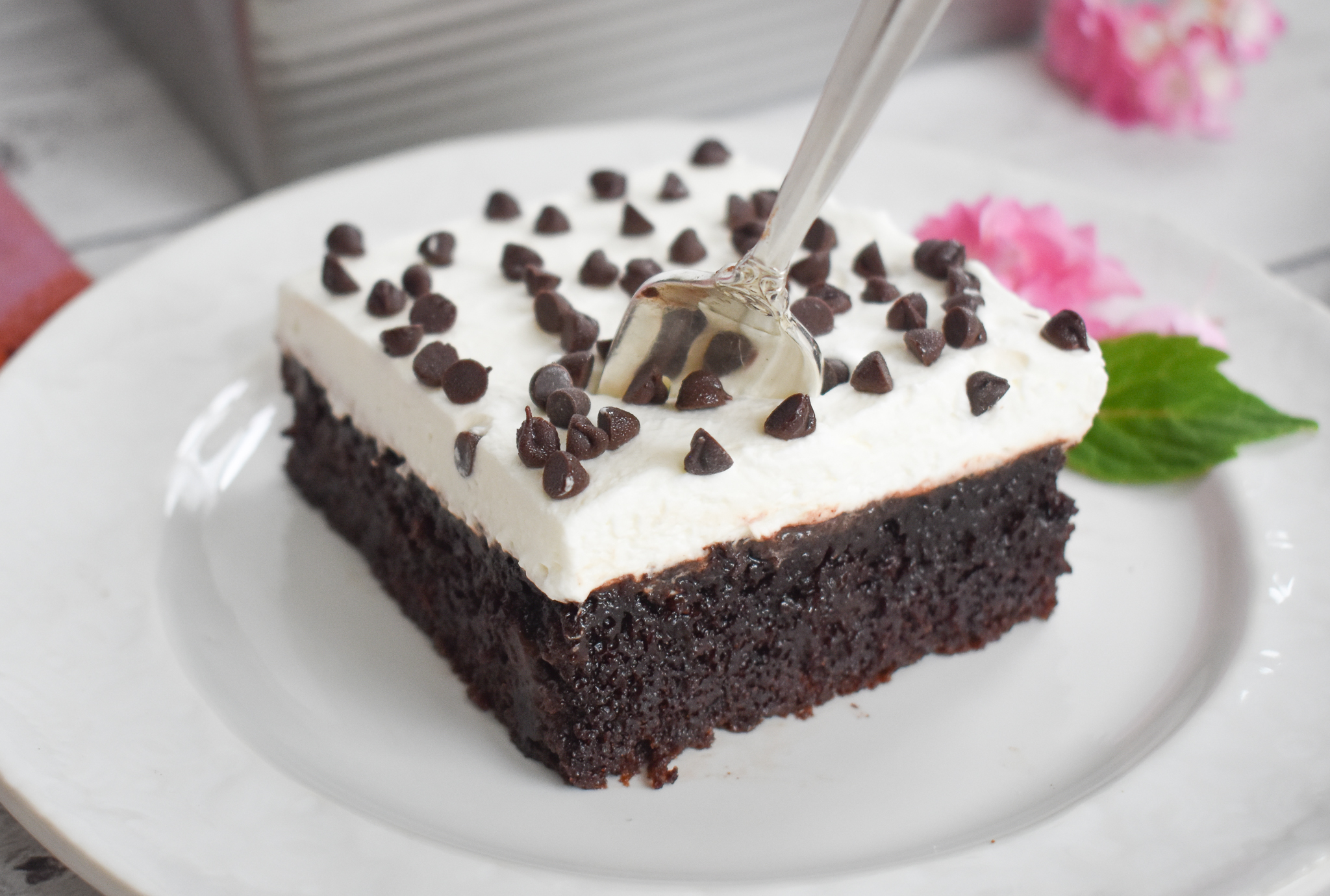 You may also love:
Or check out over 400 more low-FODMAP recipes on the blog.  IBS-friendly!
Be healthy and happy,
Rachel Pauls, MD
P.S.  Check out my new COOKBOOK for over 100 low-FODMAP recipes, low-FODMAP Meal Plan, FODMAP Tips and everything you need!!  It's the BEST!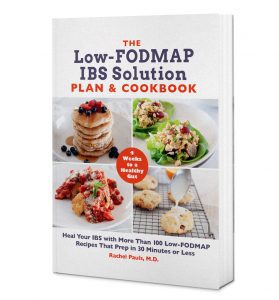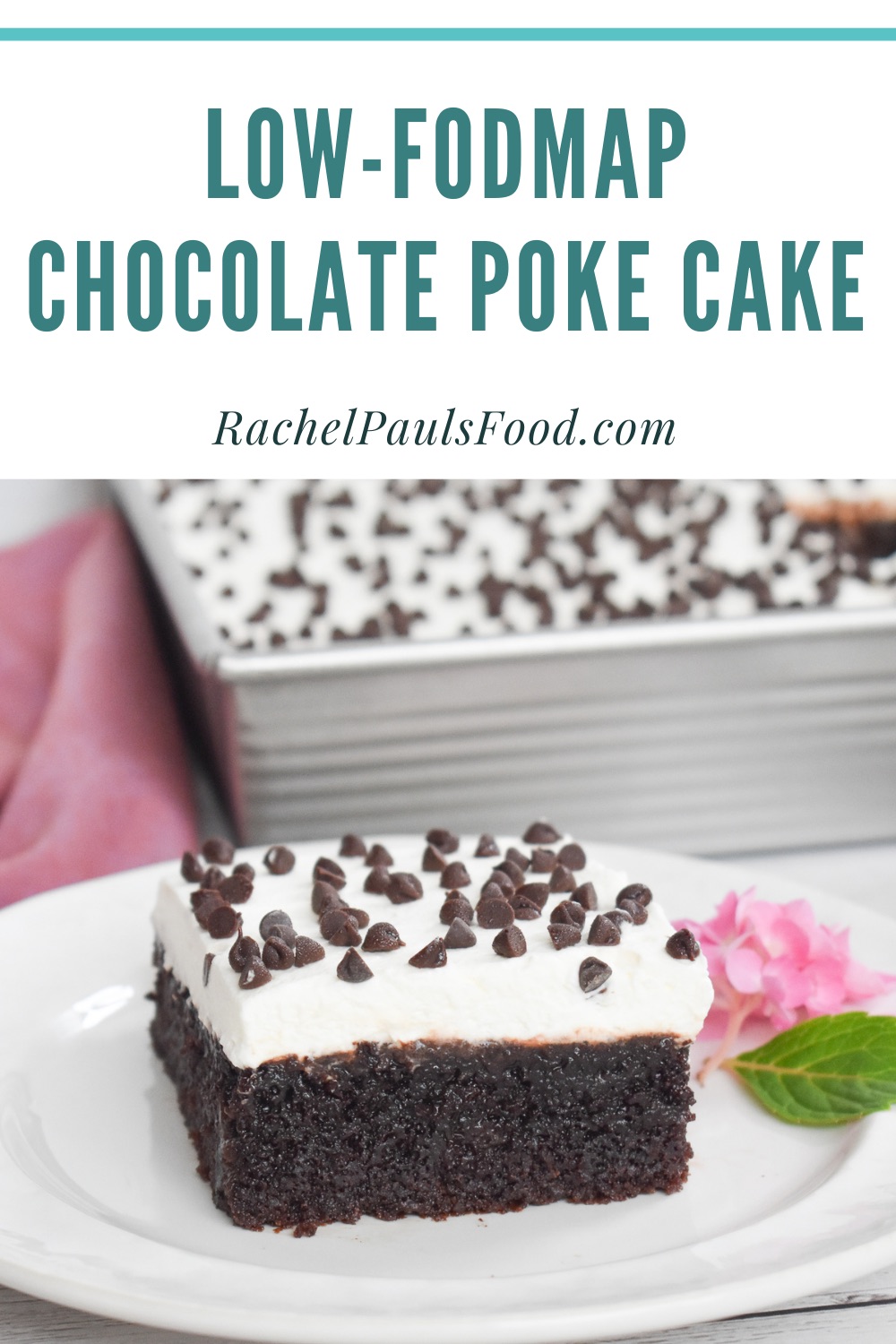 Although this recipe has not been tested, a single serving should be low-FODMAP based on the ingredients
Serves: 24
Prep time: 20 min
Bake time: 50-55 min *as ovens vary, yours may need more or less time
Total time: 70 min
Bake temp: 350 F
Equipment: Electric mixer, 9 by 13 inch casserole pan (I used aluminum), chopstick or wooden spoon
Ingredients
For low-FODMAP Sheet Cake:
1/2 cup canola oil
3 large eggs (this is one additional egg from the box directions)
1 cup low-FODMAP milk (ex: almond milk for dairy-free or lactose-free milk)
1 tablespoon distilled white vinegar or lemon juice
1 cup warm brewed coffee or espresso (about 100 degrees F)
Vegetable Shortening or Baking spray for pan
For low-FODMAP Chocolate Pudding:
2/3 cup sugar
6 tablespoons unsweetened cocoa powder
1 tablespoon and 1 teaspoon cornstarch
1/8 teaspoon salt
2 and 1/4 cups low-FODMAP milk (such as almond milk or lactose-free milk)
1 tablespoon butter or low-FODMAP vegan spread, such as Earth Balance
Optional toppings:
Directions:
Preheat oven to 350˚F. Place oven rack in center of oven
Grease or spray your pan and set aside
Stir the vinegar or lemon juice into the low-FODMAP milk; set aside
In mixer, using flat paddle, beat 3 eggs on medium-low speed until yellow
Keeping mixer set to this speed, slowly add milk/vinegar mixture a little bit at a time, and mix until combined
Next add the canola oil
Switch mixer to low speed and gently add the contents of the mix packet into the mixing bowl. Blend until combined, scraping down bowl as necessary.  Do not overmix
Add the warm coffee and stir to combine by hand
Bake in oven for 45-55 minutes or until a tester in the center comes out clean

As ovens vary, your oven may need more/less time

Place cake in pan on a wire rack to cool while making pudding

After 10 minutes, poke holes in your cake using a chopstick or end of a wooden spoon
Space the holes about every 1/2 inch and make them about 1/4 inch wide
Prepare low-FODMAP Chocolate Pudding:
As soon as you remove cake from the oven, make your pudding
In a saucepan, combine sugar, cocoa powder, cornstarch, and salt
Mix well
Add low-FODMAP milk, stir until combined
Turn heat to medium high stirring constantly until mixture comes to a boil
Allow to boil for 1 minute while stirring, until thickens, then remove from heat and add butter and stir to combine

Make sure to not allow the mixture to burn on the bottom of the pan, you may need to turn down your heat depending on your stove
If you do get burned bits or clumping, then strain the pudding before use

Pour warm chocolate pudding over warm cake

The pudding will still be rather thin, that is OK.  It thickens more with chilling
It may not all sink in right away, that is normal

Gently tap the pan on the counter to get the pudding to seep into the cake and prevent bubbles
Allow the cake to come to room temperature, then cover and refrigerate for 4 hours or overnight (can last up to 2 days in fridge)
Serve as is, dusted with confectioner's sugar, or top with one of the suggested low-FODMAP toppings above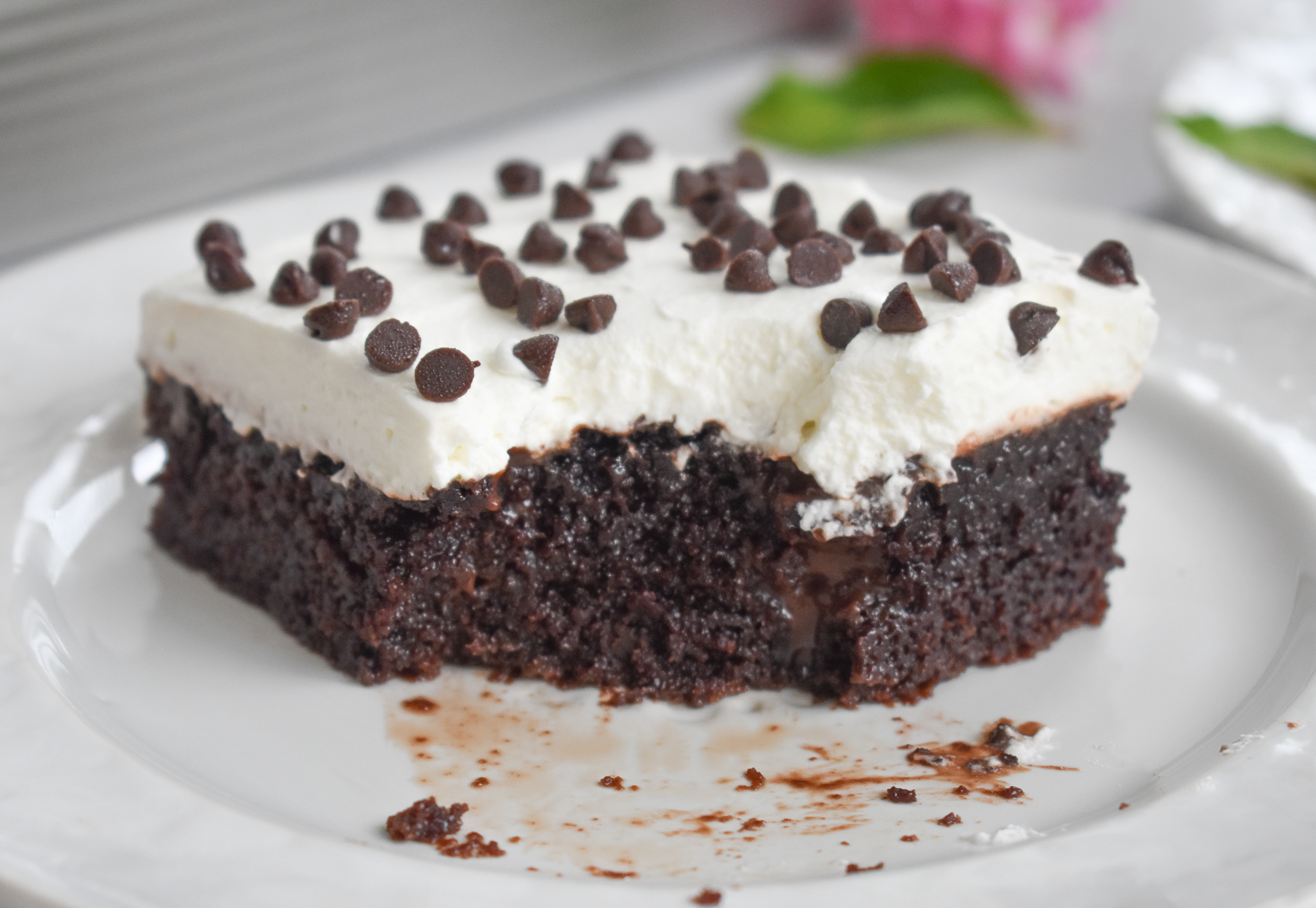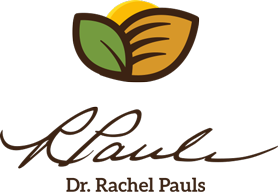 Printer Friendly Version
Comments Rating
( reviews)