Low-FODMAP Chocolate Chip Cookie Dough Ice Cream; Gluten-free, Dairy-free
May 2, 2019
Printer Friendly Version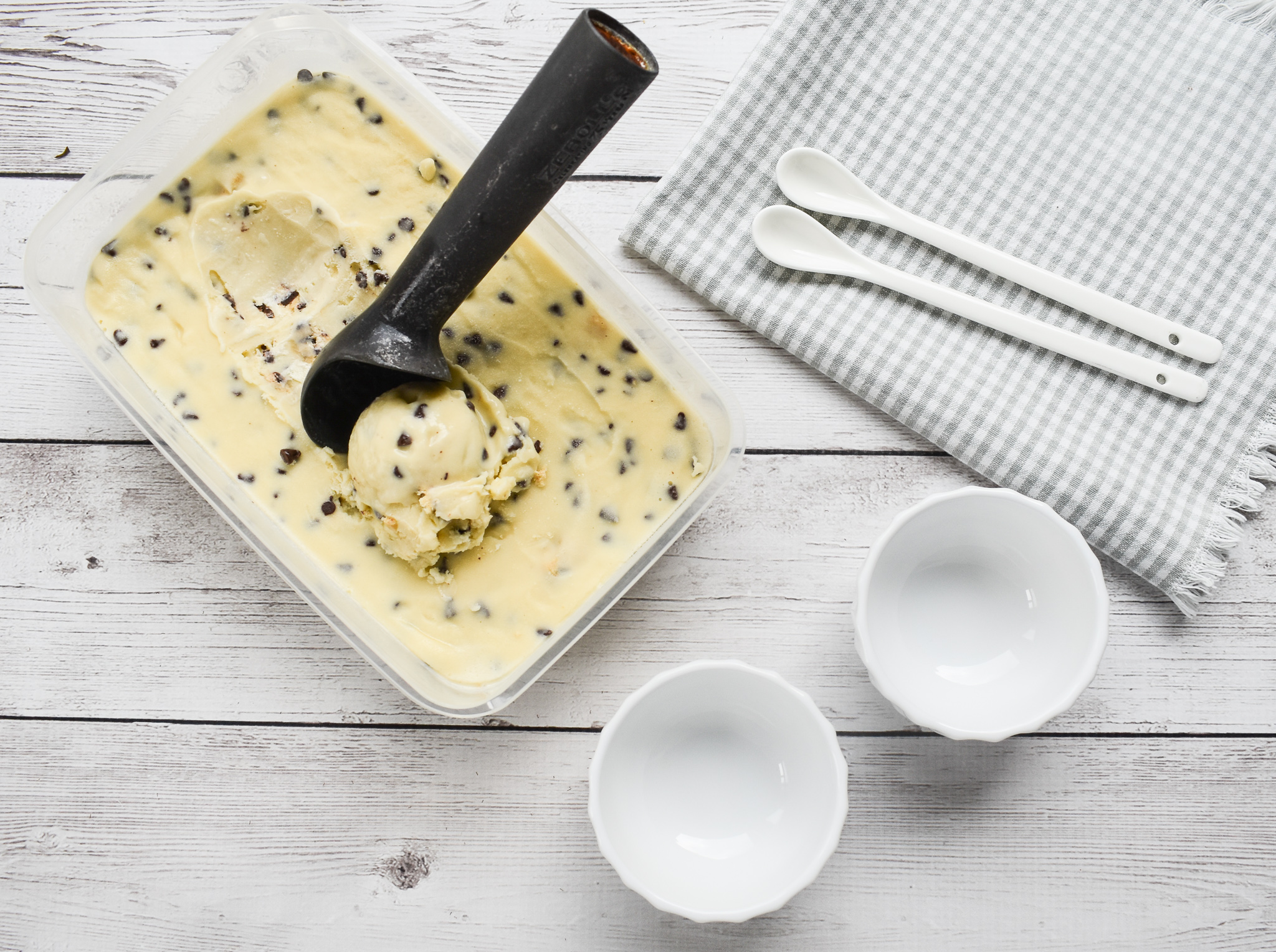 I will admit, I am an ice-cream snob.  I love my stir-ins, but there has to be the right quality and quantity to them.  So many 'cookie-dough' ice creams I have sampled in the past did not satisfy my palate.
Now I am so pleased to be making my own low-FODMAP Vanilla Ice Cream with my low-FODMAP Edible Cookie Dough to stir in!  The perfect marriage of 2 amazing recipes.  Such a happy day this is!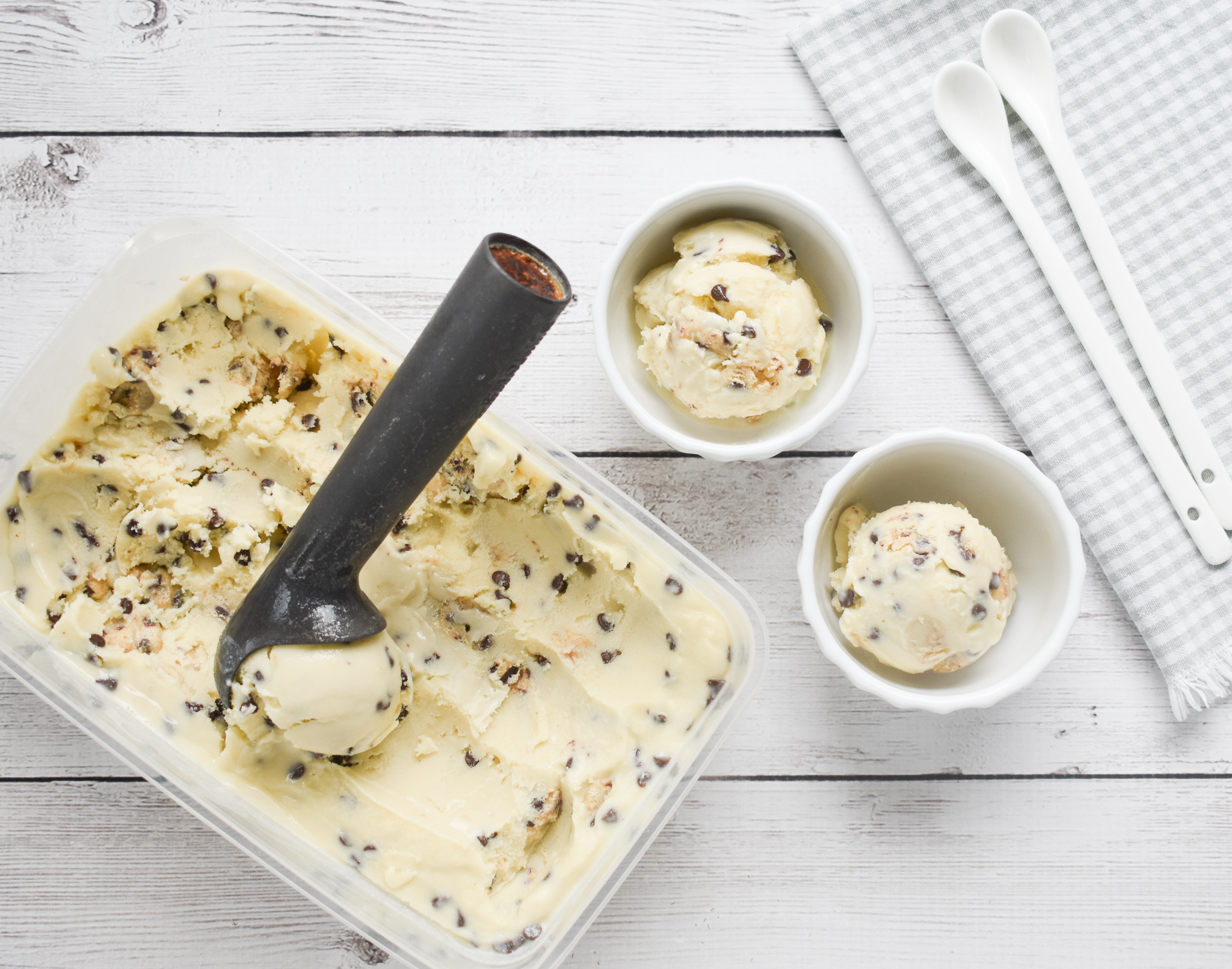 Feel free to adjust the amount of low-FODMAP cookie-dough to your own preference, and feel free to add additional low-FODMAP nuts, low-FODMAP Caramel Sauce or low-FODMAP Fudge Sauce.
You may also love my low-FODMAP Raspberry Yogurt Popsicles and low-FODMAP Chocolate Ice Cream recipes.  Or check out over 300 more low-FODMAP recipes on the blog. IBS-friendly!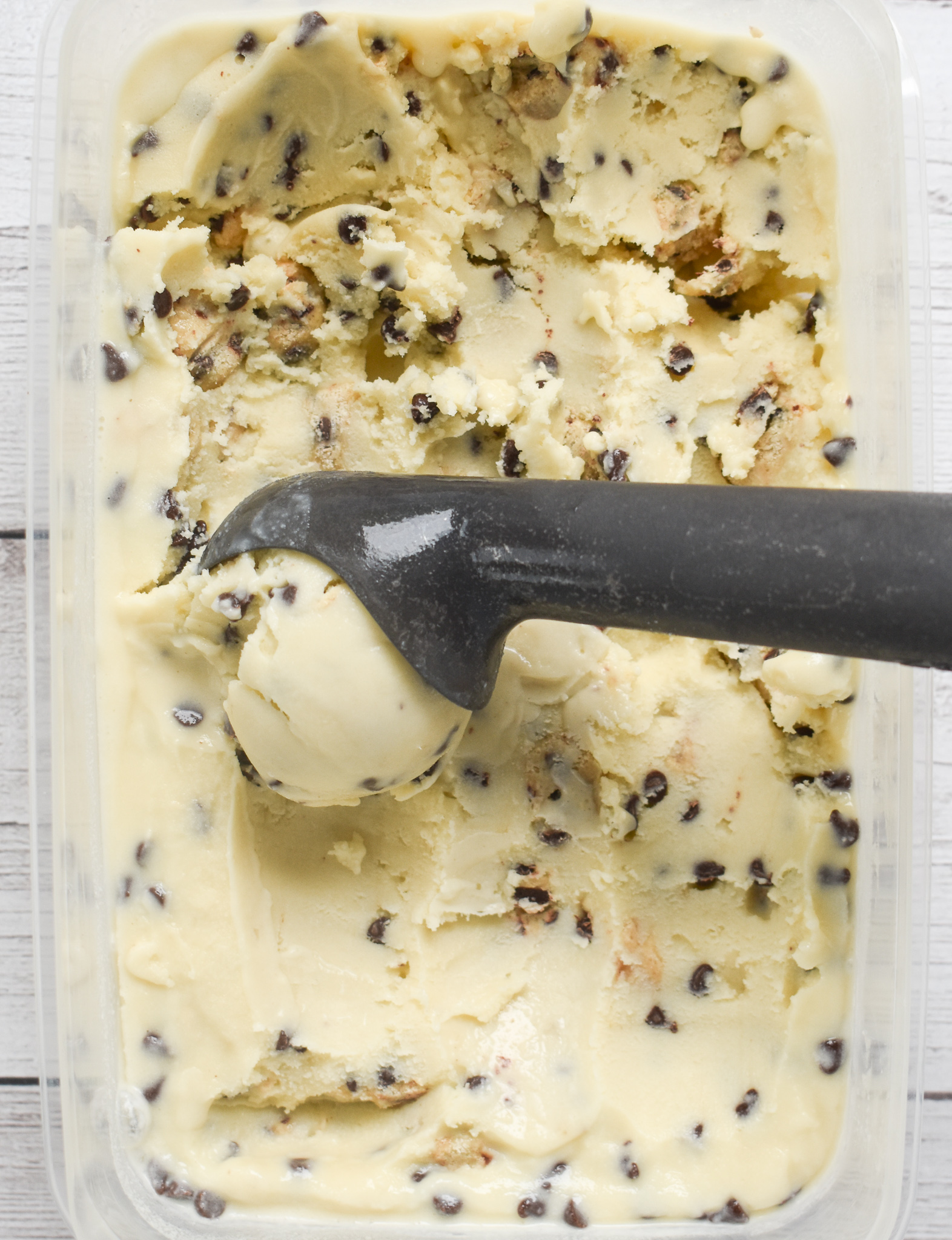 Be healthy and happy,
Rachel Pauls, MD
---
Low-FODMAP Chocolate Chip Cookie Dough Ice Cream; Gluten-free, Dairy-free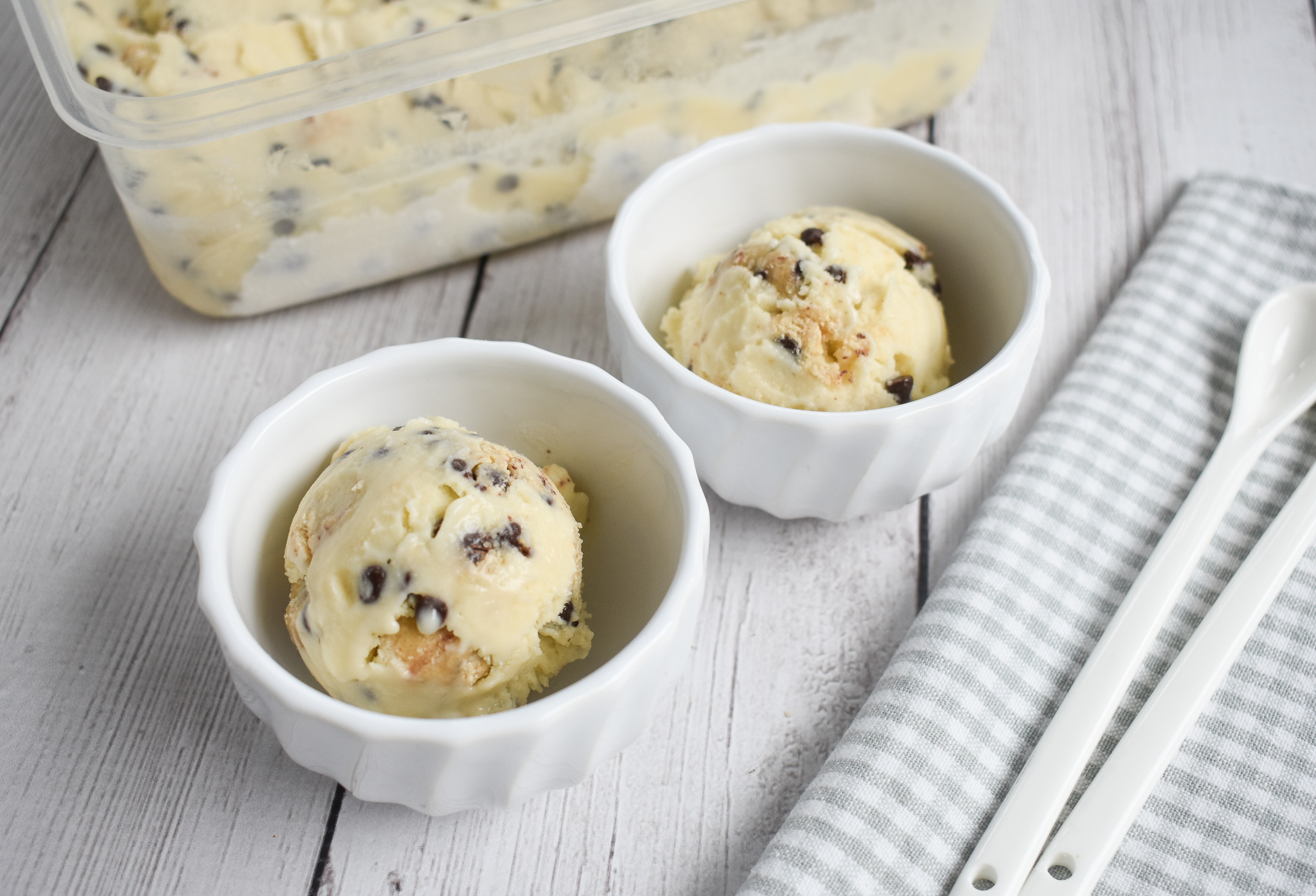 Although this recipe has not been tested, a single serving should be low-FODMAP based on the ingredients
Servings: 14
Prep time: 30 minutes, plus cooling (overnight)
Churn time: 15-20 min (depending on your ice cream maker)
NOTE: Ice cream making spans 2-3 days.  You will need to chill the base and the ice cream maker in advance overnight. Plan accordingly!
Equipment: ice cream maker
*I use the KitchenAid Ice Cream attachment, and I love it.  No need for an extra appliance!
Ingredients
3 tsp pure vanilla extract
2 x 13.5 or 14-ounce cans full-fat coconut milk (I used Trader Joe's)

2 ounces is one low-FODMAP serving due to sorbitol levels

1 cup cane sugar
3 large egg yolks (room temperature)
1 cup low-FODMAP Edible Cookie Dough Balls (see note below)
½ cup mini semi-sweet chocolate chips
Directions
The night before, place your ice cream churning bowl in the freezer to properly chill (make sure it is for at least 6-8 hours)
Prepare the low-FODMAP Edible Cookie Dough, and then using a small teaspoon or melon baller, scoop tiny balls of the dough and freeze these on a cookie sheet (will need about 1 cup to incorporate into low-FODMAP ice cream)
Place coconut milk, vanilla, and cane sugar in a high-speed blender and blend on high until completely creamy and smooth for 1-2 minutes to fully dissolve the sugar and mix the coconut milk
Add more sugar if it needs more sweetness, or more vanilla if it needs more vanilla flavor
Place in saucepan and bring to light simmer (do not boil)
In another bowl whisk egg yolks until pale yellow
Add the warmed milk slowly to egg yolks and mix to temper eggs
Then replace egg and milk mixture to saucepan and simmer slightly for 5 minutes (the mixture should be able to coat the back of your spoon as it thickens)
Place in covered dish in refrigerator for several hours or overnight (this is important or won't freeze)

I keep it in the pot and place plastic wrap over the custard base and touching the top of it so a skin doesn't form

Once chilled, re-whisk to remove lumps if necessary
Add mixture directly to chilled ice cream maker and churn according to manufacturer's instructions – about 15-25 minutes
It should look like soft serve when done
Once churned, Drop small teaspoons or small cubes of your low-FODMAP edible cookie dough as well as the ½ cup semisweet chocolate chips into the mixture and stir by hand

Adjust the amount of cookie dough to your preference. Most brands have about 10% cookie dough in their ice creams

It will be a soft-serve consistency, you can eat it immediately if you like this consistency
If not, transfer the ice cream to a large freezer-safe container (such as a loaf pan or tupperware) and use a spoon to smooth the top
The quicker you transfer the ice cream, the less it melts and will have the best results and taste
Cover securely and freeze at the back of the freezer until firm
Allow to defrost for about 20 minutes prior to serving
Dig in!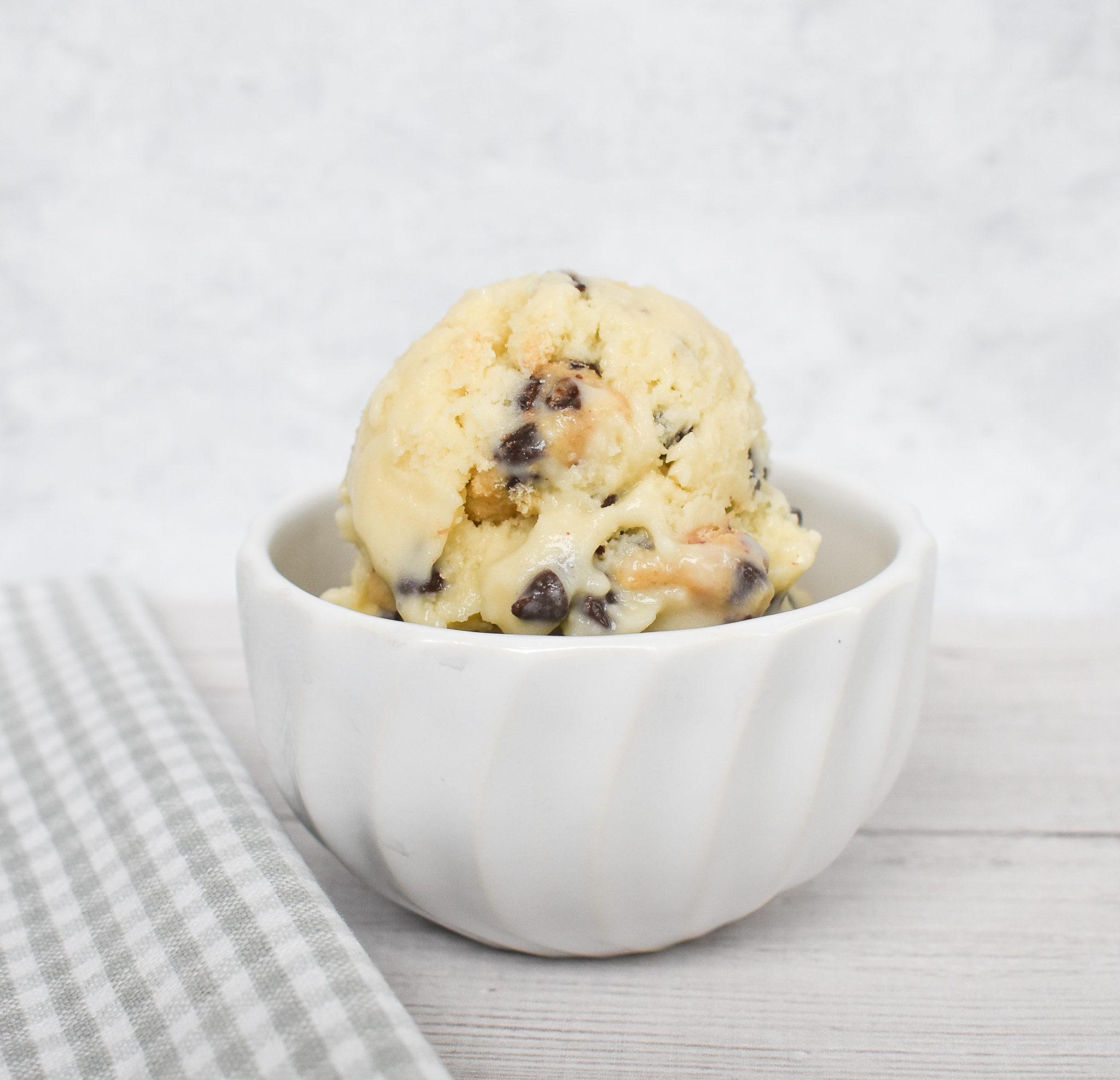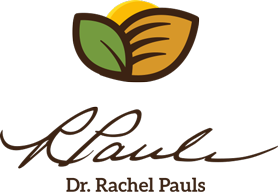 Printer Friendly Version
Comments Rating
( review)