The BEST Low-FODMAP Chicken Tetrazzini; Gluten-free
May 19, 2023
Printer Friendly Version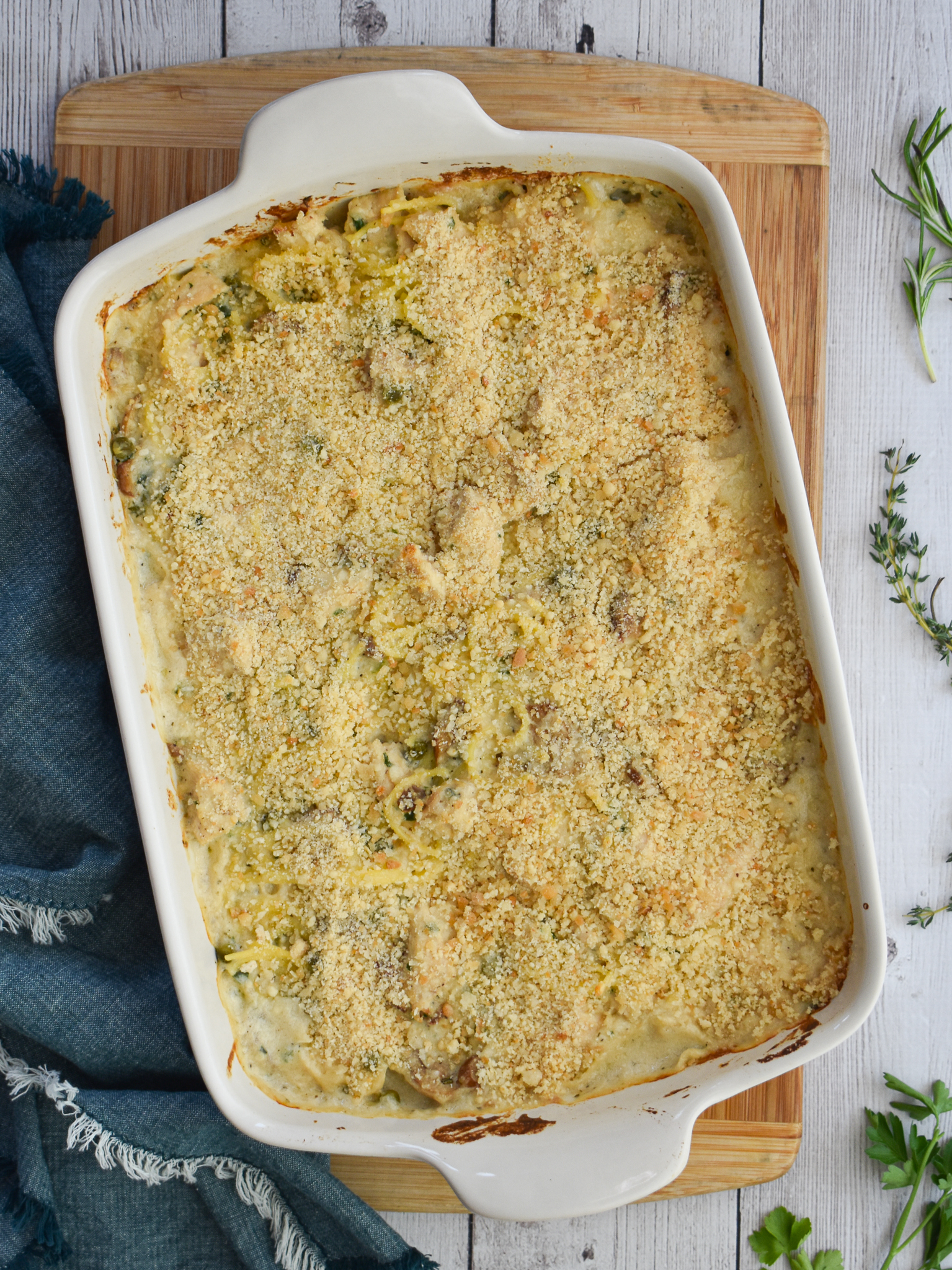 Low-FODMAP Chicken Tetrazzini is a decadent, gourmet Italian dinner.
A good friend that follows low-FODMAP recently asked me if I had a recipe for 'chicken tetrazzini' on my blog.  Unfamiliar with this dish, I replied, "No, what is chicken tetrazzini?" She said, "Probably the most fattening chicken dinner you can order at a restaurant.  It is my husband's favorite, but I am not going to make it for him if I can't at least enjoy it too."
So we laughed and talked through some modifications for her recipe, and I realized that I should add this one to my blog for my readers.
It is indeed true, the recipe calls for some rich ingredients.  But, that doesn't mean you can't enjoy it on special occasions! Remember, the low-FODMAP diet is NOT a lactose-free diet, nor necessarily a gluten-free diet.  It is also NOT a diet to lose weight.  However, if your IBS is sensitive to high fat foods, then consume this recipe according to your tolerance.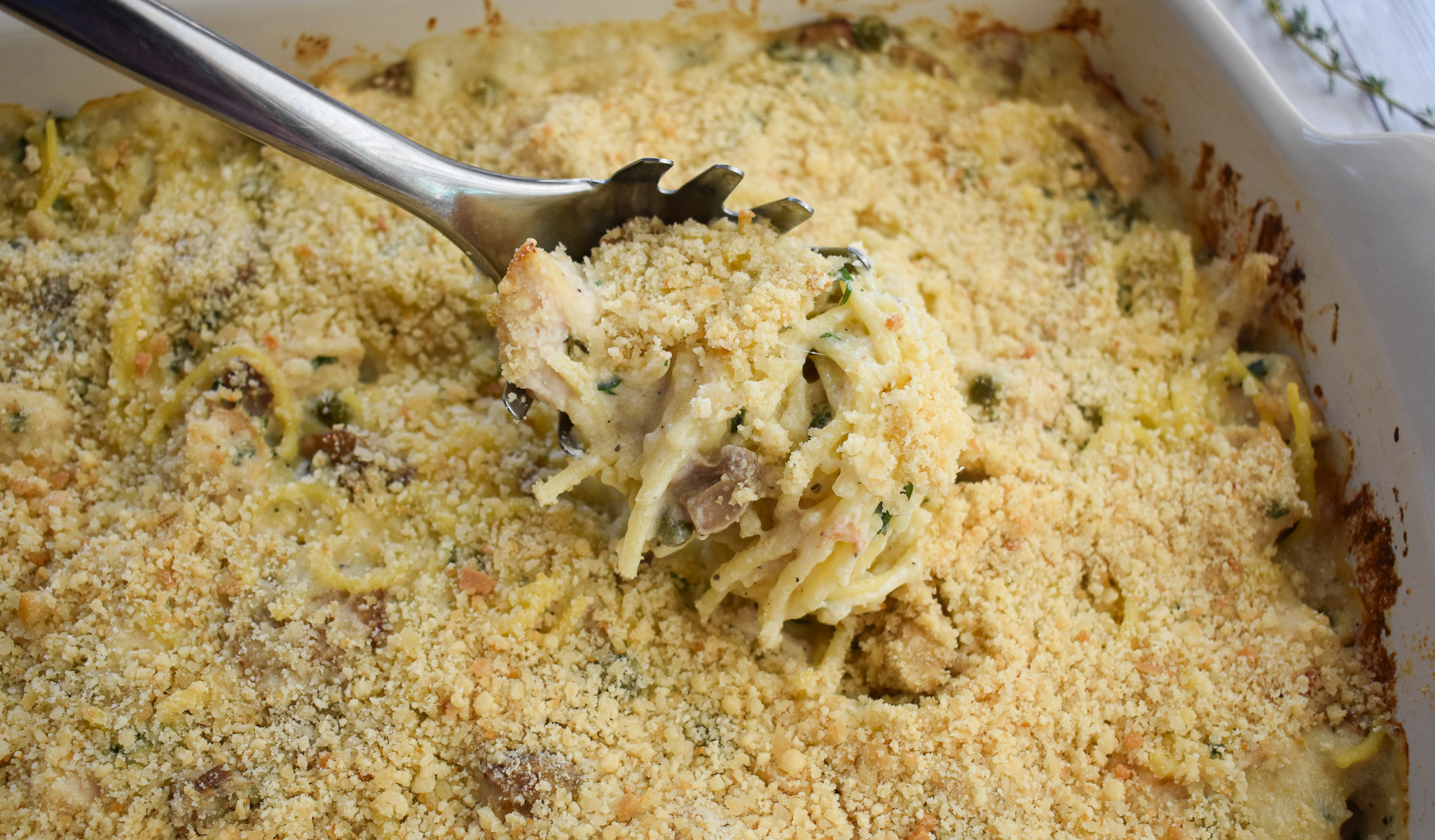 You may also love:
Or check out over 500 more low-FODMAP recipes on the blog.  IBS-friendly!
Be healthy and happy,
Rachel Pauls, MD
Although this recipe has not been lab tested, a single serving should be low-FODMAP based on the ingredients (using available FODMAP data at time of posting).  If you are sensitive to high-fat foods, then adjust to your tolerance.
Serves: 8
Prep time: 25 min
Cook and Bake time: 50 min
Total time: 1 hour 15 min
Equipment: Large saucepan, 13X9 inch casserole dish
Ingredients
2 tablespoons butter

Butter is naturally low in lactose
If you want this 'extra rich', you can also opt to add 2 additional tablespoons of butter at the last steps

2 tablespoons and 1 teaspoon garlic infused oil; divided

Infused oils have flavor, but NOT FODMAPs. Read all about it here!

2 tablespoons and 1 teaspoon onion or shallot infused oil; divided

Infused oils have flavor, but NOT FODMAPs. Read all about it here!

24 ounces boneless, skinless chicken breasts

You can also substitute precooked chicken breasts or thighs, rotisserie chicken or leftover turkey, however it will lack some of the flavor that comes from the searing step

This would be about 4 cups

2 & 1/4 teaspoons salt, plus to taste; divided
1 & 1/4 teaspoons freshly ground black pepper, plus to taste; divided
10 ounces (254 g) canned sliced mushrooms (rinsed and drained)

75g is one low-FODMAP serving
Do not substitute fresh, they are higher in FODMAPs (mannitol)
This is 2 cans

1 tablespoon chopped fresh thyme leaves
2 tablespoons chopped fresh rosemary
1/2 cup dry white wine
1/3 cup all-purpose, low-FODMAP, GF flour
3 cups lactose-free whole milk, room temperature
2 cups lactose-free half and half milk, room temperature
1/8 teaspoon ground nutmeg
12 ounces low-FODMAP, gluten-free linguini, spaghetti, or another pasta that you prefer
3/4 cup (97 g) canned peas, rinsed and drained

45 g is one low-FODMAP serving
Do not sub fresh peas, they are higher in FODMAPs (GOS)

1/4 cup chopped fresh Italian parsley leaves
2 tablespoons minced green scallion tips or chives
1 cup freshly grated Parmesan
1/2 cup dried low-FODMAP, GF breadcrumbs (try store bought Panko, or make your own!)
Baking spray
Directions
Preheat the oven to 450 degrees F and grease your 13 by 9-inch casserole dish with baking spray
Pat chicken breasts dry, then sprinkle 1/2 teaspoon of each of the salt and pepper on the chicken breasts
In a large nonstick skillet (with a lid), warm 1 tablespoon butter over medium high heat

Can also use a Dutch Oven

Add the chicken to the hot pan and cook until pale golden and just cooked through, about 4 minutes per side (do not overcook it at this point, it will cook more in the oven)
Transfer the chicken to a bowl or plate to cool slightly, then coarsely shred or chop the chicken into bite-size pieces

If you elect to use pre-cooked or rotisserie chicken, then skip the above steps and shred the pre-cooked chicken (this will be about 3 cups once shredded)

Next, place 1 tablespoon of each of the garlic infused oil and onion/shallot infused oil to the pan
Add canned, drained mushrooms and sauté over medium-high heat until pale golden, about 2 minutes
Add the thyme and rosemary, then wine, and simmer until it evaporates, about 5 minutes
Transfer the mushroom mixture to the plate/bowl with the chicken
Melt 1 tablespoon butter in the same pan over medium-low heat, then stir in 1 tablespoon of each of the 2 infused oils
Add the LF, GF flour and whisk for 2 minutes to brown slightly
Whisk in the lactose-free whole milk, lactose-free half and half, low-FODMAP chicken broth, nutmeg, remaining 1 & 3/4 teaspoons salt, and remaining 3/4 teaspoon pepper
Increase the heat to high, then cover skillet and allow the sauce to boil. Continue to simmer until it thickens, stirring frequently (about 10 min)
While this is cooking, prepare your choice of LF, GF pasta according to package instructions (to al-dente). This usually takes about 10 minutes
Drain pasta, and toss with 1/2 teaspoon of each of the infused oils and a little salt, then place in your casserole dish
Add the mushroom/chicken mixture to the skillet, then stir in your canned peas, fresh parsley, and chives/scallion tips and toss until the sauce coats everything

Taste sauce, and add seasoning as desired (be aware that the Parmesan will also add salty flavor to the final meal)

Transfer the contents of the skillet to the casserole dish, and toss together with the pasta to coat (if your pan is large enough, you could also toss it all in the pan before transferring to the casserole)
Stir the Parmesan cheese and breadcrumbs in a small bowl to blend together
Sprinkle the cheese mixture over the pasta
Place casserole in your preheated oven and bake, uncovered, until golden brown and bubbly, about 20 minutes

For added richness, sprinkle additional 2 tablespoons of butter over top of the casserole before baking
WOW.  This is so good!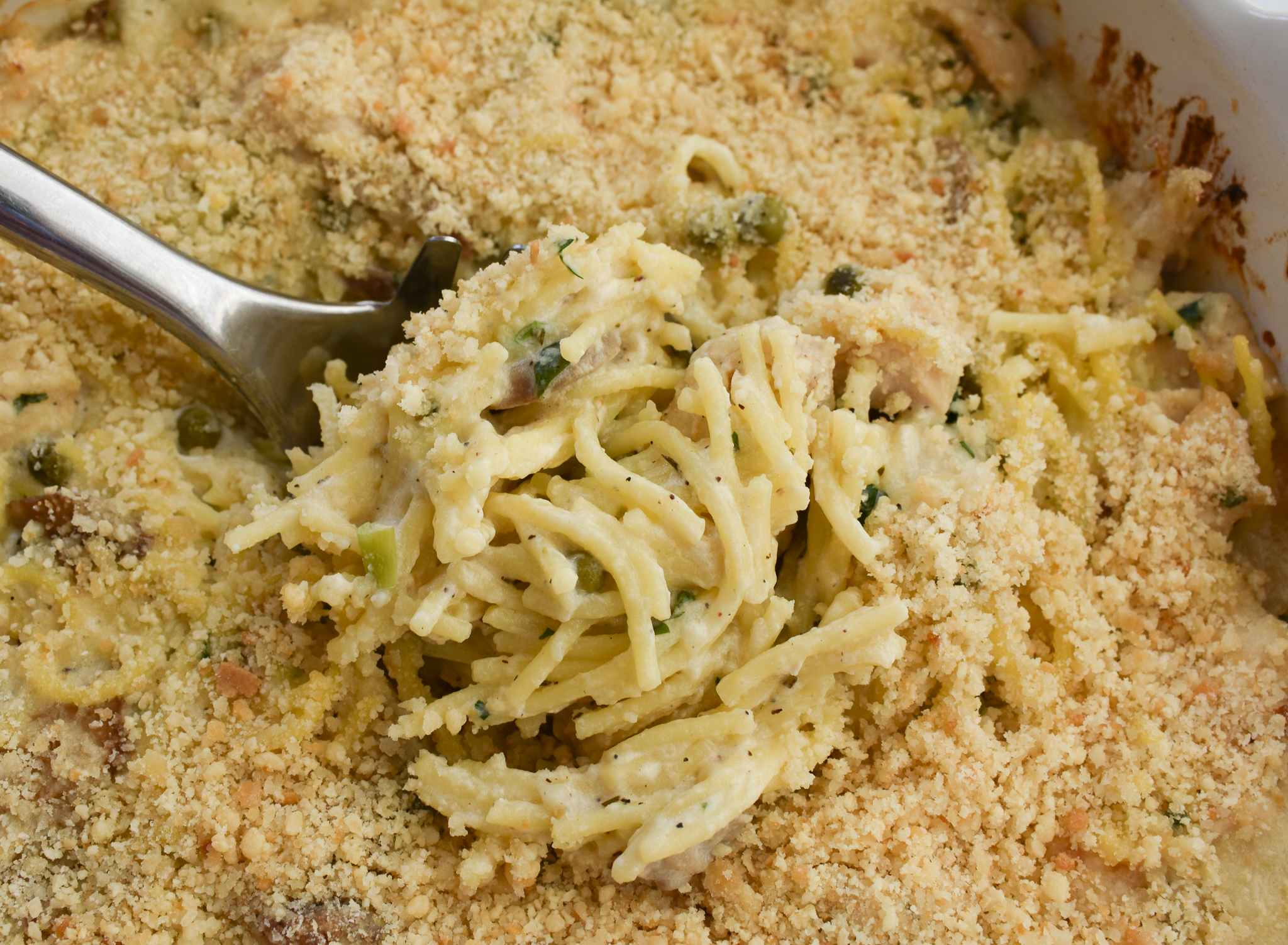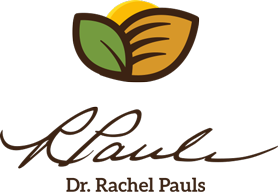 Printer Friendly Version
Comments Rating
( review)