Low-FODMAP Chicken, Sausage and Shrimp Gumbo; Gluten-free, Dairy-free
March 10, 2023
Printer Friendly Version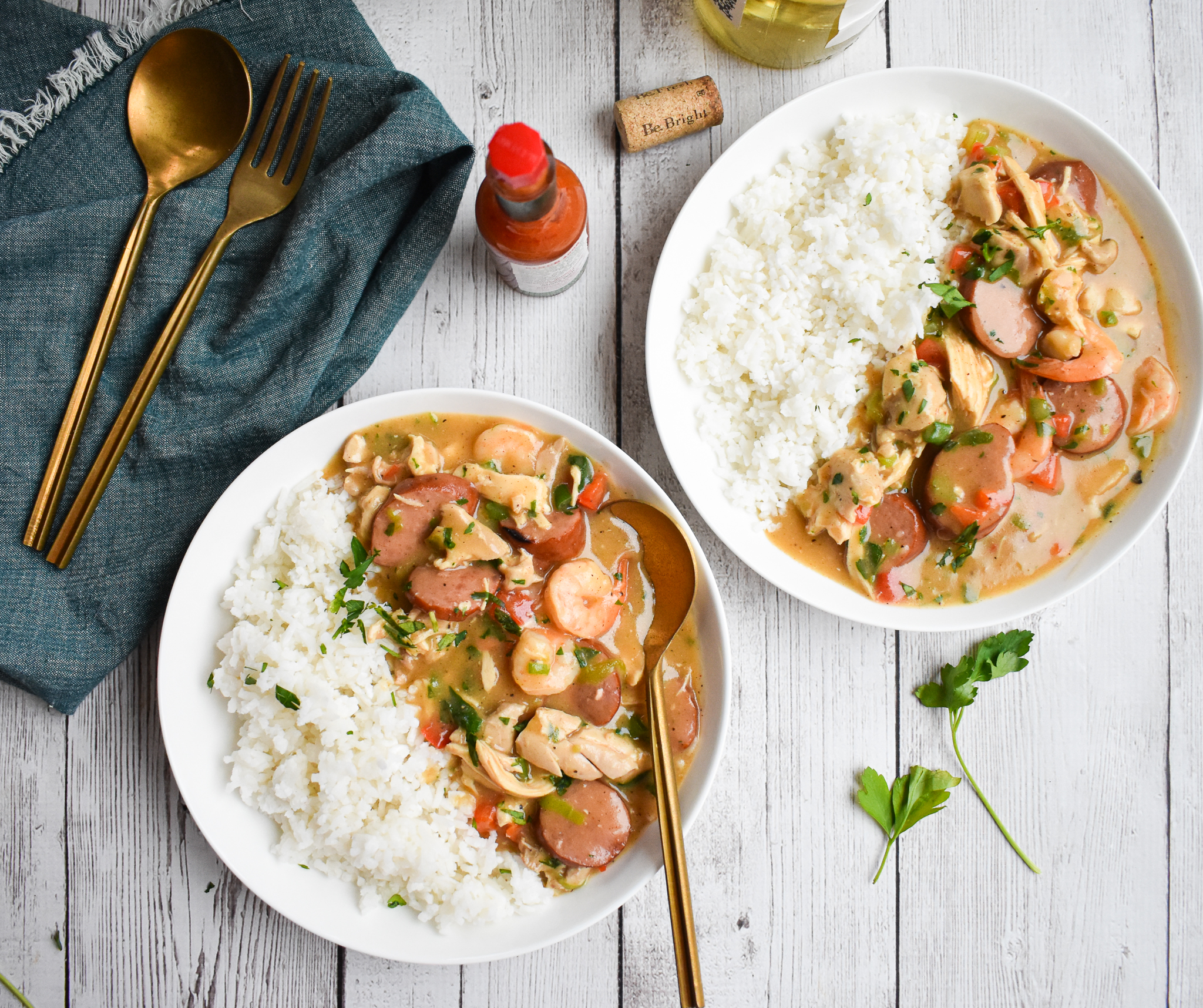 Creating a low-FODMAP Gumbo recipe was an adventure. I wanted it to taste super authentic, while substituting (without sacrificing flavor) all the ingredients in a typical gumbo that are high FODMAP. However, the effort was so worth it…I am sure you will agree.
This recipe was inspired by my online fans' requests. Thank you for the idea 🙂
Gumbo is somewhere between a stew and a soup.  It is immensely popular in the state of Louisiana and has many renditions, so I expect that my version may be controversial with some of my readers tastes. I understand!
Gumbo typically contains a rich stock, meats such as chicken, fish, shellfish, sausage, or a combination, and the Southern 'holy trinity' of celery, bell peppers and onions. It is thickened/flavored with a 'roux'.  The roux should be scratch-made, and is traditionally composed of okra or filé powder (ground sassafras leaves).
Gumbo is also frequently seasoned with a pre-made 'cajun seasoning', a packaged spice blend that almost always contains either onion or garlic.
For obvious reasons, I needed to make a few adjustments to keep this recipe low-FODMAP for me and you.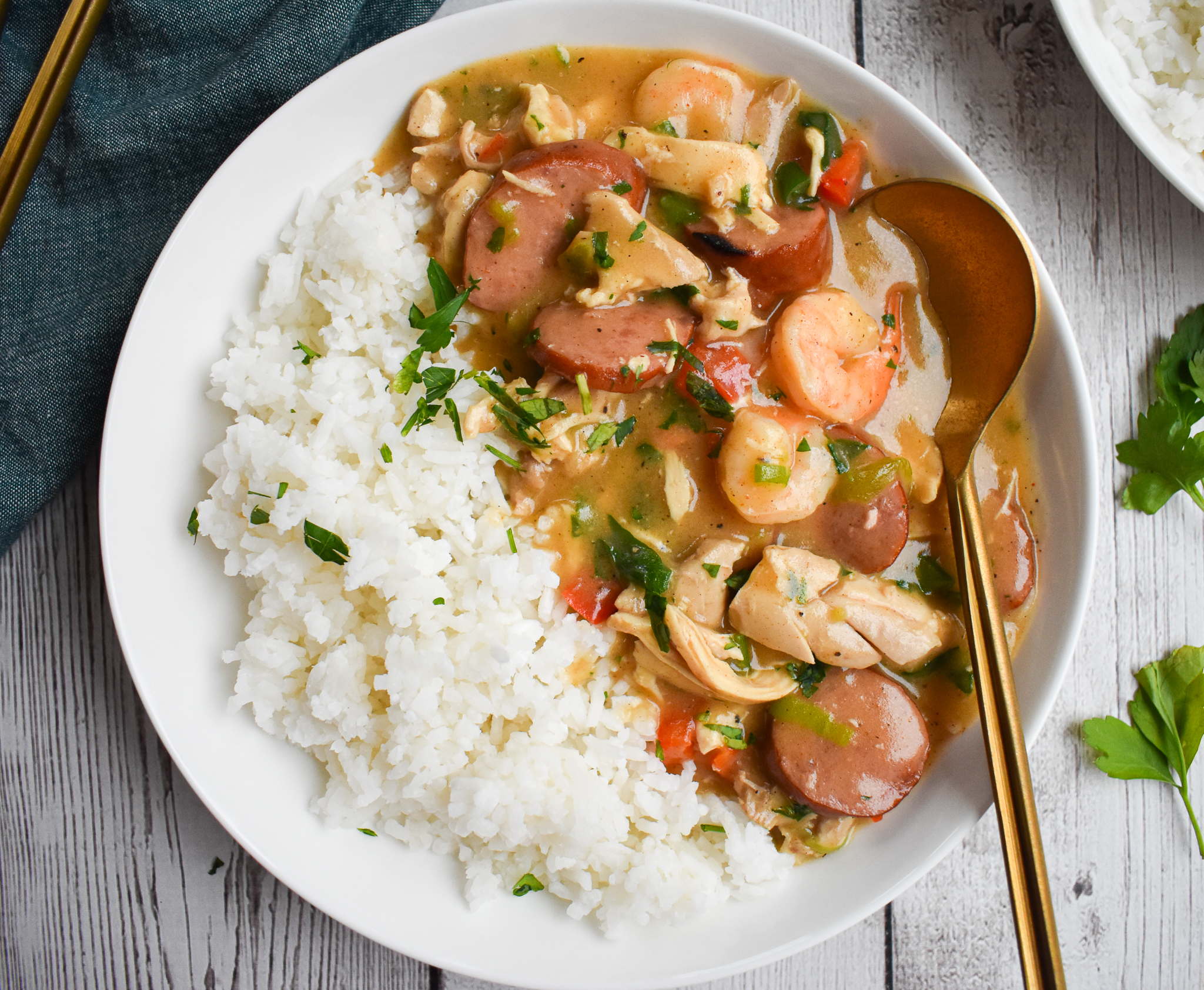 I incorporate a little celery, onion-infused oil (the oils do not contain the FODMAPs), and garlic infused oil.   Instead of okra, my roux is low-FODMAP flour-based.   My seasonings are not from a pre-packaged blend, but added one by one. This gumbo is not overly spiced (for IBS tolerance), feel free to add more to your preference.
FODMAP facts: Okra has been tested and a 75g serving is low-FODMAP.  However, filé powder (ground sassafras leaves) is not currently in the Monash app, and this may be a challenging ingredient to source for my readers. Therefore my roux is GF flour based, read on for more details.
Many gumbo recipes utilize Andouille sausage as one of the proteins. It was a challenge to find a brand that did not contain onion or garlic. Since the flavor is similar, I substitute a Polish Kielbasa beef sausage. While my brand does list 'natural flavorings', and a small amount of soy protein, I was able to tolerate it. However, if you can't find a brand of sausage that does not contain onion or garlic, or you have concerns about this ingredient, then feel free to omit it, and add more shrimp or chicken.
Chef's notes about roux: When making gumbo, a classic recipe will utilize a 'roux' in the base.  Roux is a mixture of flour and fat (such as oil or butter), that is rendered down over heat.  For a gumbo, the color of the roux is a often a dark brown, and this style of roux is mainly for flavor rather than thickening.  However, gluten-free flours do not behave quite the same as wheat based, and therefore the roux for this recipe will not be as dark as for a standard gumbo. Roux may be prepared well in advance and frozen (if you like to make a large batch).  See my notes below, as well as this blog post for details!
You may also love:
Or check out over 500 more low-FODMAP recipes on the blog.  IBS-friendly!
Be healthy and happy,
Rachel Pauls, MD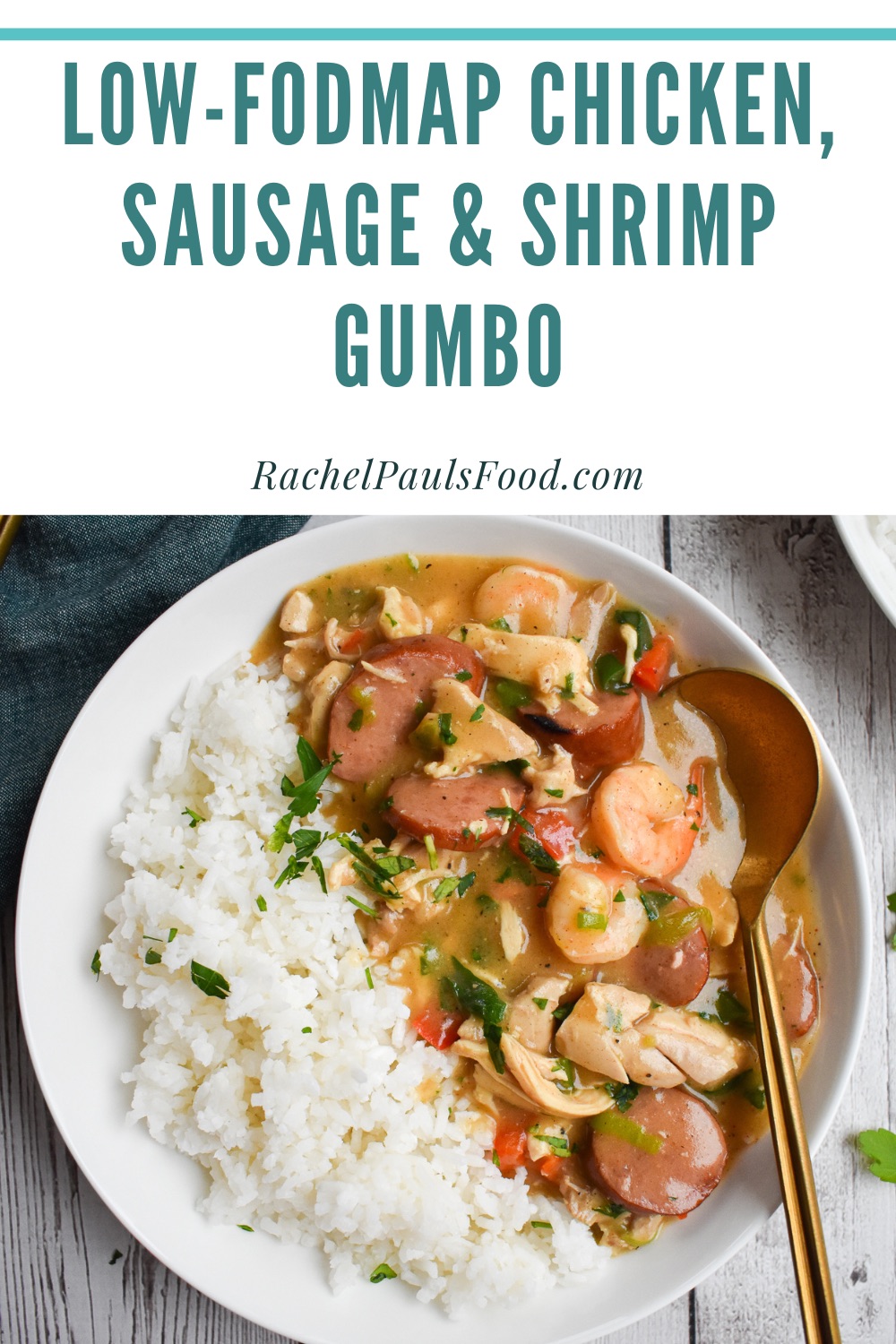 Although this recipe has not been lab tested, a single serving should be low-FODMAP based on the ingredients (*using available FODMAP data at time of posting).  Since spicy foods are an IBS trigger for some, adjust the seasonings to your tolerance
Serves: 8-10
Prep time: 20 mins
Cook time: 1 hour 20 min
Total time: 1 hour 40 min
Equipment: large 7.5 quart Dutch Oven or saucepan, large saucepan for cooking chicken (if not using precooked)
Ingredients
For the Roux:
1 heaping cup low-FODMAP, gluten-free, all-purpose flour

I used a rice flour blend without gums

2/3 cup oil (such as canola)
1/3 cup onion or shallot-infused oil
For the Gumbo:
24 ounces of boneless, skinless chicken breasts and thighs

You can substitute meat from one rotisserie chicken for a shortcut, shredded
Ensure you select a chicken that you tolerate, without added onion or garlic
I used 1 lb of thighs and 1/2 lb of breasts

1 stalk celery (40 g), diced

10 g is one low-FODMAP serving due to mannitol

1 red bell pepper (200g), diced

43 g is one low-FODMAP serving due to fructose

1 green bell pepper (150g), diced

75 g is one low-FODMAP serving due to fructans

8 scallions, use the green tips only, finely chopped
1 bunch fresh parsley leaves, finely chopped (save a bit for garnish)
2 tablespoons of garlic-infused oil
2 teaspoons paprika or smoked paprika
1 teaspoon ground cumin

This spice is less traditional but I love the flavor. For a more Cajun take try cayenne instead and adjust to your heat preference

2 teaspoons ancho chili powder

Ensure your product does not contain added onion or garlic

1 teaspoon dried basil
6 cups low-FODMAP chicken broth, prepared (plus additional 1-2 cups based on desired consistency)
12-ounce package precooked pork or beef sausage, sliced into 'coins'

See notes above regarding sausage choices

2 cups pre-cooked shrimp, tails on or off per your preference

Traditional gumbo leaves the tails on for extra flavor

Salt and pepper, to taste and for cooking chicken
Cooked white rice, for serving
Hot sauce, for serving
Directions
**Depending on your style of cooking, you can prepare the chicken and roux at the same time, or make the roux first.  Making the roux does require constant stirring, so if this is your first time, I would recommend you do the roux to start, then proceed with boiling the chicken.  If you use a rotisserie chicken, then you can skip those steps as well. The roux could be prepared well in advance, if you like to make recipes over a day or two (I did it a few days early)
In a medium-sized pot, place chicken breasts and thighs
Cover with 2 quarts (8 cups) of water and sprinkle with salt and pepper
Bring water to a boil, then simmer until fully cooked about 20 minutes
When done, remove cooked chicken from the pot, allow it to cool slightly then chop or shred into small pieces
Cover and set aside for later
**While chicken is cooking, prepare the roux (or do this separately, see above)

In a large, heavy bottomed pot or Dutch oven combine 2 oils with low-FODMAP, GF flour
Cook over medium-low heat, stirring constantly for 30-40 minutes, without boiling

This part takes patience–it will darken as it cooks

NOTE: For a gluten-free based roux, I suggest stopping when it is the color of tahini or peanut butter, and not progressing to the dark chocolate color seen in wheat based roux
Watch this so it doesn't burn, you can't let it sit on the bottom. If it burns, you should discard it as it will ruin your recipe
I used a 'figure of 8' motion and a roux whisk

Place the roux in a small bowl when cooked and wipe down your pot

You can also make this in advance and refrigerate or freeze it (it can last for months in the freezer)

Once your roux and chicken are completed, place the peppers, celery and sausage in the large pot.  Allow the veggies to sear lightly and the sausage to brown

You may also want to do the sausage first, then the veggies

Once sausage is done, remove to a plate (leaving the veggies in the pot)
Add chicken broth slowly, and deglaze the bottom with a wooden spoon, then add your prepared roux to the pot and stir well
Bring to a boil over medium heat and boil for 5-7 minutes, or until the vegetables are tender
Stir in scallions, paprika, cumin, chili powder, basil, and garlic infused oil
Then add chicken, sausage, shrimp, and parsley to the pot
Taste, and add salt and pepper, seasonings and broth to preference

I added 1 teaspoon each of salt and pepper, more cumin, and 1 cup of additional broth

Serve warm over rice, garnished with fresh parsley

Will taste even better after a day in the refrigerator!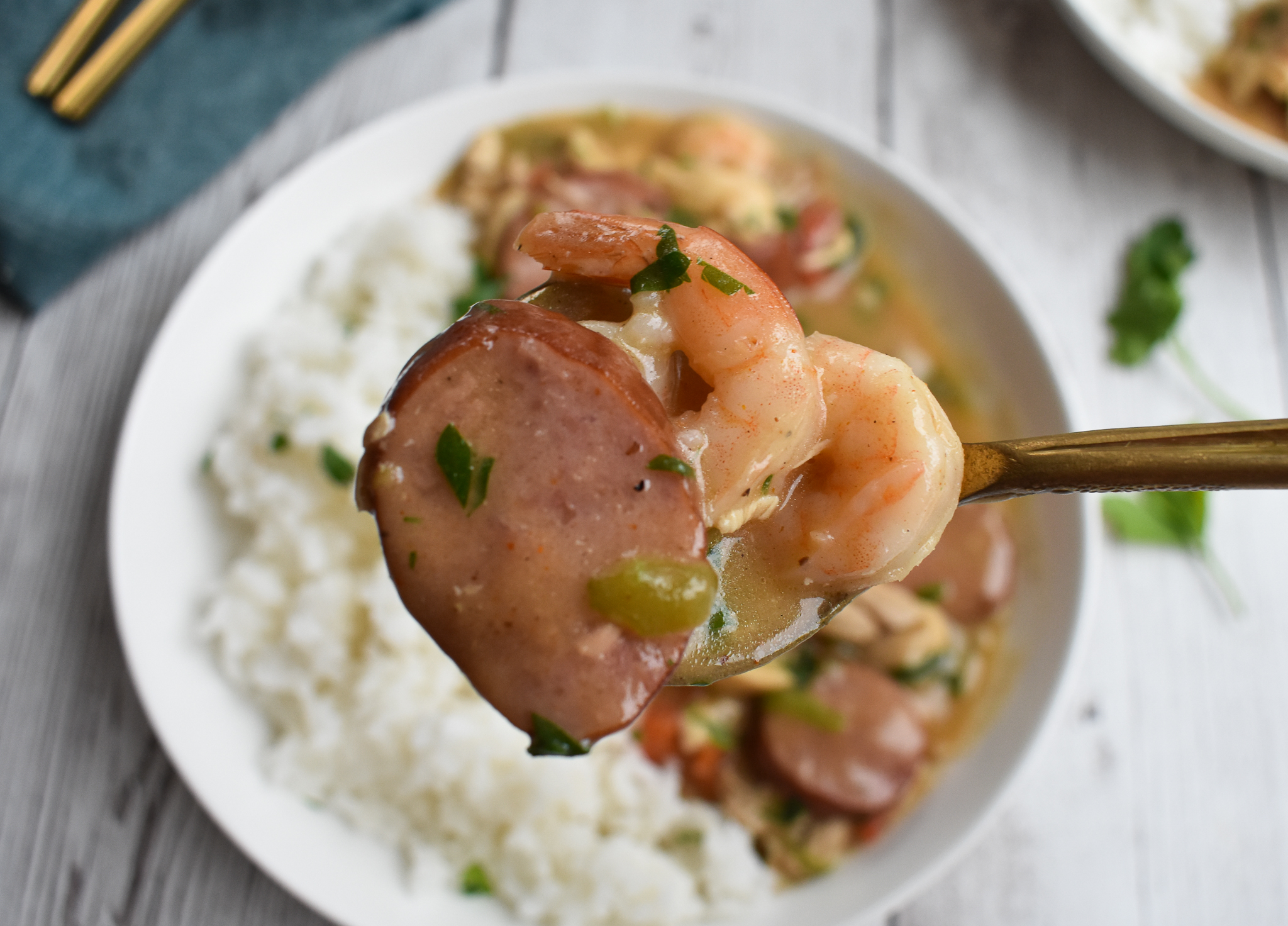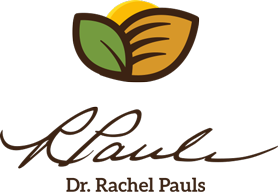 Printer Friendly Version
Comments Rating
( reviews)