Low-FODMAP Chicken Noodle Soup Recipe; Gluten-free, Dairy-free 
May 27, 2018
Printer Friendly Version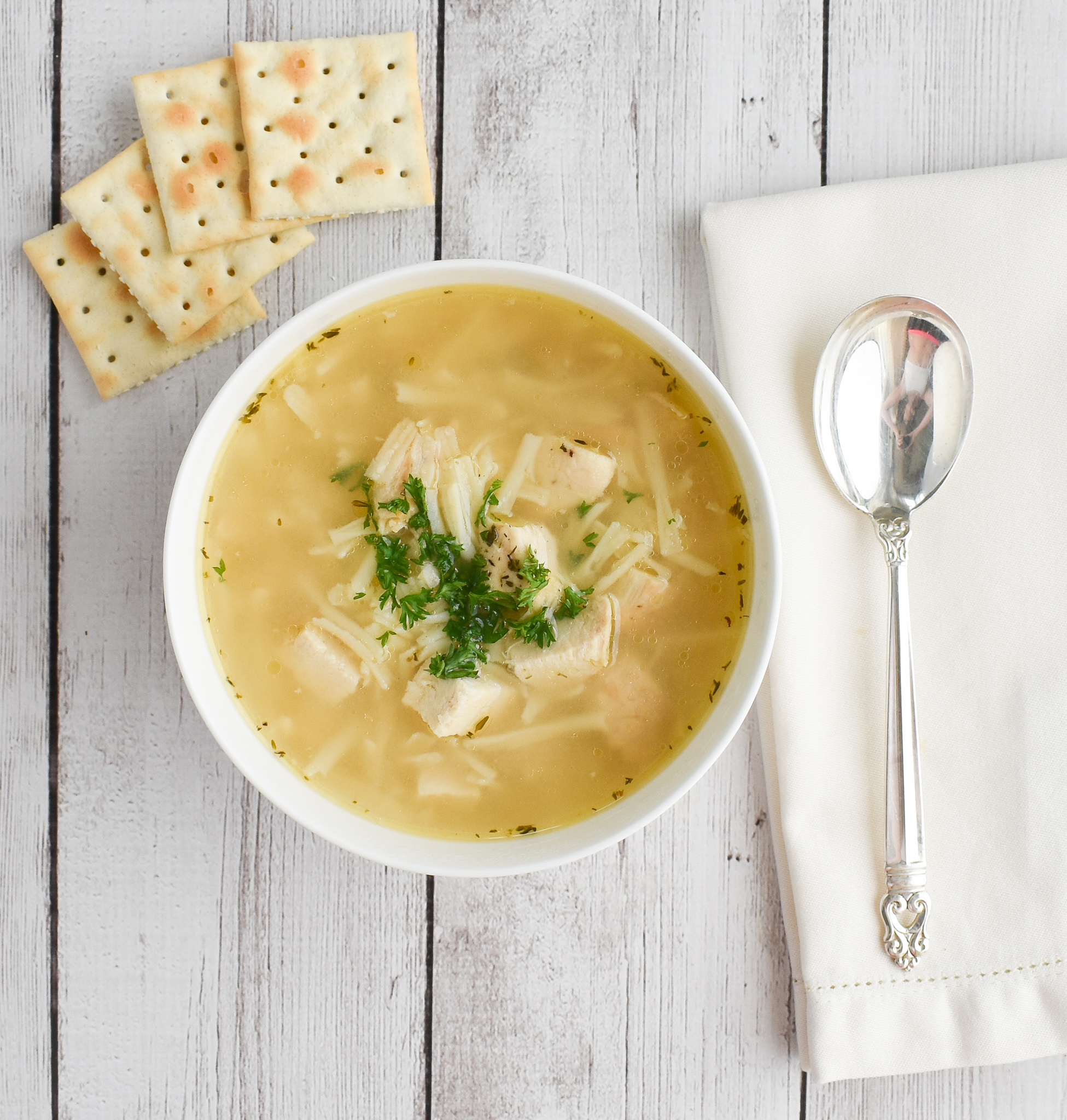 This low-FODMAP Chicken Noodle Soup recipe is what you have been looking for! It is gluten-free, dairy-free and super easy.  Your kids are going to love this soup!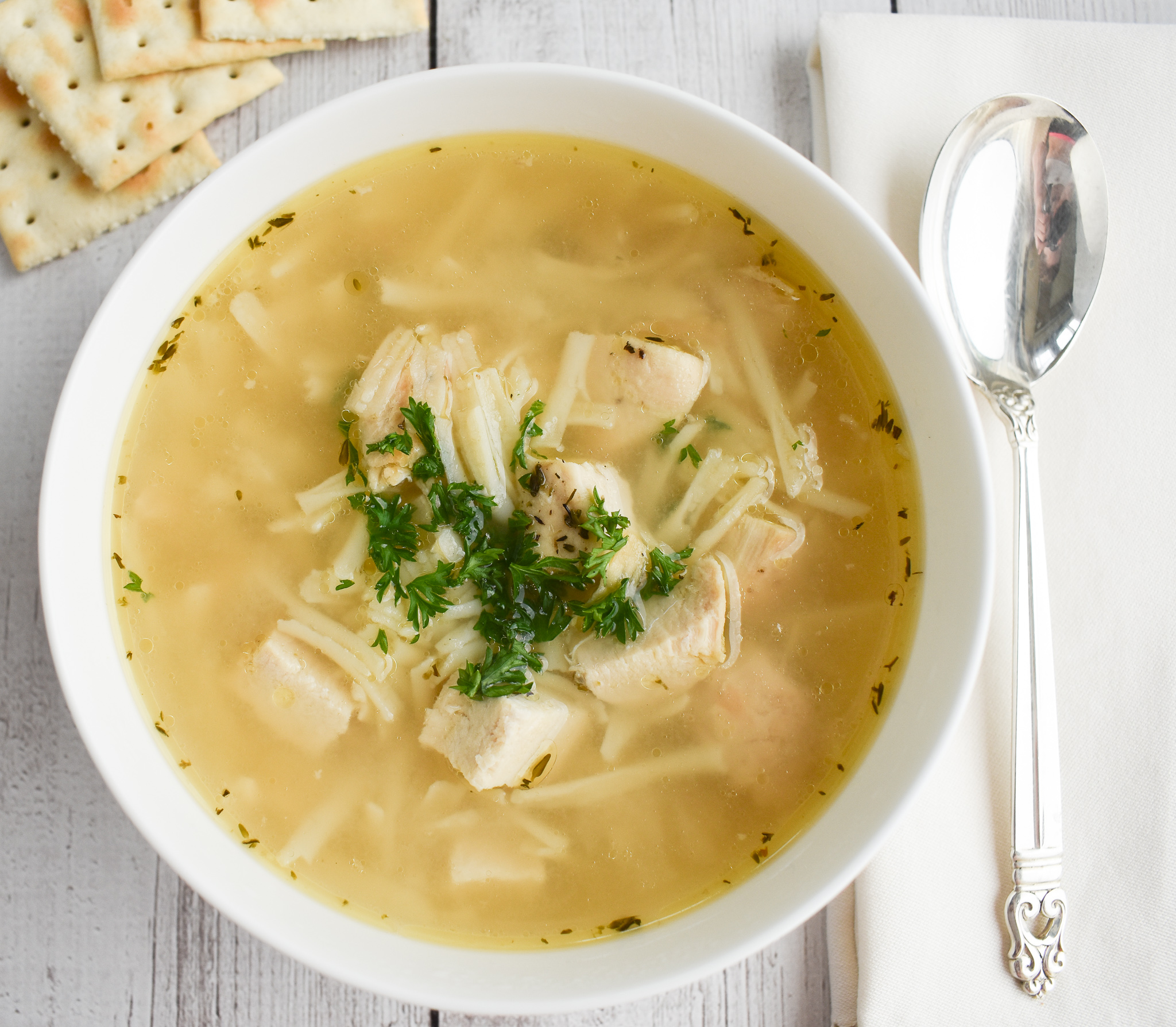 Soup is the perfect lunch, snack or supper.   Filling, and healthy as well as low-calorie.  But low-FODMAP recipes have been hard to come by.  This low-FODMAP Chicken Noodle Soup recipe is going to thrill your family and be a great addition to your recipe book!  I also have low-FODMAP Minestrone Vegetable Soup, low-FODMAP Chicken and Wild Rice Soup and low-FODMAP Carrot and Curry Soup recipes on the blog as well.
A word about homemade my recipe for low-FODMAP chicken stock:  there's a reason we serve this up when we are sick.  It is a nutritional superpower that boosts immunity.  Easy and inexpensive, low-FODMAP homemade chicken stock is loaded with amino acids, packed with collagen (beauty food) and gelatin (gut and joint health), as well as tons of vitamins and minerals.  You can't get that out of a can!  Its no wonder why people have made homemade chicken stock since almost the beginning of time.  While making this from scratch takes an extra night for simmering in your slow cooker- it is completely worth it.  Or you can also try my low-FODMAP Happy Soup for easier prep.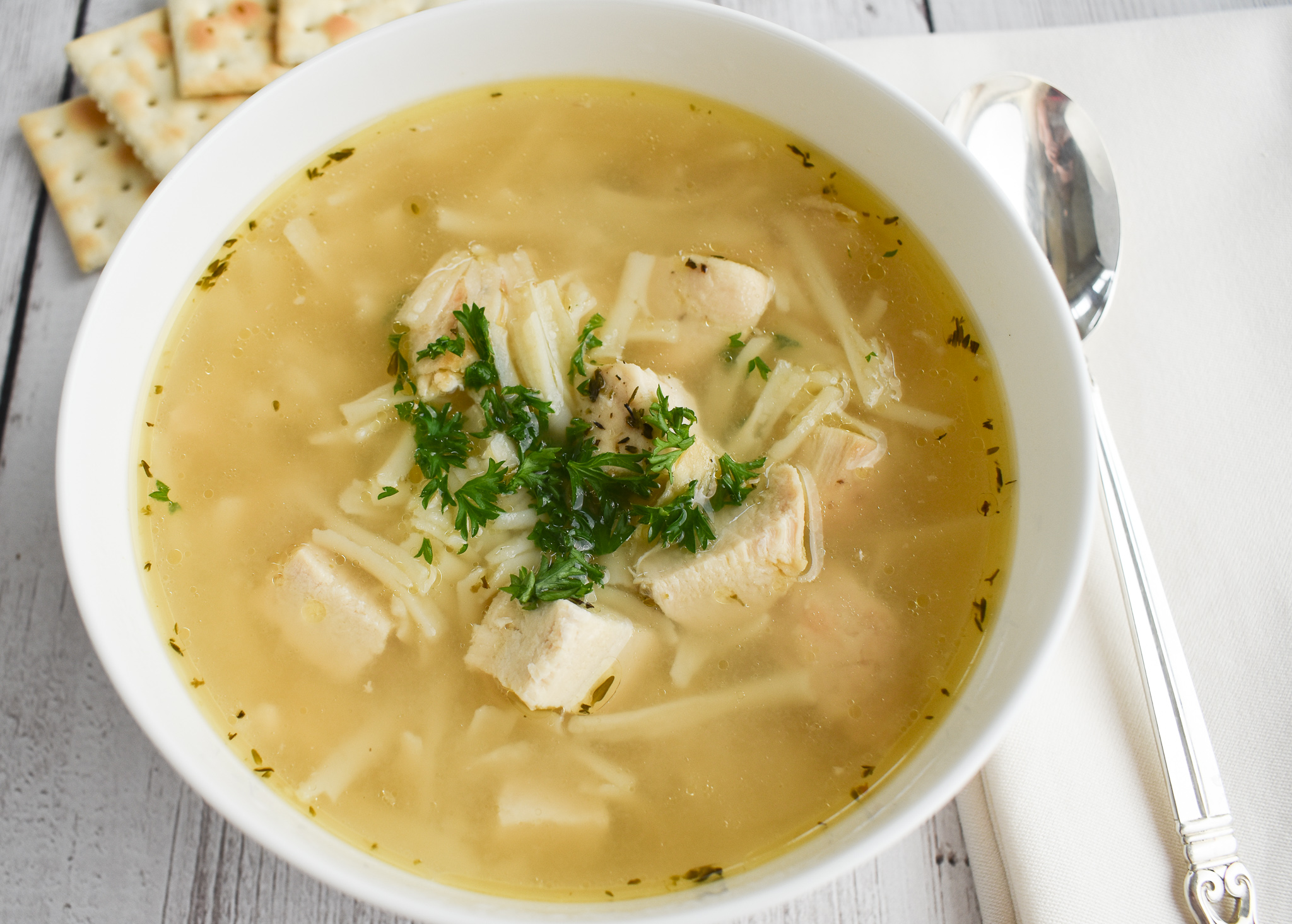 Check out my blog for more ideas… we have over 300 low-FODMAP recipes!
Be healthy and happy,
Rachel Pauls, MD
---
Low-FODMAP Chicken Noodle Soup; Gluten-free, Dairy-free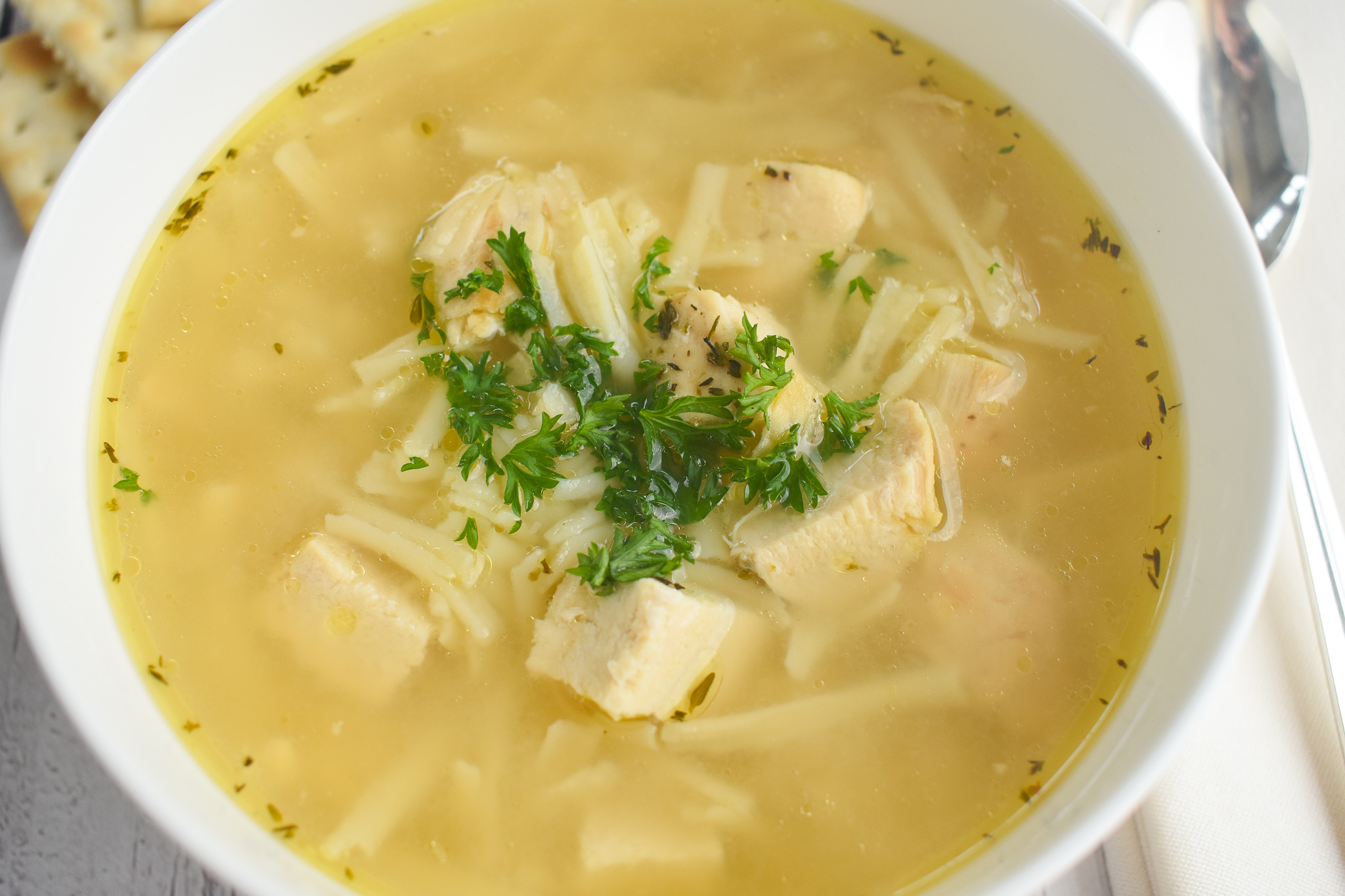 Although this recipe has not been tested, a single serving should be low-FODMAP based on the ingredients
Serves 6
Cook time: 20 min
(If chicken is not baked, add additional 20 min for this step)
Bake 400 F
Ingredients
3 cooked and cubed boneless, skinless chicken breasts (about 12 ounces total)

if cooked already, skip steps 1-3

2 tablespoons onion or garlic infused oil, plus extra for drizzling
1/4 teaspoon dried thyme
1-2 teaspoons each of: salt and freshly ground black pepper
8 cups low-FODMAP chicken broth (see recipe)
2 cups raw low-FODMAP noodles: try Asian rice vermicelli noodles or gluten-free, low-FODMAP thin spaghetti pasta

I used Ronzoni brand thin spaghetti noodles

Minced fresh parsley and/or dill, for garnish
Serve with gluten-free crackers (I like Glutino brand), or if you can tolerate gluten then regular saltine crackers have tested to be low-FODMAP in recent US based research
Directions
Preheat the oven to 400 degrees F
Drizzle the chicken breasts or thighs with olive oil and sprinkle with the ground thyme and some salt and pepper
Put the chicken in a roasting pan lined with foil and roast until cooked through, about 20 minutes
Let cool slightly and chop into cubes
In a pot over medium heat, pour in the chicken broth
Cover and bring to a simmer, stir in the 2 tablespoons of oil
Add the noodles and cook in the broth until al-dente
Add chopped chicken to the pot
Add salt and pepper to taste
Serve garnished with fresh dill and parsley, if desired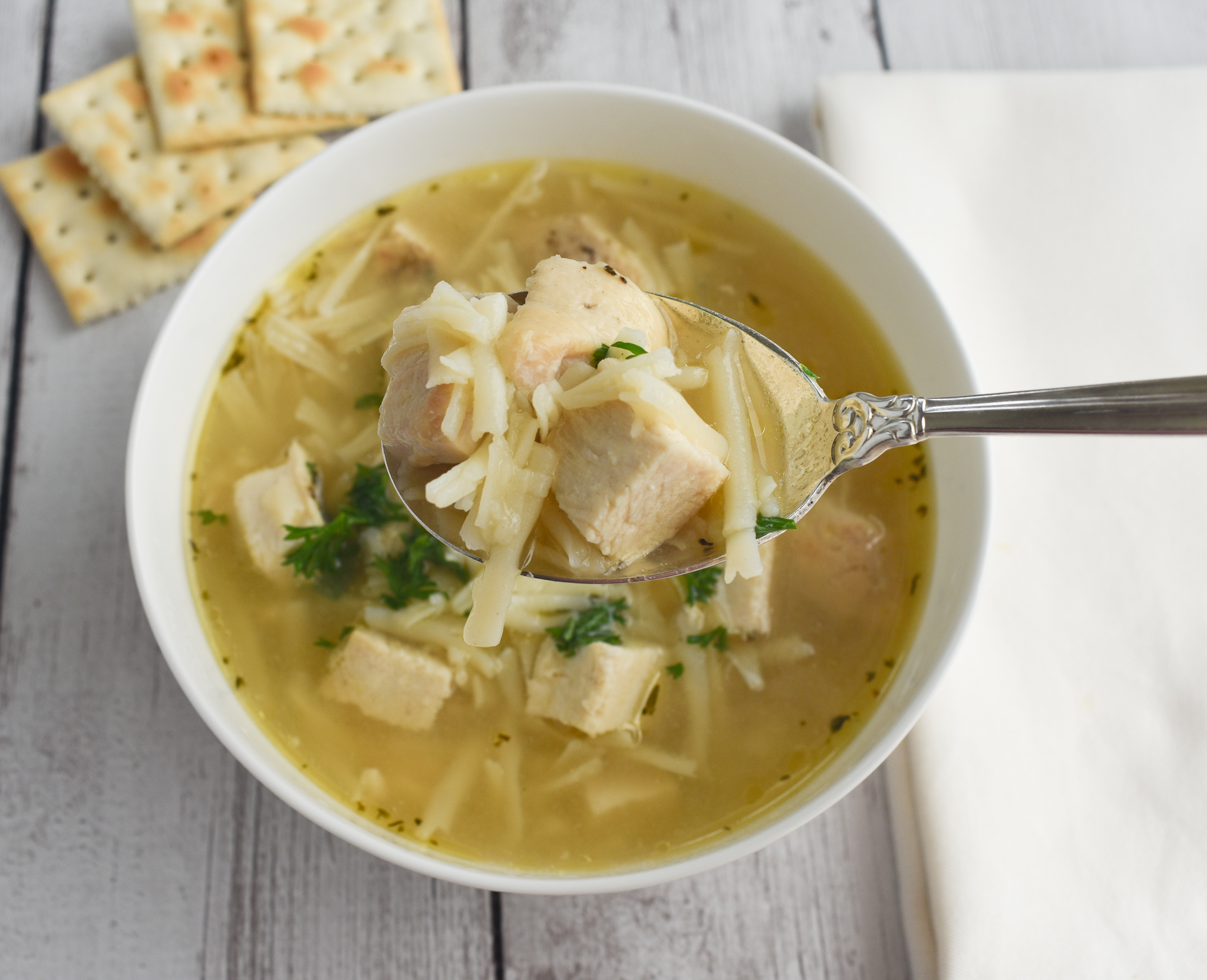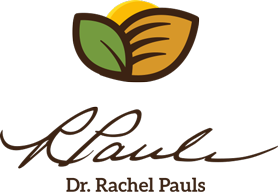 Printer Friendly Version
Comments Rating
( reviews)