Low-FODMAP Chicken Bacon Ranch Casserole; Gluten-free
April 14, 2023
Printer Friendly Version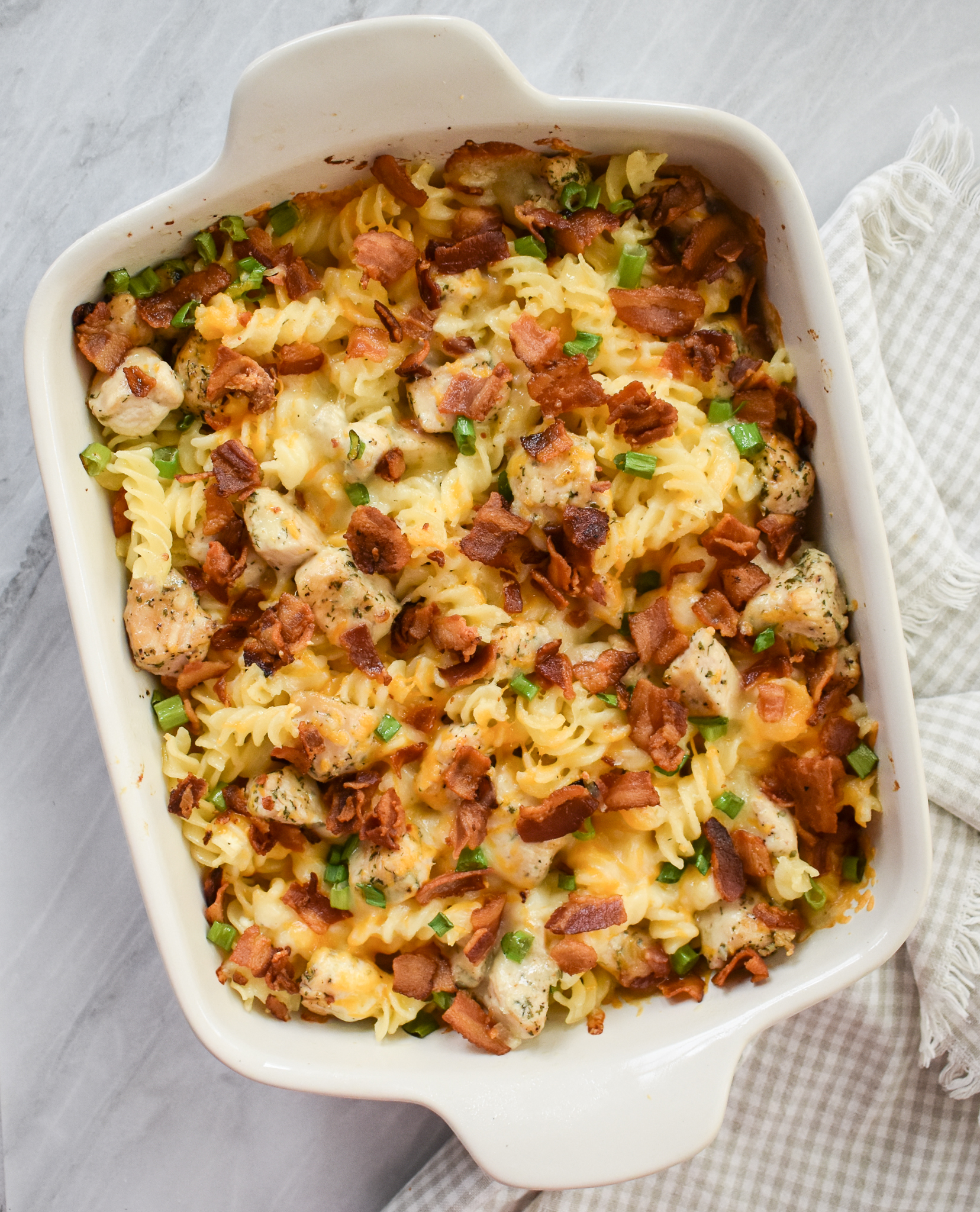 Creating low-FODMAP versions of all the yummy meals I enjoyed prior to the low-FODMAP diet is my passion.
I LOVE sharing a version that tastes exactly like the original, but without upsetting my tummy.  Or yours.
Here is a classic, American casserole.  Living in the Midwest, casseroles are a way of life 🙂
Low-FODMAP Chicken Bacon Ranch Casserole combines all our favorite flavors of a Club sandwich, or Cobb salad, but in a casserole with delicious pasta.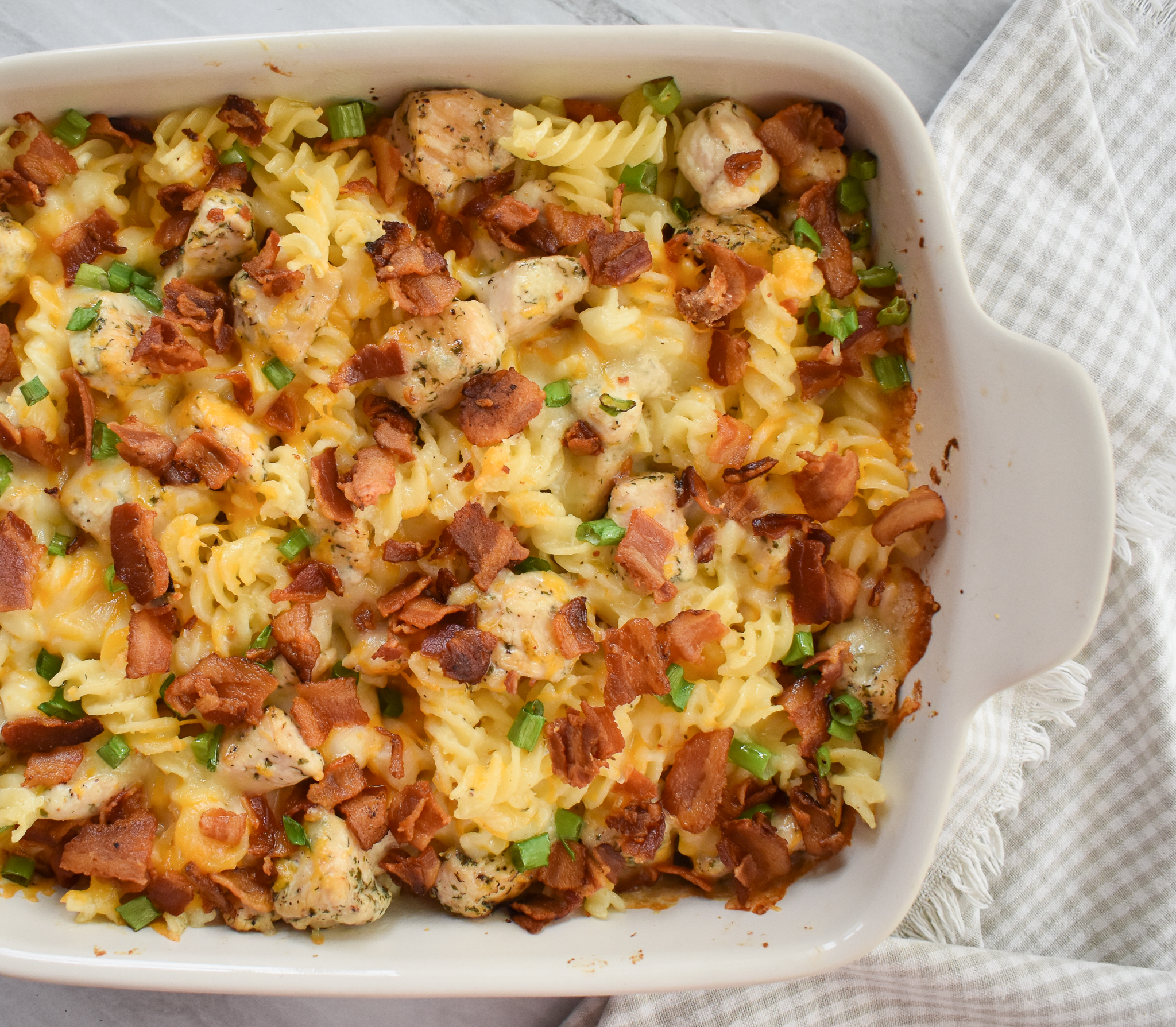 I used low-FODMAP infused oils for the garlic and onion flavor, and lactose-free sour cream to give it that salad dressing 'tang'.  Best of all, the homemade flavor of real cream, bacon, and fresh chicken is incredible.  No canned soup, jarred sauce, or packet mixes here.
You are going to love this low-FODMAP Chicken Bacon Ranch Casserole better than any ones you have made before.
Note: The low-FODMAP diet is NOT a dairy-free, gluten-free, or calorie-restricted diet to lose weight.  You can enjoy foods like low-FODMAP Chicken Bacon Ranch Casserole in moderation.  Just be aware that fat can be a gut irritant and flare up IBS as well.  If you have trouble digesting high-fat meals, then adjust your consumption to your personal tolerance.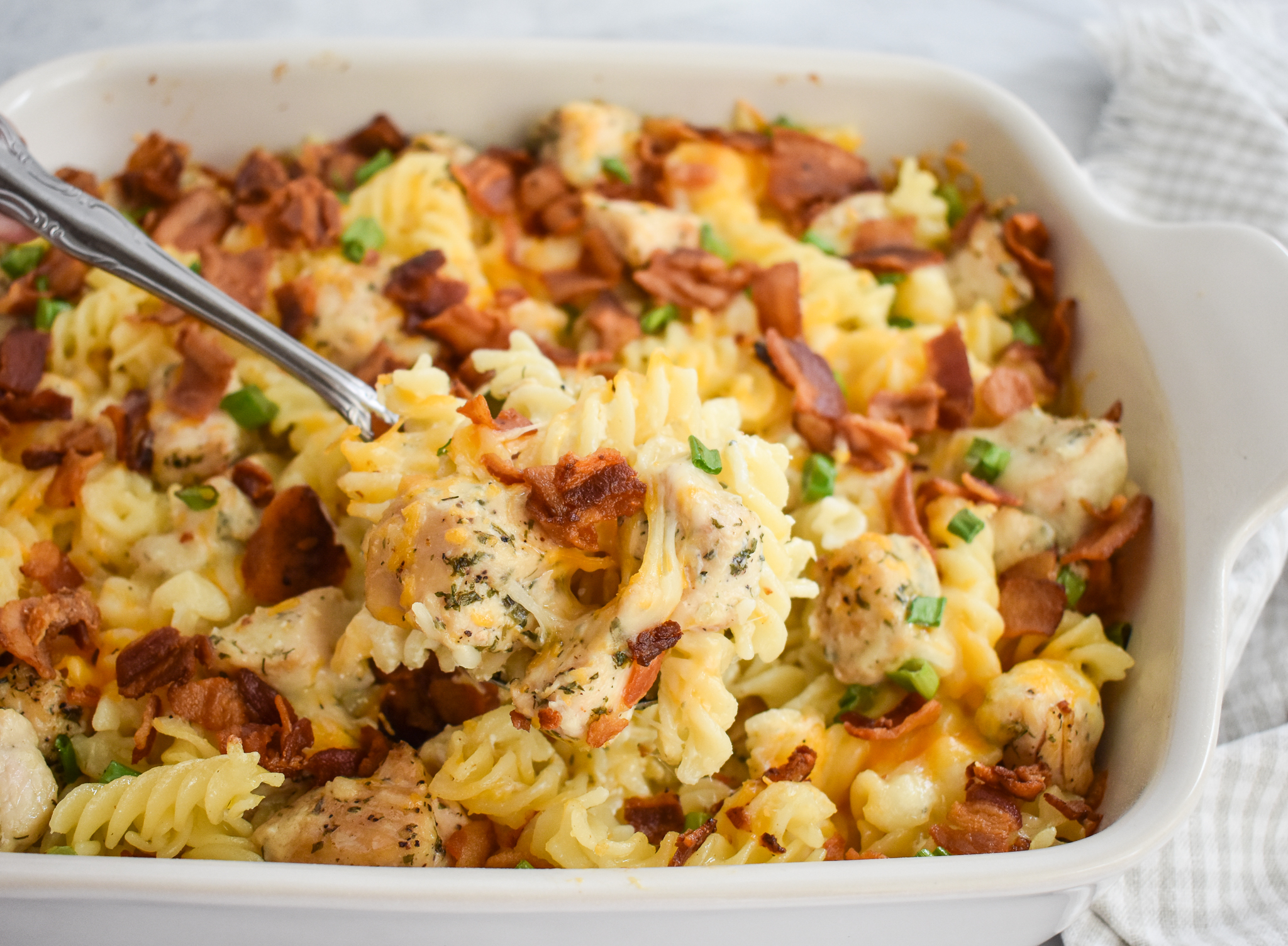 You may also love my:
Or check out over 500 more low-FODMAP recipes on the blog!  IBS-friendly.
Be healthy and happy,
Rachel Pauls, MD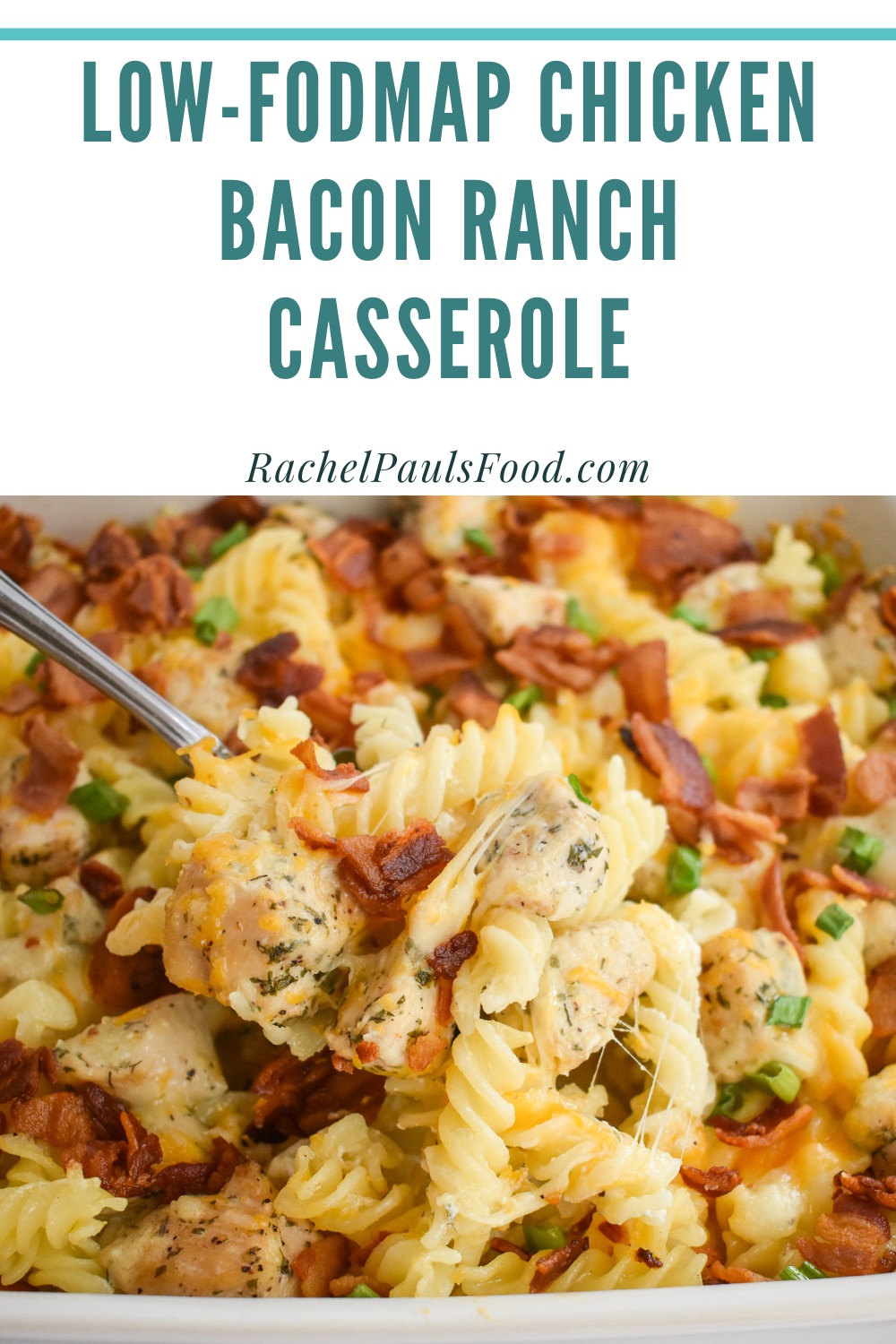 Although this recipe has not been lab tested, a single serving should be low-FODMAP based on the ingredients, *using available FODMAP data at time of posting.
*If you are sensitive to high-fat foods, then adjust to your tolerance
*FODMAP Fact regarding cheese and FODMAPs:  Monash lists a serving size for cheddar and mozzarella cheeses at 40g.  This is not because there is excess lactose (FODMAP) in higher amounts, but rather, due to their adherence to Australian nutritional guidelines.  The amount of cheese that remains a low-FODMAP serving is up to 462g, per FODMAP Friendly. Therefore, this recipe is compliant with the Elimination Phase of the FODMAP diet
Serves: 6
Prep time: 15 min
Cook + Bake time: 45 min
Total time: 1H
Equipment: 2.5 quart baking pan or casserole dish (9 X 9 inch) or (11 X 7 inch); large skillet, large saucepan for boiling pasta, and medium saucepan for LF Alfredo sauce
Ingredients:
6 slices uncooked bacon, cut into 1/2-inch pieces
16 ounces boneless, skinless chicken thighs or breasts, cut into 1-inch chunks
2 tablespoons onion or shallot infused olive oil; divided

Infused oils will not absorb the FODMAPs, so you can enjoy these without concern for your IBS! See my low-FODMAP Top 11 Tips for more know-how!

1/2 teaspoon dried chives
1/8 teaspoon dried dill weed
1 teaspoon dried parsley
1/2 teaspoon salt
1/4 teaspoon pepper
8 ounces low-FODMAP, GF rotini pasta or elbow macaroni
1 tablespoon of olive oil
1 cup (100g) shredded mozzarella cheese
1/3 cup (35g) shredded cheddar cheese
2 tablespoons chopped fresh chives, or green scallion tips
Baking spray
For the low-FODMAP 'Alfredo' Sauce:
1/4 cup (4 tablespoons) garlic infused oil
1 cup heavy cream (add 1/4 cup if you like a lot of sauce)

1/4 cup is one low-FODMAP serving
For a lighter option you can sub lactose-free versions of half and half or whole milk for some of the cream

1/3 cup lactose-free sour cream, strained
1/4 cup (30g) freshly grated Parmesan
Salt and freshly ground black pepper, to taste
Directions:
Preheat oven to 375 degrees F. Spray your baking dish with baking spray
Set up one large skillet, one pot for pasta, and one saucepan for Alfredo
While making the sauce and chicken, cook LF, GF pasta according to package instructions until soft, drain well and toss with 1 tablespoon of olive oil

Since GF pastas are different from wheat based pastas, experiment with your brand.  Those with corn and rice-flour blends are hardier than rice-flour only varieties. I find my rotini have a drier, chewy texture in the dish if I don't boil them long enough at this stage

 Prepare the low-FODMAP alfredo:

Place garlic infused oil in a medium saucepan over medium heat
When warmed, gradually whisk in heavy cream and lactose-free sour cream until well incorporated
Next, stir in the Parmesan and simmer until slightly thickened
Season with salt and pepper, then remove from heat and set aside for later

Heat a larger skillet over medium-high heat (I like cast iron for this part)
Set up a large plate with paper towels for your cooked bacon
Add bacon pieces and cook until brown and crispy, about 10 minutes, then transfer to your paper towel lined plate

You can drain the bacon grease, or leave it in the skillet

While cooking, in a gallon size resealable bag, put 1 tablespoon onion infused oil and your seasonings (chives, dill, parsley, salt and pepper) and massage these together in the bag
Toss your chicken cubes with the oil/seasoning mixture, tipping bag to coat thoroughly
Place your second tablespoon onion infused oil, if needed, in the skillet to warm over medium, then transfer the chicken pieces to the skillet
Cook chicken, flipping once, until cooked through and lightly browned, about 4 minutes on each side
Place cooked chicken on the plate with the bacon, but do not mix them together
Add pasta to the prepared baking dish and layer with chicken and alfredo sauce
Sprinkle top with the 2 cheeses and bacon pieces, then scallion tips or chives
Place into oven and bake until bubbly and heated through, about 15-20 minutes.
Serve immediately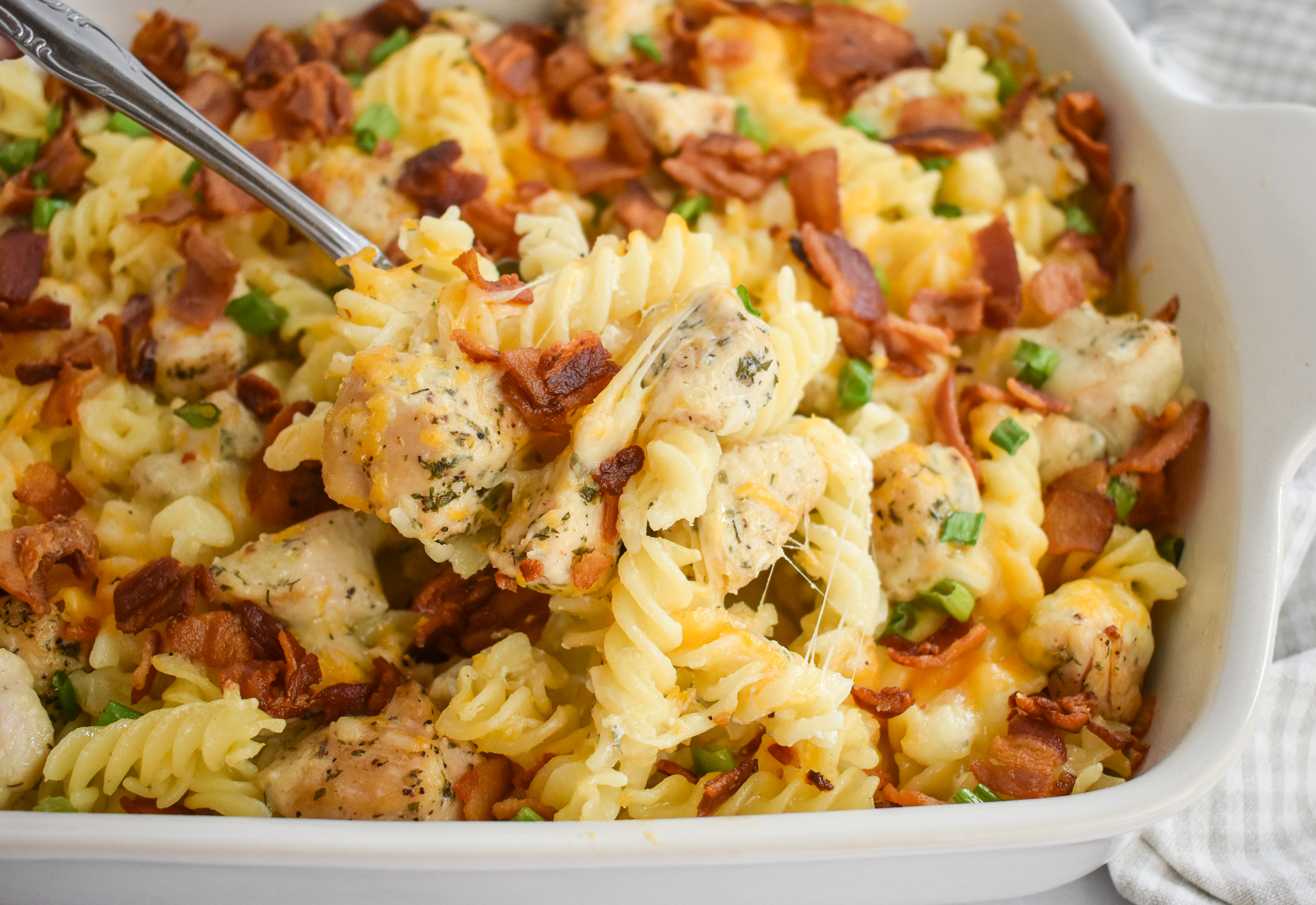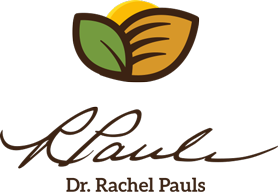 Printer Friendly Version
Comments Rating
( reviews)