Low-FODMAP Chicken and Wild Rice Soup Recipe; Gluten-free, Dairy-free
May 27, 2018
Printer Friendly Version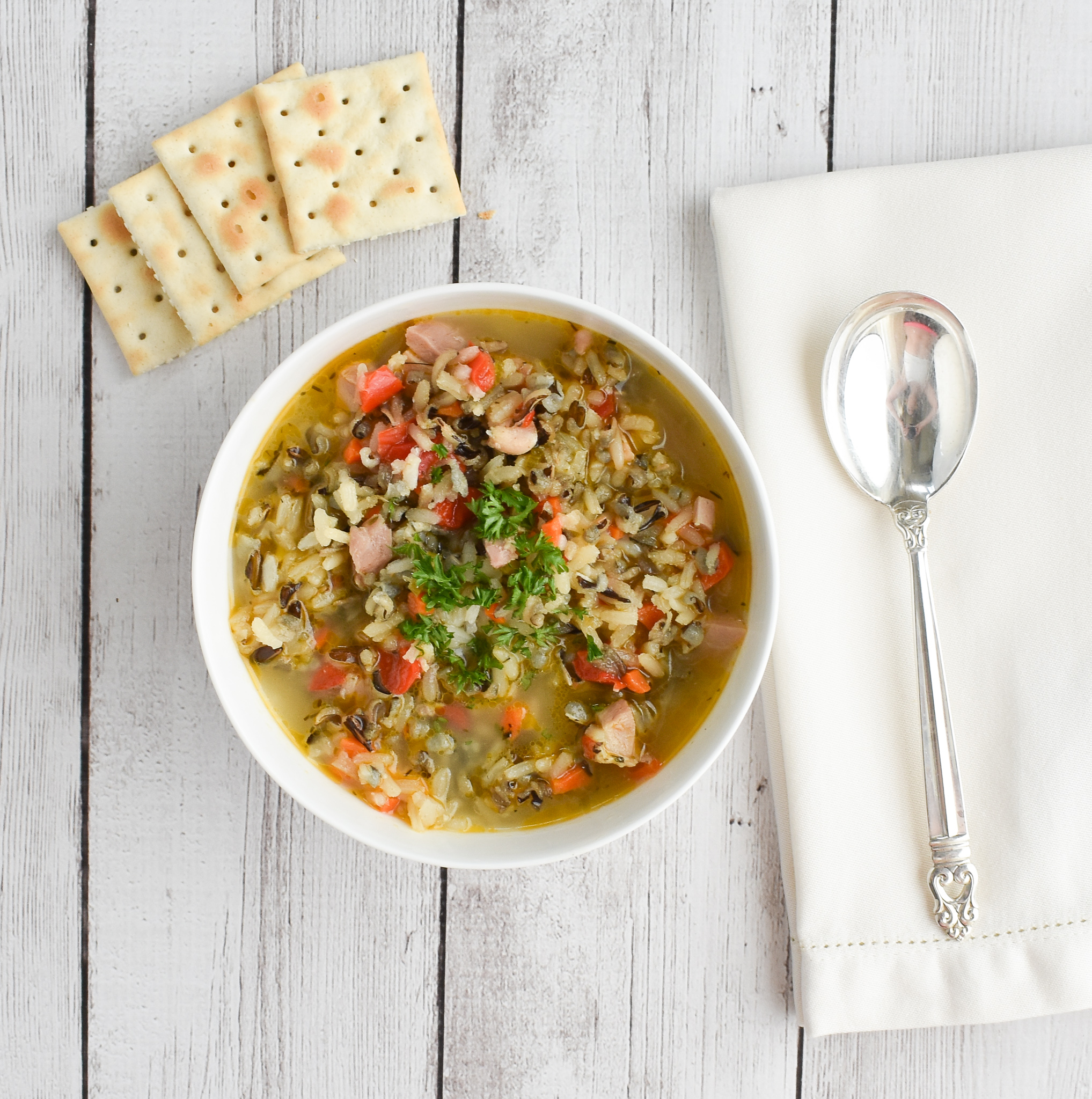 I love low-FODMAP Chicken and Wild Rice Soup.  This recipe is both gluten-free and dairy-free.  Plus it packed with nutrition from the low-FODMAP vegetables, chicken and rice. It will satisfy your body and soul!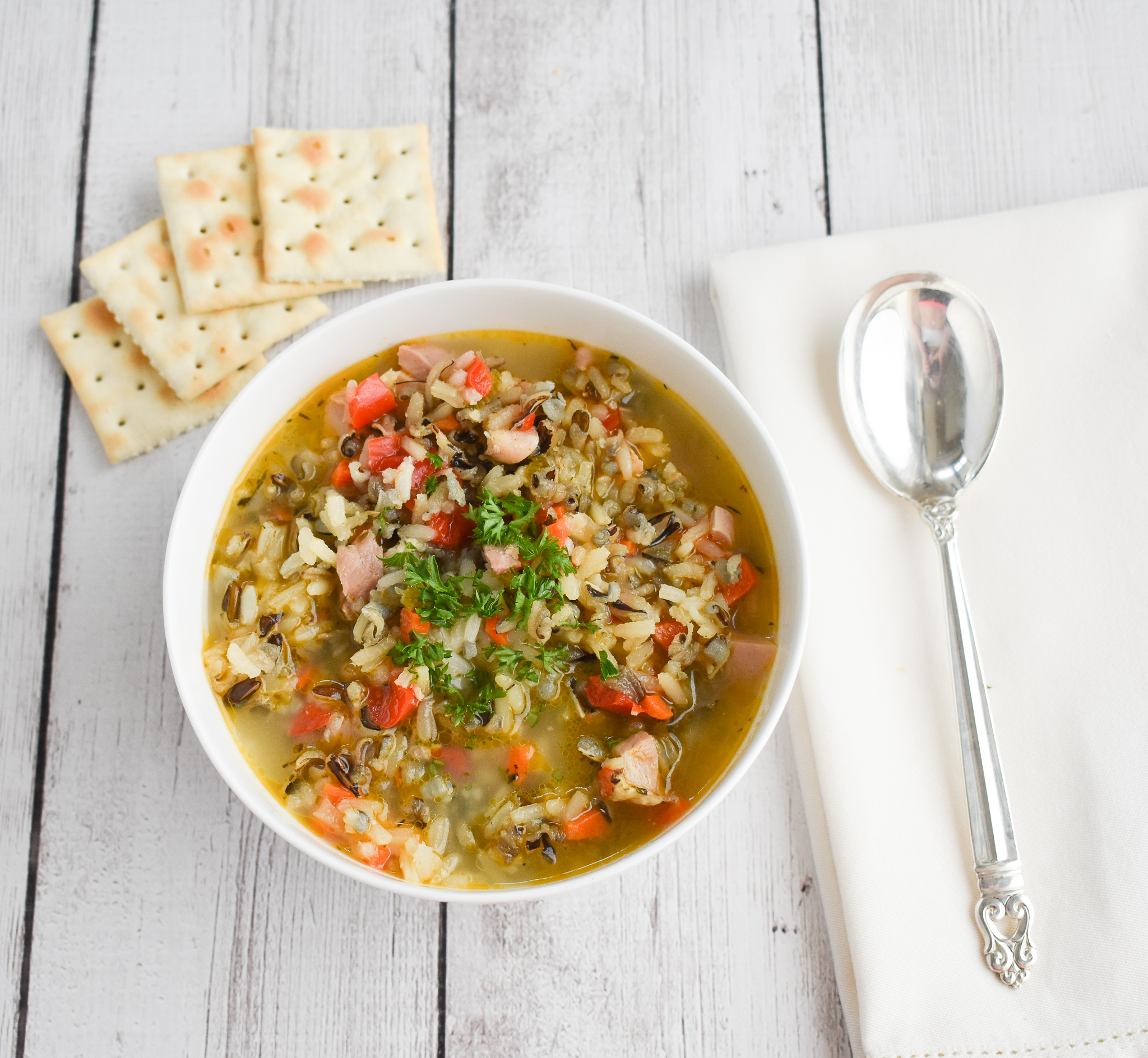 Make this low-FODMAP Chicken and Wild Rice Soup and freeze for later in individual freezer bags or containers…It stores very well.  Perfect for a chilly fall night, or put it in a thermos for a summer picnic meal.  This low-FODMAP soup goes great anytime.
A word about homemade chicken stock:  there's a reason we serve this up when we are sick!  It is a nutritional superpower that boosts immunity.  Easy and inexpensive, my recipe for low-FODMAP homemade chicken stock is loaded with amino acids, packed with collagen (beauty food) and gelatin (gut and joint health), as well as tons of vitamins and minerals.  You can't get that out of a can!  No wonder we have made homemade chicken stock since the beginning of time.  While making this from scratch takes an extra night for simmering- it is completely worth it.
Or for a shortcut, try my low-FODMAP Happy Soup.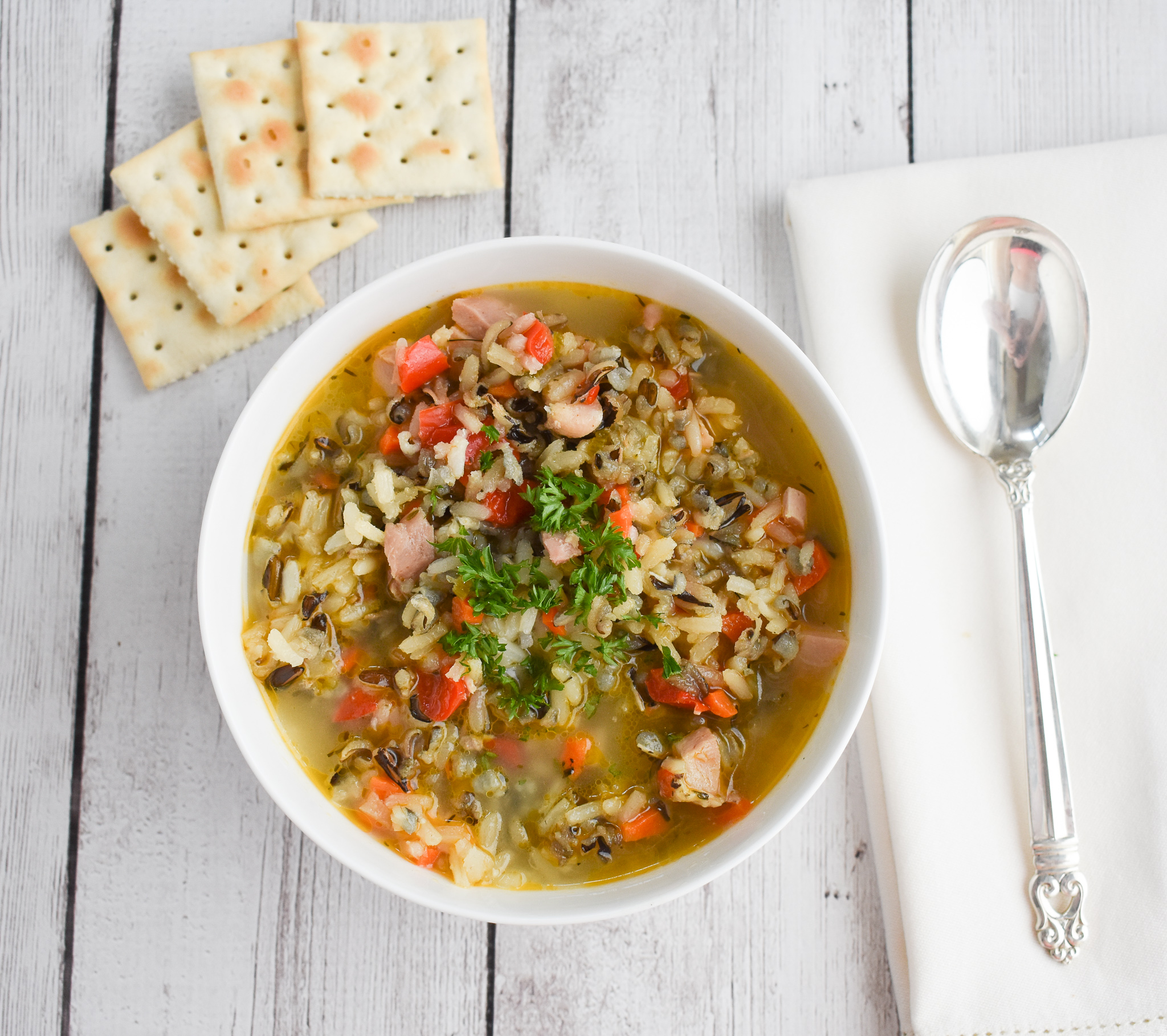 Look for my low-FODMAP Minestrone Vegetable Soup, low-FODMAP Chicken Noodle Soup, and low-FODMAP Carrot and Curry Soup recipes for more low-FODMAP soup inspiration.
Or you can peruse over 300 more low-FODMAP recipes on the blog.  IBS-friendly!
Be healthy and happy,
Rachel Pauls, MD
---
Low-FODMAP Chicken and Wild Rice Soup; Gluten-free, Dairy-free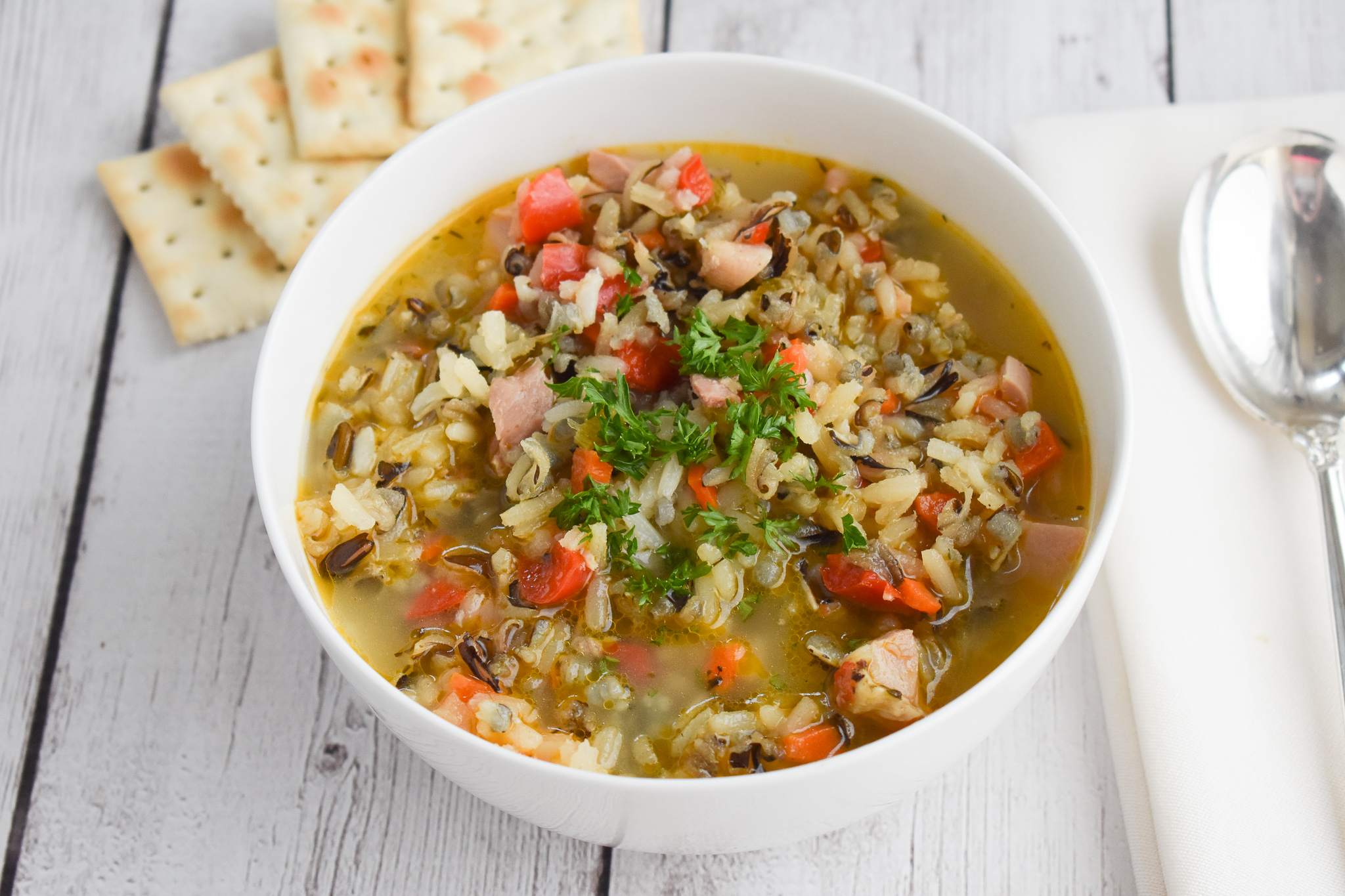 Although this recipe has not been tested, a single serving should be low-FODMAP based on the ingredients
Serves 6
Prep time: 10 min
Cook time: 50 min
(If chicken is not baked, add additional 20 min for this step, or incorporate this step while the broth is cooking)
Total time: about 1 hour
Bake 400 F
Ingredients
3 boneless, skinless chicken breasts or thighs (uncooked or cooked)

I prefer thighs for a slightly more succulent flavor
(If cooked, skip steps 1-3 below)

2 tablespoons onion or garlic-infused oil, plus extra for drizzling
1/4 teaspoon dried thyme
1-2 teaspoons each of salt and freshly ground black pepper
2 carrots, finely diced
1/4 stalk celery, finely chopped
1/2 cup red pepper cut into small cubes
Pinch turmeric
8 cups low-FODMAP chicken broth
2 cups long-grain and wild rice

Note: many pre-packaged long grain and wild rices contain spices that are high-FODMAP (careful!)
I bought wild rice and long grain white rice separate and combined them in a ratio of 1 1/4 cups long grain rice to 3/4 cups wild rice
Check ingredients to ensure it is gluten-free also

Minced fresh parsley and dill, for serving
Serve with gluten-free crackers (I like Glutino brand), or if you can tolerate gluten then regular saltine crackers have tested to be low-FODMAP in recent US based research
Directions
Preheat the oven to 400 degrees F
Drizzle the chicken breasts or thighs with olive oil and sprinkle with the ground thyme and some salt and pepper
Put the chicken in a roasting pan and roast until cooked through, about 20 minutes
Set aside to cool, then chop into small pieces
In a large pot over medium heat, melt the 2 tablespoons oil and saute the celery, carrots and bell peppers for 3 to 4 minutes
Sprinkle with the fresh thyme and turmeric and cook for another 2 minutes
Pour in the chicken broth, cover, bring to a simmer and simmer 30 minutes

If desired, you can opt to bake the chicken during this cook time

Prepare the rice while broth is simmering according to the package instructions

Usually I do this step in the microwave with a little additional oil mixed in

Add chicken it to the pot with the soup
Simmer for another 15 minutes
Stir in the rice
Garnish with minced parsley and/or dill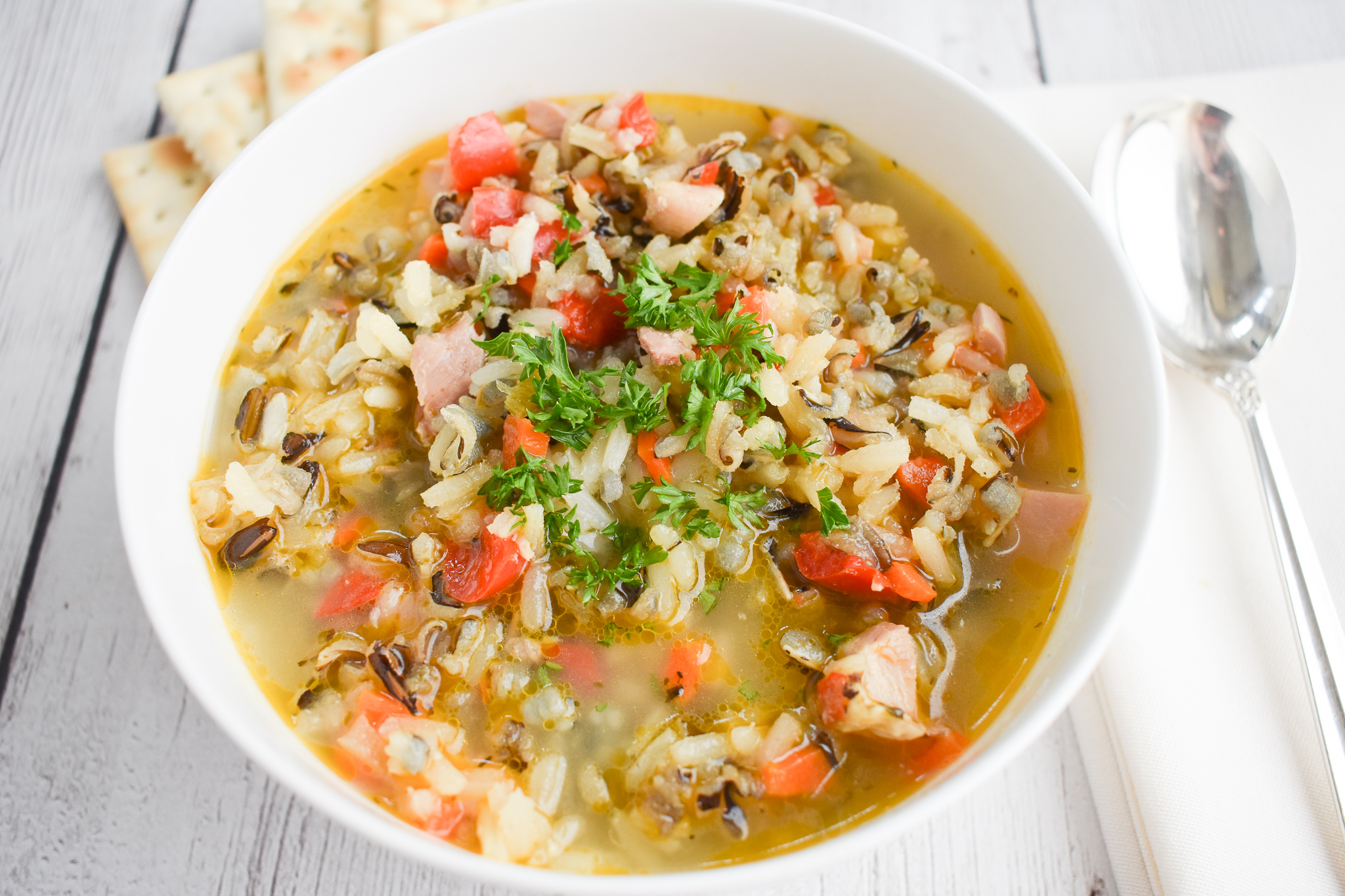 This flavor is sensational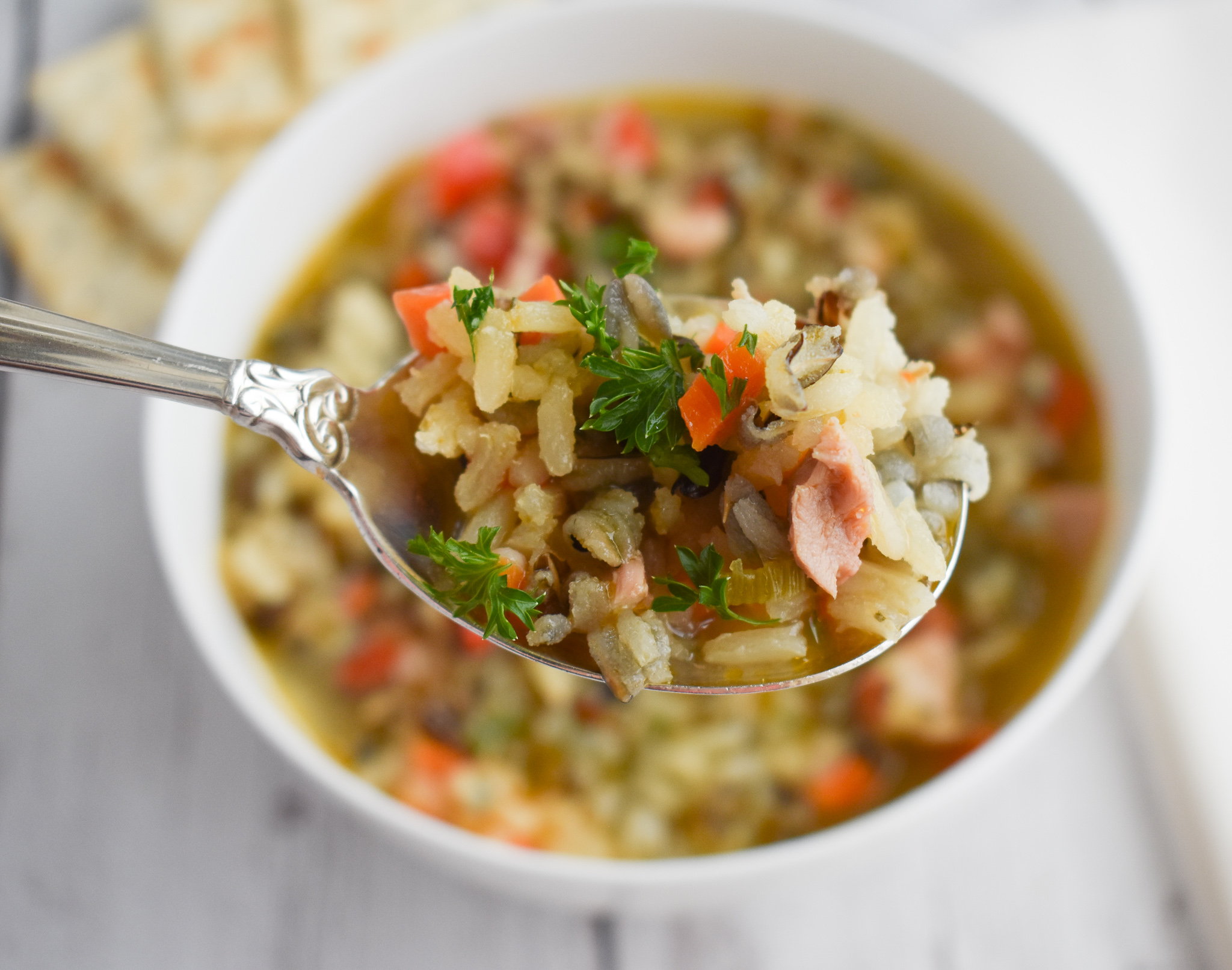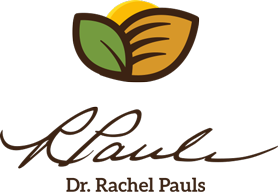 Printer Friendly Version
Comments Rating
( reviews)