Low-FODMAP Cheesy Chicken, Zucchini & Rice Casserole in One Pot; Gluten-free
May 1, 2021
Printer Friendly Version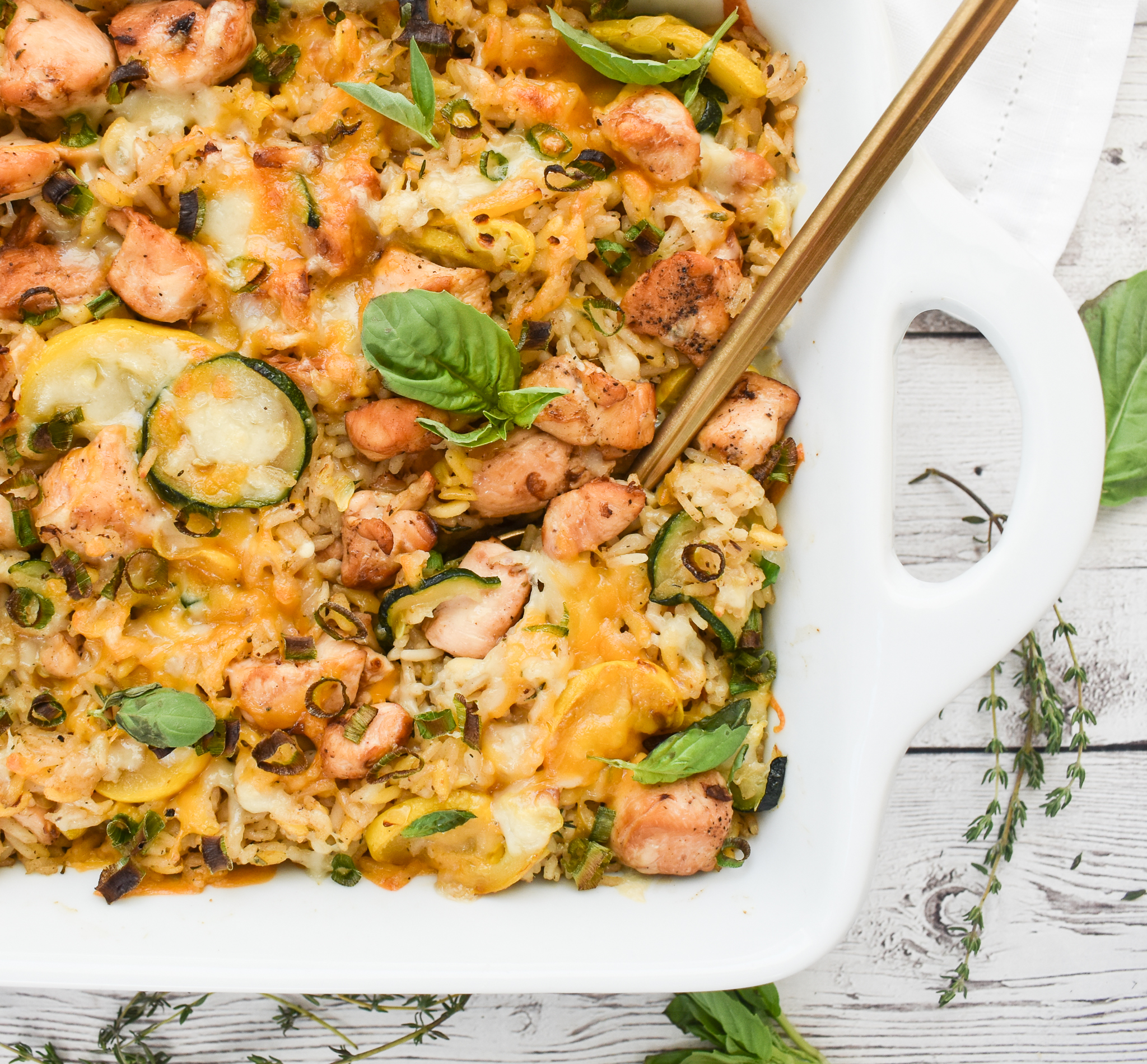 My low-FODMAP Cheesy Chicken with Zucchini and Rice is the perfect family meal.   It's healthy, super satisfying, and full of gorgeous texture and color.  Even better- You can make it in one pot for a simple clean up!
I added yellow summer squash to my low-FODMAP Chicken and Zucchini recipe, to ensure it is low-FODMAP.  Technically, you should call it a 'cheesy chicken, summer squash and rice casserole'.  You will love it even more!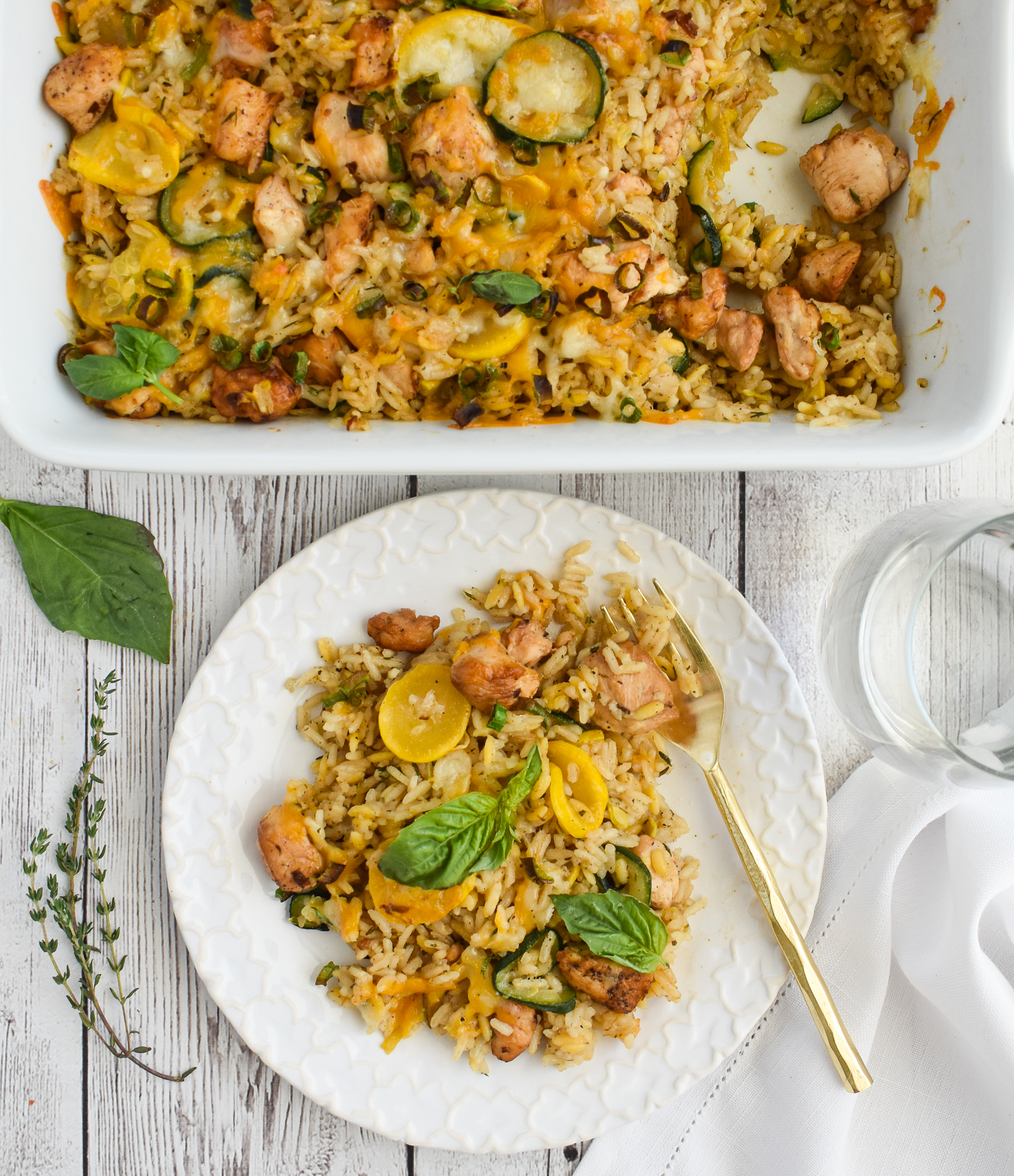 I'm obsessed with summer squash. Their flavor spruces up any low-FODMAP entree, but they are also SUPER good for you.  Summer squashes (zucchini as well as yellow squash) contain vitamins A, C, B6, folate, magnesium, riboflavin, phosphorus, potassium and fiber.  Amazing!
FODMAP fact: Zucchini is low-FODMAP, provided you restrict portions to 65 grams.  However, yellow squashes are different from zucchini with respect to FODMAP content.  Monash has not tested 'yellow summer squash', but FODMAP Friendly has listed a low-FODMAP serving as 100g.  Always check your apps and know the latest FODMAP information!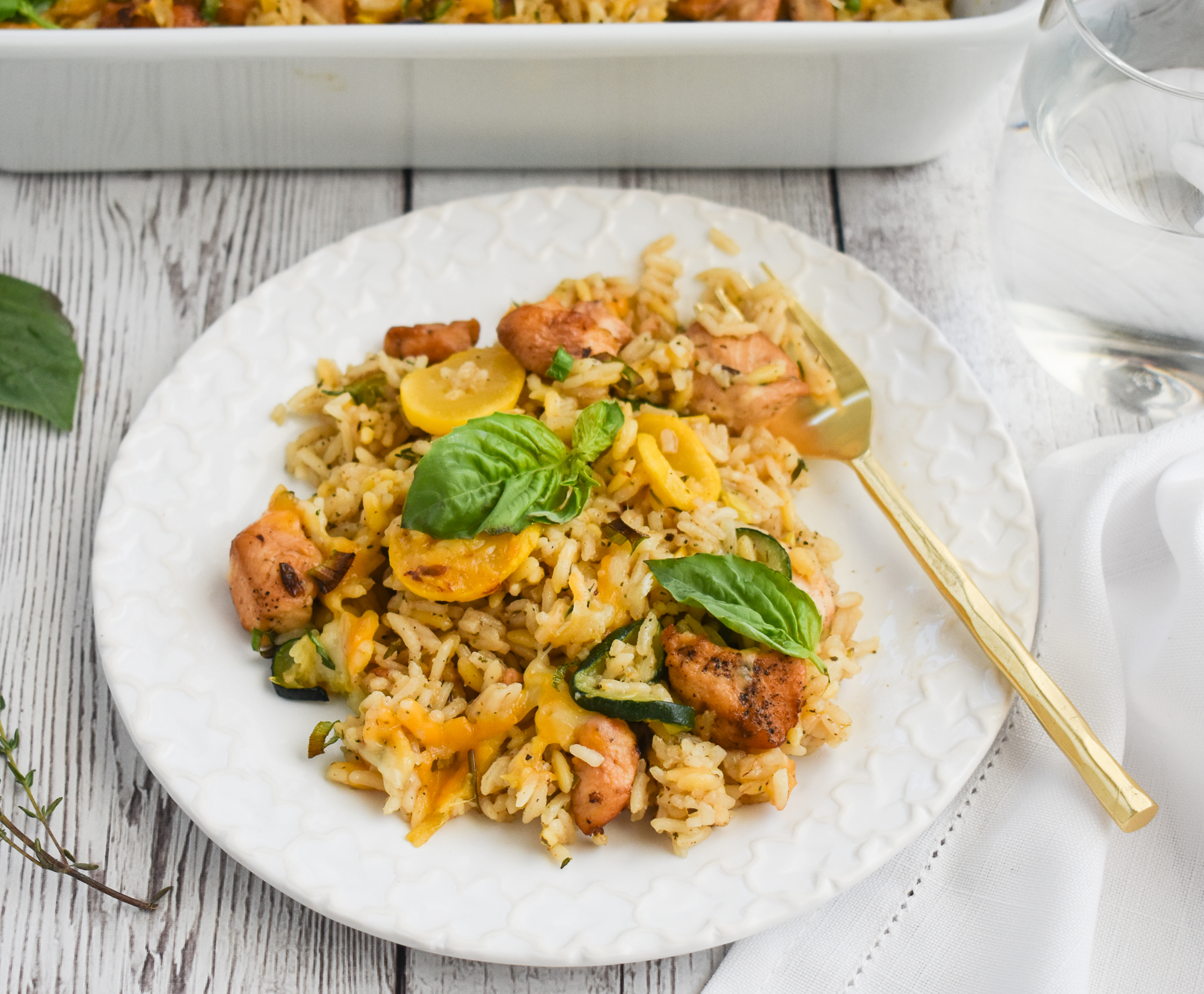 You may also love:
Or check out over 400 more low-FODMAP recipes on the blog.  IBS-friendly!
Be healthy and happy,
Rachel Pauls, MD
P.S.  Check out my new COOKBOOK for over 100 low-FODMAP recipes, low-FODMAP Meal Plan, FODMAP Tips and everything you need!!  It's the BEST!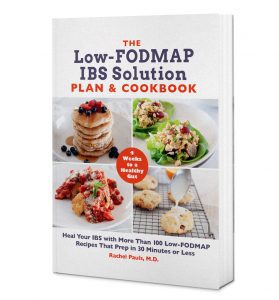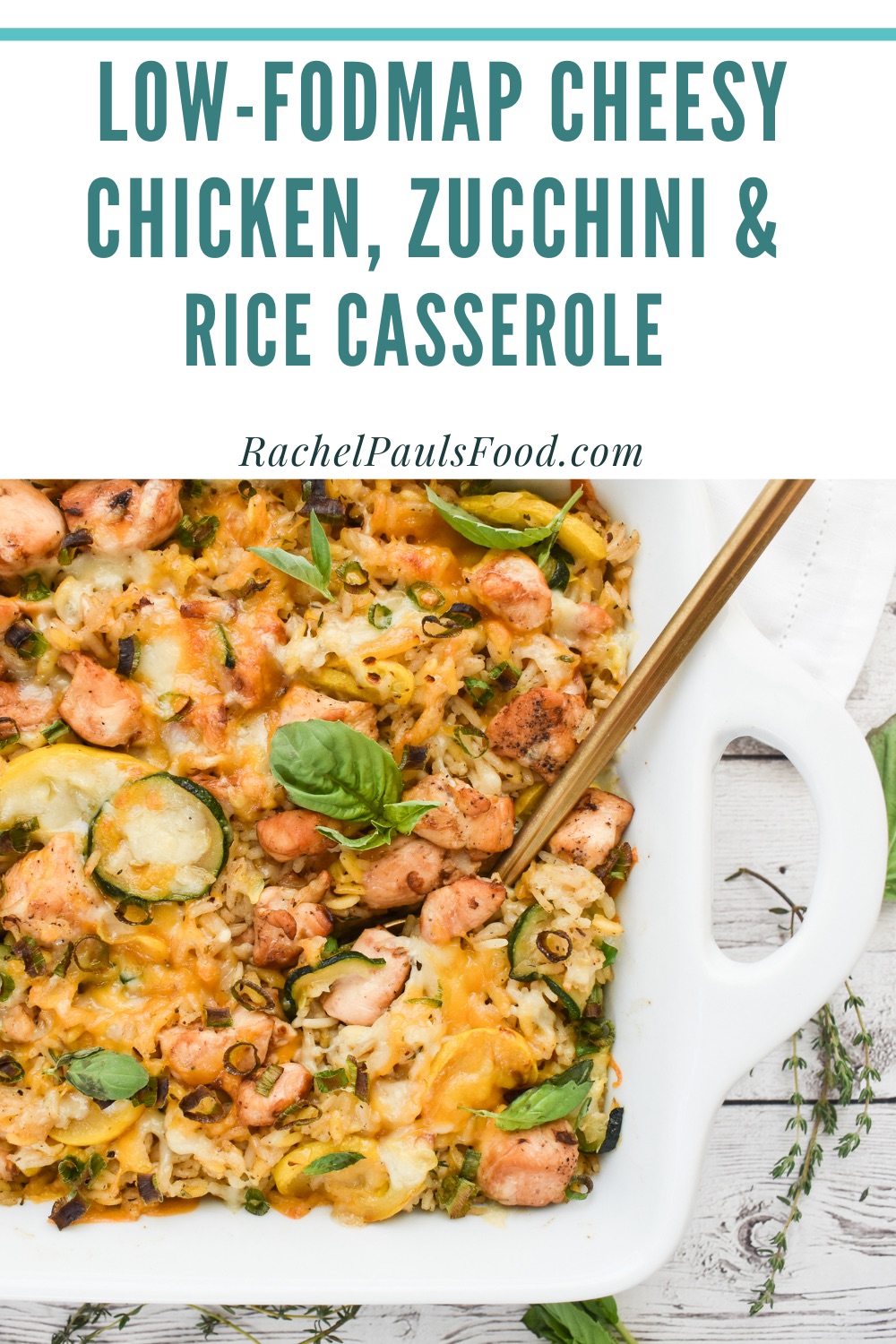 Although this recipe has not been lab tested, a single serving should be low-FODMAP based on the ingredients *based on available FODMAP data at time of posting
Serves: 6-8
Prep time: 15 minutes
Cook +Bake time: 55 minutes
Total time: 1 hour 10 minutes
Bake: 425 F, then broil
Equipment: Large oven safe covered pot or Dutch Oven (if you don't have one, can also use a casserole dish for baking)
Inspired/modified from: halfbakedharvest.com
Ingredients
2 tablespoons garlic infused oil; divided

Infused oils have all the flavor but not the FODMAPs, so you can enjoy the tastes of onion and garlic using these in cooking!  See my Top 11 FODMAP Tips for the reason why!

1 small/medium (145 g) zucchini (courgette), chopped into coins or cubes

1/3 cup chopped (65g) is one low-FODMAP serving

2 yellow squash (350 g), chopped into coins or cubes

See above notes regarding yellow squash and FODMAPs, 100g  is low-FODMAP serving

Freshly ground salt and pepper to taste
1 pound boneless, skinless chicken breasts, cut into cubes
2 tablespoons onion or shallot infused oil
1 & 1/2 cups uncooked Basmati or Jasmine rice
1/2 cup gluten-free, low-FODMAP orzo pasta, raw

I used Delallo brand, there are not that many gluten-free orzo products available, but this is delicious
If you can't find this product, you can substitute more rice, or quinoa for the orzo (but you may need to add 1/4 to 1/2 cup broth if you do)
See my low-FODMAP Grocery Shopping Blog for tips on buying low-FODMAP pasta

2 tablespoons (about 5.5 grams) fresh thyme leaves

You can also use 1 & 1/2 teaspoons of dried thyme

3 & 1/2 cups low-FODMAP Chicken broth/stock, prepared
1/4 teaspoon cayenne (optional, gives a little kick)
1 tablespoon low-FODMAP Happy Spice Italian seasoning (optional)
3/4 cup (65 g) shredded Havarti cheese; divided

Cheeses typically are low in FODMAPs due to low lactose levels.  However, if you are sensitive to the fat content in cheese, then reduce the amount per your tolerance

3/4 cup (65 g) shredded sharp cheddar cheese; divided
1 tablespoon chopped chives or green scallion tips

Only use the green tips for scallions as the bulb is higher in FODMAPs

3-4 stalks of fresh basil for serving, roughly torn
Directions
Preheat the oven to 425 degrees F
Heat 1 tablespoon garlic infused olive oil in a large oven safe pot (with lid) or Dutch Oven over medium heat
When the oil shimmers, add the zucchini and squash and season well with salt and pepper. Cook until the squash is lightly browned, about 10 minutes

You may need to do this in batches
It will shrink a lot with cooking

Remove from the skillet and set aside on a covered dish to keep warm
To the skillet, add the remaining garlic infused oil
Stir in the chicken and season with salt and pepper
Cook until the chicken is seared on both sides, 2-3 minutes per side
Remove chicken to a covered dish to keep warm (can put beside squash, but keep separate)
Add the onion infused oil, then place the uncooked rice, raw orzo, and thyme in the pot and cook to toast these, about 2-3 minutes
Add the low-FODMAP chicken broth and bring to a boil over high heat
Season with your optional cayenne and low-FODMAP Happy Spice Italian seasoning
Bring to a boil, cover, and reduce heat to low
Cook, covered for 15-20 minutes, until the rice is mostly cooked
Taste, and season with additional salt and pepper as desired
Place the chicken pieces and cooked zucchini and squash back in the pot

To make ahead, ensure your chicken cooks fully in the mixture (depending on the size of your pieces it may already be cooked, or could take a couple more minutes). Then remove from heat, allow to cool, and cover in fridge for 2 days.  To bake, allow to come to room temperature and resume steps.  Can also be frozen at this stage for up to 3 months.  Defrost in the refrigerator prior to baking
If you don't have an oven safe pot, then at this point, transfer ingredients to a 9 by 11 inch casserole dish for the next steps and baking

Stir 1/2 cup of the Havarti and 1/2 cup of the cheddar into the chicken mixture
Sprinkle remaining 1/4 cup of each cheese over the casserole, then top with your chives or scallion tips (do not stir in)
Transfer to the oven and bake 10-15 minutes, until the cheese is melted
Increase oven temperature to broil and broil 1-2 minutes, until the cheese browns and becomes slightly crisp

Watch closely so it doesn't burn

Serve immediately, garnished with fresh basil (best when freshly baked so everything is nice and hot)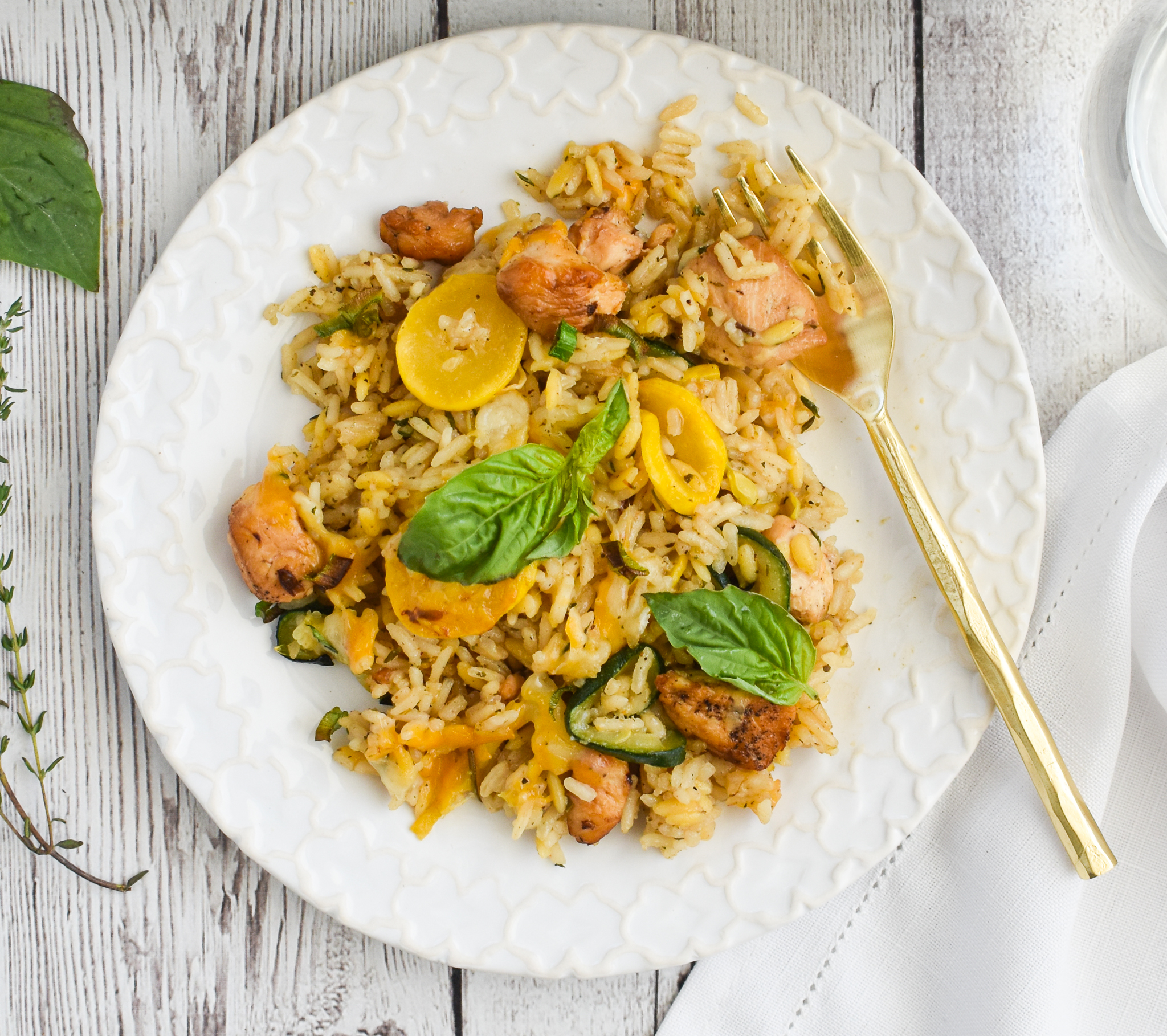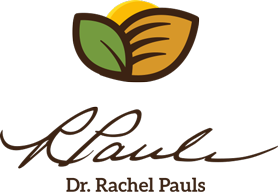 Printer Friendly Version
Comments Rating
( reviews)