Low-FODMAP Chai Quick Bread with Browned Butter Chai Frosting; Gluten-free
September 10, 2022
Printer Friendly Version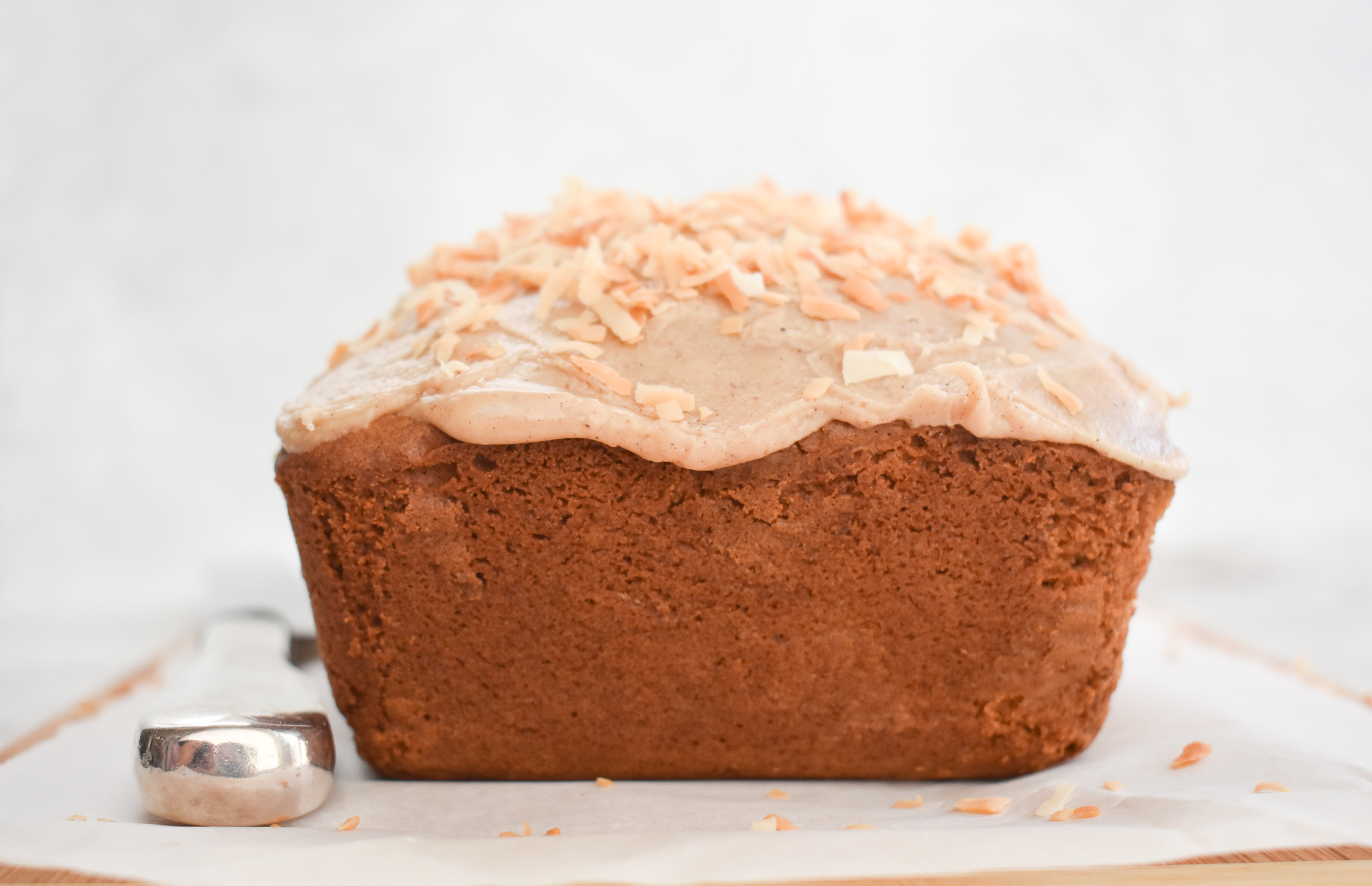 Those of you that follow my blog know that I spent some weeks in Nepal and India during my medical training.  My favorite part of the day was the multiple times we would stop for chai served in a little glass cup at the side of the road.  That milky black tea flavored with aromatic spices was absolutely the most incredible tasting treat.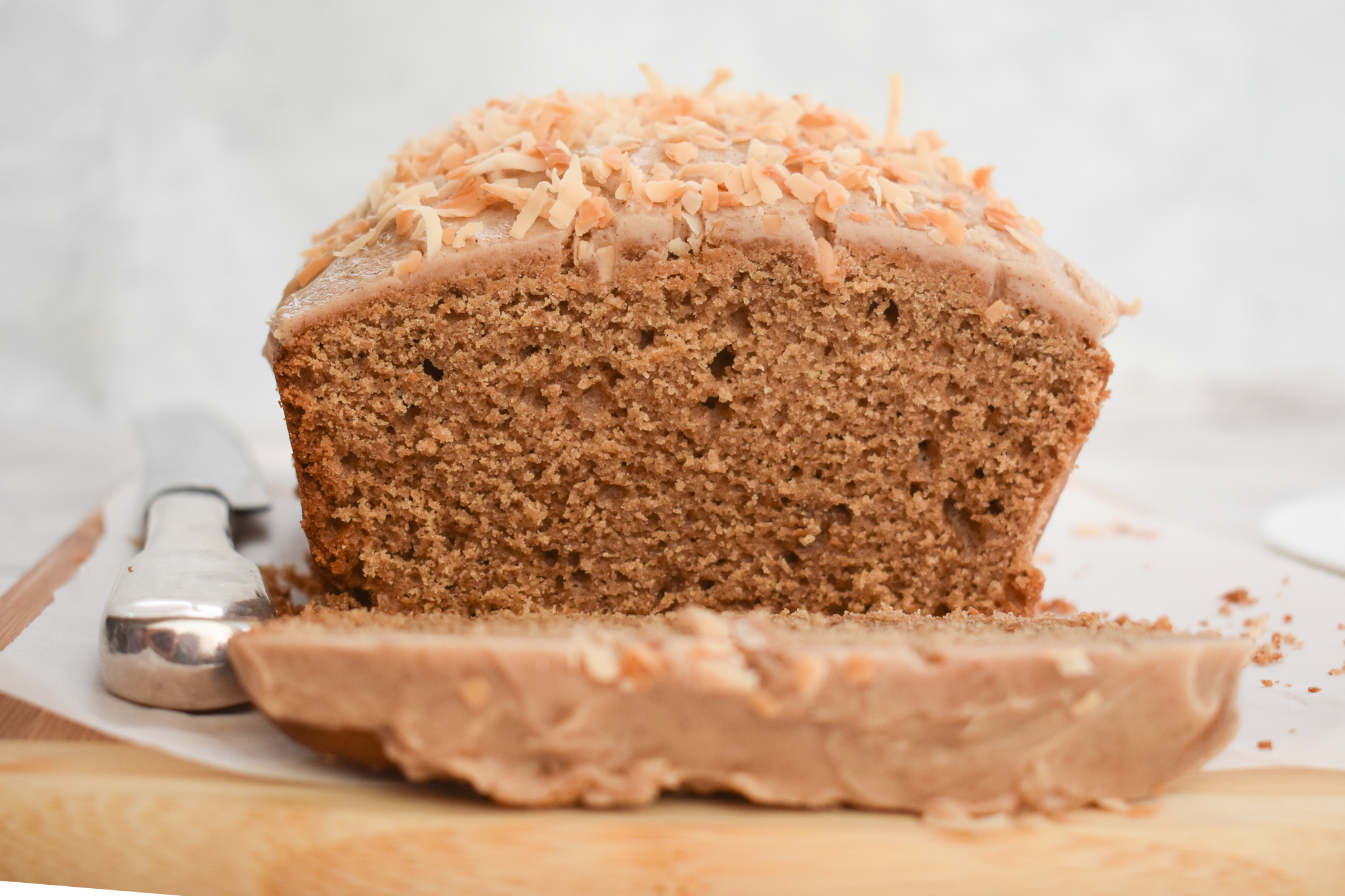 I know that using dried herbs in North American recipes are not able to replicate those long simmered fresh spice flavors, but I am still in love with Chai inspired low-FODMAP foods (try my low-FODMAP Chai Spiced Overnight Oats and low-FODMAP Chai Spiced Oatmeal Cookie Bars)
This low-FODMAP Chai Quick Bread has a delectable crust, a light and moist texture, and heavenly aroma.  It is even better with the Browned Butter Chai Frosting!
Enjoy it with coffee, tea or a cup of my low-FODMAP Chai Latte 🙂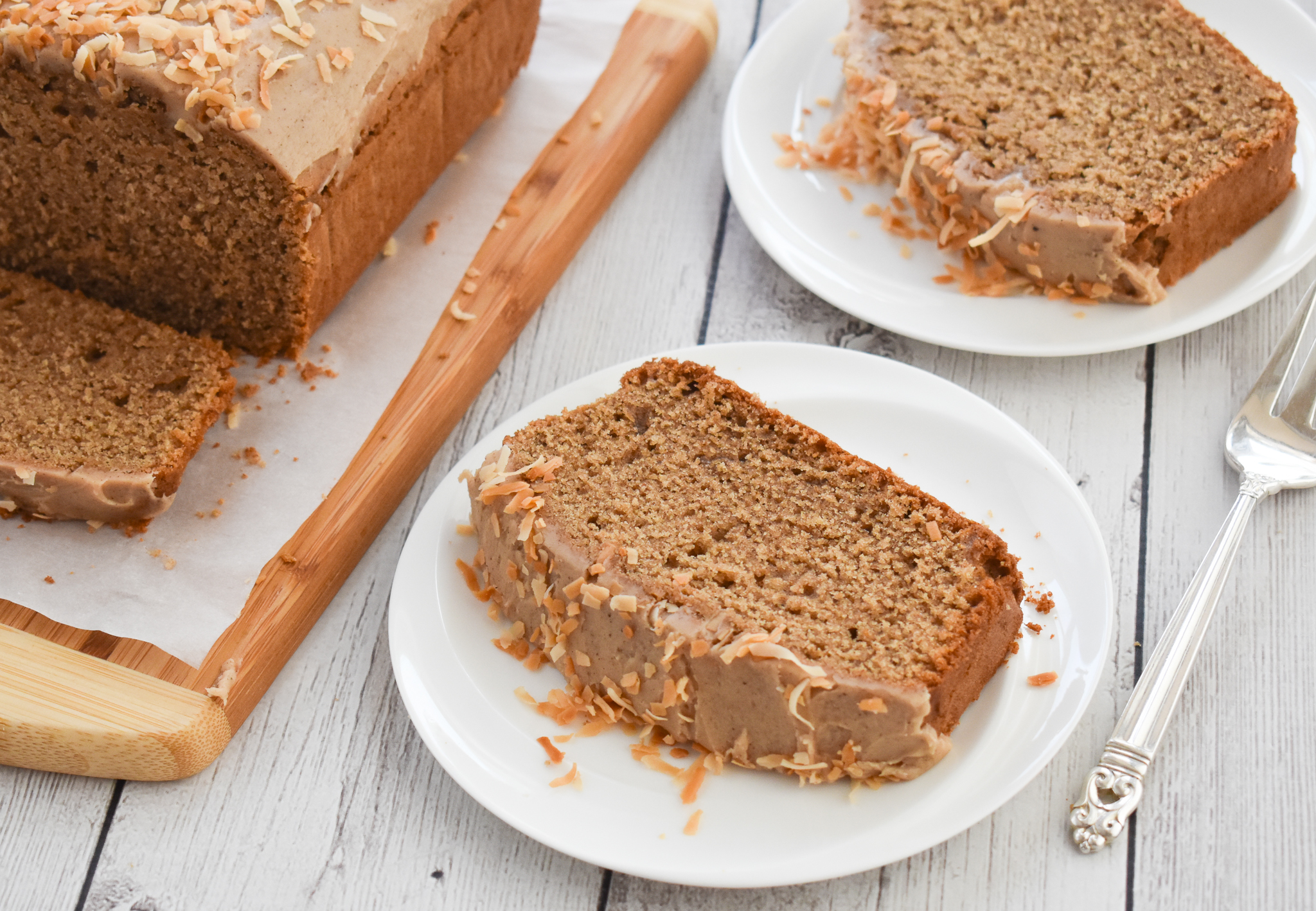 You may also love:
Or check out over 450 more low-FODMAP recipes on the blog. IBS-friendly!
Be healthy and happy,
Rachel Pauls, MD
P.S.  Check out my COOKBOOK for over 100 low-FODMAP recipes, low-FODMAP Meal Plan, FODMAP Tips and everything you need!!  It's the BEST!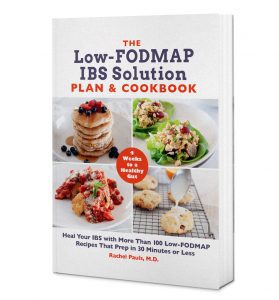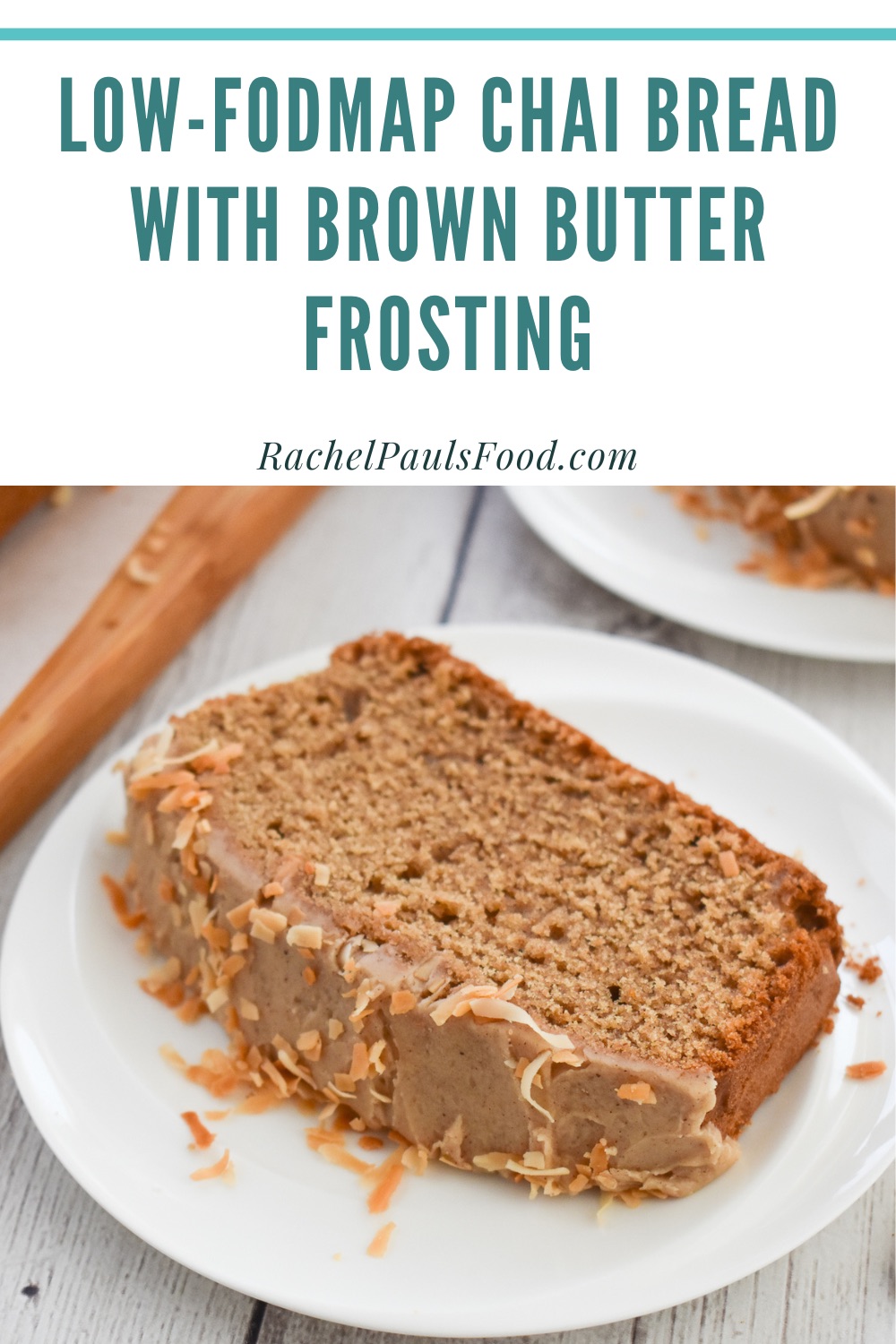 Although this recipe has not been lab tested, a single serving should be low-FODMAP based on the ingredients (*using available FODMAP data at time of posting)
Serves: 9-12
Prep time: 15 minutes plus cooling
Bake time: 50-60 min
Total time: 65-75 min plus cooling
Bake: 350 F
Equipment: 9 by 5 inch loaf pan, parchment paper for lining
Ingredients
Vegetable shortening or low-FODMAP Magical Cake Pan Release paste for greasing
3/4 cup hot low-FODMAP milk

You can heat on the stove or with your microwave

2-3 black or Assam tea bags or loose tea equivalent (decaf or regular)

You can also use Chai spiced tea if you have a low-FODMAP brand
You will make a very strong brew to add flavor and color for the loaf

1 & 3/4 cups Authentic Foods GF flour or other low-FODMAP gluten-free flour
1 & 1/2 teaspoons baking powder
3/4 teaspoon xanthan gum (if not added to your flour)
1/4 teaspoon salt
1 tablespoon prepared low-FODMAP Masala Chai Spice Blend

Can also substitute:

1 & 1/2 teaspoons cinnamon
1/4 teaspoon nutmeg
1/2 teaspoon cardamom
1/8 teaspoon cloves
1/2 teaspoon ground ginger (optional)

1/2 cup granulated sugar
1/2 cup dark brown sugar, packed
1/2 cup canola oil
3 large eggs, room temperature
2 teaspoons vanilla extract
Optional toppings:

Chopped nuts (walnuts, pecans) or coconut
1 tablespoon granulated sugar mixed with 1/2 teaspoon cinnamon and 1/4 teaspoon cardamom

Skip this if you are making a frosting
For low-FODMAP Brown Butter Chai Frosting:
For a dairy-free glaze, use my simple low-FODMAP glaze recipe, or for a different take, use my low-FODMAP Fluffy Cream Cheese Frosting
2 tablespoons unsalted butter
1/4 cup hot low-FODMAP milk
1 black or Assam tea bag or loose tea equivalent (decaf or regular)

You will end up using about 2 & 1/2 tablespoons strongly brewed black tea for recipe

1/2 cup confectioner's sugar
A pinch salt
1/2 teaspoon prepared LF masala chai spice blend, or cinnamon
Directions
Preheat oven to 350F
Grease loaf pan with shortening or another low-FODMAP Magical Paste, line with parchment with a 1-inch overhang and grease this also. Set aside
Place your tea into your 3/4 cup hot milk and allow to steep (it will be very strong)
In a medium bowl, mix low-FODMAP flour, baking powder, xanthan gum, salt, low-FODMAP chai spice blend or cinnamon, nutmeg, cardamon, cloves, and ginger (if using)
Remove your tea bag from your water, strain concentrated tea if necessary

At this point the tea should be warm but not boiling hot, if some of the milk has been removed with the tea bags, then you can add a little more milk

In a separate large bowl, use a mixer to beat eggs and sugars until light and incorporated on medium-high
Turn down mixer speed to medium, then add canola oil, steeped black milk tea, then vanilla, blending between each addition.  Scrape down bowl
Add the low-FODMAP flour mixture on a low speed and mix until just blended
Pour batter into loaf pan and sprinkle with sugar/cinnamon or chopped nuts

If you plan to glaze the loaf, then you can skip the toppings

Bake for 50-60 minutes or until tester is clean in center; mine took about 55 minutes
Cool for about 5 minutes in pan, then remove from pan and cool on wire rack
While cooling, prepare the low-FODMAP Browned Butter Chai Frosting:

Set a black tea bag in 1/4 cup of hot milk to brew strongly

In a small saucepan over medium-low heat, melt the butter for about 3-4 minutes, stirring occasionally, until it begins to turn golden brown and forms flecks on the bottom and sides.  It should smell toasty

Make sure it doesn't burn- that can happen rather suddenly
I use a white-bottomed saucepan to be able to see the browning process easier

Remove from heat and transfer quickly to a small bowl

I did not 'strain' the browned butter flecks, but you could if you desired

Mix in 2 and 1/2 tablespoons brewed black tea (strained if desired), powdered sugar, pinch of salt and chai spice or cinnamon
Stir until everything is melted and combined
Add additional sugar or tea (can also use low-FODMAP milk) to desired consistency and flavor
Drizzle or spread over your cooling loaf and top with toasted nuts or coconut if desired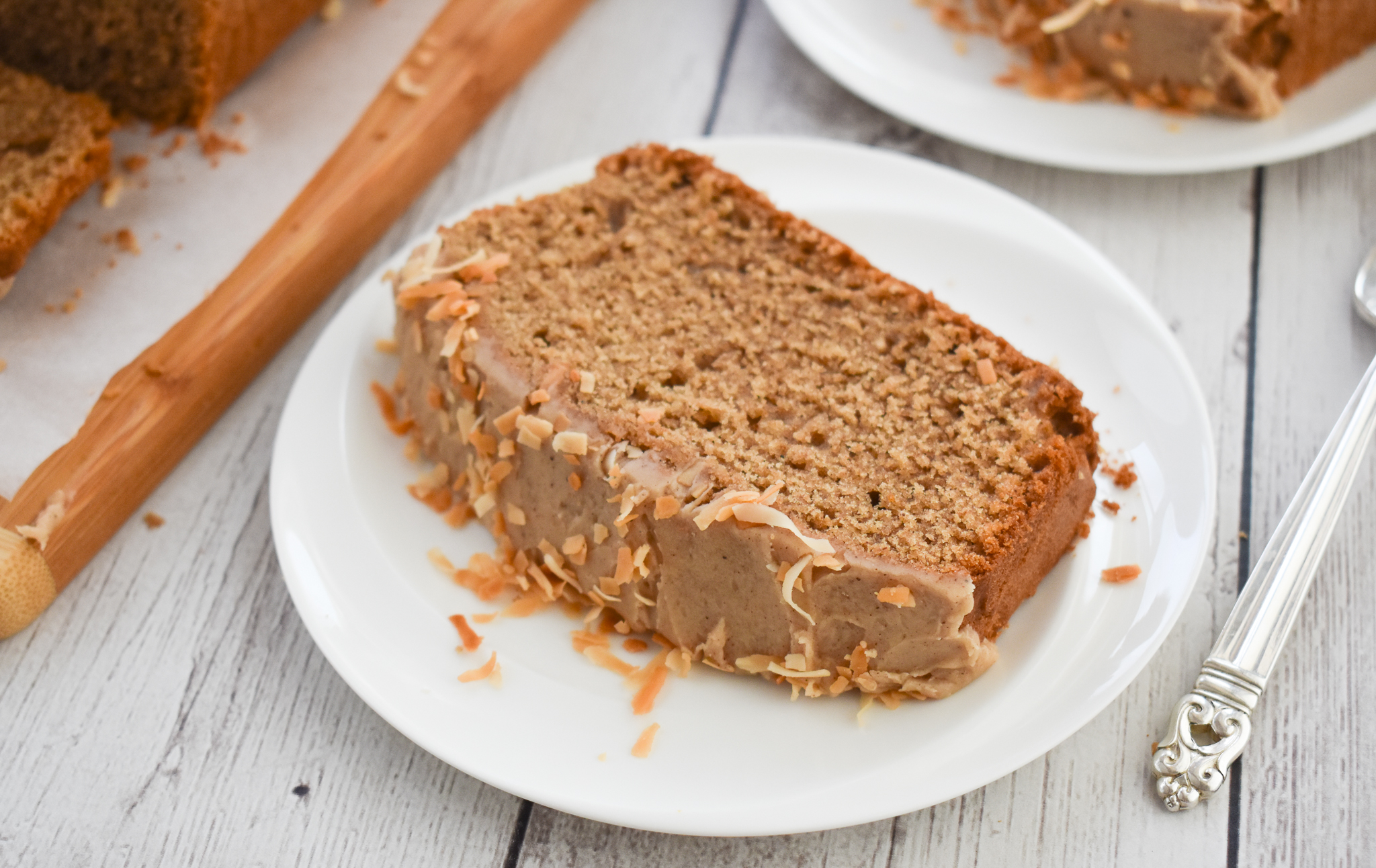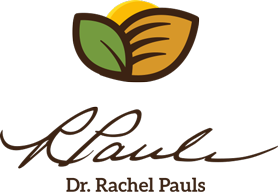 Printer Friendly Version
Comments Rating
( review)