Low-FODMAP Carrot and Curry Soup; Gluten-free, Vegan
February 1, 2018
Printer Friendly Version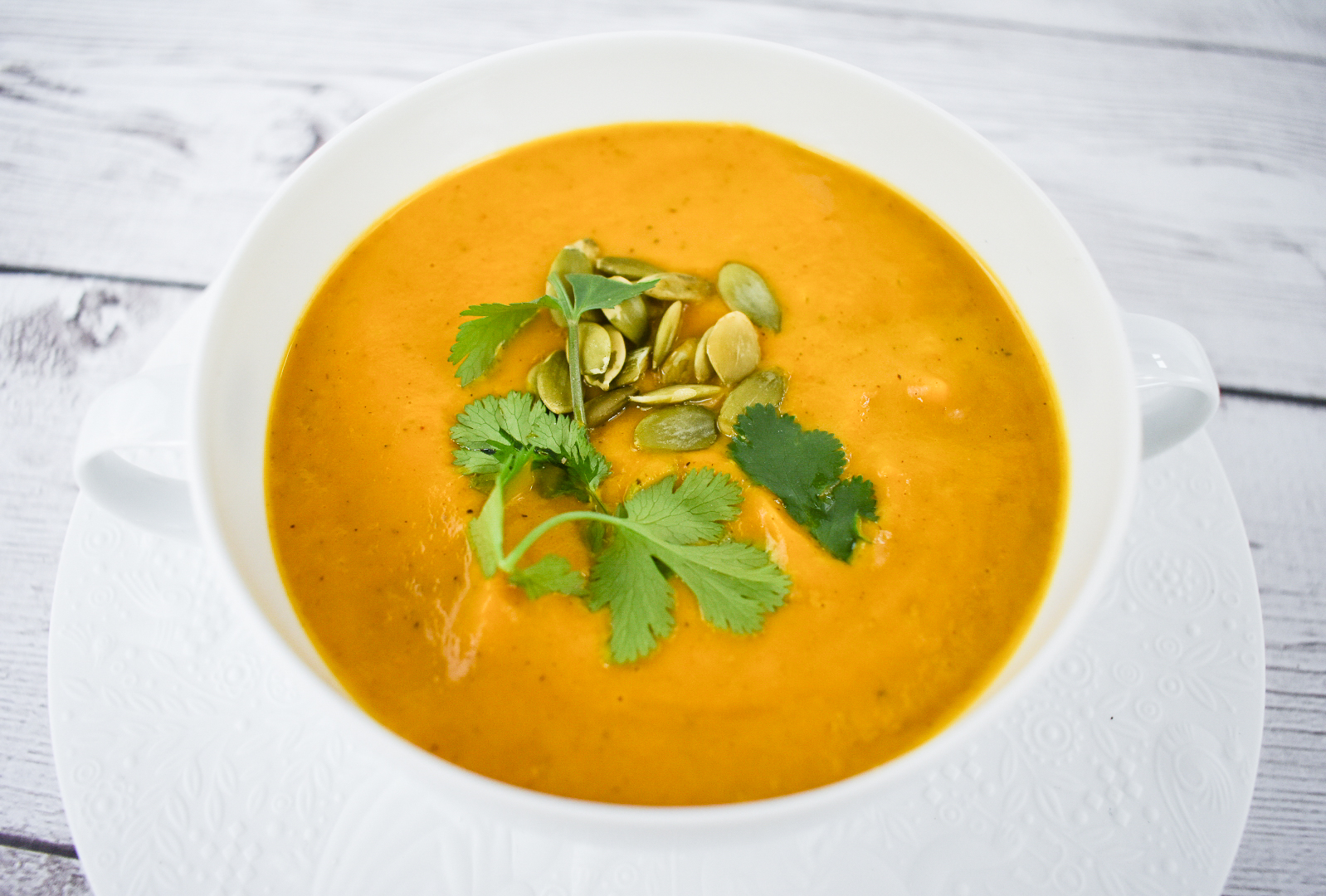 This is a rich and flavorful low-FODMAP Carrot and Curry Soup recipe that is easy to make.  You can whip up this low-FODMAP soup with ingredients you already have!  Easy, and super flavorful.  It is a tad spicy, so if you are sensitive then feel free to adjust the seasonings to your preference.
I love a low-FODMAP Carrot and Curry Soup any day, but most of all on a cold or rainy night.  I also enjoyed this low-FODMAP soup with my low-FODMAP potato buns, toasted and cut into bite size croutons!
You may also love my low-FODMAP Minestrone Soup or my low-FODMAP Chicken and Potato Curry made in the slow-cooker.  Or check out over 450 more low-FODMAP recipes on the blog.
Be healthy and happy,
Rachel Pauls, MD
---
Low-FODMAP Carrot and Curry Soup; Gluten-free, Vegan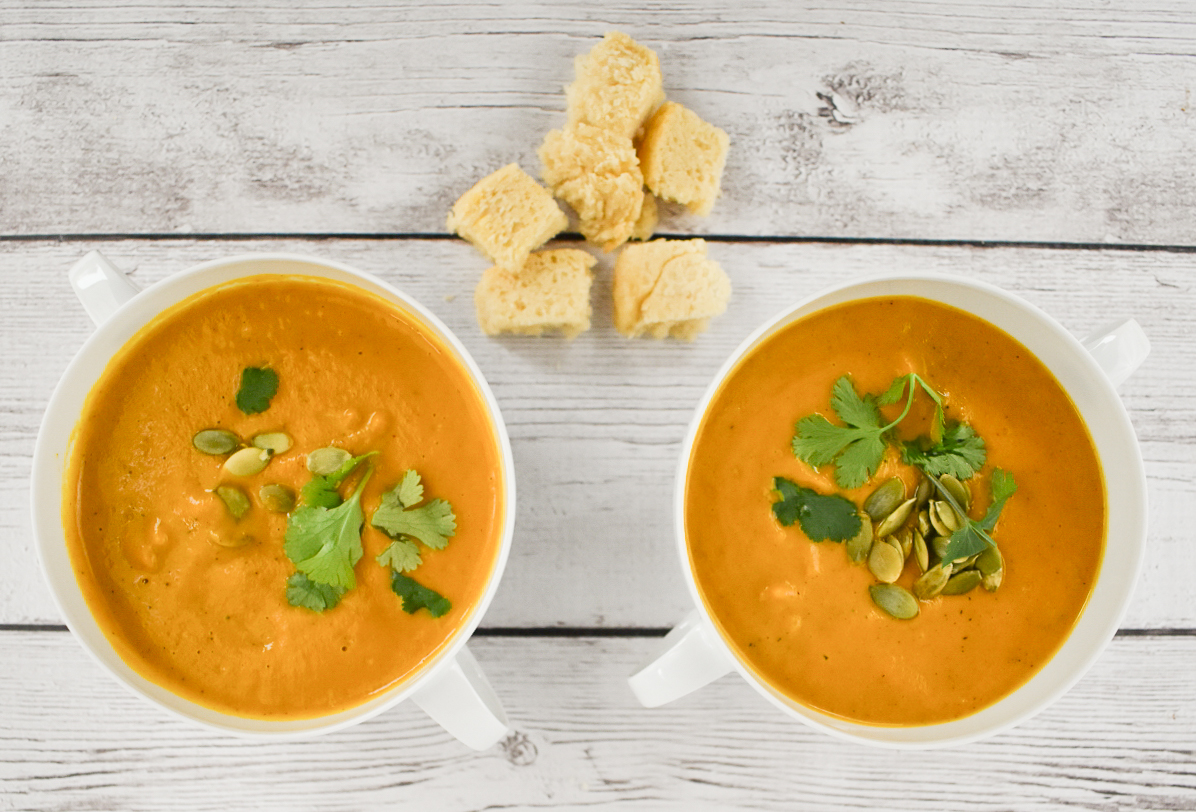 Although this recipe has not been tested, a single serving should be low-FODMAP based on the ingredients
Serves 2
Prep time: 30 min
Ingredients
3 tablespoons infused olive oil (I like to use either onion-infused or garlic-infused or a combination)
¾ pound carrots, peeled and cut into 1/2-inch coins
1 teaspoon peeled, grated fresh ginger
1/4 teaspoon ground cumin
1/4 teaspoon ground turmeric
1/4 teaspoon ground coriander
½ teaspoon salt
1/4 teaspoon freshly ground pepper
2 cups low-FODMAP chicken or low-FODMAP vegetable stock for vegan version
1/2 cup canned coconut cream
1/2 cup low-FODMAP milk (such as lactose-free or unsweetened almond milk for vegan version)
Juice from ½ lime (about 4 tsp)
Fresh chopped cilantro and toasted pumpkin seeds for garnish (optional)
Preparation
Heat the oil in a heavy saucepan or dutch oven
Add the chopped carrots along with the ginger, cumin, turmeric, and coriander
Stir and cook until softened, about 10 minutes
Add the stock; there should be enough to cover the carrots
Bring the pot to a boil over high heat
Reduce the heat to medium and continue cooking until the carrots are cooked through, about 10 to 15 minutes
If you have an immersion blender, purée the soup in the pot
If not, wait until the soup cools slightly, and purée in a food processor or blender
Add the coconut cream and low-FODMAP milk while you puree to get to desired consistency

If needed, add more stock or water to bring the soup to the consistency you want (I added about an additional cup of broth as I prefer a more liquid-y soup)

Adjust the seasonings (depending on the stock you use, you may need more or less salt), and add the lime juice to taste
Garnish with cilantro and toasted pumpkin seeds if desired
Super creamy and so delicious.  You will love this low-FODMAP carrot and curry soup.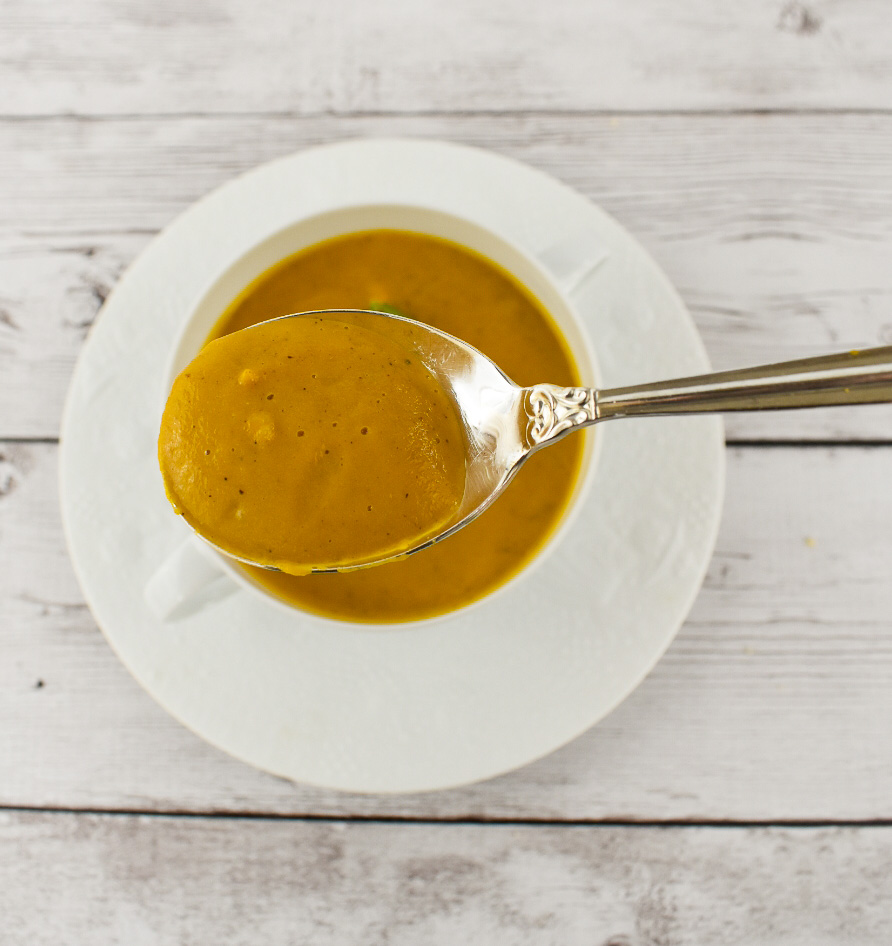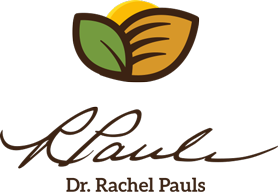 Printer Friendly Version
Comments Rating
( reviews)