Low-FODMAP Caesar Salad with Low-FODMAP Caesar Dressing & Croutons; Gluten-free
April 5, 2018
Printer Friendly Version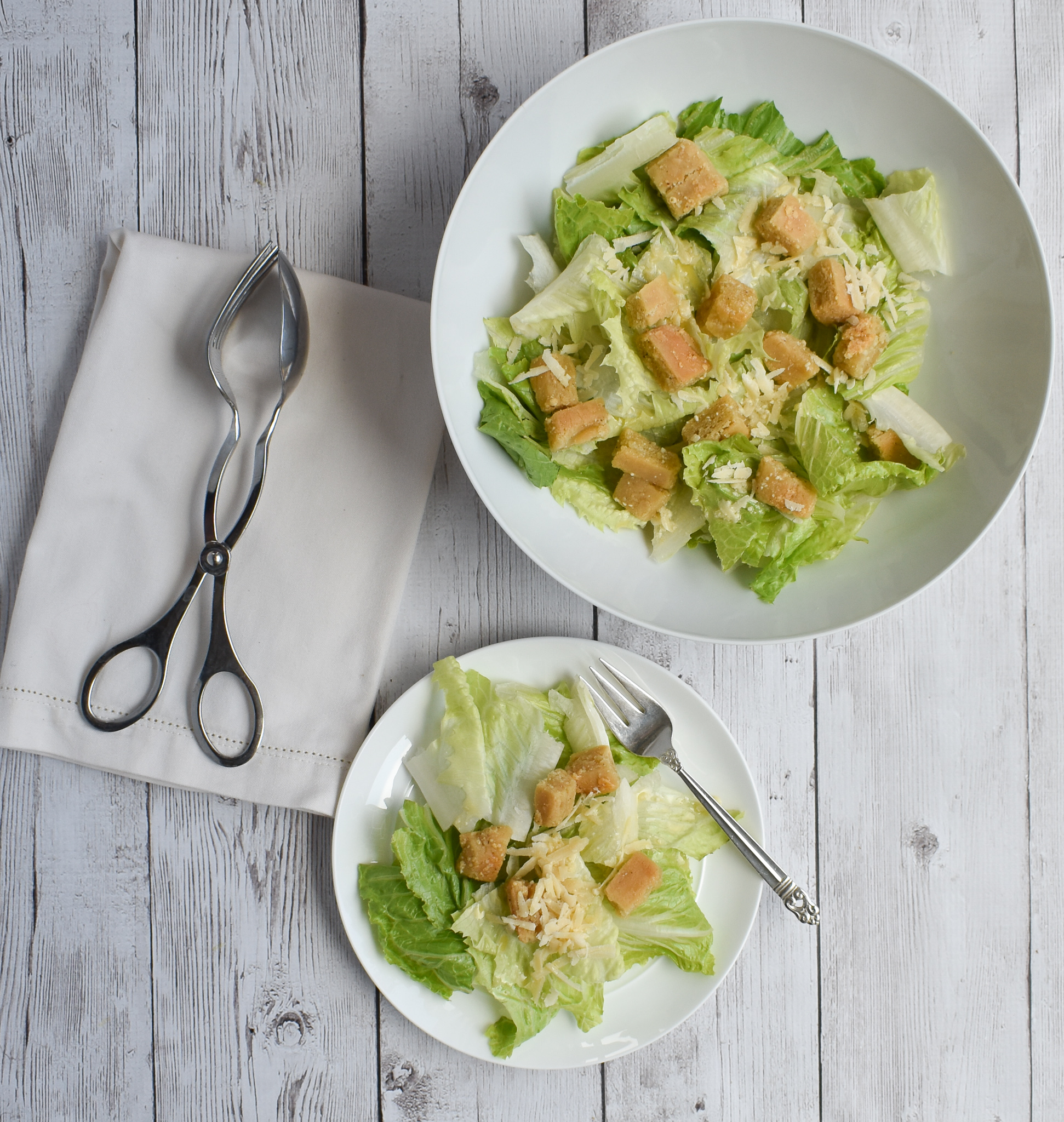 The perfect salad for any meal, this low-FODMAP Caesar Salad recipe is delicious and won't upset your stomach.  The low-FODMAP Caesar Salad Dressing is infused with garlic in the oil, keeping it full of the flavors you remember.  And you will be thrilled to top it with my low-FODMAP croutons, for added crunch and taste.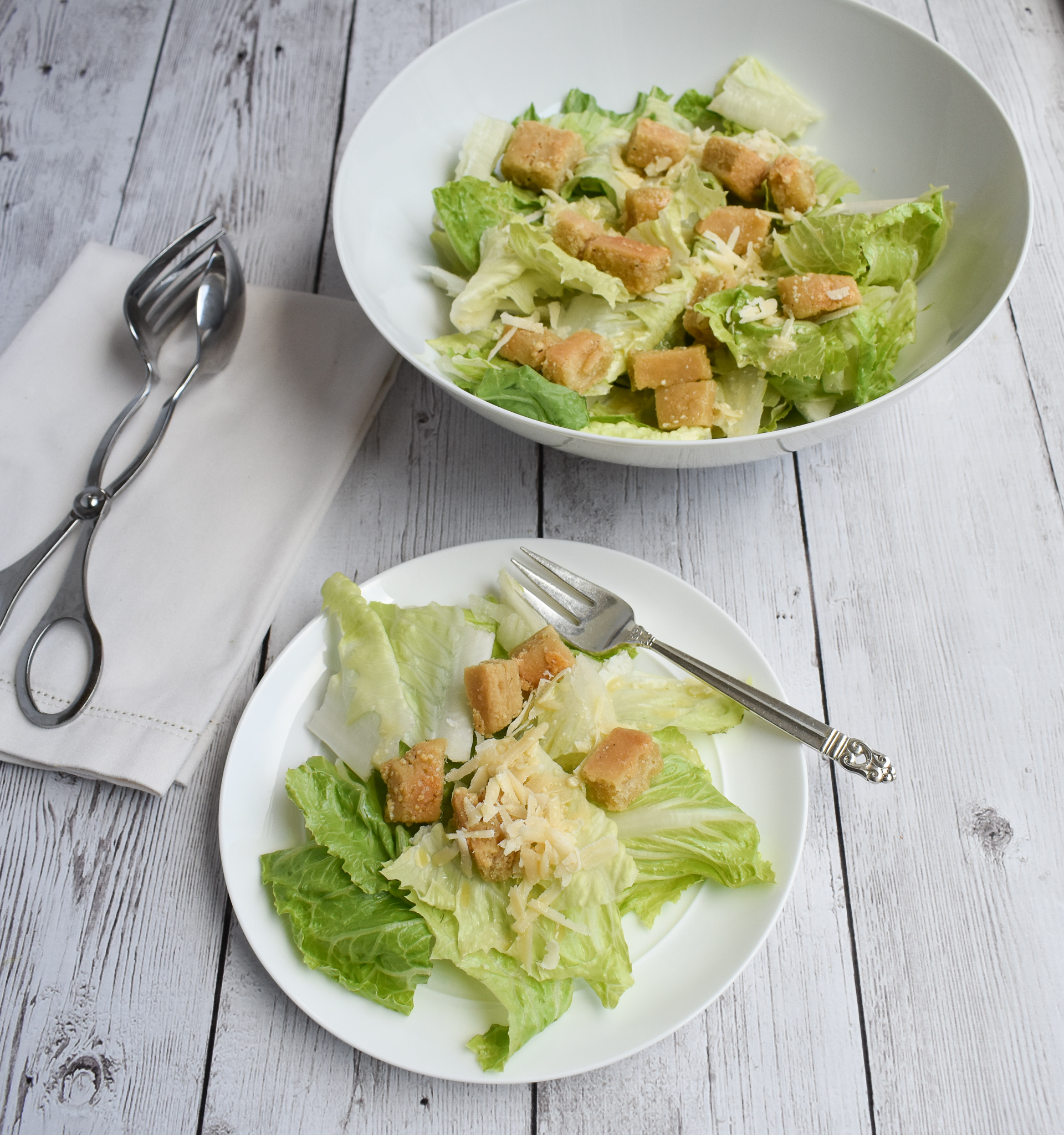 Try this low-FODMAP Caesar Salad recipe with your next dinner party, or just whip it up for a night at home.  It is so easy.  Plus romaine lettuce is low in calories but packed with vitamins and minerals such as calcium, phosphorous, magnesium, potassium, vitamin C, vitamin K, and folate. It's also a good source of beta carotene!
Check out my blog for more ideas… we have over 300 more low-FODMAP recipes!  You may also love my low-FODMAP Kale Salad, low-FODMAP Strawberry Salad and low-FODMAP Spinach & Cranberry Spinach Salad recipes with their amazing low-FODMAP salad dressings.
Be healthy and happy,
Rachel Pauls, MD
---
Low-FODMAP Caesar Salad with Low-FODMAP Caesar Dressing & Croutons; Gluten-free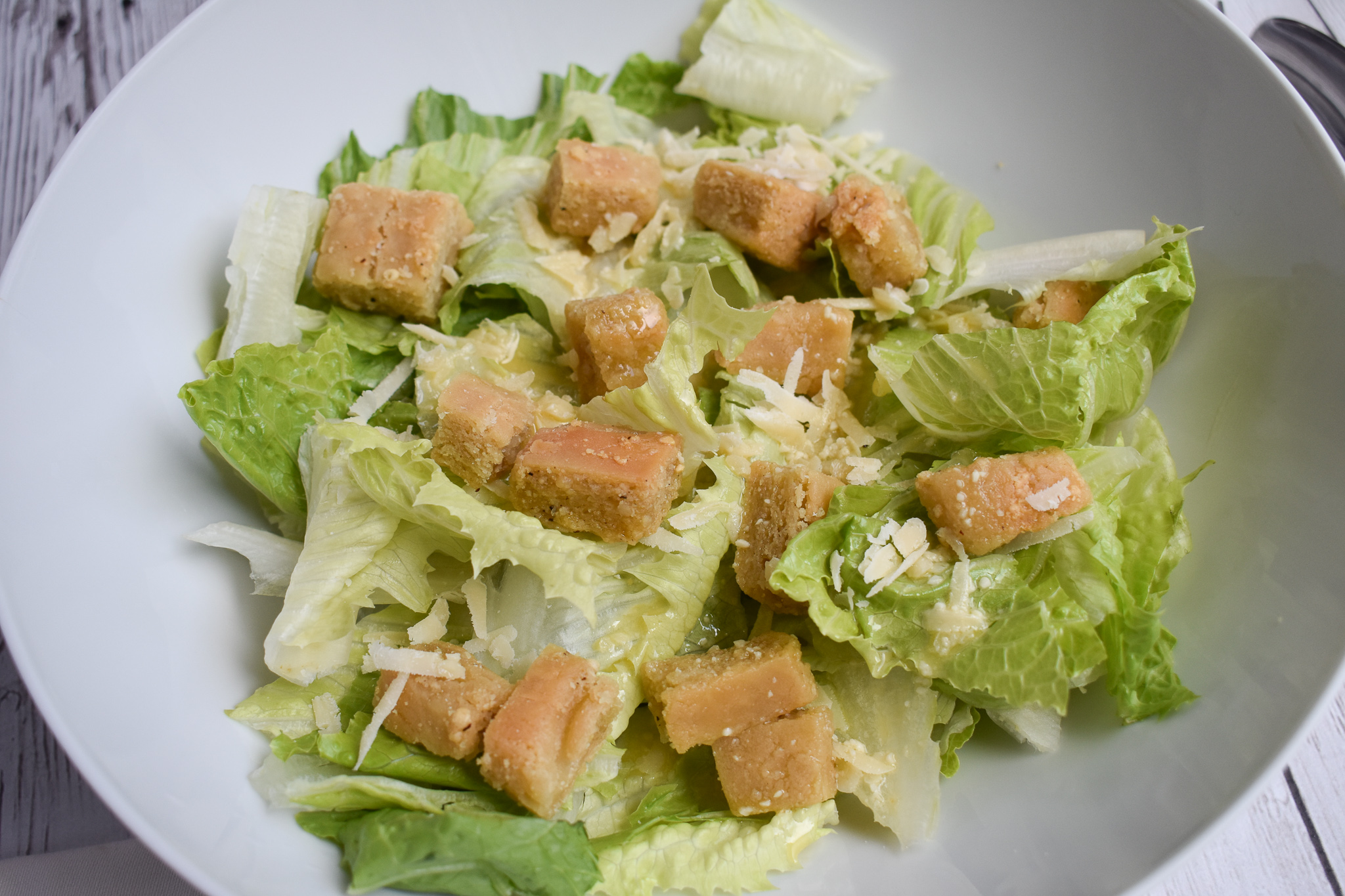 Although this recipe has not been tested, a single serving should be low-FODMAP based on the ingredients
Serves 4
Prep time: 20 min
Bake time: 15 min
Total time: 40 min
Ingredients
3 tablespoons plus 1/4 cup garlic-infused extra-virgin olive oil, divided (see my recipe swap blog for tips on purchasing these oils.  They are such a great tool for low-FODMAP cooking)
3 cups of my low-FODMAP potato bread/buns, cut into 3/4-inch cubes (or other hardy low-FODMAP bread)
1 ounce finely grated Parmesan cheese, (about 1/2 cup), divided into 4 servings
Coarsely chopped Parmesan cheese for garnish on plate (about 1 teaspoon per plate)
½ tsp Kosher salt (divided into ¼ teaspoon portions)
½ tsp freshly ground black pepper (divided into ¼ teaspoon portions)
1 egg yolk
1 tablespoon juice from 1 lemon
1-1.5 teaspoons anchovy paste (titrate to taste)

Check ingredients to ensure no high-FODMAP seasoning in paste or use 2-3 whole anchovies
You may wish to cut down the salt in the dressing if your anchovy paste is very salty
I used 'Amore' anchovy paste

Contains: anchovies, salt, sunflower oil, olive oil

1 teaspoon Worcestershire sauce
1/3 cup canola oil
2 heads romaine lettuce, inner leaves only, washed and carefully dried, large leaves torn into smaller pieces, smaller leaves left intact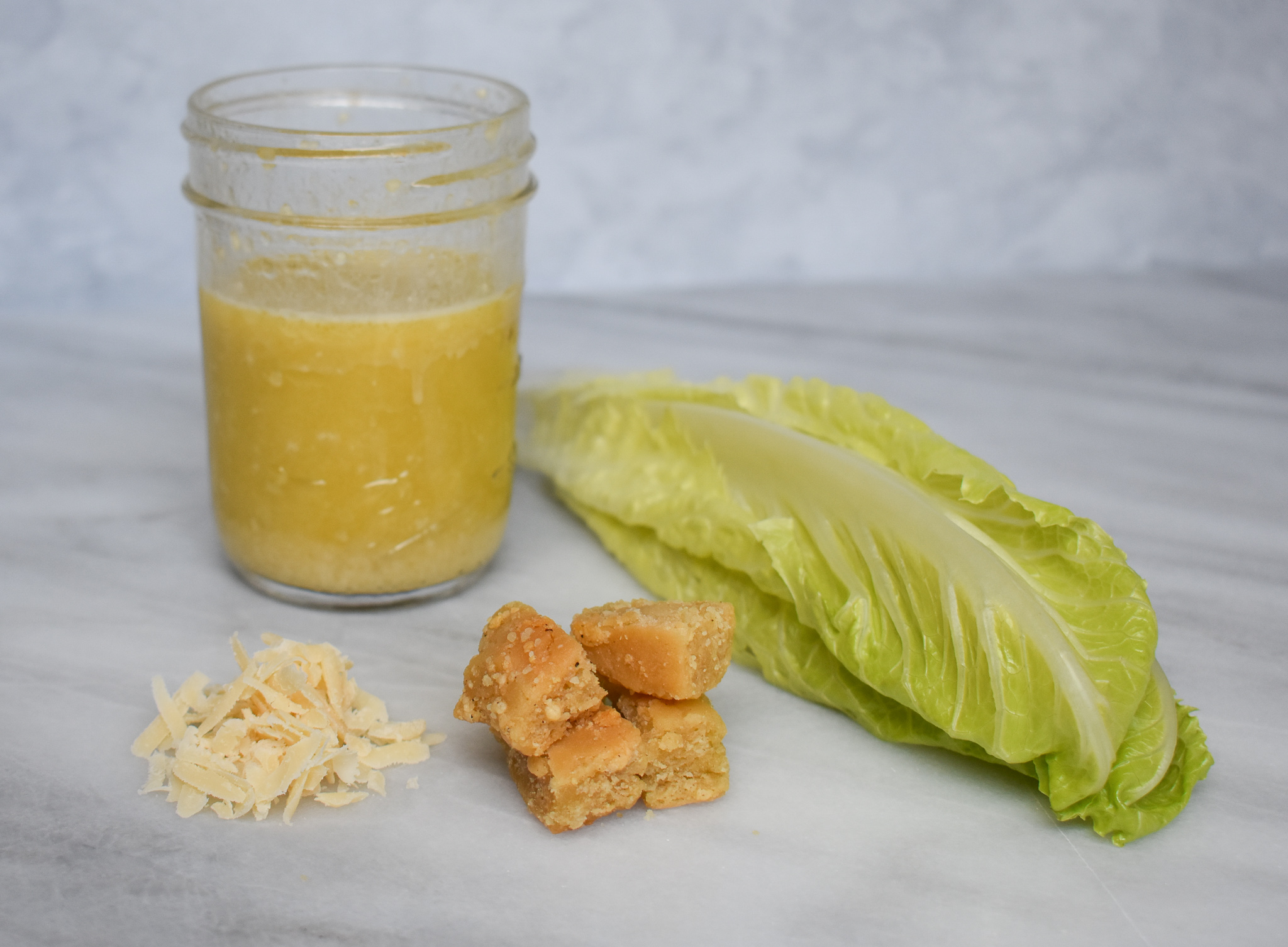 Directions
Adjust oven rack to middle position and preheat oven to 375°F
In small bowl, combine 3 tablespoons garlic infused olive oil with low-FODMAP potato bread cubes and toss to coat
Add 1 tablespoon Parmesan cheese, season to taste with half of the salt and pepper, and toss again
Transfer to a rimmed baking sheet
Bake until croutons are pale golden brown and crisp, about 15 minutes
Remove from oven and toss with 1 more tablespoon Parmesan
Allow to cool
While croutons bake, make the dressing
Combine egg yolk, lemon juice, anchovy paste, Worcestershire sauce, and 1 tablespoon Parmesan cheese in the bottom of a cup that just fits the head of an immersion blender, or in the bottom of the food processor

 do not use a standard blender

With immersion blender or processor running, slowly drizzle in canola oil until a smooth emulsion forms
Transfer mixture to a medium bowl
Whisking constantly, slowly drizzle in remaining 1/4 cup garlic infused extra virgin olive oil
Season to taste generously with remaining salt and pepper
To serve, toss lettuce with a few tablespoons of dressing, adding more if desired
Once coated, add the 1 tablespoon of remaining cheese and 3/4 of croutons and toss again
Transfer to plates
Sprinkle servings with the coarsely grated Parmesan and remaining croutons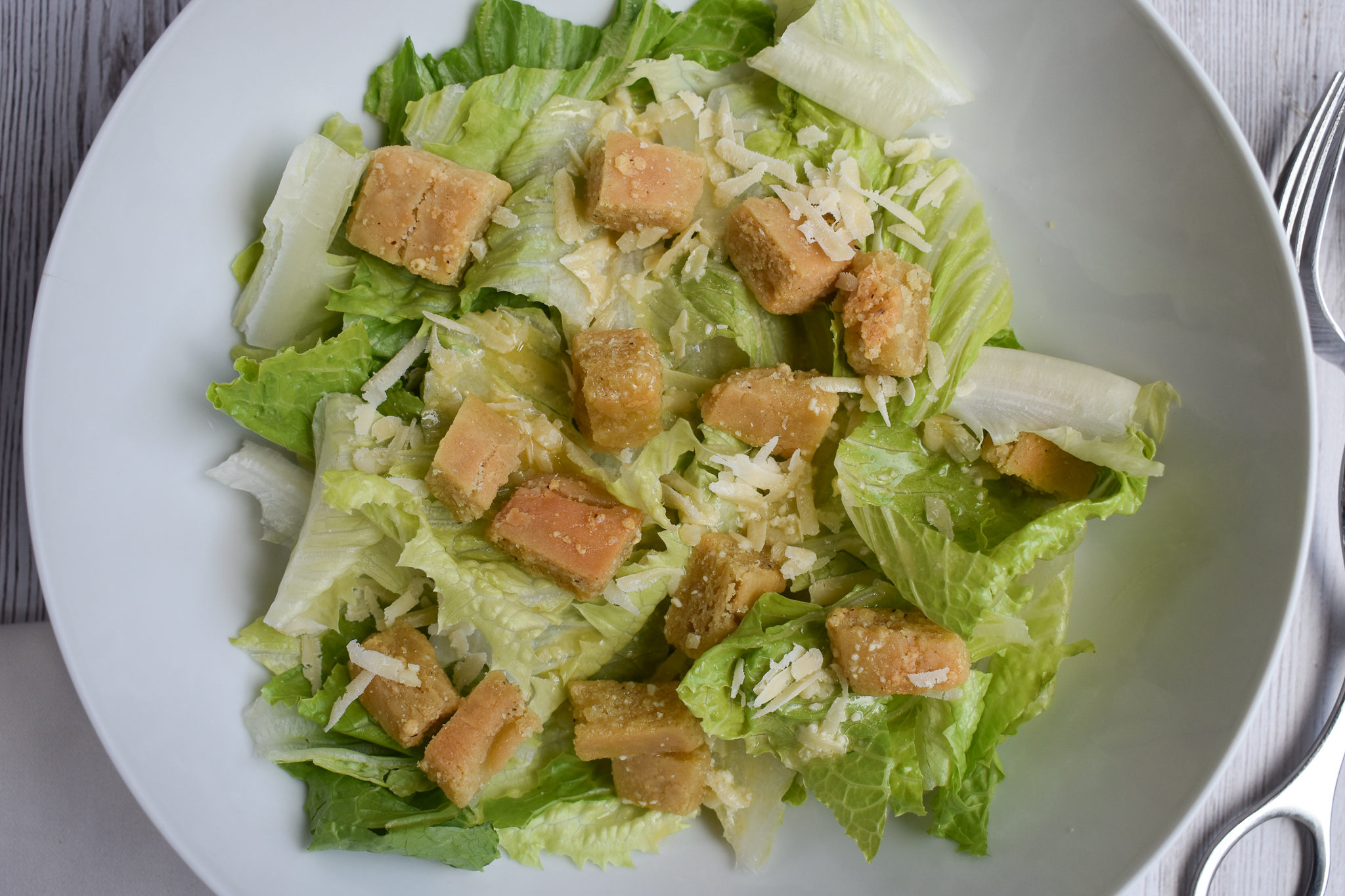 This is unbelievably good…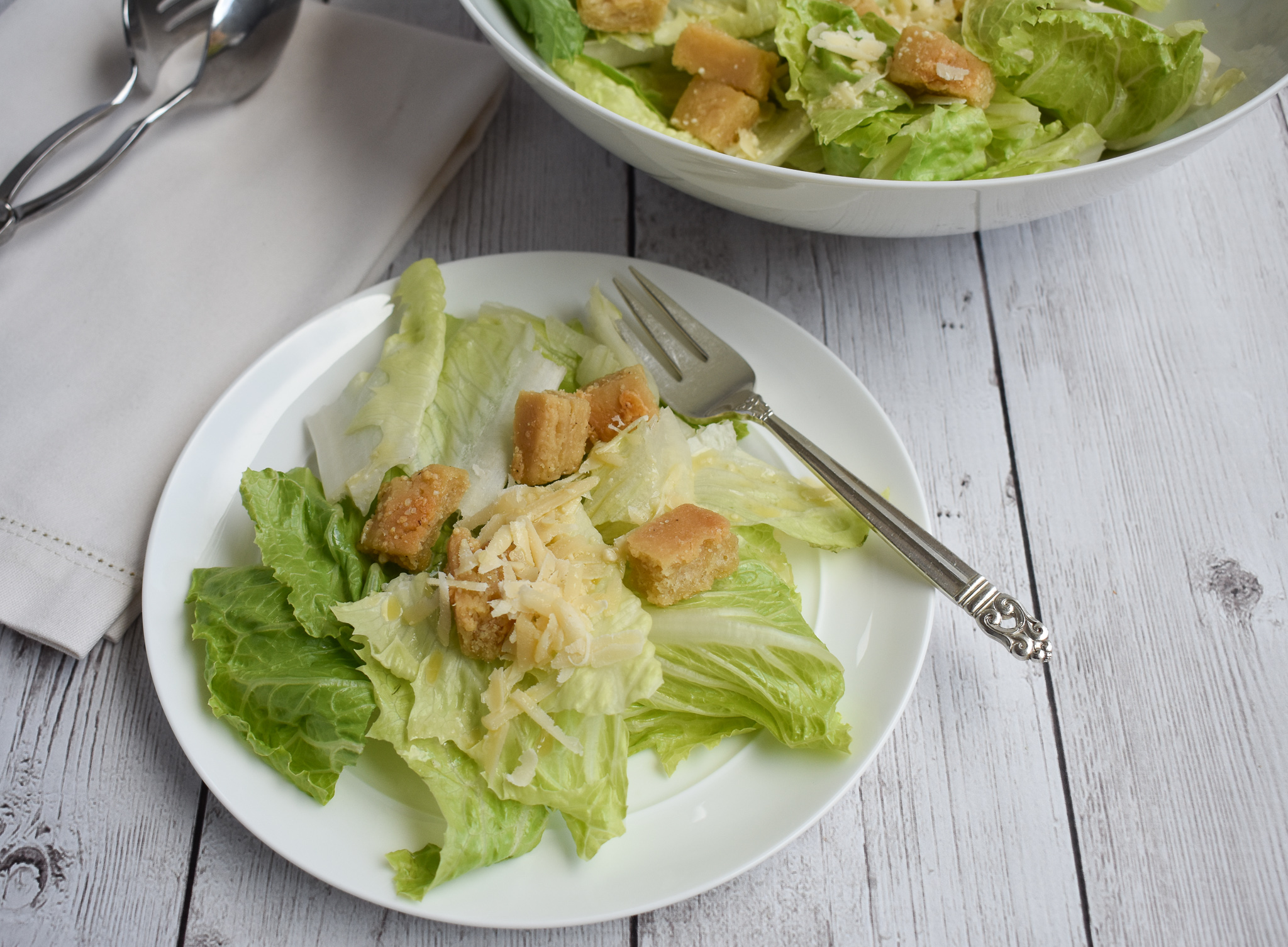 The low-FODMAP croutons have the perfect texture and flavor!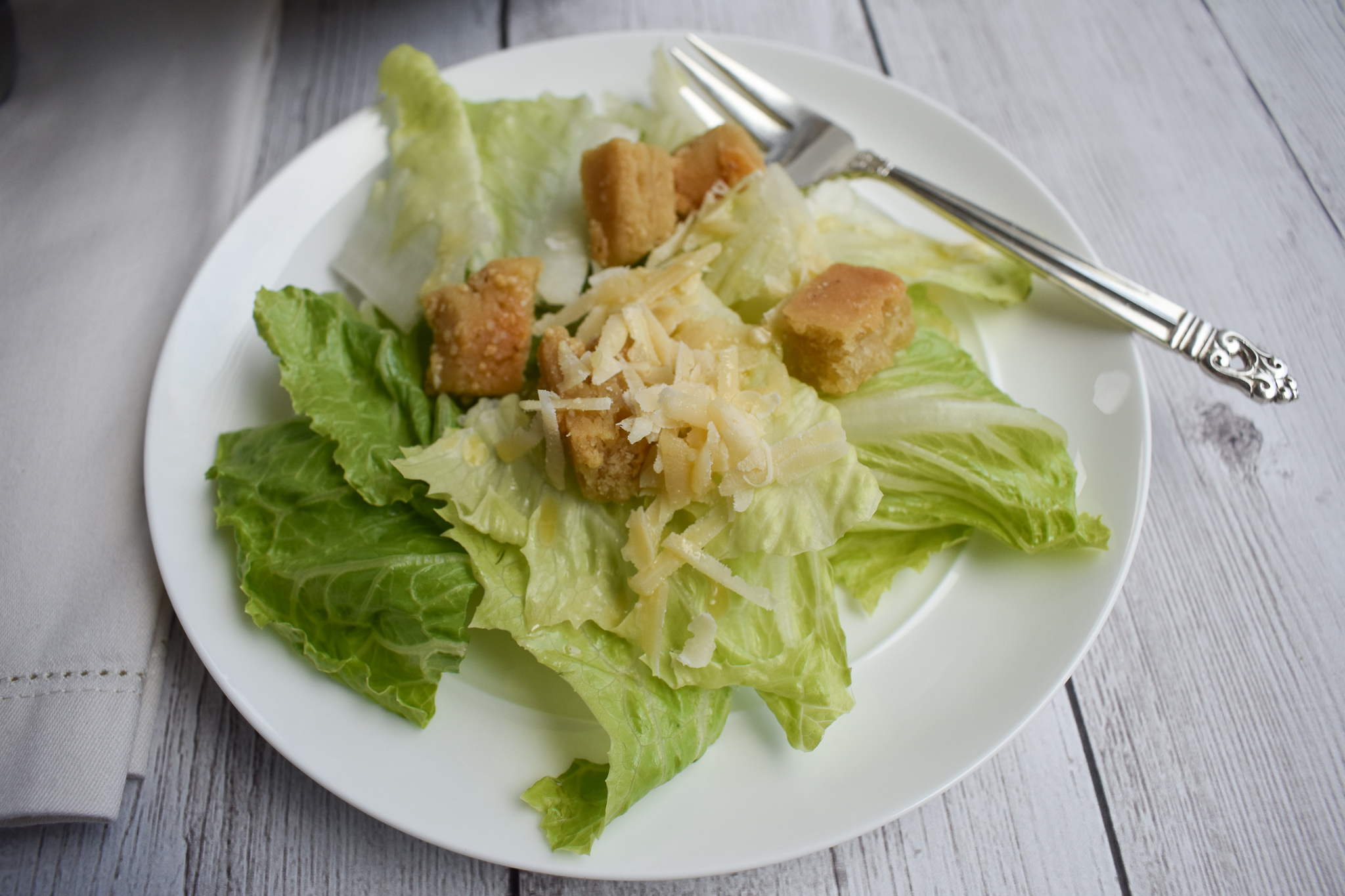 Try to resist this low-FODMAP Caesar Salad recipe!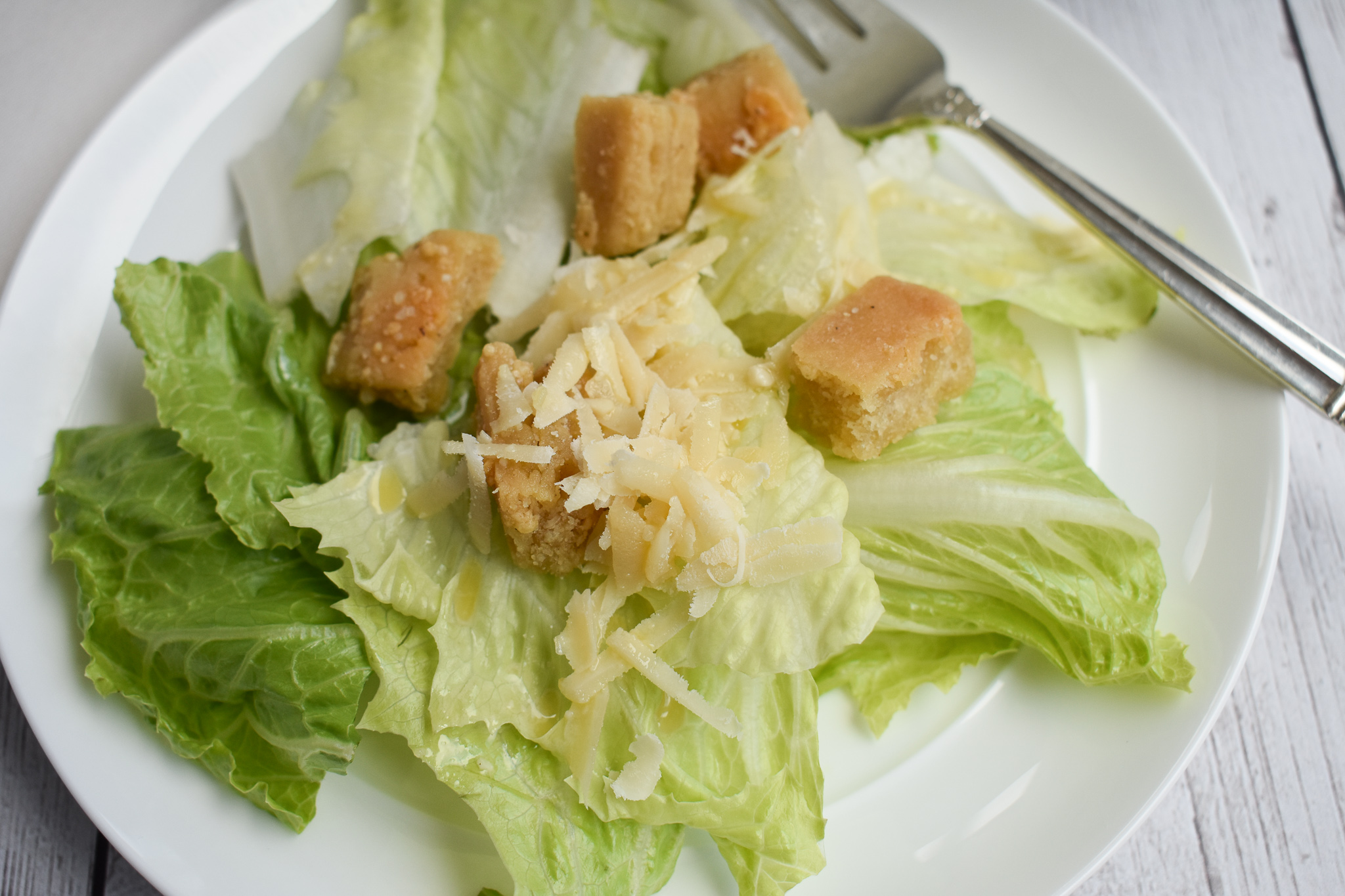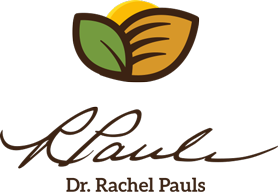 Printer Friendly Version
Comments Rating
( reviews)