Low-FODMAP Brown Butter Banana Chocolate Chip Cookies; Gluten-free
April 7, 2023
Printer Friendly Version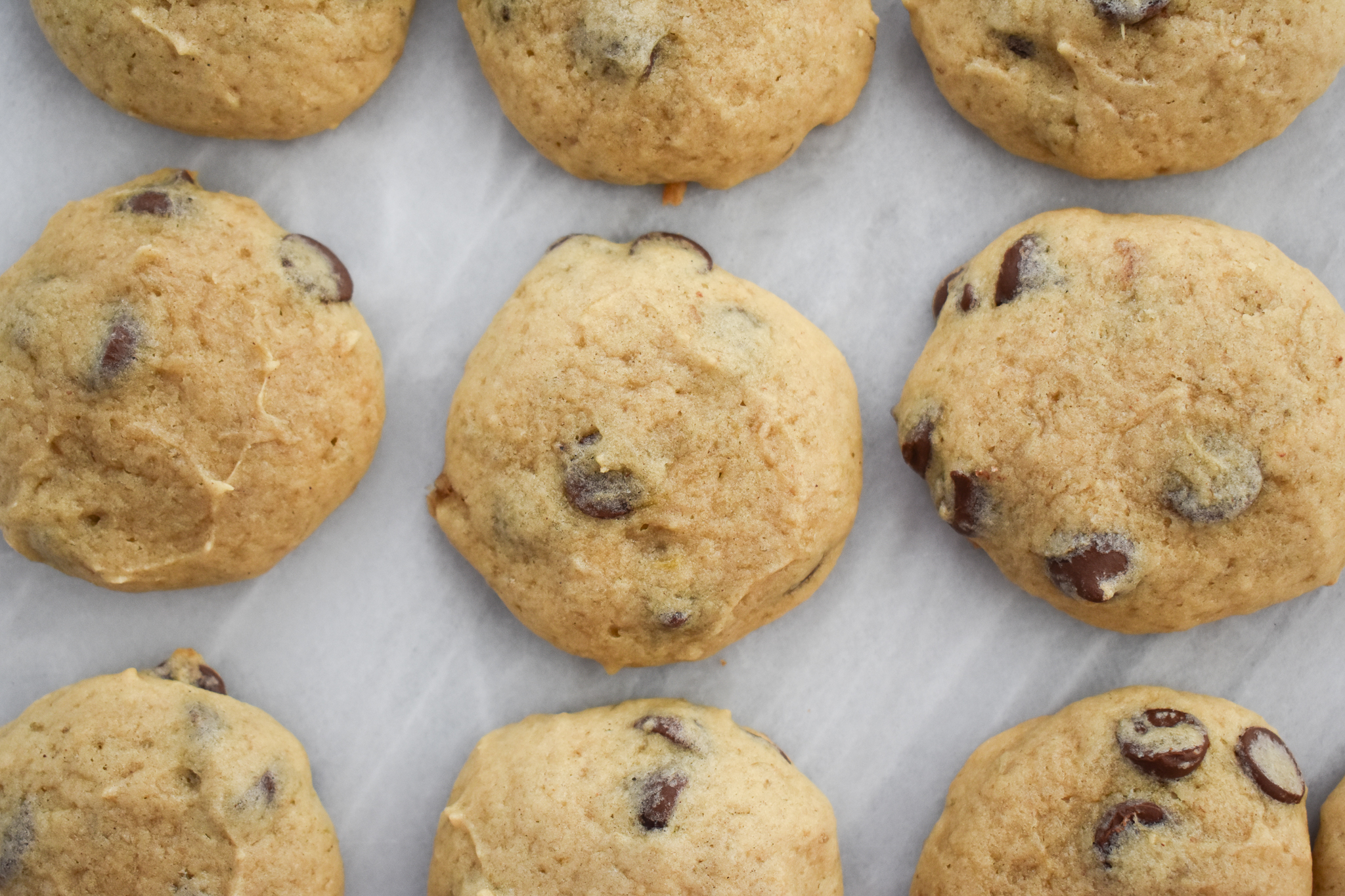 These low-FODMAP Brown Butter Banana Cookies taste like hand-held banana cake.
Who doesn't love a soft, rich, and chewy texture with the amazing flavor of brown butter, baked banana, and chocolate chips?
You are going to want to make these cookies for every occasion.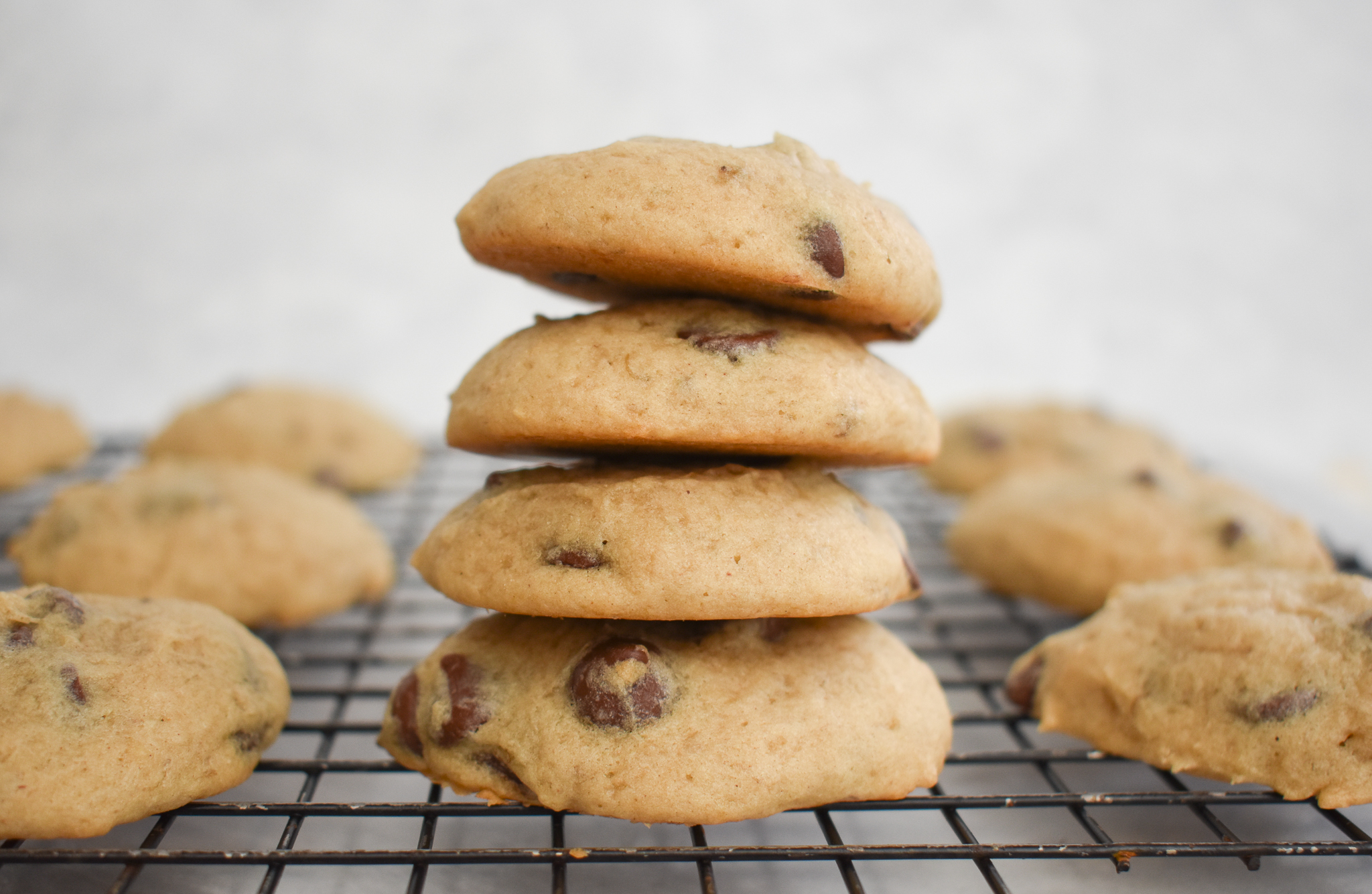 Rachel's Note: Please don't be intimidated by the 'brown butter' in the title.  I was also concerned the first time I made this ingredient.  But it is EASY!  The trick is using a saucepan or pot with a white lining (like enamel), and watching closely so the butter doesn't burn. The cooking process 'browns' the butter, and reduces the water content.  This results in a nutty aroma and richer flavor.
Once you have tried browned butter you will soon become addicted. It adds a whole different element to your baking and cooking.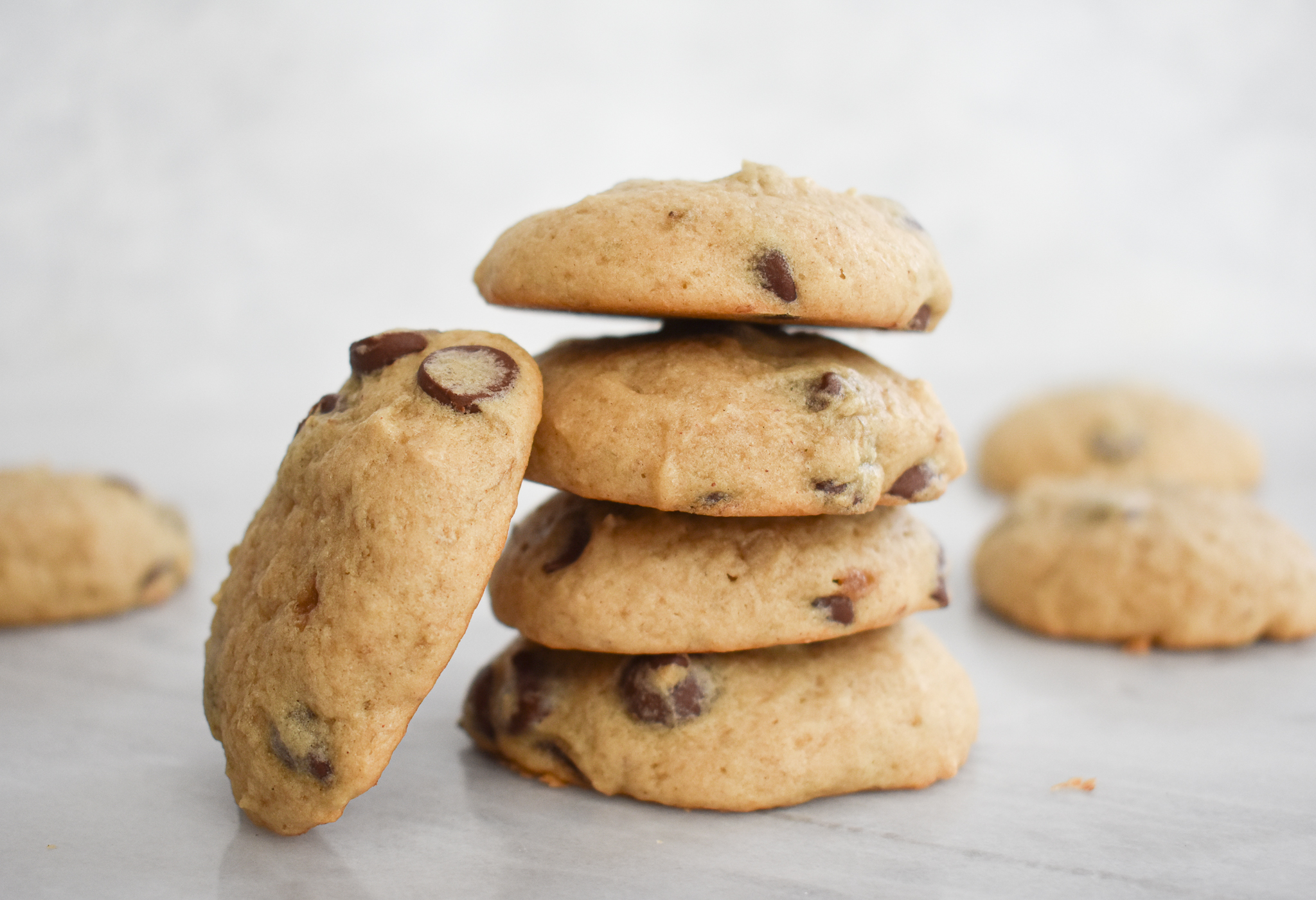 FODMAP fact: Although bananas are often labeled as a high-FODMAP food, this is not necessarily the case.  Pay attention to ripeness and portion size.  The riper the banana, the higher the sugar content (hence they taste sweeter) and a higher FODMAP content.  Only enjoy about 1/3 ripe banana per serving.  However, if you select unripe bananas, you can enjoy a whole medium sized fruit.  For this recipe, you will want to weigh your banana- see the ingredient list for full information!
You may also love:
Or check out over 500 more low-FODMAP recipes on the blog.  IBS-friendly!
Be healthy and happy,
Rachel Pauls, MD


Although this recipe has not been lab tested, a single serving should be low-FODMAP based on the ingredients (using available FODMAP data at time of testing)
Serves: 14
Yield: 28 cookies, 2 cookies per serving
Prep time: 15 mins, plus cooling
Bake time: 11-13 mins
Total time: 26-28 minutes, plus cooling
Bake: 350 F
Ingredients
1/2 cup light brown sugar
1/2 cup sugar
1/2 cup (113g) brown unsalted butter, softened

You can also substitute regular unsalted butter if short on time
You will need to brown more than 1/2 cup butter due to water loss during browning.  I suggest starting with 3/4 cup for the browning (see below)

1 cup / 8 ounces (about 225 grams) mashed ripe banana, room temperature

This is 2-3 bananas, depending on size
35g of ripe banana is one low-FODMAP serving

1 large egg, room temperature
1 teaspoon vanilla
1 & 3/4 cups low-FODMAP, gluten-free flour (I use Authentic Foods GF Classical Blend for consistent results every time…see my low-FODMAP bake-off blog for the reason why)
1/2 teaspoon xanthan gum (if not added to your flour choice)
1/2 teaspoon baking soda
1/2 teaspoon baking powder
1/4 teaspoon salt
1/2 teaspoon ground cinnamon

If you like more cinnamon flavor, increase to 1 teaspoon or more!

1 cup (160g) semisweet chocolate chips, or substitute toasted chopped walnuts, or pecans
Directions
If not already done so, brown your butter:

Start with about 3/4 cup unsalted butter and place in a white bottomed saucepan
Melt over medium low heat, stirring constantly, until it turns golden and smells toasty.  Little brown flecks will begin to form on the bottom and sides of the pan
Depending on the size of your pan, this may take 2-5 minutes
Remove from heat and transfer to a cup or bowl to stop it from burning
Cool butter until it is room temperature, softened but not runny (about 2 hours)

You can do this step far in advance! Refrigerate the butter until ready to use, then soften to room temperature

Preheat oven to 350° and line 2 baking sheets with parchment paper or silicone baking mats
In a medium bowl, whisk together the LF, GF flour, baking soda, baking powder, xanthan gum, salt and cinnamon. Set aside for now
In a large bowl, or your stand mixer with the flat paddle, beat browned butter with sugars until well combined
Add in the egg and vanilla on low speed, then mashed banana
Gently add the dry ingredients, but do not overmix
Add chocolate chips (or other stir-ins) by hand at this point, folding gently into the low-FODMAP banana cookie batter
Use a small cookie scoop to place mounds of the dough onto the baking sheets

Flatten out the mounds by smoothing the top with the back of a spoon or your fingers

The dough will be somewhat sticky, that is normal

These cookies have minimal spread

Bake for 11-13 minutes

They may seem slightly underdone, but will continue to bake out of the oven.  The tops should be set to touch

Remove from the oven, let rest on the sheet for about 2 minutes until bottoms are set, then transfer cookies to a cooling rack and let cool completely
Store in airtight container at room temperature or refrigerator for 5-7 days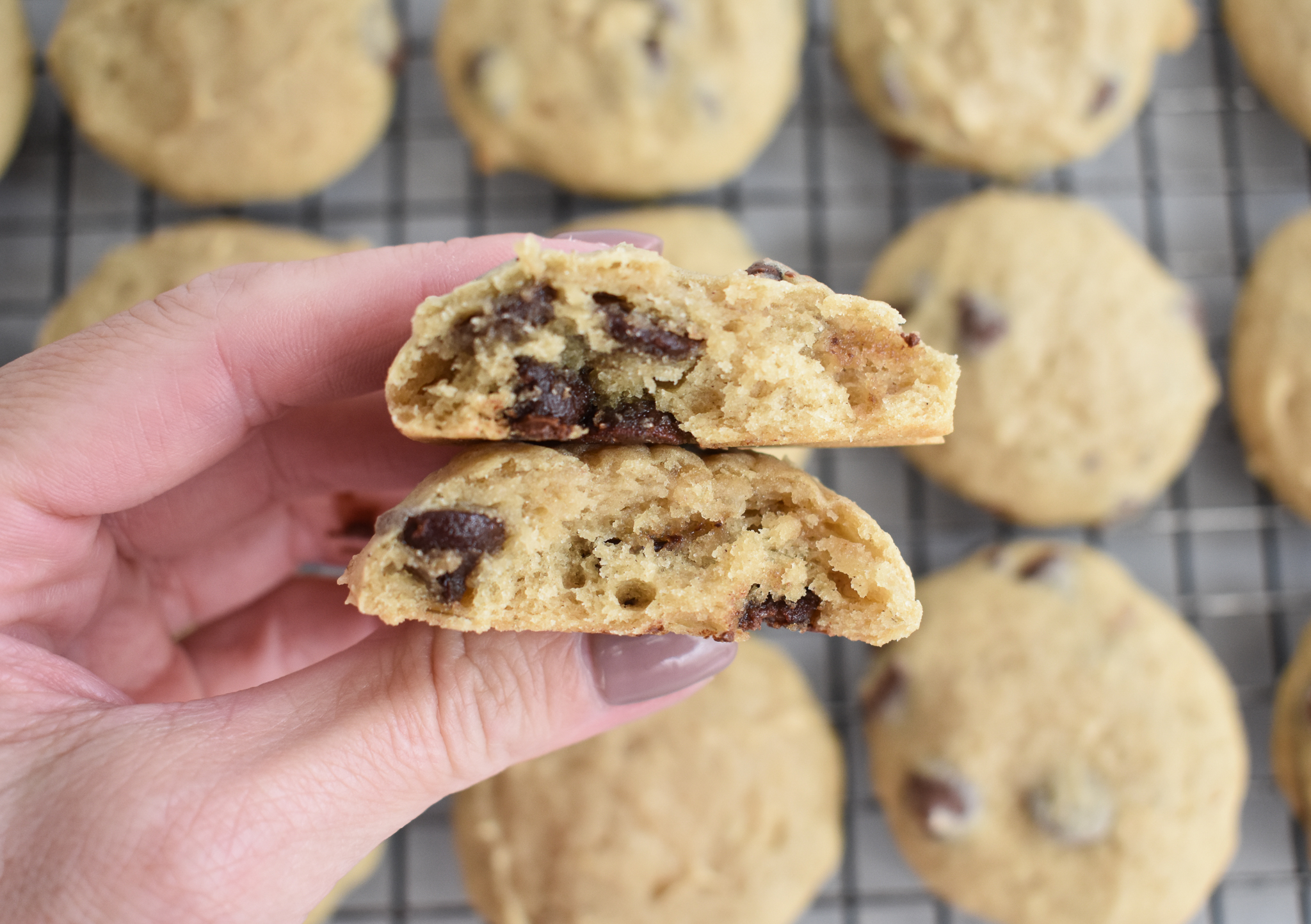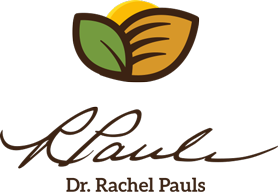 Printer Friendly Version
Comments Rating
( reviews)