Low-FODMAP Black and White Cookie Recipe; Gluten-free, Dairy-free
February 18, 2018
Printer Friendly Version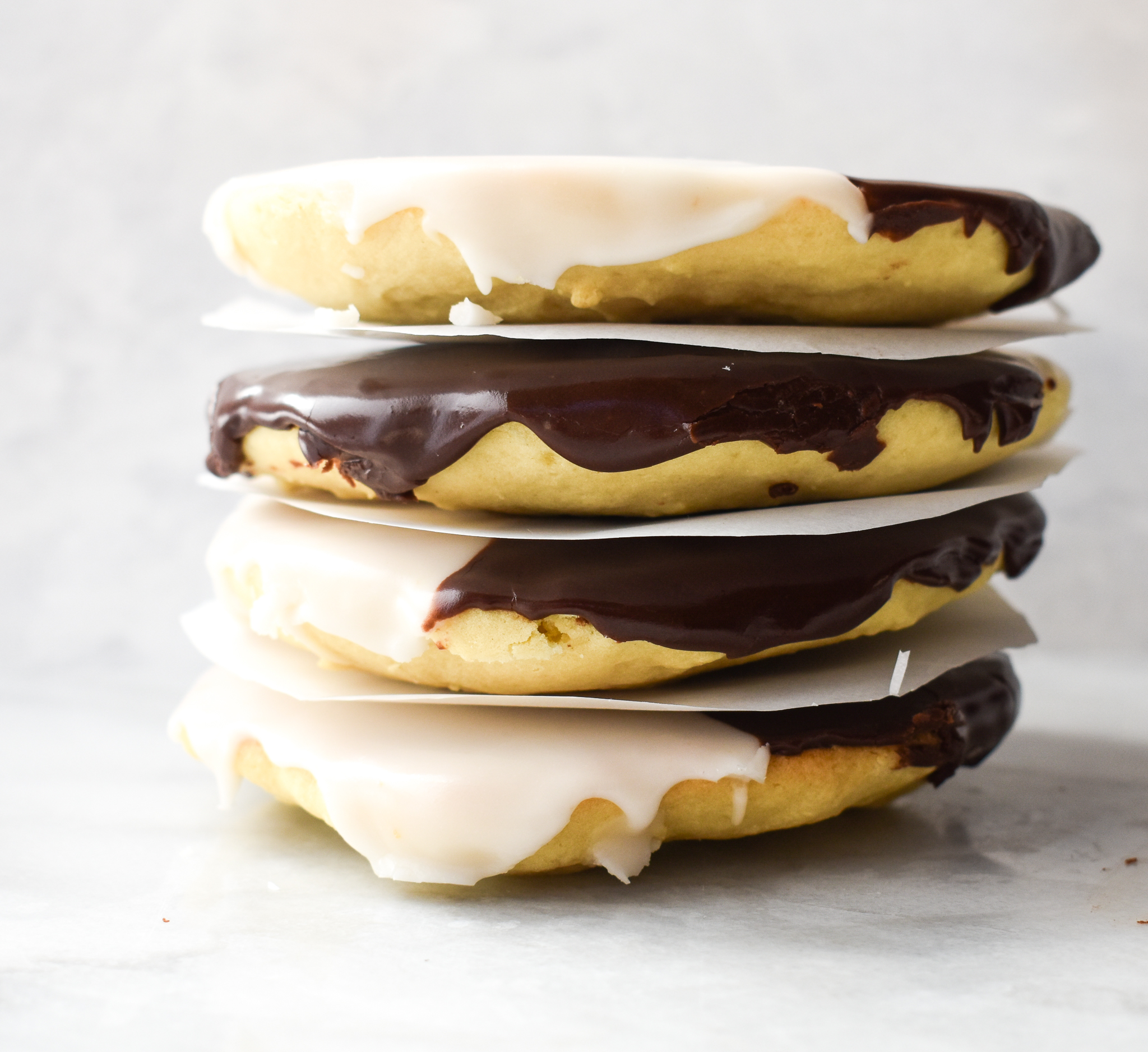 I love New York City, and I adore NYC's special Black and White Cookies. I used to get one every day (sometimes 2) when I visited.  But these are hard to find outside of New York, and of course, any bakery brand would not be low-FODMAP.
So, I decided to make low-FODMAP Black and White Cookies, exactly as I prefer them. I love my low-FODMAP Black and White Cookies with a glaze-type shiny frosting, not too thick. The cookie should be as big as your hand, with a soft, cakey interior. There should be a hint of lemon flavoring in the low-FODMAP cookie base, and sometimes a bit of almond flavor to the icing. And I usually eat the vanilla side first to save my favorite low-FODMAP chocolate glaze for last…
The story goes that these 'cookies' were actually created by using leftover cake batter, so they truly are as much a cake as a cookie.  Some also call them 'Half-Moon Cookies' due to the different icing like a crescent moon on both sides.
This low-FODMAP Black and White Cookie recipe is actually quite easy (other than the frosting challenge of making the sides even). This recipe makes absolutely delicious, gluten-free low-FODMAP Black and White Cookies, as good as any New York deli!
If you can't go to NYC, then bring it to you with this awesome low-FODMAP Black and White Cookie recipe.
Which side do you eat first? Are you like me? Or are you like Jerry Seinfeld and get a little of the vanilla and chocolate together in every bite? 😉
For more recipe ideas, check out over 400 low-FODMAP recipes on the blog.  You may also love my low-FODMAP Mandelbrodt or my low-FODMAP Cookie Recipe Collection.
Be healthy and happy,
Rachel Pauls, MD
---
Low-FODMAP Black & White Cookie Recipe; Gluten-free, Dairy-free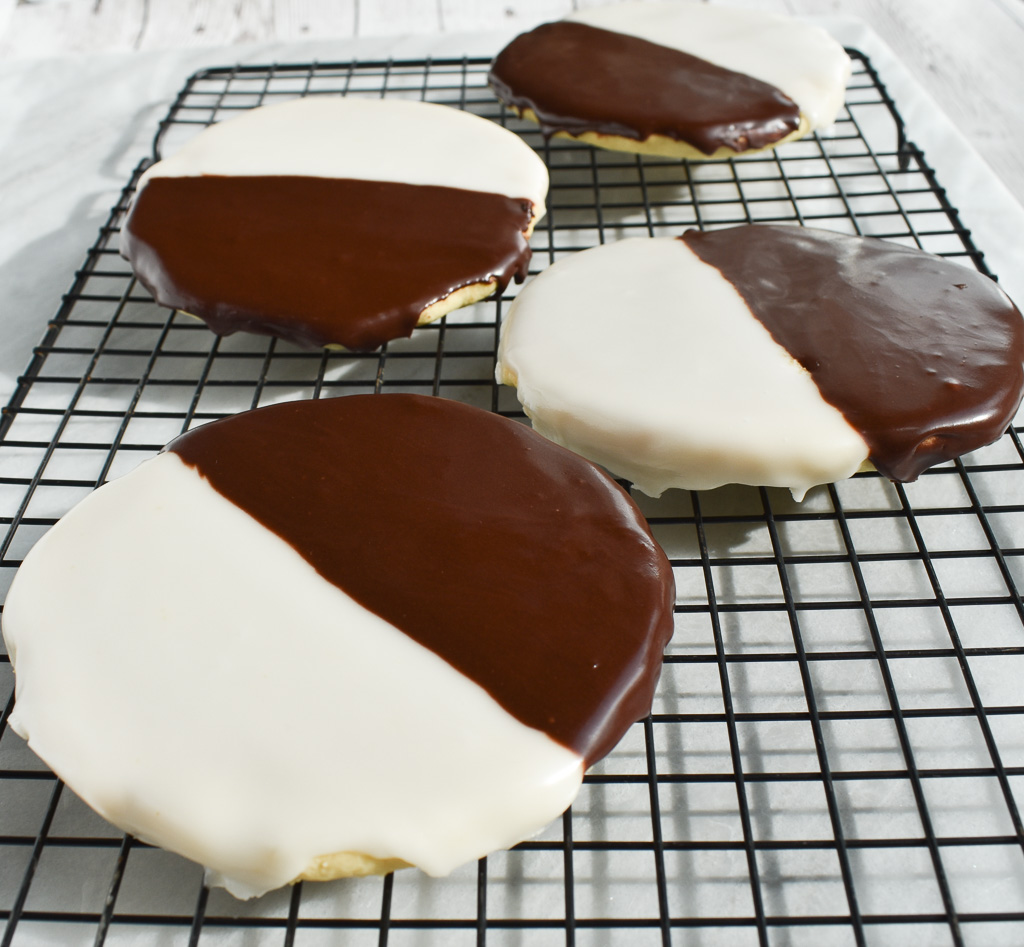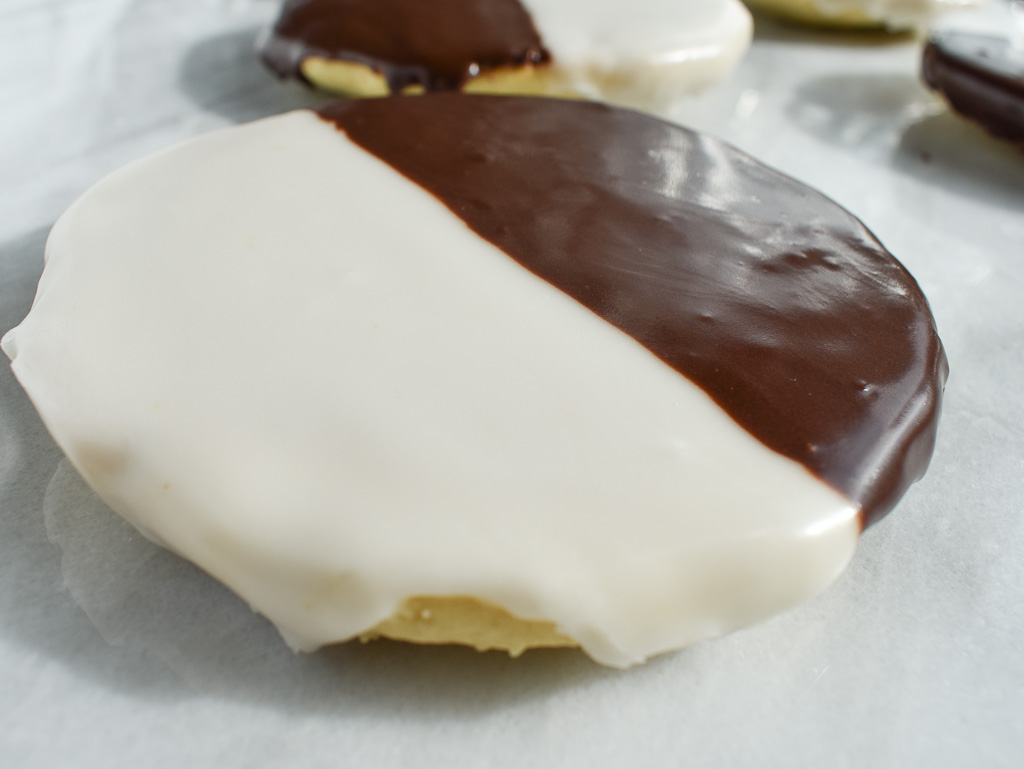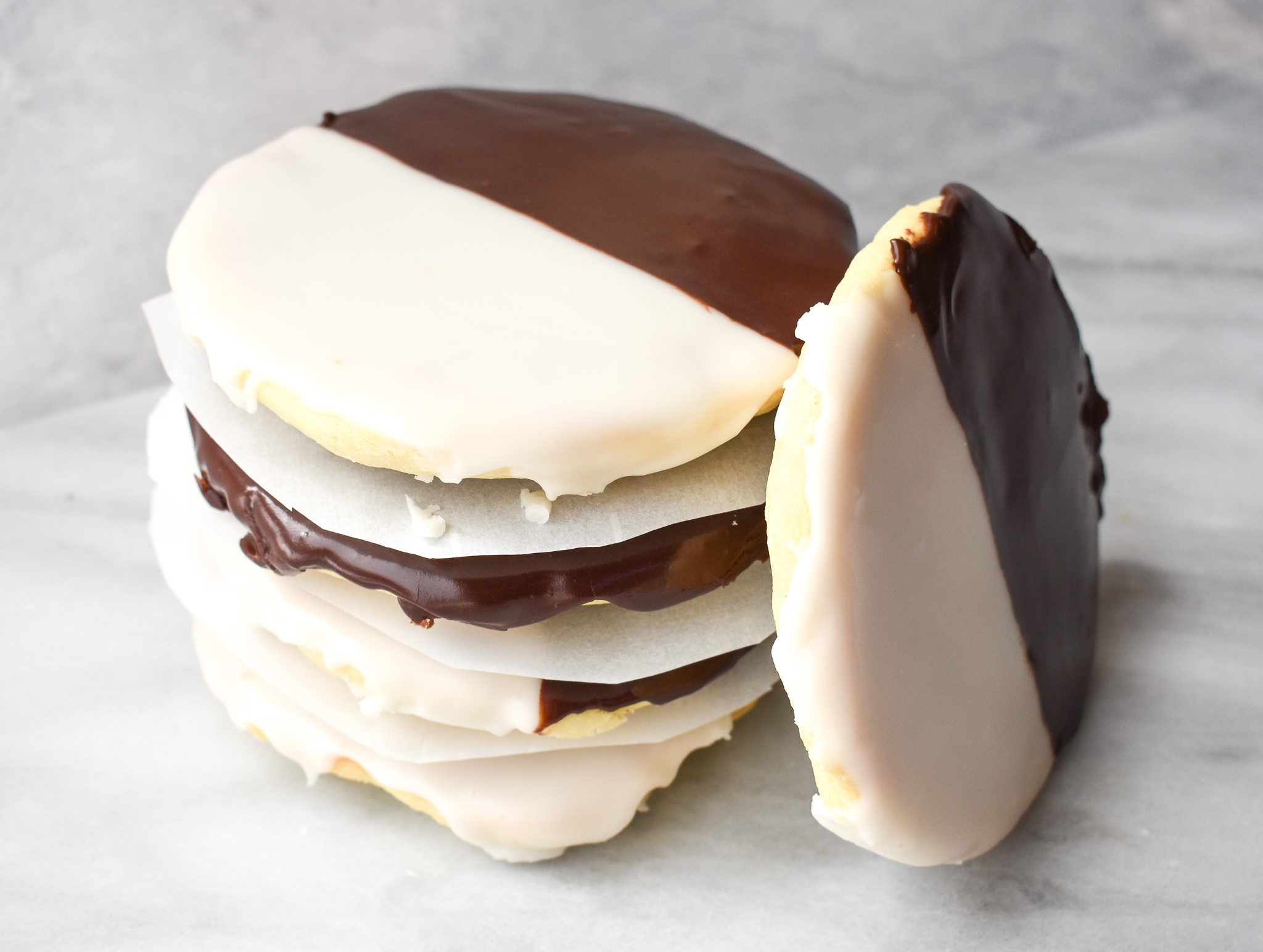 Although this recipe has not been lab tested, a single serving should be low-FODMAP based on the ingredients (*using available FODMAP data at time of posting)
Prep time 20 minutes
Bake time 12-14 minutes
Cooling time: 1-2 hours
Finish/glazing time: 20 minutes
Bake 350 F
Serves 12
Ingredients:
For Low-FODMAP Black and White Cookie Base
1 & 1/4 cup Authentic Foods GF Classic Blend Flour (I prefer this type- see my bake off blog for the results and reason why!)
¼ teaspoon xanthan gum (if not added to your flour)
¼ tsp salt
½ tsp baking soda
½ tsp baking powder
½ cup white sugar
8 tablespoons vegan low-FODMAP margarine (such as Earth Balance) or unsalted butter, softened

1 tablespoon butter is one low-FODMAP serving

1 large egg
¼ cup low-FODMAP milk, such as lactose- free or almond milk  (for dairy-free version)

3/4 teaspoon lemon juice or vinegar mixed into the milk to create 'buttermilk'

1/4 teaspoon lemon extract
1 teaspoon vanilla
For Low-FODMAP Black and White Icings
3 cups confectioners sugar, sifted
1 tablespoon light corn syrup (more if you prefer a more glossy frosting)
1-2 tablespoons hot water
1 teaspoon vanilla extract (colorless variety if you can find it)
½ teaspoon almond extract (optional)
¼ cup unsweetened cocoa
Directions:
For the Low-FODMAP Black and White Cookie Base
Heat oven to 350 F
Line two baking pans with silicone baking sheets or parchment

I like to use a circular cookie cutter to draw out circles on the parchment to shape the cookies the same sizes
can make 24 small, 12 medium or 6 giant cookies (for sharing)

In small bowl, whisk together flour, salt, baking powder, baking soda, & xanthan gum until combined.  Set aside
In a large stand mixer with flat paddle cream the margarine or butter and sugar on medium speed until light and fluffy
Add the egg, vanilla and lemon extract until fully incorporated and fluffy
On slow speed, begin to add the flour mixture and the low-FODMAP 'buttermilk', alternating these two
You want to be able to scoop or 'drop' the cookie-dough onto the sheet

This dough has a cake batter quality to it

Using an ice cream scoop (I think this works best due to the stickiness of the dough) portion out your cookies in your desired size, with about 1 inch between cookies
Flatten slightly with the back of a spoon
Bake for about 12 minutes or just until they look lightly golden
If you are really unsure, use a toothpick in the thickest part and as soon as it comes out clean, take them out
Cool 10 minutes on sheet and then transfer to wire rack to cool completely before icing
For the Low-FODMAP Black and White Cookie Icing
Sift the confectioners sugar into a large bowl
Add the hot water by tablespoons along with the corn syrup, almond and vanilla until it looks thick and glaze-like

you can add more confectioners sugar if it is too runny or clear in color

Take half of this mixture and place in a second bowl to later create the chocolate glaze
Add the unsweetened cocoa to that bowl
Mix thoroughly and add a touch of hot water to thin if necessary
Finishing the Low-FODMAP Black and White Cookies
Glaze the flat side/bottom side (not the domed side) of the cooled cookie with a spatula
I recommend do the vanilla side first

Do not ice the cookies over the bowl, I suggest doing each side over the sink or a piece of wax paper

Use 2 spatulas
You can also opt to do just chocolate and just vanilla to avoid the extra challenge of the straight line…but they do look so pretty done up half and half!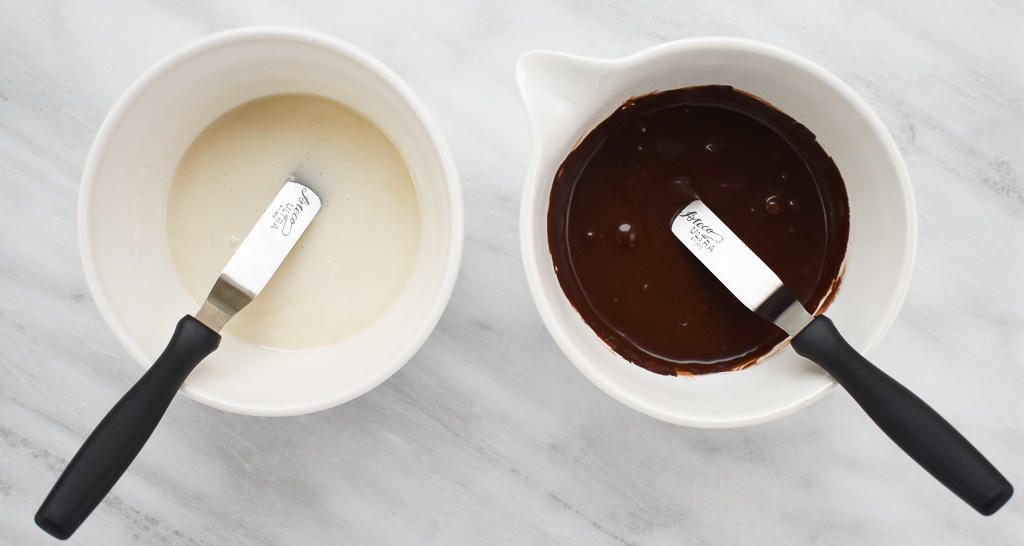 Set on cookie sheet at room temperature to harden (about 2 hours)
These cookies are irresistable!  Cake-like texture, soft and so delicious!  Low-FODMAP Black and White Cookies I love you!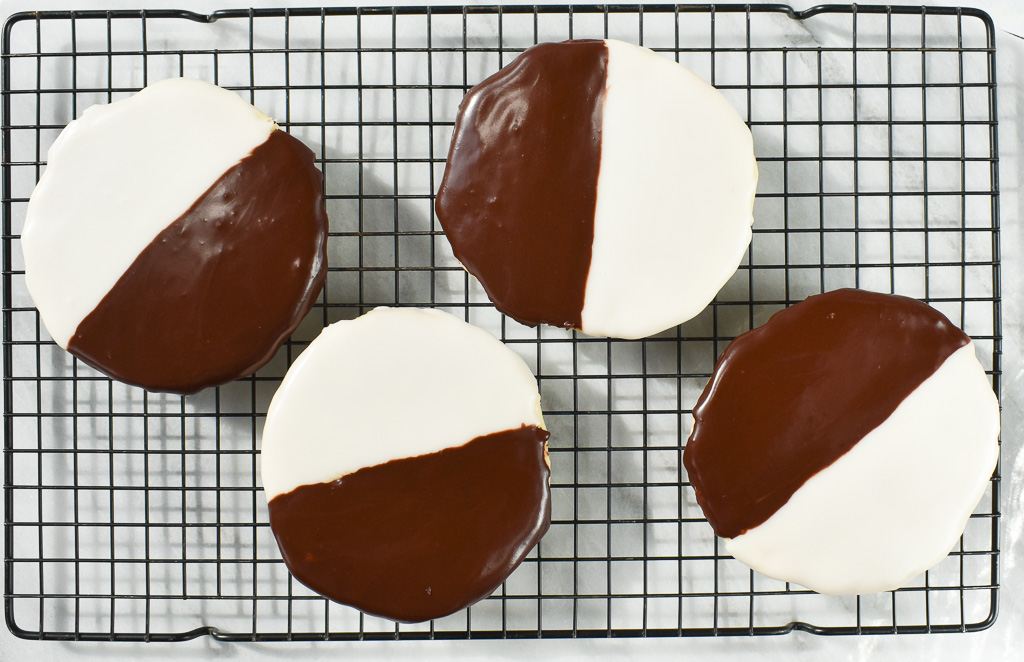 Recommend eat within 3 days, store in refrigerator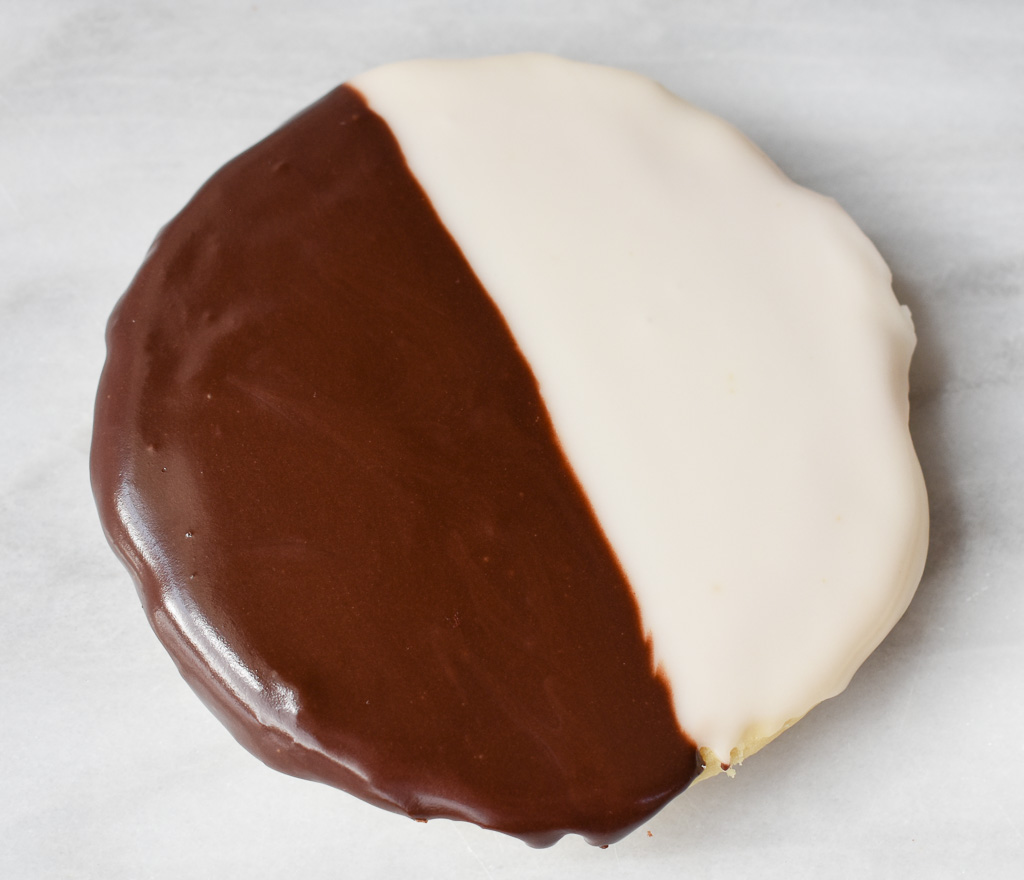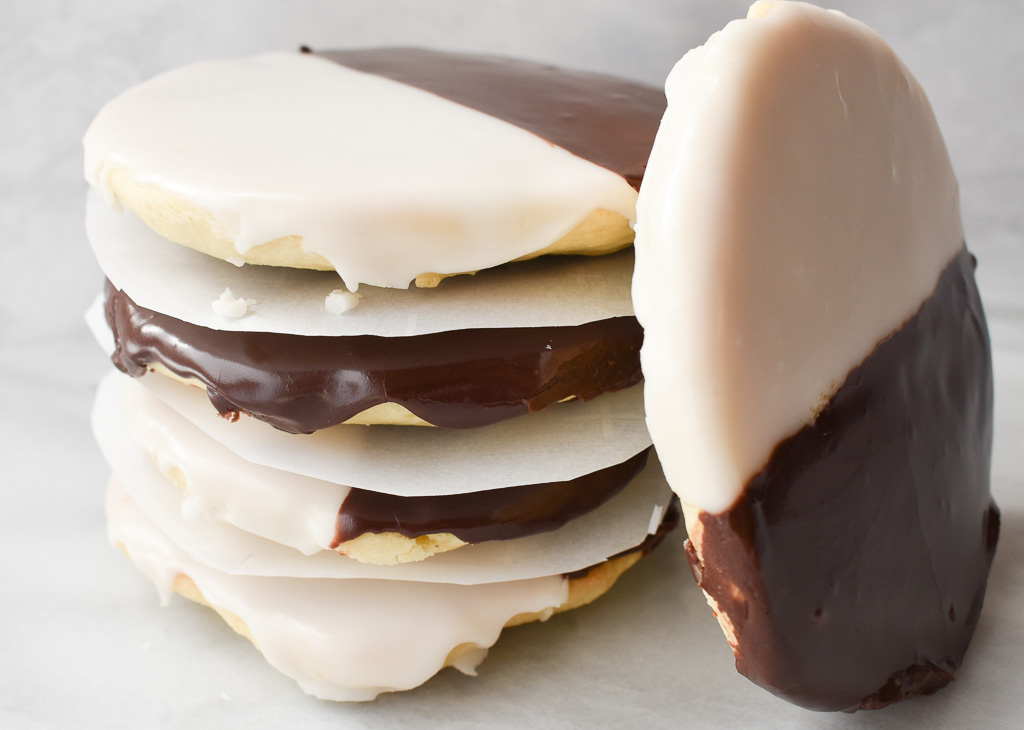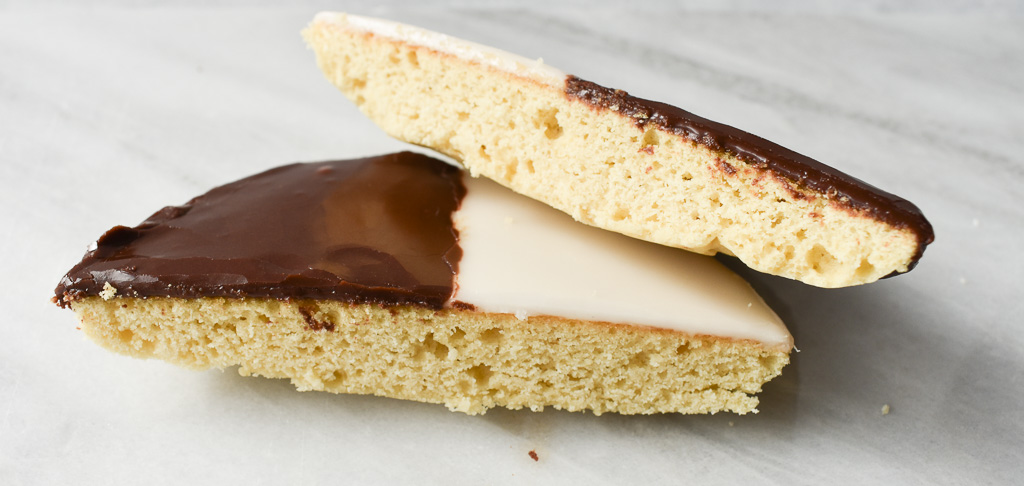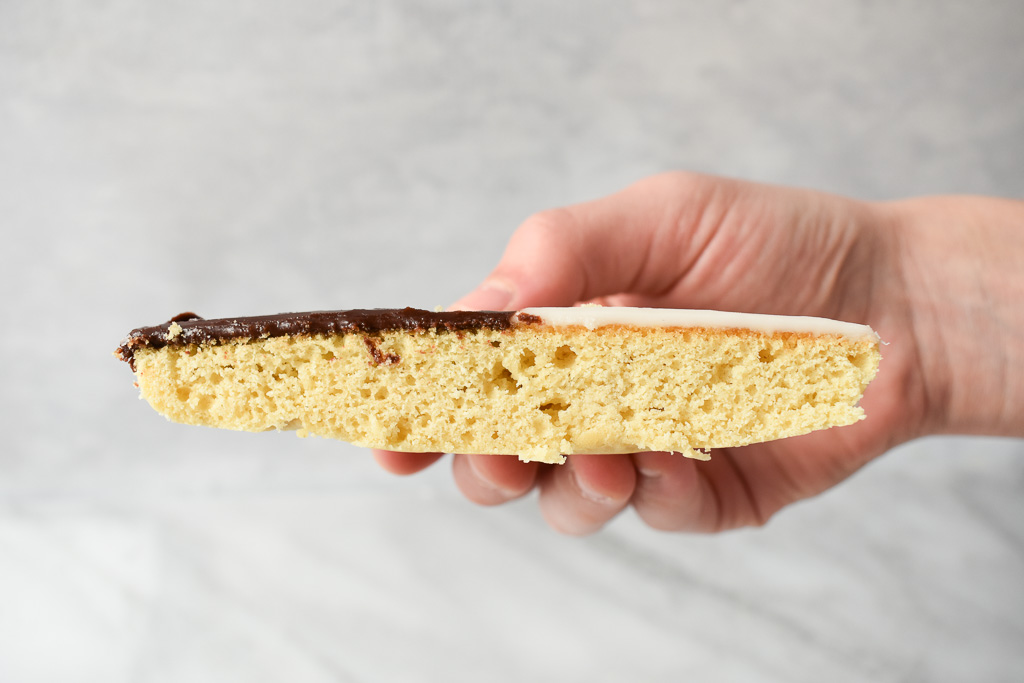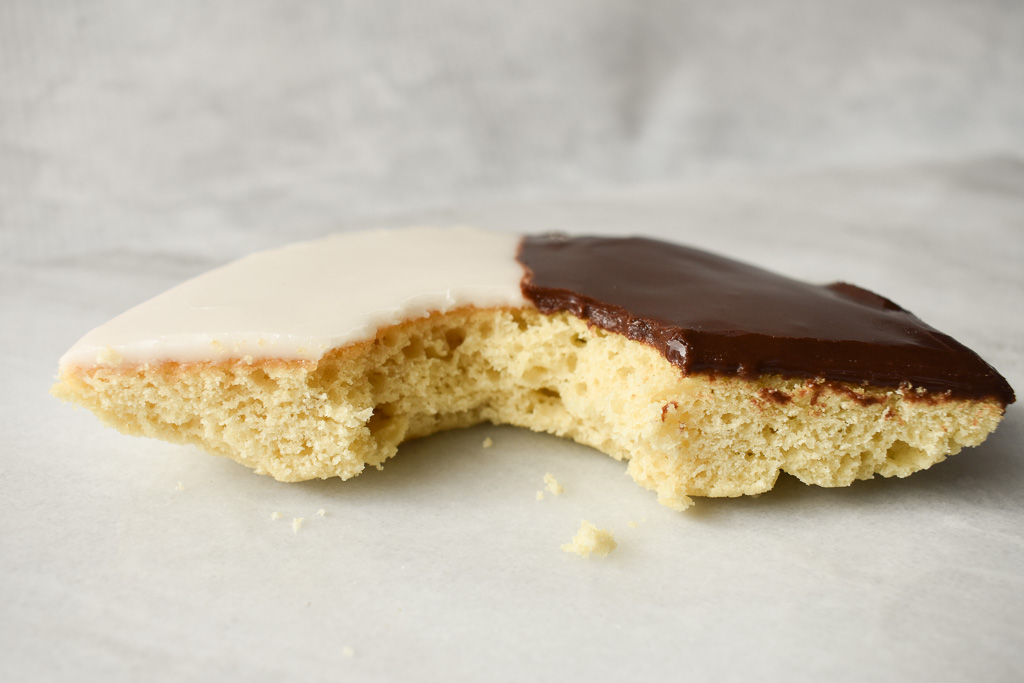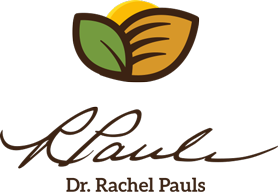 Printer Friendly Version
Comments Rating
( reviews)