Low-FODMAP Baked Carrot Cake Doughnuts; Gluten-free, Dairy-free
April 7, 2022
Printer Friendly Version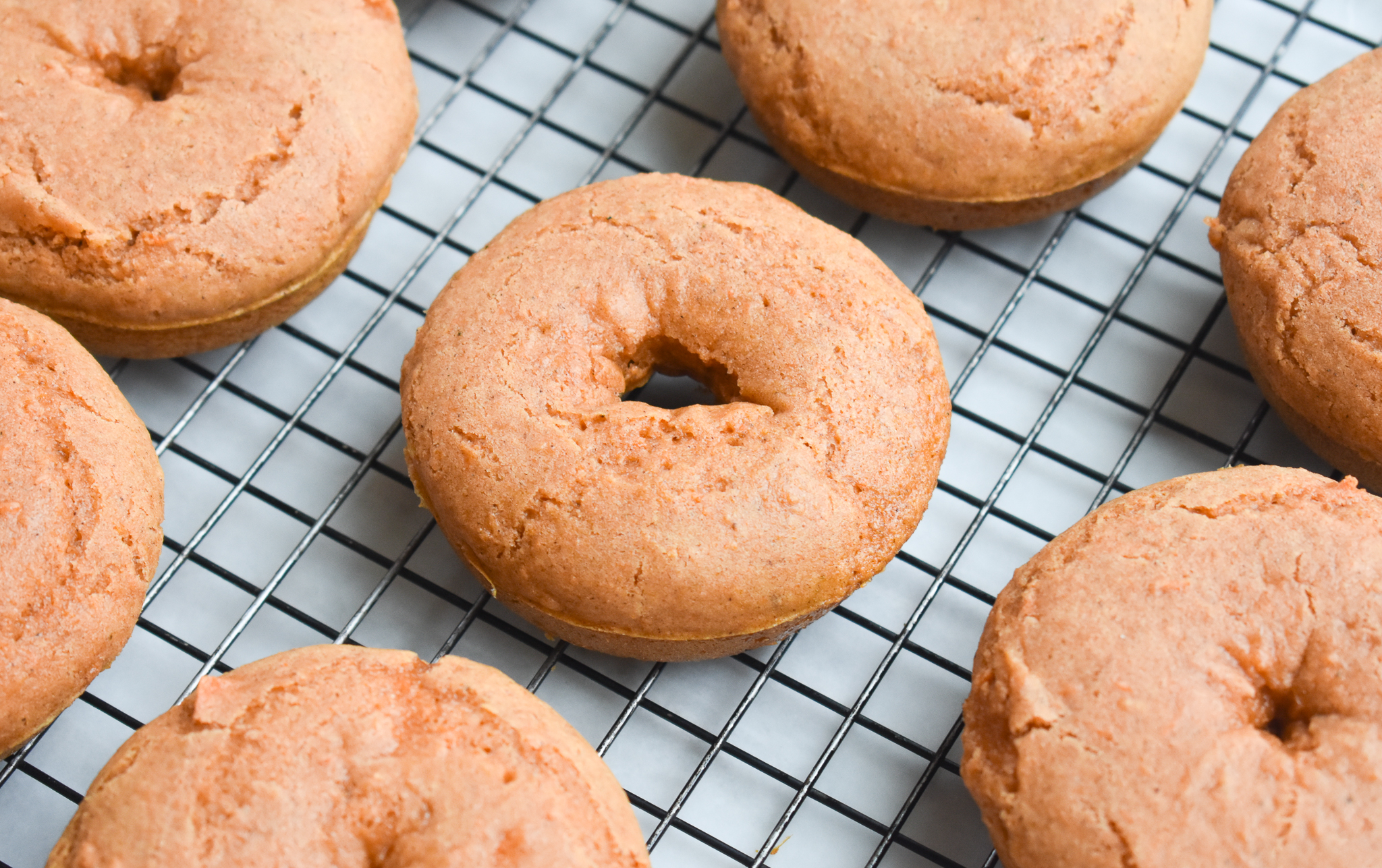 A simple low-FODMAP Carrot Cake Doughnut recipe for a delicious, gluten-free dessert that won't upset your tummy. Baked, not fried.  Super for any Easter celebration.
I love 'carrot cake' flavored baking.  I have shared my recipes for a classic low-FODMAP Carrot Layer Cake and a festive low-FODMAP Carrot Cake Roll.  Carrots provide gorgeous color, moisture, and nutritional benefits.  They make for a sweet treat that is actually good for you, since you don't need much oil.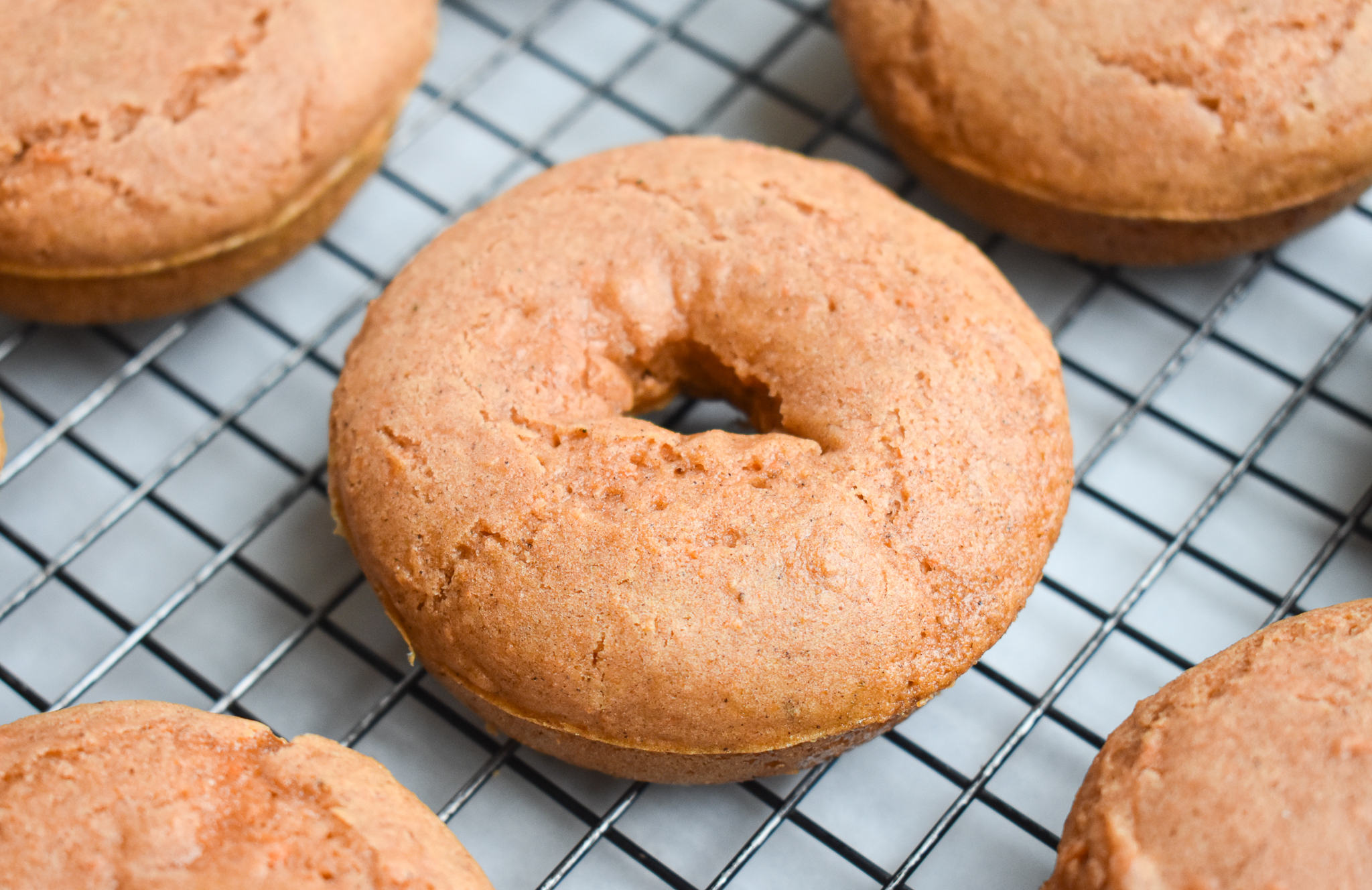 However, my MOST FAVORITE aspect of carrots is they have no FODMAPs detected.  So they should never cause a FODMAP related IBS flare.
This low-FODMAP Carrot Cake Doughnut recipe results in moist, and rich doughnuts. They look like soft pillows when they come out of the oven.  Irresistible plain, but I love them even better with my low-FODMAP Cream Cheese Frosting.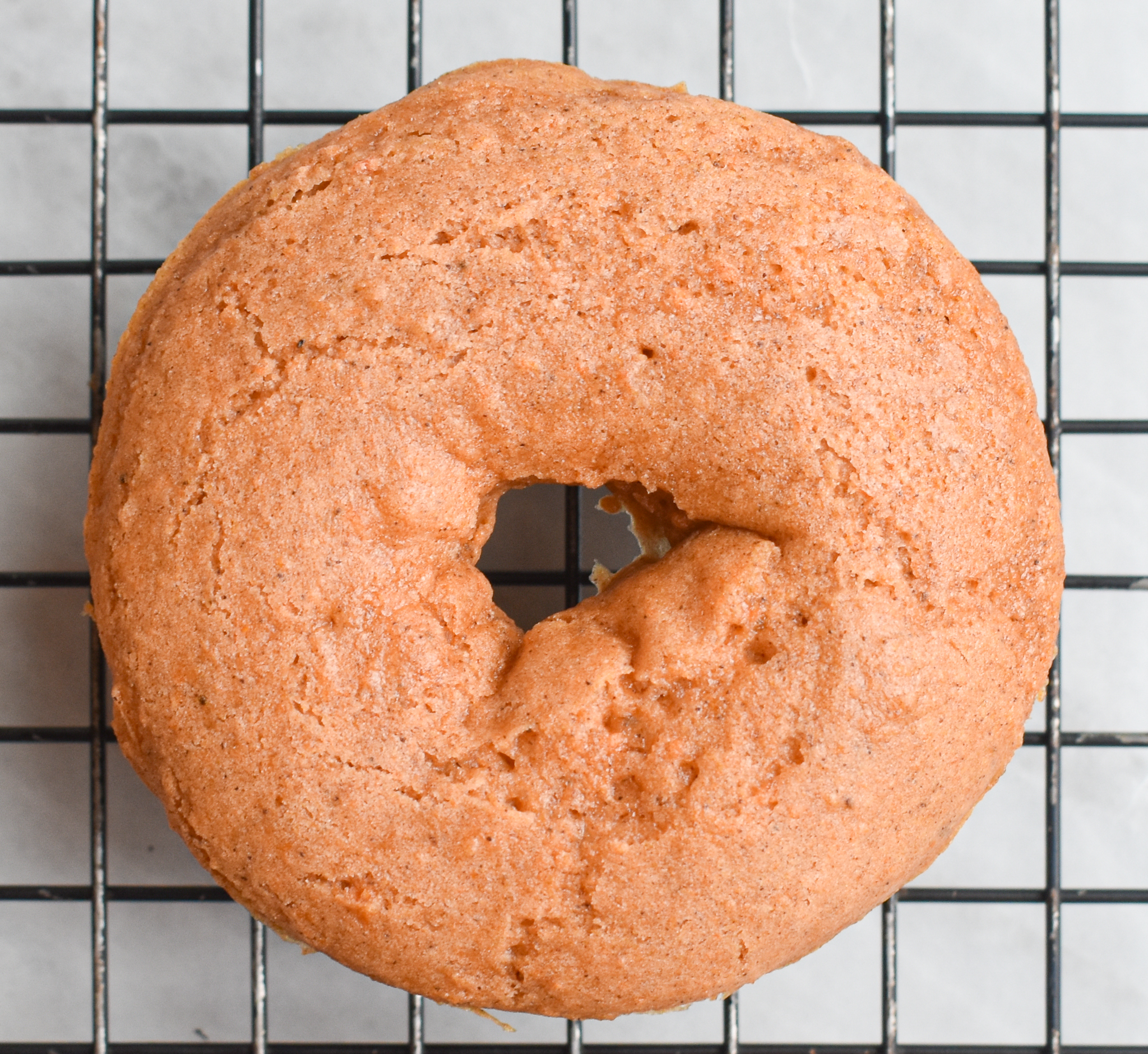 You may need to buy a donut pan, but I bet you won't regret your purchase 🙂
You may also love:
Or check out over 450 more low-FODMAP recipes on the blog.  IBS-friendly!
Be healthy and happy,
Rachel Pauls, MD
P.S.  Check out my new COOKBOOK for over 100 low-FODMAP recipes, low-FODMAP Meal Plan, FODMAP Tips and everything you need!!  It's the BEST!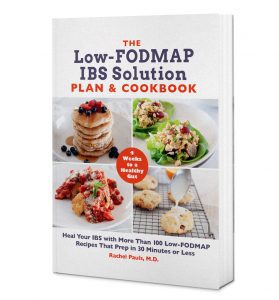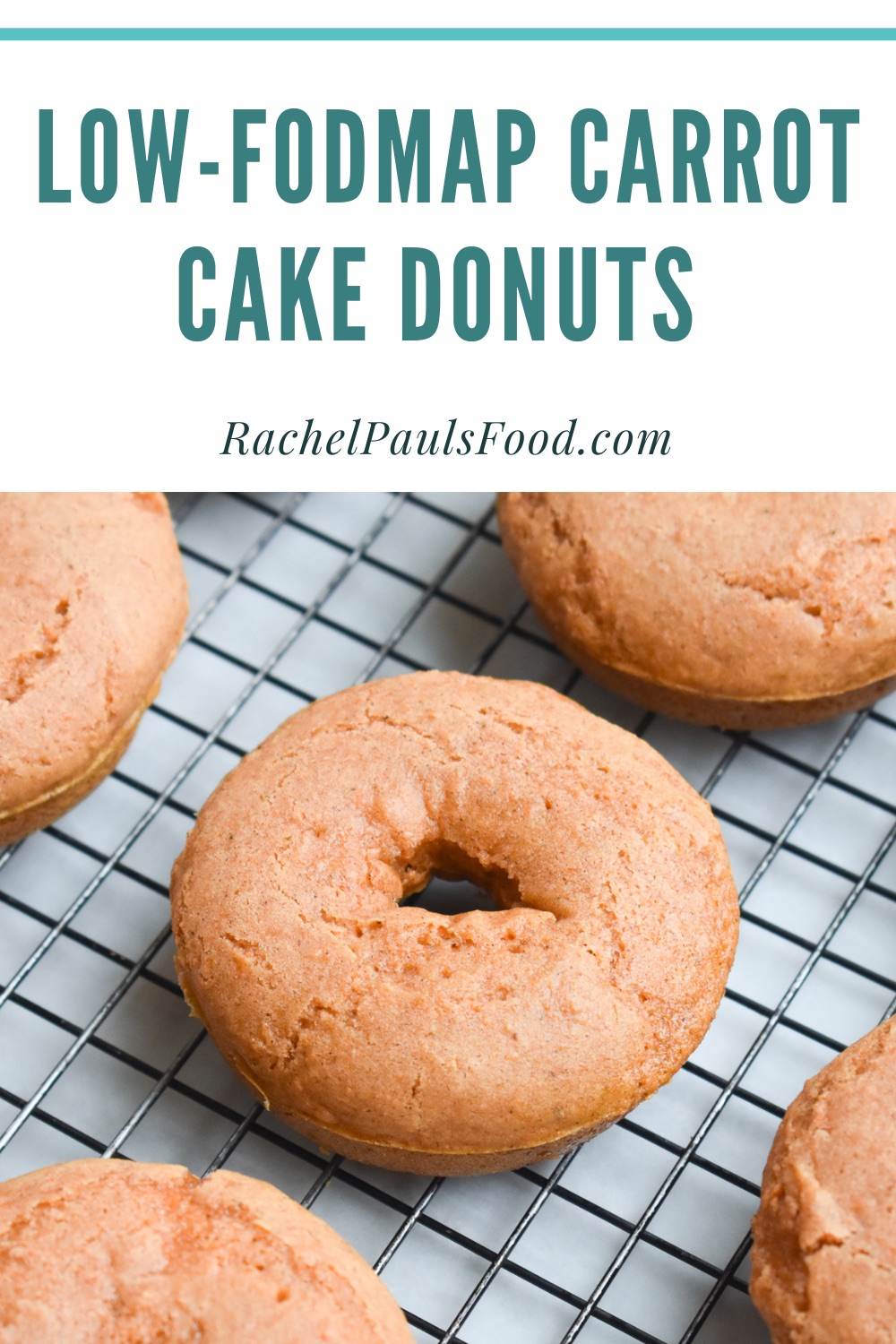 Although this recipe has not been lab tested, a single serving should be low-FODMAP based on the ingredients (*using available FODMAP data at time of posting)
Yield: 12 doughnuts; 1 doughnut per serving
Prep time: 15 minutes
Bake time: 16-18 minutes
Total time: 35 minutes
Bake: 350 F
Equipment: Doughnut Pan
Ingredients
2 cups low-FODMAP, gluten-free flour (I like Authentic Foods GF Classical Blend- see my low-FODMAP flour bake off for the reason!)
2 teaspoons baking powder
1 teaspoon baking soda
1/2 teaspoon xanthan gum (if not added to your flour choice)
1/2 teaspoon salt
2 teaspoons cinnamon
1/2 teaspoon ground nutmeg
1/4 teaspoon cloves
1/2 teaspoon ginger
2 large eggs, room temperature
1 and 1/3 cups granulated sugar
350 grams (about 1 and 1/2 cups) uncooked, puréed carrots, packed

I use my food processor to get them the consistency of pumpkin purée, but finely grated should also work
Carrots are free of FODMAPs, enjoy at whim

1/4 cup low-FODMAP milk (lactose-free or almond milk for dairy-free version)
1/4 cup canola oil or avocado oil; I used avocado oil
2 teaspoons pure vanilla extract
Baking spray or shortening, for greasing
Low-FODMAP Cream Cheese Frosting (slightly increase amount of milk for drizzling) or low-FODMAP Glaze for dairy-free

I made the cream cheese frosting recipe as written in the link (not doubled)
Directions
Place rack in center of oven and preheat to 350ºF. Grease 2 non-stick 6-doughnut baking pans with baking spray
Mix low-FODMAP flour, baking powder, baking soda, xanthan gum, salt, cinnamon, nutmeg, cloves and ginger in a small bowl and set aside
Beat eggs and sugar in large bowl of electric mixer fitted with the flat paddle on medium speed until thick and lemon colored
Add carrots, low-FODMAP milk, oil, and vanilla extract to the bowl and beat until well blended
Scrape down bowl and add your prepared flour mixture. Beat on low until just mixed
Carefully spoon the batter evenly into the donut wells of the prepared pans and smooth the tops with an angled spatula (the dough will almost reach the top, that is OK)

I used a small cookie scoop and it took 2-3 scoops per well
 If you have extra batter, you can bake it in a ramekin next to your doughnut pans (it may need a couple minutes extra bake time); I had enough extra for one small ramekin

Put pans in center of oven and bake for about 16 minutes until doughnuts are cooked through with a tester

As ovens vary, your oven may take more or less time

Place pan on rack and allow to cool for about 5 minutes in pan.  Then, gently remove each doughnut carefully using a thin silicone spatula, and place it on a wire rack to cool completely
Once cooled, glaze with low-FODMAP Cream Cheese Frosting, or your preferred glaze
Best served at room temperature.  Store leftovers in a sealed container in the refrigerator

These donuts last about 2 days, or can be frozen, tightly wrapped in plastic, for up to 2 weeks
So moist…I love them with the frosting!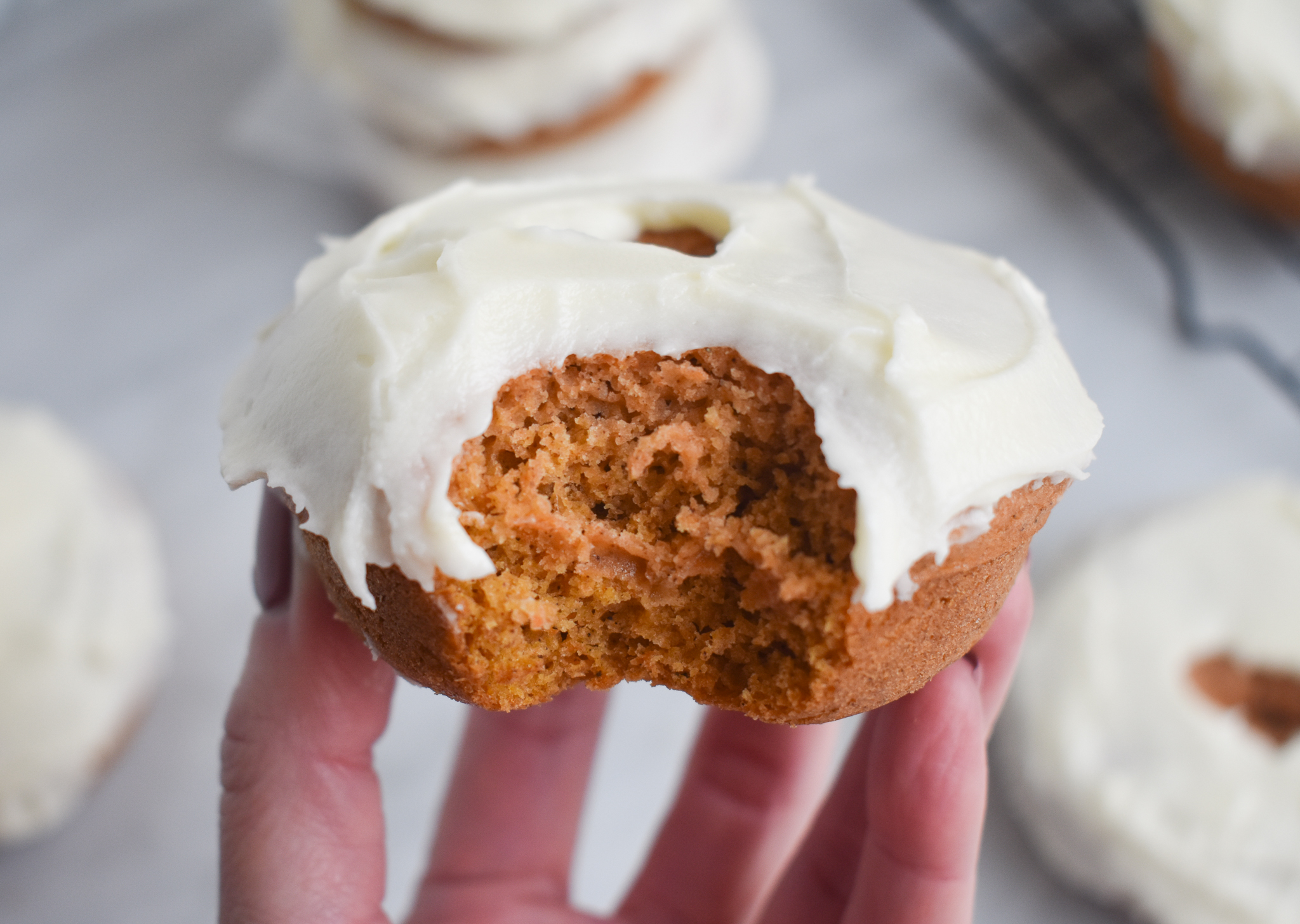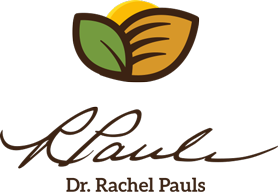 Printer Friendly Version
Comments Rating
( review)