Low-FODMAP Asian Lettuce Wraps; Gluten-free, Dairy-free
April 19, 2018
Printer Friendly Version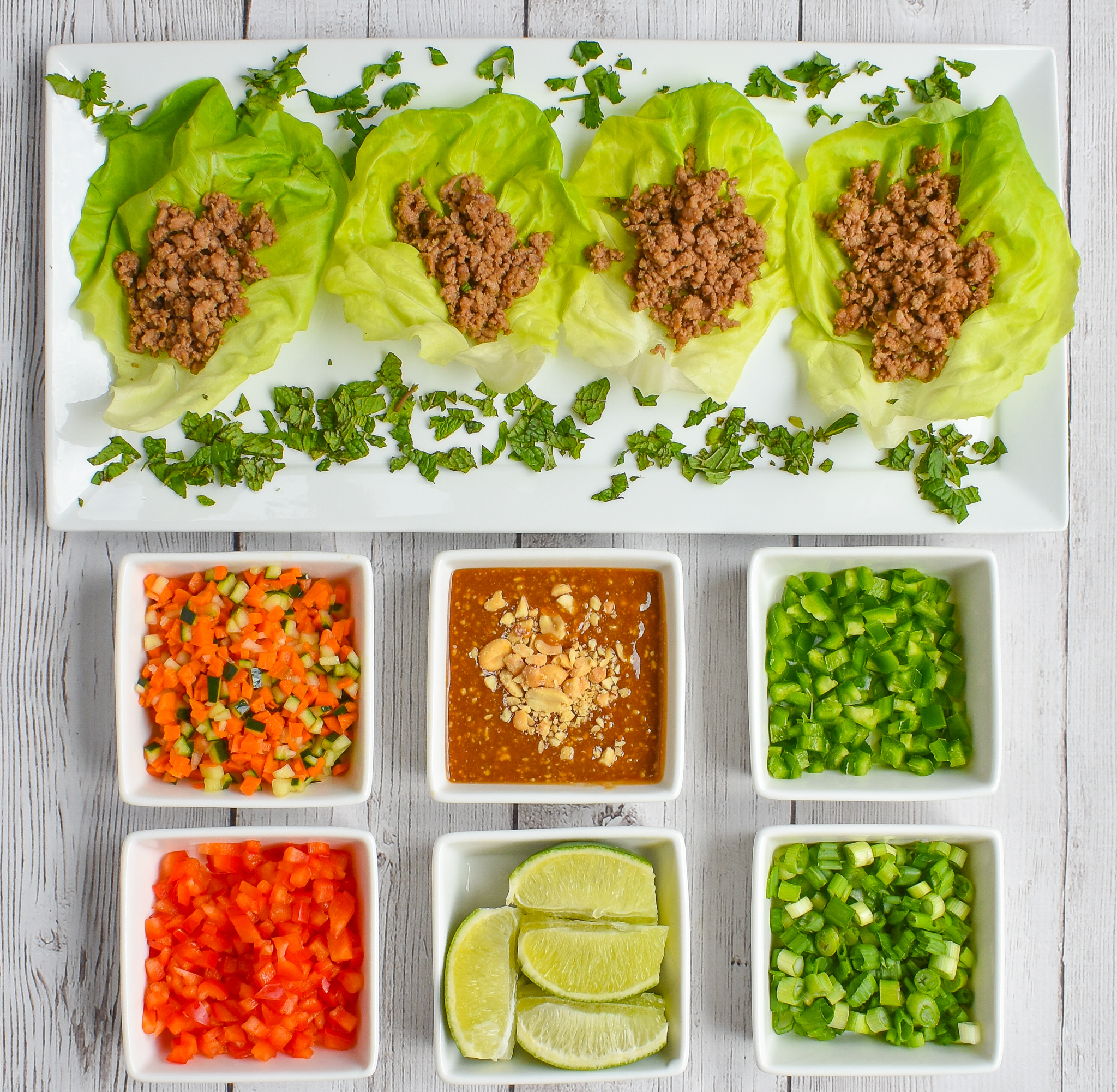 A beautiful, fun-to-eat, and healthy Asian inspired low-FODMAP meal, these low-FODMAP Lettuce Wraps are wonderful for a party or a family dinner.  The use of lettuce as a wrapper makes these lower carb than a traditional 'taco', while the low-FODMAP ingredients add a complex layer of flavors that tastes absolutely amazing!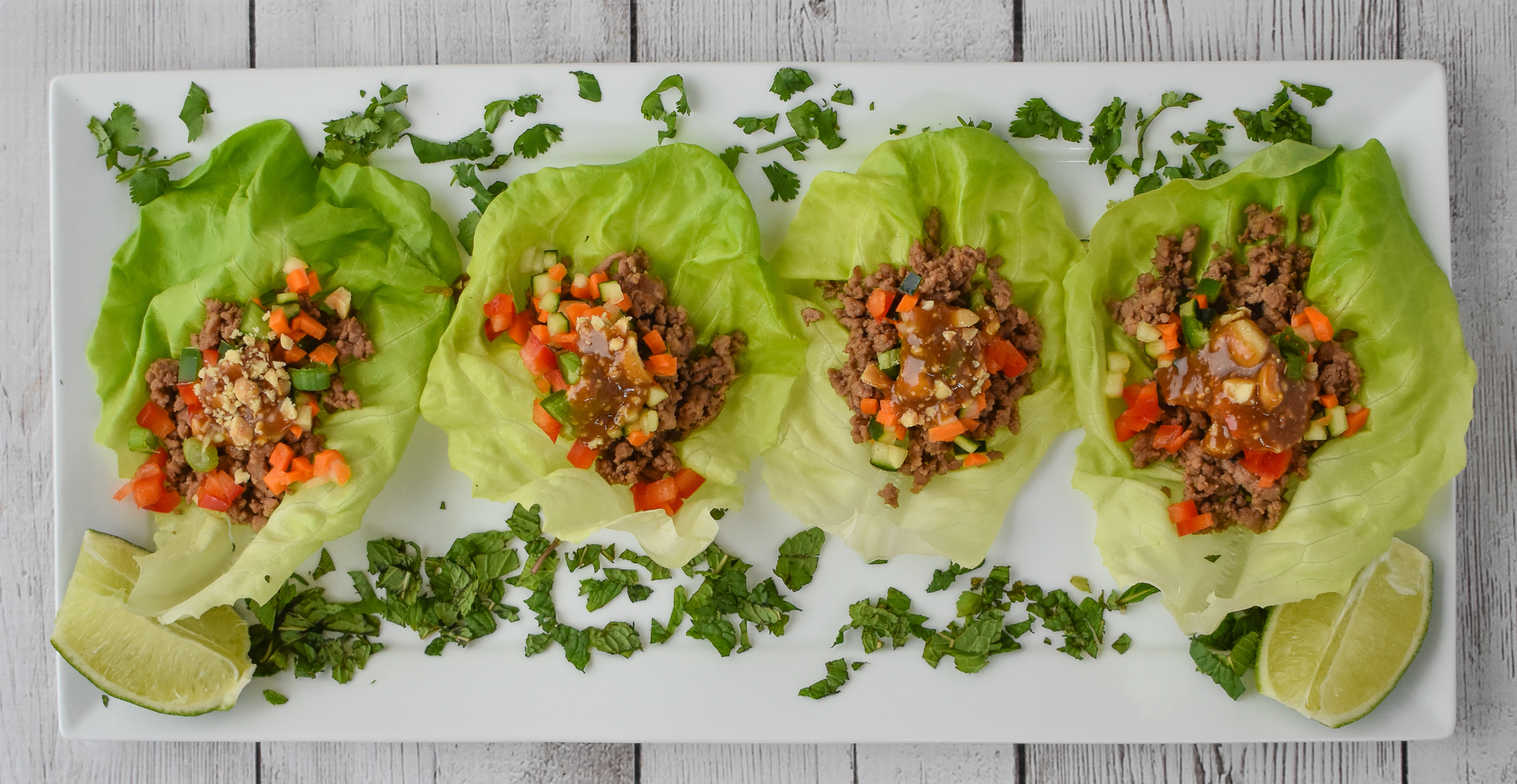 Try this with my low-FODMAP Hoisin Sauce and you are going to be addicted to this low-FODMAP recipe like my family is.
You may also love my low-FODMAP Chinese Stir Fry, low-FODMAP Teriyaki Chicken Casserole and low-FODMAP Beef Lo-Mein recipes.  Or check out over 450 more low-FODMAP recipes on my blog.
Be healthy and happy,
Rachel Pauls, MD
---
Low-FODMAP Asian Lettuce Wraps; Gluten-free, Dairy-free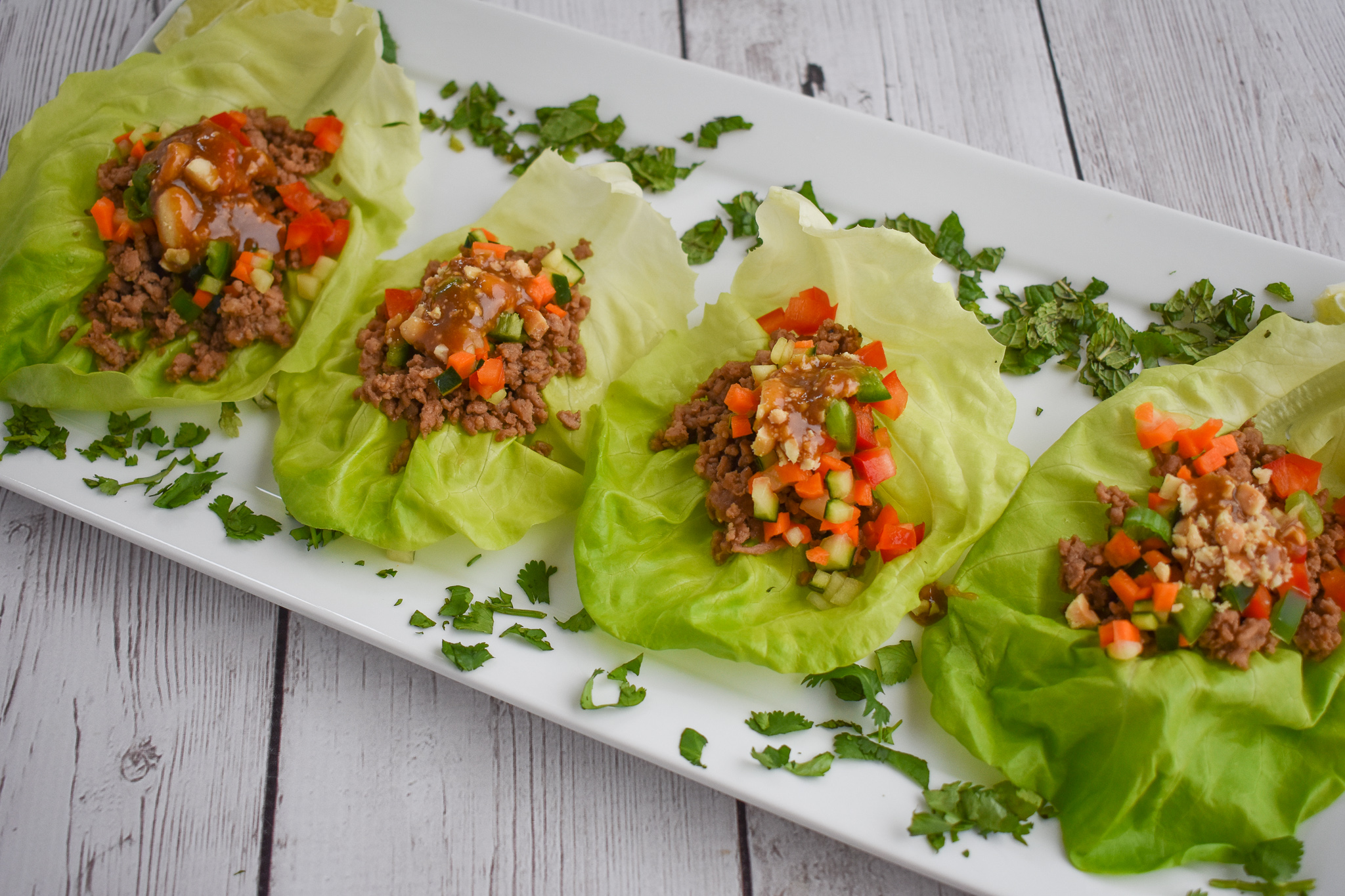 Although this recipe has not been tested, a single serving should be low-FODMAP based on the ingredients
Serves 4 for a main meal, 8 for an appetizer
Prep: 25 min
Marinating time: 25 min for marinade
Cook time: 10 min
Total: 60 min
Ingredients
For carrot/cucumber marinade:
1/2 cup white vinegar
1/4 cup sugar
1/8 teaspoon salt
2 medium carrots, julienned or chopped very thin
1/2 small cucumber, finely chopped
1 teaspoon onion or shallot-infused oil
For low-FODMAP meat filling:
1 pound ground pork, chicken, turkey or beef
1 tablespoon minced fresh ginger
1 tablespoon garlic-infused oil (for tips on shopping for these oils see my recipe swap blog)
1 tablespoon reduced-sodium soy sauce (gluten-free if necessary)
1 tablespoon mirin (sweet rice wine- make sure no high fructose corn syrup)- I used Kikkoman AJI-Mirin; check your brand to ensure gluten-free if necessary
1/4 teaspoon pepper
1 teaspoon fish sauce, optional (found at asian grocery stores). If necessary check ingredients to ensure gluten-free
For building low-FODMAP Lettuce Wraps
8 Bibb or butter lettuce leaves
1 small red pepper, finely chopped
½ cup chives, chopped
1/2 cup each coarsely chopped fresh basil, cilantro and mint (highly recommend using fresh herbs)
1 jalapeno pepper, seeded and finely chopped (optional)
1/4 cup salted or unsalted peanuts, chopped
Lime wedges

Directions 
Prepare low-FODMAP carrot/cucumber marinade:
In a small bowl, mix vinegar, sugar, onion-infused oil and salt until blended
Stir in carrots and cucumber and let stand at room temperature 30 minutes or overnight
Prepare low-FODMAP meat filling:
In a large skillet, cook pork, ginger and garlic-infused oil over medium heat 6-8 minutes or until meat is no longer pink, breaking up meat as it cooks
Drain well
Stir in soy sauce, mirin, pepper and, if desired, fish sauce
Serve low-FODMAP Asian Lettuce Wraps:
Drain carrot/cucumber mixture and place in bowl
Put all other toppings in separate serving bowls
Start with lettuce leaf, and place meat mixture as base layer
Top with cucumber, red pepper, chives, carrot mixture and herbs as desired
Sprinkle with jalapeno and peanuts; drizzle with low-FODMAP Hoisin Sauce
Squeeze lime juice over tops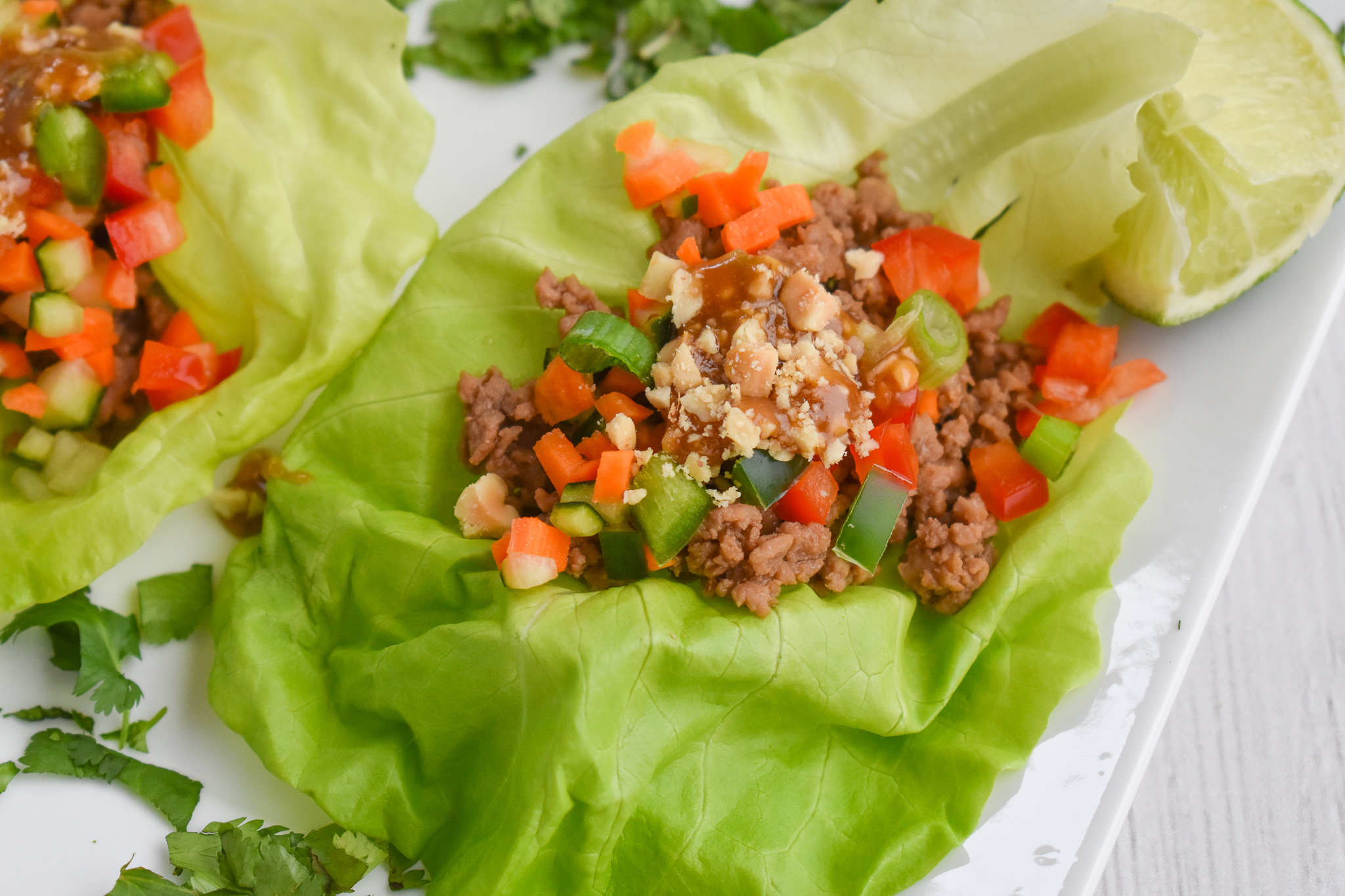 So pretty and low-FODMAP delish…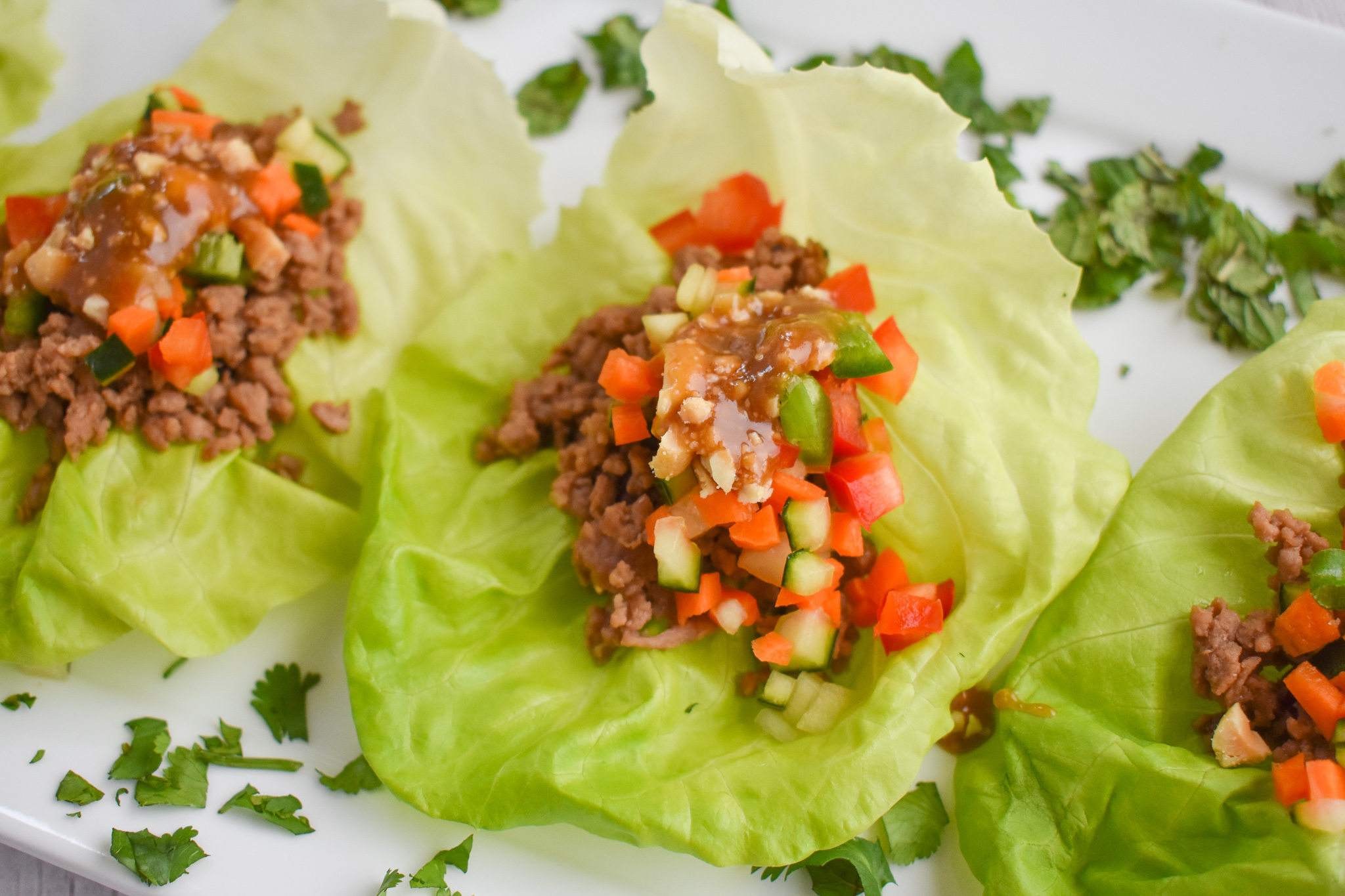 The colors are amazing, and you know the lettuce as a wrapper means it is low-carb too…
Fold lettuce over filling to eat!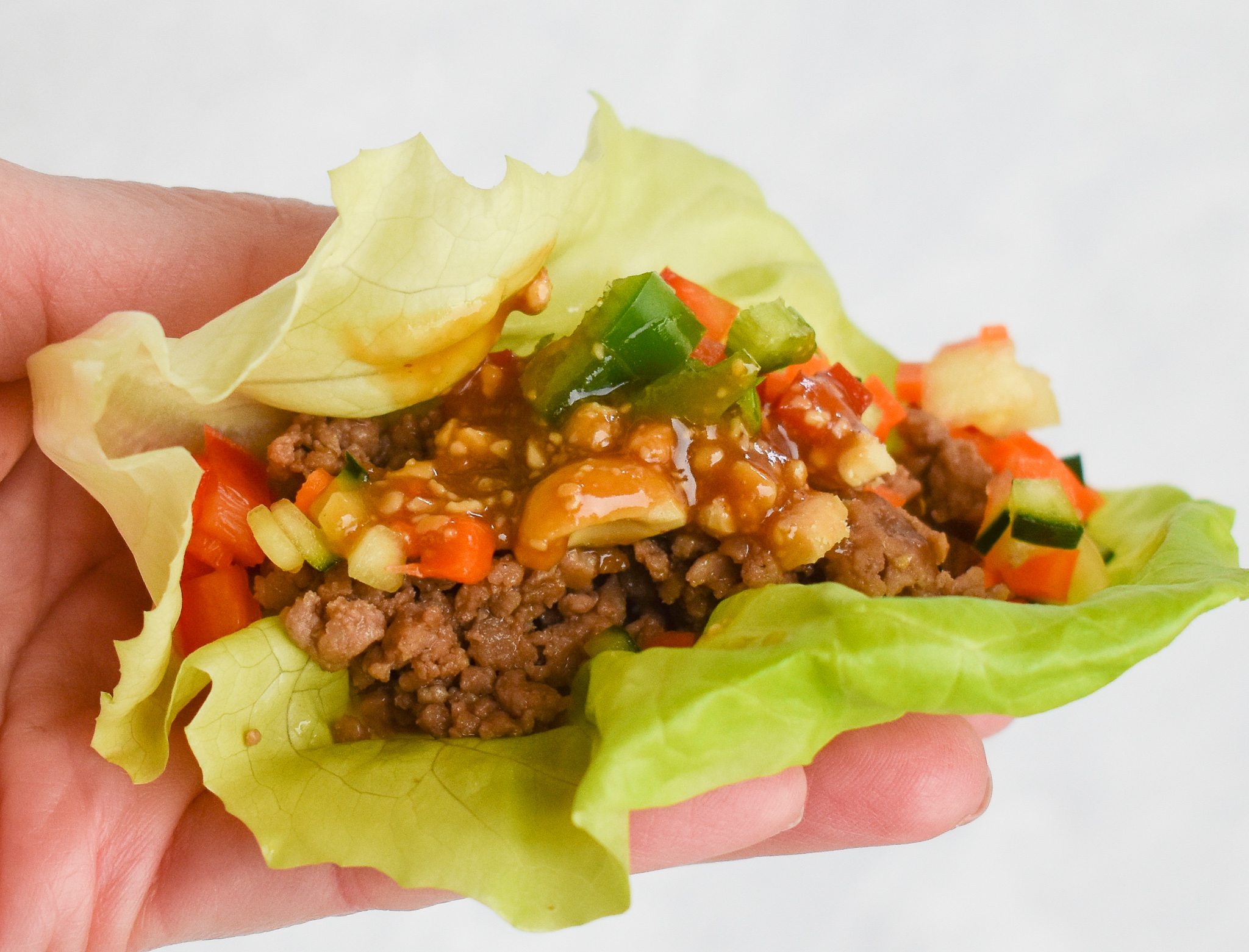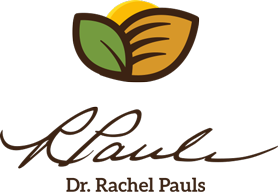 Printer Friendly Version
Comments Rating
( reviews)