Low-FODMAP Asian Grilled Salmon; Gluten-free, Dairy-free
June 19, 2020
Printer Friendly Version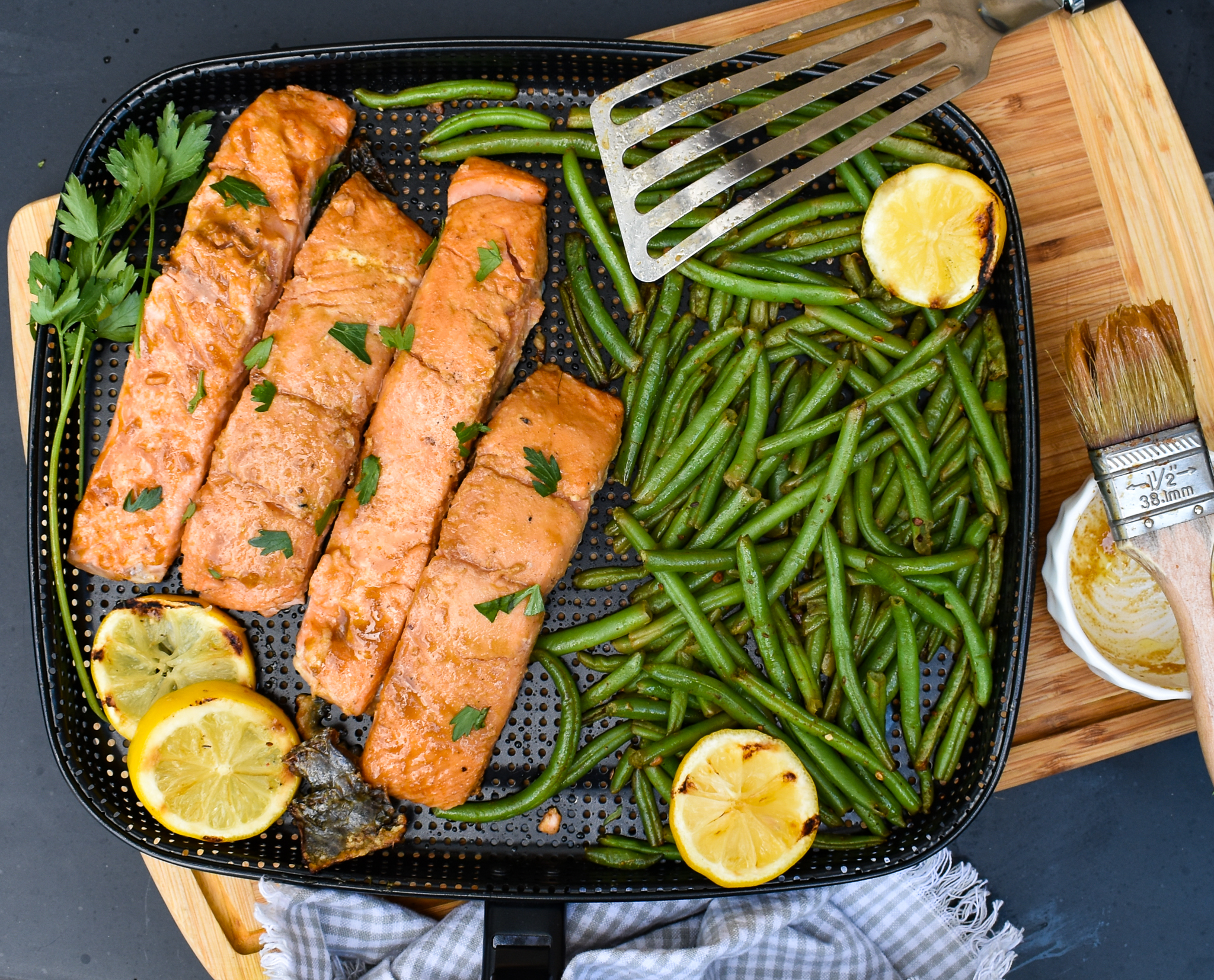 Low-FODMAP Asian Grilled Salmon is one of my favorite dishes to make and serve.  The salmon is absolutely delicious, tender and flavorful, while the prep is pure simplicity.
My favorite food chef, Ina Garten, is the initial creator of this Asian Grilled Salmon, but I tweaked her version to make it low-FODMAP.  You will never notice the changes 🙂
Salmon is such a healthy meal, and grilling the fish means you have virtually no clean up.  This low-FODMAP Asian Grilled Salmon recipe is a keeper.  Ready in under 30 minutes!
FODMAP fact:  Garlic-infused oil and other oils infused with onion and mushroom are typically low in FODMAPs, as the FODMAPs are not soluble in oils (while they are soluble in water based liquids).  You will love how the infused oil in this recipe gives you all the flavor you crave!
You may also want to try:
Or check out over 350 more low-FODMAP Recipes on the blog!  IBS-friendly.
Be healthy and happy,
Rachel Pauls, MD
---
Low-FODMAP Asian Grilled Salmon; Gluten-free, Dairy-free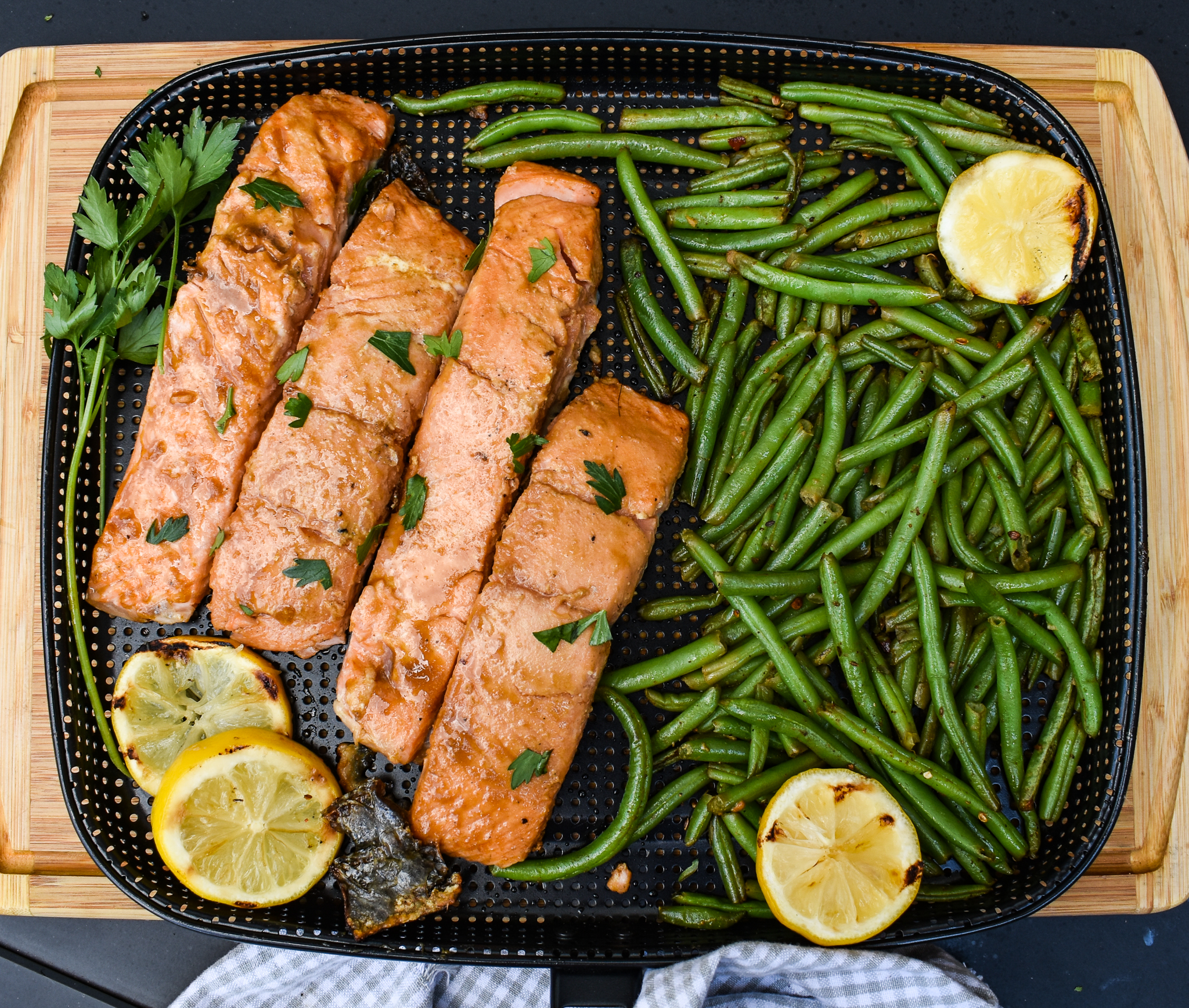 Although this recipe has not been tested, a single serving should be low-FODMAP based on the ingredients
Serves: 5-6
Prep time: 5 min plus 15 minutes to marinate
Cook time: 8-10 min
Total time: 28- 30 min
Ingredients
30 ounces fresh salmon, boneless (skin on or off per your preference); cut into 5-6 large pieces

Using salmon with skin provides more flavor due to the fats in the skin
You can use one large piece, but your grill time may be longer
I used responsibly farmed salmon, as I prefer the flavor over wild caught

1 tablespoon and 1 teaspoon Dijon mustard
2 tablespoons soy sauce, or gluten-free tamari
2 tablespoons good quality olive oil
2 tablespoons garlic-infused olive oil

For tips on shopping for infused oils, see my low-FODMAP recipe swap blog
Infused oils have the flavors you love but NOT the FODMAPs! They are safe to enjoy

Fresh parsley and lemon slices for garnish
Directions
Preheat your grill to high and brush with additional olive oil, or use a grill safe nonstick pan
Whisk together Dijon mustard, soy sauce, olive oil, and infused olive oil in a small bowl
Place salmon and HALF of the marinade into a bowl or resealable bag and let it sit for 15 minutes, flipping once
When ready to grill, place the salmon skin side down on the hot grill; discard the marinade that your fish was in
Grill for 4 to 5 minutes, depending on the thickness of the fish
Turn carefully with a spatula and grill for another 4 to 5 minutes, or to desired doneness

I prefer my salmon rare
This can be tricky to do, particularly with a hot grill.  I used a fish spatula which definitely helped 🙂

When cooked to your preference, transfer to a flat plate, skin side down, and brush the reserved other half of marinade on top
Allow the fish to rest for 10 minutes, then serve, garnished with fresh parsley if desired

I tossed some defrosted green beans with a tablespoon of the marinade and low-FODMAP Happy Spices Steak Seasoning and grilled those for a super easy and delish side dish! (75 g or 15 green beans is one low-FODMAP serving)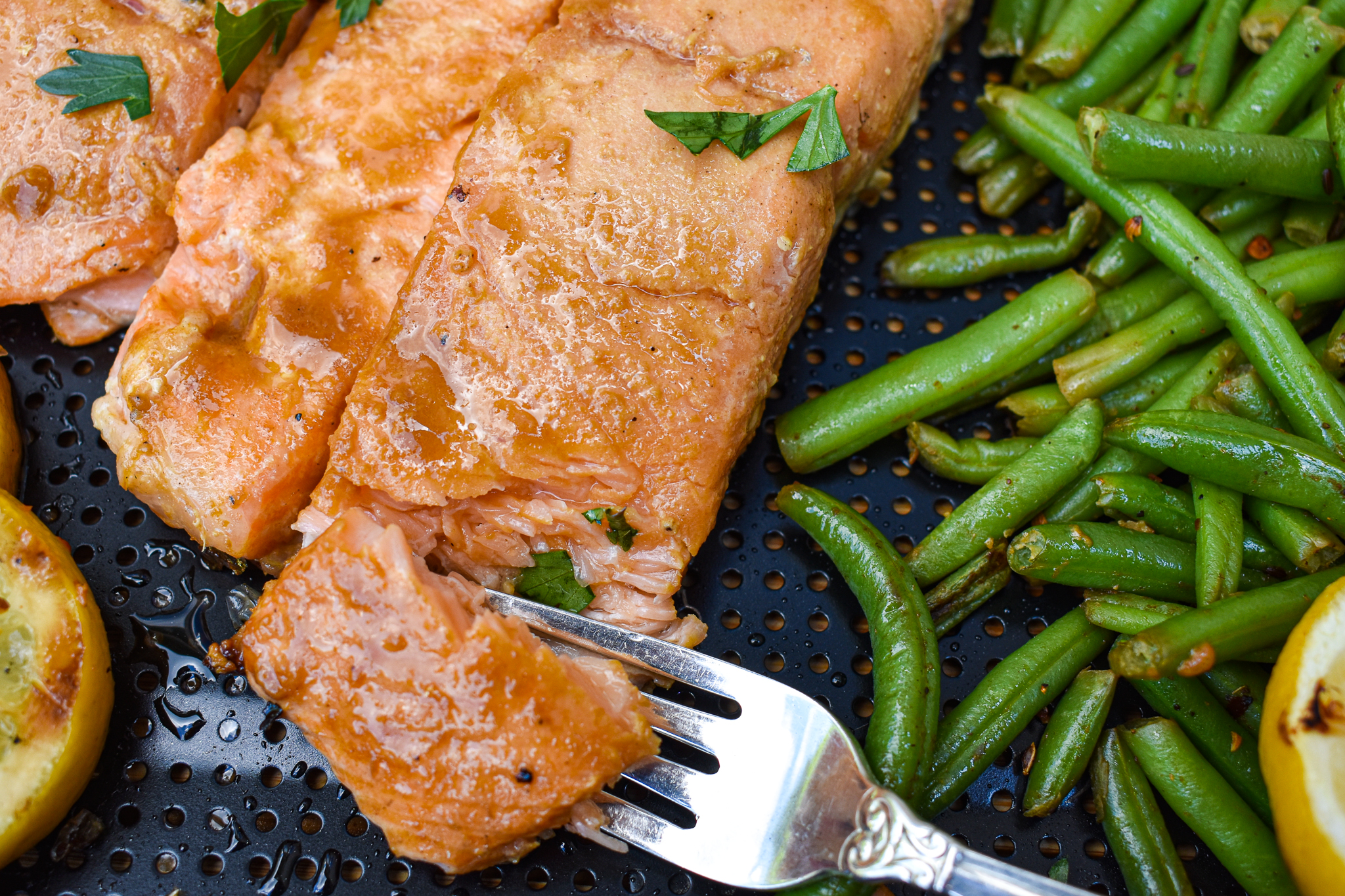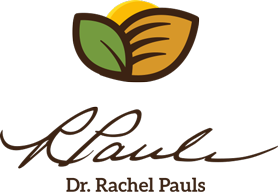 Printer Friendly Version
Comments Rating
( reviews)