Low-FODMAP Almond Danish Kringle Recipe; Gluten-free
August 21, 2019
Printer Friendly Version

The other day I started dreaming of light flaky pastry with a creamy almond core topped with icing and toasted almond slivers.  I began to plot a new low-FODMAP recipe to satisfy my craving.
At first I looked into creating a low-FODMAP almond croissant recipe, but croissant making seemed a little complicated.
I decided to pick something simpler for my readers and me 🙂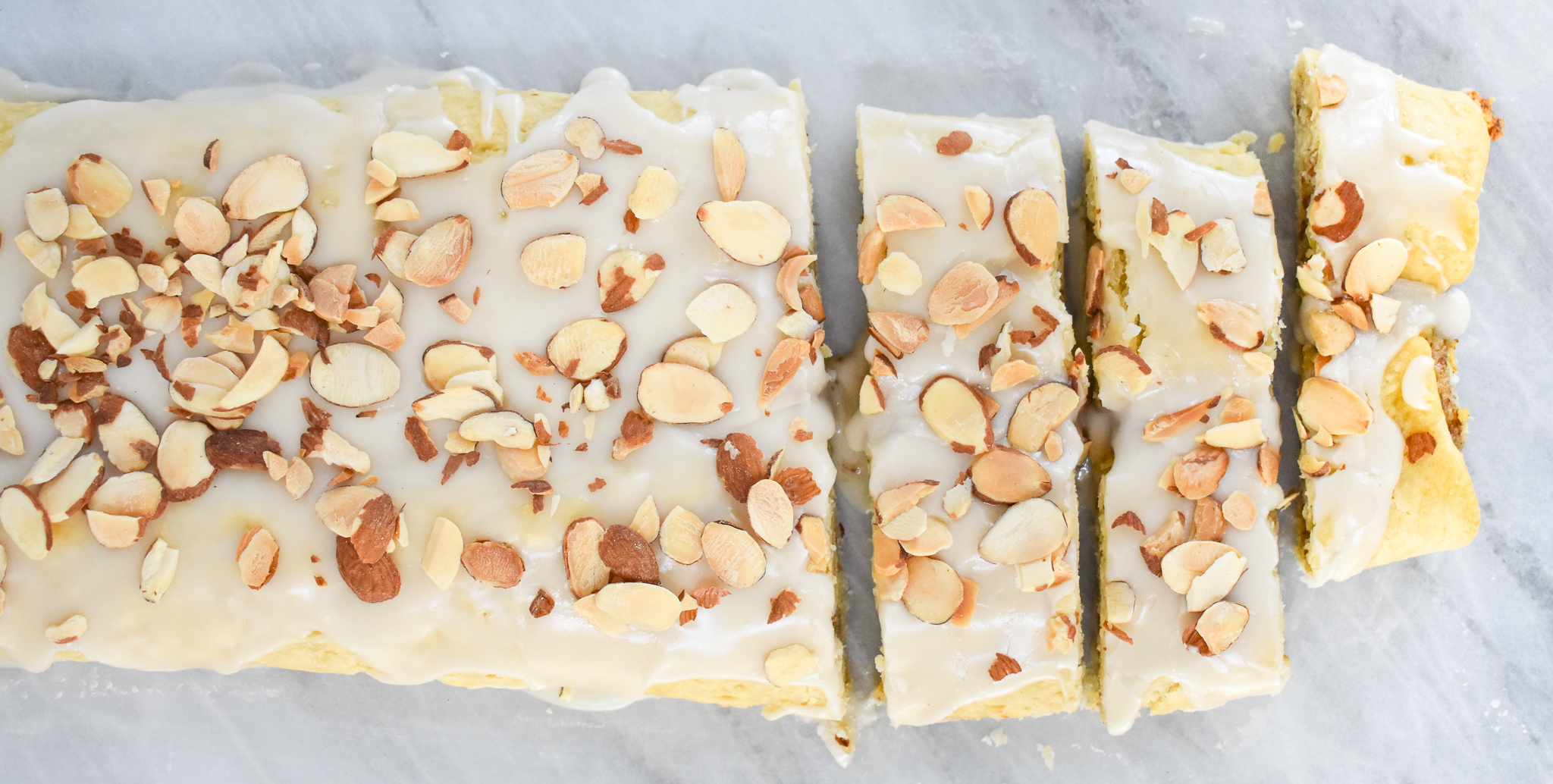 Here is a delicious recipe for low-FODMAP Almond Danish Kringle.  A Kringle has a pastry that is light and flaky, but is easier to prepare than a croissant (also very similar to a 'bear claw' pastry). I used low-FODMAP almond cream for the filling and covered it with sweet low-FODMAP almond glaze. Perfect for a winter evening, holiday morning, or as a dessert for your Sunday brunch.
Danish Kringles are a common pastry in Wisconsin bakeries, traditionally in a round ring shape.  I went with a non-traditional rectangular version for my low-FODMAP Kringle.  This is also one of the most popular bakery items at Trader Joe's (one of my favorite stores!).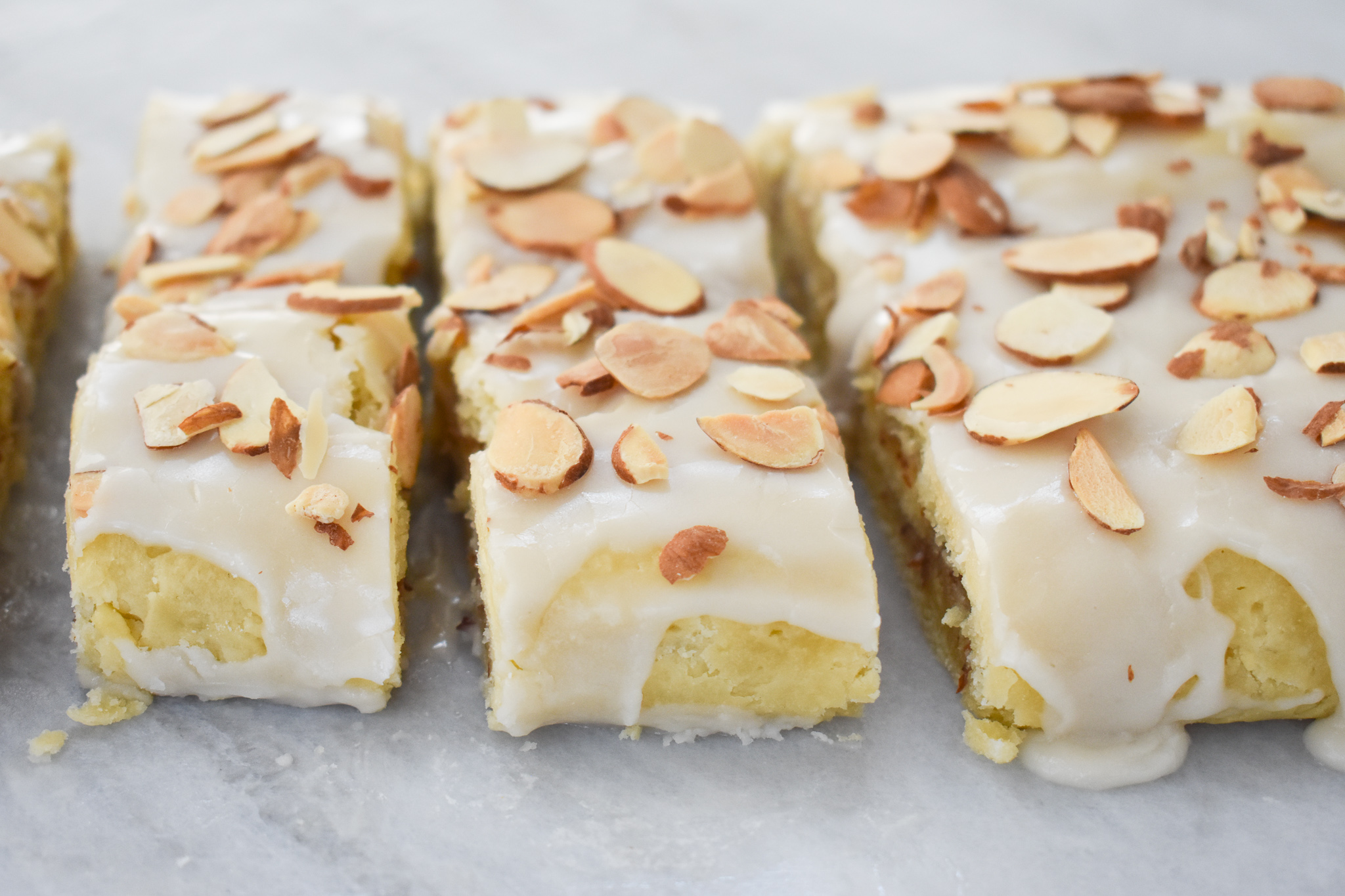 Serve this low-FODMAP Almond Danish Kringle with low-FODMAP Vanilla Latte and low-FODMAP berries for the perfect combination.
You may also love my:
Or check out over 450 more low-FODMAP recipes on the blog.  IBS-friendly!
Be healthy and happy,
Rachel Pauls, MD
---
Low-FODMAP Almond Danish Kringle; Gluten-free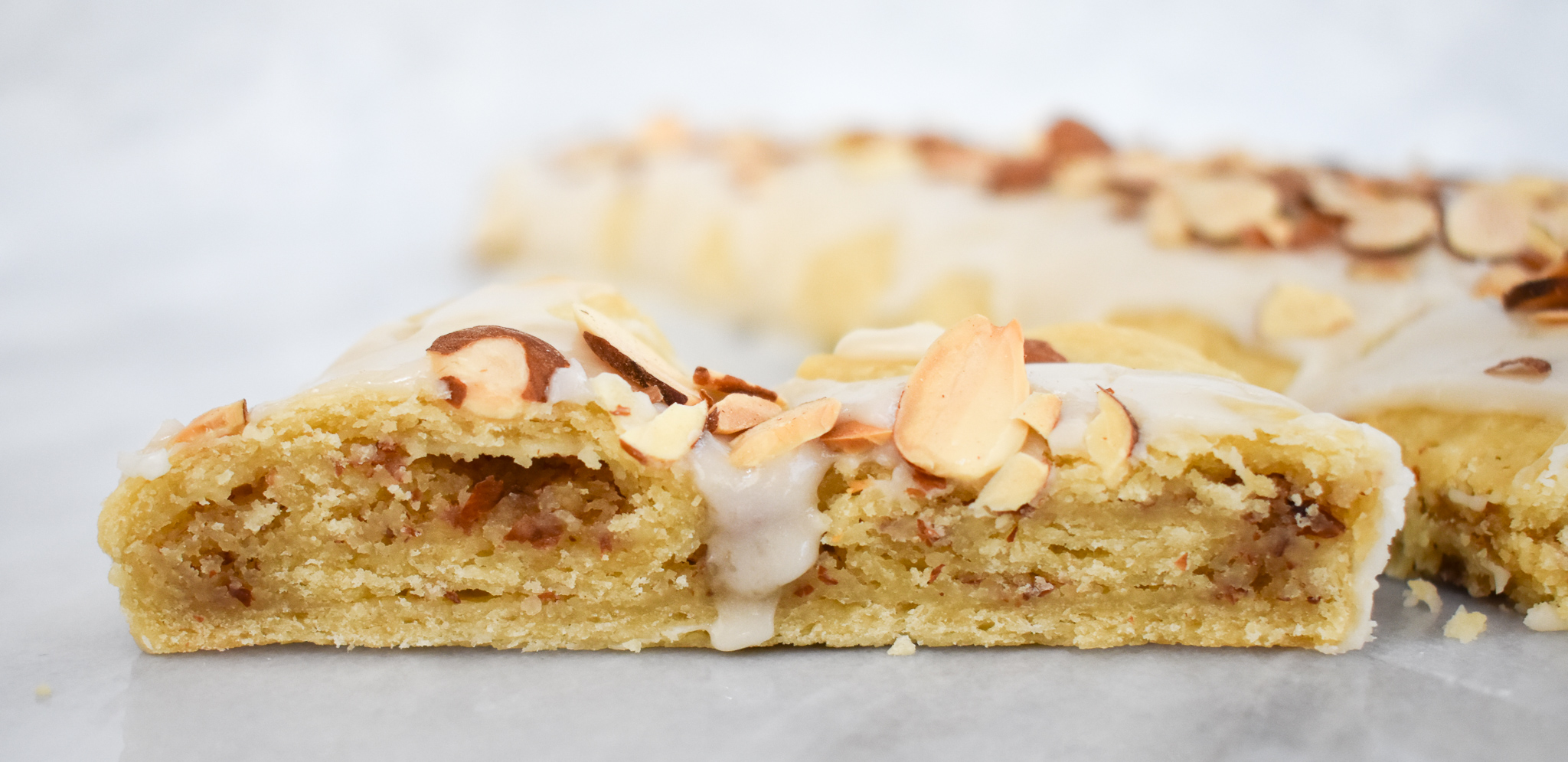 Although this recipe has not been tested, a single serving should be low-FODMAP based on the ingredients
Serves 12-16
Prep time: 30 min
Chill time: 1 hour or longer
Bake time: 25-28 min
Total time: 120 min approximately
Bake 350 F
Ingredients
For the low-FODMAP Base Dough:
2 cups All Purpose low-FODMAP, Gluten-Free Flour Blend -I use Authentic Foods GF Classical Blend- see my low-FODMAP Bake off blog for the reasons!
1/2 cup unsalted butter, grated (or chopped into small pieces) and chilled

Substitute vegan margarine such as Earth Balance for dairy-free version
I used butter for my recipe

2 tbsp sugar
1 tsp kosher salt
2 & 1/8 tsp active dry yeast
1 large egg, beaten
1 tsp xanthan gum (if not already added to your low-FODMAP flour)
1/2 cup low-FODMAP milk (such as almond milk or canned coconut milk for dairy-free or lactose free milk)
For low-FODMAP Egg Glaze (adds shine, optional)
1 egg white, beaten
1-2 tbsp low-FODMAP milk
For low-FODMAP Almond Cream Filling:
1/4 cup unsalted butter, room temperature (can substitute vegan margarine for dairy-free)
1/3 cup granulated white sugar
1 large egg, room temperature
1/2 cup plus 1 tablespoon almond meal or finely ground almonds if you don't have almond meal

¼ cup is one low-FODMAP serving

1 tablespoon all-purpose low-FODMAP, gluten-free flour (see above)
3/4 teaspoon vanilla extract
3/4 teaspoon pure almond extract
For low-FODMAP Almond Glaze Icing and Garnish:
1 cup confectioners' sugar
1-2 tablespoons low-FODMAP milk (such as almond milk, for dairy-free version or lactose free)
1 teaspoon almond extract (titrate to taste), can also substitute vanilla extract
1/3 cup (36 g) slivered toasted almonds

12 g is one low-FODMAP serving
Directions
Prepare low-FODMAP Base Dough for Kringle:
In a medium mixing bowl, place low-FODMAP flour, butter, xanthan gum (if not added to your flour choice), sugar, and salt
Using a pastry cutter, a fork, or your hands blend together until mixture is crumbly
In separate bowl or glass, mix together yeast, beaten egg, and low-FODMAP milk

Don't worry if the yeast clumps slightly, it will be OK

Add milk mixture to dry mixture
Continue to mix until blended, dough may seem sticky, that is normal
Place dough on large piece of plastic wrap (at least 11 x 17 inches big) and flatten dough into a round circle
Wrap dough in the plastic wrap and refrigerate for 1 hour (or longer)
While dough is chilling, prepare low-FODMAP Almond Cream filling and Almond Glaze icing:
For the low-FODMAP Filling, place all ingredients in bowl of stand mixer with flat paddle and beat until smooth and creamy
For the low-FODMAP Glaze, in a large mixing bowl, slowly combine the confectioner's sugar with the low-FODMAP milk and almond extract until well mixed using a large whisk or spoon
If not already toasted, toast your almond slivers at 300 F in oven for about 3-5 minutes (watch so they don't burn, the thin slivers will toast fast)
Bake low-FODMAP Kringle
When dough is ready, preheat oven to 350 degrees and place rack in center of oven
Prep rimmed baking sheet with parchment paper or silicone baking sheet
Remove dough from refrigerator and open plastic wrap
Leaving dough in center of wrap, take a second similar sized piece of plastic wrap and lay it on top of the dough disc

I preferred to place it directly on my silicone baking mat with the plastic wrap over top

Using a rolling pin, roll dough out into a 1/8 inch thick and 11 x 17 inch rectangle with the plastic wrap covering the dough to prevent sticking

It will be almost the same dimensions as the silicone baking mat

Once rolled out, spread the low-FODMAP almond cream mixture evenly over the dough, leaving about 1 cm uncovered at all the edges (you don't need to spread too thickly, you may not use the entire batch of almond cream)
Rolling from the long ends of each side, roll each side towards the center until both sides meet

I used my dough cutter to gently lift the dough from the underlying mat without breaking it (a small spatula would also work)

Roll the assembled kringle off of the plastic wrap onto baking sheet
This recipe does not call for time to let the dough rise, but if you would like to do so, then place it in a warm place, covered for 30-60 minutes at this time.  I found the pastry light and delicious enough without any yeast rising time
Prepare egg glaze (optional)

This is less essential if you plan to glaze the entire Kringle (like I did)
Combine 1 egg white with 1-2 tbsp low-FODMAP milk and beat well
Brush low-FODMAP Kringle with egg glaze

Bake 25-28 minutes, until slightly firm to touch

If a bit of the almond cream oozes out, don't worry, this happened to me and I just scooped it away when I removed the low-FODMAP Kringle

Remove from oven and let sit for 10 minutes
Spread low-FODMAP Almond Glaze Icing over top
Sprinkle with toasted almond slivers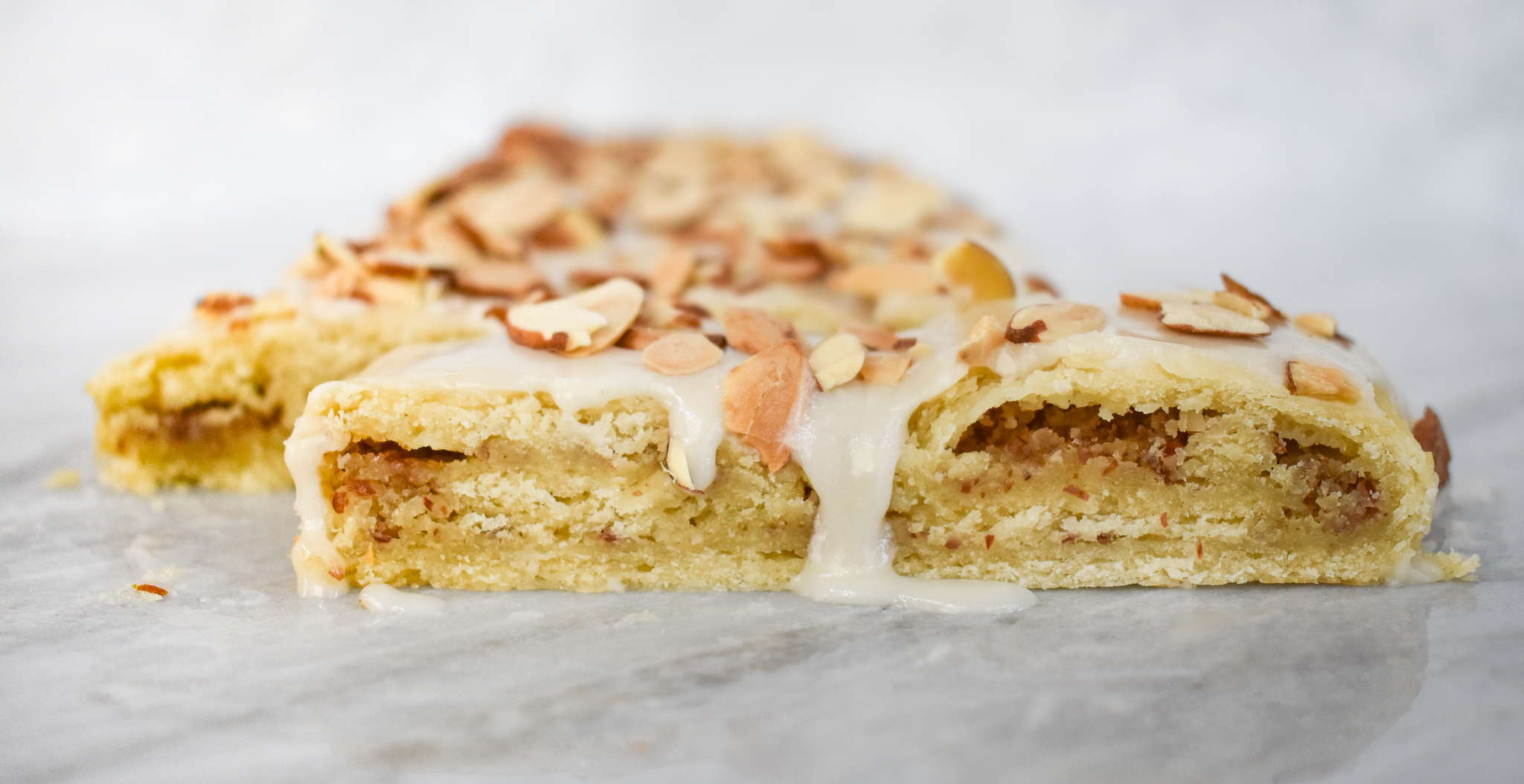 This went fast at my house!  It is absolutely delicious.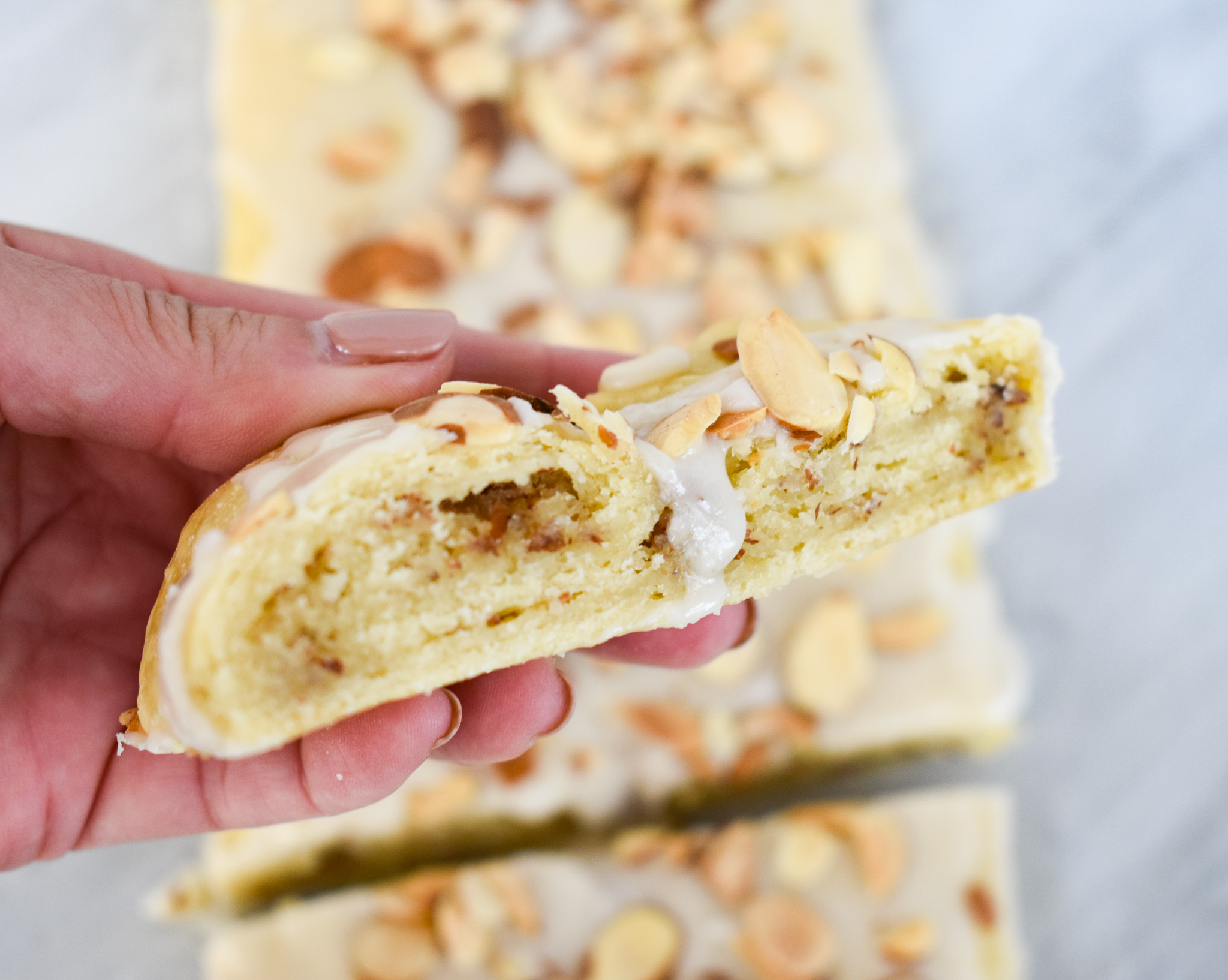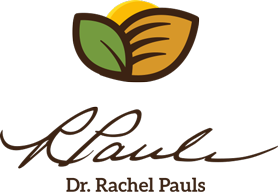 Printer Friendly Version
Comments Rating
( reviews)