Low-FODMAP 30-Minute Spaghetti Alla Carbonara; Gluten-free
November 6, 2021
Printer Friendly Version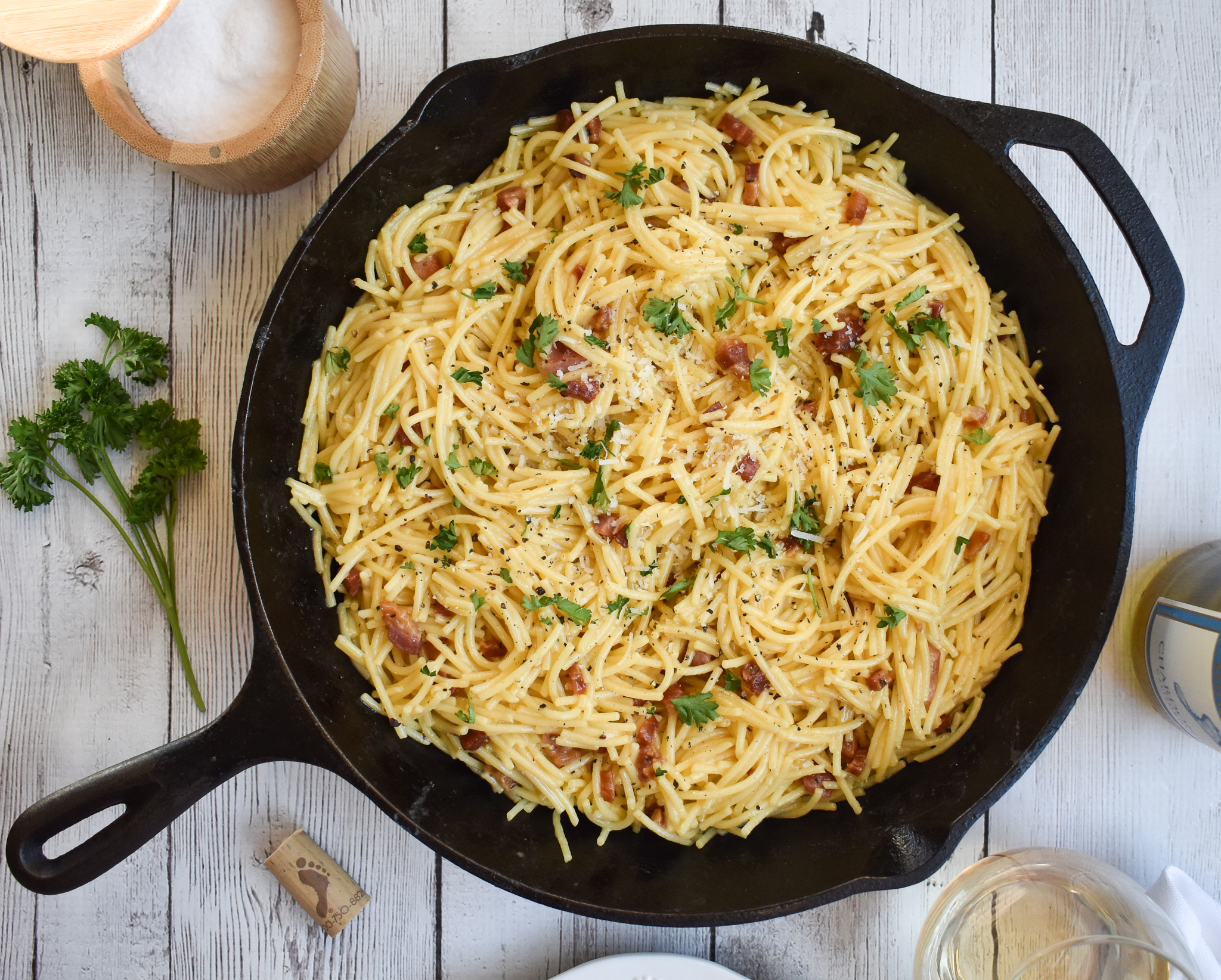 So simple.  Low-FODMAP Spaghetti Alla Carbonara is food perfection.  This is a meal that whips up in under 30 minutes, but tastes like a gourmet Italian restaurant.
Although there is no cream in traditional spaghetti alla carbonara, the eggs and cheese together make for a creamy and rich sauce.  It is amazing.  Pay attention to the directions to ensure yours tastes as authentic as the Italians 🙂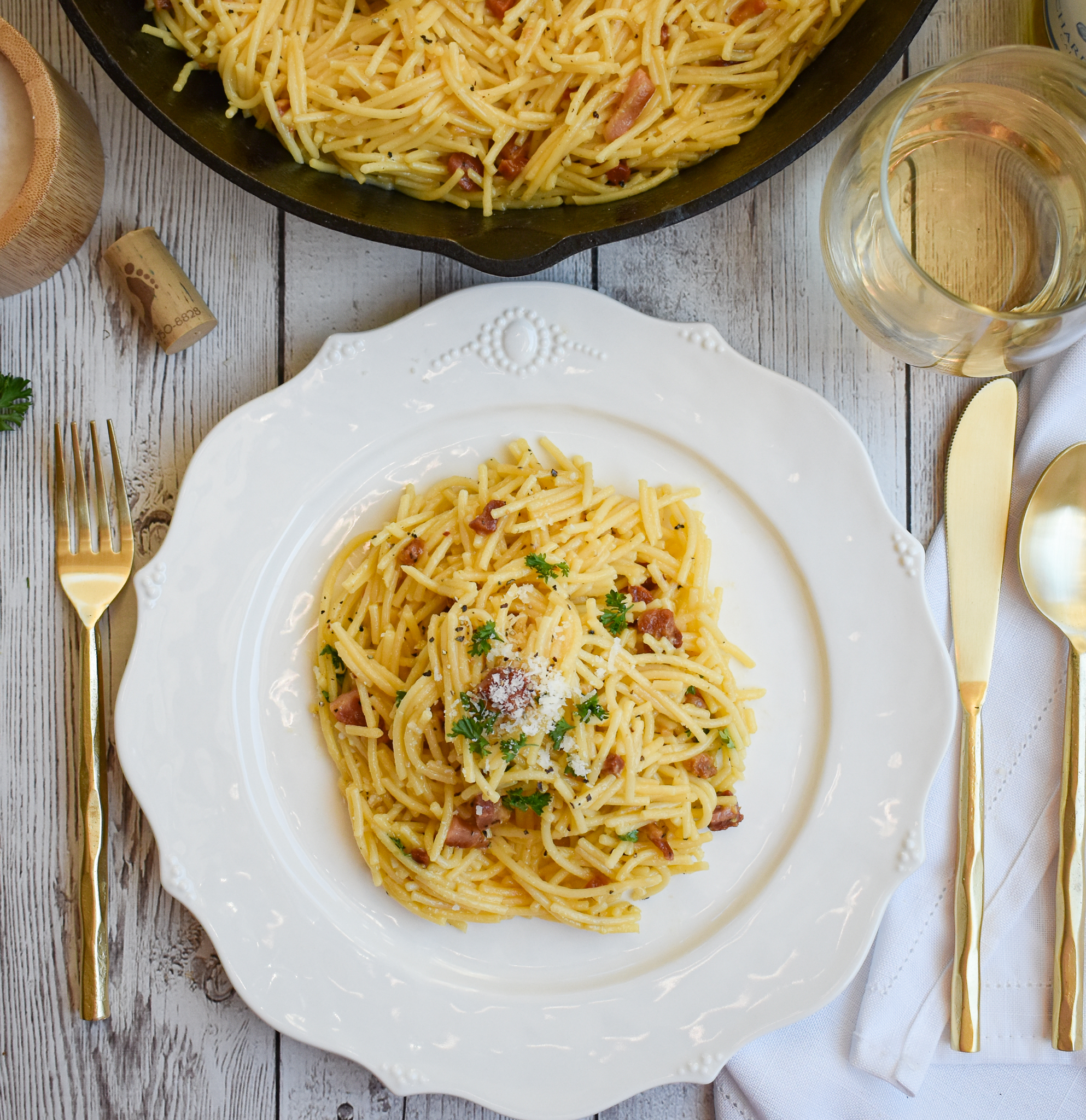 You can enjoy Spaghetti Carbonara anytime, but in a low-FODMAP version that is also gluten-free!
You may also love my:
Or check out over 400 more low-FODMAP recipes on the blog!  IBS-friendly.
Be healthy and happy,
Rachel Pauls, MD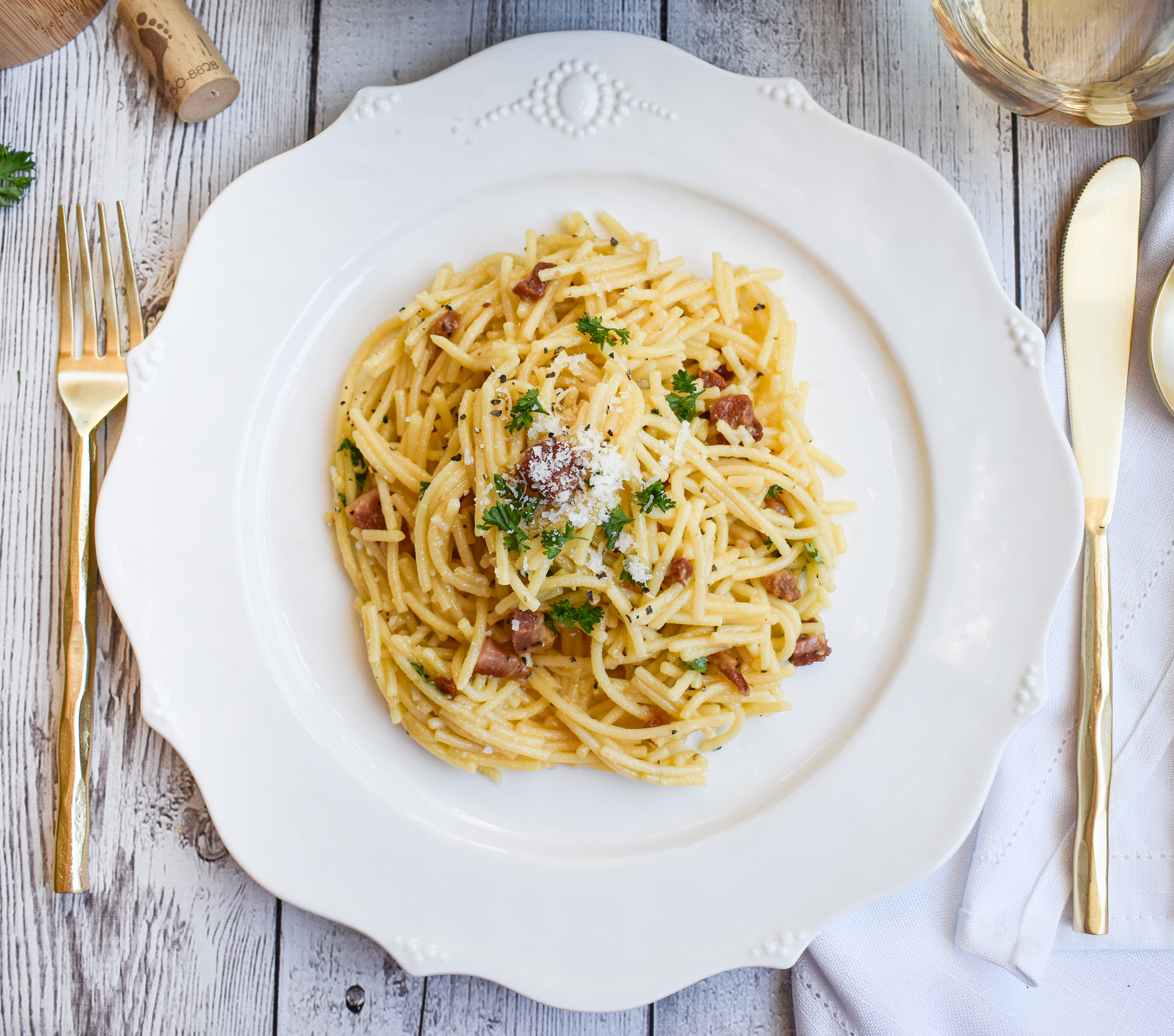 P.S.  Check out my new COOKBOOK for over 100 low-FODMAP recipes, low-FODMAP Meal Plan, FODMAP Tips and everything you need!!  It's the BEST!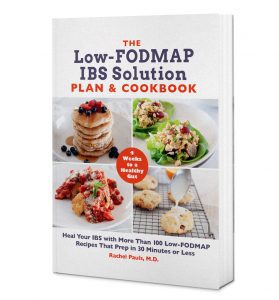 Although this recipe has not been tested, a single serving should be low-FODMAP based on the ingredients (*using available FODMAP data at time of posting)
Serves: 6-8
Prep time: 10 min
Cook time: 20 min
Total time: 30 min
Ingredients
16 ounces low-FODMAP, gluten-free dry spaghetti

I used Barilla GF spaghetti

Per their website, 16 ounces of their GF dry spaghetti will yield about 8.7 cups of cooked pasta
Ingredients are: corn flour, rice flour, mono and diglycerides

One maximum low-FODMAP serve is 1.5 cooked cups, if you use standard gluten-free pasta, based on the Monash app for this ingredient
You can also use angel hair or spaghettini, if you prefer.  If you do, just confirm you are within the recommended serving size for each low-FODMAP portion, based on your product 🙂

2 tablespoons garlic infused olive oil, or plain olive oil

Infused oils have all the flavor but NOT the FODMAPs! They are not absorbed into the oil base so you are allowed to enjoy this ingredient.  See my low-FODMAP Top 11 Tips and Tricks for more know-how!

6 ounces pancetta or slab bacon, cubed or sliced into small strips

Verify your brand has no added onion, or garlic
This is not the same as strip bacon

2 large whole eggs and 2 egg yolks, room temperature
Just over 1 cup (100g) freshly grated Pecorino Romano or Parmigiano-Reggiano (Parmesan cheese), plus more for serving

Check that your cheese brand is low in carbohydrates, this will indicate that it contains few FODMAPs, as the main FODMAP in cheese is typically lactose. Most cheeses are naturally low in FODMAPs.  Pecorino is low-FODMAP in servings of 40g
Do not buy pre-grated cheese, the flavor and texture will not work in this recipe
Use the smallest/finest pores on your cheese grater to prep your cheese for the sauce.  If you want a coarser grated cheese for the garnish, then adjust to your preference

1/2 tsp freshly ground black pepper, plus to taste
Kosher salt, for boiling water and to taste if desired
1 handful fresh Italian (flat) parsley, or regular parsley chopped, for garnish
Directions
Rachel's Notes: You should prepare the sauce while the pasta is cooking to ensure that the spaghetti will be hot when the sauce is finished.  The heat of the pasta will 'cook' the eggs in the sauce. See below!  I suggest reading through the recipe once first so you can follow the steps easily.  You don't want to end up with 'scrambled egg sauce' 🙂
Bring a large pot of salted water to a boil. Add your pasta and cook for 10-11 minutes until cooked but slightly firm (otherwise known as al-dente)

Adjust this time based on your pasta brand (gluten-free will get mushy so do NOT overcook)
You should use about 4 quarts (3.7 liters) of water and about 1 tablespoon of kosher salt.  Start with cold water and do NOT add oil to the water and pasta for best results
Do not break up your pasta strands if you want this to look authentic.  However, be aware that GF pasta will still break a fair amount when you are tossing it

In a small bowl, beat the eggs and egg yolks with Pecorino or Parmesan together well, then add the 1/2 teaspoon of black pepper and whisk again. Set aside for later

It should be like a creamy sauce

Once your pasta is about halfway through cooking, heat the infused oil in a deep skillet over medium heat (I prefer an 11 inch cast iron skillet for this)
Add the pancetta or slab bacon and sauté until the bacon is crisp (about 3 minutes)

If you have a lot of grease in the pan, then gently discard it, per your preference

Remove 1/2 cup of the pasta water for later, then drain the pasta
Remove pan from heat and turn off your burner. Add the drained pasta to the pan and toss for 2 minutes to coat the noodles in the residual fat.  Allow the pasta to cool down slightly in the pan (you want the noodles to be less than 145F to not scramble the eggs.  My cast iron pan took a couple minutes since it retains a lot of heat)
Gently, a little at a time, pour the egg/cheese mixture into the pasta, stirring constantly using tongs, until the eggs thicken, but do not scramble (this is done off the heat to limit the eggs from overcooking)
Thin out the sauce with the reserved pasta water, if you like, until it reaches your desired consistency (optional)
Season the carbonara with several turns of freshly ground black pepper.  It likely will not need salt as the cheese and pancetta are already quite salty
Serve the low-FODMAP Spaghetti Alla Carbonara garnished with the chopped parsley and additional Pecorino/Parmesan to taste!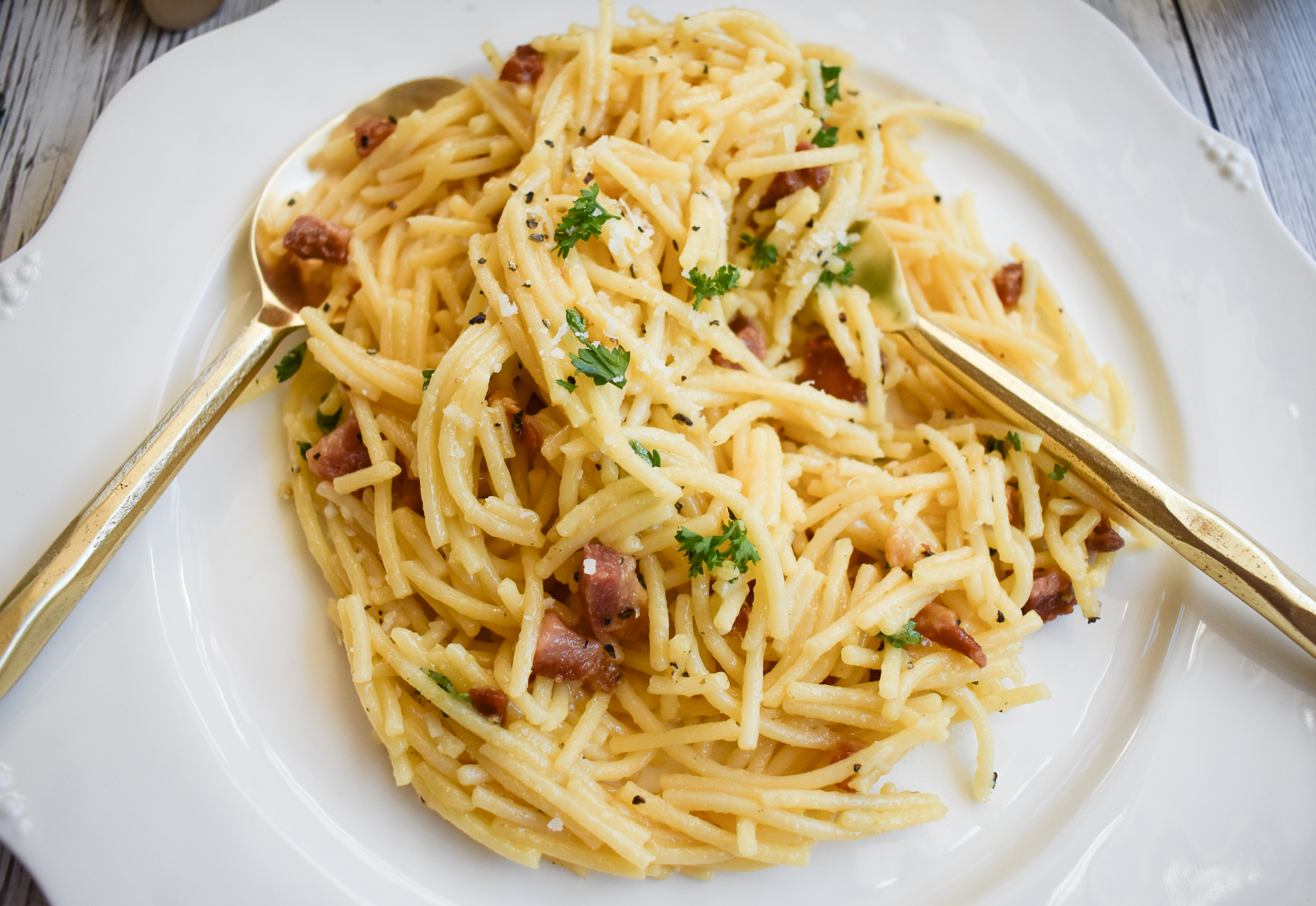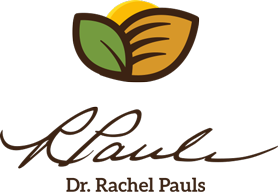 Printer Friendly Version
Comments Rating
( review)