Low-FODMAP 30-Minute Skillet Chicken Cacciatore; Gluten-free, Dairy-free
October 27, 2022
Printer Friendly Version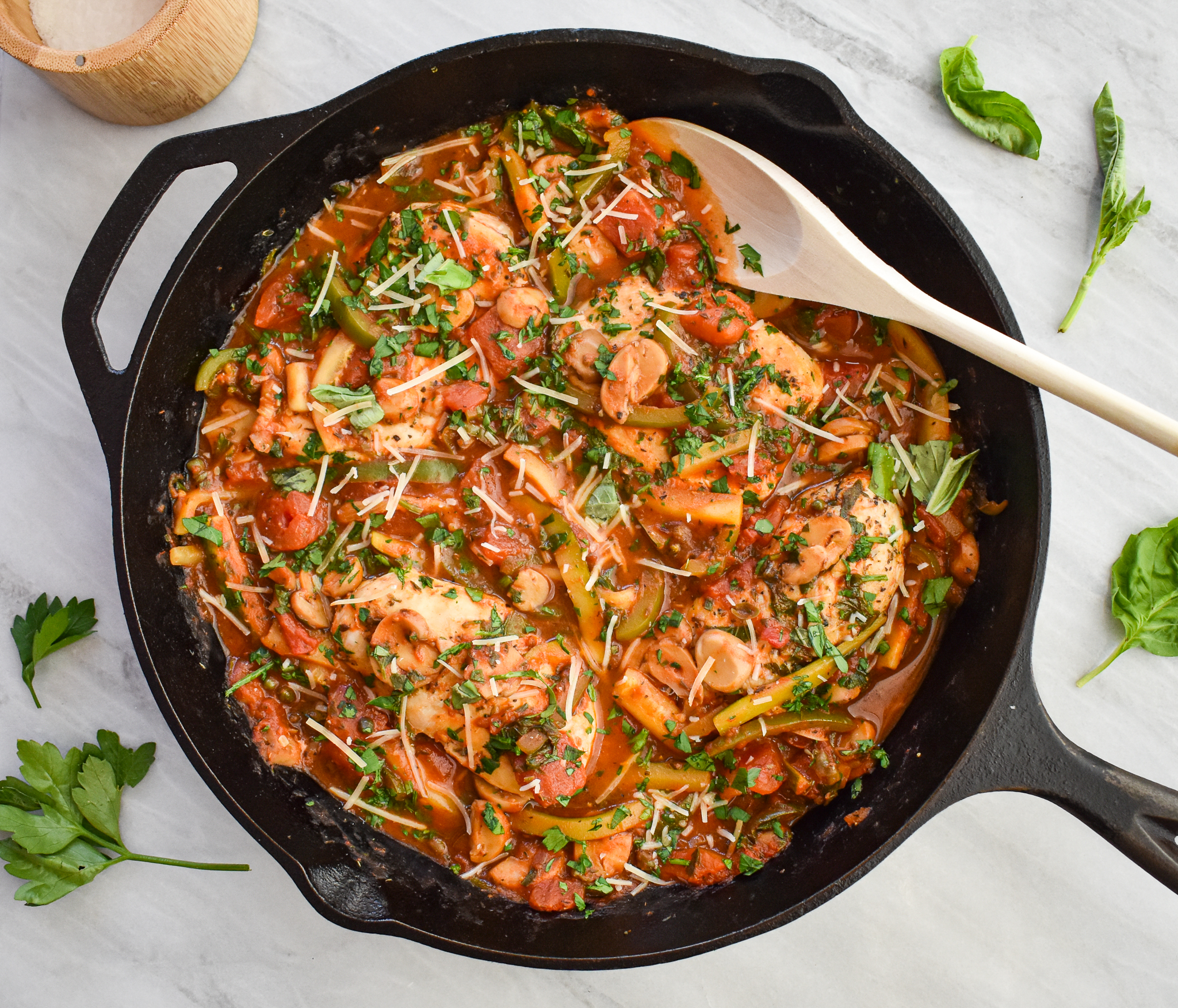 Simple.
Saucy.
Flavorful and good for you.
Low-FODMAP Chicken Cacciatore is a 30-minute dinner SENSATION.
My recipe could not be easier!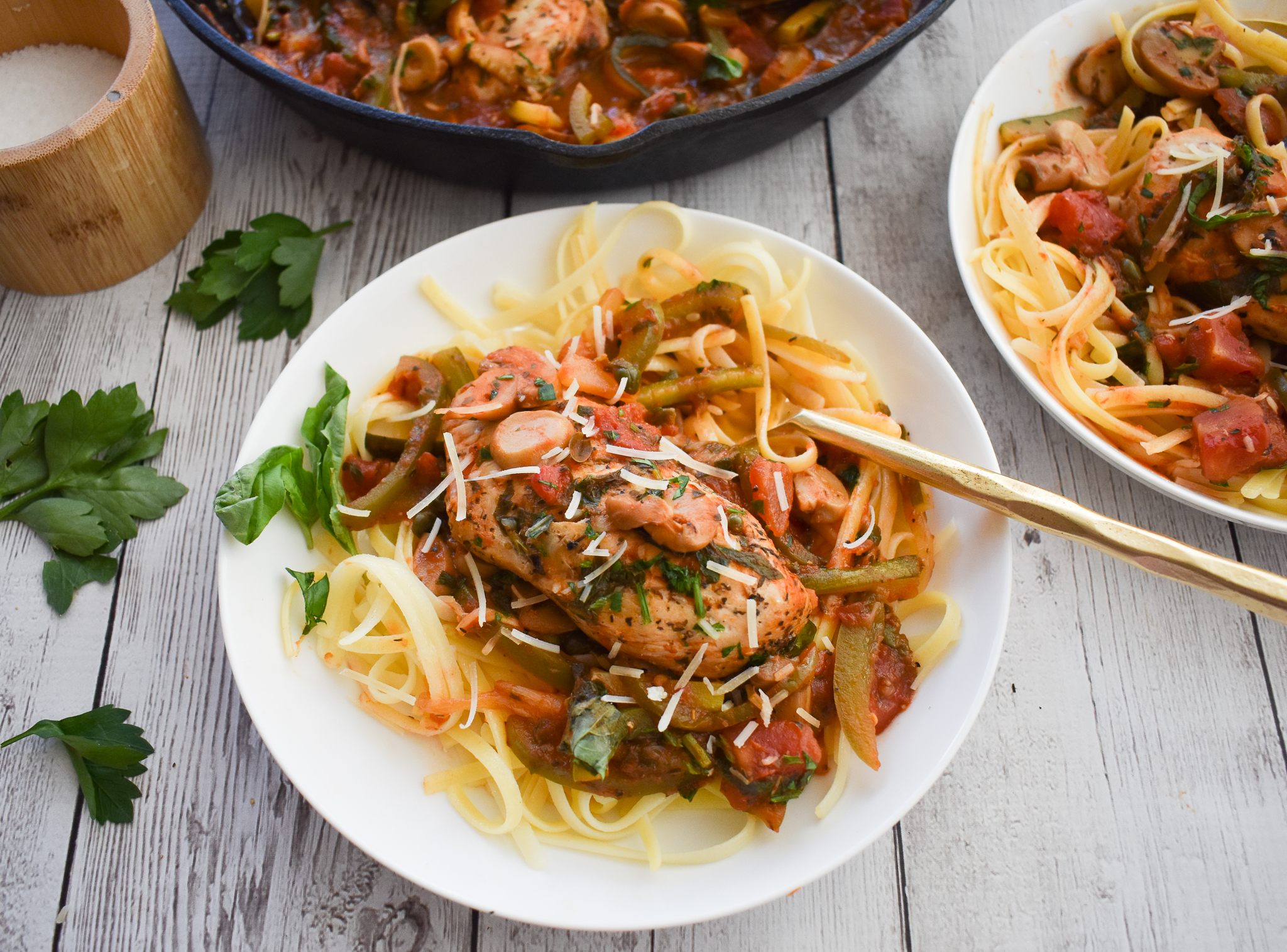 I use low-FODMAP infused oils to add the flavor of garlic and onion to this recipe.  These are a pantry staple. See my Low-FODMAP Recipe Swaps and Substitutions blog for tips on other great tips for recipe modifications.  Since FODMAPs are not dissolved in an oil base, these are a perfect way to add flavor and richness to a recipe and keep your tummy happy.  Yay for that 🙂
For other amazing chicken recipes- check out my full low-FODMAP Best Chicken Recipe Collection.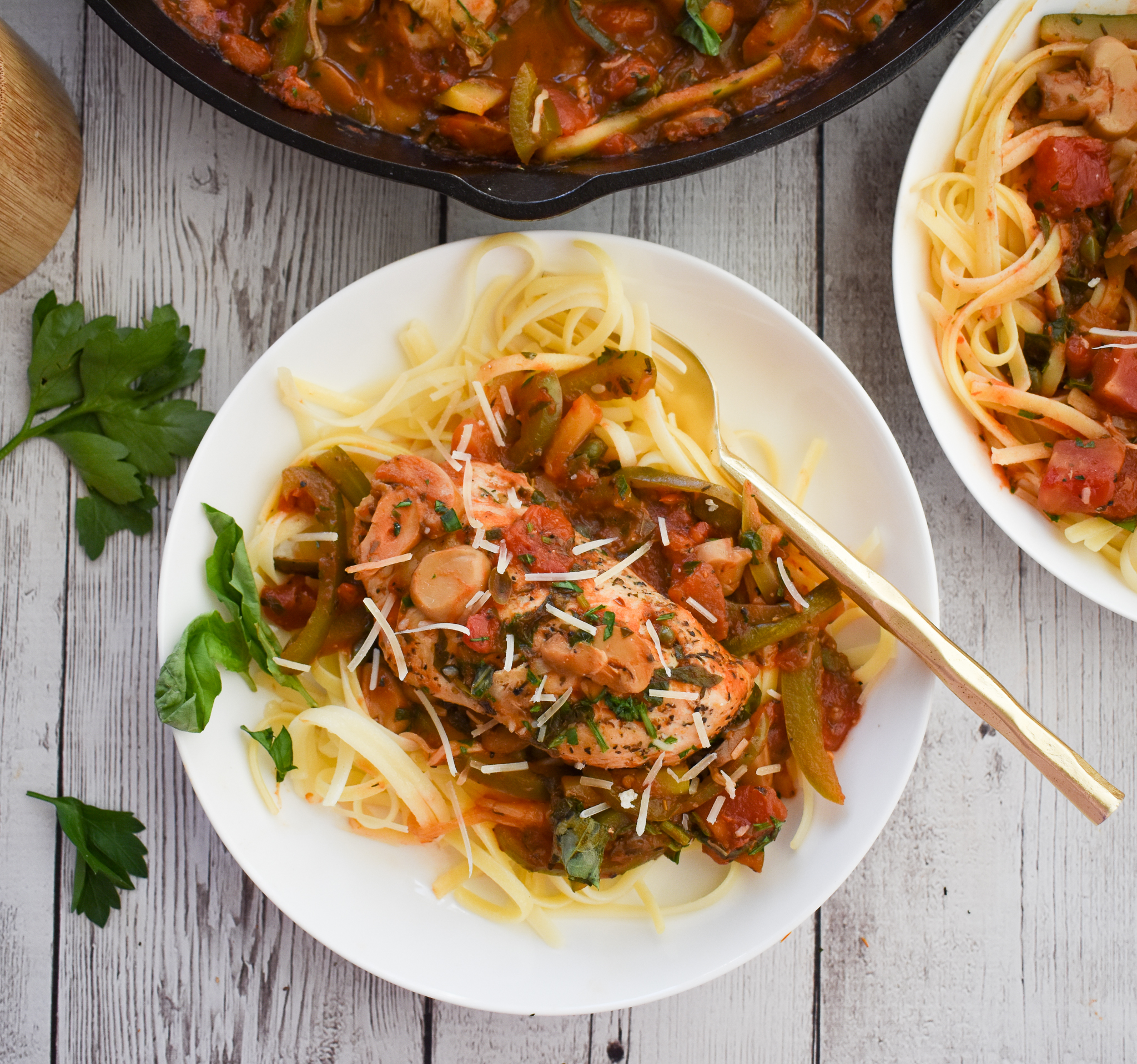 You may also love my:
Or check out over 450 more low-FODMAP recipes on the blog. IBS-friendly!
Be healthy and happy,
Rachel Pauls, MD
P.S.  Check out my new COOKBOOK for over 100 low-FODMAP recipes, low-FODMAP Meal Plan, FODMAP Tips and everything you need!!  It's the BEST!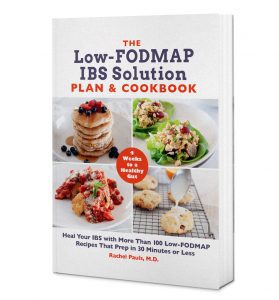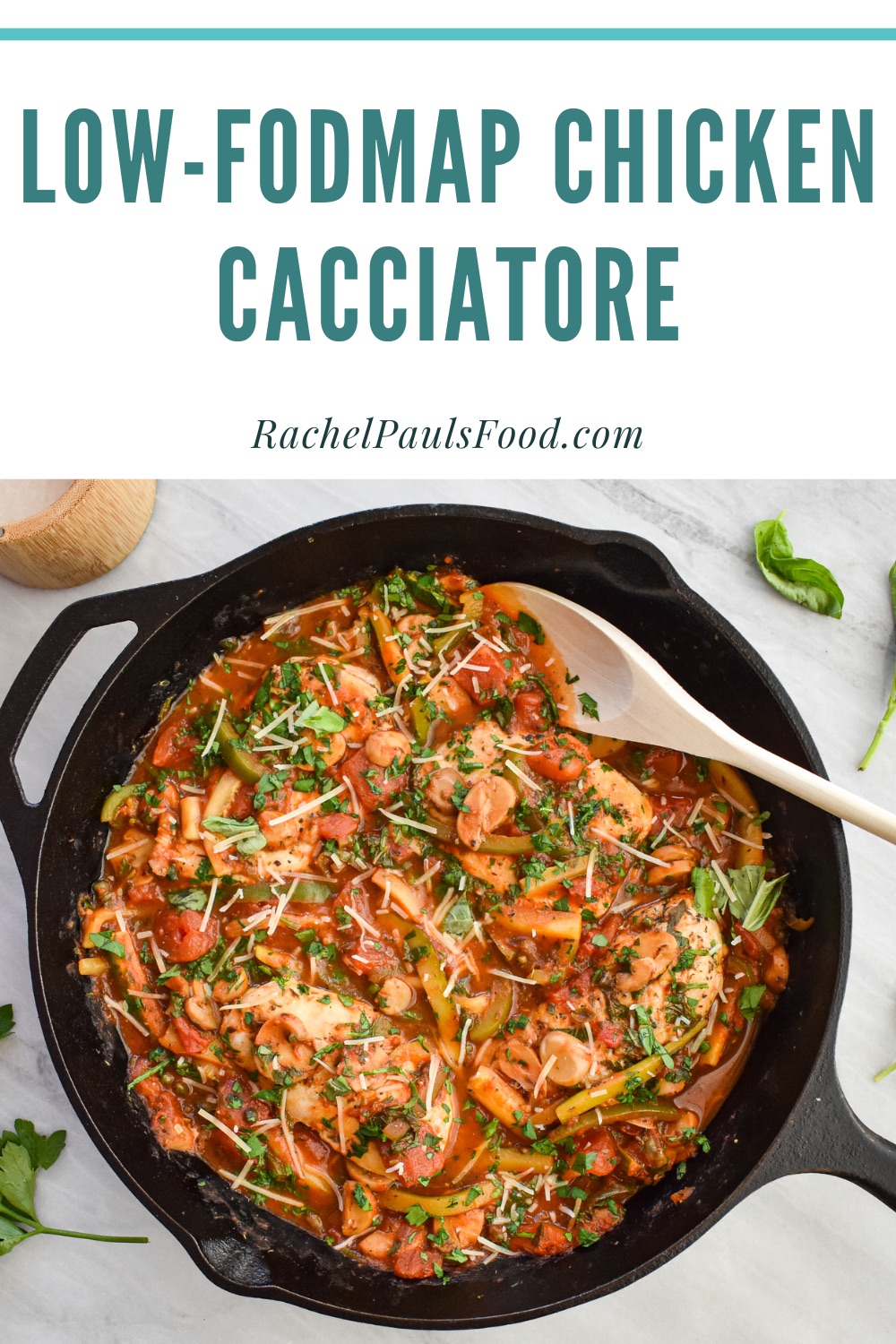 Although this recipe has not been tested, a single serving should be low-FODMAP based on the ingredients
Serves: 4
Prep time: 5 min
Cook time: 25 min
Total time: 30 min
Equipment: Large skillet with cover
Ingredients
For Chicken Marinade:
1 lb (16 ounces); 4 pieces boneless skinless chicken breasts, of uniform thickness
1 teaspoon garlic-infused olive oil
1/4 teaspoon kosher salt
1/4 teaspoon black pepper
For Sauce:
1 teaspoon and 1 tablespoon onion or shallot infused olive oil; divided *see above about infused oils
1 teaspoon garlic infused oil
1 green bell pepper (75g), sliced

75g is one low-FODMAP serving due to fructans
FODMAP fact: red bell pepper is higher in FODMAPs than green, and contains fructose, do not swap 🙂

4.5 ounces (127 g) canned sliced mushrooms, rinsed and drained

75g is one low-FODMAP serving
Higher amounts contain higher levels of polyols (mannitol)
Do not substitute fresh mushrooms, they are higher in FODMAPs

1 medium zucchini (150 g), sliced into sticks

65g is one low-FODMAP serving due to fructans

1/4 teaspoon crushed red pepper flakes (optional, will add a bit of heat)
1 teaspoon dried thyme
1 teaspoon kosher salt, plus to taste
1/2 teaspoon black pepper, plus to taste
1/2 cup dry white wine
1/4 cup (15g, 0.5 oz) fresh basil, chopped; divided
1/4 cup (15g) fresh flat leaf parsley, chopped; divided
15 ounces diced or crushed tomatoes (canned)

4 ounces is one low-FODMAP serving, higher amounts contain excess fructose
Select a brand without onion or garlic

2 tablespoons tomato paste

2 tablespoons is one low-FODMAP serving, higher amounts contain excess fructans

2 tablespoons capers

1 tablespoon is one low-FODMAP serving, no FODMAPs detected

Freshly grated parmesan cheese to taste (garnish, omit for dairy-free)
Directions
Combine first 5 ingredients for chicken marinade in a small bowl or freezer bag. Rub the chicken into the oil and spices and place in refrigerator while you prep the other ingredients
Place a large skillet (I used 11 inch cast iron) over medium high heat
Add 1 tablespoon of onion infused oil to the skillet
When oil shimmers, add the chicken and the marinade to the pan
Sear the chicken for about 2 minutes per side, then remove to a covered plate to keep warm (it will not be fully cooked, that is OK)
Add remaining teaspoon of onion infused oil to the skillet with the garlic infused oil
Add the bell pepper, mushrooms, zucchini, crushed red pepper flakes, thyme, salt and pepper to the skillet and cook for about 3-4 minutes until the vegetables start to soften, covering if desired
Add in the wine and cook for another minute or until the liquid reduces by about half, adjusting the temperature as necessary
Stir in half of each of the parsley and basil
Pour the canned tomatoes in the skillet, then tomato paste, and stir well, then add capers and taste and adjust seasonings as desired
Replace the chicken breasts and cover with sauce
Reduce the heat, cover and simmer for about 10-15 minutes or until the chicken is cooked through (internal temperature of 165F)
Sprinkle the remaining herbs and shredded parmesan cheese (optional) over top and serve immediately

Delicious with low-FODMAP bread, salad or low-FODMAP pasta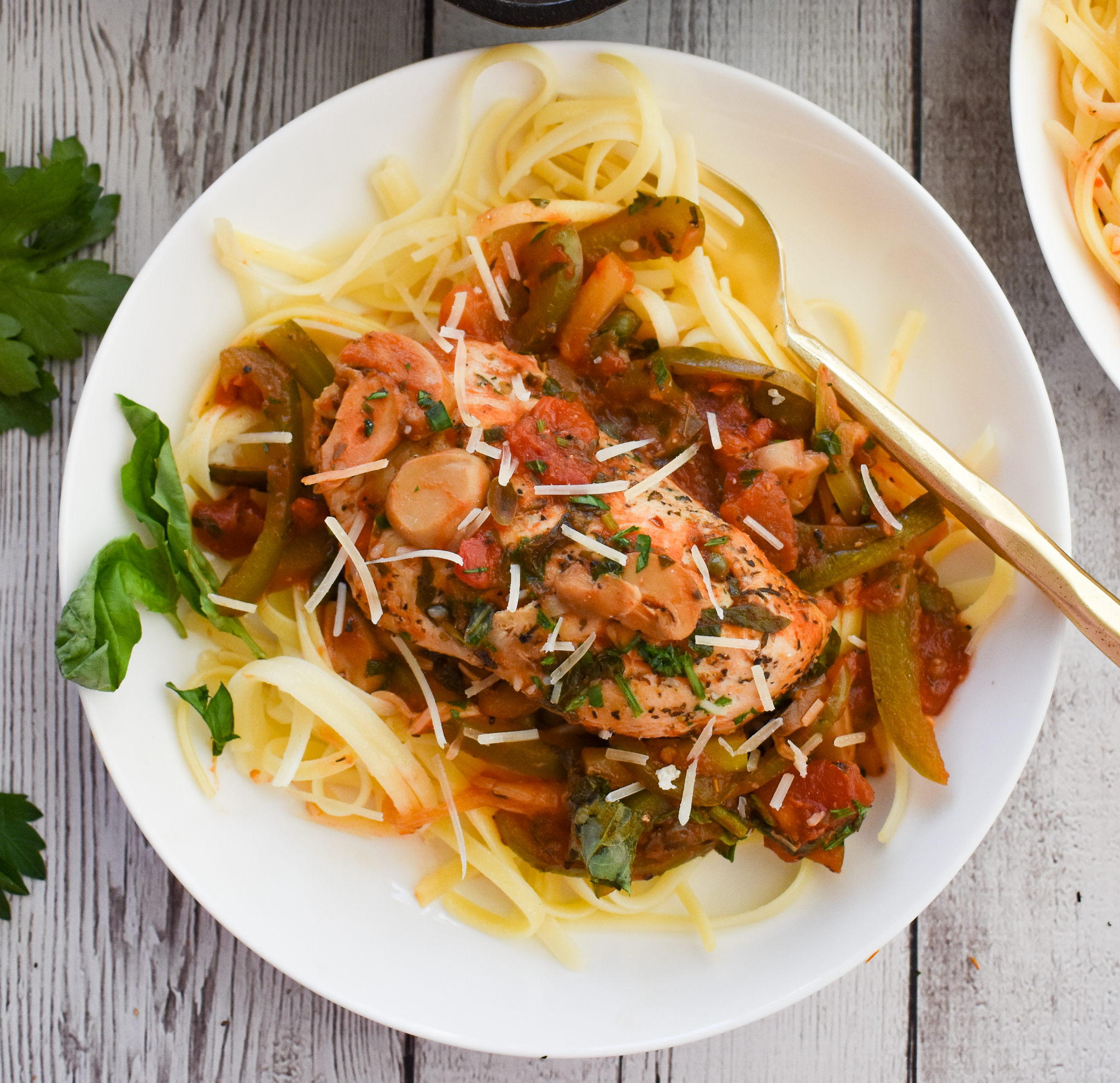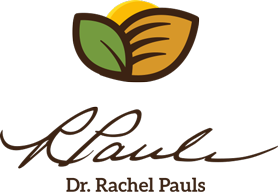 Printer Friendly Version
Comments Rating
( review)