Low-FODMAP 30-minute Lemon Artichoke Fettuccine Pasta; Gluten-free, Vegetarian
January 30, 2021
Printer Friendly Version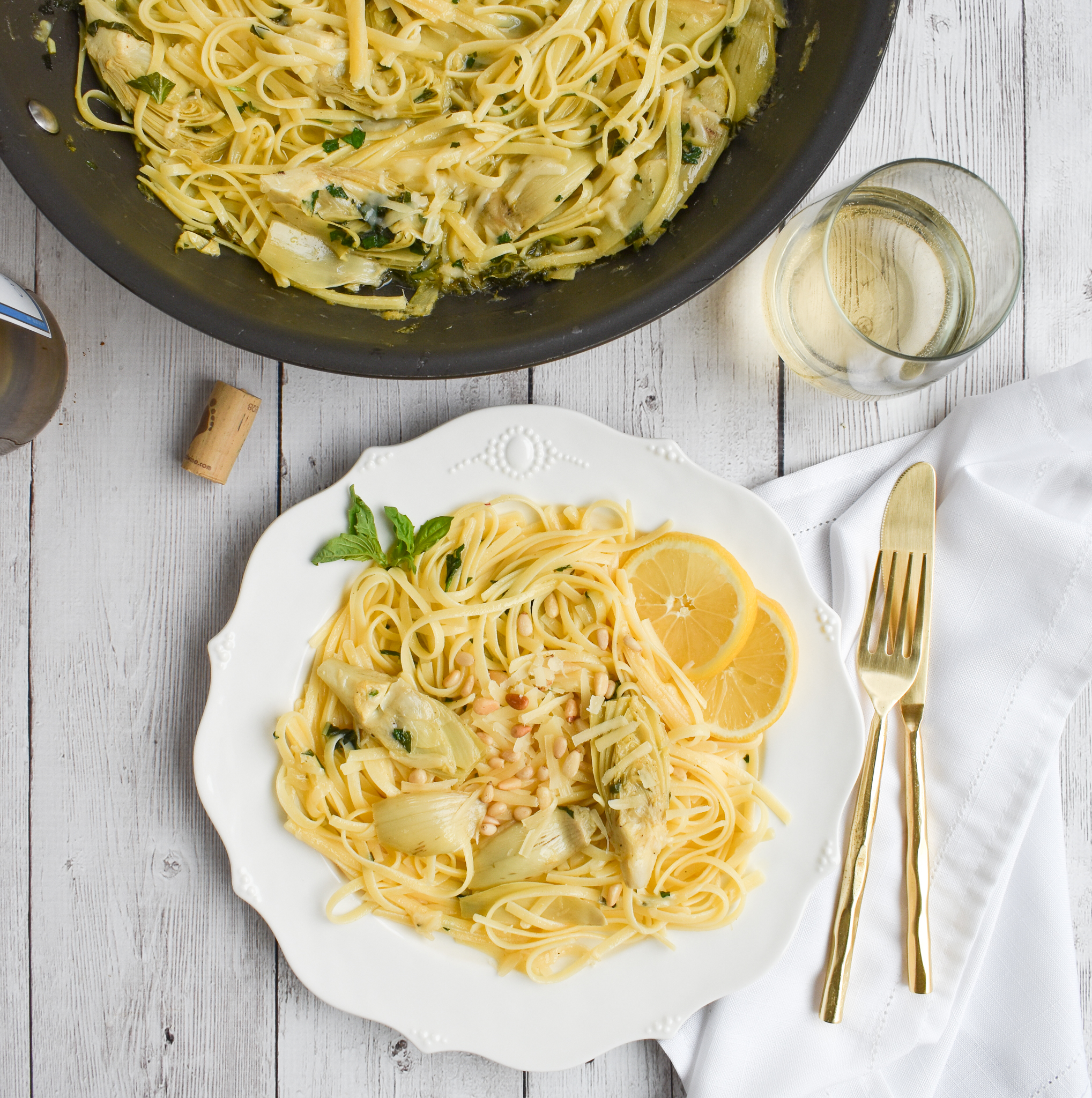 A 30 minute GOURMET recipe for low-FODMAP Lemon Artichoke Fettuccine, or your other favorite pasta. This meal was inspired by an Italian dish I enjoyed at a lovely little restaurant in New York City.  It is crazy good.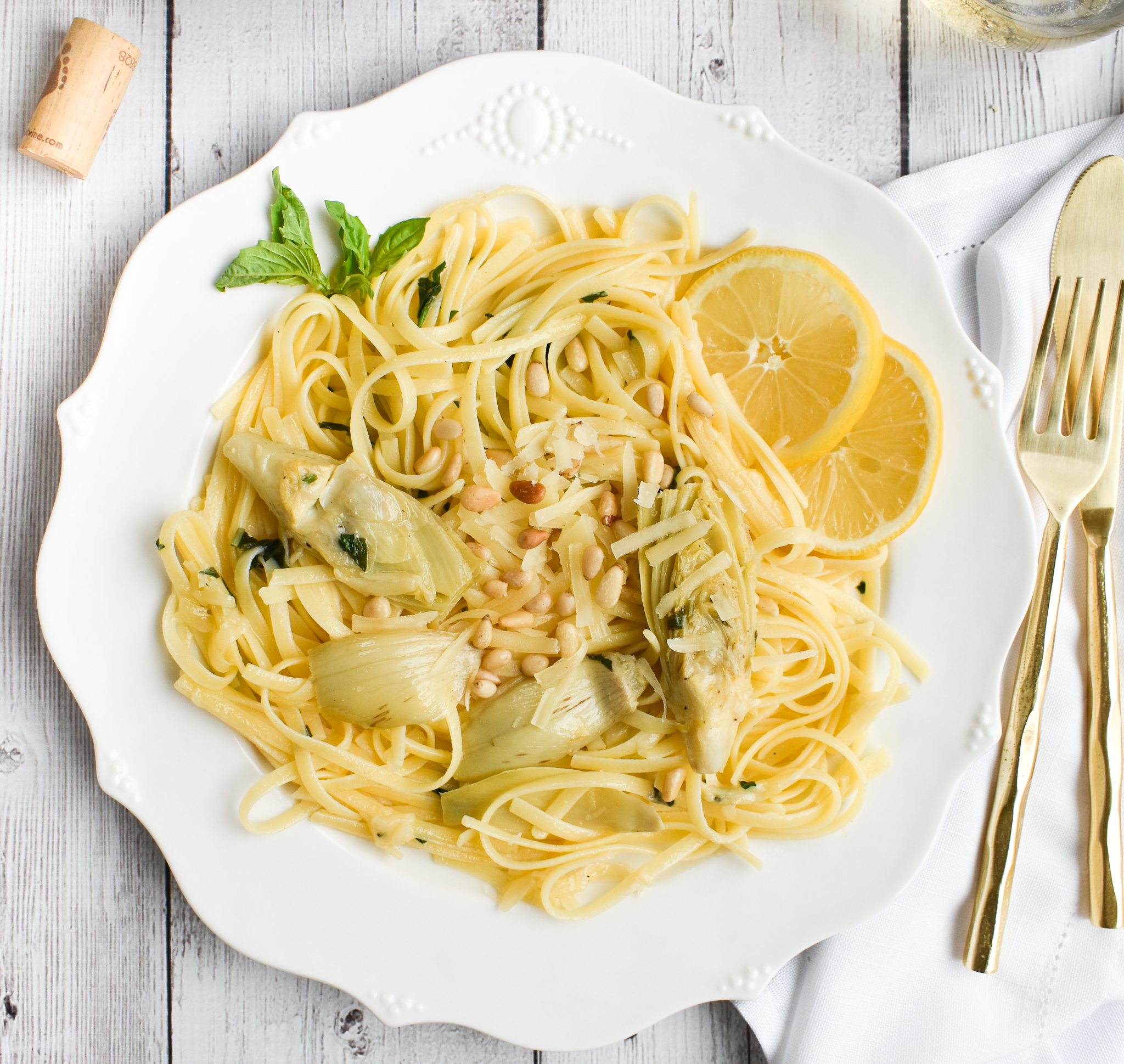 Low-FODMAP Lemon Artichoke Pasta is great as a main course for 4, or can serve as a side dish for 8.  Add a little grilled tofu, shrimp or chicken for additional protein if you like!
This low-FODMAP Pasta is so easy, it will be perfect for my Valentine this year 🙂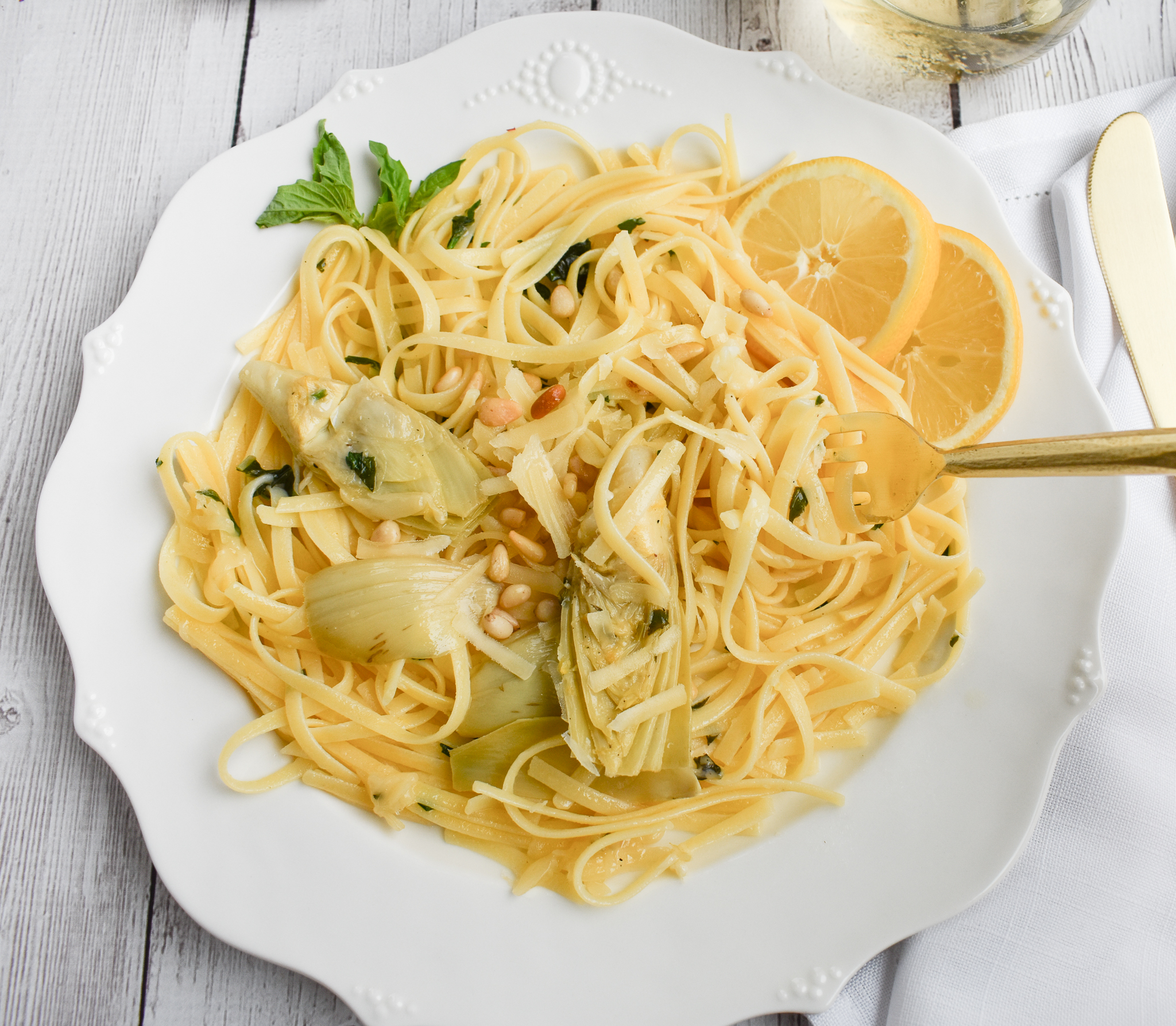 You may also love my:
Or check out over 400 more low-FODMAP recipes on the blog!
Be healthy and happy,
Rachel Pauls, MD
P.S. Check out my new COOKBOOK for over 100 low-FODMAP recipes, low-FODMAP Meal Plan, FODMAP Tips and everything you need!!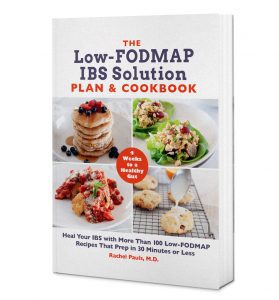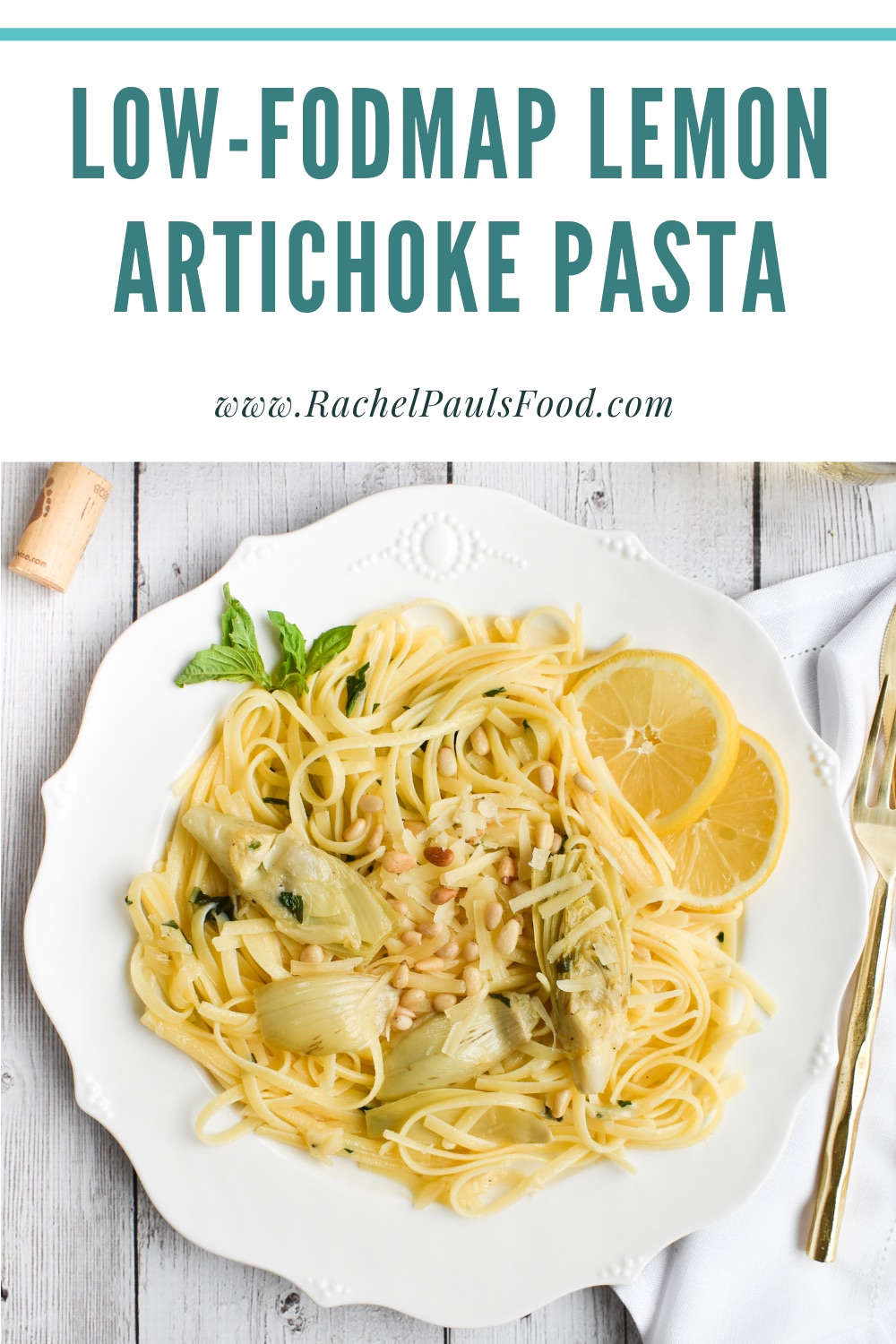 Although this recipe has not been tested, a single serving should be low-FODMAP based on the ingredients
Serves 4
Prep time: 5 min
Cook time: 25 min
Total time: 30 min
Ingredients
8 ounces low-FODMAP, gluten-free fettuccini pasta, or your preferred alternative

Will yield about 4 cups of cooked pasta
1 cup or 145 g of cooked GF pasta is one low-FODMAP serving
I used Barilla brand- see my low-FODMAP Grocery Shopping blog for other suggestions!

3 tablespoons garlic infused oil

Infused oils contain all the flavors you love, but are low-FODMAP! The garlic does not get dissolved into the oil, so only the flavor remains (see my top 11 FODMAP tips for more explanation)
Check out my low-FODMAP recipe swap blog for tips on shopping for these oils

1 (14-ounce) jar or can quartered artichoke hearts, drained and rinsed

This will yield about 220 g of artichokes; ½ cup (75 g) is one low-FODMAP serving
Can also buy them whole and quarter them yourself
Do not substitute fresh artichokes, as they will be higher in FODMAPs

Zest of 1 medium lemon
Juice of 1 medium lemon (about 4 tablespoons)
1 & 1/2 cups dry white wine (such as chardonnay)

1 cup of white wine is one low-FODMAP serving

2 tablespoons chopped fresh parsley, plus additional for garnish; divided
6 basil leaves, chopped, plus additional for garnish; divided
4 tablespoons unsalted butter
1 & 1/2 teaspoons salt; divided
1/2 teaspoon freshly ground black pepper
½ cup (45 g) freshly grated Parmesan cheese

This is most delicious if you grate it yourself, rather than buying already grated

¼ cup (34 g) toasted pine nuts (pignoli)

1 tablespoon (14 g) of pine nuts is one low-FODMAP serving
Directions
Add 1 teaspoon of the salt to a large pot of water and bring to a boil
Cook the pasta until al-dente (slightly firm)
While the water is boiling, add the infused oil to a large non stick skillet and heat over medium-high heat
Add the artichoke hearts, lemon zest, lemon juice, and white wine
Bring to a simmer for about 10 minutes, or until the liquid has reduced to half, adjusting heat as necessary
Stir in half the parsley and basil
Add the butter and let it melt into the sauce
Season with the ½ tsp each of salt and pepper and stir, then turn down the heat on the sauce to stay just warm until pasta is ready
When the pasta is cooked, drain and toss it in the skillet with the sauce and remaining parsley and basil to coat
Sprinkle with the freshly grated Parmesan cheese, garnish with your fresh basil and parsley as well as toasted pine nuts
Serve immediately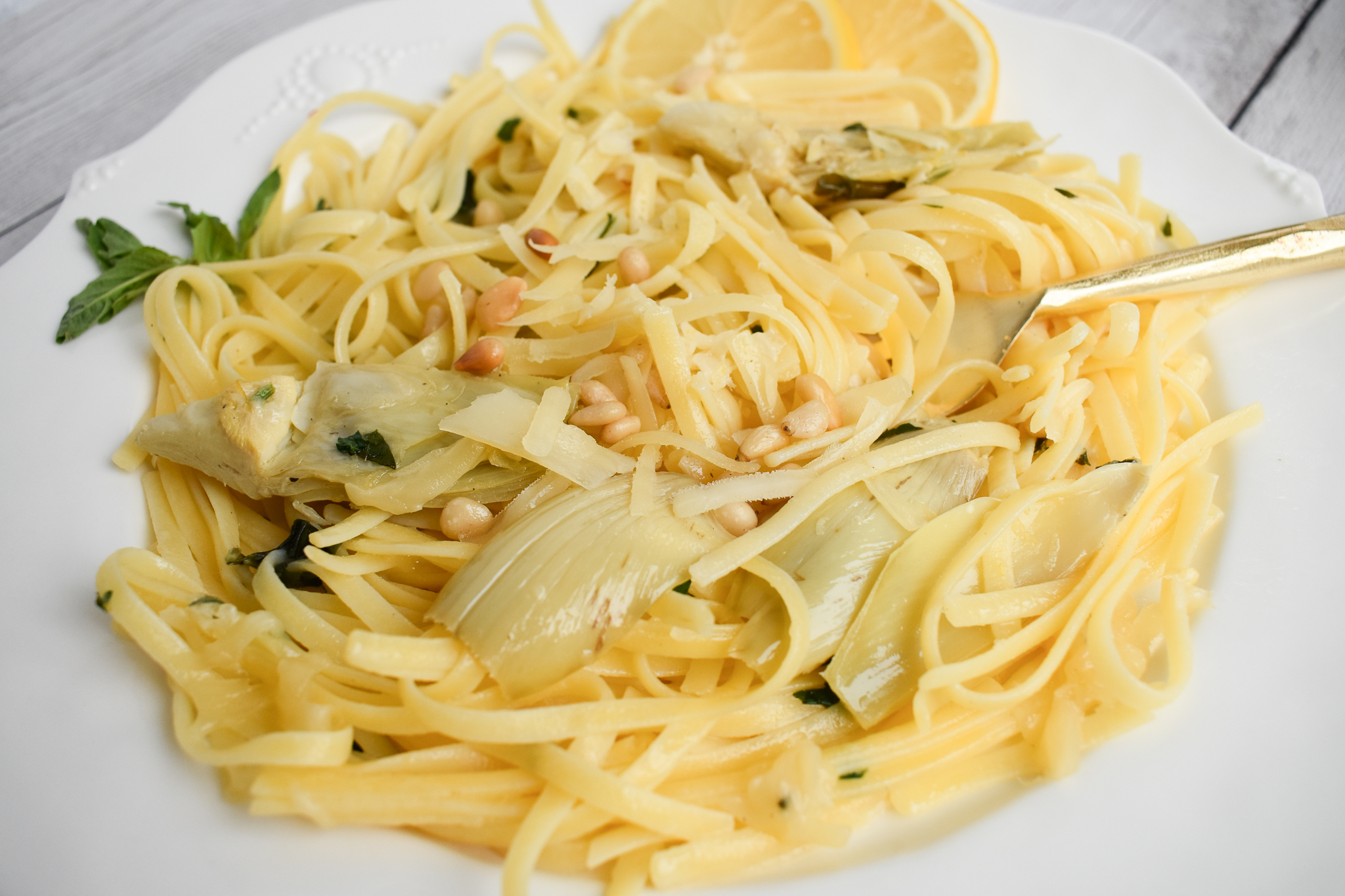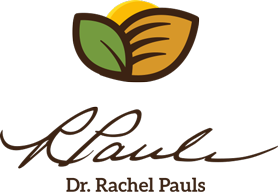 Printer Friendly Version
Comments Rating
( reviews)