Low-FODMAP 30-Minute Chicken A La King; Gluten-free, Dairy-free
October 14, 2022
Printer Friendly Version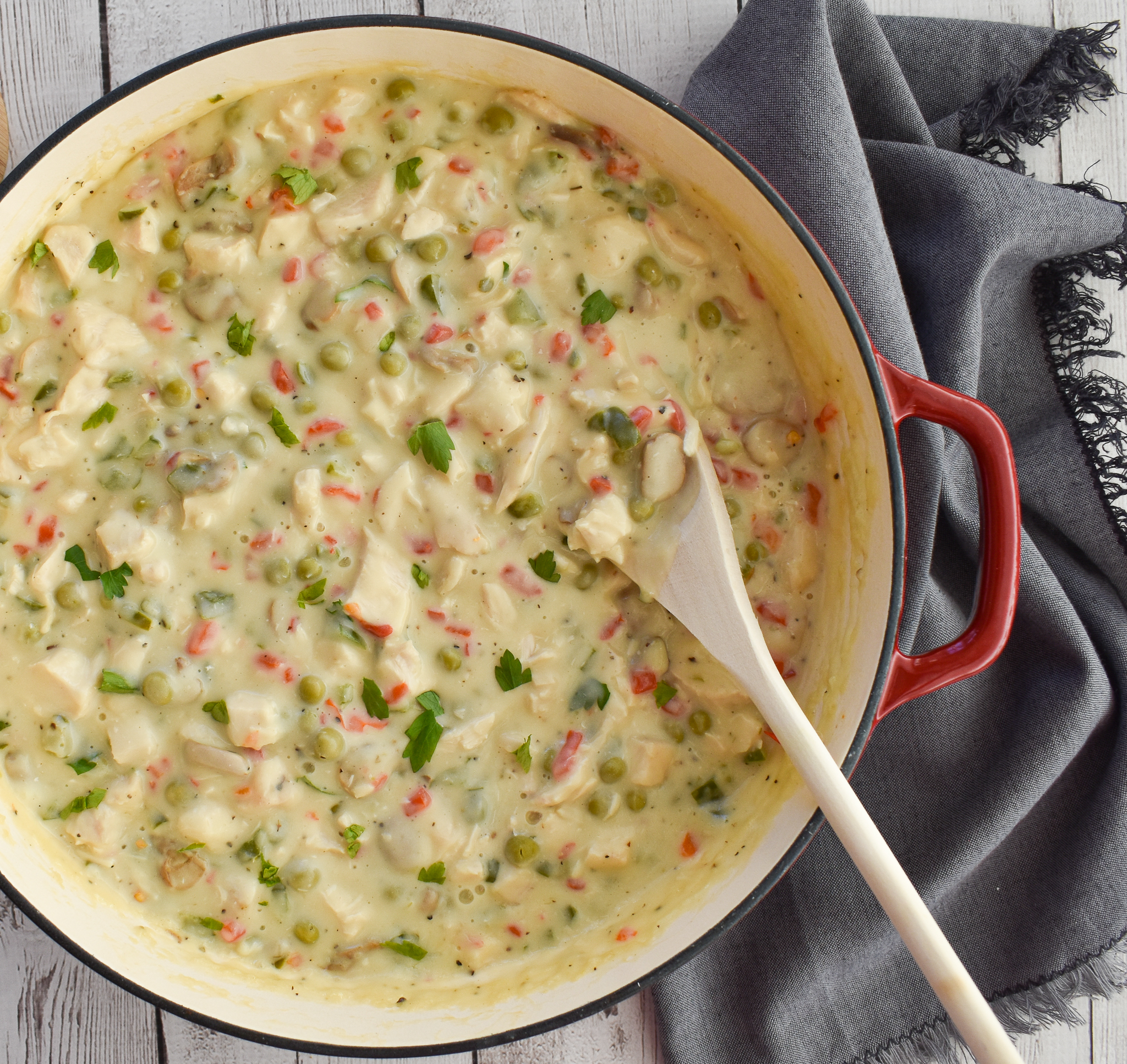 Sometimes, old-school classic recipes are the best.
In the past few years, my teenage boys have been making themselves a frozen dinner when they get home from school.  Always hungry, this will just tide them over to the actual supper meal 🙂
And while frozen meals are not something I prefer to have them eat, life is life.  I try to buy selections that are packed with protein, carbohydrates and some veggies. One of the top picks for my boys is Chicken a La King.
After a couple of years, I realized I should create my own version of this delicious one-skillet casserole!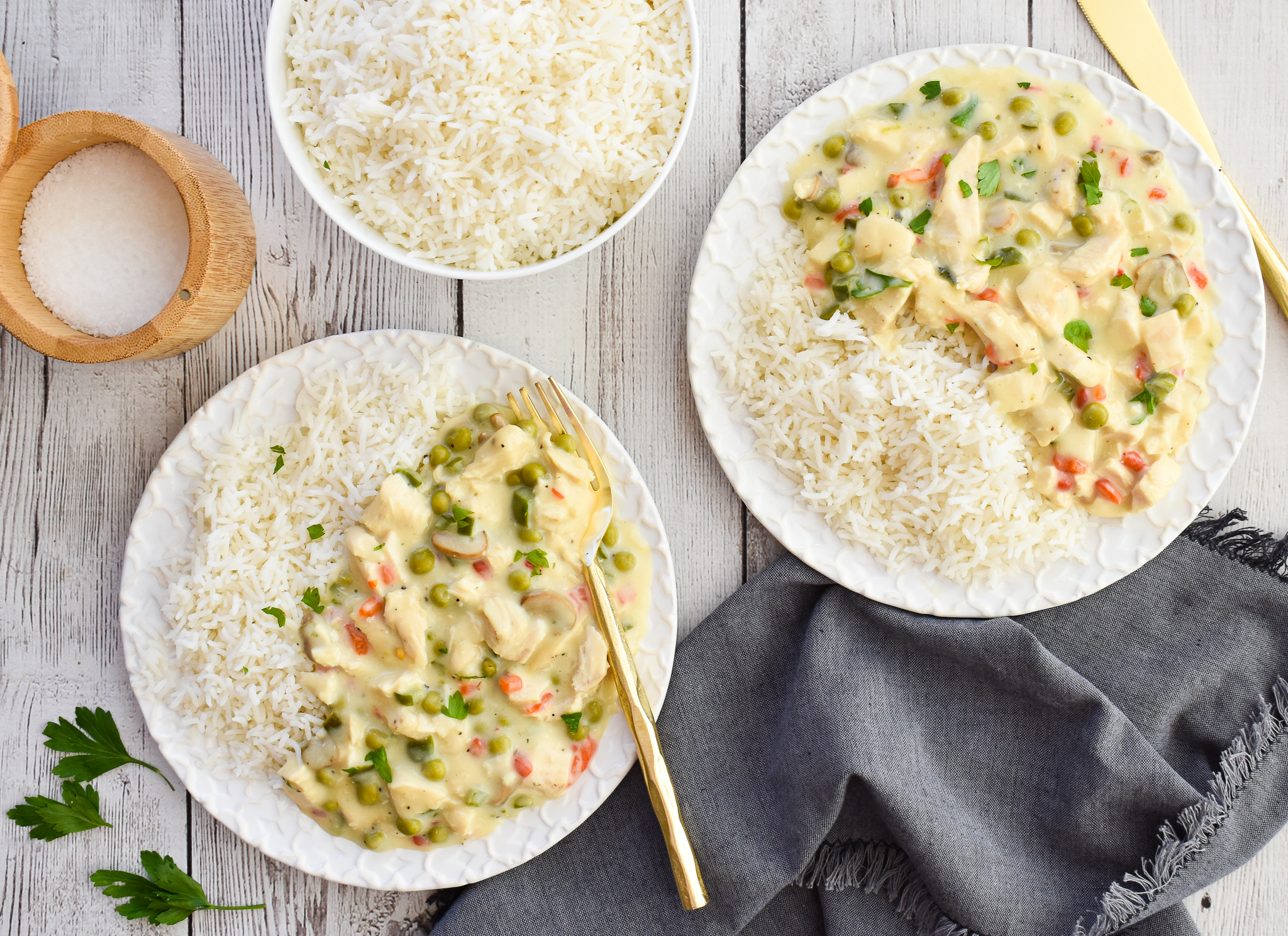 My low-FODMAP Chicken a La King is super easy, don't you fret.  A close second to 6 minutes in the microwave.
Many of you are probably wondering, why is it called Chicken a La King?  Honestly, I can't say for sure, as there are several versions about how this meal got its name (click here to read about them). It's typically made using leftover chicken, incorporates mushrooms and pimentos, and often some sherry or wine.
FODMAP FACTS:
Canned mushrooms are lower in FODMAPs than fresh mushrooms (75 g per serving), since the harmful carbohydrates are leached out in the liquid that you drain away.
Similarly, canned peas are lower in FODMAPs than fresh peas
Green bell peppers are lower in FODMAPs than red bell peppers. Pay attention to the color of your vegetables, as well as their type!
Pimentos are made from small, sweet bell peppers.  Pimentos have not been tested for FODMAP content, at time of posting this blog.  Due to the small amount of them being used per serving, I used actual canned and drained pimentos.  However, if you are uncertain, then substitute finely minced red bell pepper instead!
I serve my low-FODMAP Chicken a La King with rice, but it also can go over buttered low-FODMAP toast, LF, GF pasta, or low-FODMAP Potatoes.
You may also love:
Or check out over 450 more low-FODMAP recipes on the blog. IBS-friendly!
Be healthy and happy,
Rachel Pauls, MD
P.S.  You are going to LOVE my COOKBOOK containing over 100 low-FODMAP recipes, low-FODMAP Meal Plan, FODMAP Tips and everything you need!!  It's the BEST!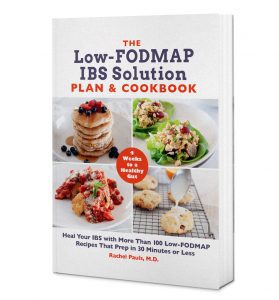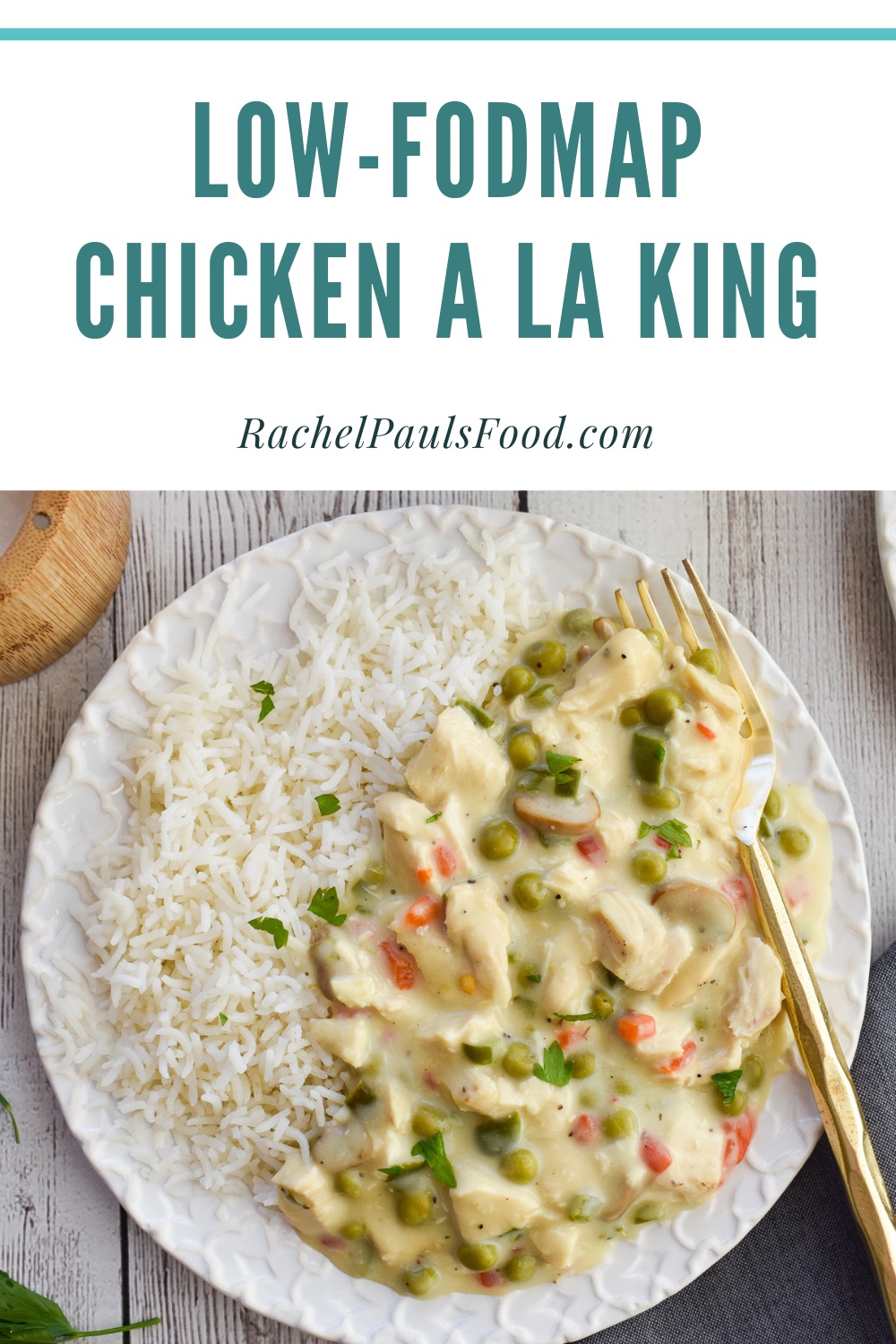 Although this recipe has not been lab tested a single serving should be low-FODMAP based on the ingredients (using available FODMAP data at time of posting).  However, if high-fat foods trigger your IBS, then adjust to your personal tolerance.
Serves: 6
Prep time: 10 min
Cook time: 20 min
Total time: 30 min
Equipment: Large Heavy Pan or Dutch Oven (I used 4 quart)
Ingredients
1 & 1/2 tablespoons onion or shallot infused oil
1 & 1/2 tablespoons garlic infused oil
3 tablespoons unsalted butter, can substitute olive oil for dairy-free version
4.5 ounces (127 g) canned sliced mushrooms, rinsed and drained

75 g is one low-FODMAP serving
Do not sub fresh mushrooms as they are higher in FODMAPs (mannitol)

1 large green bell pepper (chopped weight 150g)

75g is one low-FODMAP serving
Higher amounts contain fructans

1/2 cup low-FODMAP, gluten-free all-purpose flour
1 & 1/2 cups low-FODMAP chicken broth/stock
1 cup low-FODMAP milk (I like lactose-free whole milk, use unsweetened almond milk for dairy-free)
3/4 teaspoon salt, plus to taste
1/2 teaspoon fresh ground black pepper, plus to taste
2 teaspoons Dijon mustard
24 ounces chopped or shredded chicken breast

This could be from leftover roasted chicken, or (f you tolerate it) store-bought rotisserie chicken (this is about 4 cups of chicken)
Alternatively, bake chicken breasts for this dish (check out this website for how-to)

1/2 cup heavy cream (for a dairy free option, use canned coconut cream, see my low-FODMAP grocery shopping blog for tips on this ingredient)

1/4 cup is one low-FODMAP serving due to lactose

1 cup (150g) canned peas, rinsed and drained

Fresh peas are higher in FODMAPs, do not substitute
45g is one low-FODMAP serving (due to GOS)
This is about 1/2 of a 15 ounce can

1/4 cup (80g) finely minced red bell pepper or canned, drained pimentos

One low-FODMAP serving of red bell peppers is 43 g; higher amounts contain excess fructose. Red bell pepper is different from green bell pepper- so you cannot always make assumptions!
Pimentos are a sweet red bell pepper, these are not officially tested for FODMAP content. If you are concerned, then do not substitute.  One 4 ounce jar yielded this amount once drained

6 cups of your preferred choice of rice, prepared for serving

I like Basmati and Jasmine rice
About 2-3 cups of uncooked rice will yield this amount
You can cook your rice on the stovetop or in a rice cooker while the chicken is being prepared

Fresh parsley to garnish, optional
Directions
Melt butter or olive oil over medium-high heat in a heavy stockpot or Dutch oven, then stir in the onion/shallot and garlic infused oils
Add green pepper and cook for 5 minutes or until softened
Add mushrooms and cook until golden brown (about 2 minutes)
Adjust heat to medium or medium-low, and stir in the LF,GF rice flour
Continue to stir and cook for about 1 minute, the flour will slightly brown
Next, add in the low-FODMAP chicken broth while stirring to combine
Once well combined, add the low-FODMAP milk, salt, pepper, and Dijon mustard and simmer for about 3-4 minutes. It should begin to thicken
Taste sauce, and adjust seasonings to your preference
Reduce heat to low and gently add the heavy cream and mix
Next, stir in chicken followed by canned peas and red peppers or pimentos and let them warm in the sauce
Cook for about 3-4 minutes, until heated through
Serve over your prepared rice, garnished with fresh parsley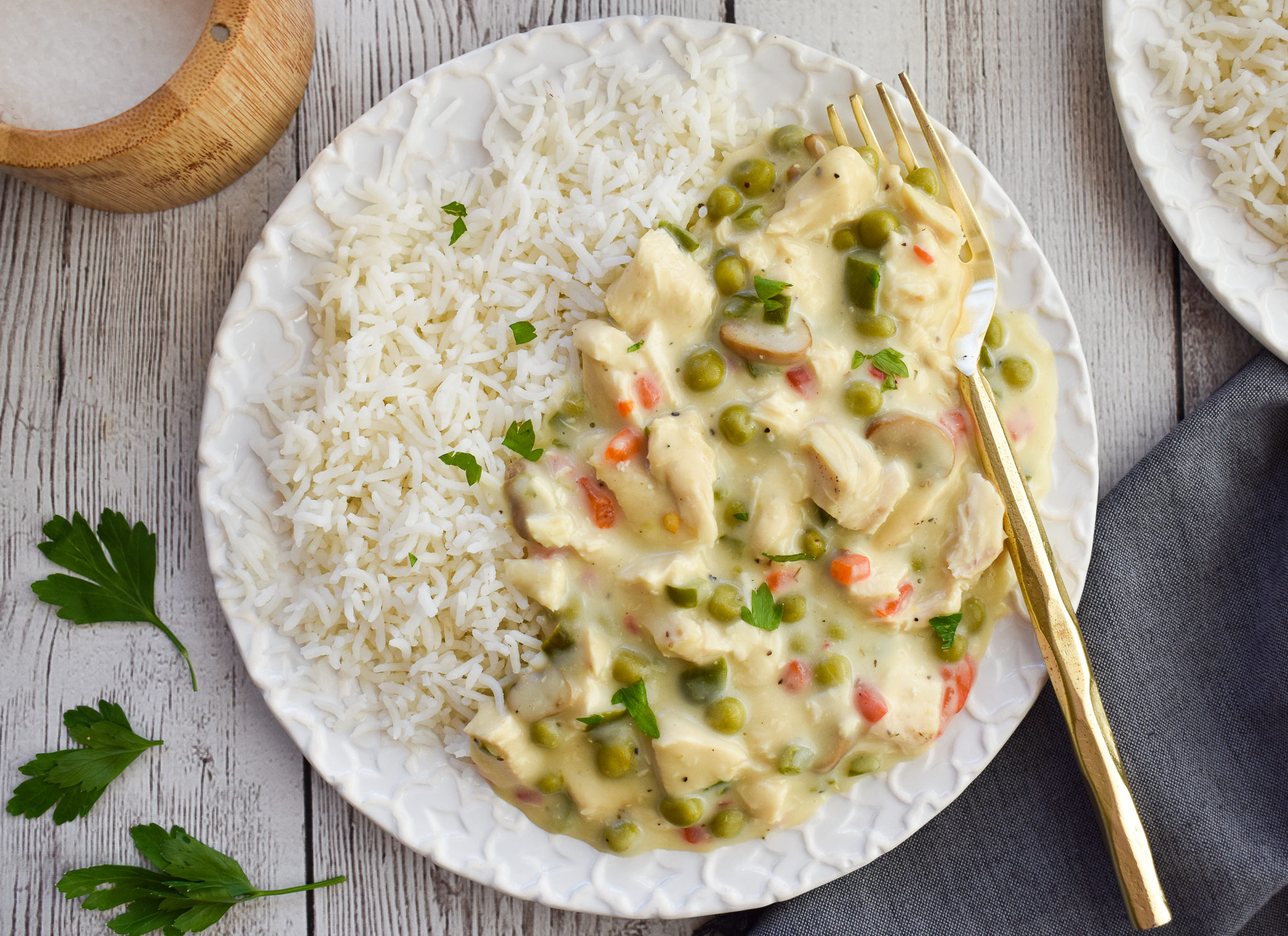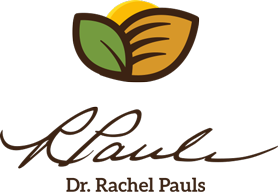 Printer Friendly Version
Comments Rating
( review)