Lovely Low-FODMAP Vanilla Pie with Cookie Crust; Gluten-free, Dairy-free
January 7, 2018
Printer Friendly Version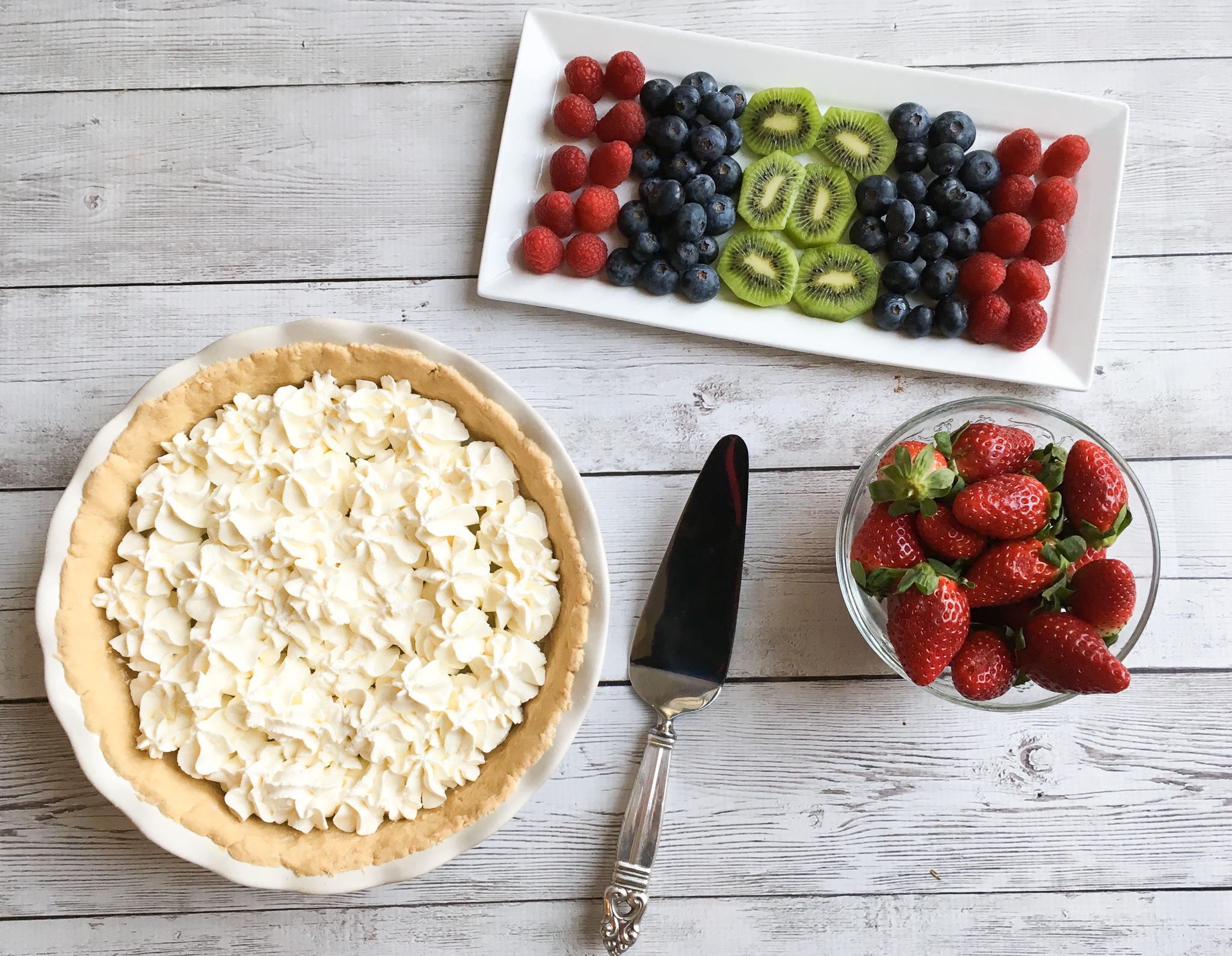 Light tasting, creamy, and absolutely lovely, this low-FODMAP Vanilla Pie with Cookie Crust is the perfect dessert for a summertime (or anytime) gathering.  You can top it with low-FODMAP coconut whipped cream (like me), or use the meringue topping option for a crown with less fat.   Seasonal low-FODMAP fruit such as berries, kiwi and banana are a beautiful companion to this smooth low-FODMAP Vanilla Pie.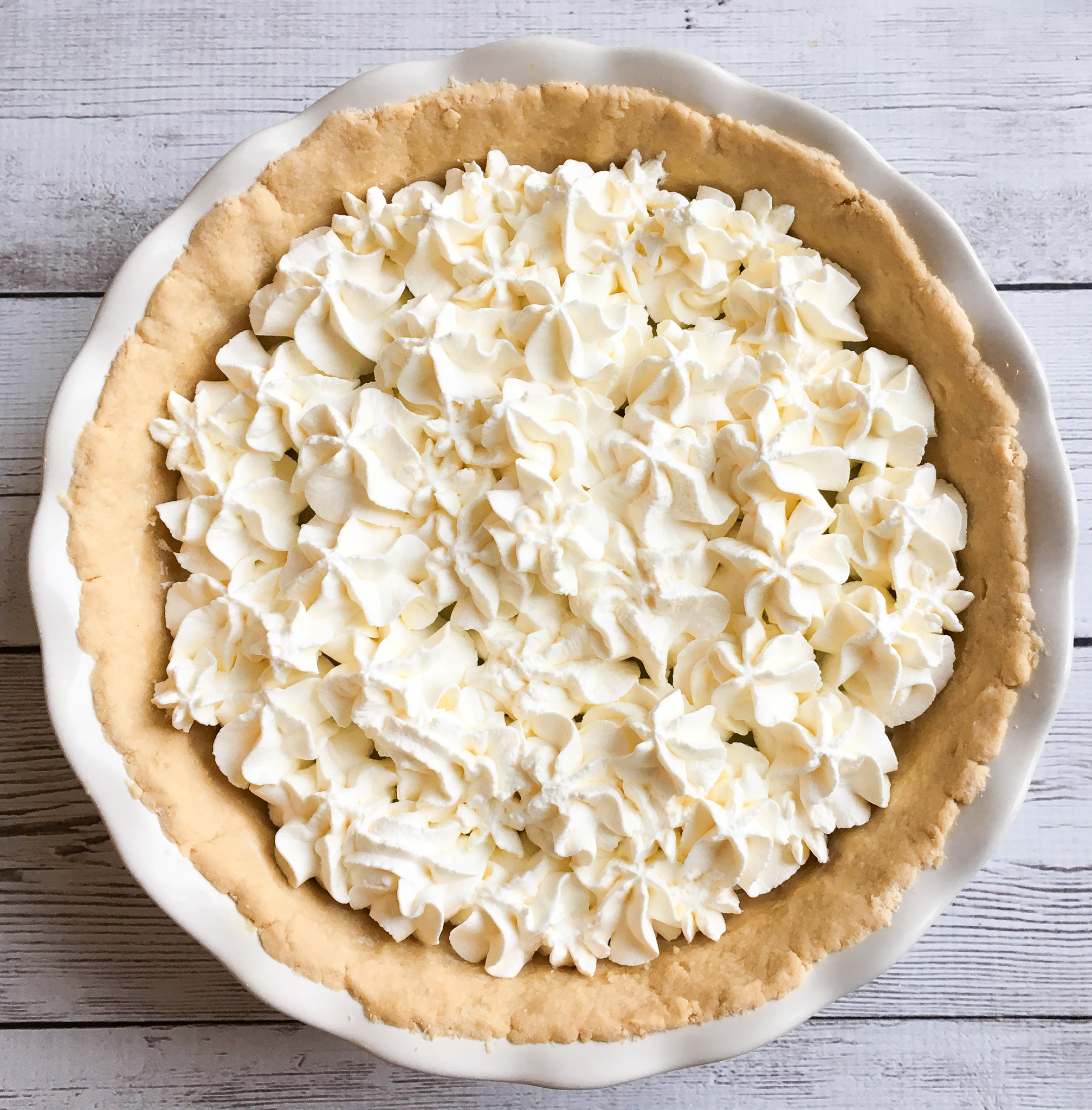 This low-FODMAP Vanilla Pie incorporates crushed cookies into the crust, a simple technique that needs no rolling pin!
However, it would taste delicious with my traditional low-FODMAP pie crust as well.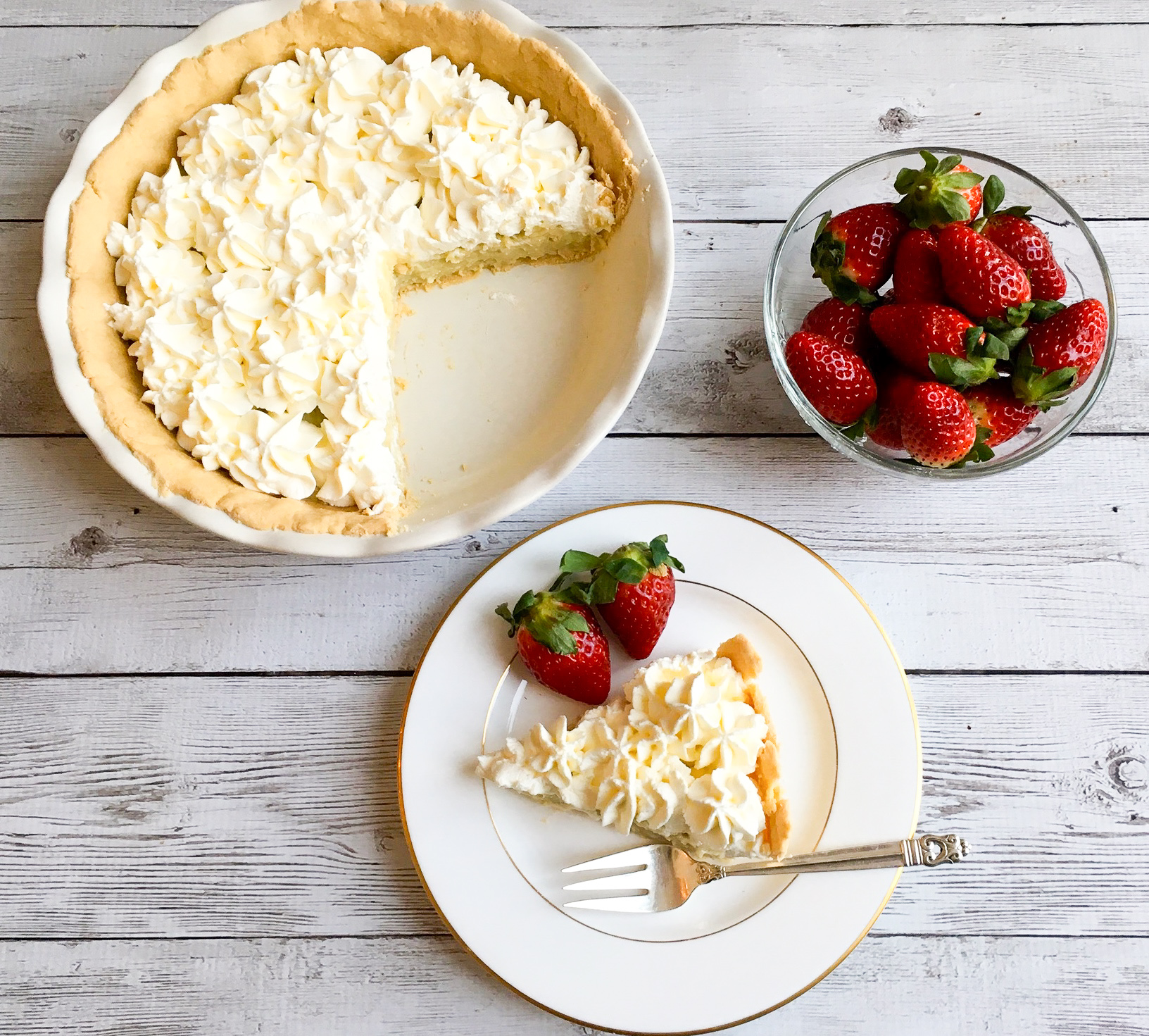 The low-FODMAP vanilla filling is light and fresh tasting, and you can add different flavors such as coconut or caramel, for a slight variation on this low-FODMAP Vanilla Pie.  Although it is made with coconut cream, the pie custard is velvety vanilla tasting and so delicious.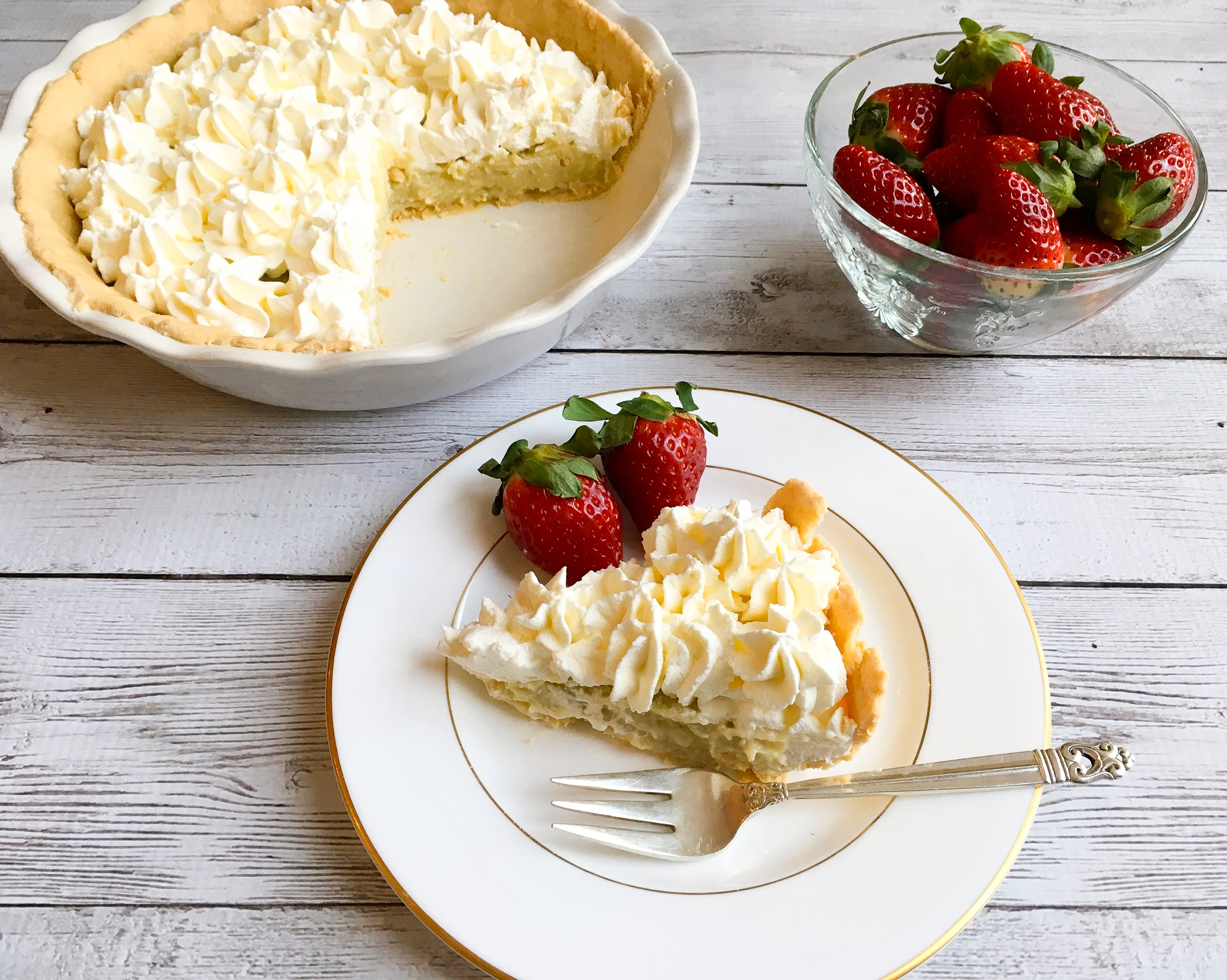 If you are looking for a way to use up the egg whites from this recipe- try my amazing low-FODMAP meringue cookies.  These freeze great and taste unbelievable! You may also love my low-FODMAP Pavlova, low-FODMAP Vanilla Custard and low-FODMAP Chocolate Pie recipes.  Or check out over 300 more low-FODMAP recipes on the blog.  IBS-friendly!
Be healthy and happy,
Rachel Pauls, MD
---
Low-FODMAP Vanilla Cream Pie with Cookie Crust; Gluten-free, Dairy-free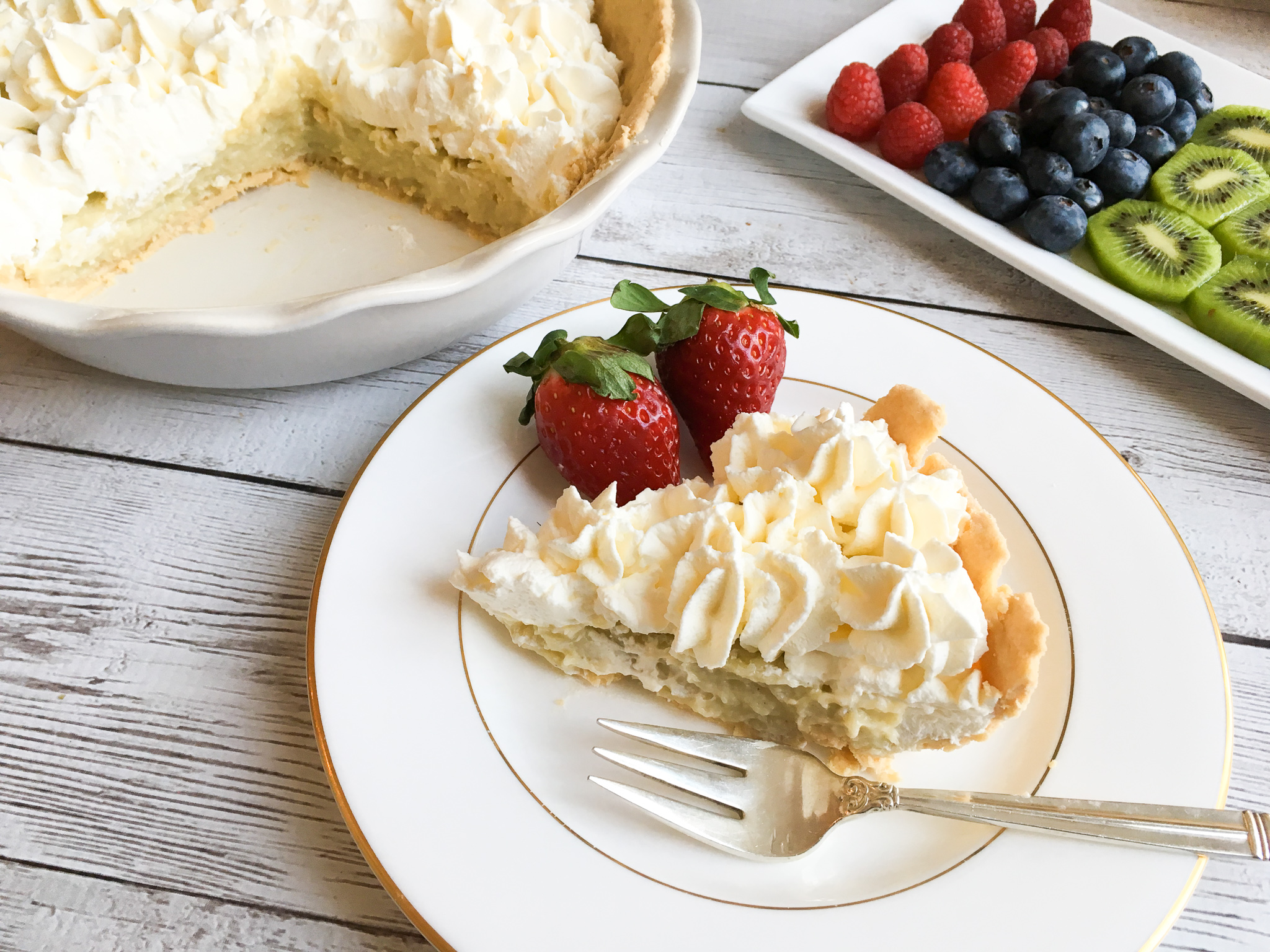 Although this recipe has not been tested, a single serving should be low-FODMAP based on the ingredients
Serves 10 or more
Prep time 60 minutes
Bake time 30 min; (10 minutes for crust, 15 minutes for meringue)
Bake 350 F
Ingredients
For low-FODMAP cookie crust base
About 25 gluten free vanilla cream cookies (300 g box), with filling, crushed into crumbs

I used Glutino Vanilla Cream Sandwich Cookies
These contain: Tapioca Flour, Rice Flour, Confectioner's Sugar, Sugar, Palm Oil, Tapioca Syrup, Cassava Flour, Egg Whites, Water, Natural Vanilla Flavor, Potato Flour, Soy Lecithin, Salt, Xanthan Gum, Sodium Bicarbonate, Colored with Beta Carotene

3 tablespoons coconut oil , melted
For low-FODMAP vanilla custard filling
3 tablespoons cornstarch or tapioca starch
14 ounces canned coconut cream (this is NOT the same as 'cream of coconut')

Depending on your brand of coconut cream you may need more than one can
I discarded all the water from the can and saved it for other uses
Can also use canned coconut milk and skim the cream from the top of 2 chilled cans
2 ounces of canned coconut milk is one low-FODMAP serving (due to levels of sorbitol)
Check out my low-FODMAP Grocery Shopping Blog for my preferred brands!

1/2 cup granulated sugar, divided
4 egg yolks, beaten
1 vanilla bean pod, prepared with seeds scraped out
1 teaspoon vanilla extract

if desired, you could omit the vanilla bean flavoring and opt to include caramel or coconut extract for a different style of pie
For meringue topping (option)
3 egg whites
¼ teaspoon cream of tartar
1 teaspoon vanilla
6 tablespoons granulated sugar
For whipped vanilla bean coconut cream topping (option)
Directions
Prepare low-FODMAP cookie crust
Preheat oven to 350 degrees F
Process the vanilla sandwich cookies (whole) in your food processor with steel blade until they form crumbs
Add the melted coconut oil a tablespoon at a time and process until combined and the correct consistency

should be soft enough to press out, but not mushy or greasy
3 tablespoons was the correct amount for my cookies
if you accidentally make the dough too greasy, you can add a little bit of low-FODMAP gluten free flour to thicken it up

Transfer the crumbs to a 9-inch pie plate or springform pan
Press the crumbs evenly into the bottom and up the sides of the pan, forming a crust

use the bottom of a measuring cup or a small glass to help press out the bottom

Refrigerate the pie crust for 20 minutes prior to baking
Bake for 10 minutes, until the crust is fragrant and set
Cool on a wire rack while the low-FODMAP vanilla custard filling is prepared
You can freeze the crust if desired until a later date, cover with wax paper and plastic wrap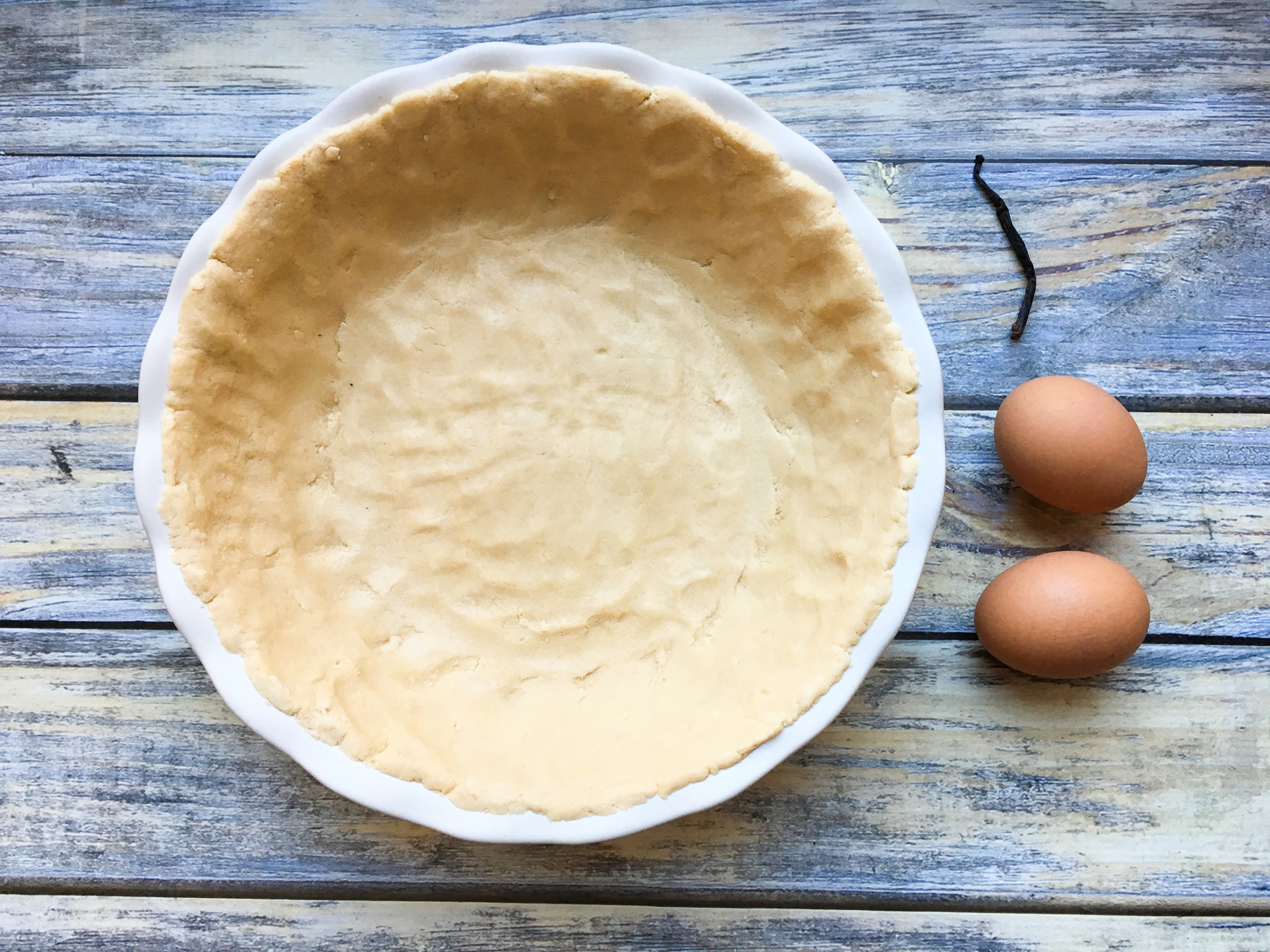 Prepare low-FODMAP Vanilla Custard Pie Filling
Place the coconut cream, vanilla bean pod and seeds, and 3 tablespoons of the sugar in a medium saucepan and set aside
Stir together the remaining sugar and cornstarch in a small bowl
Whisk the yolks thoroughly in a second large-sized bowl for about 30 seconds, until slightly thickened
Add the cornstarch mixture to the egg yolks and whisk until the mixture is glossy and the sugar has begun to dissolve, about 1 minute
Place your saucepan with the coconut cream mixture on the stove and bring to a simmer over medium heat, stirring constantly with a wooden spoon to dissolve the sugar
When the coconut cream liquid in the saucepan reaches a full simmer, drizzle about ½ cup hot coconut cream, 1 tablespoon at a time over the prepared egg yolks, whisking constantly to temper; then whisk the egg yolk mixture into the simmering coconut cream
Return the pot to the stove, and bring back to a simmer, whisking constantly, until 3 or 4 bubbles burst on the surface and mixture is thickened and glossy, about 5 minutes longer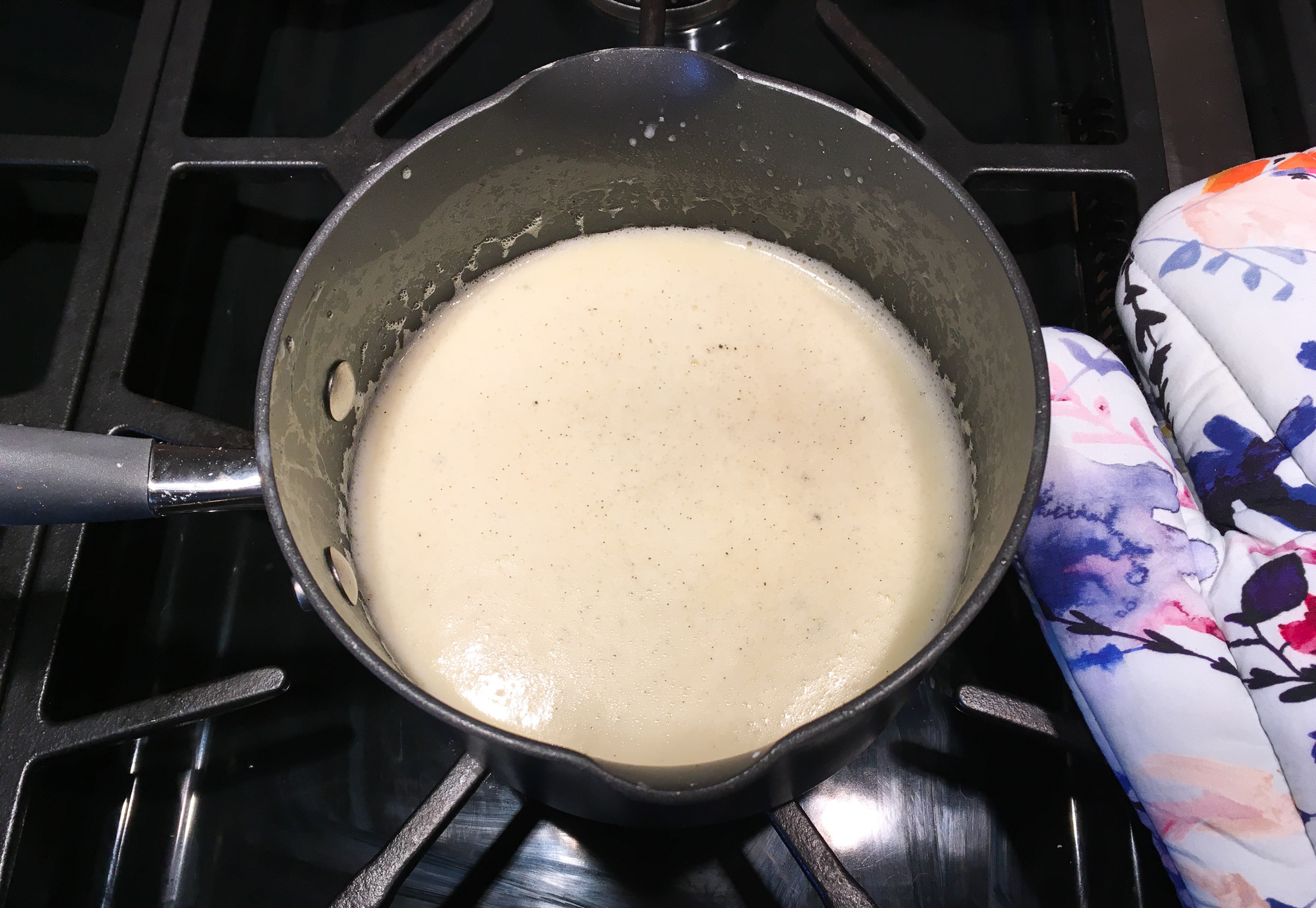 Remove from heat
Off the heat, remove the vanilla bean pod and stir in the vanilla extract
Cool slightly (stirring occasionally), about 20 minutes
Pour into prepared pie crust
Can proceed to next steps, or cover the custard with saran wrap in contact with the surface and refrigerate until ready for low-FODMAP coconut whipped cream or the alternative low-FODMAP meringue topping (not shown)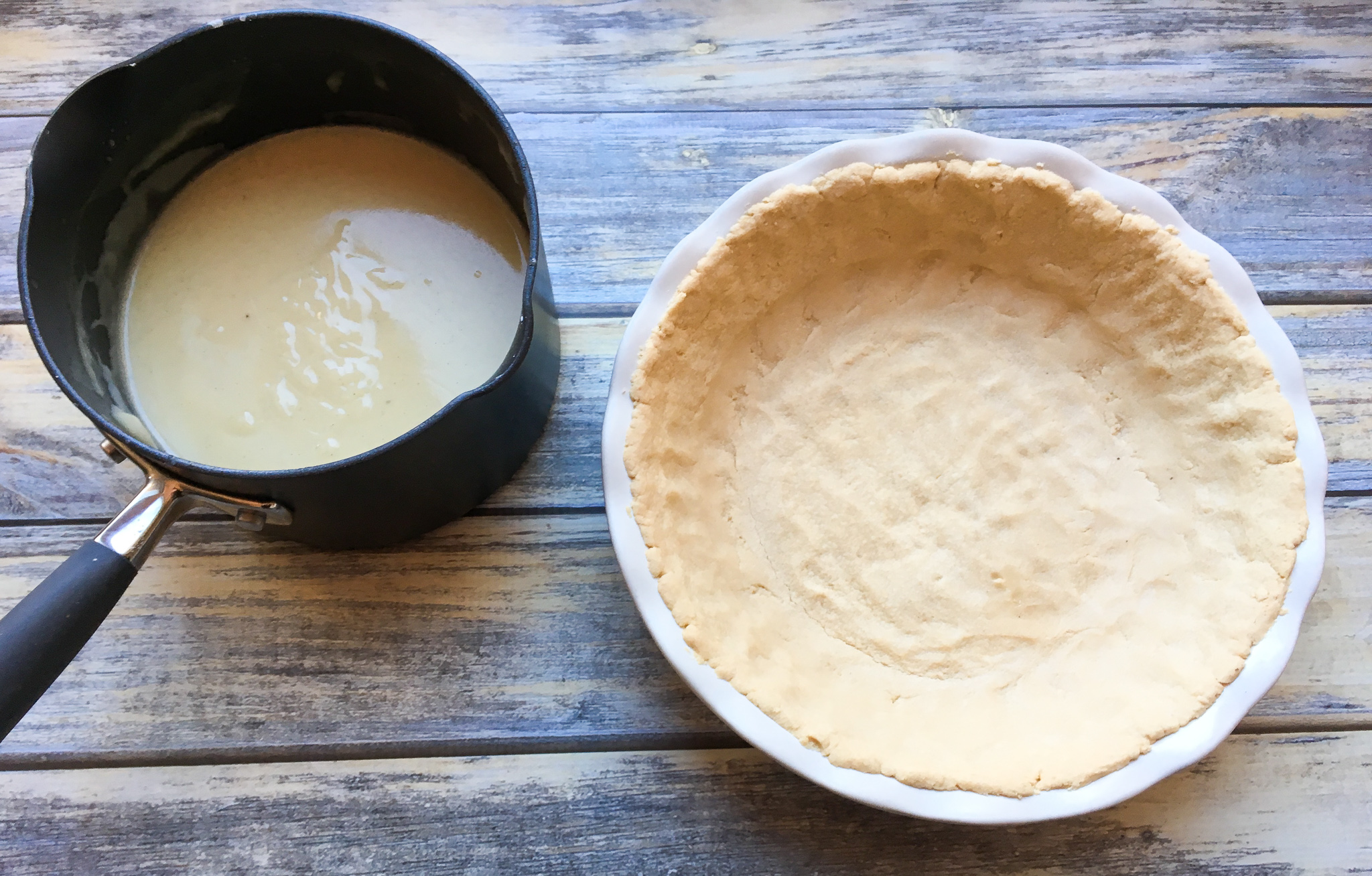 Prepare low-FODMAP meringue (if desired)
Beat 3 egg whites in stand mixer with whisk attachment with cream of tartar and vanilla
Gradually add 6 Tbsp sugar till soft peaks form
Spread on top of pie
Bake at 350 F  for 12 to 15 minutes until set
Alternative: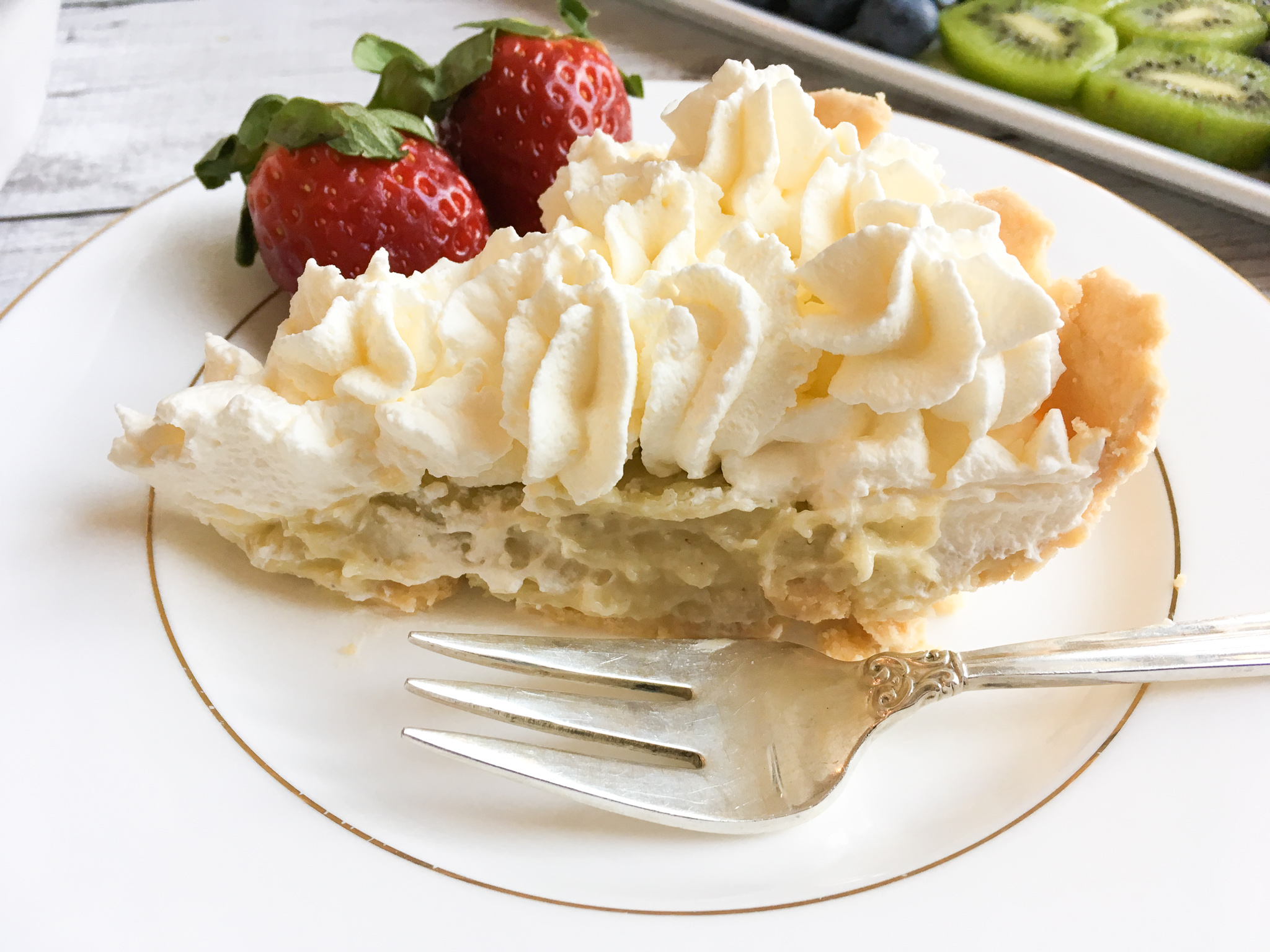 Low-FODMAP Vanilla Pie is the perfect dessert!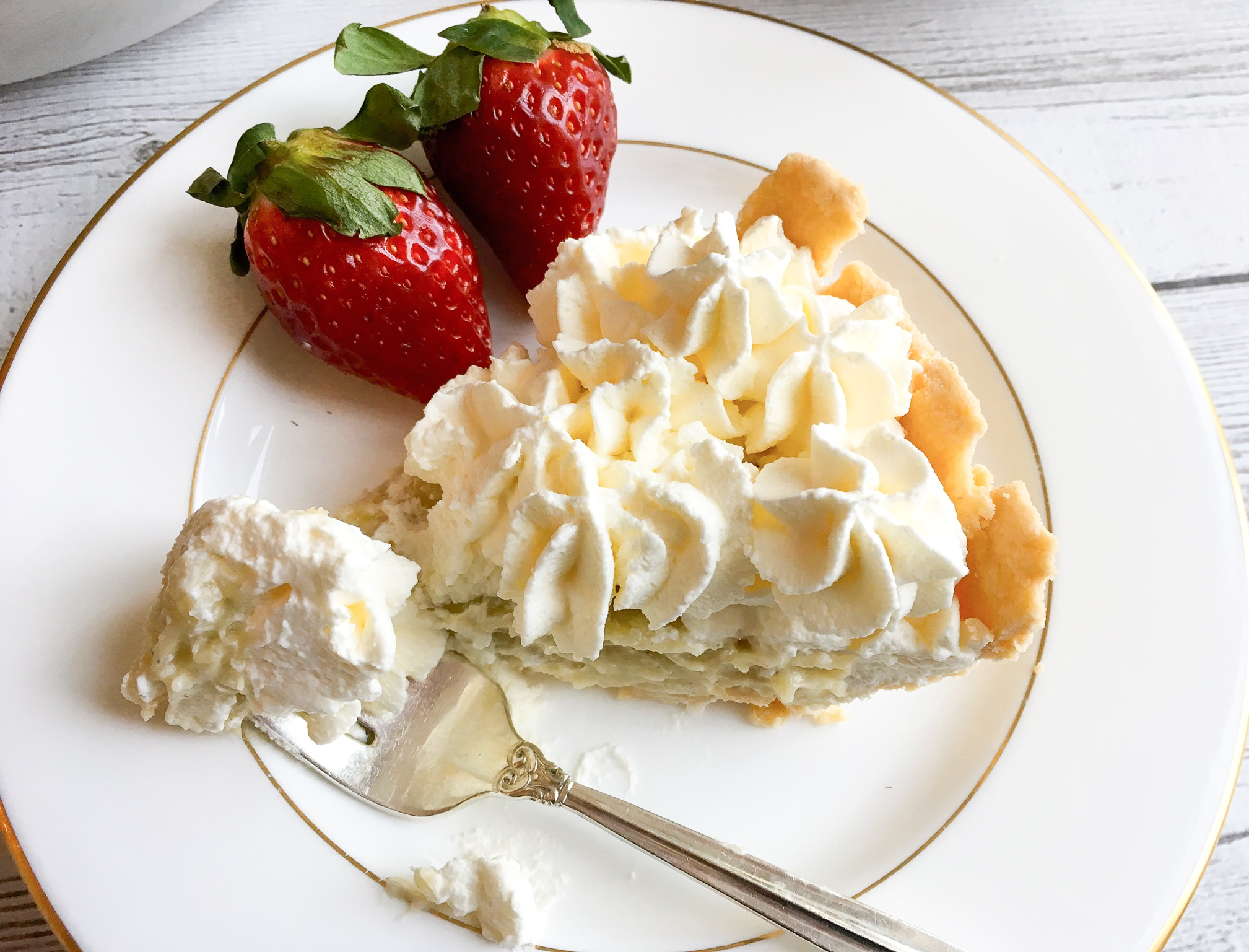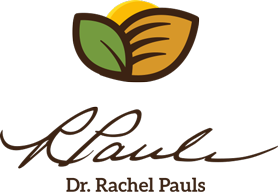 Printer Friendly Version
Comments Rating
( reviews)