Kid's Favorite Low-FODMAP Crispy Sticky Honey Chicken; Gluten-free, Dairy-free
April 28, 2022
Printer Friendly Version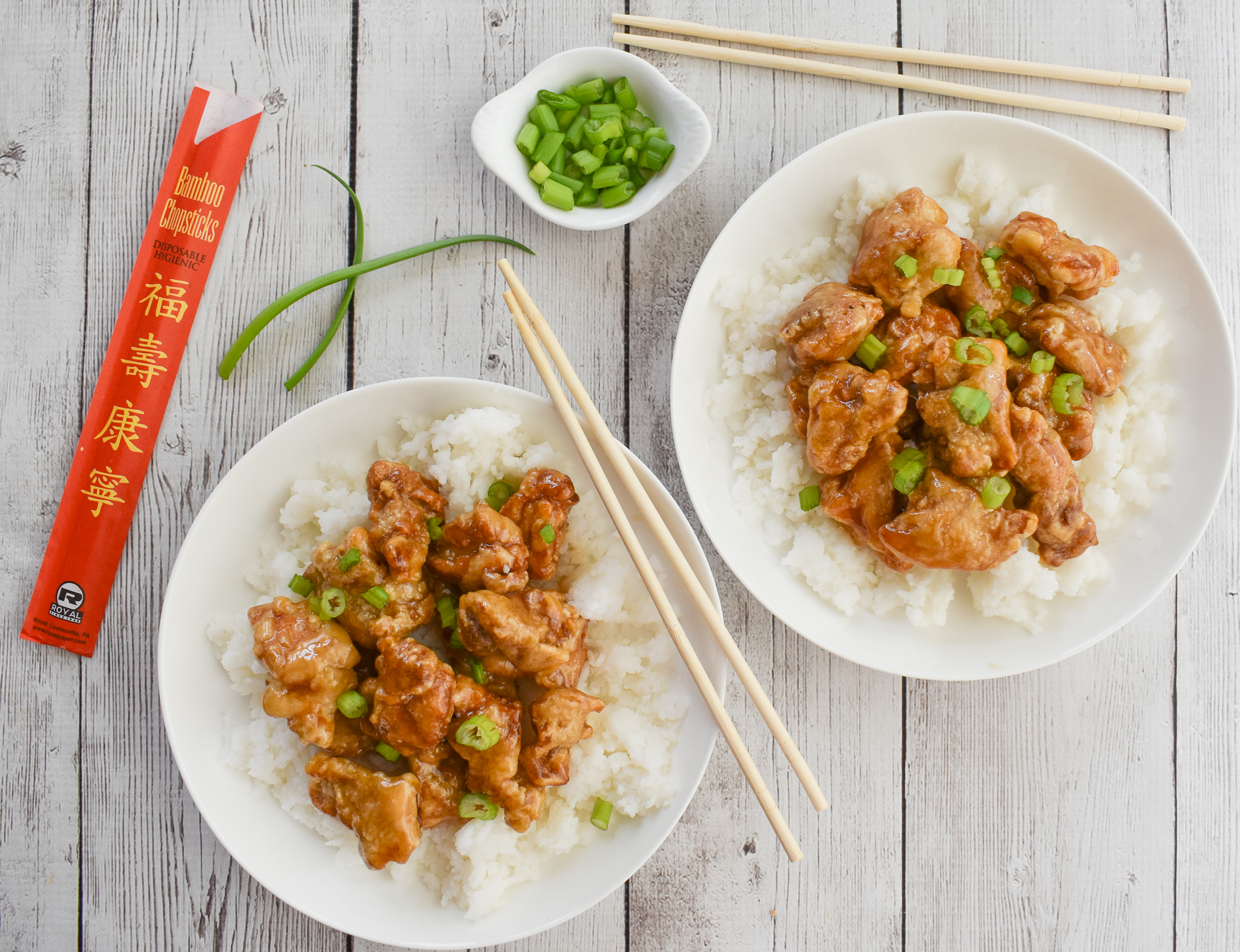 I had a craving.  For a Chinese meal that would bring me back to the past.
Extra crispy.
Sweet.
Sticky.
Candy tasting chicken.
With a honey inspired sauce.
Can this really be low-FODMAP?
YES!
FODMAP fact: 1 teaspoon of honey is one low-FODMAP serving
Note: If high fat foods trigger your IBS symptoms, please test this recipe for your personal tolerance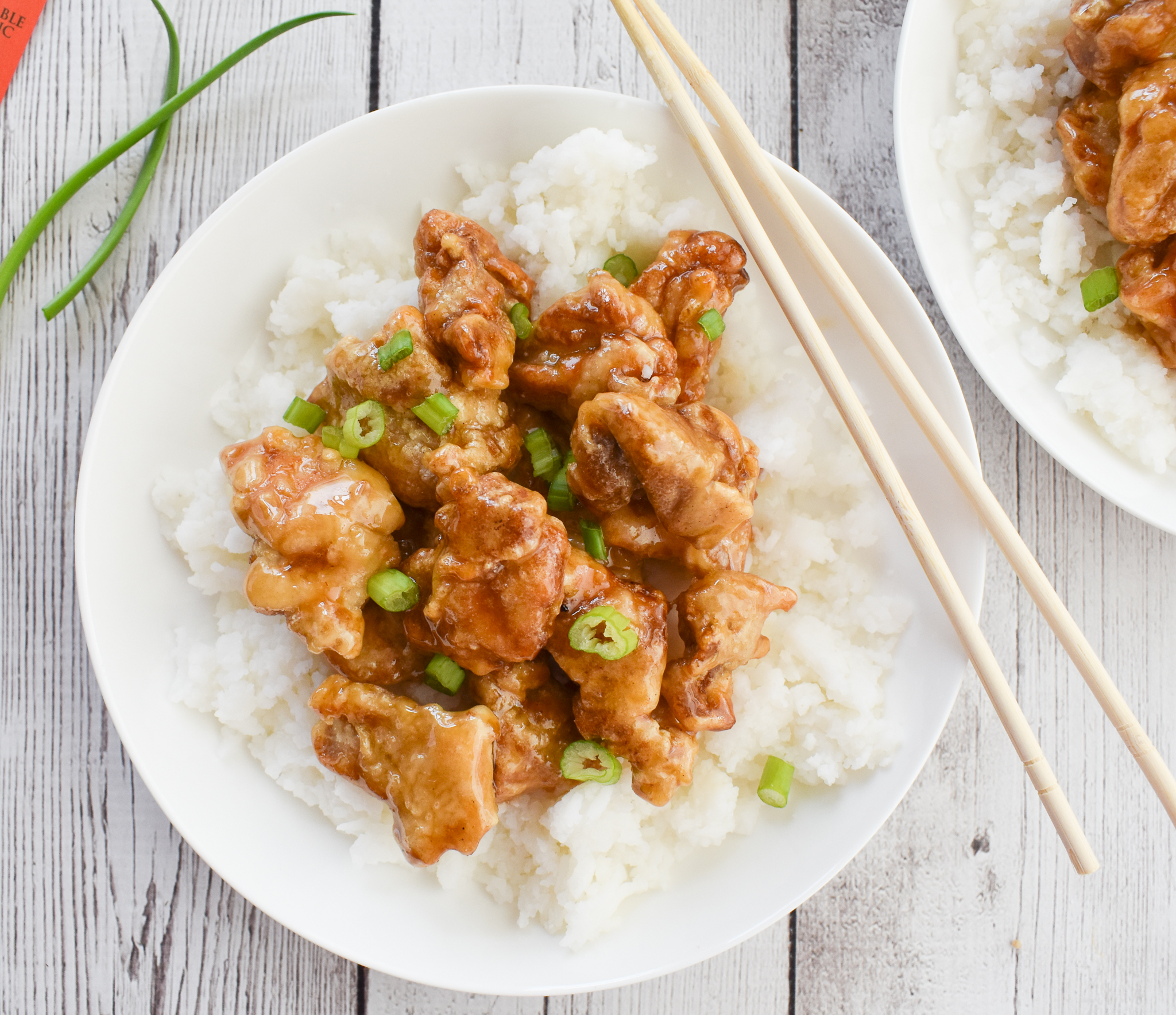 It's a labor of love to double fry this chicken, but once you're done, and enjoying it's crispy goodness in the sticky, sweet sauce you will understand why.  This is a recipe for the kid in all of us.
You may also love:
Or check out over 450 more low-FODMAP recipes on the blog.  IBS-friendly!
Be healthy and happy,
Rachel Pauls, MD
P.S.  Check out my new COOKBOOK for over 100 low-FODMAP recipes, low-FODMAP Meal Plan, FODMAP Tips and everything you need!!  It's the BEST!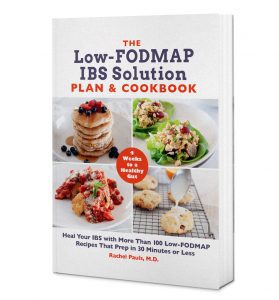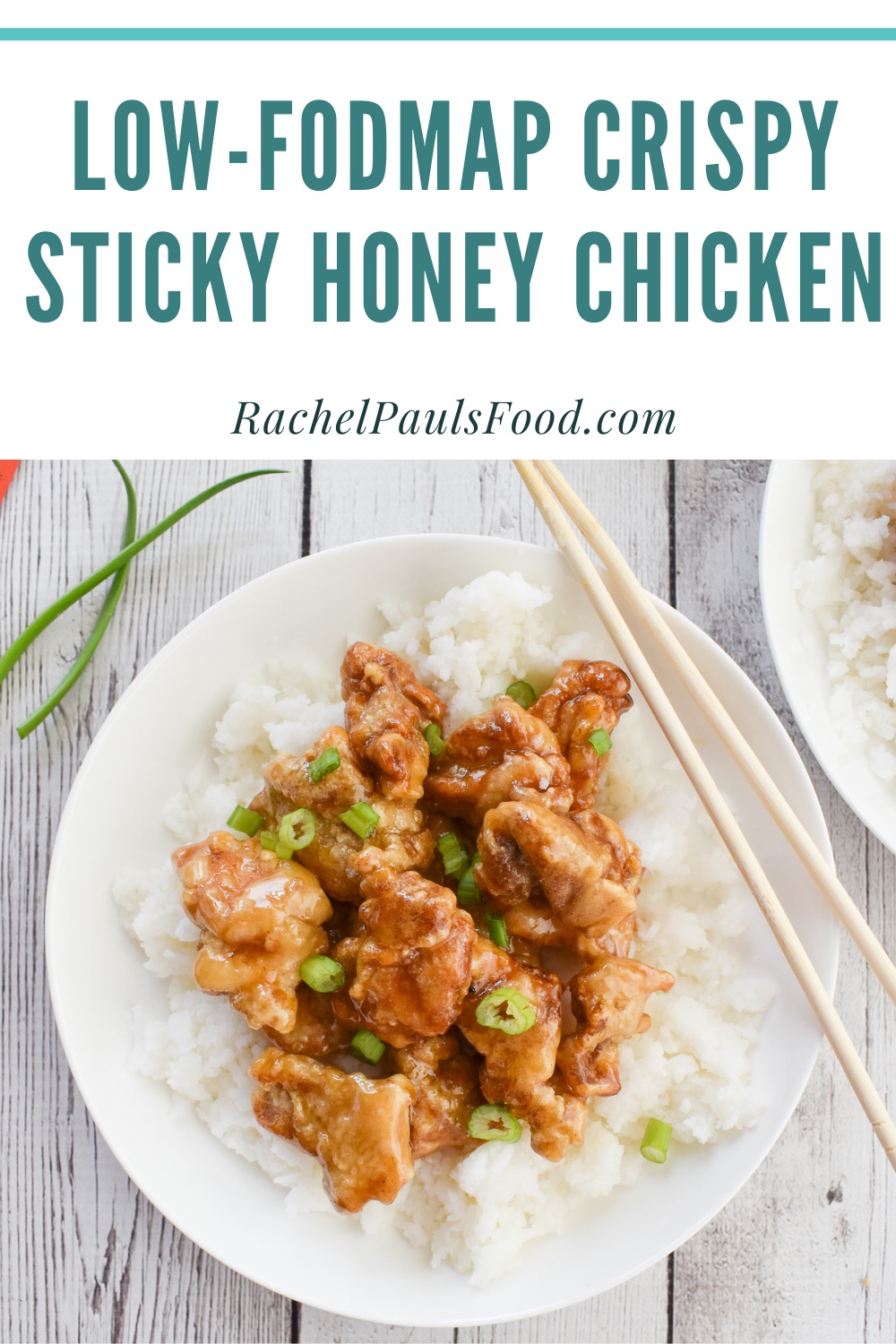 Although this recipe has not been lab tested, a single serving should be low-FODMAP based on the ingredients *using available FODMAP data at time of posting.  However, fat may be a gut trigger, avoid high fat foods if it flares your IBS.
Serves: 4
Prep time: 30 min plus 30 min marinating
Cook time: 45 min
Total time: 1 H 15 min (plus 30 min marinating)
Equipment: mixing bowls, cooking thermometer, wire rack, spatter guard, large deep pot for frying
Modified from: recipetineats.com
Ingredients
For low-FODMAP Chicken and Crispy Batter:
16 ounces boneless, skinless chicken thighs, cut into 1 inch chunks

I suggest chicken thighs so they stay tender, I don't recommend double frying chicken breasts
Using kitchen shears makes cutting chicken so much easier!

1 tablespoon soy sauce (I use low-sodium, gluten-free if necessary)
2 teaspoons Chinese cooking wine
1 cup plus 2 teaspoons cornstarch; divided
1/4 cup low-FODMAP, gluten-free, all-purpose flour
1/4 teaspoon baking powder
1/4 teaspoon kosher salt
1/2 cup club soda or soda water, chilled
Your preferred oil for deep frying (about 2 cups)

You will need an oil with a high smoke point, such as canola or peanut oil.  Olive oil is not recommended
For low-FODMAP Honey Sauce:
Note: This sauce is very sweet.  If you like it less sweet, then add up to 1 tablespoon of apple cider vinegar.  For a little kick, add a bit of hot sauce!
4 teaspoons honey

1 teaspoon is one low-FODMAP serving (avoid clover honey)

6 tablespoons light corn syrup
1 tablespoon soy sauce (I use low-sodium, gluten-free if necessary)
2 teaspoons Chinese cooking wine
For Garnish and Serving
Rice or rice noodles, prepared
Green scallion tips (avoid the bulbs)
Directions
Place low-FODMAP flour, baking powder and salt in a large mixing bowl and place in the fridge to chill (chilled batter fries better)
In a second medium sized bowl, combine 2 teaspoons of cornstarch, 1 tablespoon soy sauce and 2 teaspoons Chinese cooking wine for the marinade
Toss the chicken pieces in this mixture, then place the bowl in your fridge for 30 minutes, turning pieces after 15 minutes to coat
Prep a shallow bowl or plate with 1/2 cup of cornstarch
Remove your flour bowl from the fridge. Add remaining (second) 1/2 cup of cornstarch, then mix in the club soda a little at a time until the batter is thin enough to coat the chicken, but not watery (you may not need all the club soda, but save it for later)
Place a large pot or saucepan on your stovetop with about 2 inches of oil
Heat oil to 350F over medium high, you may want to use a thermometer
Have a spatter guard or lid available, and set up a wire rack to lay your cooked chicken pieces, over a paper towel or tray
Once oil is heated, begin prepping your chicken pieces
Remove chicken from marinade and discard it.  Dredge chicken pieces lightly in the first cornstarch mixture, then dip in the batter mixture and place in the heated oil. You may want to work in batches since the oil will cool down with added pieces.  You will double fry all the chicken by the end of the cooking
Cook for about 3 minutes until light golden and crispy
Place on rack, repeat with remaining chicken.  Thin your batter as needed with any remaining club soda
Allow chicken to cool before you fry again (about 15 minutes)
While this is cooling, you can prepare your sauce
Place low-FODMAP Honey Sauce ingredients in a large saucepan or pot over medium heat (big enough for your chicken pieces)
Bring to simmer, then leave to simmer for 3 minutes, adjusting heat as necessary. It should thicken but still be thin enough to pour easily
Set aside to stay warm off the hot burner
Increase heat under oil and bring temperature of oil to 390F
Add in about half the already fried chicken
Cook for 90 seconds until it changes from pale golden to very golden (but not too dark so it stays moist inside)
When done, transfer to rack and repeat with remaining chicken
When all the chicken is fully crisped, place into the pan with your honey sauce and toss lightly to coat
Serve over rice or rice noodles, garnished with green scallion tips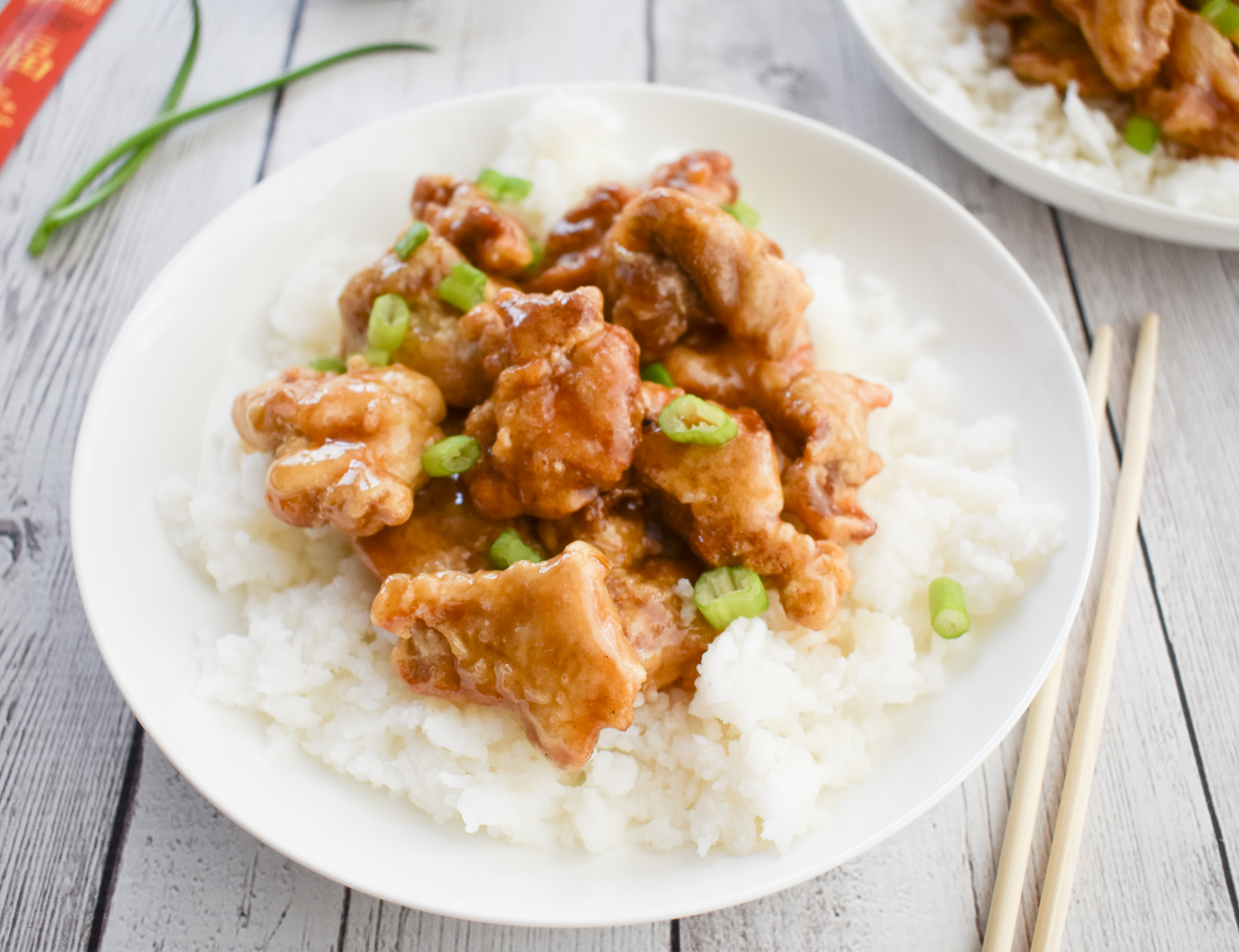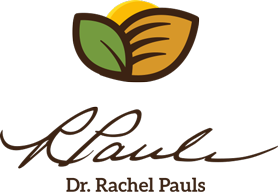 Printer Friendly Version
Comments Rating
( reviews)