Irresistible Low-FODMAP White Chocolate and Party Mix/Trail Mix/Snack Mix/Chex Mix Recipes; Gluten-free, Vegan
August 14, 2017
Printer Friendly Version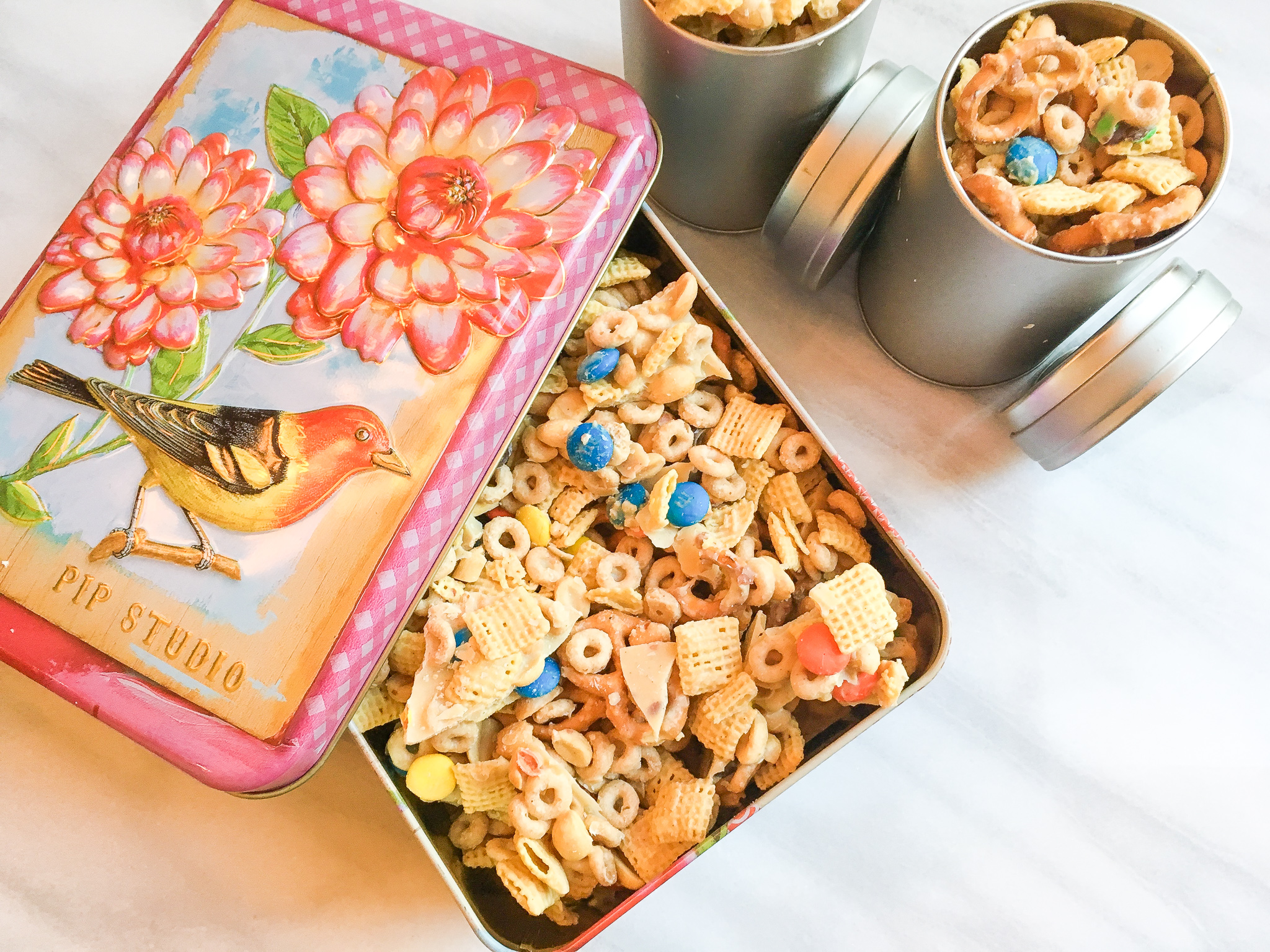 Here it is…a recipe for low-FODMAP White Chocolate PLUS my low-FODMAP White Chocolate Party Mix recipe!
Let me tell you, this low-FODMAP White Chocolate Party Mix is completely irresistible.
Plus, it is really very simple.  I'm not lying to you.  Don't be intimidated by the idea of making your own chocolate (Ok, I was before I tried it).  But there are only 5 ingredients in the low-FODMAP White Chocolate.  That's it.  Five.  You may not have food-grade cocoa/cacao butter hanging out in your pantry, but it is easy to order from Amazon in a pinch.  Love that!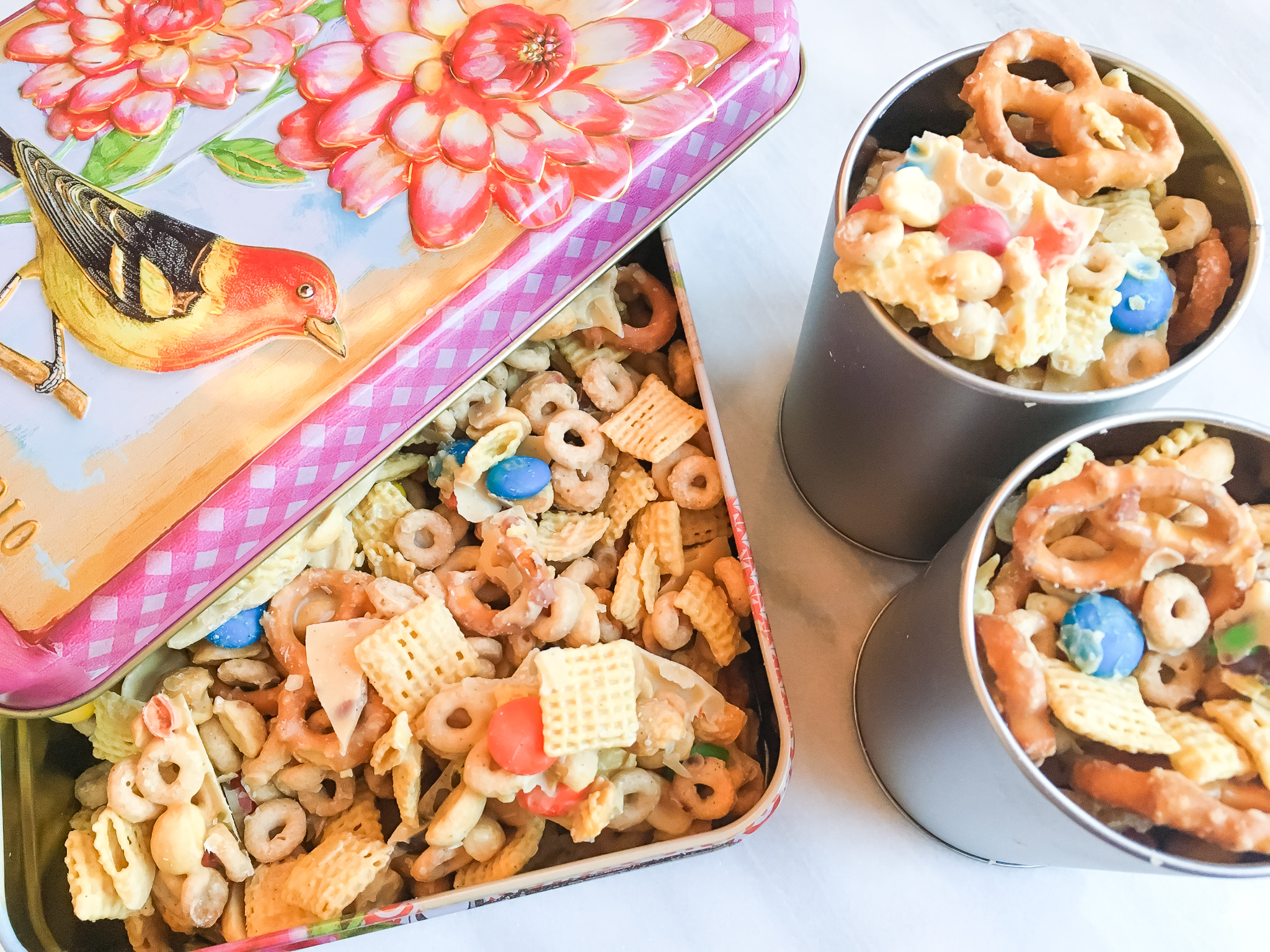 To make, this takes about 30 minutes (the rest of the time is cooling, etc).  I did it last night at about 5 pm in the middle of fixing dinner and all the other craziness.  Piece of cake (or piece of low-FODMAP white chocolate, ha).
The other part of the recipe, the 'low-FODMAP Party Mix', is just getting stuff to pour the low-FODMAP white chocolate on and stirring. Like I said, easy peasy.  But irresistible.
Now, its true-  white chocolate isn't 'really' chocolate (technically, it doesn't have cocoa/chocolate in it). And for 99% of recipes, I am sticking to my semisweet companion for its dark and smoky, sultry taste. However, when it comes to a sugary, smooth coating for this low-FODMAP party mix/trail mix/snack mix/Chex mix (how many names does this irresistible treat have?),  I believe white chocolate is superior to any other.
The perfect concoction of sweet, salty and crunchy, I missed this snack when I took white chocolate out of my diet.
So, I looked at vegan white chocolate brands, to recreate the tasty treat. But the options are scant and I was unenthused with the ingredient lists, quality, and cost. I decided to make it myself.
And voila! Here is the low-FODMAP white chocolate recipe, and then the accompanying low-FODMAP party/trail/snack/Chex mix recipe. You can easily double or triple the recipe for the holidays.  It is also gluten-free AND vegan.  Makes the BEST stocking stuffer.  Your friends and family will love this!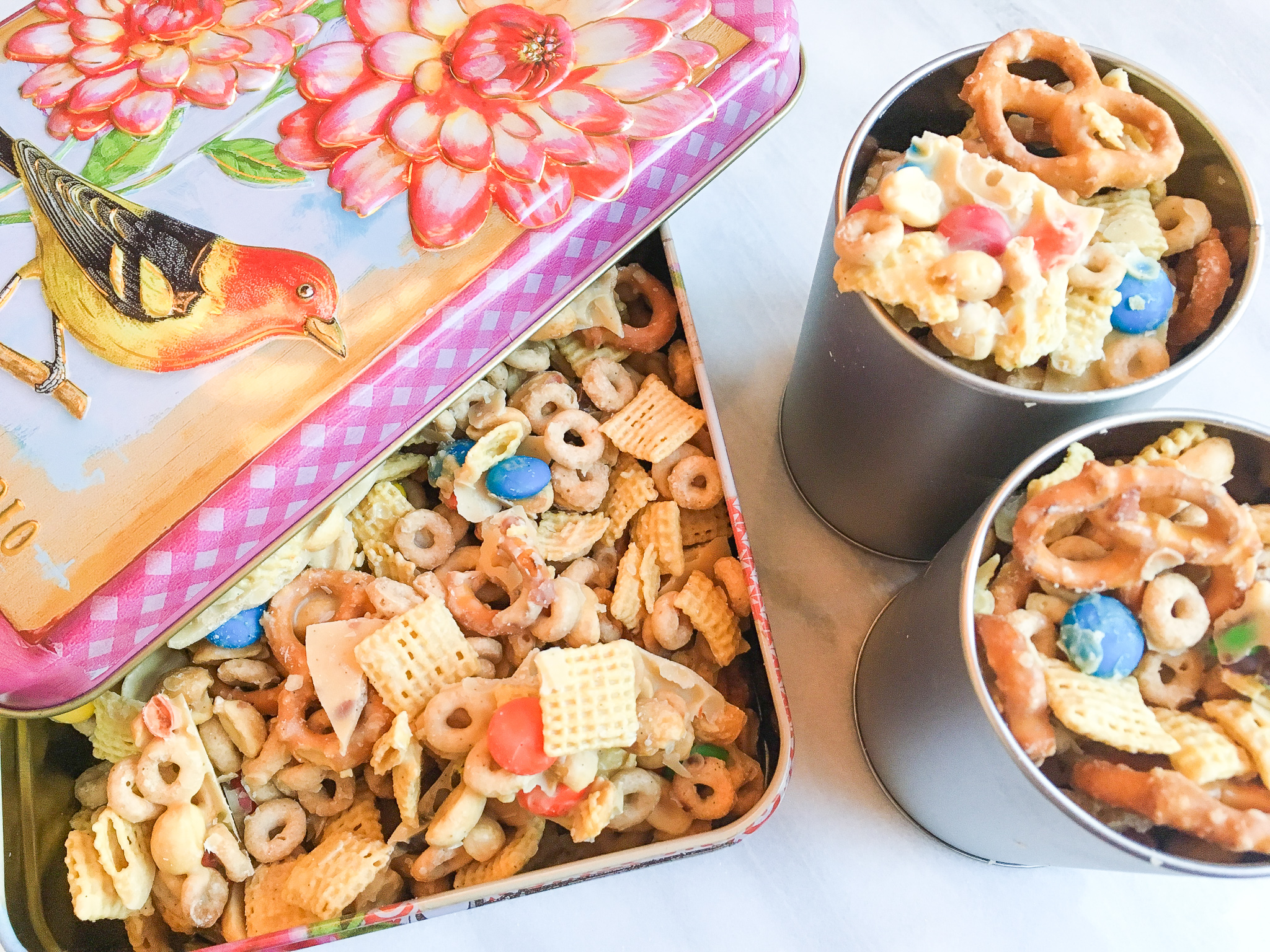 I used dark chocolate M&M's, but heads up- these do contain scant amounts of milk, thus for true dairy-free low-FODMAP indulgence, try almonds, pecans, or dried cranberries for a little color, or semi-sweet chocolate chips.
Try this low-FODMAP White Chocolate in my low-FODMAP White Chocolate Rainbow Bark or low-FODMAP Chocolate Peppermint Bark recipes,  plus check out over 300 low-FODMAP recipes on the blog!
Be healthy and happy,
Rachel Pauls, MD
---
Low-FODMAP White Chocolate Party Mix/Trail Mix/Snack Mix/Chex Mix: Gluten-free, Vegan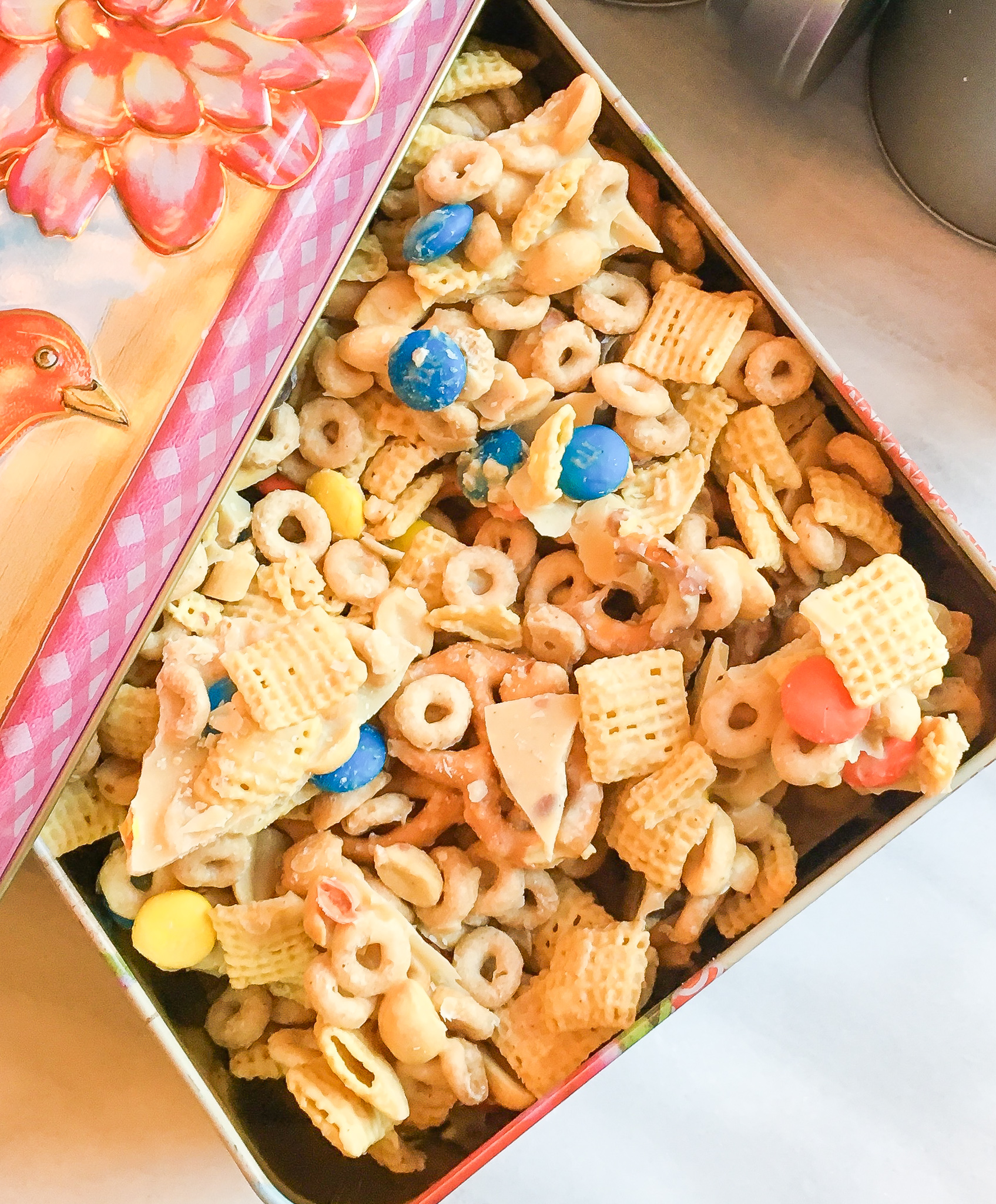 While this recipe hasn't been tested, a single serving should be low FODMAP based on the ingredients
Serves: 16-20
Prep time: 25-30 minutes, plus cooling
Ingredients:
For low-FODMAP white chocolate:
8 ounces food grade cocoa/cacao butter (this smells like heaven!)
2 cups confectioner's sugar
½ teaspoon salt
4 tsp vanilla brown rice protein powder (could also use plain)

Other recipes use powdered milk for this step, the protein powder keeps this recipe vegan 🙂

1 vanilla bean- pod split and beans scraped out
Hint: If using store- bought Low-FODMAP white chocolate- use about 10-12 ounces for this recipe, melted
For mixing:
2.5 cups Corn Chex (gluten-free)

Note: Rice Chex contain molasses

2 cups Cheerios ( or other toasted oat cereal)
1 cup Pretzels, gluten-free (I used Snyder's brand)

Note: Glutino gluten-free pretzels contain soluble corn fiber which may be difficult to digest

1.5 cups salted peanuts, or other low-FODMAP nuts
1 cup dark chocolate M&M's or substitute semi-sweet chocolate chips for dairy-free version

Note: Ingredient list for dark chocolate M&Ms: semisweet chocolate [chocolate, sugar, cocoa butter, skim milk, milkfat, lactose, soy lecithin, artificial flavors, salt], sugar, cornstarch, less than 2% corn syrup, dextrin, coloring [includes blue 1 lake, yellow 6, red 40, yellow 5, blue 1, blue 2, red 40 lake, blue 2 lake, yellow 6 lake, yellow 5 lake] gum acacia
Equipment (helpful, but not vital)
Double boiler
Candy thermometer
Food processor
Immersion blender
Directions
To prepare low-FODMAP White Chocolate:
Use a scale to measure your cocoa butter, and then process in food processor to grate it

Cocoa butter takes longer to melt than ready-made chocolate, so shredding is very helpful. I can't imagine chopping or hand grating this stuff, my processor struggled enough!

This step isn't essential if you don't mind waiting for it to melt a bit longer ( I sometimes skip this step)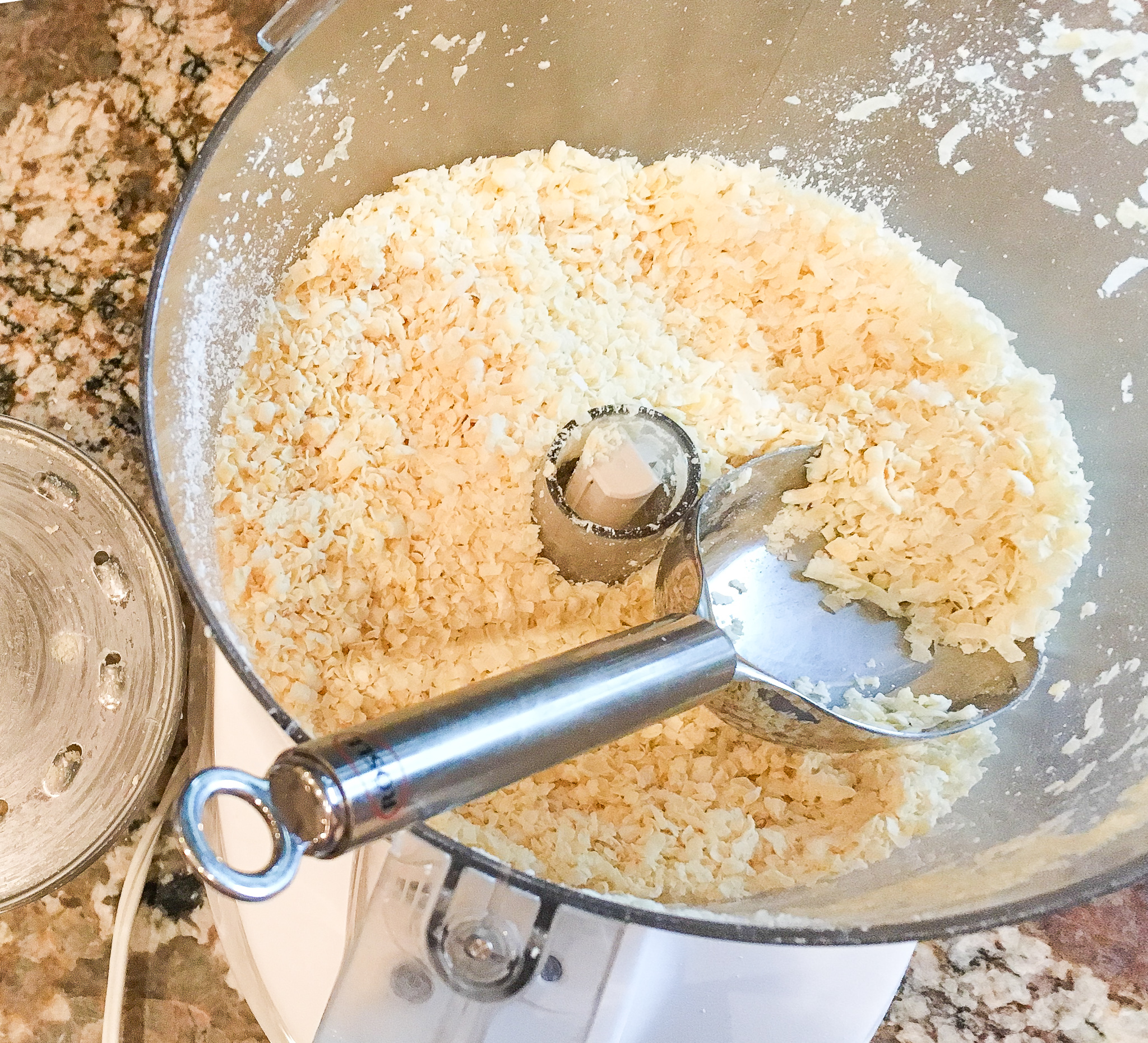 Place your cocoa butter into a double boiler until it melts and reaches a temperature of 120°F (you can try this in microwave, but I used a double boiler)

Beware of any water in your chocolate/cocoa butter

Vanilla extract also may inhibit the performance of this chocolate

Remove the cocoa butter from the double boiler
Add the salt, brown rice protein powder, and vanilla seeds and whisk to incorporate
Gradually add confectioner's sugar (do not attempt regular sugar, it will not mix in well)
Whisk or use an immersion blender to remove all lumps

I usually find it is easy to do just by hand

Check the temperature again. When it reaches about 80°F, carefully heat back up to about 90°F in the double boiler

I found it hard to be this precise and my chocolate turned out great, so don't over-stress but do try to check the temperature for an estimate

Once it has heated up again, remove from heat and get your mix ready!

Alternatively you can spread the chocolate out on a cookie sheet, cool and cut into chunks for storage, or for making low-FODMAP chocolate bark

Note: this low-FODMAP recipe makes white chocolate that is not pure white, mine came out creamy color.  Still tasted amazing
To prepare low-FODMAP White Chocolate Party Mix/Chex Mix/Trail Mix:
Put all mix ingredients in a large bowl
Cover with low-FODMAP white chocolate and stir to combine and coat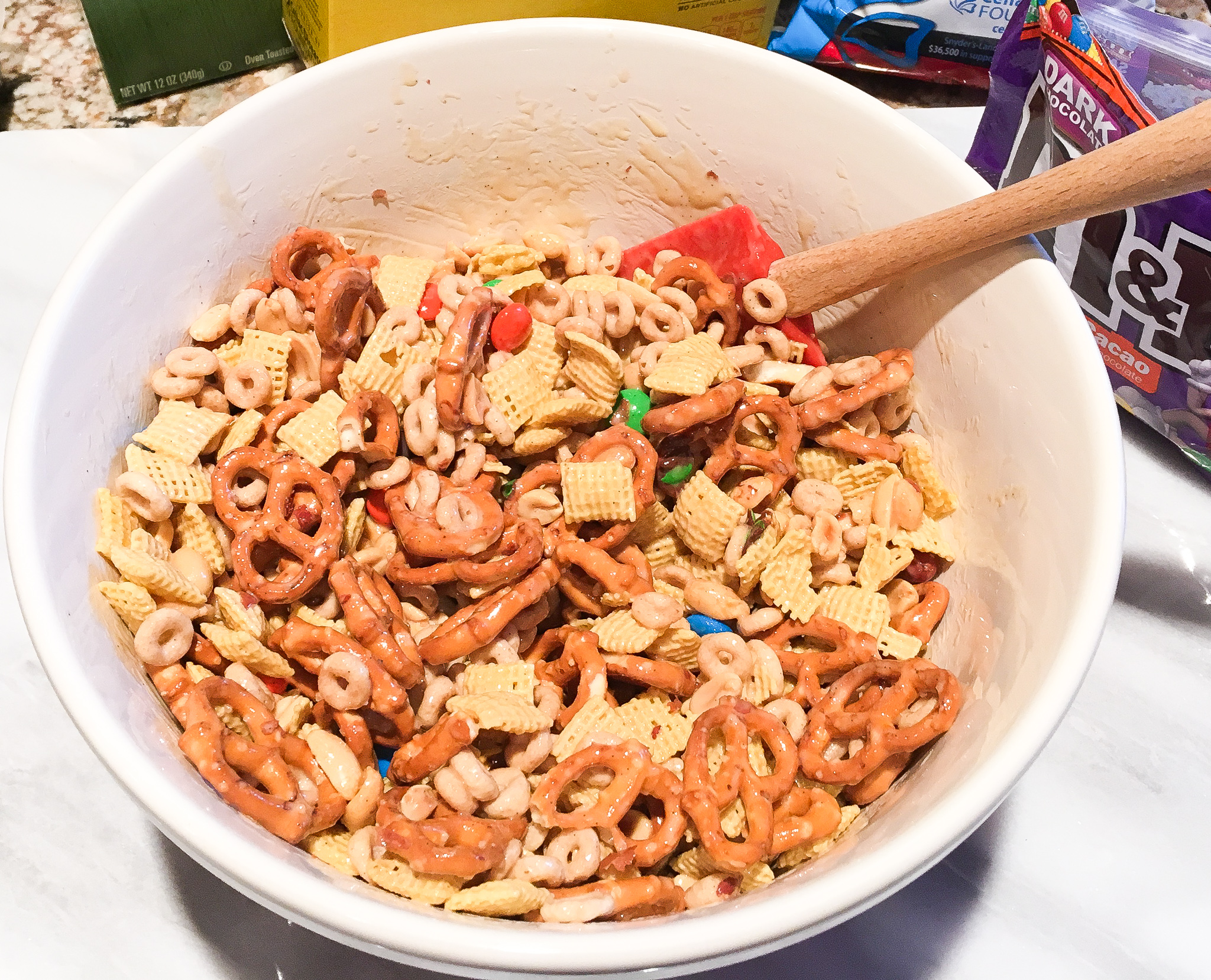 Spread onto cookie sheet and cool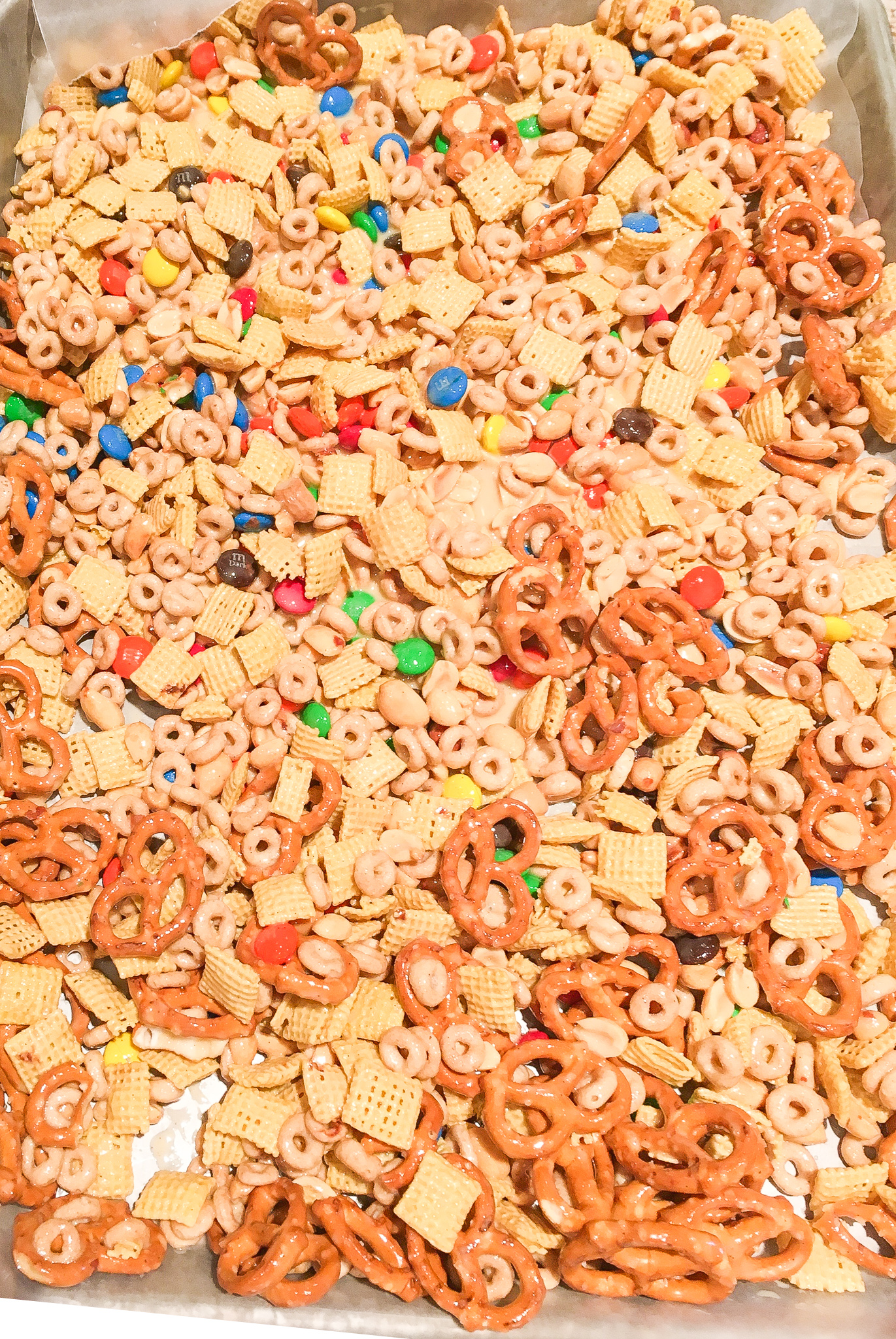 Break apart when cool and store in an airtight container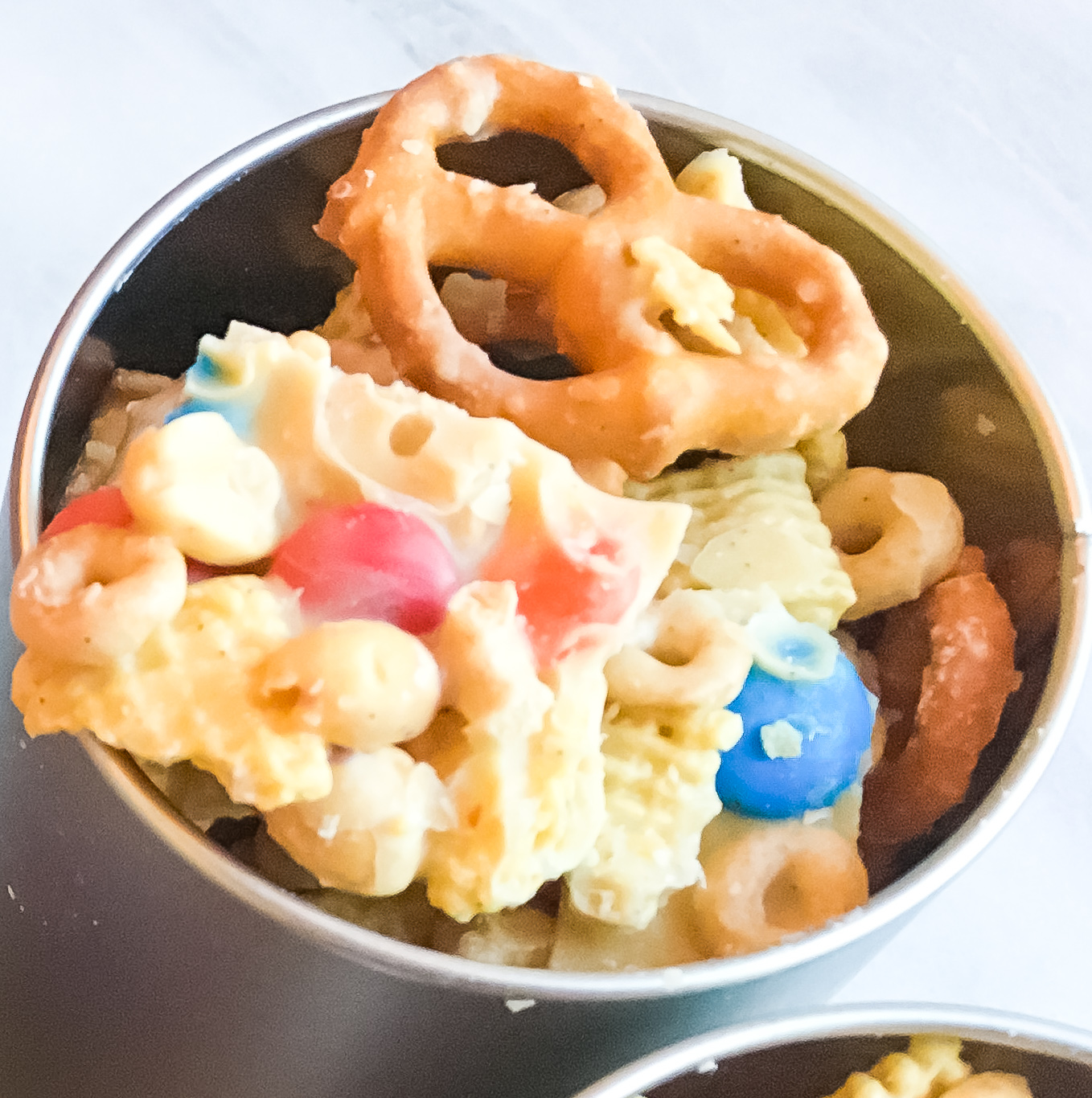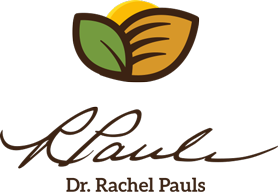 Printer Friendly Version
Comments Rating
( reviews)