Intensely addictive Low-FODMAP Granola/Trail Mix recipe; Gluten-free, Vegan
December 9, 2016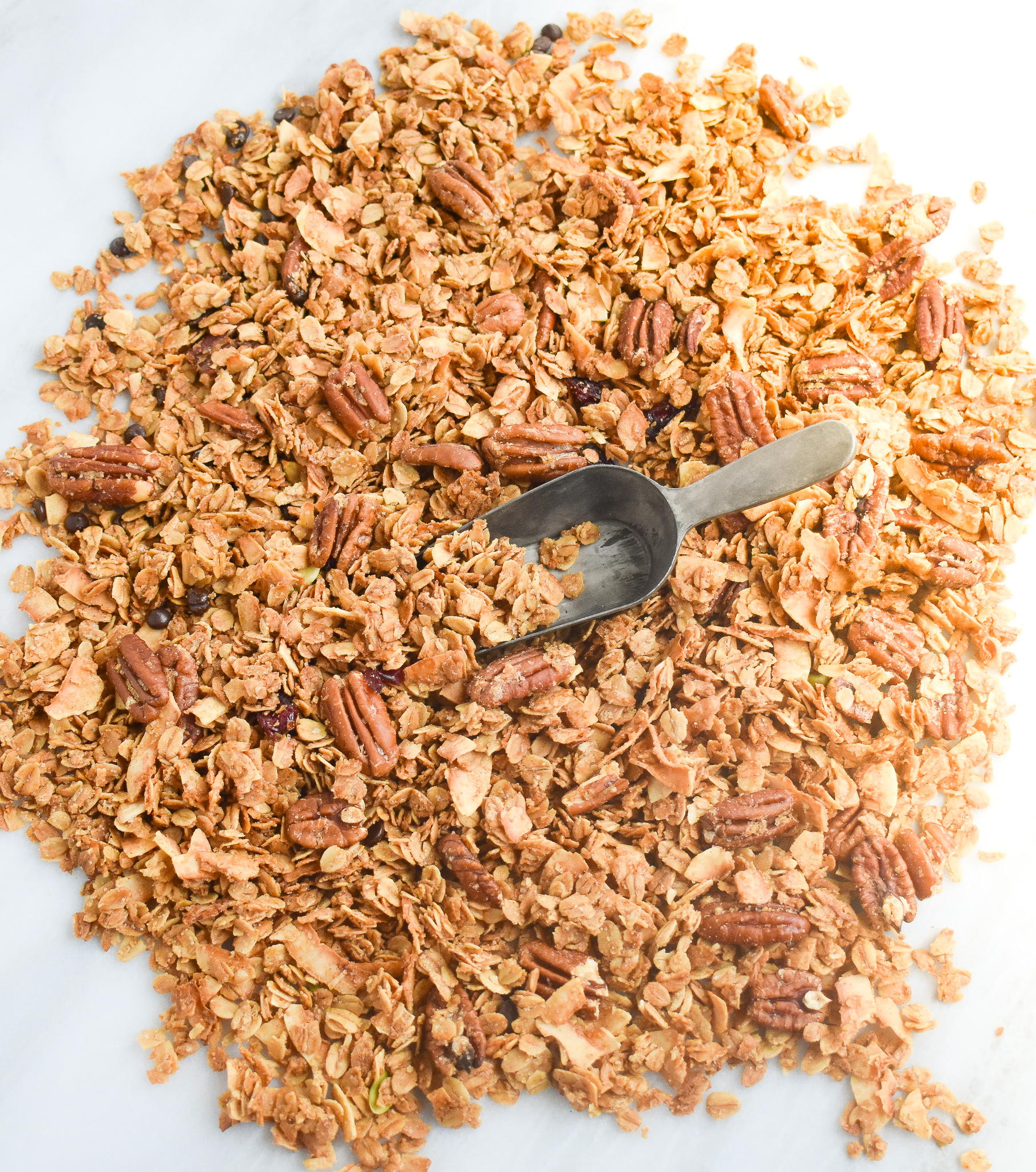 This is the best granola (and low-FODMAP granola) you have ever had, hands down.  Enjoy it with low-FODMAP milk, spoon it over lactose-free yogurt or low-FODMAP ice cream or just straight from the cookie-sheet.  It won't last long!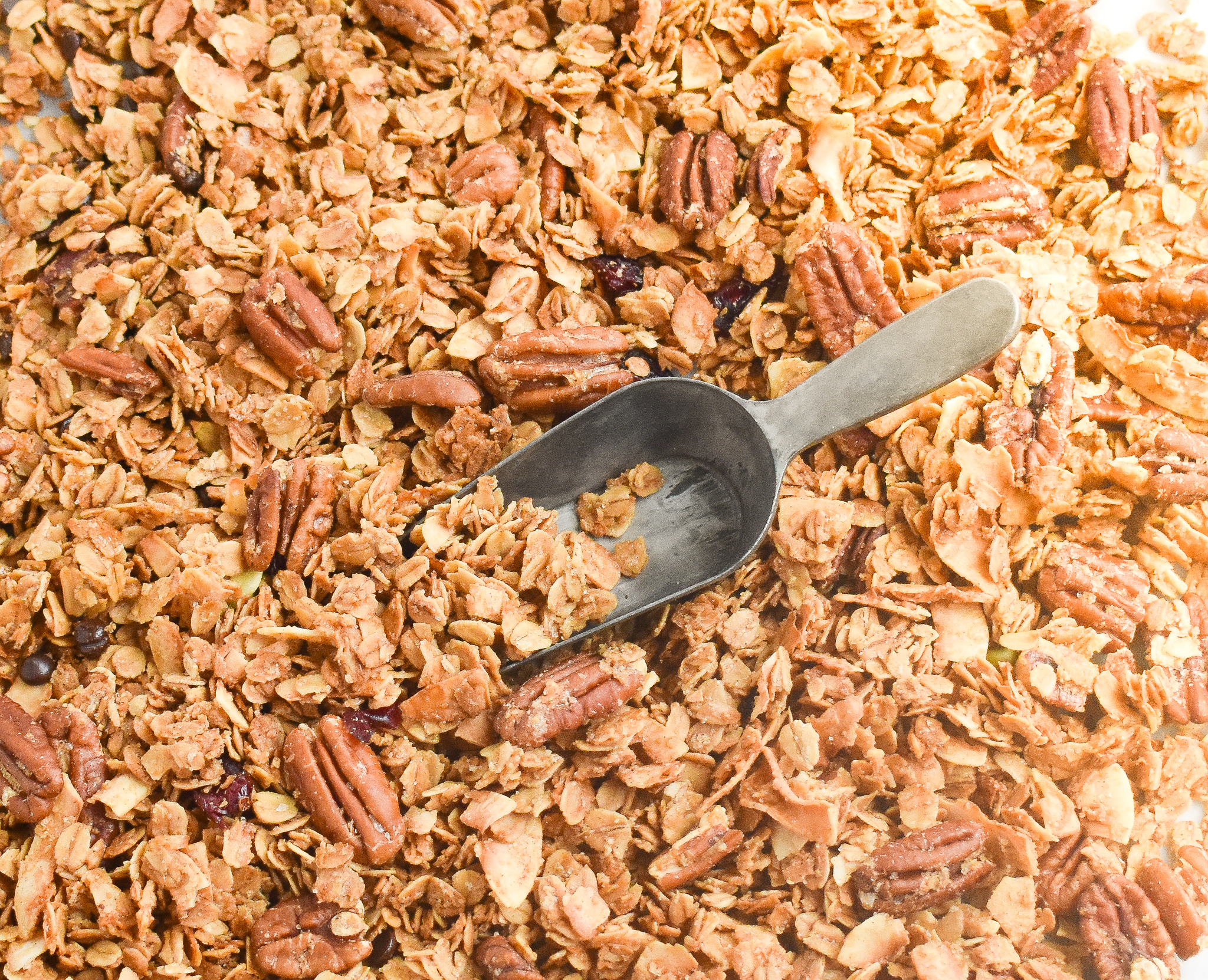 This low-FODMAP granola/trail mix is perfect for a gift or bake sale.
Also…check out over 300 low-FODMAP recipes on my blog, including: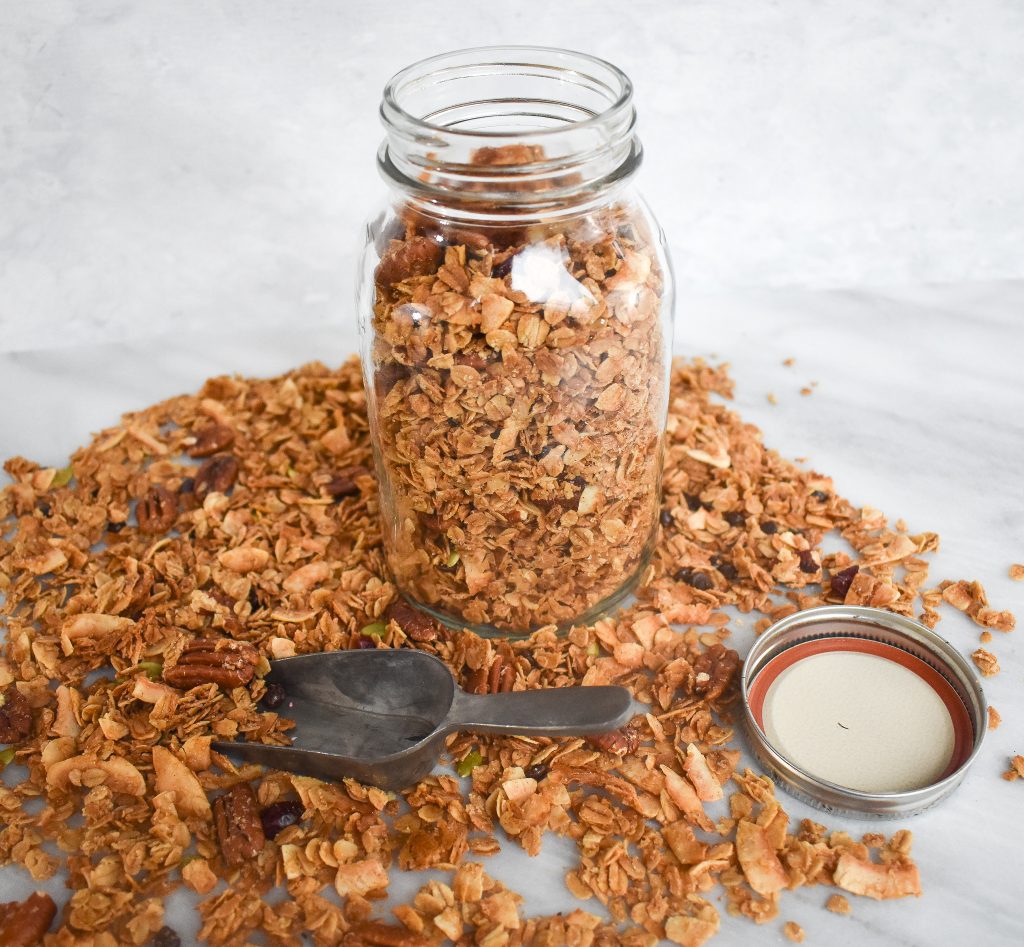 Be healthy and happy,
Rachel Pauls, MD
---
Low-FODMAP Granola/Trail Mix; Gluten free, Dairy free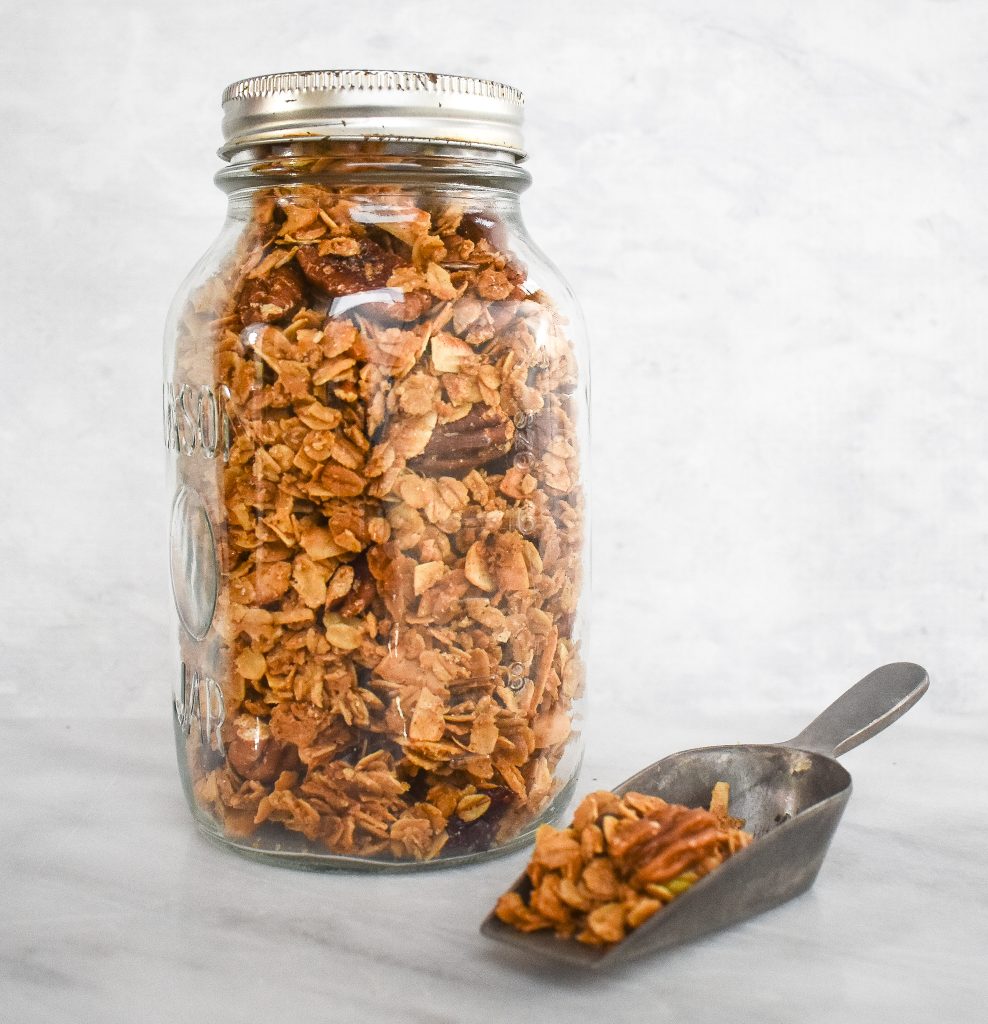 Although this low-FODMAP granola has not been tested, a single serving should be low FODMAP based on the ingredients.
Prep time: 55 minutes (10 minutes preparation, 45 minutes baking)
Bake: 300 F
Servings: 6 or more
Ingredients:
3 cups rolled oats
¼ cup coconut oil (can also use butter)
½ cup brown rice syrup or maple syrup (Brown rice syrup makes for a clumpier granola.)

You can also use ¼ cup each (I usually do a both maple syrup and brown rice syrup combination)

¼ cup brown sugar
½ tsp. vanilla
½ tsp. cinnamon
About 2 cups of stir-ins (substitute to your preference):

½ to 1 cup (maximum 110 g) unsweetened coconut flakes
½ cup (maximum 72 g) sliced almonds
¼ cup (maximum 140 g) chia or pumpkin seeds
½ cup (maximum 120 g) pecan halves
½ cup (maximum 180 g) walnut halves
½ cup (maximum 90 g) hazelnuts

The following stir-ins can be added pre- or post-bake depending on preference; I prefer post-bake:

½ cup (maximum 78 g) raisins
½ cup (maximum 78 g) dried cranberries (no added juices)
½ cup (maximum 180 g) semisweet chocolate chips
Directions:
Combine oats, cinnamon and selected stir-ins to be baked in a large bowl
Melt coconut oil in microwave, about 30 seconds
Combine coconut oil, brown sugar, vanilla and syrups in a second medium bowl
Pour liquid over oats and stir to cover
Spread mixture flat on a baking sheet (2 sheets for doubled recipe) and bake for 20 to 25 minutes
Stir with spatula and then finish baking to 45 minutes total
Let cool, then mix in remaining stir-ins, such as chocolate chips, raisins or dried cranberries, if desired
Try a combination!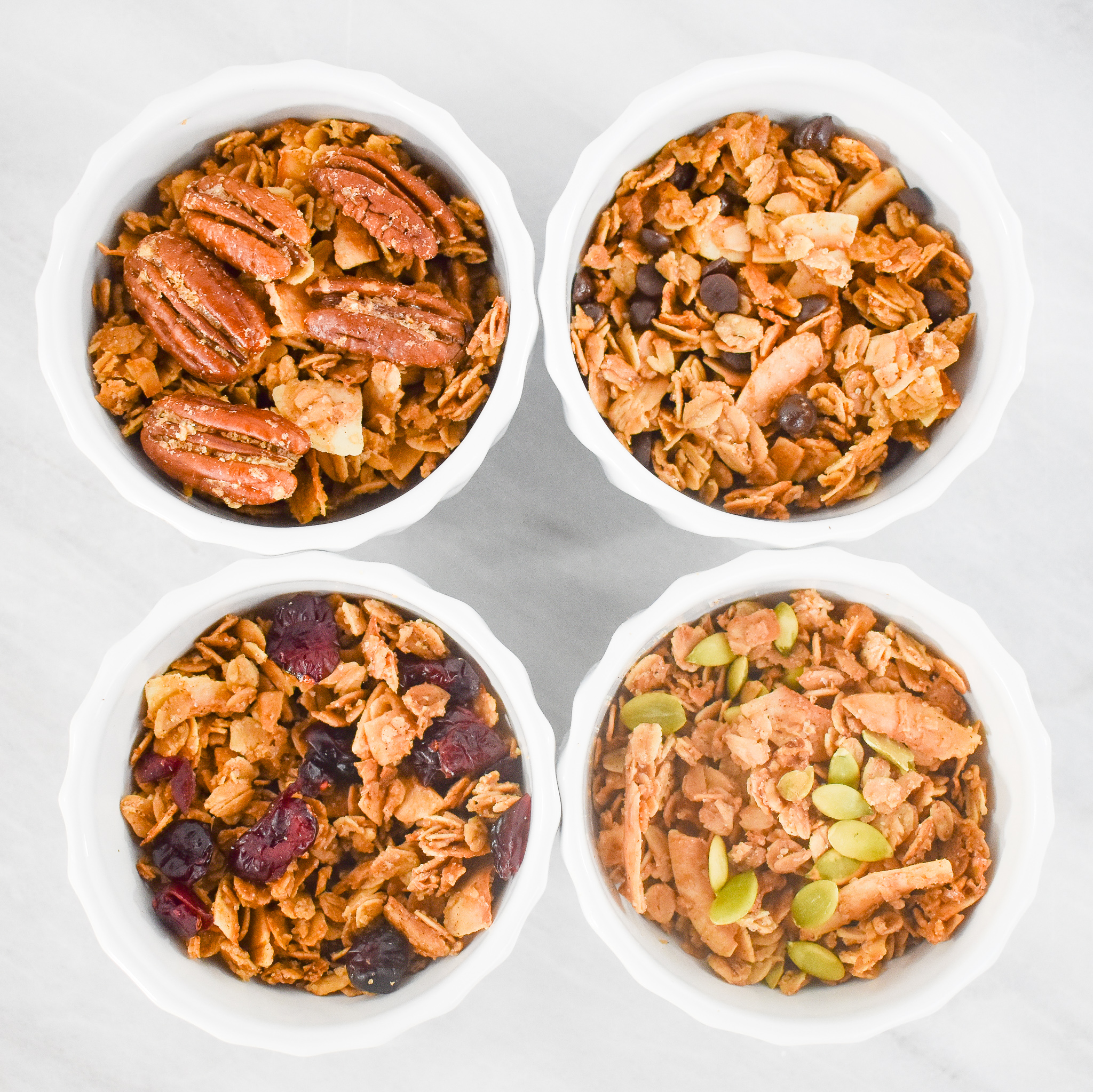 Store in an airtight container if it lasts longs enough to be stored…
So good over low-FODMAP Ice Cream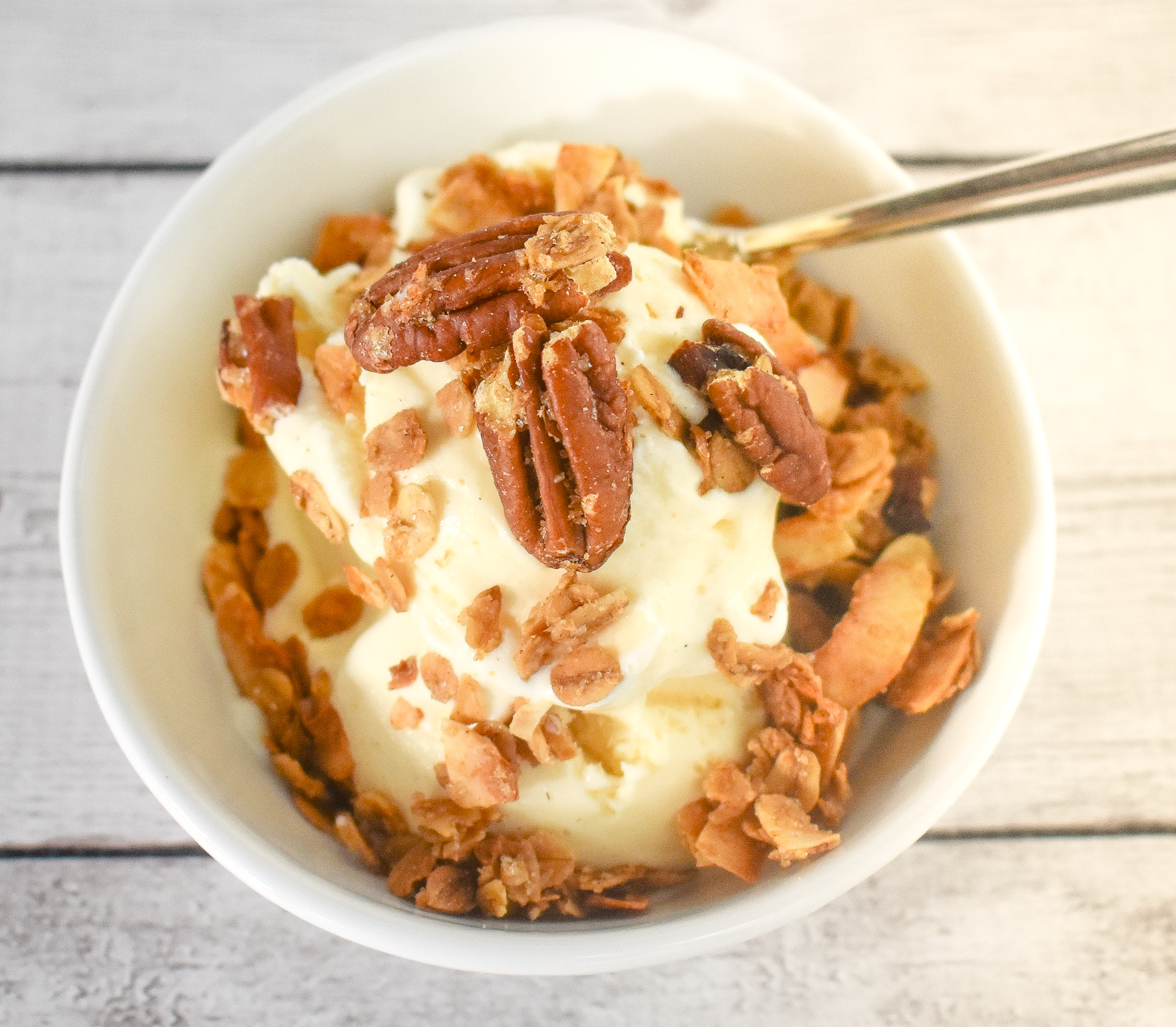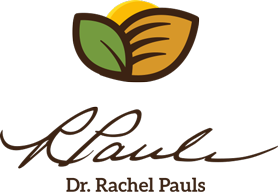 Comments Rating
( review)