Low-FODMAP Salad in a Jar (Salad Bar Tips) and Low-FODMAP Asian Peanut Salad Dressing Recipe
April 17, 2018
Printer Friendly Version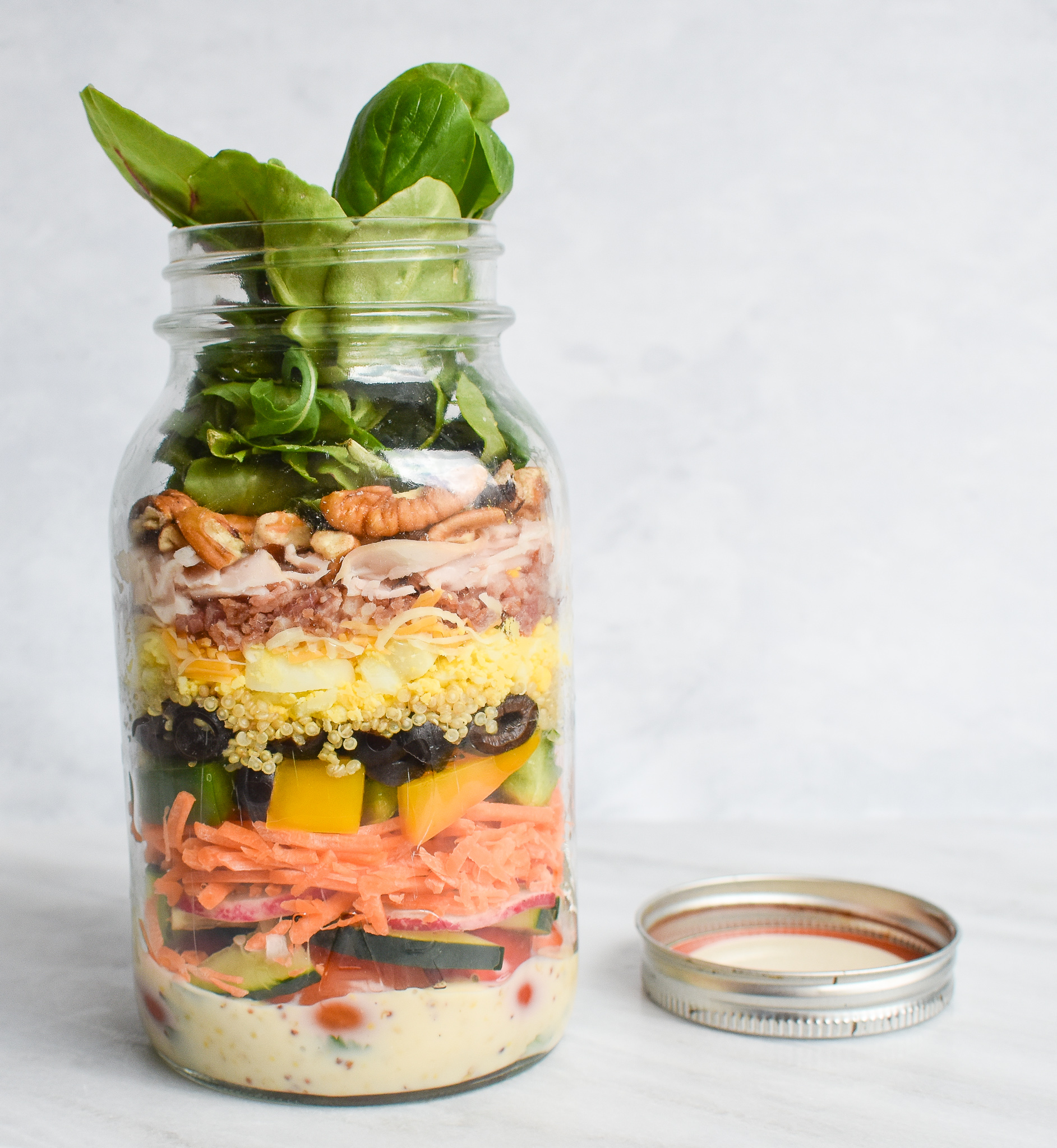 A low-FODMAP Salad in a Mason Jar.  Who thought of this brilliant idea?  I love it!  Read on for instructions and hints to navigate a salad bar 'low-FODMAP'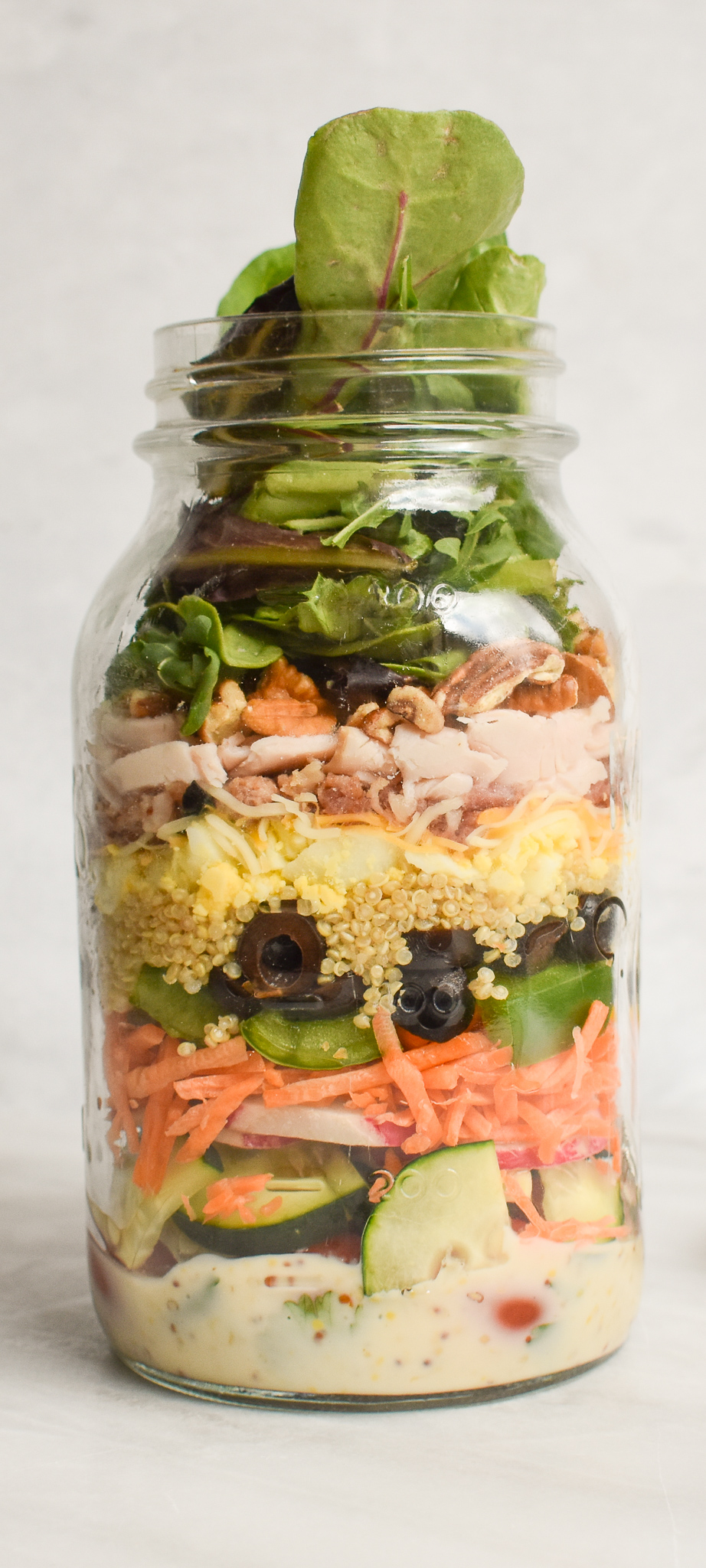 'Salad in a jar' is the best low-FODMAP healthy meal on-the-go that has so many options. Get your friends together for a low-FODMAP salad building party, and set up a bunch of these for your workweek! They can keep in the fridge for 5-7 days. Remember to pack the ingredients down well between layers to minimize spoilage.
It is so easy and takes only 30 minutes to create these beautiful low-FODMAP salads in a jar. All you need is the mason jar (about 24 ounces- get the wide mouth type), and the fresh ingredients.  Maybe you are lucky enough to have these growing in your backyard garden?  Take a look at my step by step and have fun!
For more tips on a low-FODMAP packed lunch on-the-go see my low-FODMAP Packed lunch blog post.  You may also love my low-FODMAP Cobb Salad and low-FODMAP Southwest Salad.
Scroll to the end of the blog for my low-FODMAP Asian Peanut (Thai) Salad Dressing.  So delicious and easy! It is awesome in a lettuce wrap or with grilled chicken too.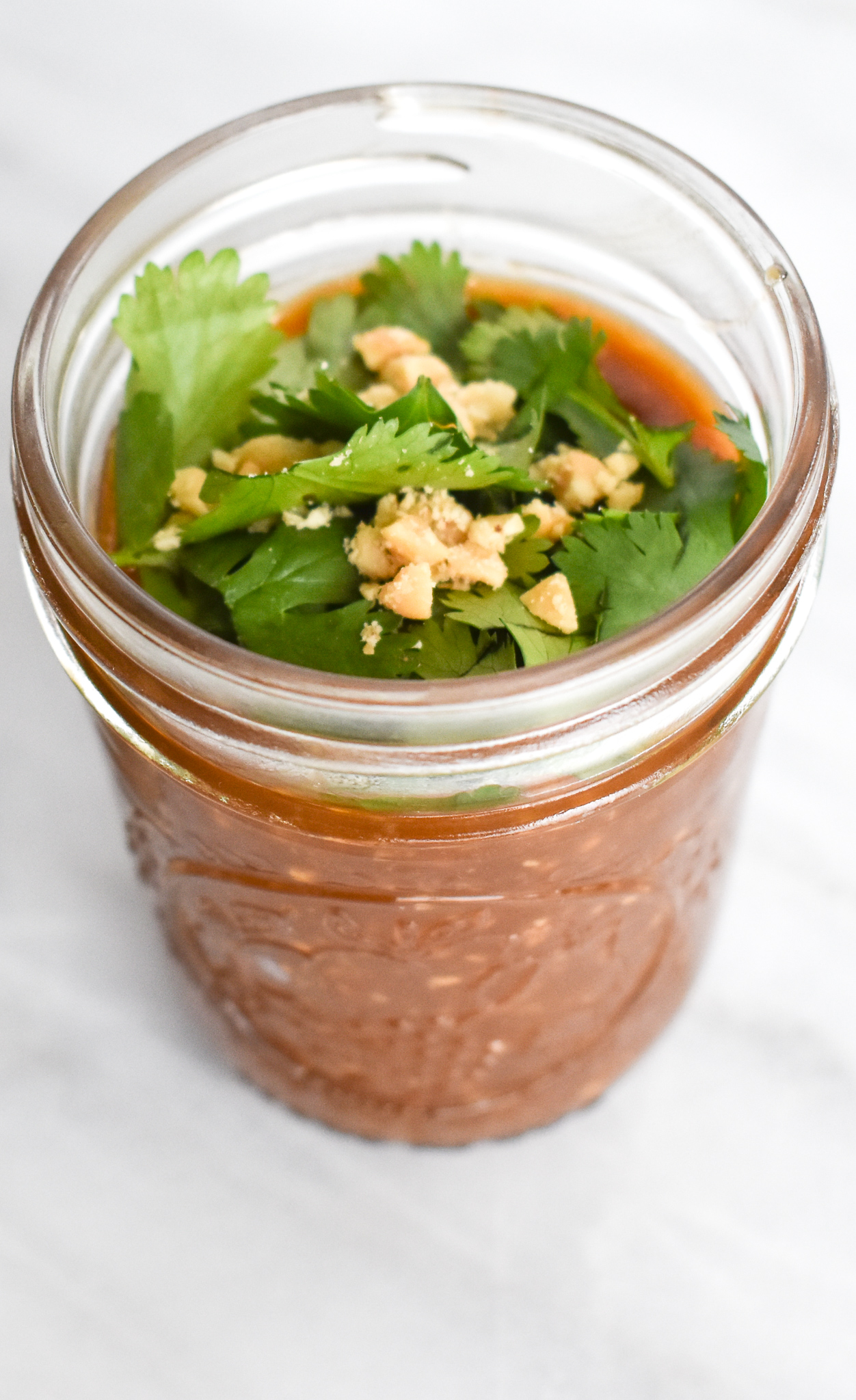 Later on, feel free to check out over 400 more low-FODMAP recipes on my blog!  IBS-friendly.
Be healthy and happy,
Rachel Pauls, MD
P.S.  Check out my new COOKBOOK for over 100 low-FODMAP recipes, low-FODMAP Meal Plan, FODMAP Tips and everything you need!!  It's the BEST!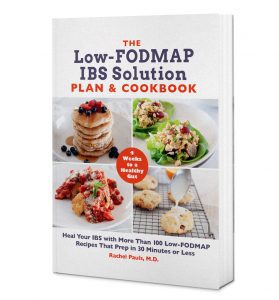 ---
Here are the Step-by-Step Instructions for a Low-FODMAP Salad in a Mason Jar
Hint:  Use this list for low-FODMAP options next time you are visiting a salad bar or buffet too!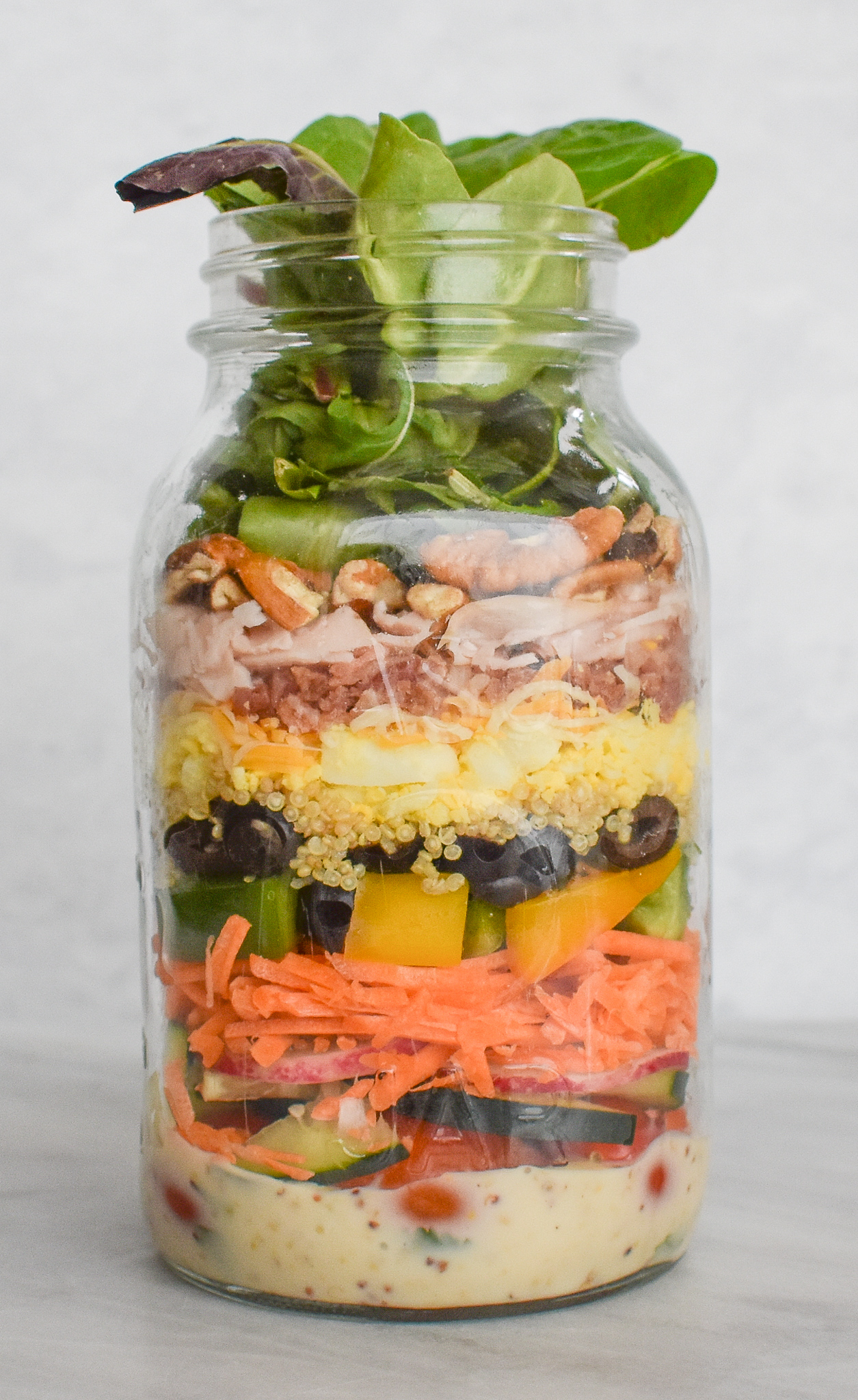 Note: Although ingredients listed are in low-FODMAP quantities, personal tolerance for multiple servings of these foods will vary.  Adjust your choices as applicable 🙂
Decide on your preferred style of salad. Are you feeling like spinach and eggs with bacon? Or Romaine with Caesar dressing and mozzarella cheese? Perhaps it is a Thai theme with a peanut inspired dressing??

Guess what?- I have some of the best low-FODMAP salad dressing recipes on my blog for you!  No more difficulty with store-bought high FODMAP ingredients and icky dressing with tons of preservatives. FRESH! CREAMY!  See next point-

Pick your favorite dressing:
The first (or bottom/base) layer is the dressing. That way it won't spill out and can marinate some of the veggies

An alternative is to put a little cup or a ring of parchment paper at the top of the jar to store your dressing in if you prefer it separate (an elastic band around the rim and some plastic wrap may help keep it sealed, just don't carry the jar upside down)

The second layer is a dense vegetable or vegetables that are OK to sit in dressing for a while

Try some of the following: 4 cherry tomatoes, 2 radishes, ½ cup of cucumbers, red or green peppers or diced carrots

Layer three is more veggies, or beans if you like…

 Experiment with broccoli heads, zucchini, beets, canned lentils, bamboo shoots, bean sprouts, water chestnuts, canned chickpeas, black olives or baby corn

Layer four can be a grain such as brown or white rice or quinoa  Your pick!  Or try some cold rice vermicelli noodles for an Asian inspired salad
Layer five can start to be softer ingredients

Think chopped eggs or ½ cup of cheddar, mozzarella, swiss or goat cheeses

Layer six is my favorite

That's right. Here are your chopped peanuts, pecans or walnuts
Or else try some diced chicken or turkey breast, cooked shrimp or chopped bacon…so yummy
Added protein and healthy fats makes it so satisfying and fills you up

Finally you want to use your favorite lettuce or greens

The crown for your low-FODMAP salad-in-a-jar and the base layer when you pour it out
½ cup of butter lettuce, Romaine, spinach, mixed greens, red or common cabbage, or kale

Lastly- you can put a little ring of parchment or a small travel cup at the top for dressing or a topping if desired

Maybe 2 tablespoons of delicate sunflower or chia seeds, or else 1 tablespoon of some dried cranberries for a little sweetness
When you are ready to serve your salad, tip it gently onto a plate(s) depending on the layers and how you want your final salad to look.  If you had a little receptacle at the top for your seeds or dressing, then just collect that into its own little bowl first.  So easy and what a fresh low-FODMAP healthy lunch to keep you energized all afternoon!
Check out this amazing low-FODMAP, Gluten-free and Vegan Asian Peanut Salad Dressing Recipe below–
---
Low-FODMAP Asian Peanut (Thai) Salad Dressing Recipe; Gluten-free, Vegan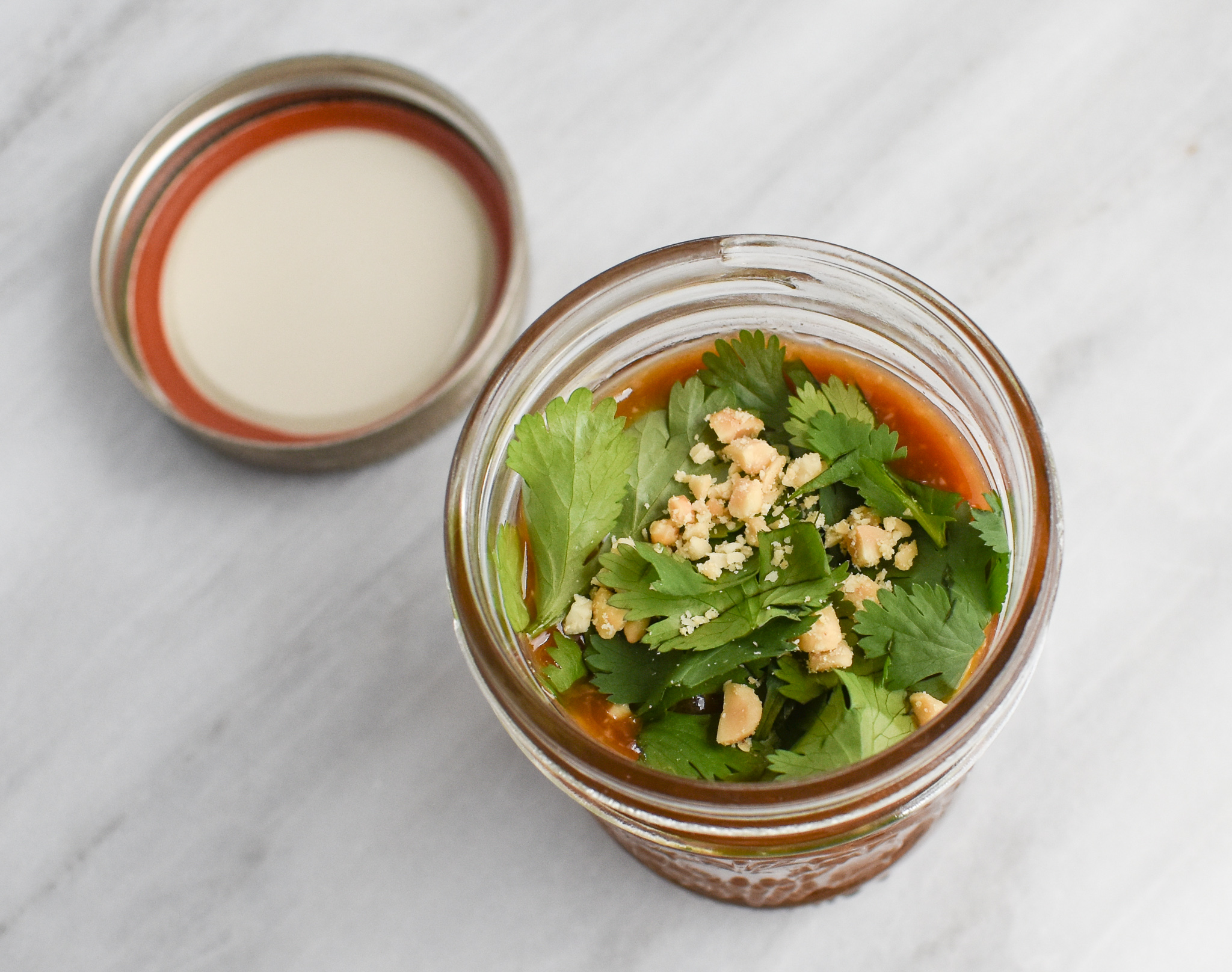 Although this recipe has not been lab tested, a single serving should be low-FODMAP based on the ingredients at time of posting
Serving size: 2 tablespoons
Yield: 6 servings (about 6-7 ounces)
Prep time: 10 min
Ingredients
1/4 cup oil (can use peanut, avocado or canola oil)
1 tablespoon soy sauce (optional use gluten free)
3 tablespoons light or dark brown sugar
3 tablespoons natural peanut butter (salted or unsalted)

I used unsalted (contained only peanuts and peanut oil, no other ingredients)

1 tablespoon fresh squeezed lime juice
1 tablespoon rice vinegar
1 tablespoon light corn syrup
2 teaspoons Tabasco Original sauce (more to taste) –contains: distilled vinegar, red pepper, salt

if you prefer a milder dressing then skip this or adjust to taste

1 teaspoon grated fresh ginger (or ½ tsp ground ginger)
1 teaspoon fresh cilantro (optional)
Directions
Combine all ingredients (except cilantro) in a mason jar or other container and whisk well to combine
Add cilantro and combine
Store in refrigerator until use
Best made a few hours in advance, may store for up to 2 weeks
Serve with salad, low-FODMAP Grilled Chicken, low-FODMAP Rice Noodles and so much more 🙂
Hint:  For a layer salad in-a-jar opt for selections of rice noodles, peanuts, water chestnuts, bean sprouts, egg, cabbage and shrimp or chicken.  I'm getting hungry thinking about it..
Spicy, sweet and peanutty.  This low-FODMAP Asian Peanut Salad Dressing is awesome!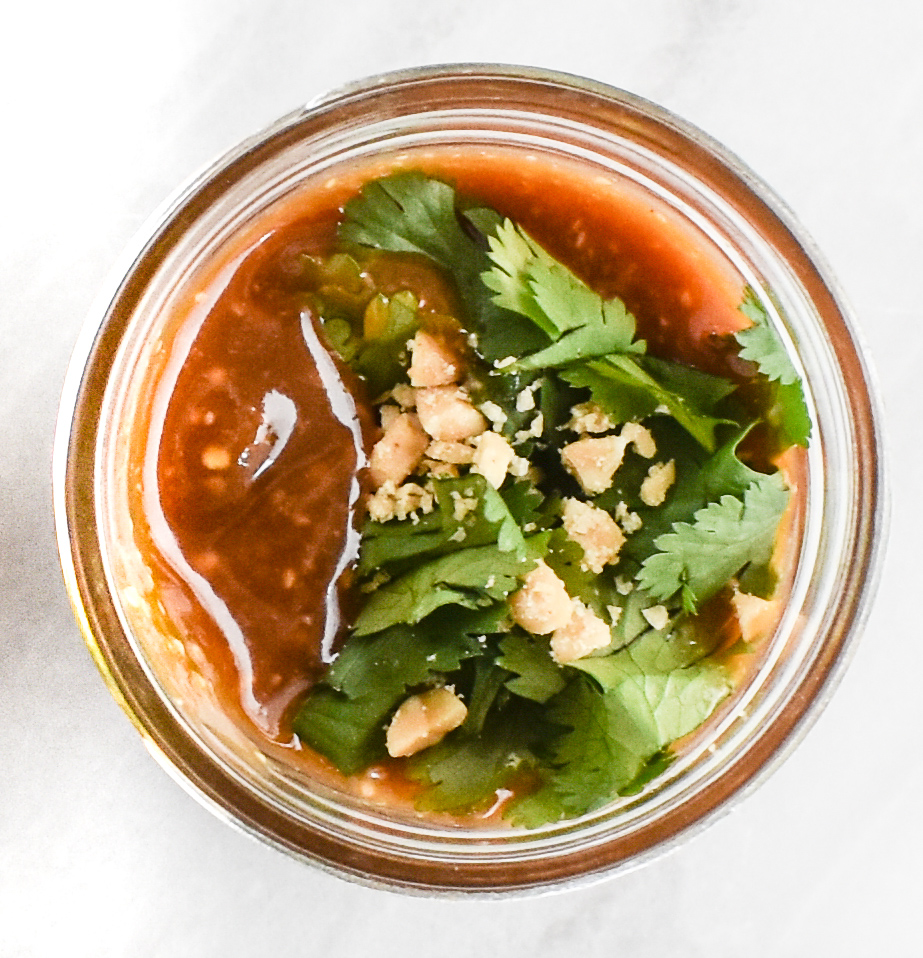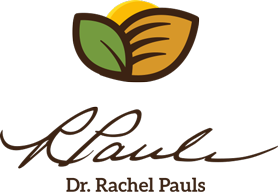 Printer Friendly Version
Comments Rating
( reviews)