Homemade Low-FODMAP Salted Caramel Peanut Candy Bars; Gluten-free
August 23, 2020
Printer Friendly Version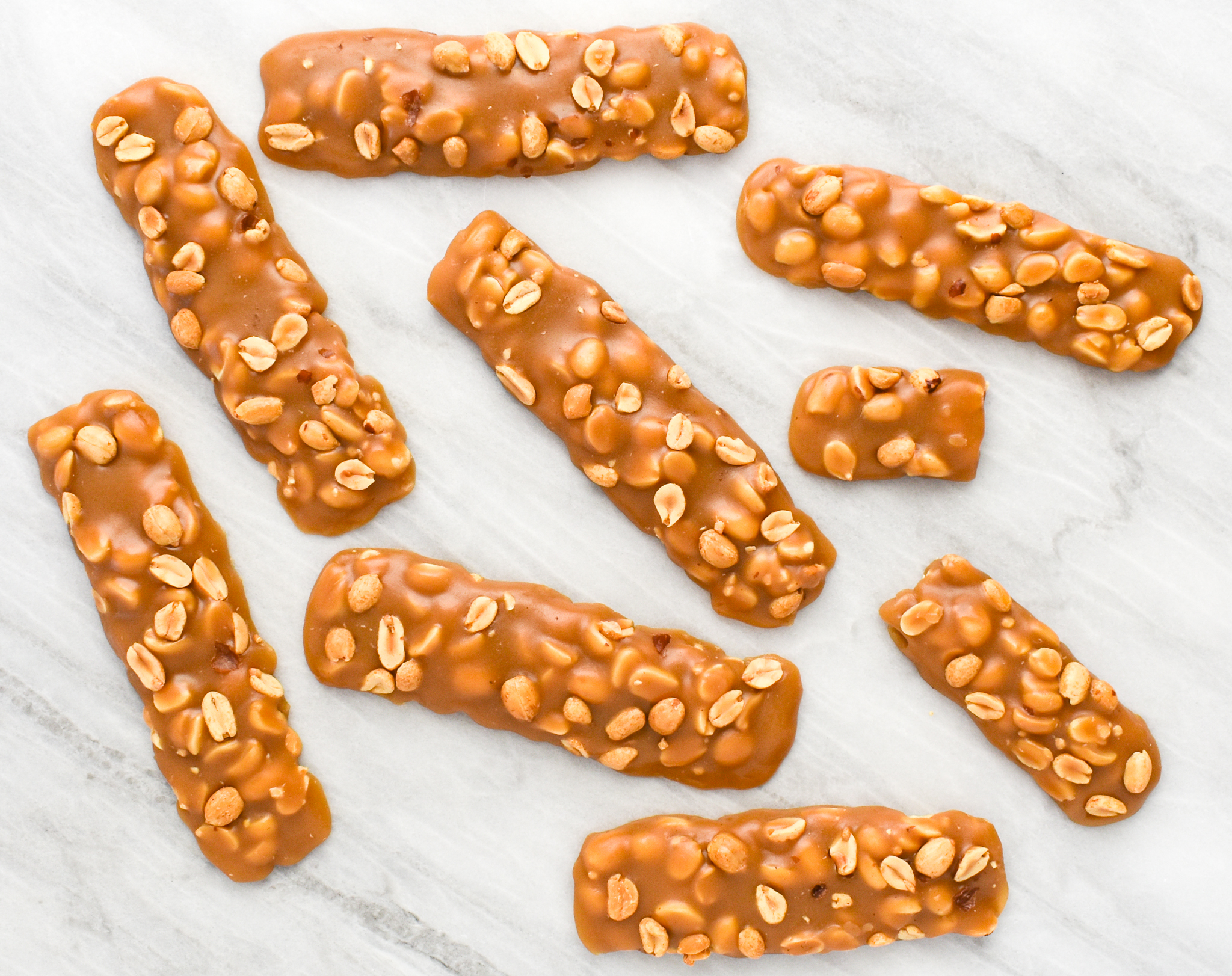 Here is a simple, absolutely delicious recipe for homemade, no-bake low-FODMAP Salted Caramel Peanut Candy Bars that are also gluten-free and IBS-friendly.
I love the flavors of sweet and salty from peanuts and caramel. They remind me of PayDay bars (which are my kryptonite -check out my 2 ingredient recipe for low-FODMAP 'Payday Candy Mix')!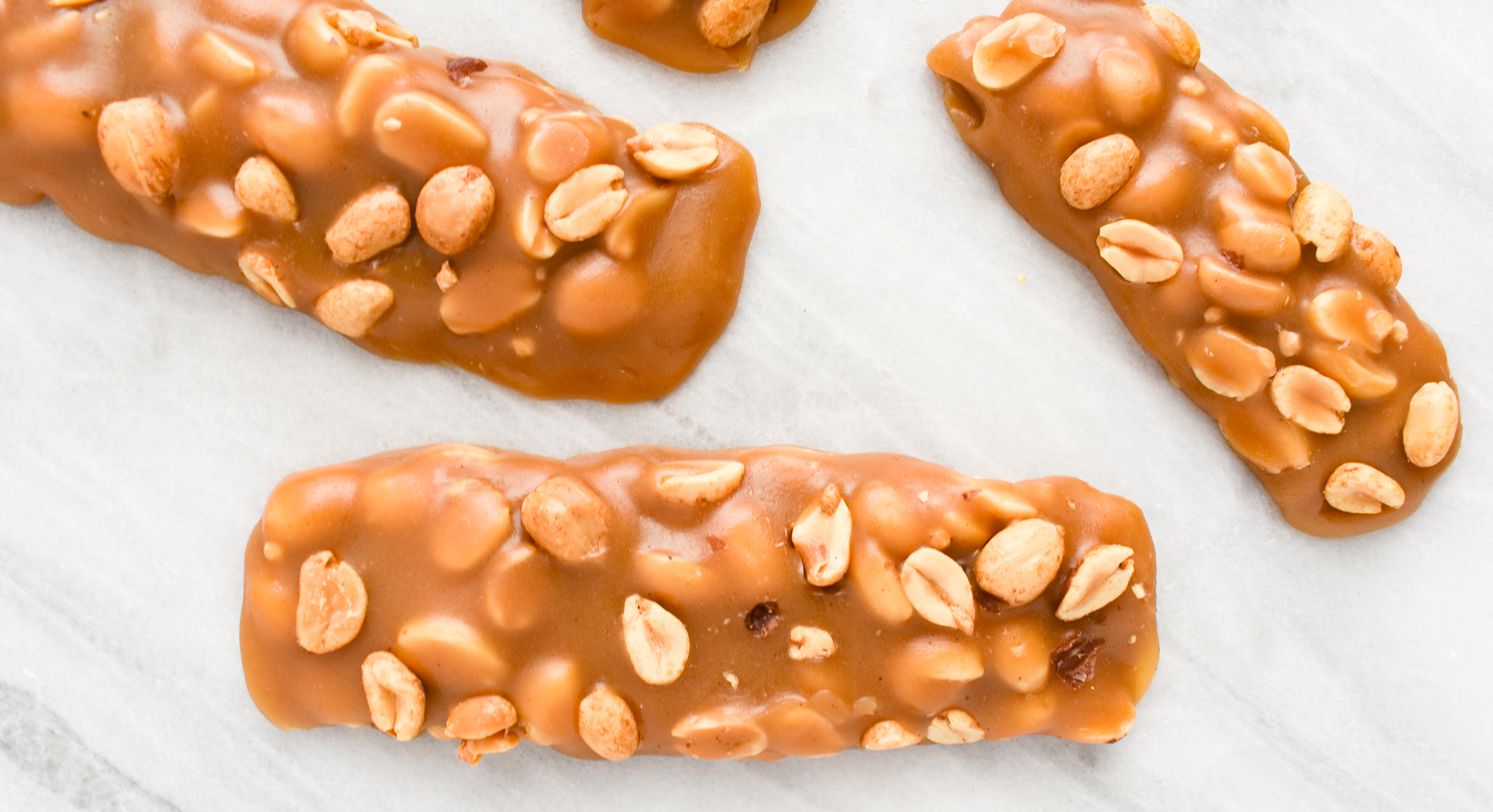 Initially I set out to create a low-FODMAP Copycat PayDay Bar recipe that avoided pre-packaged ingredients such as 'marshmallow fluff', 'sweetened condensed milk' and 'peanut butter chips'. While I did succeed in a recipe that is straightforward and delicious, I didn't feel right calling it a 'copycat' recipe for PayDay candy. My bars have a different texture (more like a soft butter caramel), and are not overly sweet.
Incidentally, I find candy bars often flare my IBS (probably from the concentrated syrups they use) do you notice that as well?
I prefer my low-FODMAP Salted Caramel Peanut Candy so much more over commercial candy bars 🙂
These amazing treats are prepped in under 30 minutes, and don't require any fancy equipment.  My recipe is made with real, natural ingredients that you have sitting in your pantry.  I am addicted.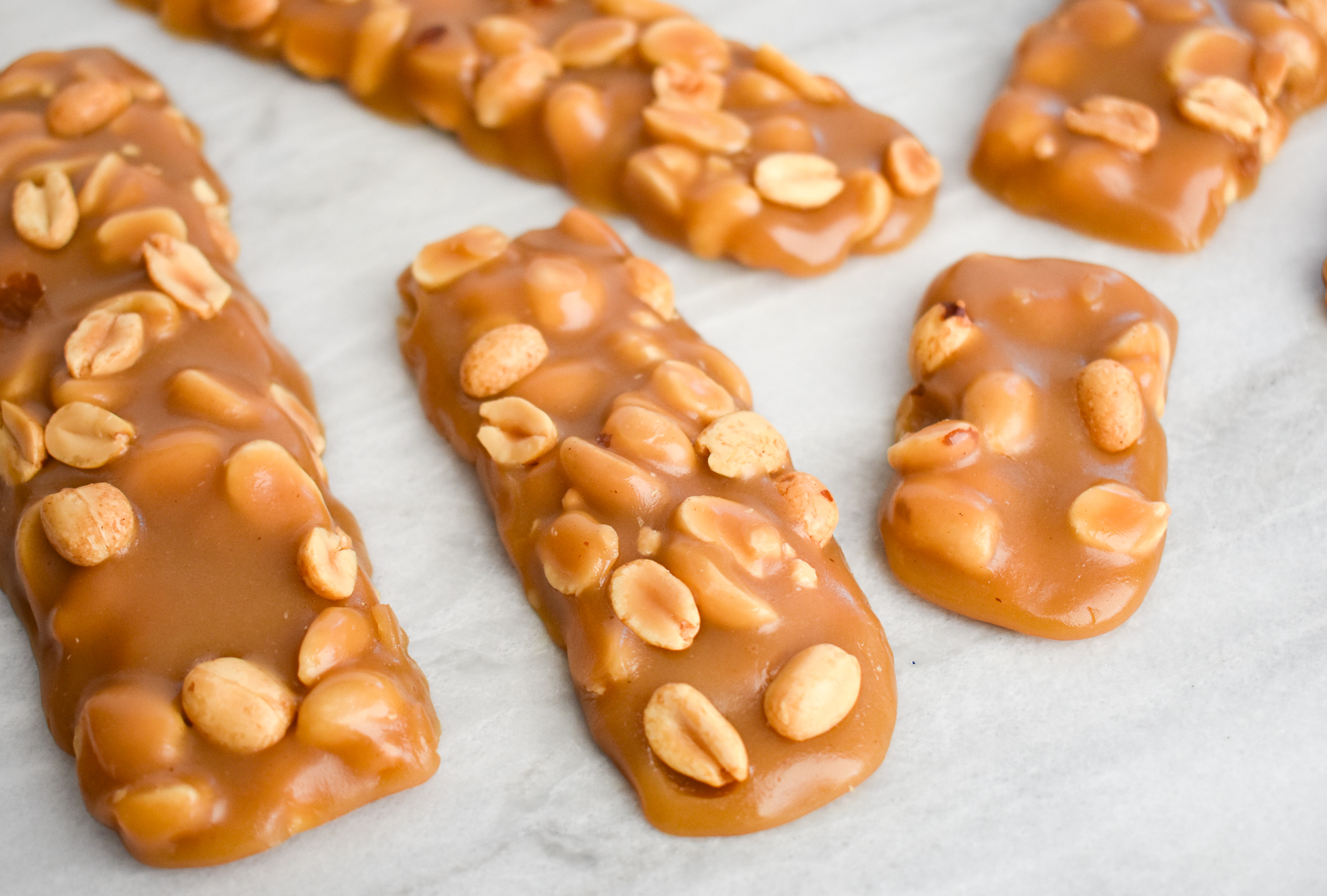 You may also love my:
Or check out over 350 more low-FODMAP recipes on the blog!  IBS-friendly.
Be healthy and happy,
Rachel Pauls, MD
---
Homemade Low-FODMAP Salted Caramel Peanut Candy Bar recipe; Gluten-free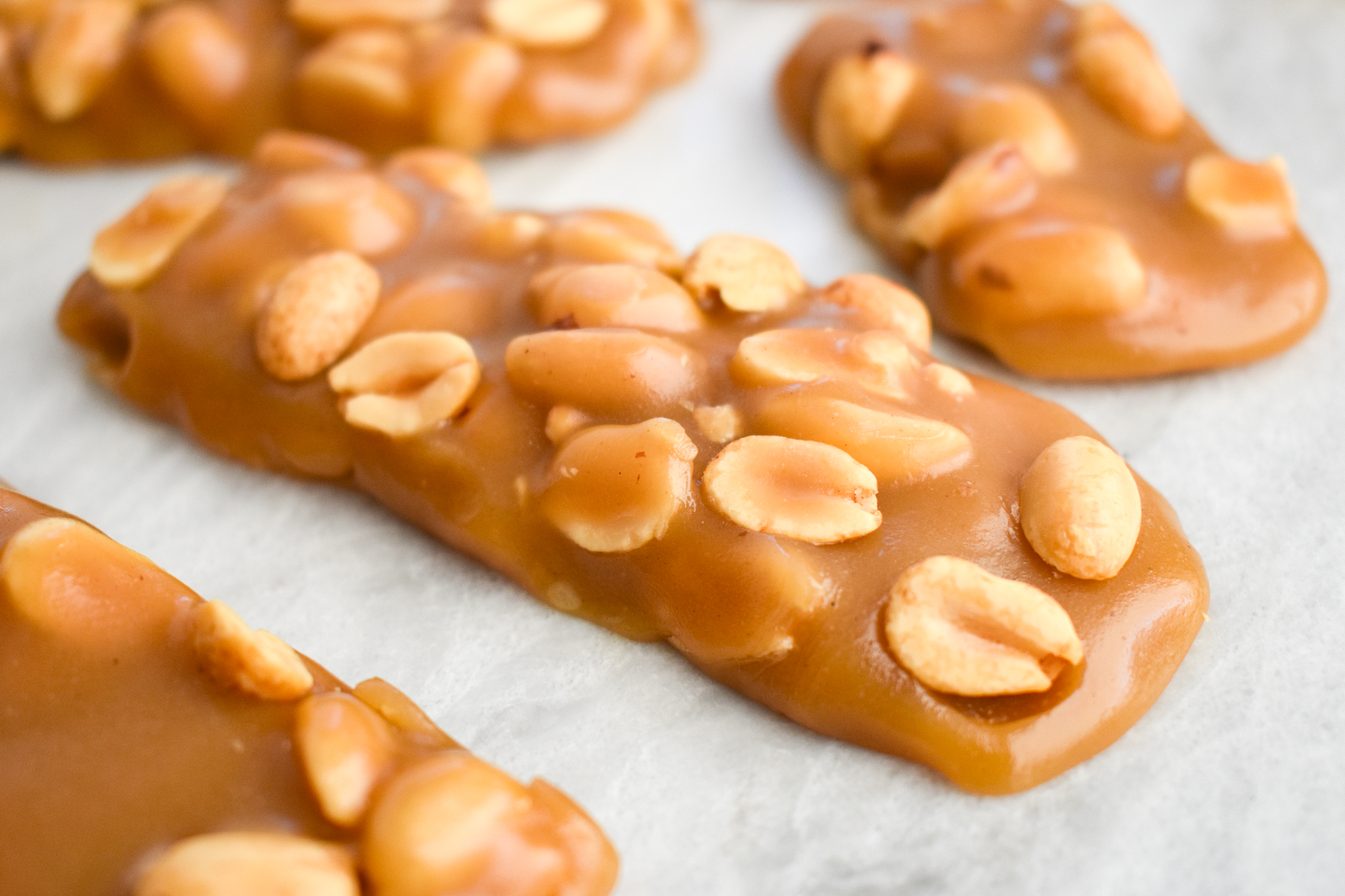 Although this recipe has not been tested, a single serving should be low-FODMAP based on the ingredients
Serves: 16
Prep time: 10 min plus cooling
Cook time: 10 min
Total time: 20 min plus cooling
Equipment: 9 by 3 inch loaf pan, Candy thermometer
Ingredients
1 & ½ cups (225 g) roasted, salted peanuts; divided into two 3/4 cup portions

Peanuts contain only trace FODMAP levels, enjoy freely
Note: 'dry roasted' peanuts contain onion and garlic- avoid this type in your recipe

6 tablespoons salted butter or vegan spread with low-FODMAP ingredients (I like Earth Balance)

If you only have unsalted butter/spread, then add 1/2 tsp salt to the recipe

1 cup (packed) light brown sugar
6 tablespoons heavy whipping cream

Heavy whipping cream is low-FODMAP in 1/4 cup servings (of the liquid state)
Note: I tried this recipe with coconut cream at first to create a vegan version but it would not set.  Do not substitute

½ cup light corn syrup
¼ cup (4 tablespoons) SMOOTH peanut butter, all-natural, salted

2 tbsp is one low-FODMAP serving

Vegetable shortening for greasing
Directions
Lightly grease a 9 × 3-inch loaf pan, then line with parchment paper allowing a 2 inch overhang on the sides. Grease the parchment as well
In a 2-quart saucepan, melt butter or vegan spread over medium heat
Add the brown sugar, heavy cream, and corn syrup, and stir until smooth

Have your peanut butter measured and ready to be added to the mixture

Allow the creamy mixture to come to a boil, stirring continuously, until a candy thermometer reads 240°F, (this will take 5-10 minutes)

The caramel will start to pull away from the pan and look like golden-spun sugar
This is considered the 'soft ball stage' of candy making

At this point, remove pan from heat and quickly stir in the peanut butter until smooth
Next, pour the mixture into your prepared pan, then sprinkle with ¾ cup of peanuts
Set the pan on a cooling rack for about 60 minutes at room temperature
Once mostly cooled, but still flexible, using the parchment ends, lift out the candy and lay it on a clean cutting board lined with wax paper or a silicone baking mat.  Flip the bars so they end up with the peanut side facing down.  Gently peel off the parchment

You will be surprised how the bars will spread out, and will end up being quite long when outside the pan

Sprinkle the remaining 3/4 cup peanuts on the smooth undersurface of the bars (now facing upwards) and press in slightly

You could also sprinkle the peanuts in the pan prior to adding the hot caramel, but I found the peanuts ended up sinking into the caramel.  If you like it that way then please go ahead!

Cut the candy into 8 equal pieces, each about 1 inch wide (I used a silicone mat and an icing spatula to cut and shape the bars while they cooled), then cut each bar into 2 or more pieces, depending on your preferred size
Let the low-FODMAP PayDay bars cool completely, about 2-3 hours, in the refrigerator
Enjoy immediately, or store in the refrigerator until eating (I prefer to eat these chilled so they are firm, but if you like a soft caramel texture, then room temperature is fine too)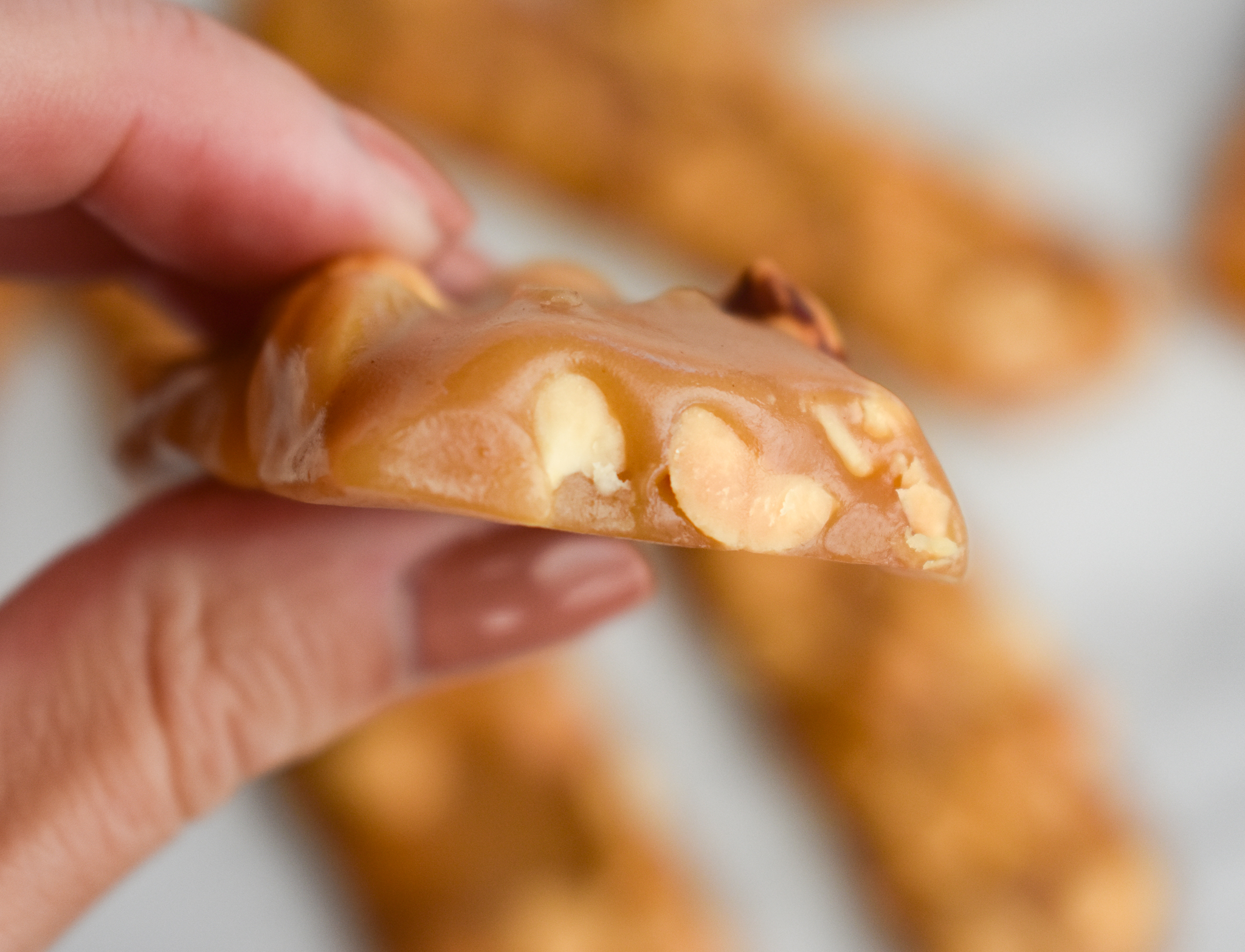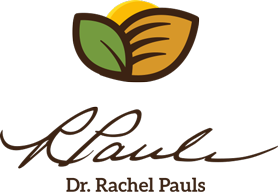 Printer Friendly Version
Comments Rating
( reviews)