Homemade Low-FODMAP 30-Minute Chicken Marsala; Gluten-free
December 7, 2022
Printer Friendly Version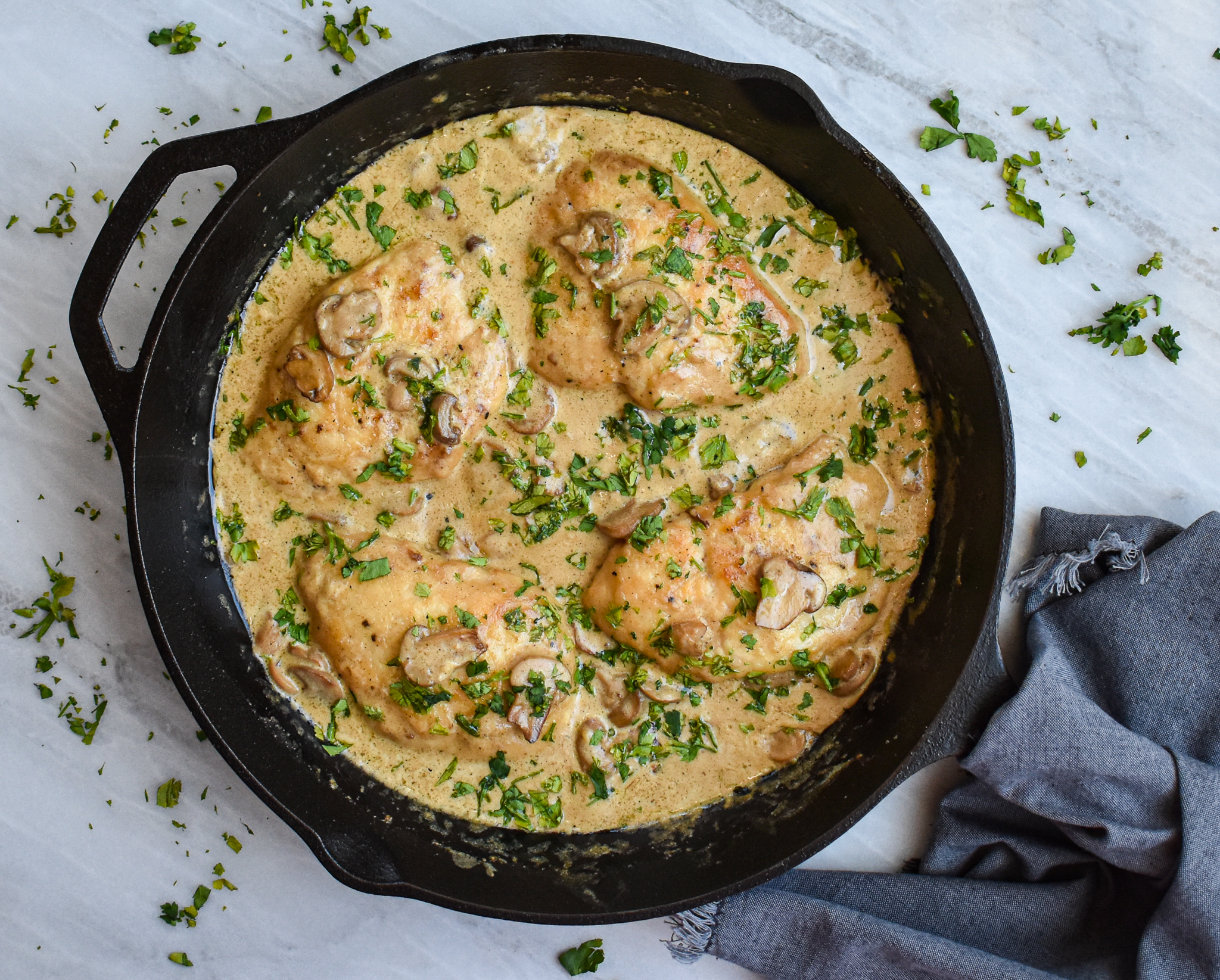 This is one of my all-time-favorite chicken dishes.  When I was a teen I would whip up chicken marsala using canned cream of mushroom soup and a dash of white wine.  I thought I was such a chef!
My low-FODMAP version is few steps up on that recipe (no canned soup of course), while still being super easy. The meal is cooked in just 30 minutes 🙂
Many of you are probably wondering, how can we have mushrooms on the low-FODMAP Elimination Phase? SURPRISE!  You can use canned mushrooms.
FODMAP FACT: Canned mushrooms that are rinsed and drained are low in FODMAPs (75g per serving), since the harmful carbohydrates are leached out in the liquid that you drain away.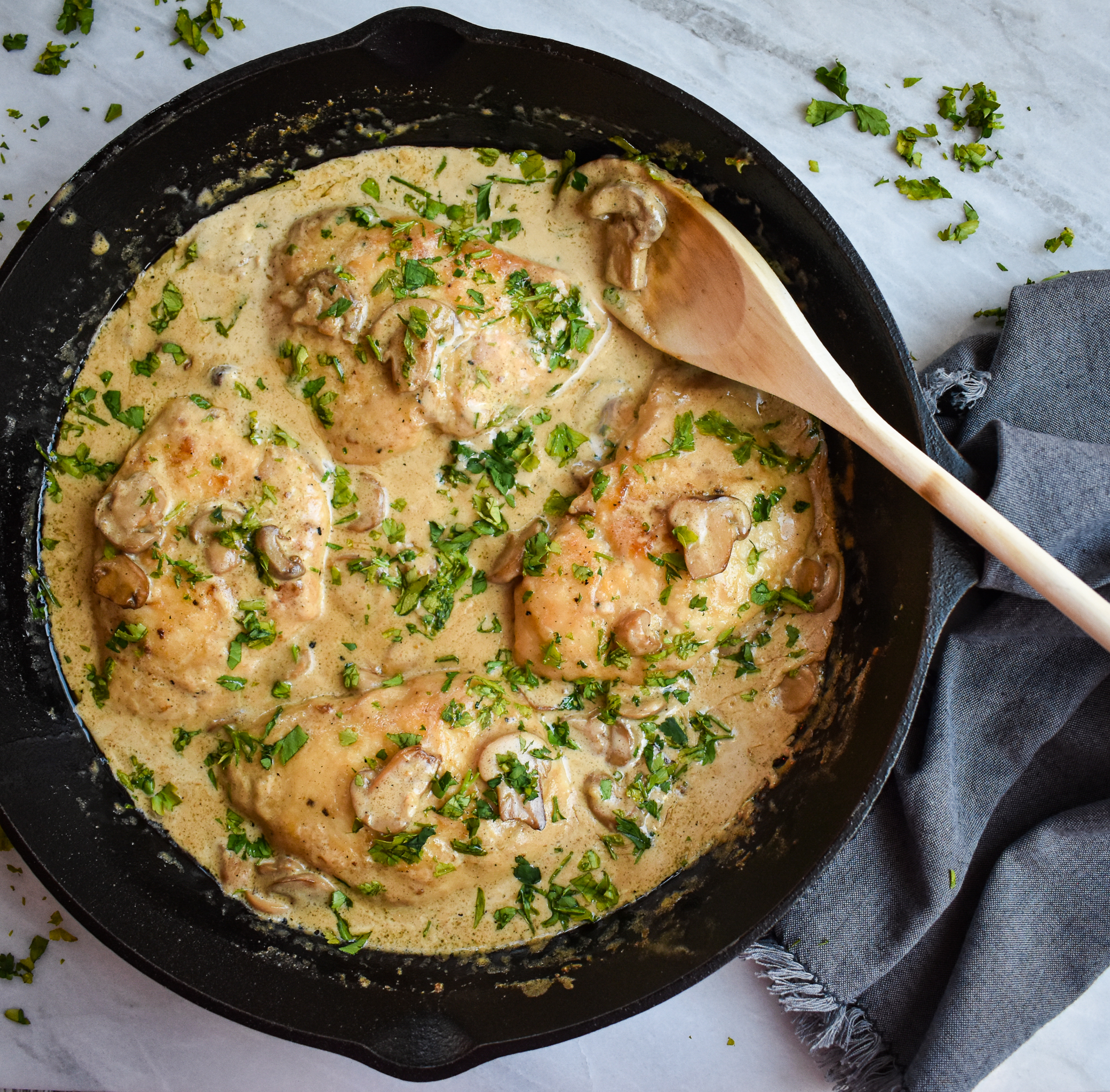 Now we can enjoy this 'most-requested' Italian restaurant dinner while still keeping our tummies happy.  I love that.
My low-FODMAP Chicken Marsala goes perfectly with GF angel hair pasta, or low-FODMAP Lemon Roasted Potatoes.  So simple and so good.
You may also love:
Or check out over 450 more low-FODMAP recipes on the blog. IBS-friendly!
Be healthy and happy,
Rachel Pauls, MD
P.S.  Check out my COOKBOOK for over 100 low-FODMAP recipes, low-FODMAP Meal Plan, FODMAP Tips and everything you need!!  It's the BEST!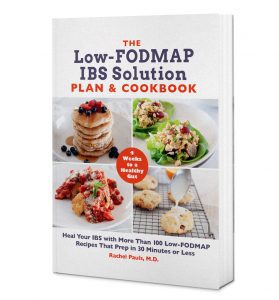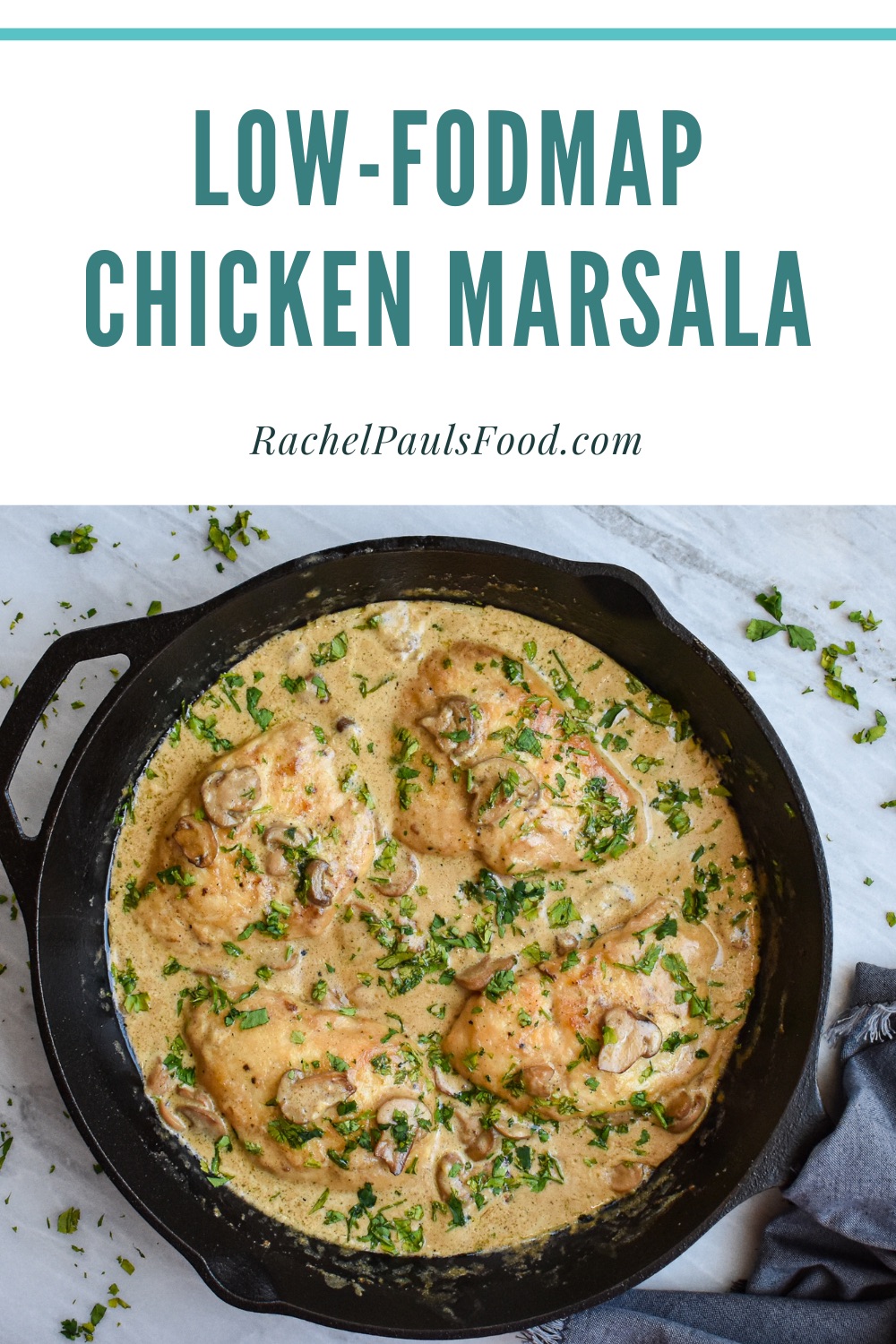 Although this recipe has not been lab tested a single serving should be low-FODMAP based on the ingredients (using available FODMAP data at time of posting; see notes below regarding Marsala cooking wine).  However, if you are sensitive to high fat foods due to your IBS, then adjust personal portion as needed.
Serves: 4
Prep time: 5 mins
Cook time: 25 mins
Total time: 30 mins
Equipment: large 11-12 inch skillet (I like cast iron)
Ingredients
For Chicken:
1/2 cup low-FODMAP, gluten-free rice flour

Can also substitute an all-purpose GF flour with LF ingredients

1 teaspoon kosher salt
1/2 teaspoon black pepper
16 ounces (4) boneless skinless chicken breasts, pounded to 1/4 inch thickness using a mallet

I like to place my breasts between 2 pieces of plastic wrap or wax paper to tenderize them

3 tablespoons olive oil
For Marsala Sauce:
1 tablespoon garlic infused oil
4.5 ounces (127 g) canned, sliced mushrooms, rinsed and drained

Most mushrooms have tested high in FODMAPs, however canned mushrooms are a good choice as the FODMAPs are leached out in the liquid
75 g is one low-FODMAP serving

3/4 cup dry Marsala wine*

I used Marsala cooking wine
*Marsala wine is a fortified wine made with primarily white grapes as well as a small amount of brandy.  It has not been tested for FODMAP content, however we feel the amount per serving is small enough that it is likely to be tolerated.  If you are concerned, then we suggest substituting a combination of 1/2 cup plus 3 tablespoons dry white wine with 1 tablespoon brandy

1 cup of both white and red wines is one low-FODMAP serving, 1 shot of brandy is one low-FODMAP serving

1 & 1/4 cups low-FODMAP chicken broth (or stock)
3/4 cup heavy cream

Substitute canned coconut milk (full fat) or coconut cream for a dairy-free option
1/4 cup is one low-FODMAP serve

2 tablespoons fresh chopped parsley
Salt and pepper to taste
Optional: 1/2-1 teaspoon truffle oil (titrate to the potency of your product), or 1 tablespoon mushroom infused oil
Directions
If not already done so, pound your chicken breasts with your mallet to 1/4 inch thickness between plastic wrap or wax paper
Mix the low-FODMAP rice flour, salt and pepper in a shallow bowl
Set up a large skillet with your 3 tablespoons oil and allow the oil to heat until shimmering
While oil is heating, dredge the chicken in the flour mixture and shake off any excess
When oil is hot, fry chicken breasts until golden-brown on both sides (about 3 to 4 minutes per side)

They don't need to be fully cooked at this point

Transfer completed chicken to a plate to keep warm
When all the chicken is finished, in the same pan, prepare the low-FODMAP Marsala sauce
Turn down your heat as needed and place the garlic infused oil in skillet to warm, scrape pan to deglaze if needed
Press your sliced, drained mushrooms between paper towels to blot dry, then add the mushrooms to the skillet to brown lightly, about 2 minutes
Next, pour in the Marsala wine and the low-FODMAP Chicken broth and simmer, uncovered, until reduced by half and starting to thicken

This takes a little time, about 10 minutes, adjust your heat as necessary

Pour in the heavy cream and stir, then add the mushroom infused oil, if using
Return the cooked chicken to the sauce
Cook until the sauce thickens more (about 3-8 minutes)
Taste sauce, add salt and pepper to taste
Garnish with chopped parsley prior to serving
Serve with your favorite low-FODMAP, GF Pasta (I used spaghettini, Ronzoni brand)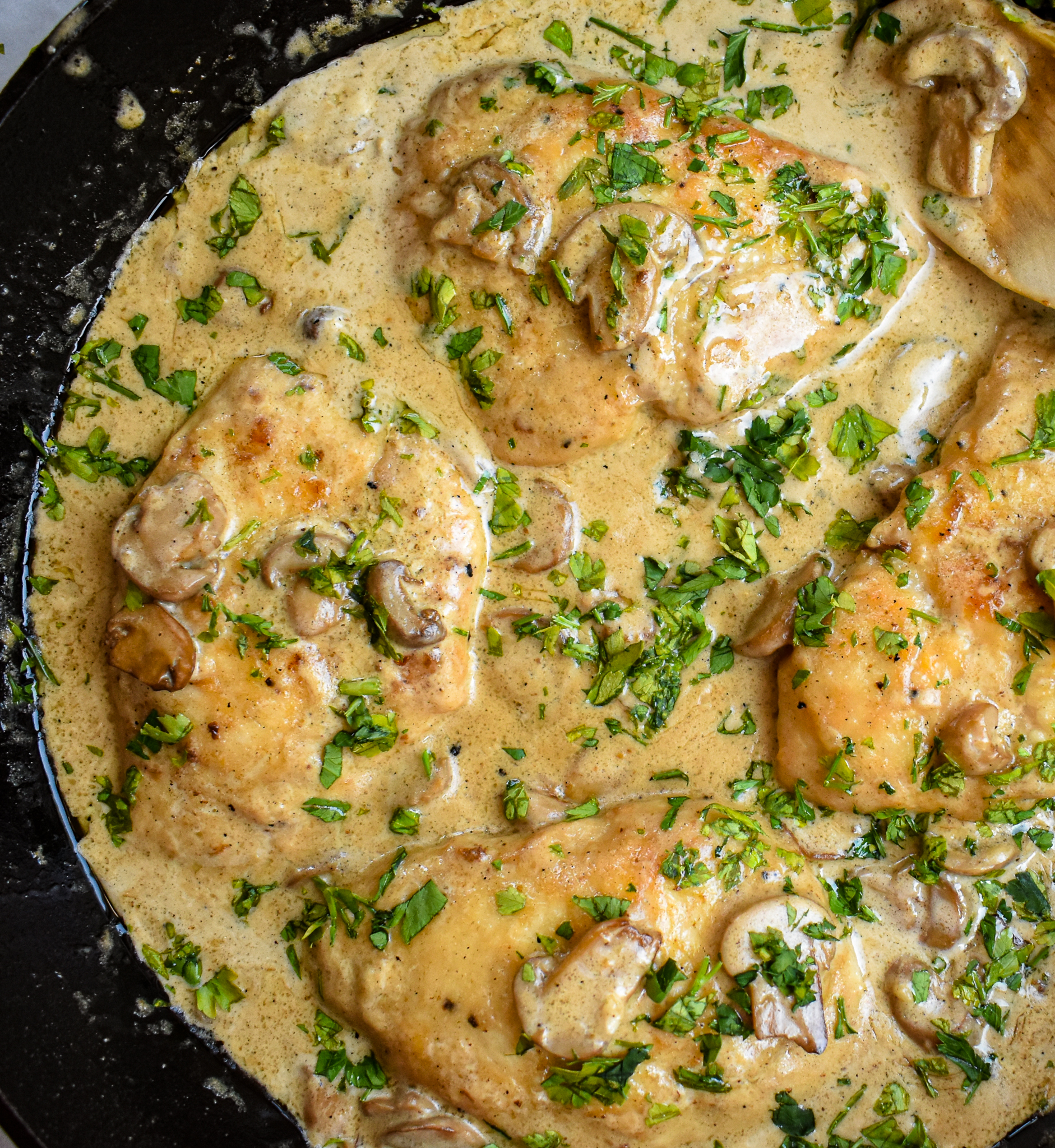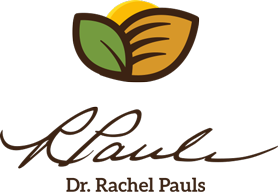 Printer Friendly Version
Comments Rating
( reviews)