Healthy Low-FODMAP 'Banana Bread' Breakfast Cookies; Gluten-free, Dairy-free
March 27, 2020
Printer Friendly Version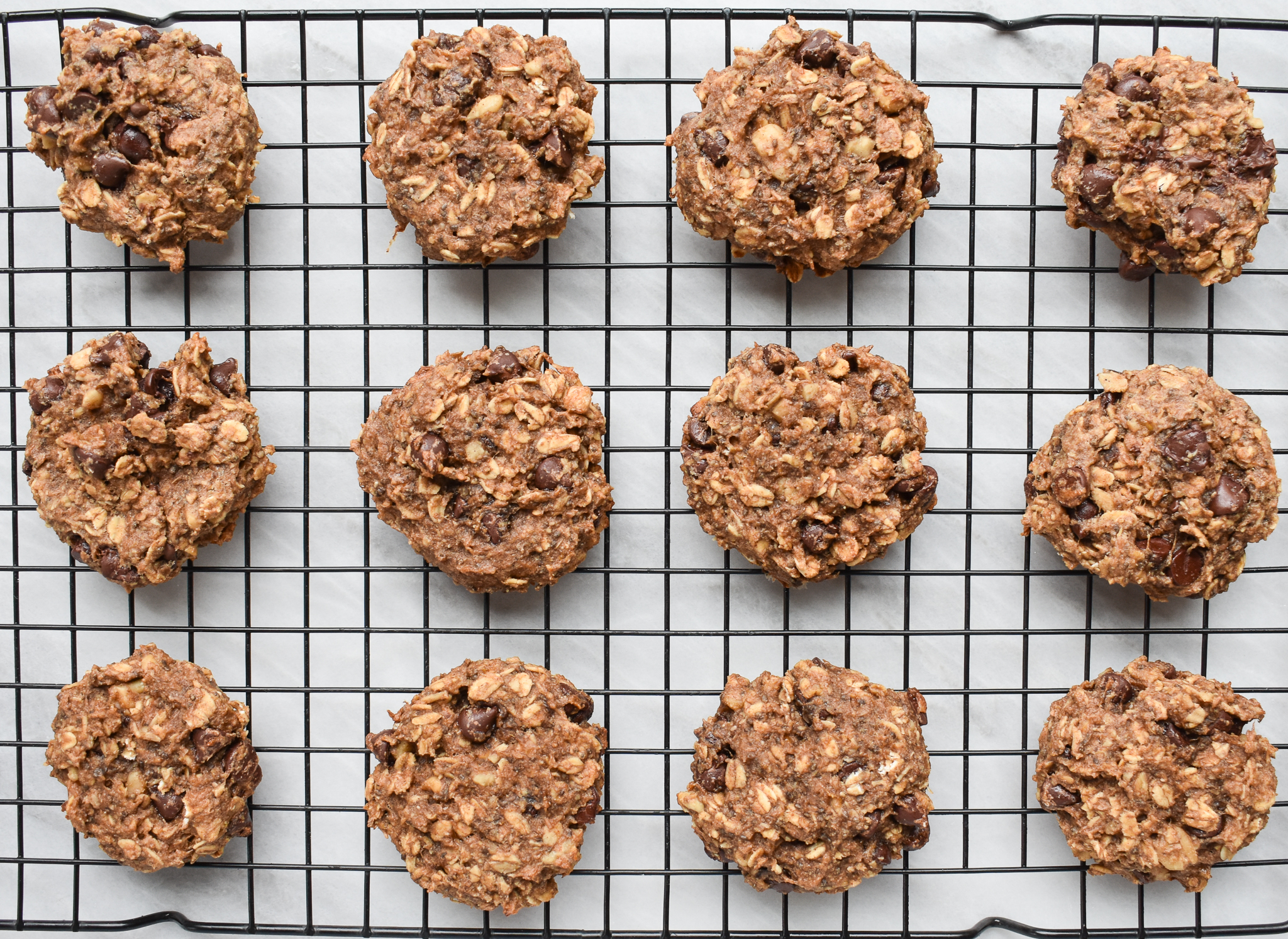 If you are looking for a different option for breakfast, then try my healthy low-FODMAP 'Banana Bread' Breakfast cookies.
Packed with protein and fiber from oats, flax, chia seeds and nuts, these low-FODMAP breakfast cookies are very satisfying.  They also provide clean sources of energy since they are low in added fat and sugars (especially if you lighten the portion of chocolate chips).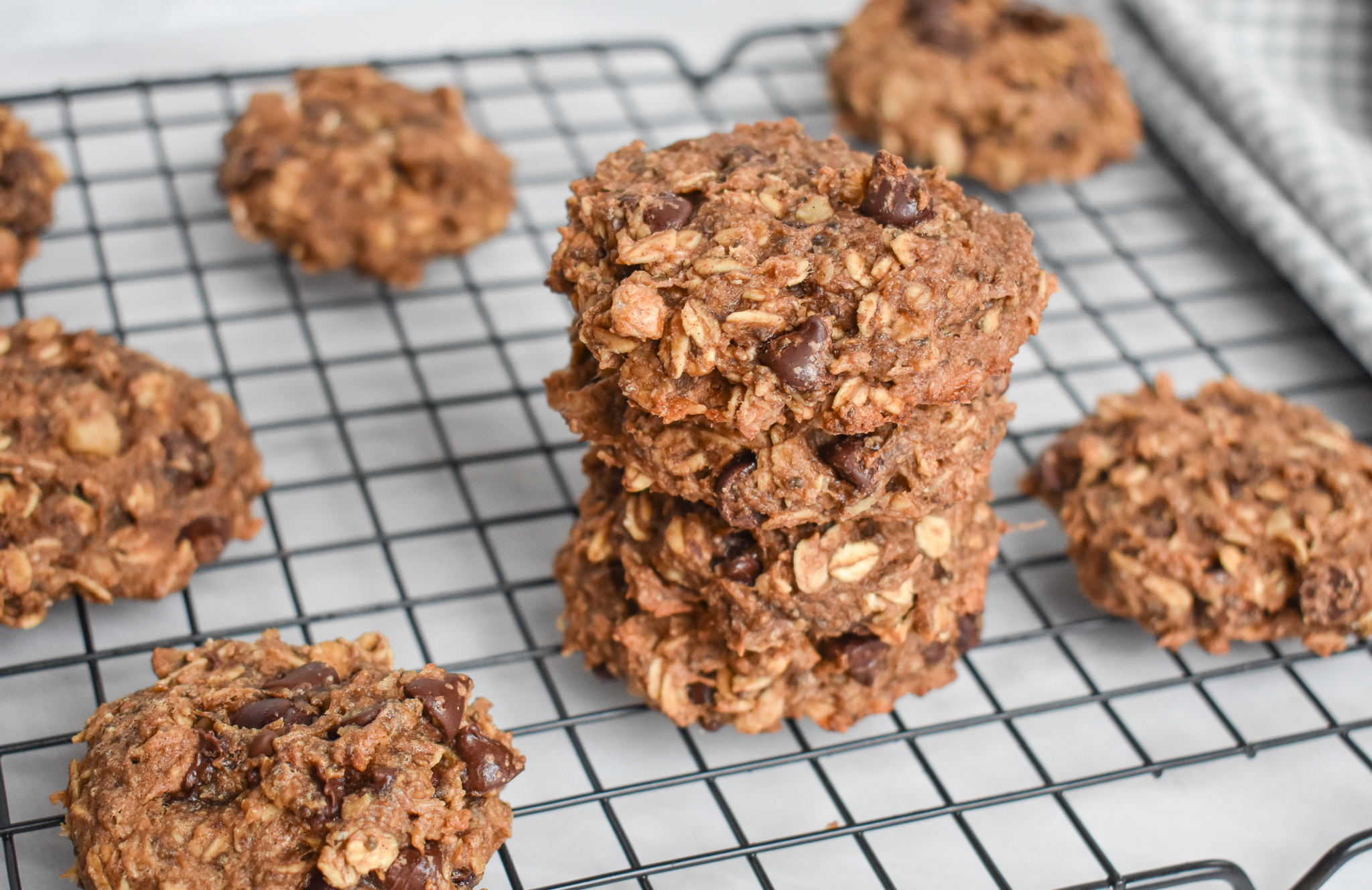 But be aware, these may look like cookies, but they are not a dessert. I find their taste and texture similar to overnight oats (try my low-FODMAP Chai Overnight Oats recipe).
Perfect for breakfast, and my kids LOVE them.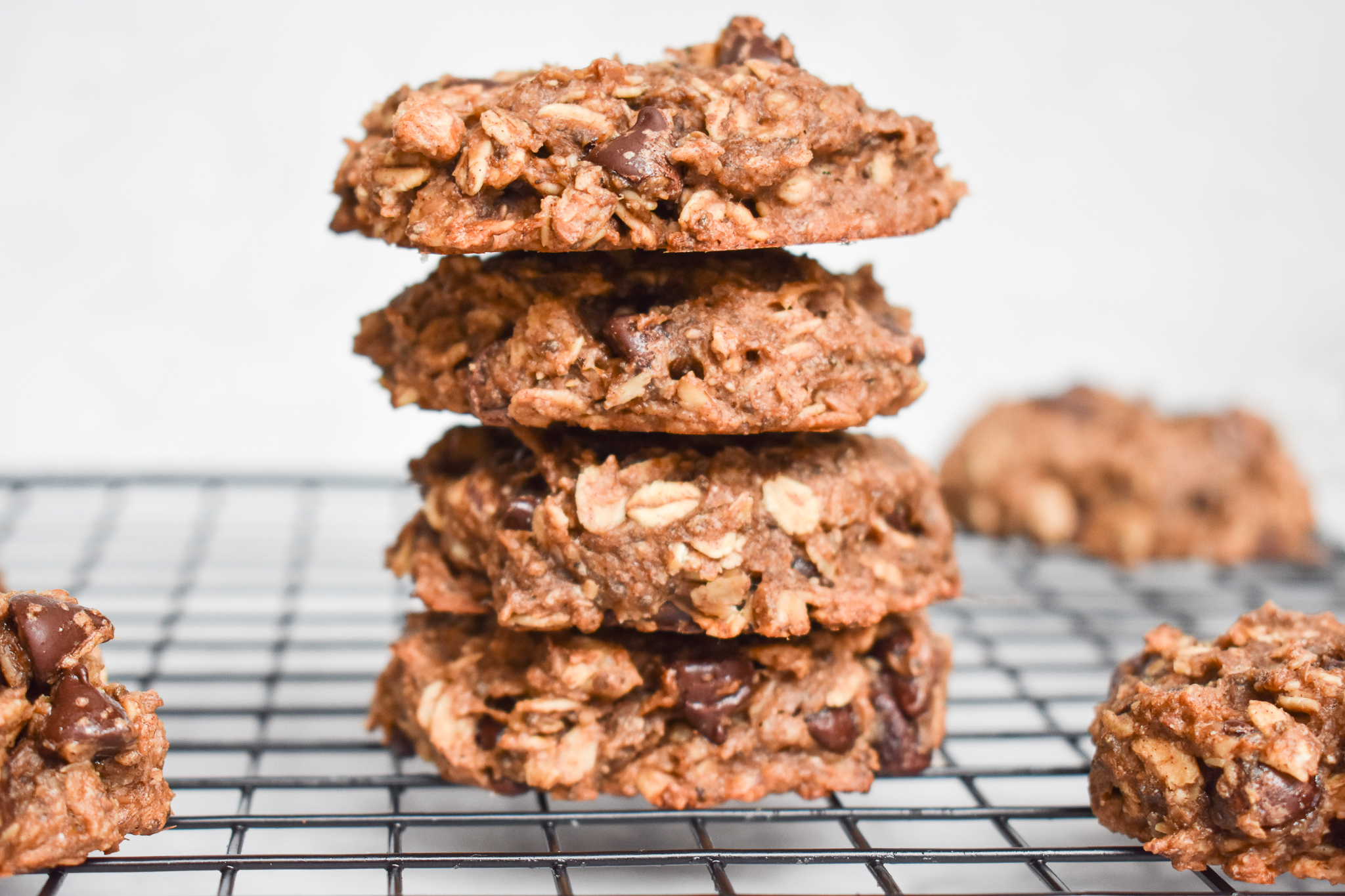 This recipe for low-FODMAP Banana Bread Breakfast Cookies is a cinch. One-bowl prep with no need for fancy equipment.  Ingredients you have already in your pantry.  Under 30 minutes prep time.
For another variation, skip the chocolate for additional nuts or chia seeds, or else try chopped zucchini or carrot instead of banana. These are gluten-free and dairy-free too.
Check out my low-FODMAP Banana Chocolate Glee Happy Bars for a similar flavor 🙂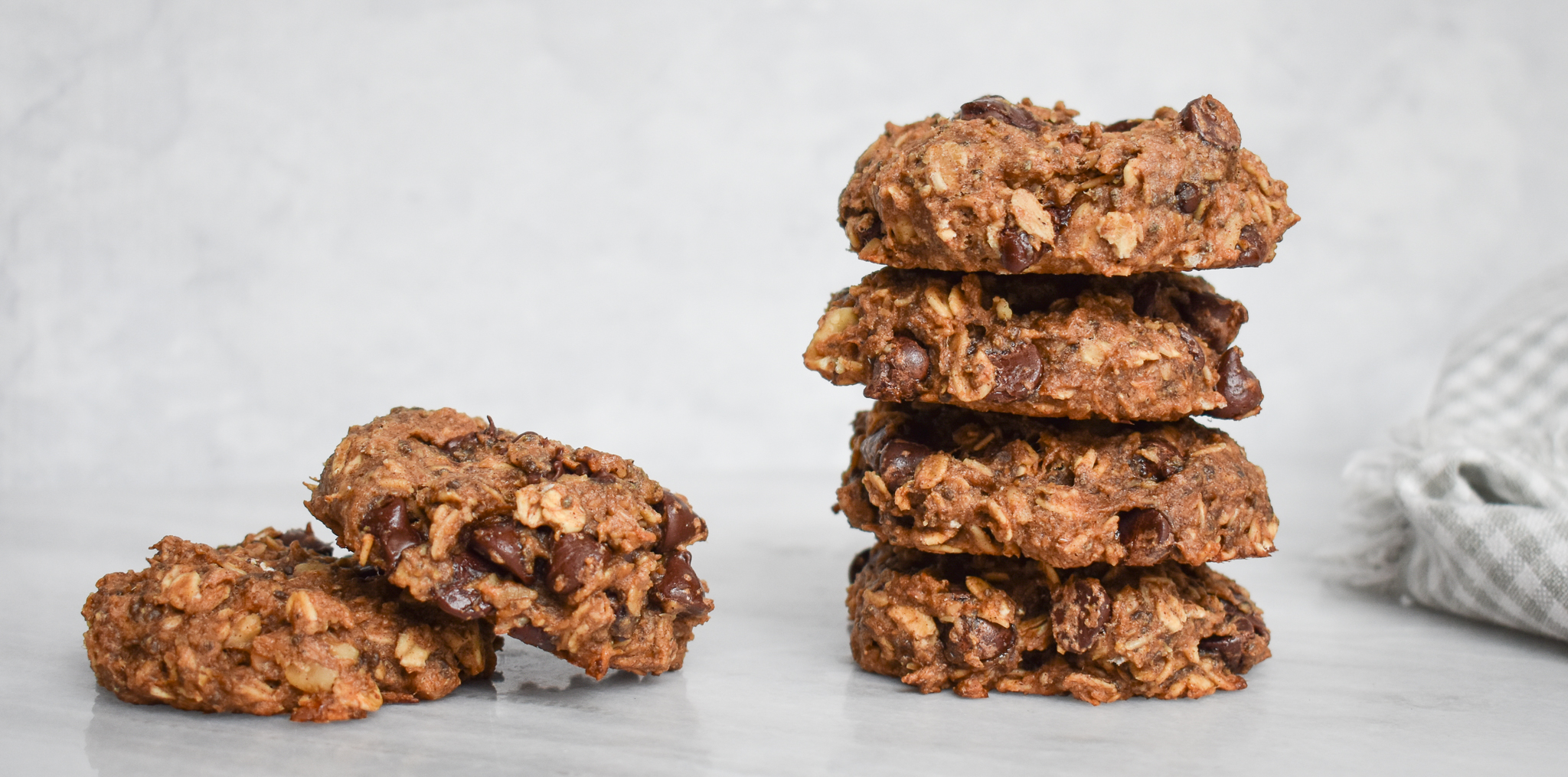 You may also love:
Or over 350 more low-FODMAP recipes on the blog!  IBS-friendly.
Be healthy and happy,
Rachel Pauls, MD
---
One-Bowl Low-FODMAP Banana Bread Breakfast Cookies; Gluten-free, Dairy-free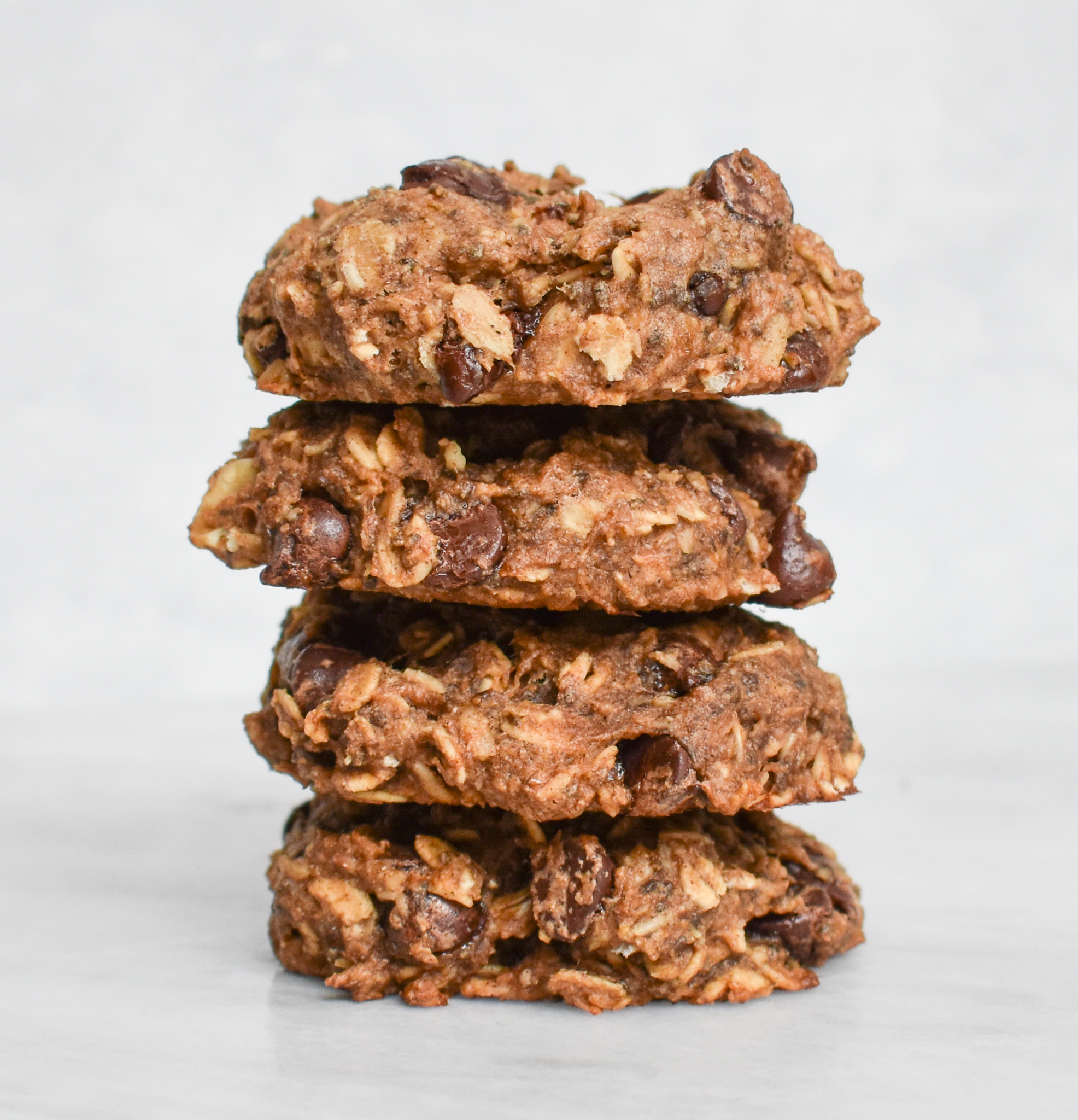 Although this recipe has not been tested, a single serving should be low-FODMAP based on the ingredients
Serves 16-18 cookies
Serving size: 1-2 cookies
Prep time: 10 min
Bake time: 15-20 min
Total time: 30 min
Bake: 350 degrees F
Ingredients
1 & 1/2 cups traditional rolled oats (not 'quick' oats)
2/3 cup oat flour

If you don't have oat flour, then make your own by using those same traditional rolled oats in your food processor. Blitz at high speed until you have a fine powder

1/2 tsp baking soda
2 tsps cinnamon
½ tsp nutmeg
1/4 tsp salt
1/2 cup ground flax seed meal
1/2 cup (55 g) finely chopped walnuts

I prefer to toast my nuts first to enhance the flavor. I do these in batches and store them in freezer in advance

To toast nuts: Place in 350F oven for 5-10 minutes until browned and aromatic, then allow to cool

2 tbsp chia seeds
1 cup ripe, mashed banana (about 2 large bananas)

1/3 ripe banana is one low-FODMAP serving

1 large egg
1/2 tsp vanilla
2 tbsp melted coconut oil
2-4 tbsp maple syrup
3/4 cup (150 g) semisweet chocolate chips, dairy-free if necessary

My family likes a lot of chocolate but you can opt to use 1/2 or 1/3 cup instead
Directions
Preheat your oven to 350 F and line 2 baking pans with parchment paper or silicone baking sheets
In a large mixing bowl, combine oats, oat flour, baking soda, cinnamon, nutmeg, salt, flax seed meal, walnuts and chia seeds (all the dry ingredients except chocolate chips) and stir together until well mixed
Make a 'well' (sunken area) in the middle of your bowl
Add mashed banana, egg, vanilla and coconut oil to the well and whisk them together in the middle, then gently fold them into the dry ingredients until it is thoroughly mixed
At this point, you can add your desired amount of syrup to taste.  It can be made completely without the sweetener, or up to 4 tbsp maple syrup for a sweeter cookie
Stir in the chocolate chips
Scoop your cookie dough onto your pan, will be about 16-18 cookies

Place about 2 inches apart

Flatten each cookie with the back of your spoon or a spatula
Bake for 15-20 minutes, or till the edges of the cookies are browning and the tops are set
Let cool on pan for about 10 minutes, then transfer to a cooling rack
Store in an airtight container in the fridge for 1 week, or these may be frozen (wrap well in plastic and then aluminum foil)
Soft, chewy and SO good for you!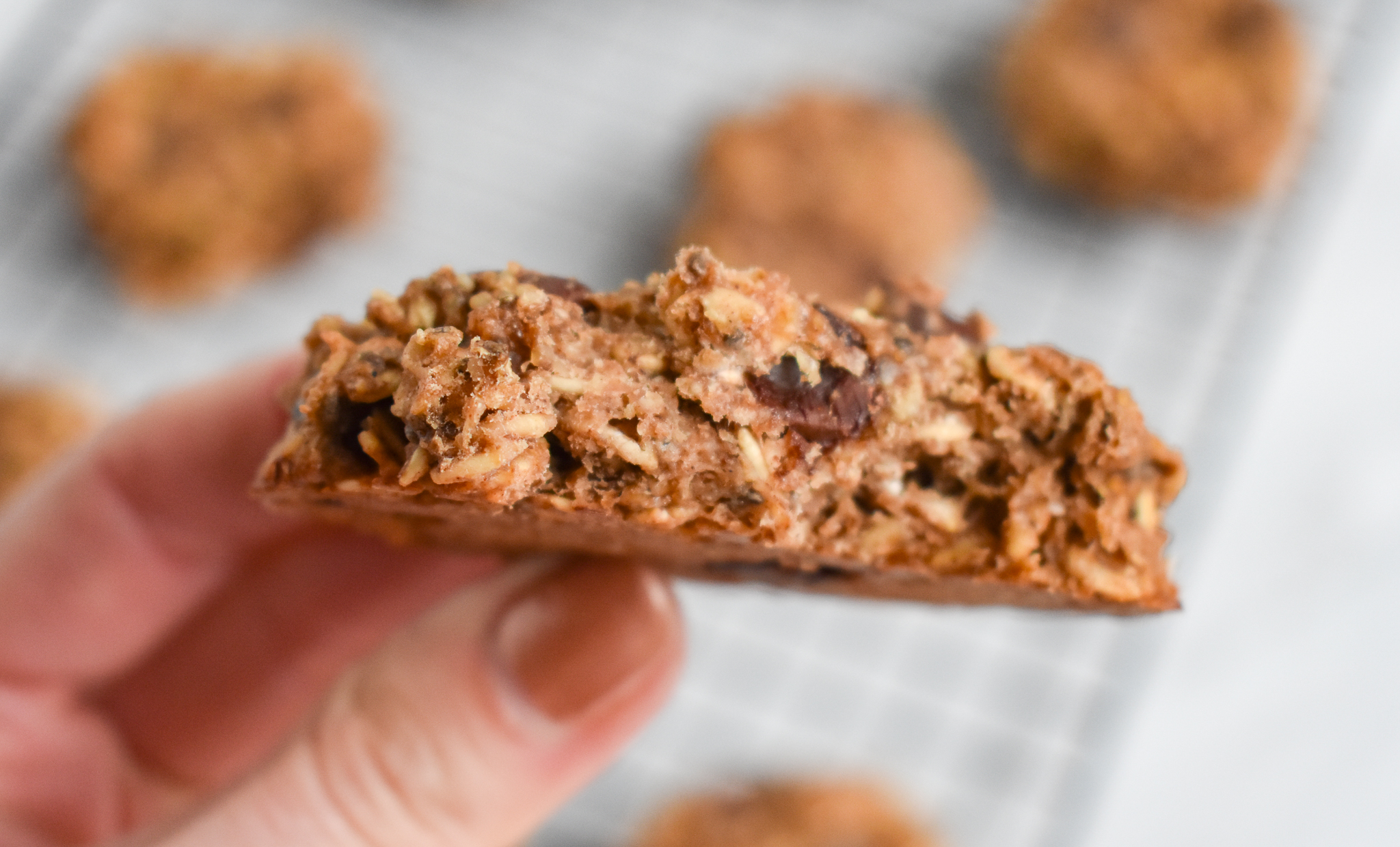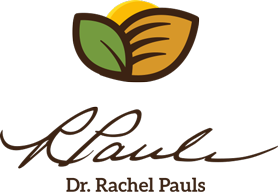 Printer Friendly Version
Comments Rating
( reviews)