Gooey Low-FODMAP Cinnamon Bun Recipe; Gluten-free, Dairy-free
January 5, 2019
Printer Friendly Version
Oh so good.  Low-FODMAP Cinnamon Buns are gooey, sweet and absolutely heavenly.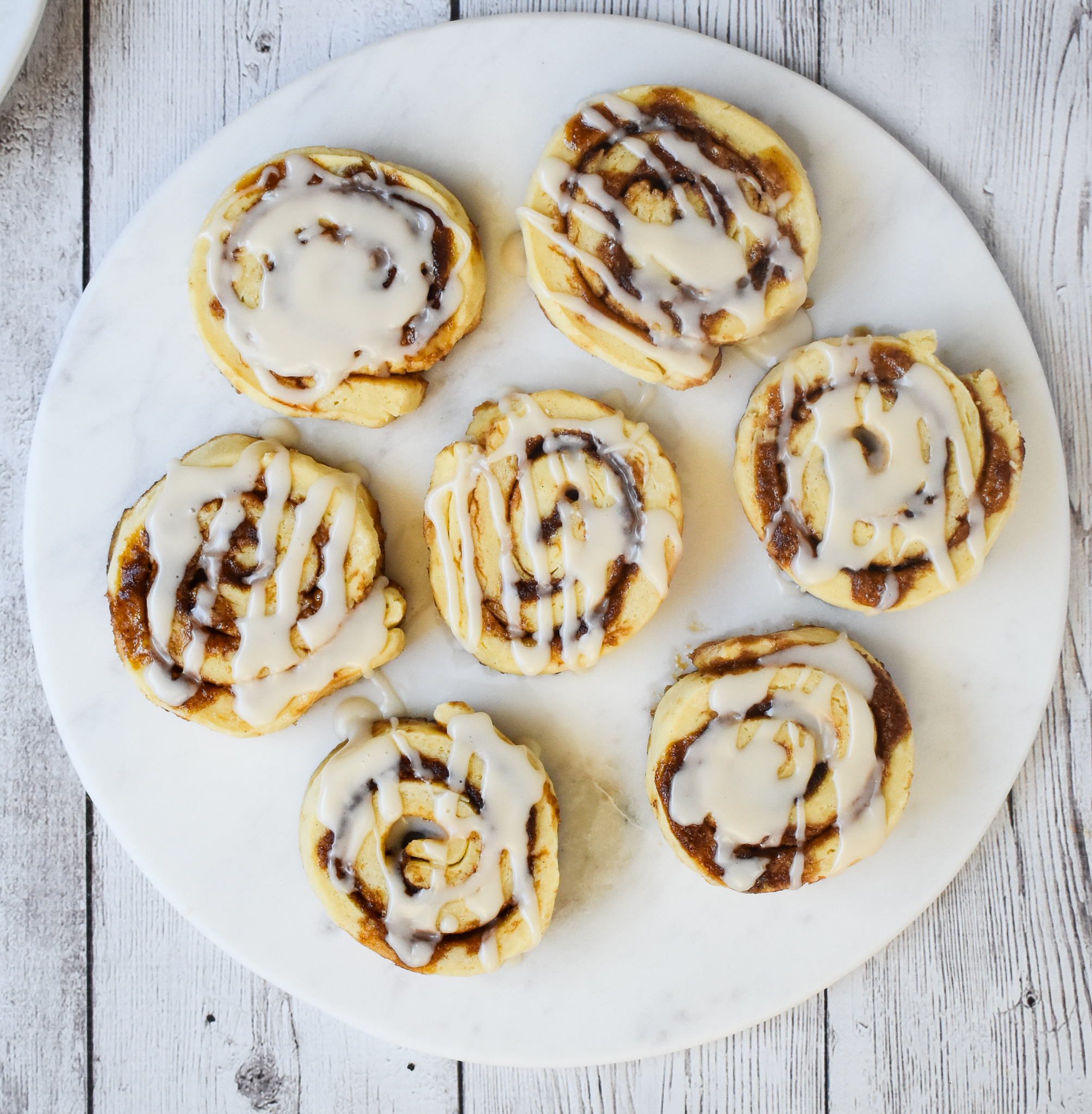 This recipe isn't technically difficult, but it does require some patience.  Baking with yeast (and gluten-free) means that your choice of flour, temperature and measurements will really matter.  I find that my low-FODMAP, gluten-free flour choice shown below works best with this recipe.  I've also noted that the rising time can vary depending on the moisture and temperature that I place the low-FODMAP Cinnamon Buns in.  It could take as little as 45 minutes for this low-FODMAP dough to rise, and as much as 90 minutes.  So plan accordingly!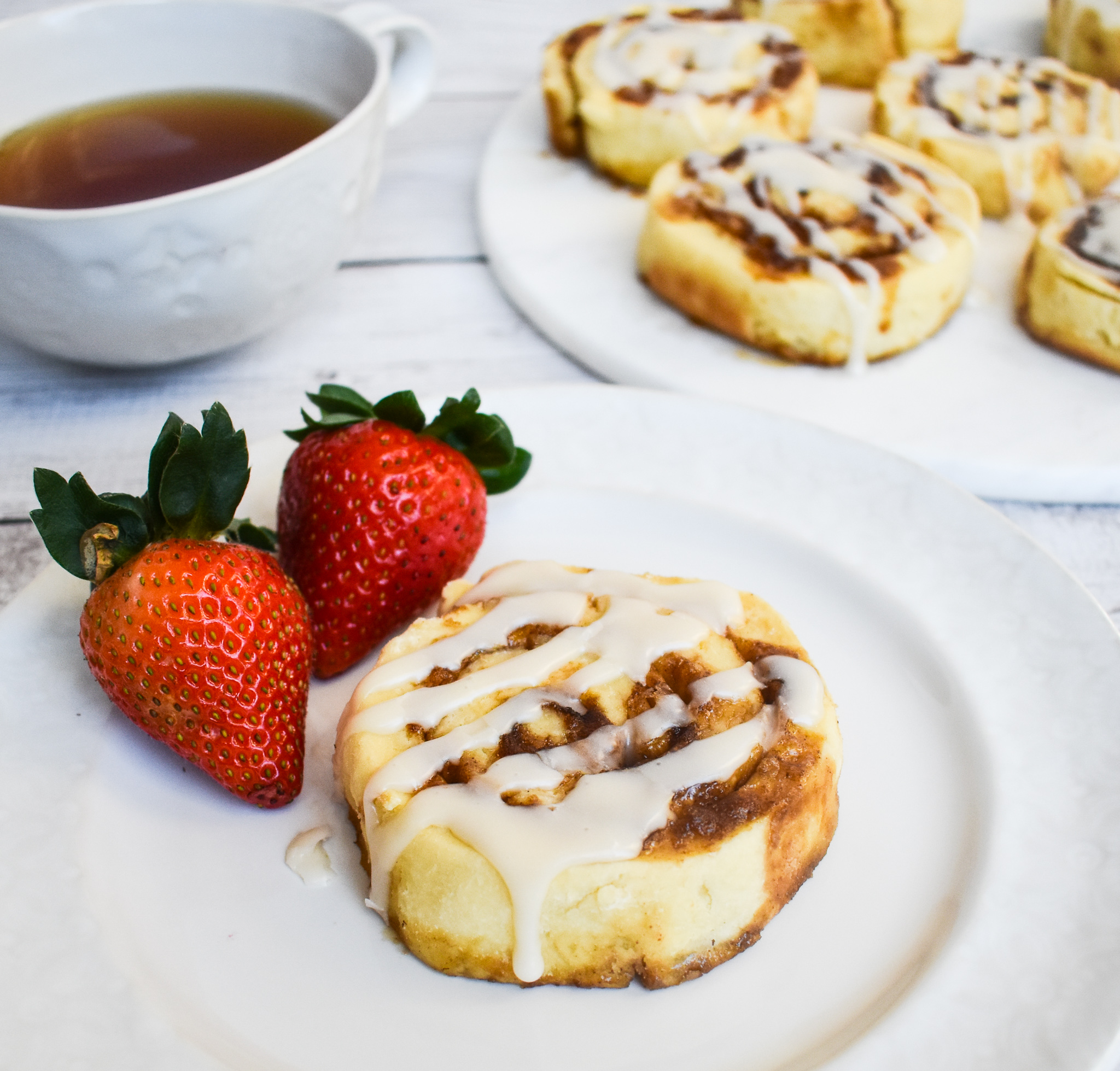 This special treat is totally worth the effort.  You will have gooey, sweet and soft low-FODMAP Cinnamon Buns that your whole family will love. I bet you can't wait to taste that delicious low-FODMAP Cinnamon Bun core.  Yum.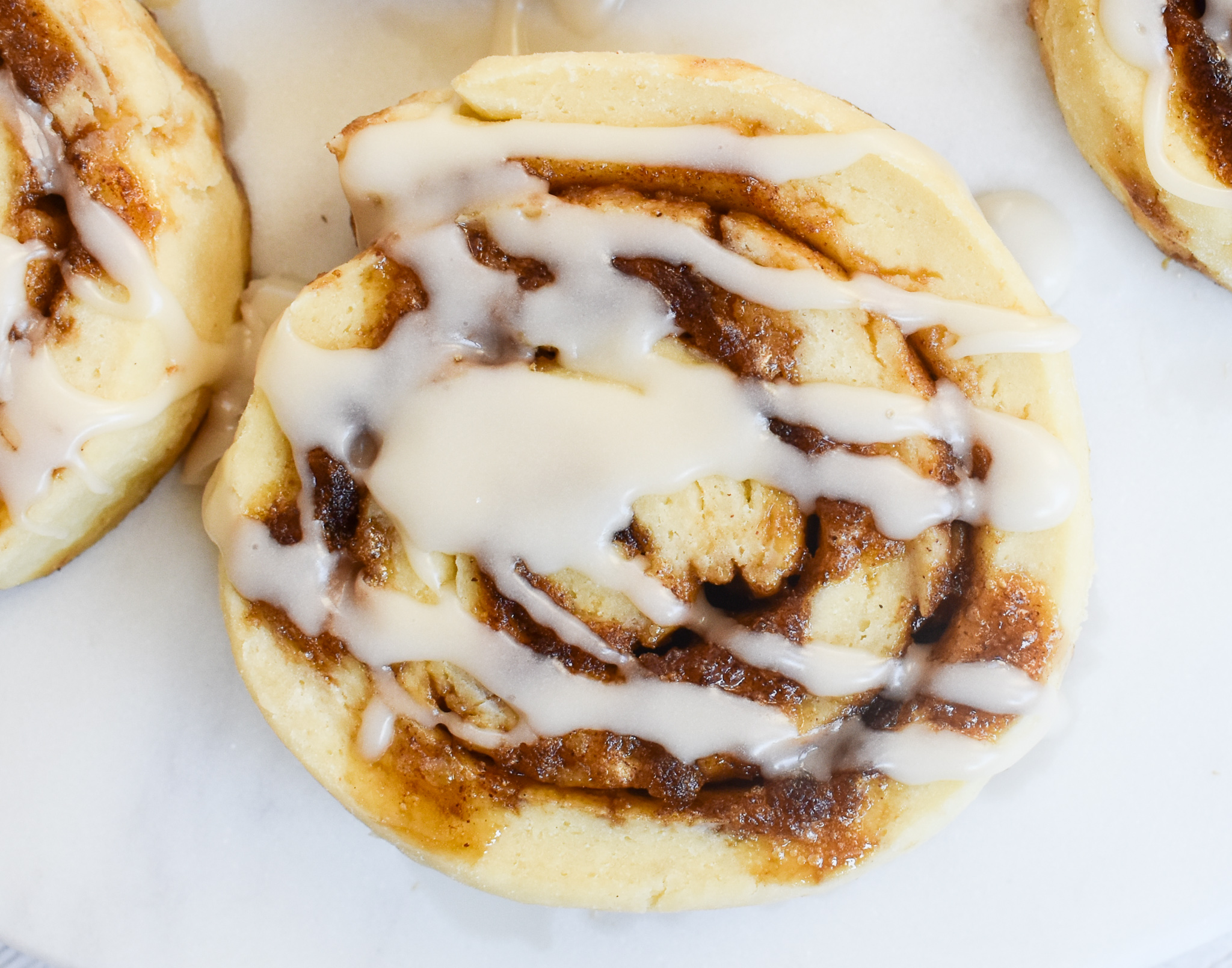 Check out over 400 more low-FODMAP recipes on the blog, like my:
IBS-friendly!
Be healthy and happy,
Rachel Pauls, MD
---
Low-FODMAP Gooey Cinnamon Buns; Gluten-free, Dairy-free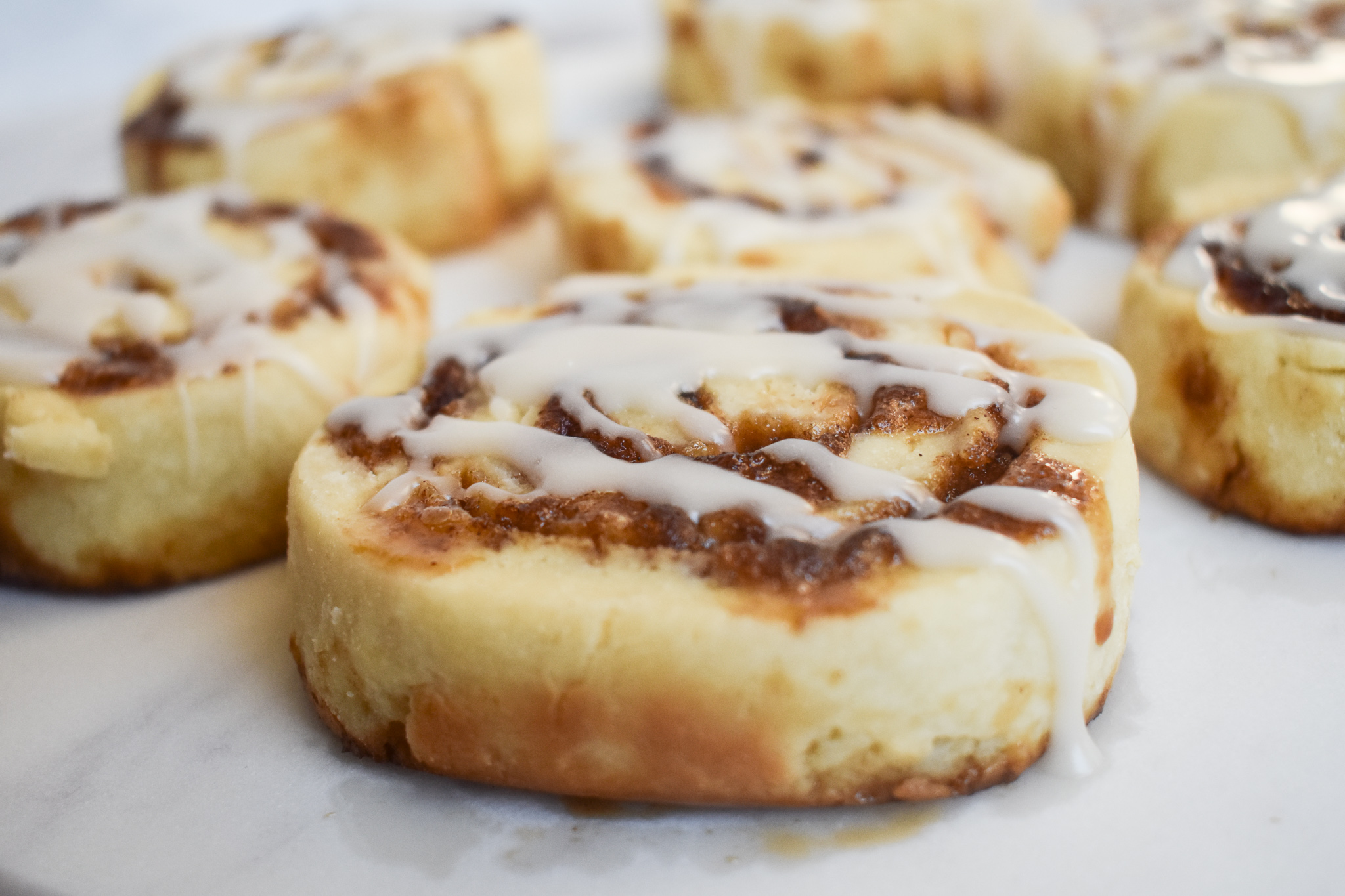 Although this recipe has not been tested, a single serving should be low-FODMAP based on the ingredients
Serves 8-10, depending on the size of the low-FODMAP Cinnamon Buns
Prep time: 25 min
Rising time: 1 hour to 1 hour 30 min
Bake time: 15-20 min (will be shorter for smaller low-FODMAP Cinnamon Buns)
Total time: About 1 hour 45 minutes to 2 hours 15 minutes (depending on rising time your buns take)
Bake 375 F
Equipment 9 inch round cake pan
(Adapted from recipe of Annalise G Roberts)
Ingredients
For low-FODMAP Cinnamon Bun Filling:
1/3 cup packed brown sugar
3/4 teaspoon cinnamon (can add more if you like a very strong cinnamon flavor)
2 tablespoons coconut oil, melted for 5-10 seconds in microwave

Can also substitute melted better, for non dairy-free version
For low-FODMAP Cinnamon Bun Dough:
7 tablespoons low-FODMAP milk (almond milk for dairy-free or lactose-free such as Lactaid 2%)

Milk should be warmed to about 110°F

1 tablespoon dry yeast granules (not quick rise)
¼ cup sweet rice flour, divided as 1 tablespoon and 3 tablespoons

This is not the same thing as plain rice flour, sweet rice flour is made with sticky rice, so it is more glutinous
I buy Bob's Red Mill brand at my local grocery

¼ cup sugar, divided as 1 tablespoon and 3 tablespoons
1 & ¾ cups all purpose gluten-free, low-FODMAP flour (I prefer Authentic Foods GF Classical Blend flour- see my low-FODMAP bake off blog for the reasons why)

Plus additional 1-2 tablespoons to flour board

1 & ¼ teaspoons xanthan gum (if not added to your low-FODMAP flour choice)
½ teaspoon salt
2 large eggs (room temperature is best)
2 tablespoons Canola oil
1 teaspoon vanilla extract
Vegetable shortening, for greasing
For low-FODMAP Cinnamon Bun Glaze:
¾ cup confectioners' sugar
1 tablespoon low-FODMAP milk (see above) or canned coconut cream/milk, plus additional milk to consistency
½ teaspoon pure vanilla extract
Directions
Prepare topping: combine brown sugar and cinnamon in a small bowl and set aside for filling the low-FODMAP Cinnamon Buns

You can melt the coconut oil later, just before filling the low-FODMAP Cinnamon Buns

In a large measuring cup combine warmed low-FODMAP milk (110°F), yeast, 1 tablespoon of the sweet rice flour, and 1 tablespoon of the sugar
Cover with a towel and set aside to proof for 5 to 10 minutes (mixture should become foamy)

Proofing your yeast will enable you to tell if the yeast is 'active ' and thus if it will succeed in your recipe in rising the dough
If there isn't a foam reaction then you will likely need new yeast for the recipe
While this is proofing- continue the next steps

In a separate small bowl whisk eggs and canola oil together and set aside
Lightly grease a 9-inch round cake pan with vegetable shortening
Mix low-FODMAP, gluten-free all purpose flour, xanthan gum, salt, and remaining 3 tablespoons sweet rice flour and 3 tablespoons sugar in large bowl of electric mixer fitted with flat paddle on low speed
Add warm low-FODMAP milk/yeast mixture, and egg/oil mixture to the bowl; mix until just blended
Add vanilla and mix again
Scrape bowl and beaters, and then beat at high speed for about 3 minutes

The dough should be sticky, but pulling slightly away from the edges of the bowl
If the dough appears too dry, then slowly add additional warmed low-FODMAP milk a teaspoon at a time

Liberally spread low-FODMAP flour over surface of a wooden board and lightly flour hands
Scoop dough out onto the wooden board in a ball shape (dough will be sticky)
Roll dough around in the low-FODMAP flour until it is lightly covered
Form the dough into about a 12 x 8-inch rectangular shape with your hands and a rolling pin

I suggest that the dough should be about 1/2 inch in thickness, and try to make it as uniform as possible since this will help with the rolling out and shape of the low-FODMAP Cinnamon Rolls

Lightly brush melted coconut oil over top of rolled and flattened dough and sprinkle with low-FODMAP brown sugar and cinnamon mixture (the cinnamon bun filling)

You want to ensure you completely cover the dough with the sugar mixture so every bite is packed with that yummy goodness

Starting with 8-inch side, loosely roll dough into a spiral (like a jelly roll)

Rolling too tight will impede the dough from rising well
I brushed additional melted coconut oil on the rolling edge to help it adhere

Using a small, sharp (I like serrated edge) knife, cut 8-inch roll of dough into 8 slices about 1 inch thick
Carefully arrange slices in prepared cake pan so that they do not touch (put six around the outside of the pan and two in the middle)
Cover with a light dishtowel and let rise in a warm place until rolls have doubled in size and have filled pan (80°F is ideal and almost essential for this very heavy dough to rise in 1 to 1½ hours)

I placed this pan on my preheating oven to help with the warmth
You want to make sure not to let the low-FODMAP Cinnamon rolls get too big, if the dough rises over the edges of the pan or more than doubles than it may be unstable in baking

Preheat oven to 375°F and position rack in center of oven
Place rolls in center of oven and bake about 15-20 minutes, until light golden and cooked though

You will want them to be slightly underdone

While rolls are baking, prepare low-FODMAP glaze

Combine confectioners' sugar, low-FODMAP milk, and vanilla in a small bowl and stir until smooth and creamy
Add additional LF milk to consistency for piping or spreading

Place the low-FODMAP glaze in a plastic bag and cut hole in one corner of the bag (easy clean up trick!)
Pipe frosting onto hot rolls before serving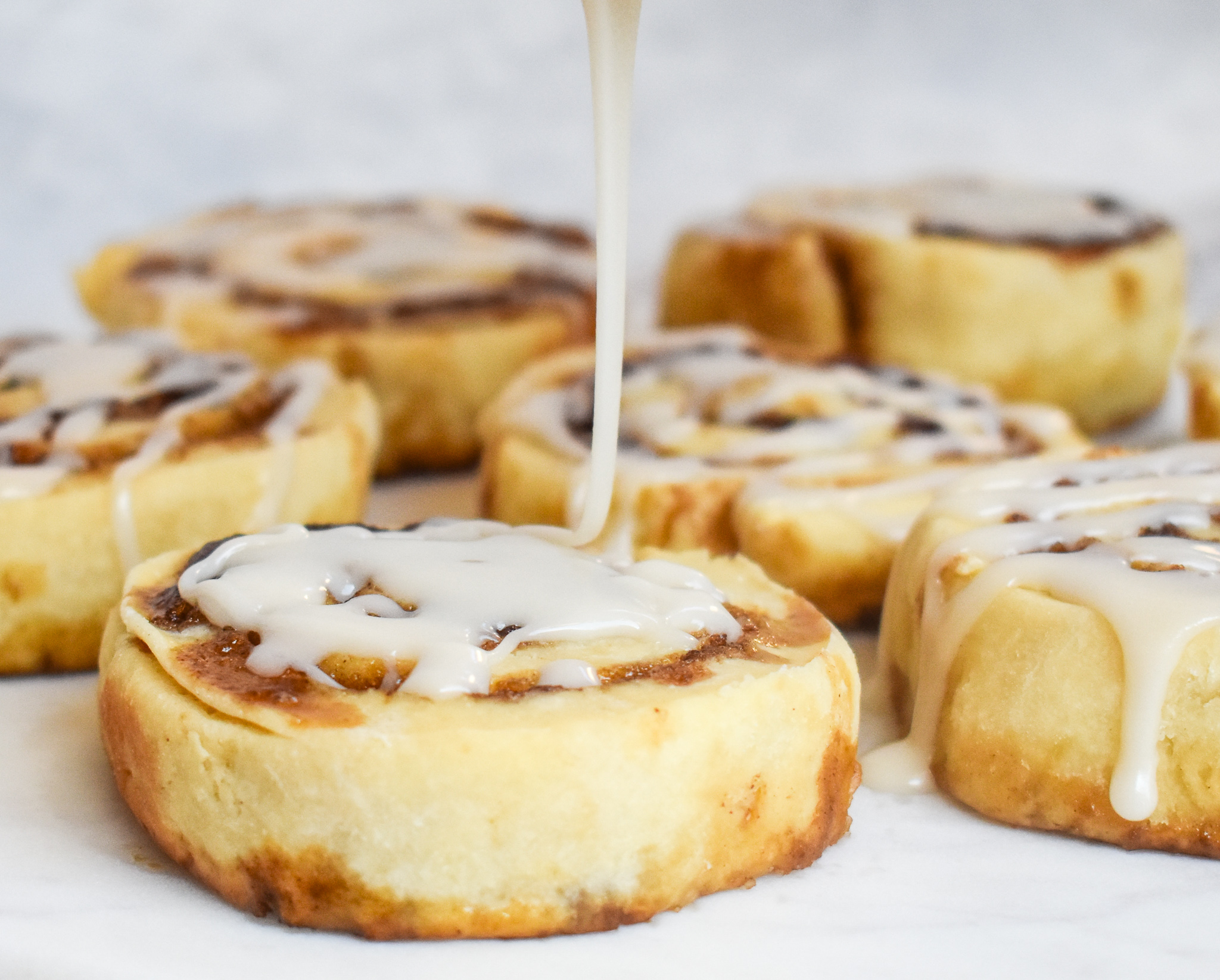 Best served warm (microwave can work great for reheating)…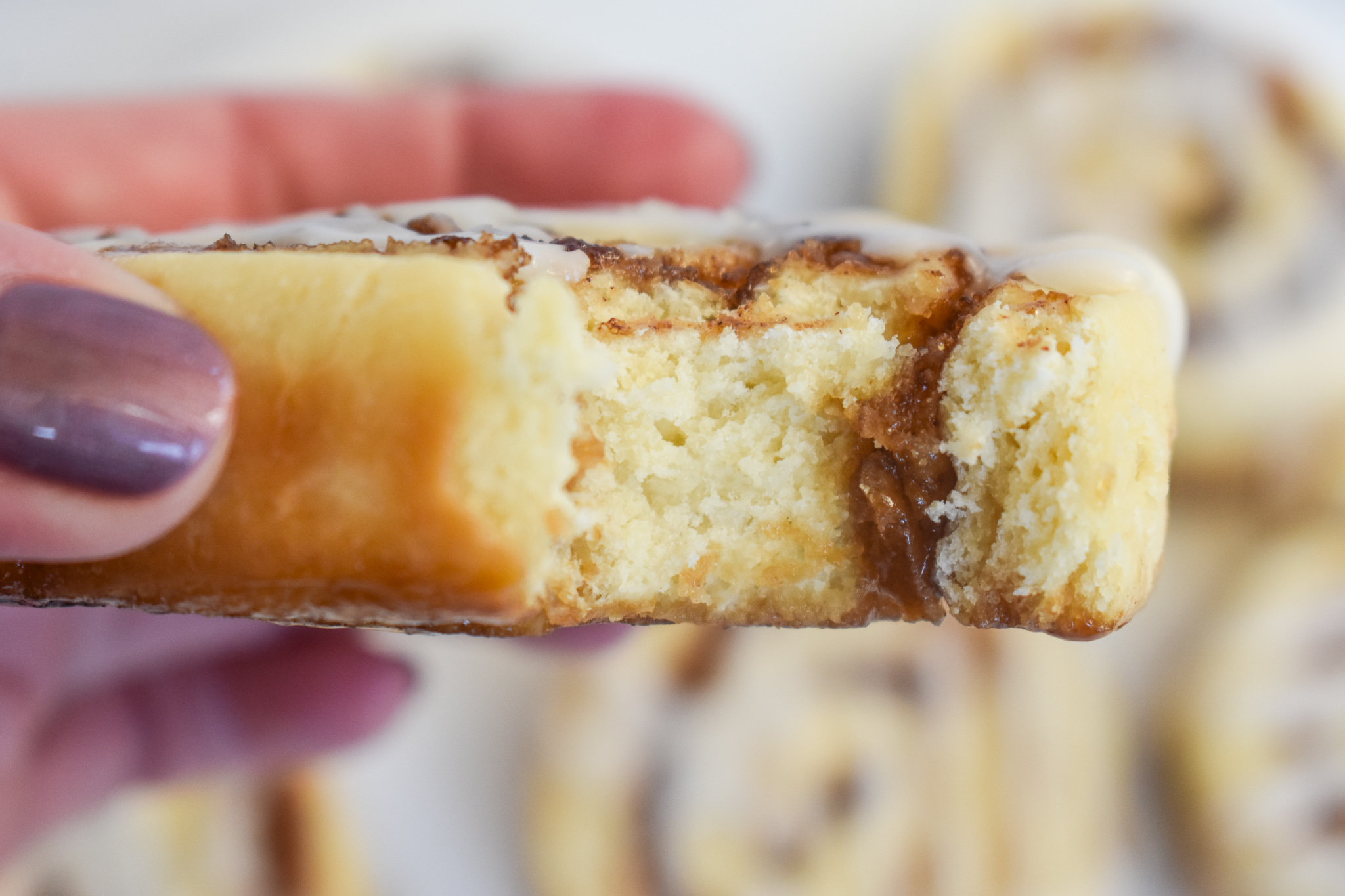 These low-FODMAP Cinnamon Buns are gooey, soft and delicious!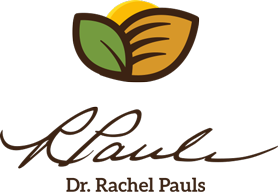 Printer Friendly Version
Comments Rating
( reviews)