Fresh and Creamy Low-FODMAP Strawberry Ice Cream; Gluten-free, Dairy-free
April 27, 2019
Printer Friendly Version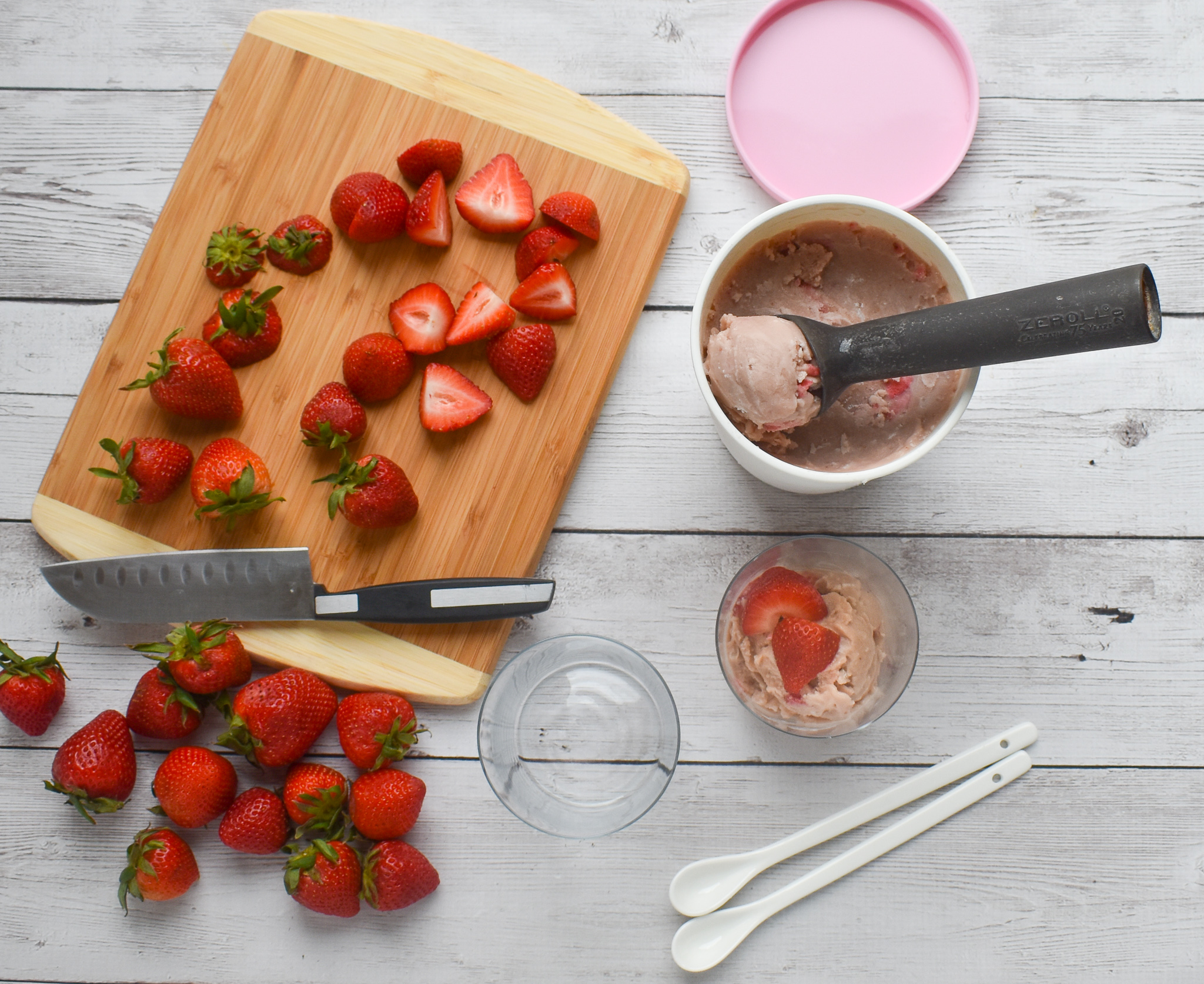 Low-FODMAP ice cream is one of my favorite desserts.  Eating ice cream reminds me of those hot summer nights visiting the local ice cream shop to select one of the amazing flavors.
As a kid I loved chocolate ice cream, but now I appreciate other flavors like strawberry and vanilla much more.  And I have also learned that homemade low-FODMAP ice cream is so much better than any from the store (and really pretty easy!)
Here is my favorite low-FODMAP Strawberry Ice Cream for you to enjoy. This low-FODMAP recipe makes fresh, creamy low-FODMAP strawberry ice cream packed with bits of strawberry chunks. Pure heaven.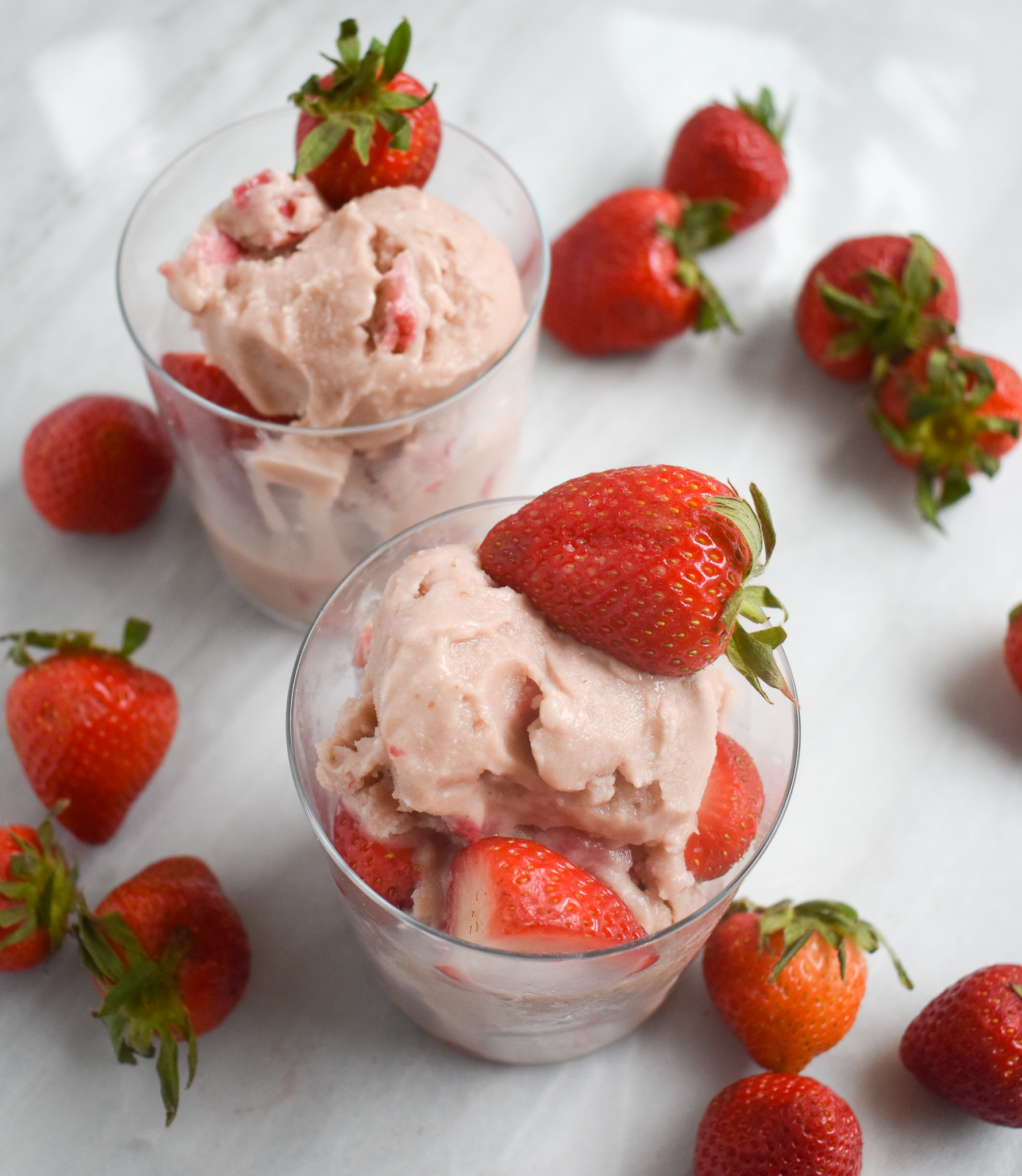 But, it is not only delicious…low-FODMAP Strawberry Ice Cream is packed with the nutrition of strawberries and the dairy-free versatility of coconut milk. Win-Win!
Try this low-FODMAP Strawberry Ice Cream in my low-FODMAP Ice Cream Sandwich cookies and remember those endless summer days when you were young and carefree.
Check out my low-FODMAP French Vanilla Ice cream, low-FODMAP Rasberry Popsicles recipes or my low-FODMAP Desserts and Treats Collection. Or over 400 more low-FODMAP Recipes on my blog.  IBS-friendly!
Be healthy and happy,
Rachel Pauls, MD
---
Fresh and Creamy Low-FODMAP Strawberry Ice Cream; Gluten-free, Dairy-free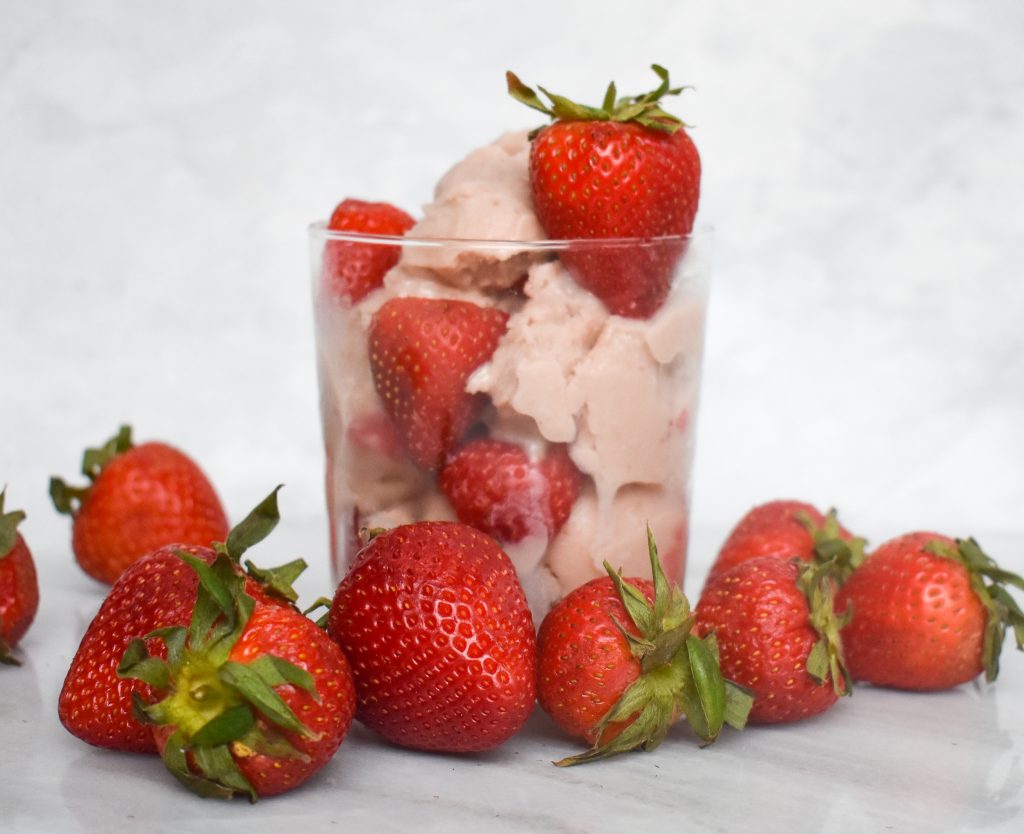 Although this recipe has not been lab tested, a single serving should be low-FODMAP based on the ingredients USING AVAILABLE FODMAP DATA AT TIME OF POSTING
Servings: 14
Prep time: 30 minutes, plus cooling
Churn time: 15-25 min
Note: Making ice cream usually spans a couple days- due to the chilling in between steps.  Plan accordingly.
Equipment:  ice cream maker (see my note below for my choice of ice cream machine)
Ingredients
2 tsp pure vanilla extract
2 x 13.5 or 14 ounce cans full-fat coconut milk

1/4 cup (2 ounces) is one low-FODMAP serving

1 & 1/2 cups sugar, divided
3 cups fresh strawberries, chopped

You may also try frozen strawberries but they may result in a slightly different texture
65g is one low-FODMAP serving

4 tablespoons freshly squeezed lemon juice (about 1 medium lemon)
3 large egg yolks, room temperature
Optional: low-FODMAP Hot Fudge Sauce for topping
Directions
The night before, place your ice cream churning bowl in the freezer to properly chill
In a mixing bowl combine the strawberries with the lemon juice and 1/2 cup of the sugar
Once combined, remove 1 cup of the mixture to a separate bowl and place in refrigerator, covered for using in the churned ice cream final step
Place remaining strawberry mixture in blender and blend to combine
Press blended strawberries through fine sieve to remove seeds and place strained juice back in blender (optional, I skipped this step)
Add coconut milk, vanilla and remaining sugar and blend on high until completely creamy and smooth for 1-2 minutes to fully dissolve the sugar and mix the coconut milk
Add more sugar if it needs more sweetness, or more vanilla to taste
Place in saucepan and bring to light simmer (do not boil)
In another bowl whisk egg yolks until pale yellow
Add the warmed milk slowly to egg yolks and mix to temper eggs
Then replace egg and milk mixture to saucepan and simmer slightly for 5 minutes (mixture should thicken slightly so it coats the back of a spoon)
Place in covered dish in refrigerator for several hours or overnight

If you don't chill it enough the ice cream won't work…so take the time

When chilled, set up your ice cream maker

I use a Kitchen Aid Ice cream attachment bowl and mixer (only about $65); it fits right on my stand mixer and works perfectly!  I keep the bowl in the freezer so its always chilled and ready to go 😉

Whisk the low-FODMAP ice cream base to remove any lumps
Add low-FODMAP ice cream base directly to chilled ice cream maker and churn according to manufacturer's instructions – about 15-25 minutes depending on your machine
As the ice cream is churning, strain the strawberry chunks you had set aside earlier
When churned to correct consistency, fold in the strawberry chunks by hand

It should look like soft serve when done

Once churned, you can eat it immediately if you like this consistency
If not, transfer the ice cream to a large freezer-safe container (such as a loaf pan or tupperware) and use a spoon to smooth the top

The quicker you transfer the ice cream, the less it melts and will have the best results and taste

Cover securely and freeze at the back of the freezer until firm

Hint:

If using for low-FODMAP ice cream sandwiches, spread the soft ice cream on a rimmed jelly roll pan or baking sheet lined with plastic wrap to enable easier cutting of the ice cream
Freeze covered with plastic wrap until hard enough to cut
Fill low-FODMAP ice cream sandwich cookies and then wrap these tightly in more plastic wrap to refreeze

Can also try it with my low-FODMAP Hot Fudge Sauce, or fresh strawberries!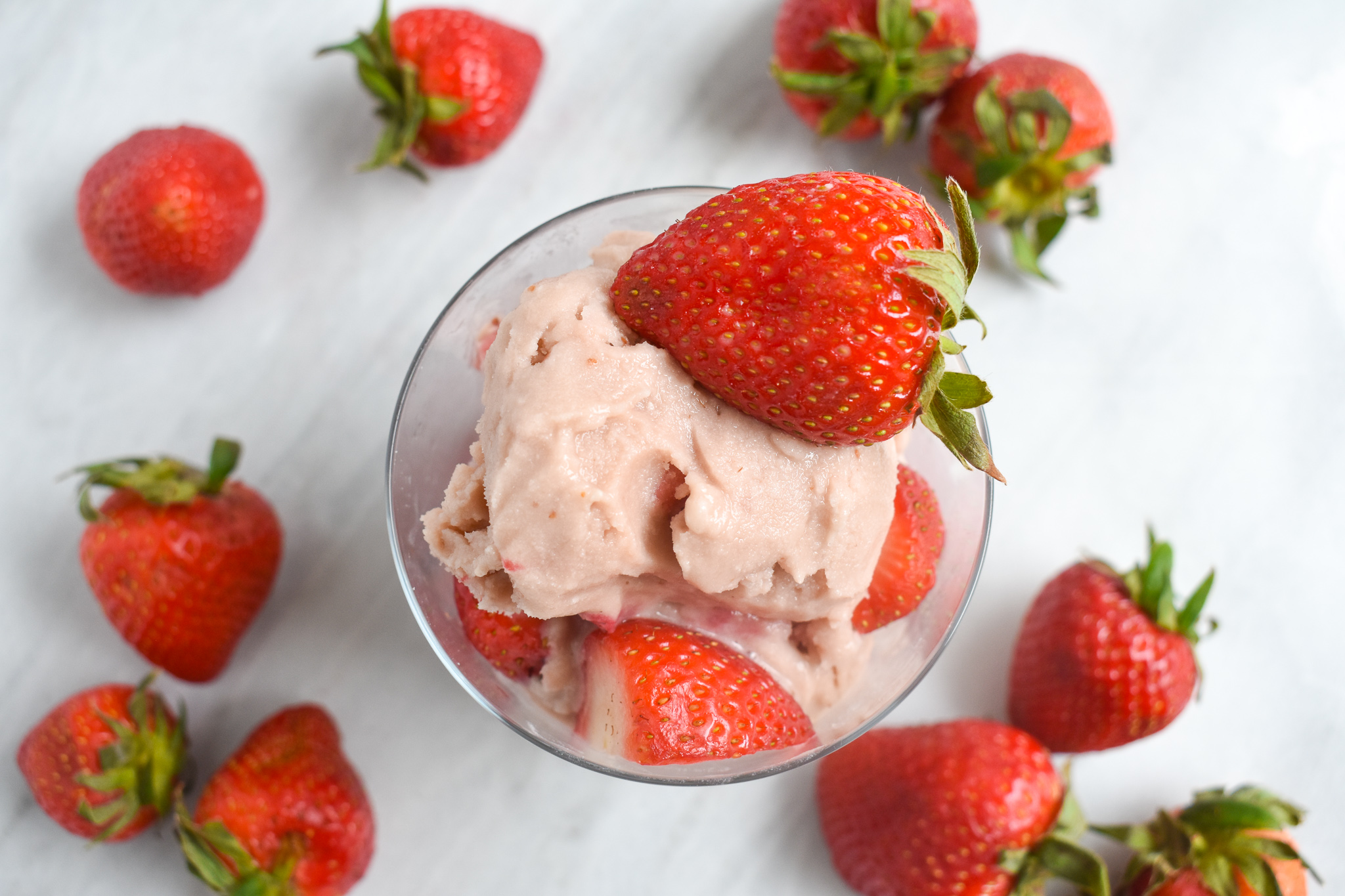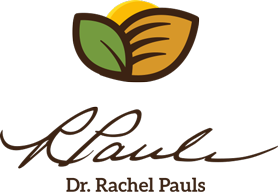 Printer Friendly Version
Comments Rating
( reviews)