Fantastic Low-FODMAP Chocolate Cake Pops / Cake Truffles Recipe; Gluten-free, Dairy-free
July 4, 2018
Printer Friendly Version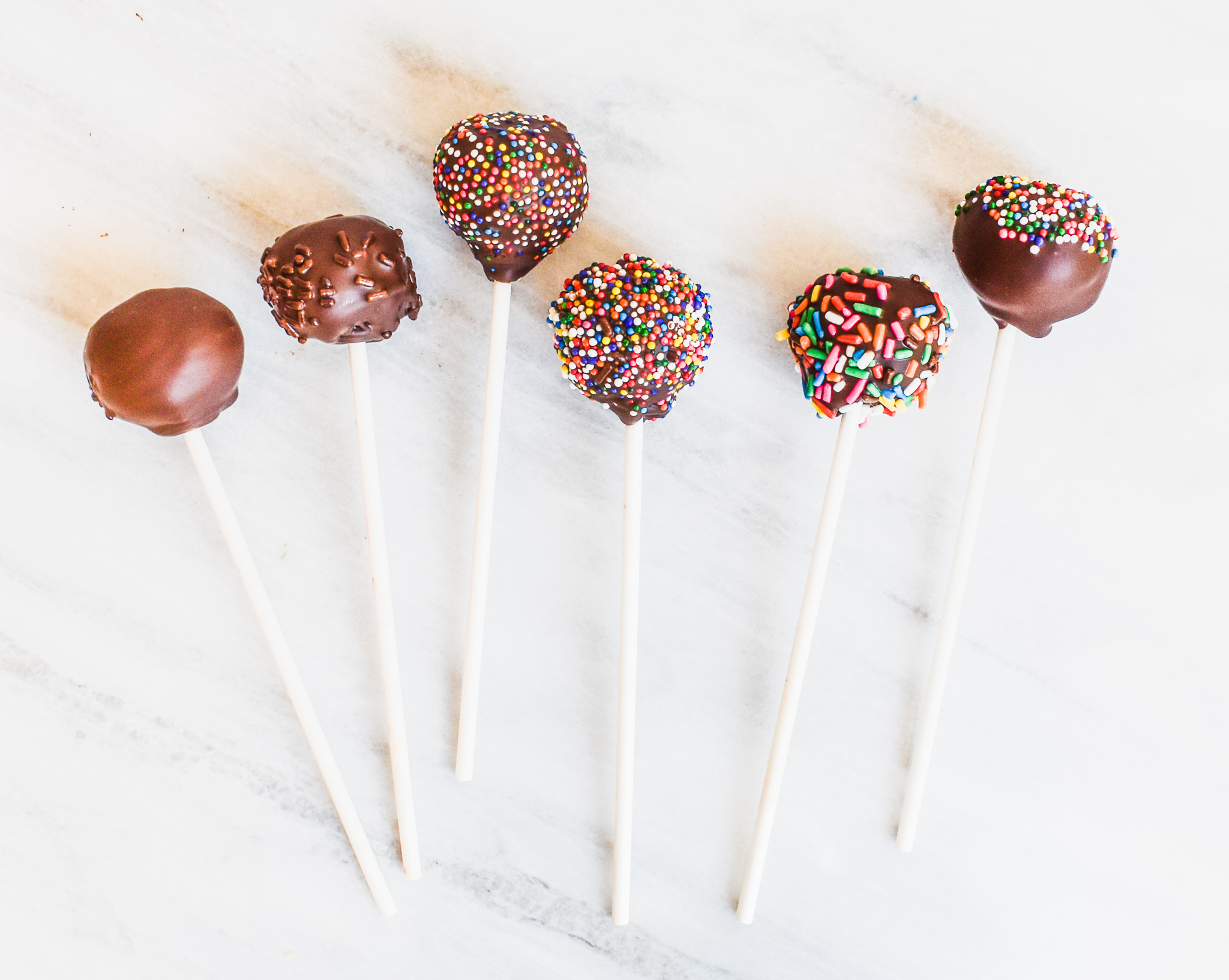 Get ready to party!  Low-FODMAP Chocolate Cake Pops/Cake Truffles will put a smile on your face and make your tummy sing.  These are great low-FODMAP treats for a baby shower, birthday party, or any friendly gathering. No one will know they are gluten-free, dairy-free AND low-FODMAP.  Low-FODMAP cake pops are just the right amount of sweet decadence.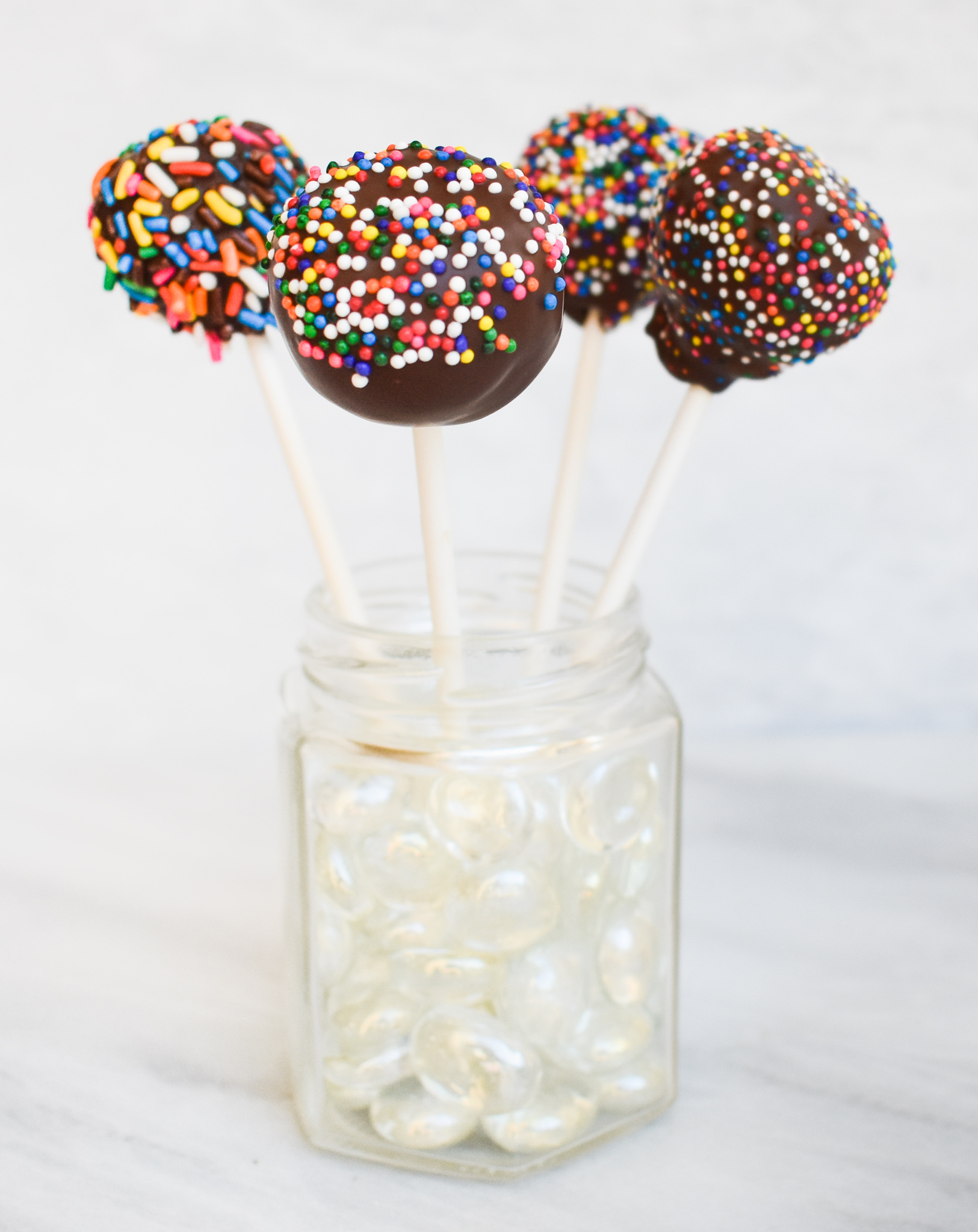 These low-FODMAP Chocolate Cake Pops are so much better than the ones you see at Starbucks.  Fresh low-FODMAP Chocolate Cake Pops are moist and rich with a deeper chocolate flavor.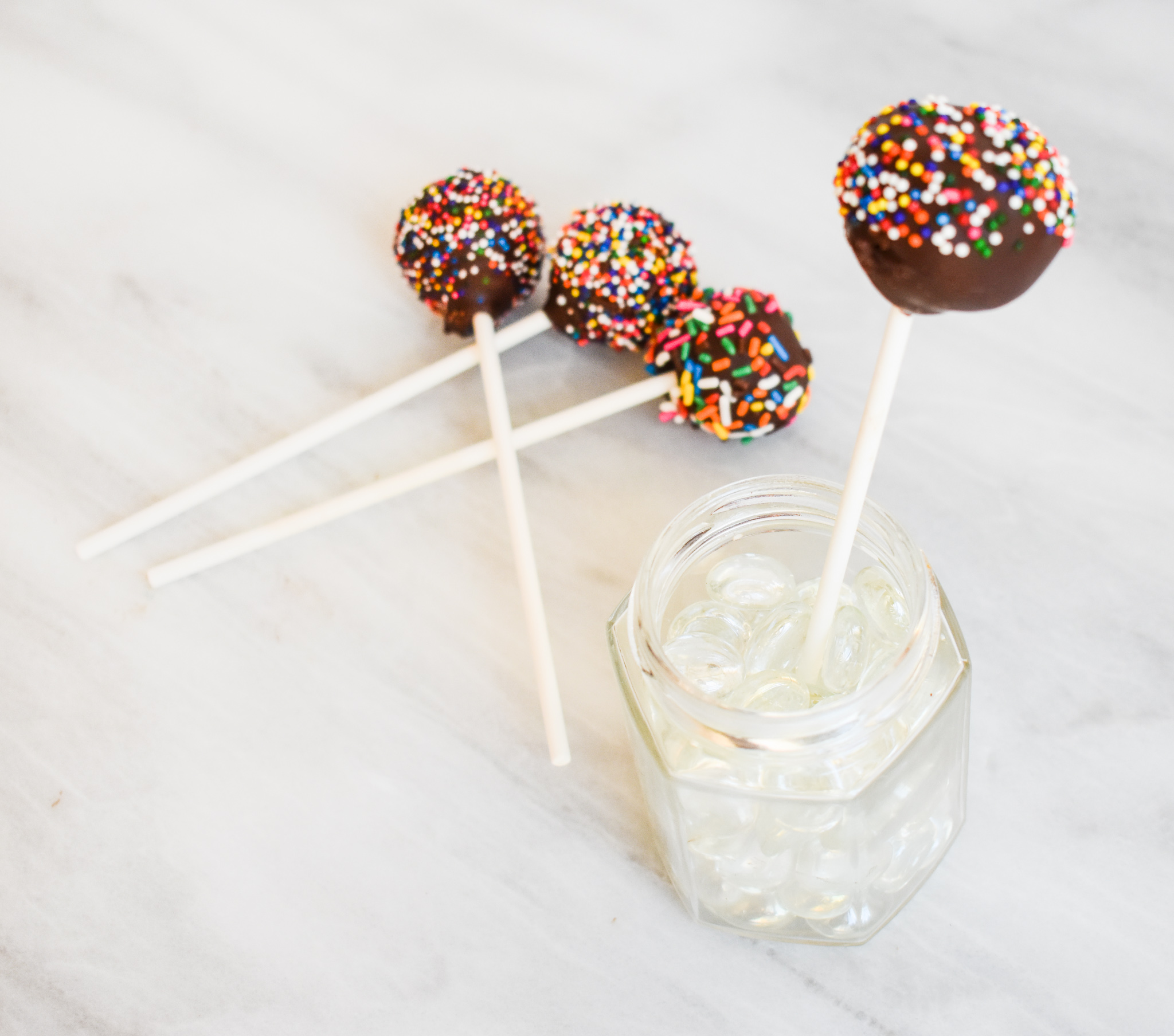 While there are a lot of steps to this low-FODMAP recipe, it isn't hard, just a little time consuming. Plus it is a perfect way to use up leftover low-FODMAP birthday cake.  I tackle these over a couple days to make it even simpler.  You will impress all your friends when you show up with a low-FODMAP Chocolate Cake Pop Centerpiece and it will be worth the extra effort 🙂
(If you are looking for a shortcut to have this amazing cake, try my low-FODMAP Happy Baking Cake Mixes instead!)
This recipe incorporates my low-FODMAP Deluxe Chocolate Cake and my low-FODMAP Chocolate Buttercream recipes in the cake pops.  Plus you can check out over 300 more low-FODMAP recipes on my blog!
Be healthy and happy,
Rachel Pauls, MD
---
Fantastic Low-FODMAP Chocolate Cake Pops Recipe; Gluten-free, Dairy-free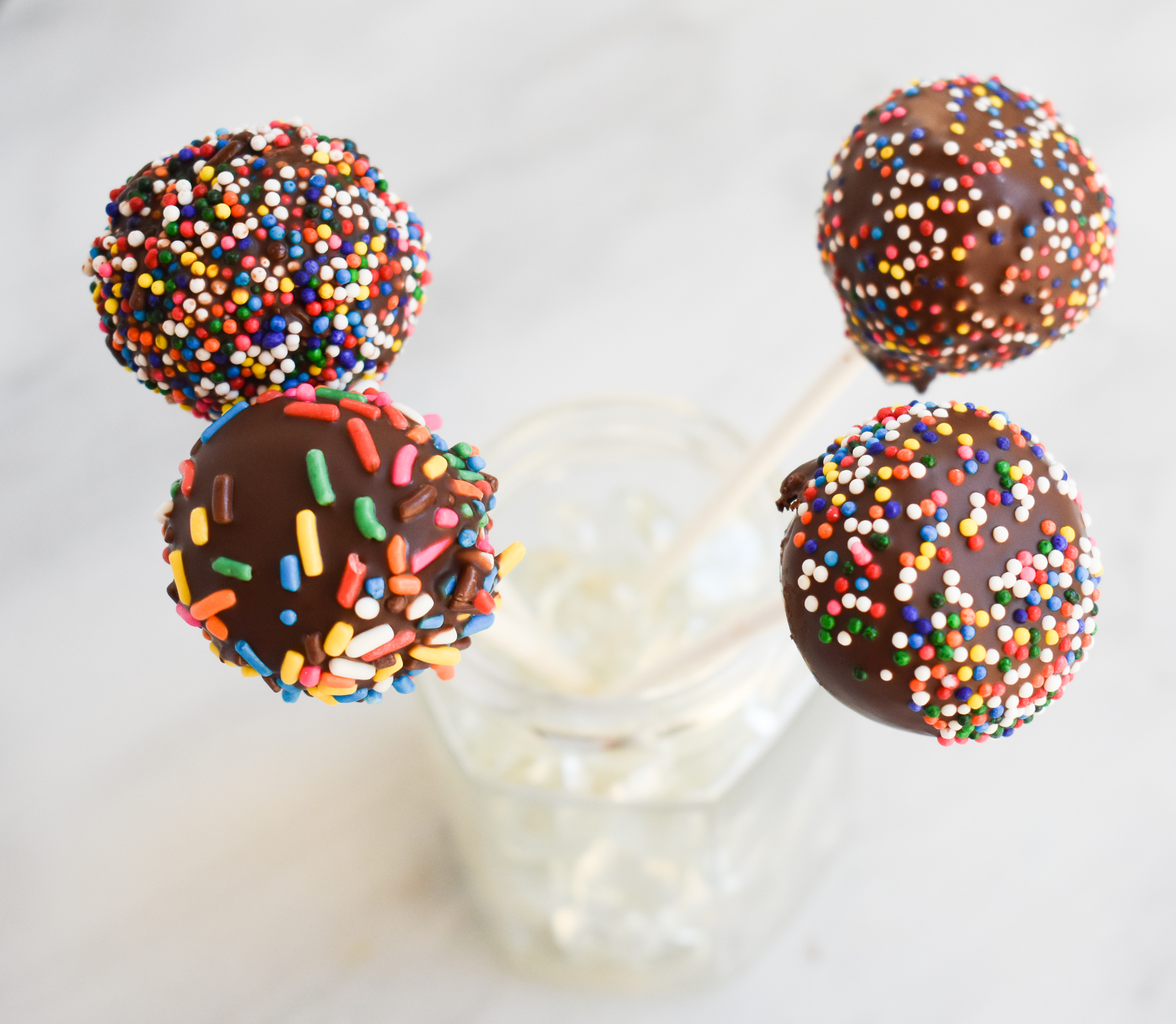 Although this recipe has not been tested, a single serving should be low-FODMAP based on the ingredients
Makes 16 low-FODMAP Cake Pops (recipe can be doubled or tripled if desired)
Prep time: 20 min for making balls, then 30 minutes for dipping
Total time: About 2-3 hours including chilling
Equipment: Lollipop sticks, foam board or glass to prop up pops while setting
For low-FODMAP Chocolate Cake Pop Coating
8 ounces semisweet chocolate chips (dairy-free)
2 teaspoons vegetable shortening
Note: Many recipes that are not low-FODMAP describe using 'candy coating melts' for cake pops, instead of real chocolate like I outline above.  I researched the ingredients for those products and they don't appear low-FODMAP, and are full of additives that I usually can't tolerate.  So while they do seem pretty and easy to use, I think it is worth the extra effort to ensure these low-FODMAP cake pops don't flare up my IBS! Natural tastes much better too 😉
For low-FODMAP Chocolate Cake Pop Dough:
For decorating low-FODMAP Chocolate Cake Pops:
Your choice color of sprinkles or substitute finely chopped peanuts/other low-FODMAP nuts
Directions
Line a baking sheet with parchment paper
Set up styrofoam block to place pops in or other method to stand them straight

I used an egg carton upside down and used a pumpkin borer to create holes in the middle for the cake pop sticks.  Worked great.

Crumble cooled or leftover low-FODMAP cake into fine crumb using hands or your food processor
Add frosting to the cake a bit at a time (best by hand) until it is the proper consistency to make cake pop balls

It should be a thick moist dough

Using a tablespoon, or a small cookie scoop, form cake mixture into tablespoon sized balls
Roll until smooth between moistened hands
Place on the prepared tray and refrigerate overnight, or freeze about 30 minutes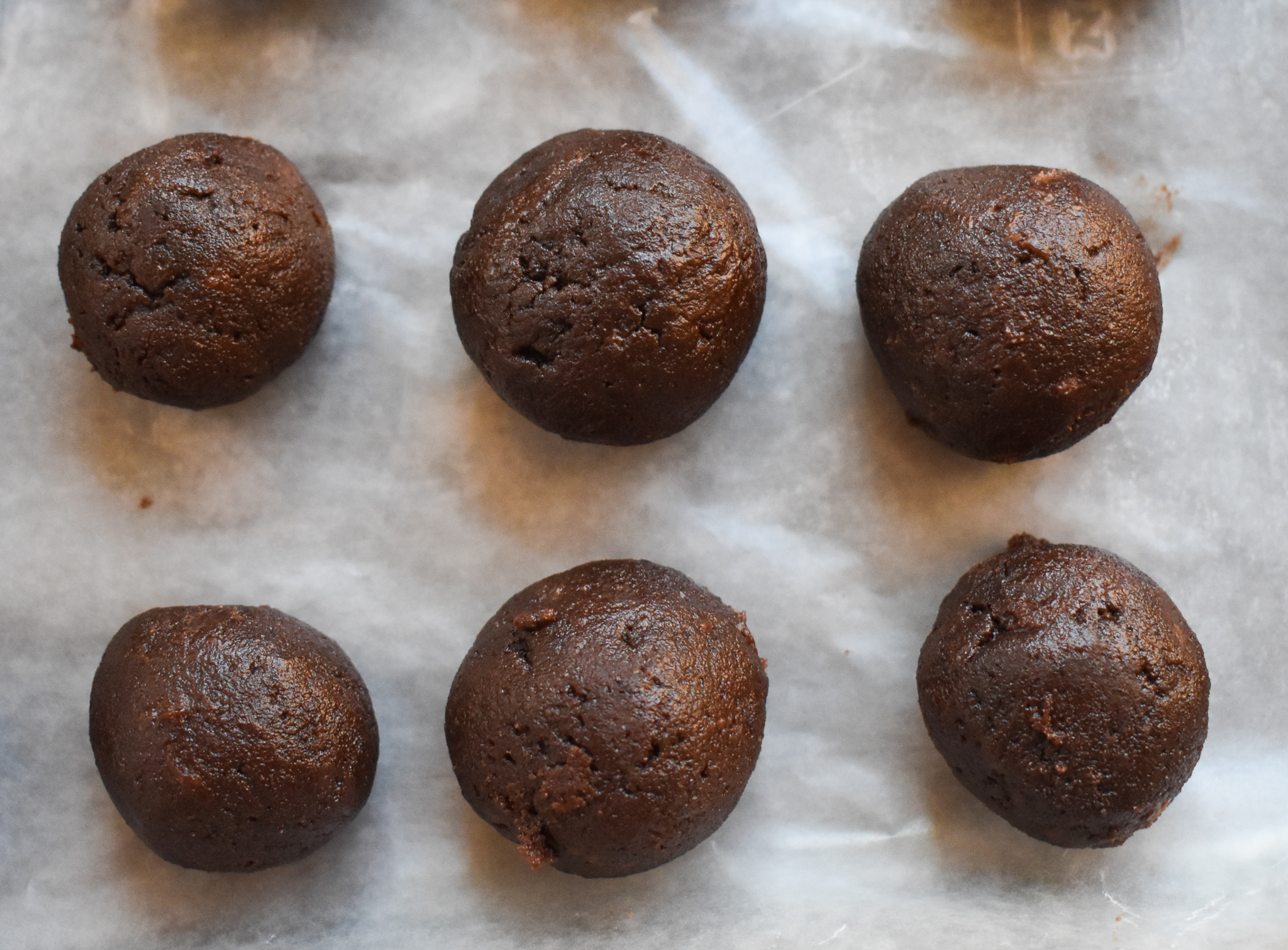 In a deep bowl, or large measuring cup, melt chocolate and shortening in microwave

Can also use a double boiler

Do this at 30 second intervals, stirring between to ensure it doesn't burn
Dip the tip of a lollipop stick into the melted chocolate and then insert into chilled cake balls

This keeps the cake pop from falling off, kind of 'glues' the cake to the stick
A little bump of chocolate at the junction of the stick and the cake ball is fine, it will get covered up later

Repeat with remaining cake pops
Replace the pops on the tray and then chill well again in refrigerator

Do not freeze, if they are too cold then the heated chocolate coating will crack on the pop

When pops are very cold, one or two at a time, remove from fridge and dip cake pops into melted chocolate
Tap off excess chocolate on the side of the bowl gently
Decorate with sprinkles before chocolate hardens

I found this video very helpful to show the best way to do this (bear in mind the 'candy melts' used in the video are not low-FODMAP so use the chocolate recommended in this recipe)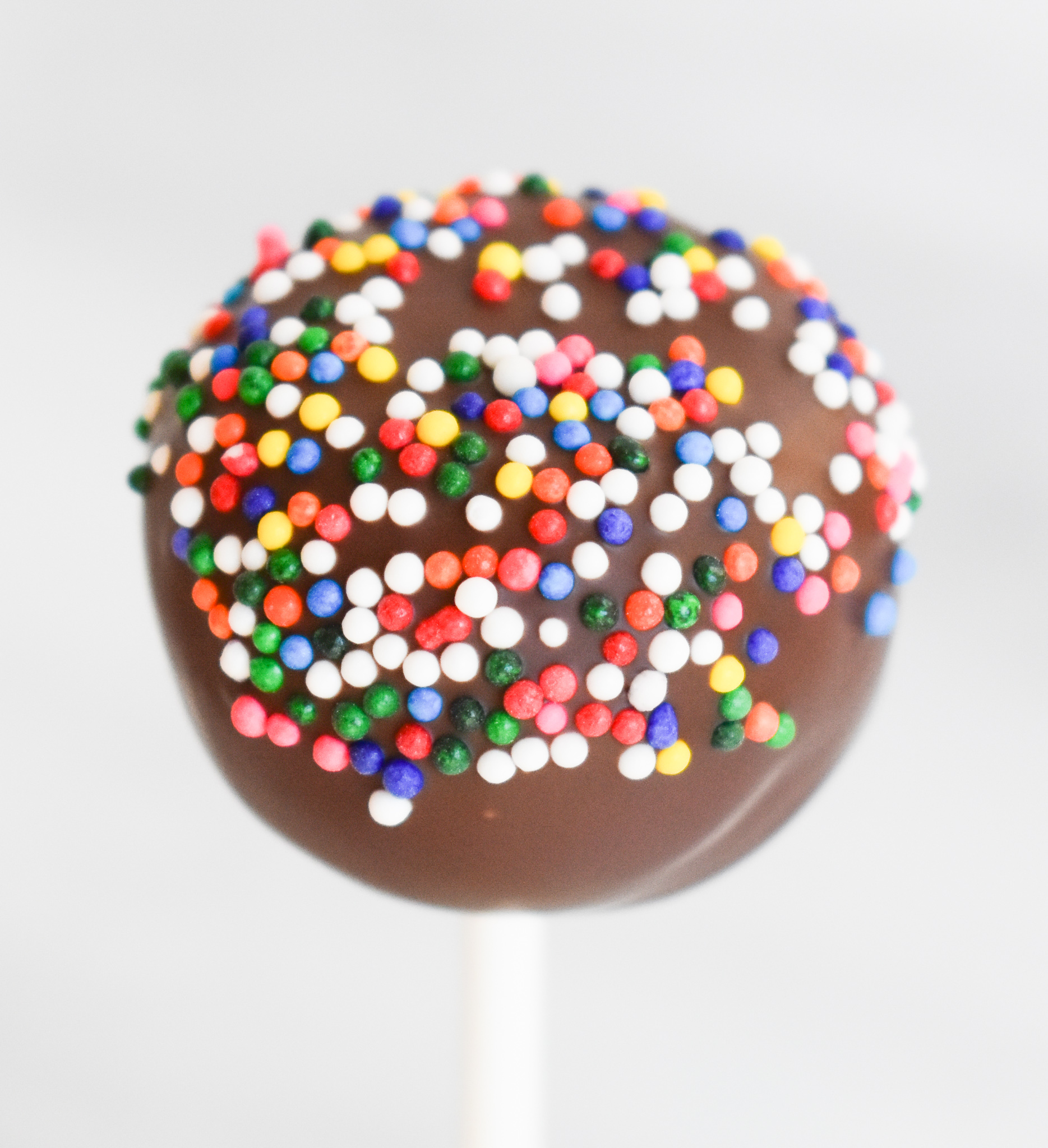 Stick into your styrofoam block or egg carton and refrigerate until ready to enjoy!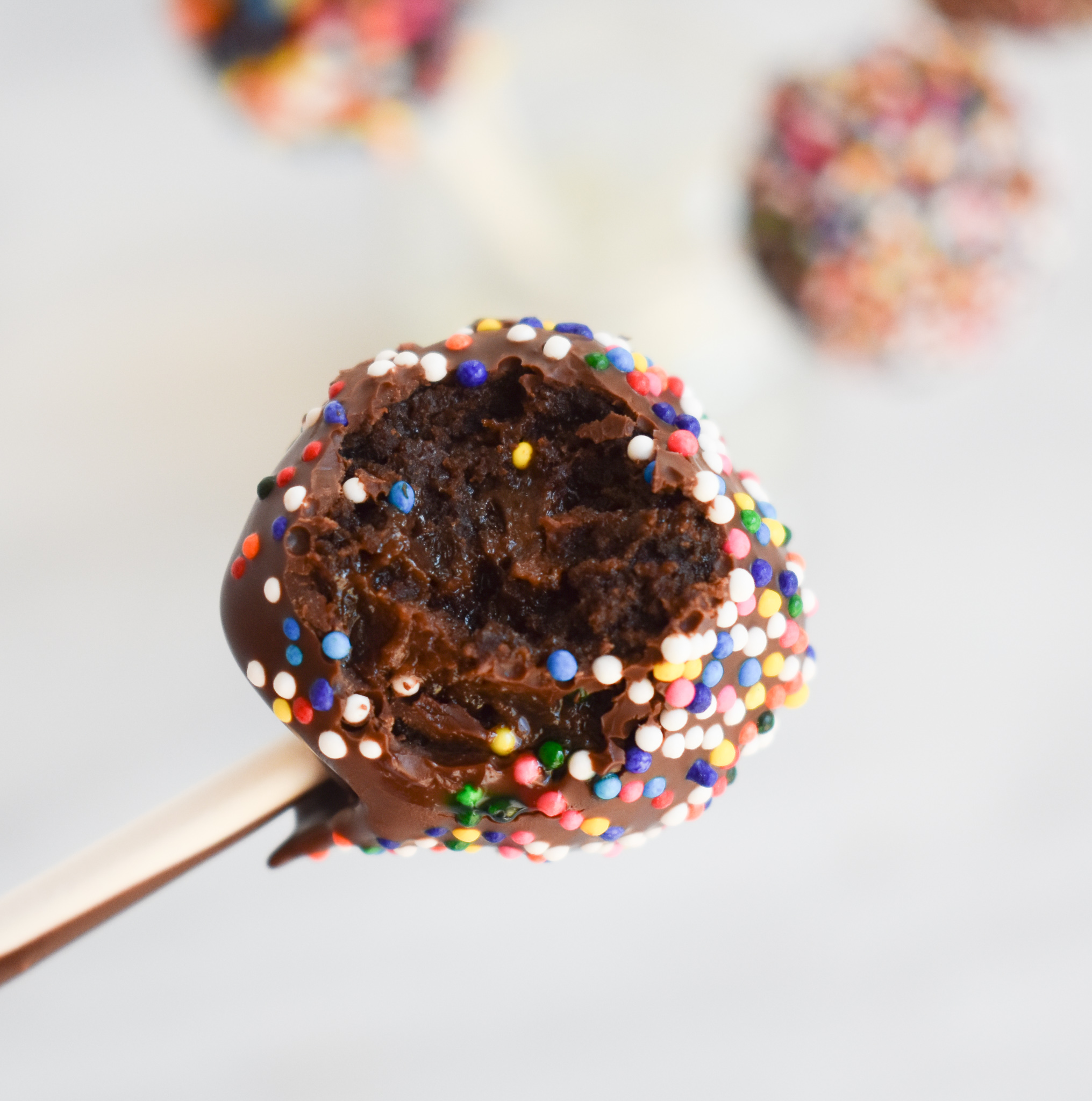 Moist and low-FODMAP Chocolate Cake Pop Fantastic.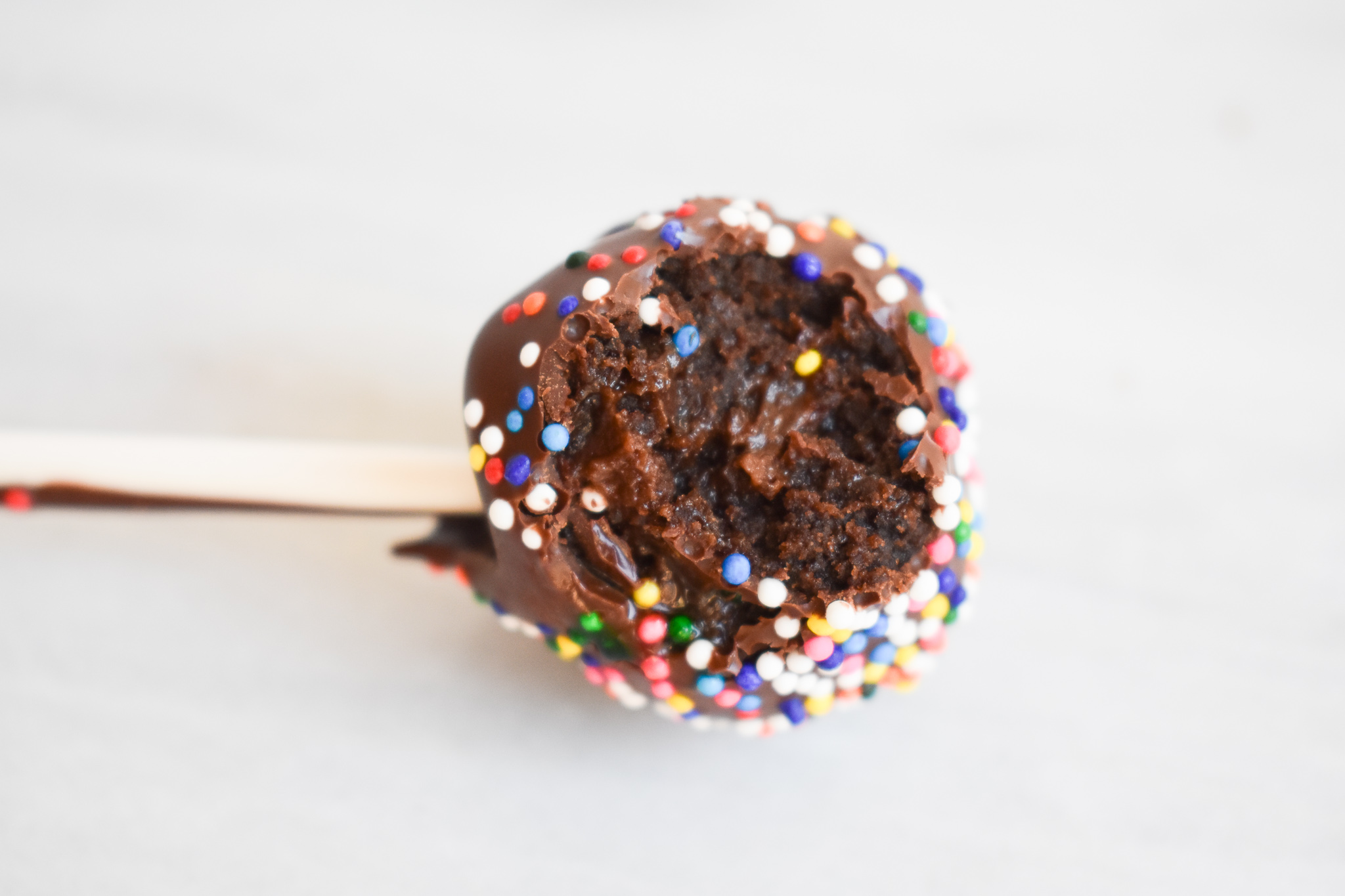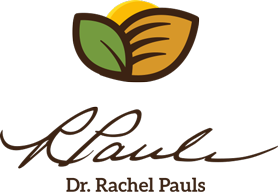 Printer Friendly Version
Comments Rating
( review)