'Family Favorite' 30-Minute Low-FODMAP Salisbury Steak Recipe; Gluten-free, Dairy-free
December 10, 2022
Printer Friendly Version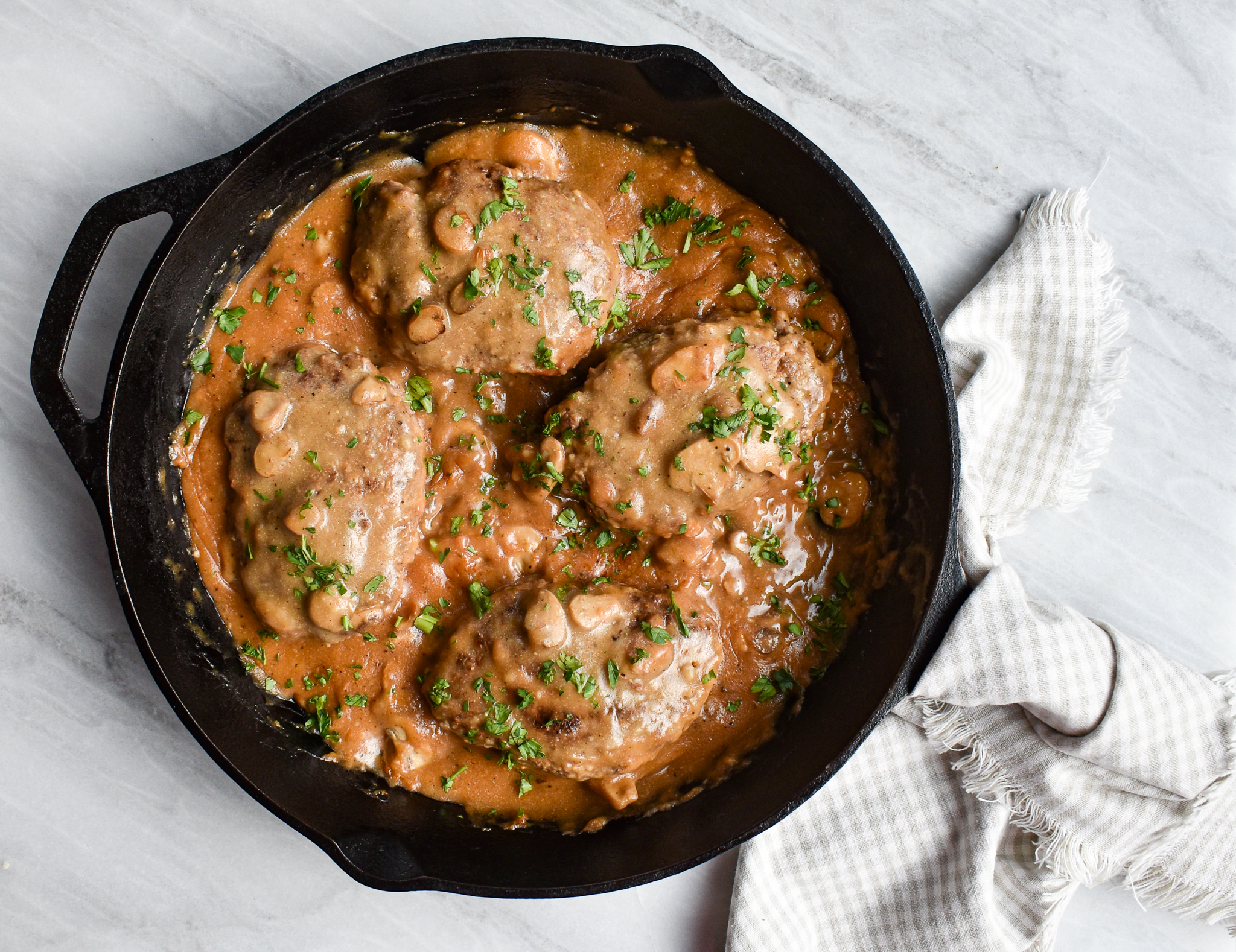 This is a family favorite low-FODMAP dinner.
A delicious, hearty, ground beef patty, smothered in rich, mushroom gravy.
Not only is it savory and filling, but it's ready in 30 minutes.  Yup!  You will love this recipe.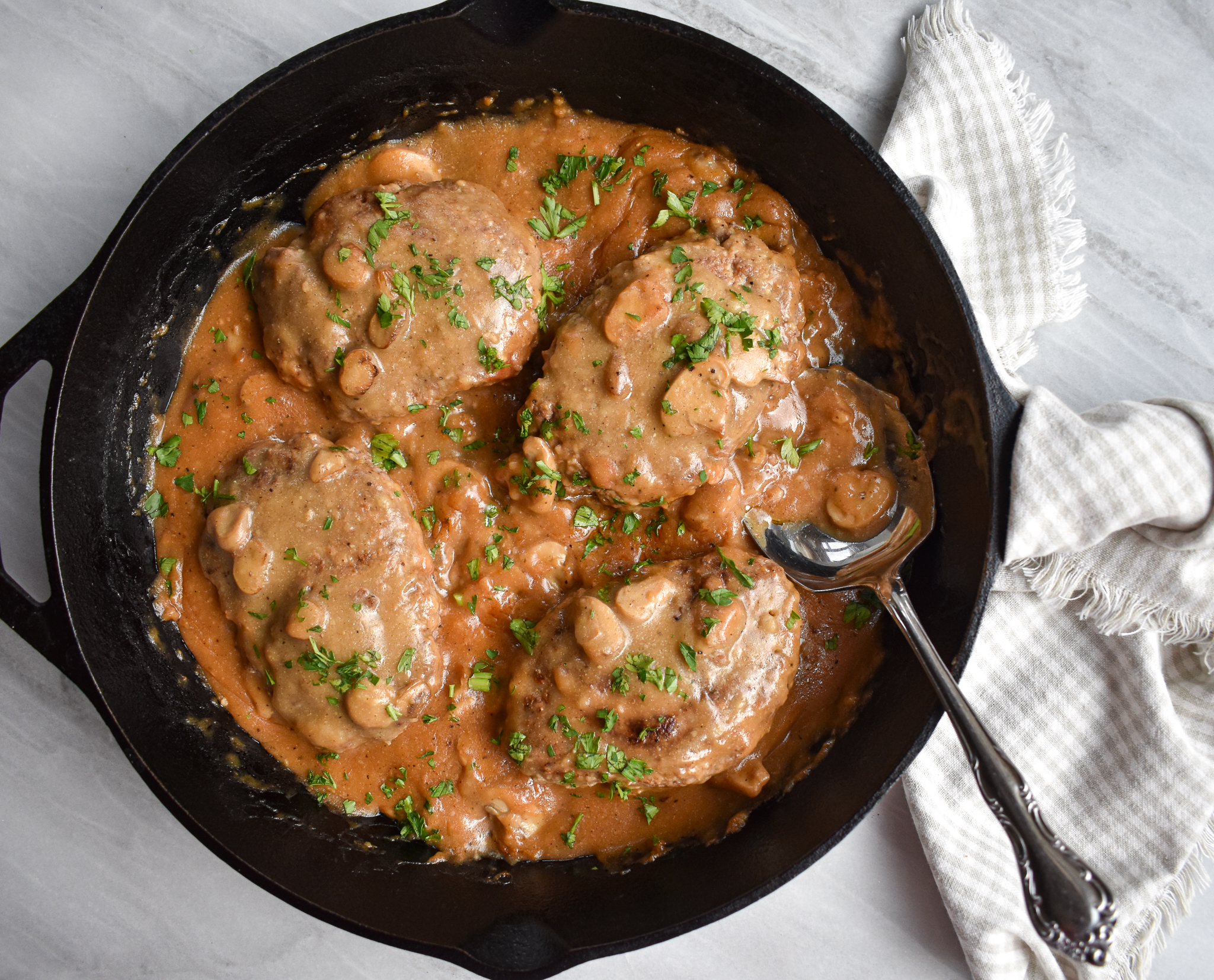 But, wait! Mushrooms, I hear you asking?  How can mushrooms be low FODMAP??
FODMAP fact: Canning mushrooms helps reduce the amount of FODMAPs they contain! Although mushrooms are typically high in FODMAPs, the canning process 'leaches' out the carbohydrates that are tough to digest.  While it is not quite the same as the fresh variety, the convenience of canned mushrooms can't be beat.
This low-FODMAP Salisbury Steak is a one-pan meal that is certain to be as much a favorite at your house as it is ours.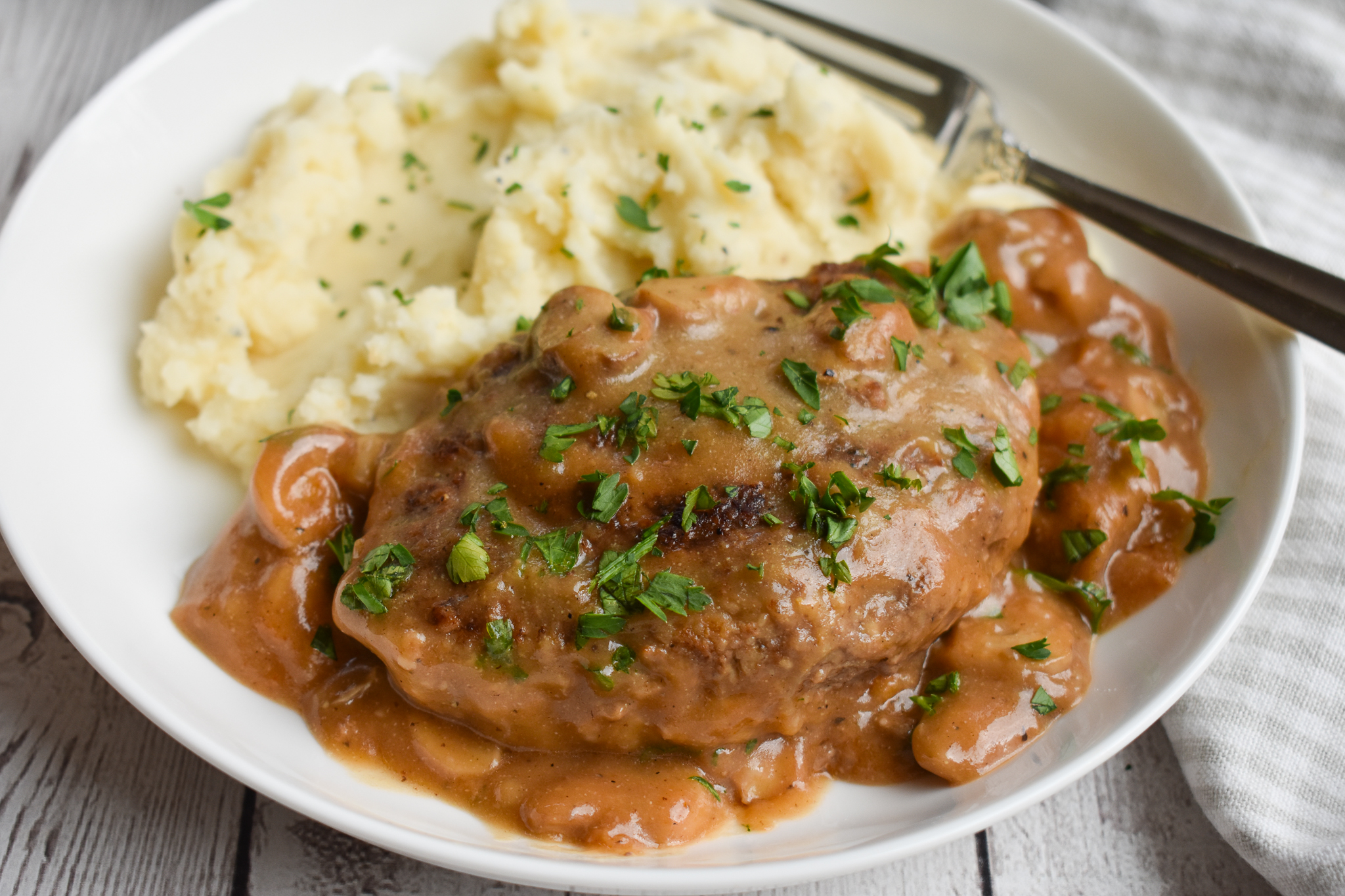 You may also love:
Or check out over 450 more low-FODMAP recipes on the blog. IBS-friendly!
Be healthy and happy,
Rachel Pauls, MD
P.S.  Check out my COOKBOOK for over 100 low-FODMAP recipes, low-FODMAP Meal Plan, FODMAP Tips and everything you need!!  It's the BEST!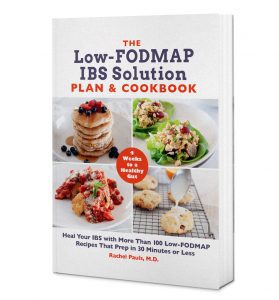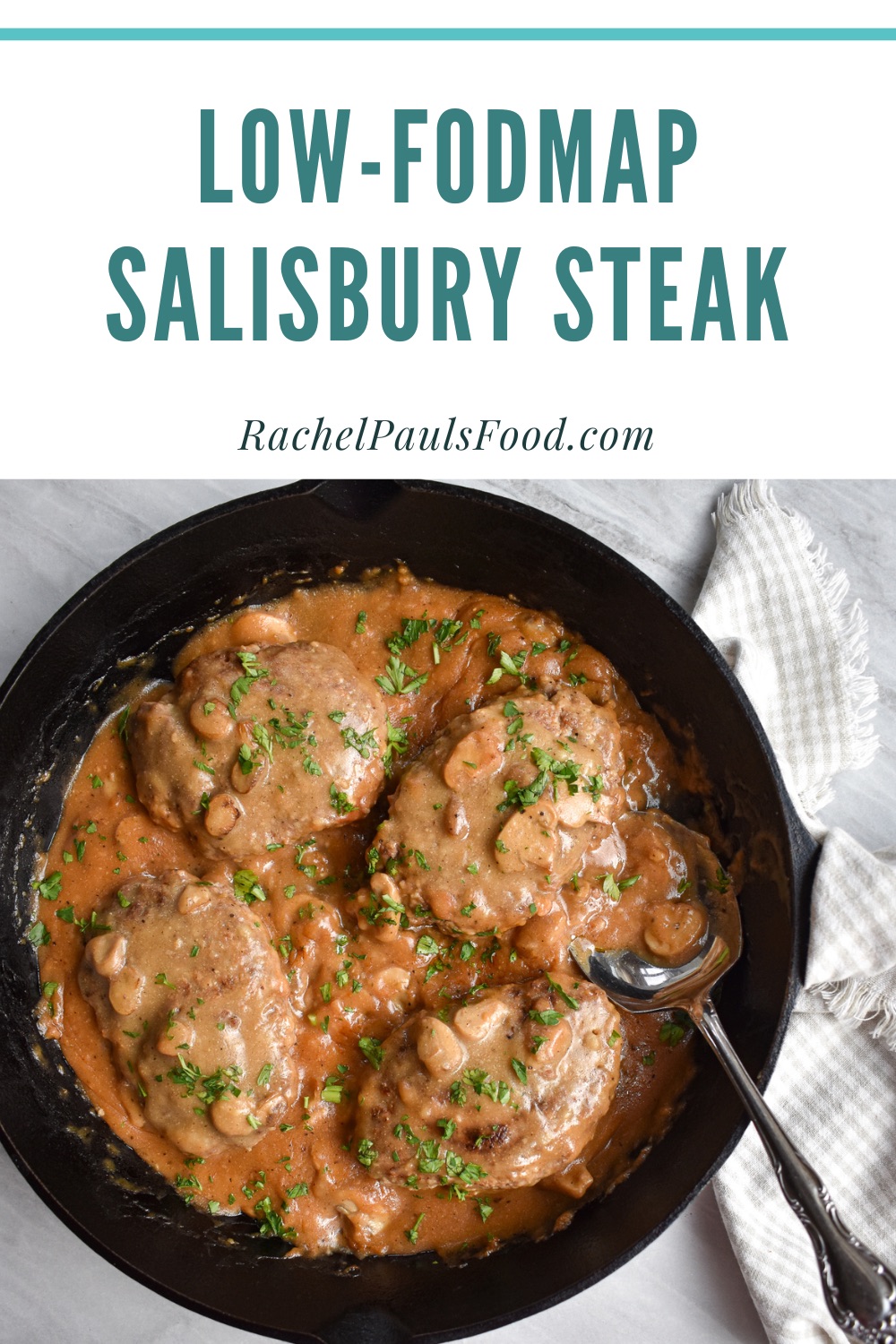 Although this recipe has not been tested, a single serving should be low-FODMAP based on the ingredients (using available FODMAP data at time of serving)
Serves: 4
Prep time: 15 mins
Cook time: 15 mins
Total time: 30 min
Ingredients
For the Salisbury Steak:
1 pound/16 ounces lean ground beef
1/2 cup low-FODMAP, gluten-free breadcrumbs (such as Panko)
1 large egg
1 teaspoon onion or shallot infused oil
1 teaspoon garlic infused oil
2 tablespoons (30 g) ketchup (I prefer brands with no high fructose corn syrup)

13g is one low-FODMAP serving

1 tablespoon Dijon mustard

1 tablespoon is one low-FODMAP serving

1/2 teaspoon Worcestershire sauce

2 tablespoons is one low-FODMAP serving

1/2 teaspoon each of salt and pepper
1 teaspoon avocado or preferred oil for frying
For the Gravy:
1 tablespoon avocado or preferred oil for frying (optional)
5 ounces (127 g) sliced, canned mushrooms, rinsed and drained then pressed dry

Canned mushrooms are lower in FODMAPs than regular mushrooms as the canning process 'leaches' out the FODMAPS. One serving is 75 g

2 tablespoons garlic infused oil
3 tablespoons low-FODMAP, gluten-free rice flour, all-purpose, or potato flour
2 cups low-FODMAP beef broth / stock, plus extra as needed
1-2 teaspoons Dijon mustard

If you like a lighter mustard flavor then use the lesser amount and titrate to taste

2 teaspoons Worcestershire sauce
Salt and pepper to taste
Fresh parsley and scallion tips, for garnish (optional)
Directions
Place all Salisbury Steak ingredients into a large bowl (except oil for frying) and mix with your hands or a spoon until combined
Divide into 4 oval patties about 3/4 inch thick
Heat a large non-stick cast iron skillet over high heat and place 1 teaspoon of avocado or preferred oil for frying to heat
Add the steaks and cook the first side for 1-2 minutes or until browned, then flip and brown the other side.  Set aside on a plate to keep warm (they will still be raw inside)
Prepare the gravy: Turn heat to medium and add 1 tablespoon avocado oil to the skillet to warm, if needed (you may already have enough grease in the pan)
Place the canned mushrooms that are pressed dry into the skillet and cook for 2-3 minutes
Add the garlic infused oil, then the low-FODMAP, GF flour and stir for about 30 seconds
Gradually add in low-FODMAP beef broth, stirring as you go
Once mostly lump free, whisk in remaining ingredients (Dijon and Worcestershire sauce)
Taste sauce, and add salt and pepper, ketchup, or seasonings to your taste

I like a little extra ketchup in my sauce and 1/2 teaspoon pepper

Add the prepared steaks, then cook for 5-7 minutes, or until gravy is thickened and the patties are cooked to internal temperature of 160F

Since these are made with ground beef, then they will need to be fully cooked, with only some slight pink inside

If the gravy thickens too much, add more low-FODMAP broth; you may need an additional 1/2-1 cup if you like more gravy
Garnish with parsley
Serve Salisbury steaks topped with the mushroom gravy – This goes perfectly with low-FODMAP Mashed Potatoes!!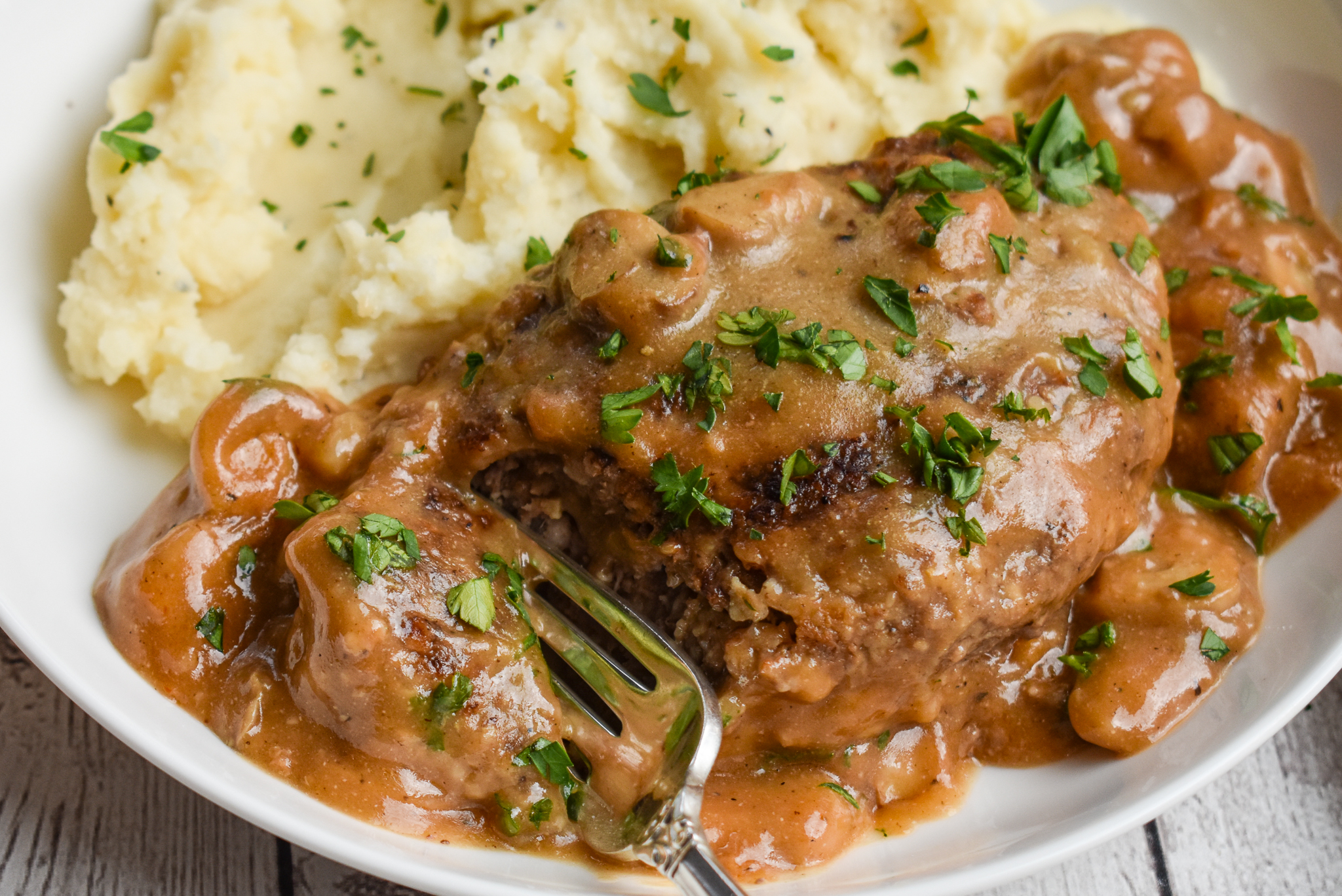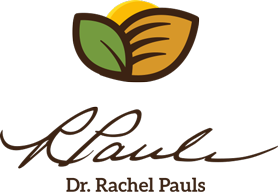 Printer Friendly Version
Comments Rating
( review)