Everyone's Favorite Low-FODMAP Chicken Spaghetti Casserole; Gluten-free
December 19, 2019
Printer Friendly Version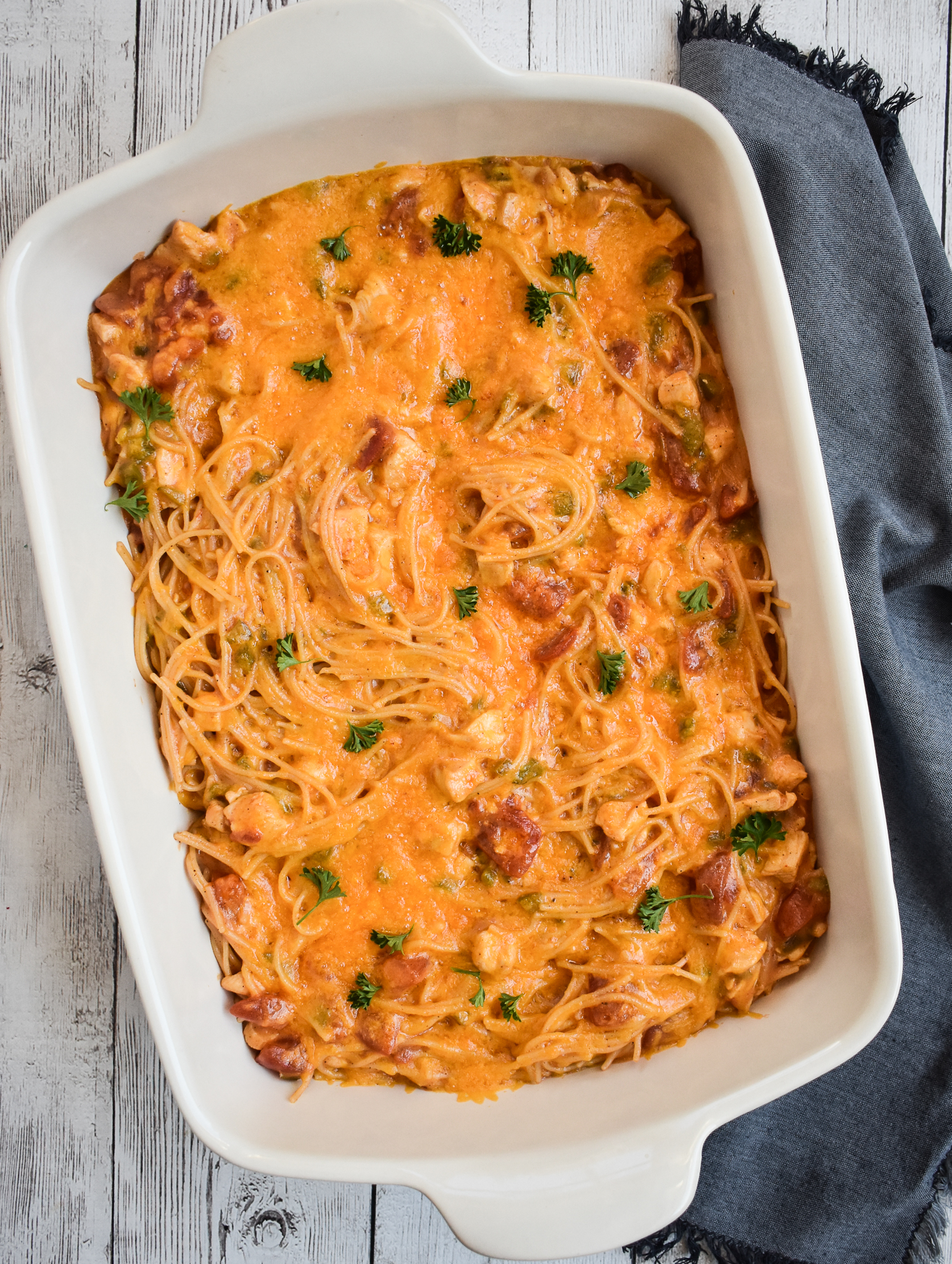 I recently read that chicken spaghetti is one of the most popular recipes on Ree Drummond ("The Pioneer Woman")'s site.  I was intrigued.
What is chicken spaghetti?
It turns out it is a delicious, creamy, cheesy, chickeny (yes, that is a word) casserole dish that is the perfect weeknight meal for your family.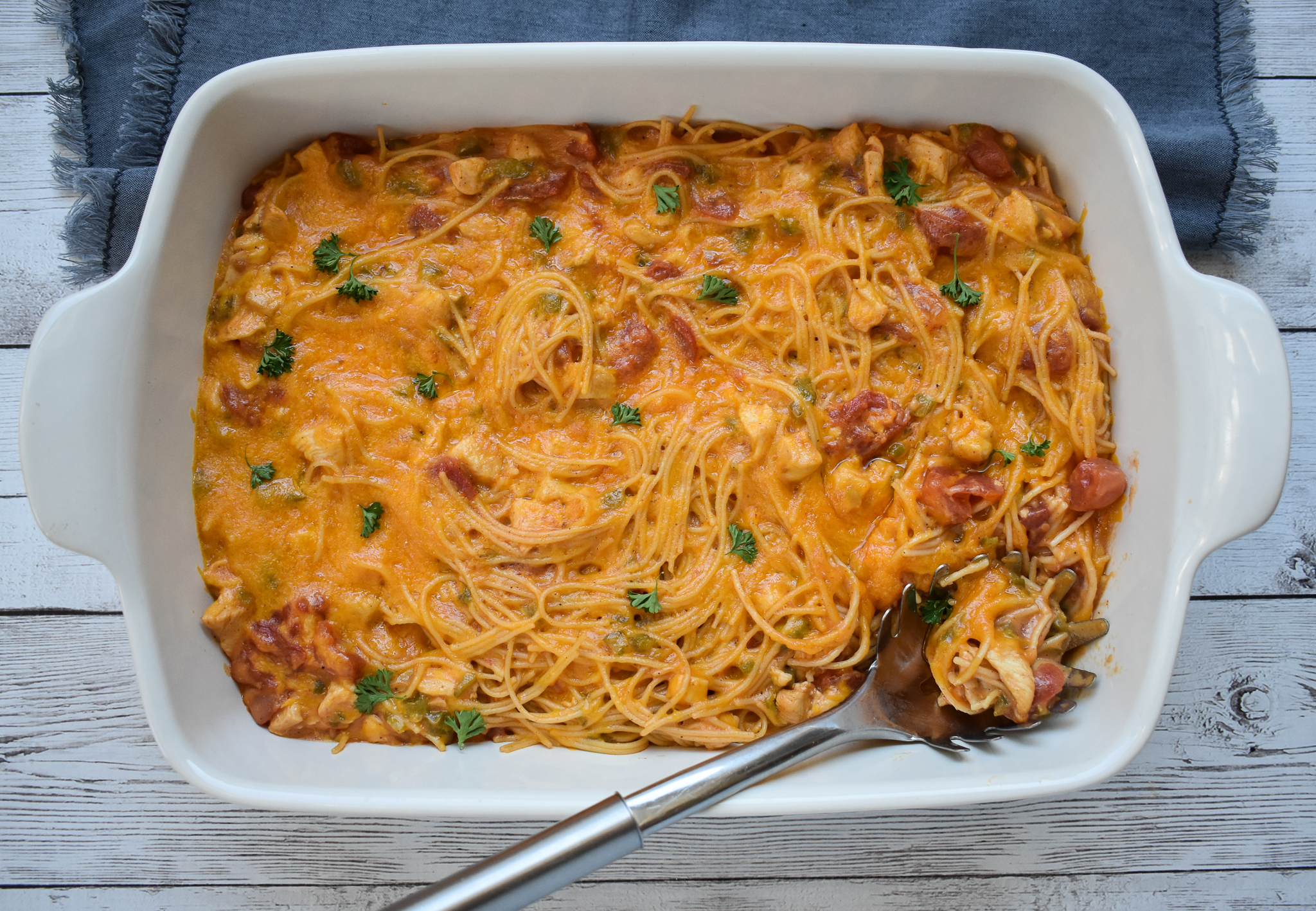 Even better, my low-FODMAP Chicken Spaghetti recipe is made without canned soup, is gluten-free and IBS-friendly.  I use more chicken than other recipes to make it super-filling and so good for you.
Can you say "winner, winner (low-FODMAP) Chicken Spaghetti dinner"?
You may also love my:
Or check out over 300 more low-FODMAP recipes on the blog.  IBS-friendly!
Be healthy and happy,
Rachel Pauls, MD
---
Everyone's Favorite Low-FODMAP Chicken Spaghetti Casserole; Gluten-free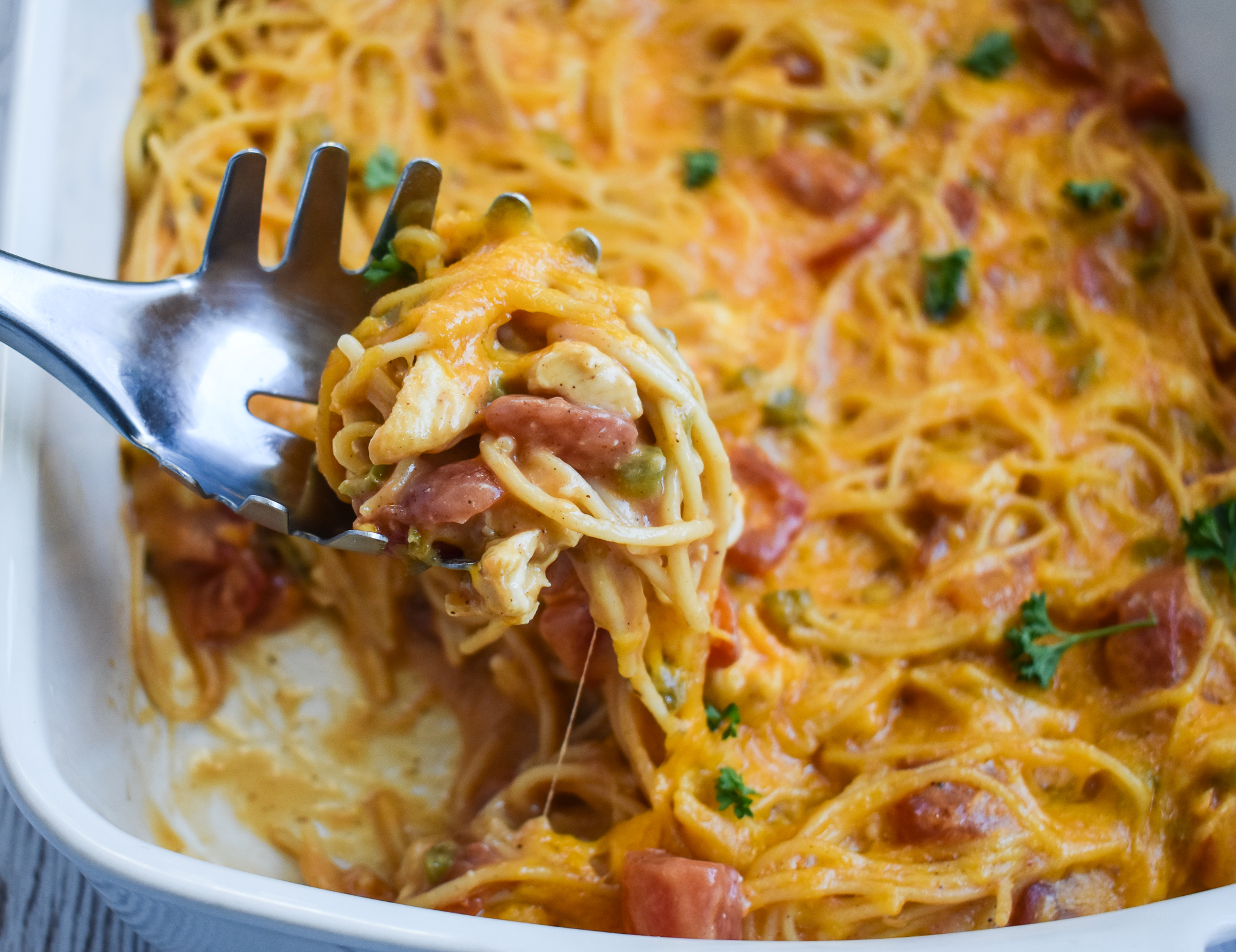 Although this recipe has not been tested, a single serving should be low-FODMAP based on the ingredients
Serves: 6
Prep time: 5M
Cook + Bake time: 15-20M
Total time: 25M
Ingredients
8 oz uncooked low-FODMAP, gluten-free spaghetti, broken into thirds
20 ounces cooked chicken; shredded or chopped

You can use light or dark meat, or a combination
If you buy precooked rotisserie chicken, ensure no onion/garlic is used in the preparation
Leftover low-FODMAP Roasted Chicken with Maple and Rosemary works well, or you can boil or bake chicken pieces for the recipe

1/2 green bell pepper, finely diced
1 teaspoon low-FODMAP Happy Spices Taco seasoning
2 tbsp olive oil; divided
2 tbsp garlic infused olive oil (for tips on shopping for these oils, see my low-FODMAP recipe swap blog)
1/4 cup all purpose, low-FODMAP, gluten-free flour (any brand works fine that I have tried)
3/4 cup (6 ounces) canned coconut cream (this is NOT the same as 'cream of coconut'.  See my low-FODMAP Coconut Whipped Cream recipe blog for some details on how to obtain this ingredient!)
5 oz organic canned diced tomatoes, drained of the juice (no added seasonings)
Kosher salt and freshly ground pepper, to taste
1/2 cup (40 g) grated parmesan cheese
2 cups (200 g) shredded cheddar cheese; divided
Baking spray
Fresh parsley, for garnish
Directions
Preheat oven to broil and place rack in center of oven
Spray 9 by 13 inch casserole pan with baking spray
In a medium pot, boil enough water for the pasta and cook gluten-free spaghetti according to package directions, but ensure it is al dente (slightly firm). Gluten-free pastas get mushy, so do not overboil
Drain and toss with 1 tbsp olive oil and set aside for later incorporation
While pasta is boiling, in a medium saucepan over medium heat, place the remaining olive oil and infused oil and cook bell pepper until tender
Add low-FODMAP flour, low-FODMAP Happy Spices Taco seasoning and salt and pepper to taste
Cook 1-2 minutes
Stir in low-FODMAP Chicken broth and canned coconut cream a little bit at a time until smooth
Adjust heat as necessary, and cook until sauce thickens
Remove from heat, add parmesan cheese and 1 cup of the shredded cheddar, stir continuously until cheeses are melted
Taste sauce, and add additional salt, seasonings and pepper to taste
Add chicken and diced tomatoes to the pan and stir to combine.  Then add spaghetti.
Spread the mixture in the prepared casserole pan
Top with remaining cheddar cheese and broil 2-5 minutes until hot and bubbly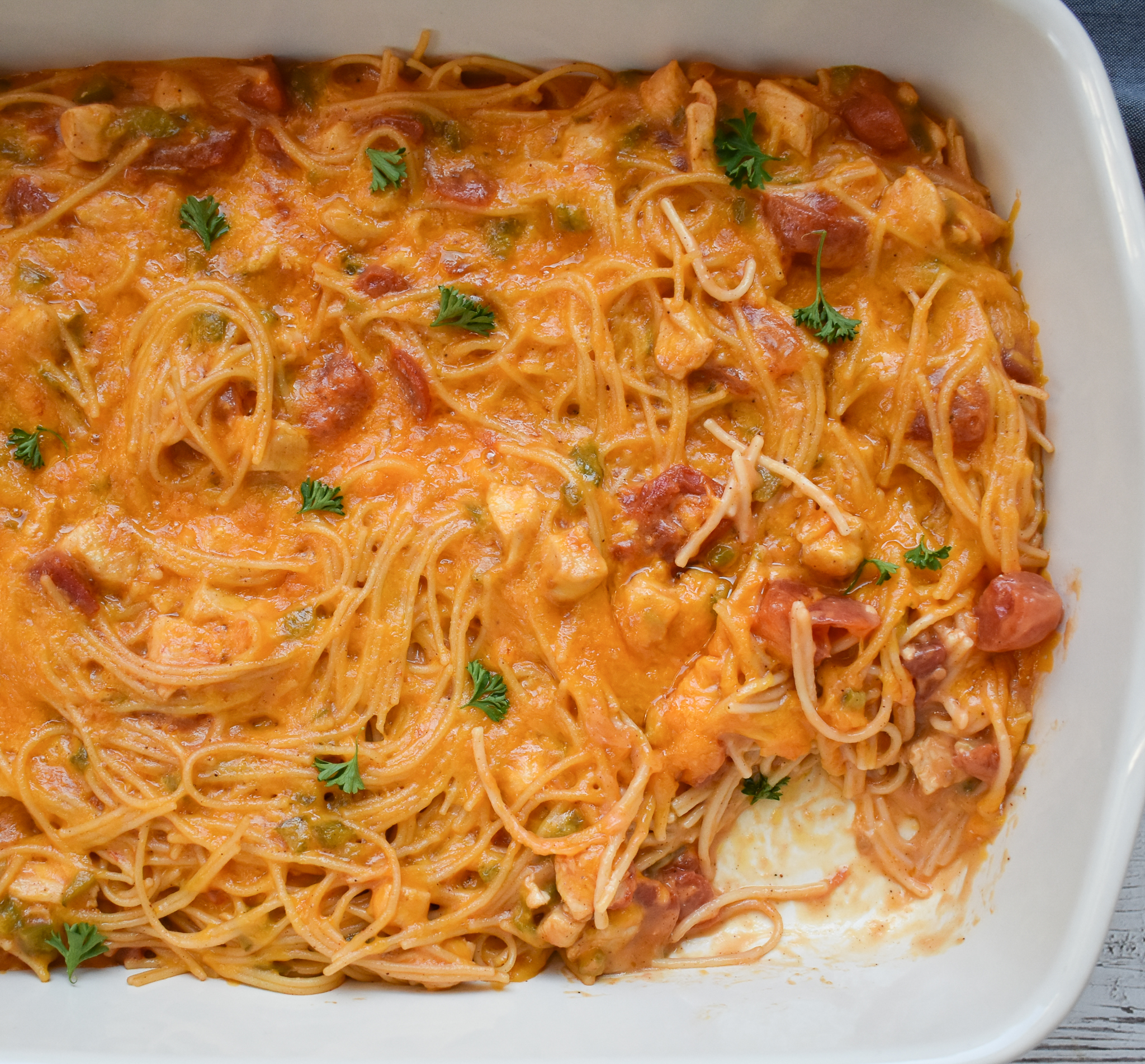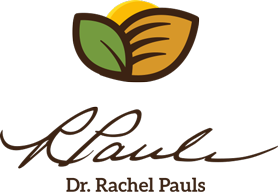 Printer Friendly Version
Comments Rating
( reviews)