Dreamy Low-FODMAP Shmoo Cake aka Pecan Angel Food Cake; Gluten-free, Dairy-free
November 10, 2017
Printer Friendly Version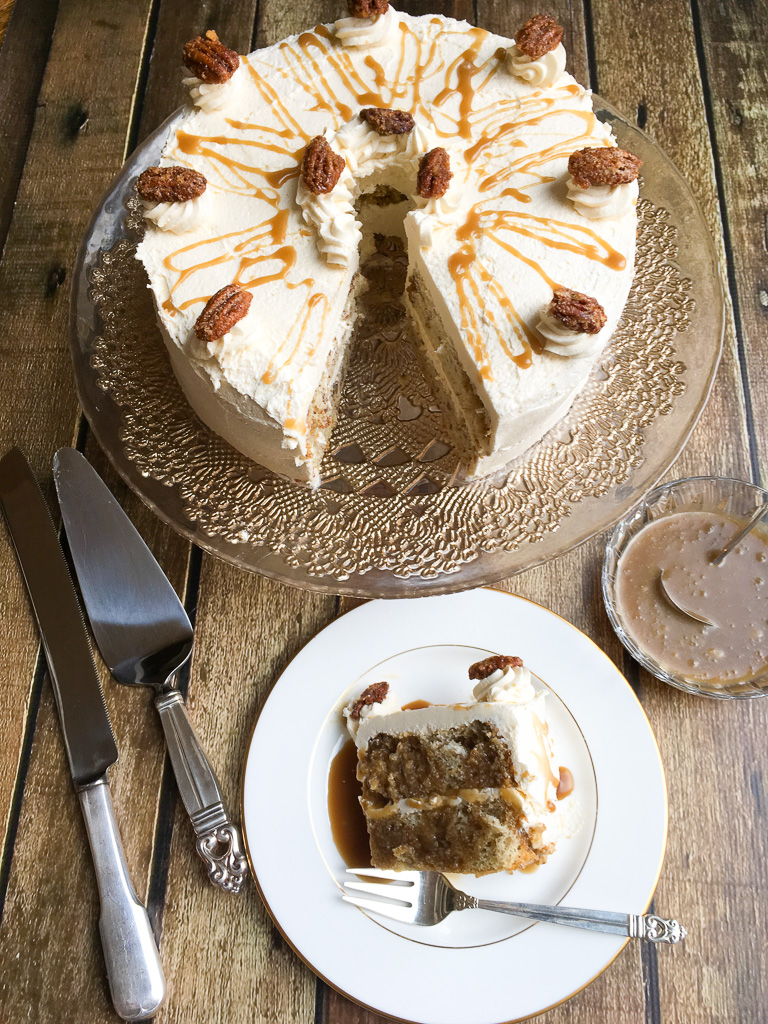 This is the best cake (and low-FODMAP cake) recipe you will ever have that you have never heard of.
Low-FODMAP pecan angel food cake also known as a low-FODMAP Shmoo cake (torte). A Winnipeg, Manitoba tradition.  Where?   Canada!
I grew up in Winnipeg, Manitoba, Canada, the coldest major city in the world.  There is not much to do there all winter long (from September to May) except eat at home, or eat in restaurants…thus we are big time food enthusiasts 🙂
A 'shmoo' torte/cake is a decadent treat covered with whipped cream and slathered with caramel sauce. It's crazy good, and served at several restaurants as well as weddings and other occasions. My mother used to make a shmoo torte for every holiday and Bar Mitzvah.
So I modified my mom's recipe (written on the back of a recipe card with worn down edges) to be low-FODMAP, and it is absolutely amazing. Instead of whipped cream to cover this low-FODMAP shmoo/pecan cake, I used my now-home of Cincinnati's favorite low-FODMAP opera cream frosting aka ermine frosting, and vegan low-FODMAP caramel sauce. But if you did want to use whipped cream you can use my low-FODMAP coconut cream.  This low-FODMAP pecan angel food cake is also gluten-free. Talk about a merging of my two homes!
This low-FODMAP pecan angel food cake aka shmoo torte is spongy like an angel food yet melts in your mouth like a meringue.  It is a dreamy cloud cake that will enchant all your guests. But call it a low-FODMAP pecan angel food cake, unless you are from Winnipeg. Shmoo just sounds weird, doesn't it? 😉
For other recipe inspiration, check out over 300 more low-FODMAP recipes right here on the blog. You may love my low-FODMAP Cake Recipe Collection.
Be healthy and happy,
Rachel Pauls, MD
---
Low-FODMAP Shmoo torte/Pecan cake; Gluten-free, Dairy-free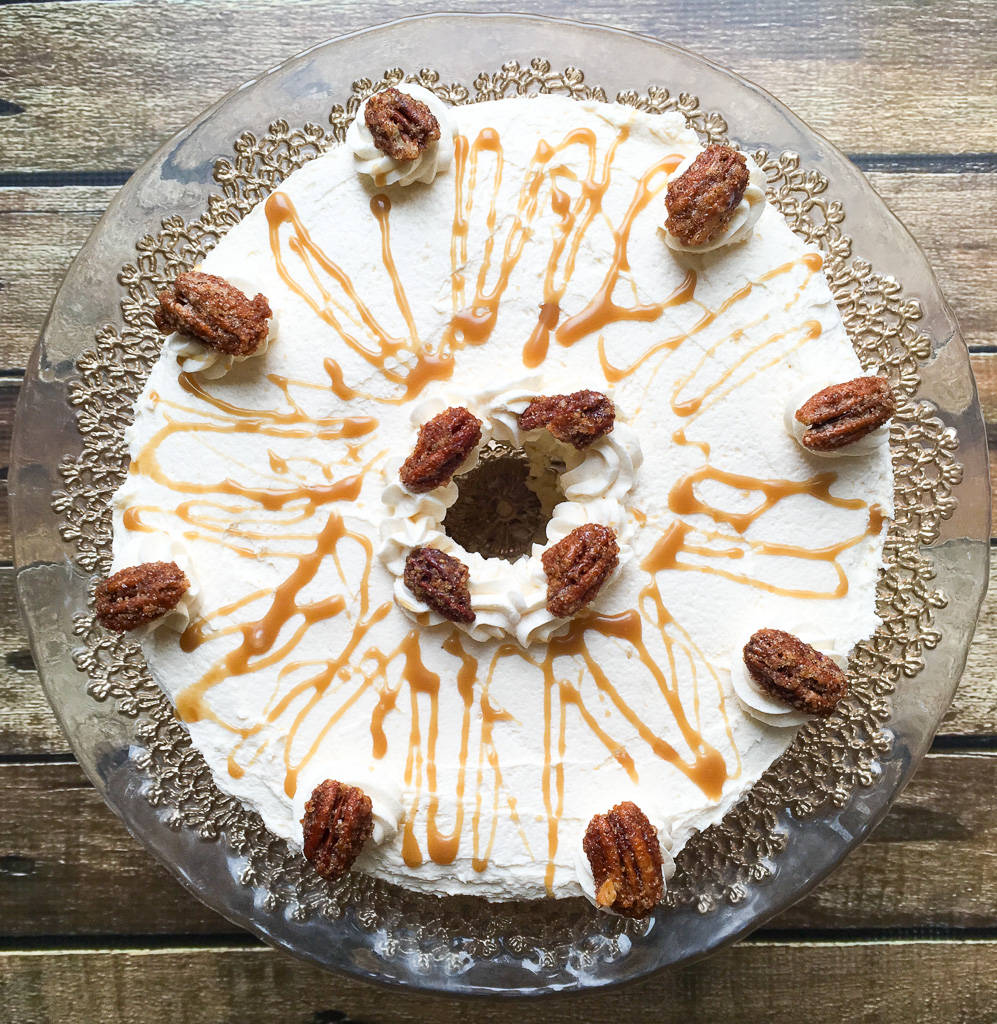 Although this recipe has not been tested, a single serving should be low-FODMAP based on the ingredients
Serves 24
Prep time 25 min
Bake time 75 min
Bake 325 F
Equipment: greased angel food cake pan
Invert to cool on bottle
Ingredients
1/2 cup Authentic foods GF Classical Flour mix (my favorite low-FODMAP baking flour!)
½ tsp guar gum (can use xanthan gum if this isn't available)
6 eggs, separated into yolk and white
2 egg whites
1 tsp baking powder
¼ tsp cream of tartar
1 tsp vanilla
1 cup ground pecans (about 140 g)- I use my coffee grinder to prep these
1 cup granulated sugar
Vegetable shortening for greasing
Garnish
Frosting
Directions
Grease angel food pan and wrap in aluminum foil so bottom doesn't leak
Find an appropriate bottle that you can use to invert your pan for cooling and ensure the pan fits and the bottle is sturdy (I use olive oil bottle)
Sift four with baking powder and guar gum (or xanthan gum) 3-4 times and set aside
Beat all 8 egg whites until stiff in stand mixer
Add cream of tartar and blend together
Add ½ cup sugar gradually while on medium speed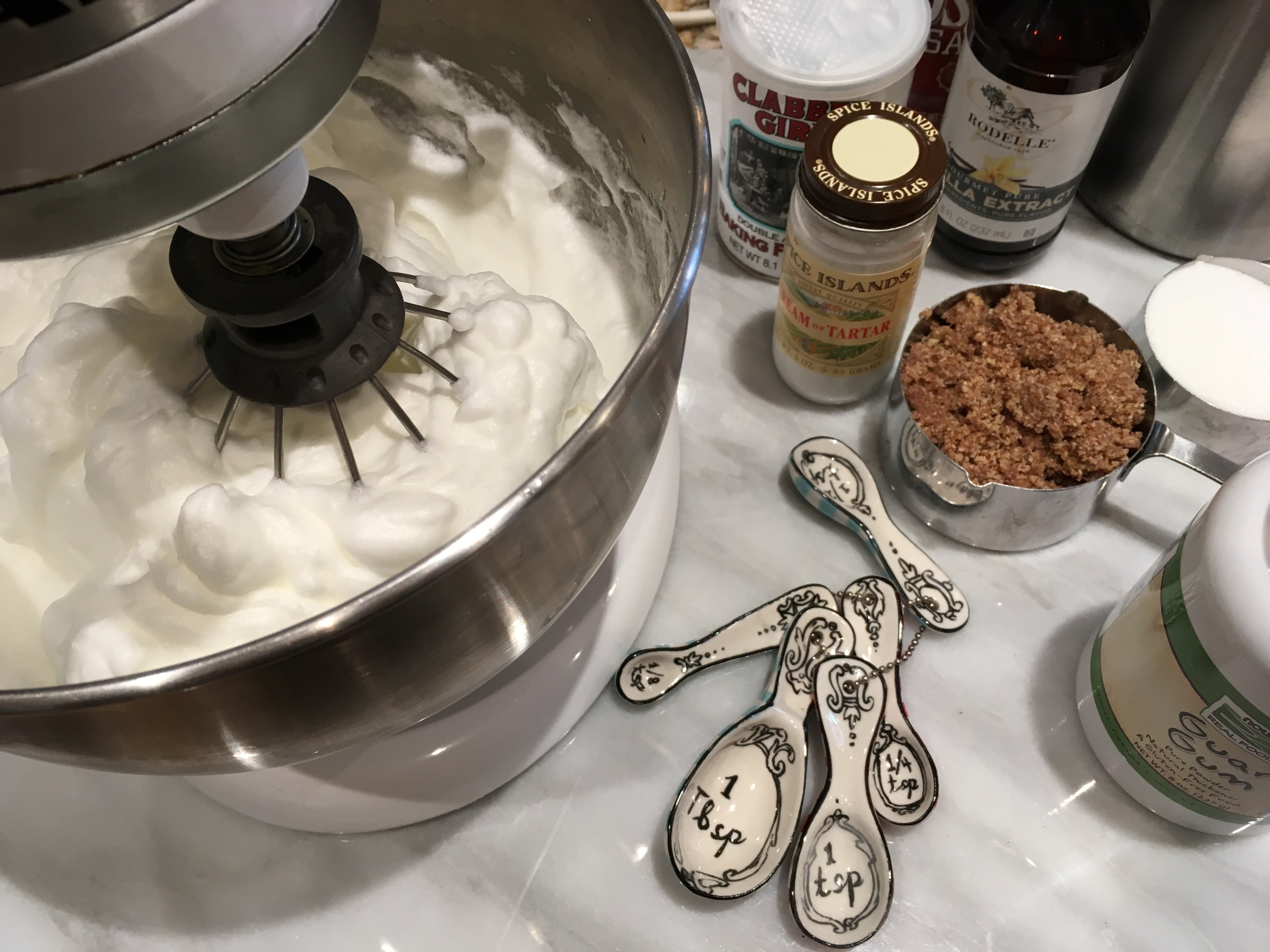 In second bowl, beat yolks and ½ cup sugar with vanilla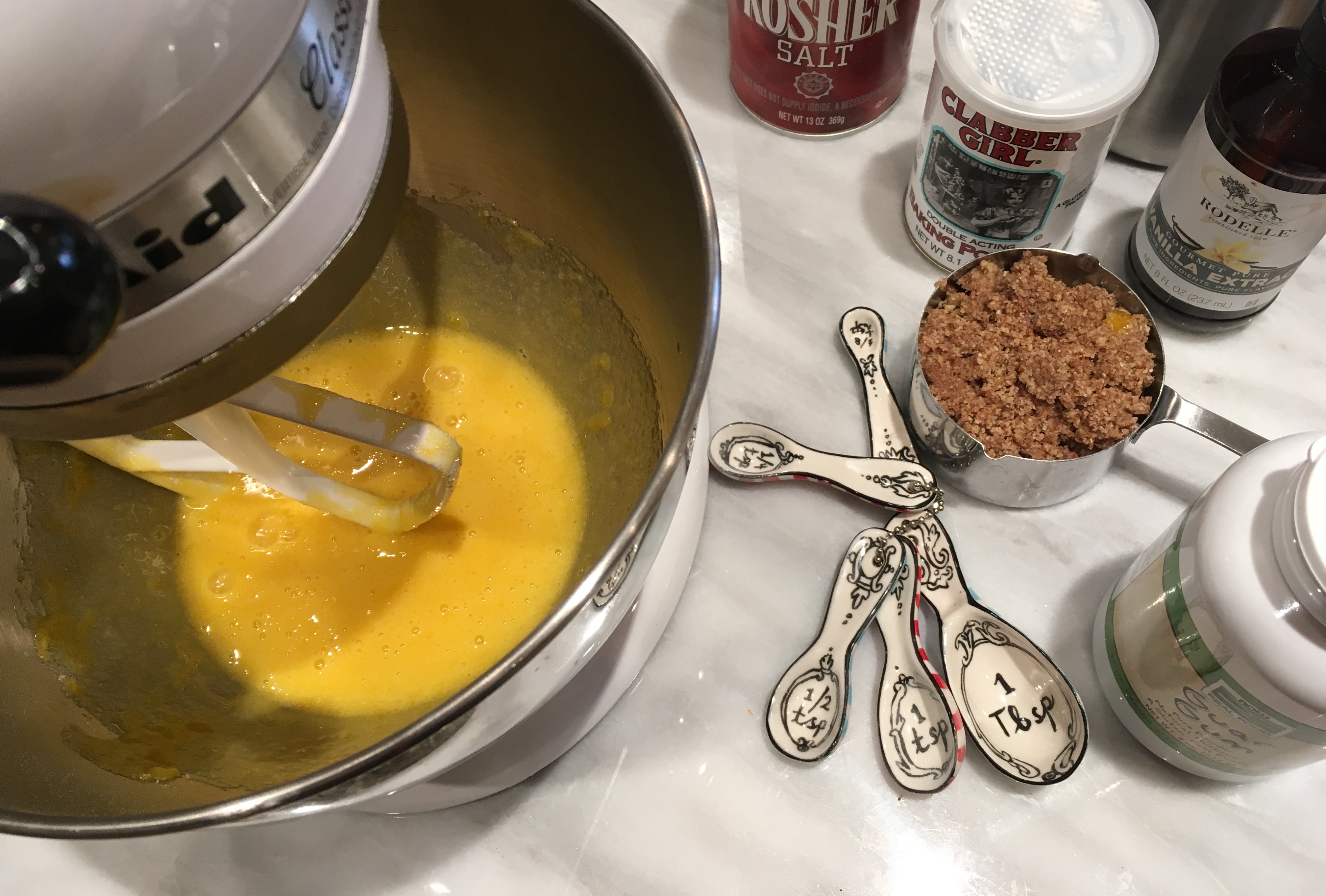 Fold yolks into whites by hand
Fold in flour mixture by hand
Fold in ground pecans by hand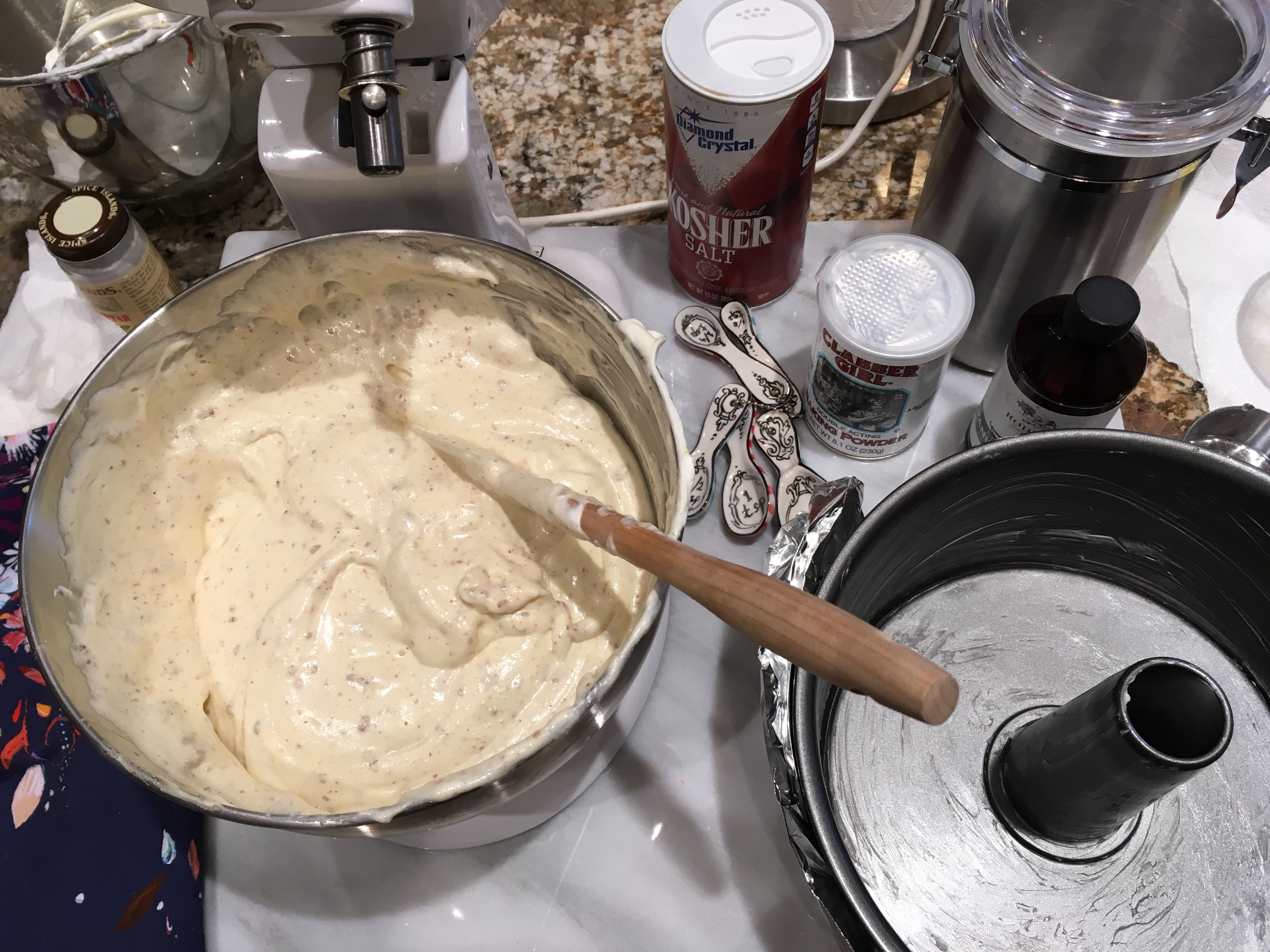 Pour into prepared angel food cake pan
Bake at 325 F for 1 hour & 15 minutes
Try to be cautious with vibration or cake may fall
When done, remove from oven and let stand about 2 minutes
Cake may start to sag in center, that is OK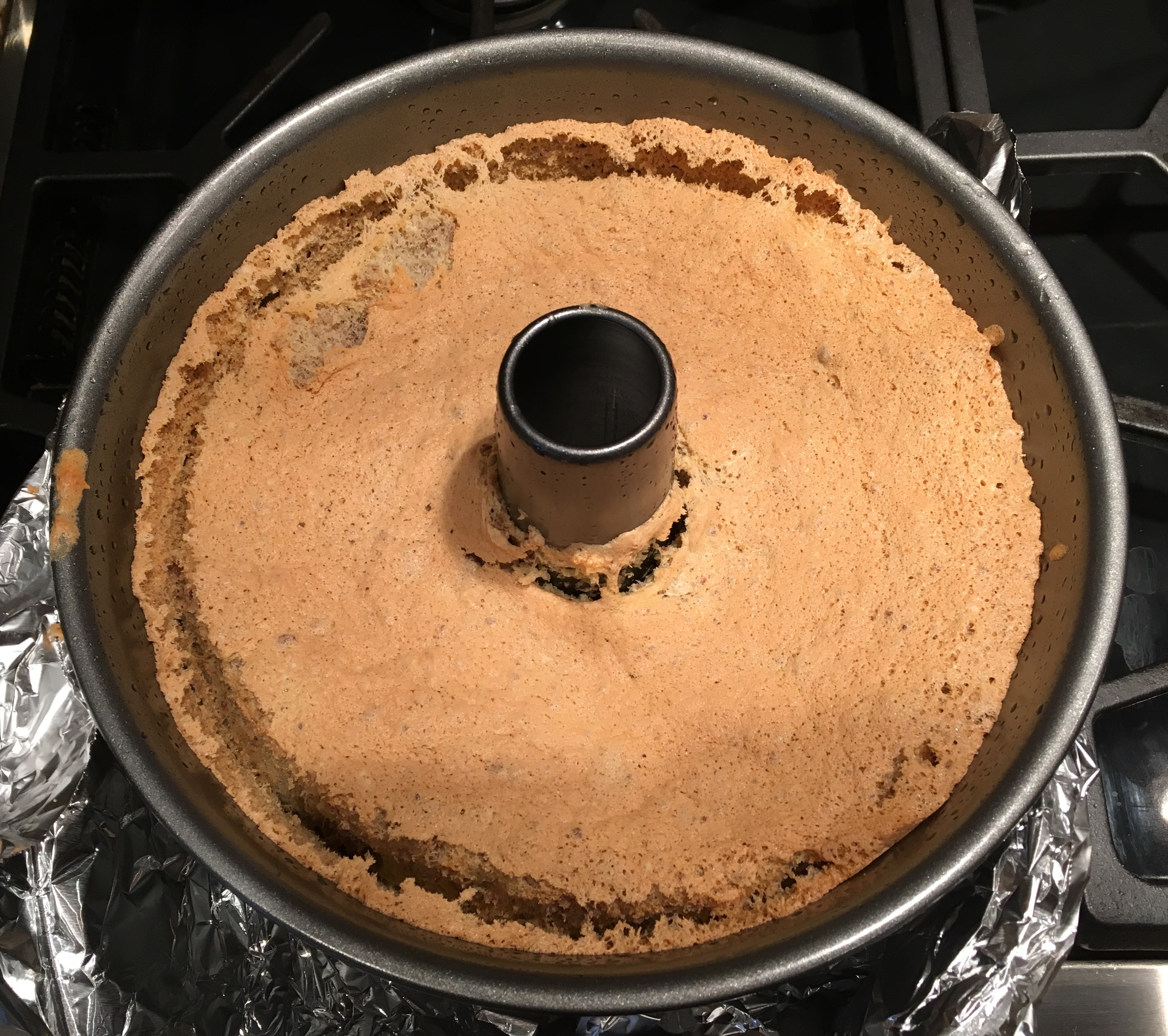 Invert cake on a bottle until completely cool (the hole in the angel pan allows this to fit well)
May freeze, or cut in half and decorate as a double layer cake with your choice of low-FODMAP frosting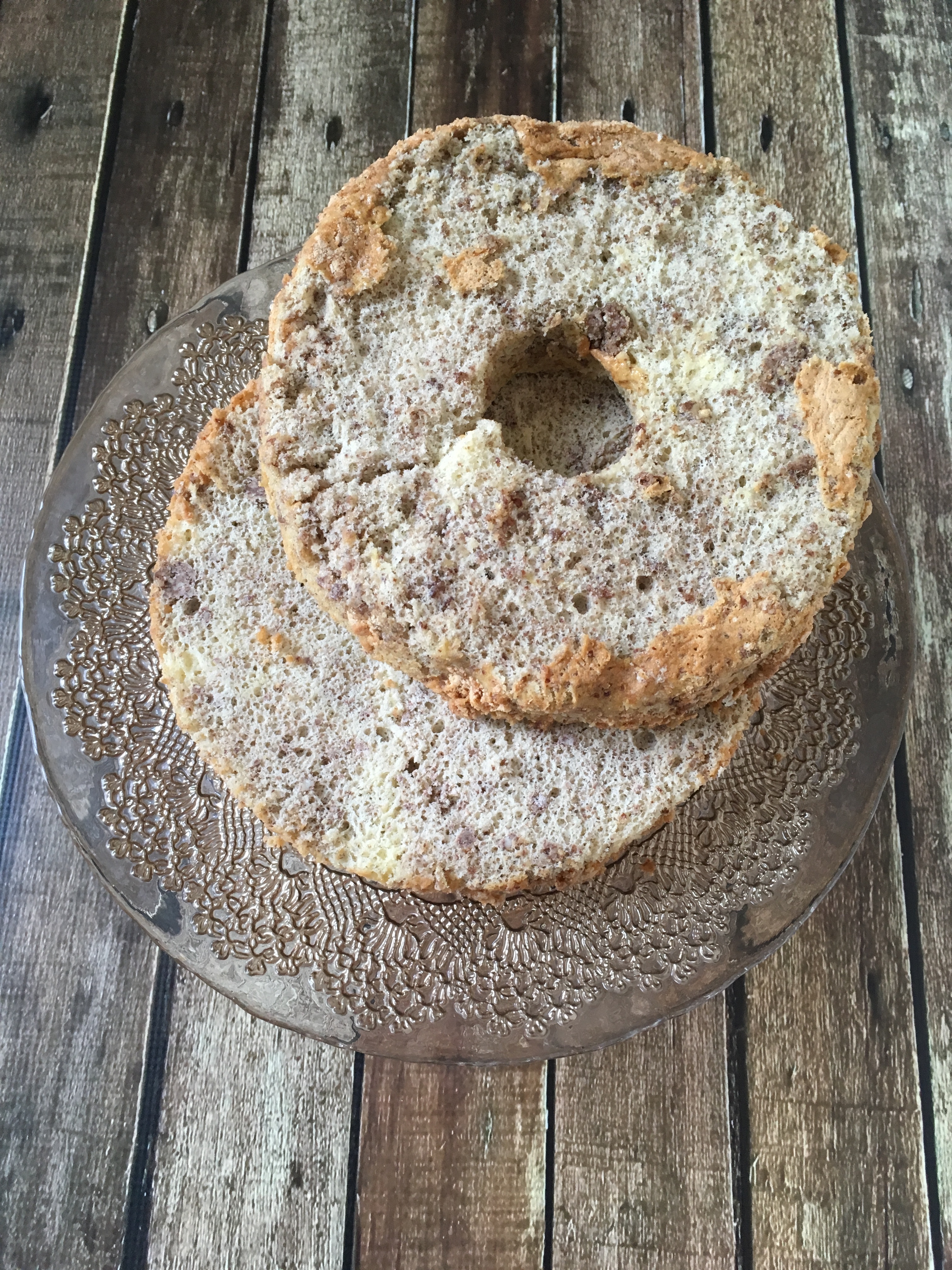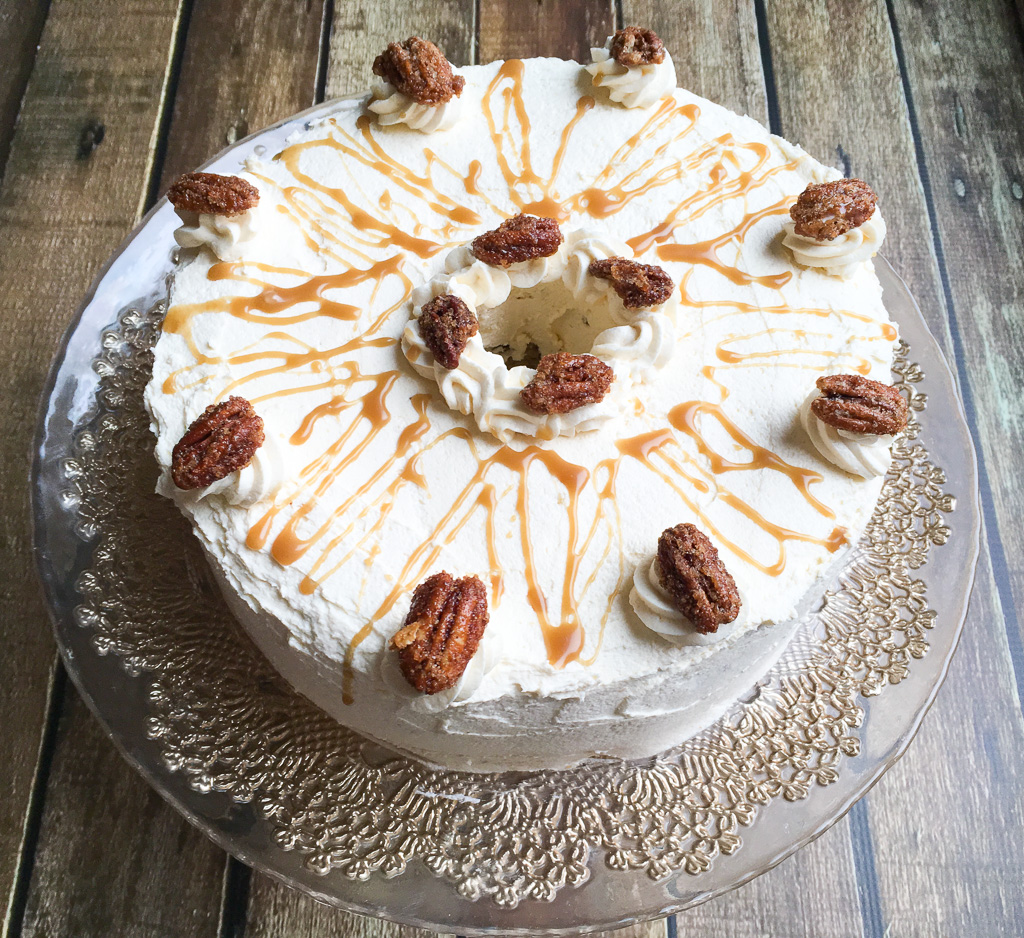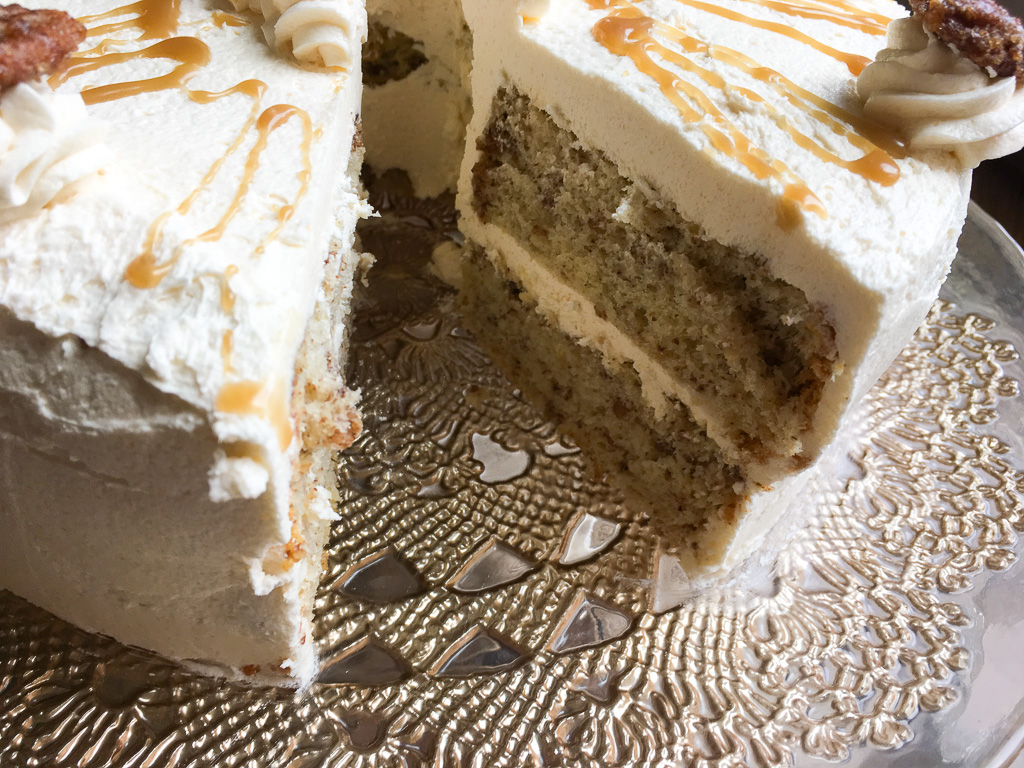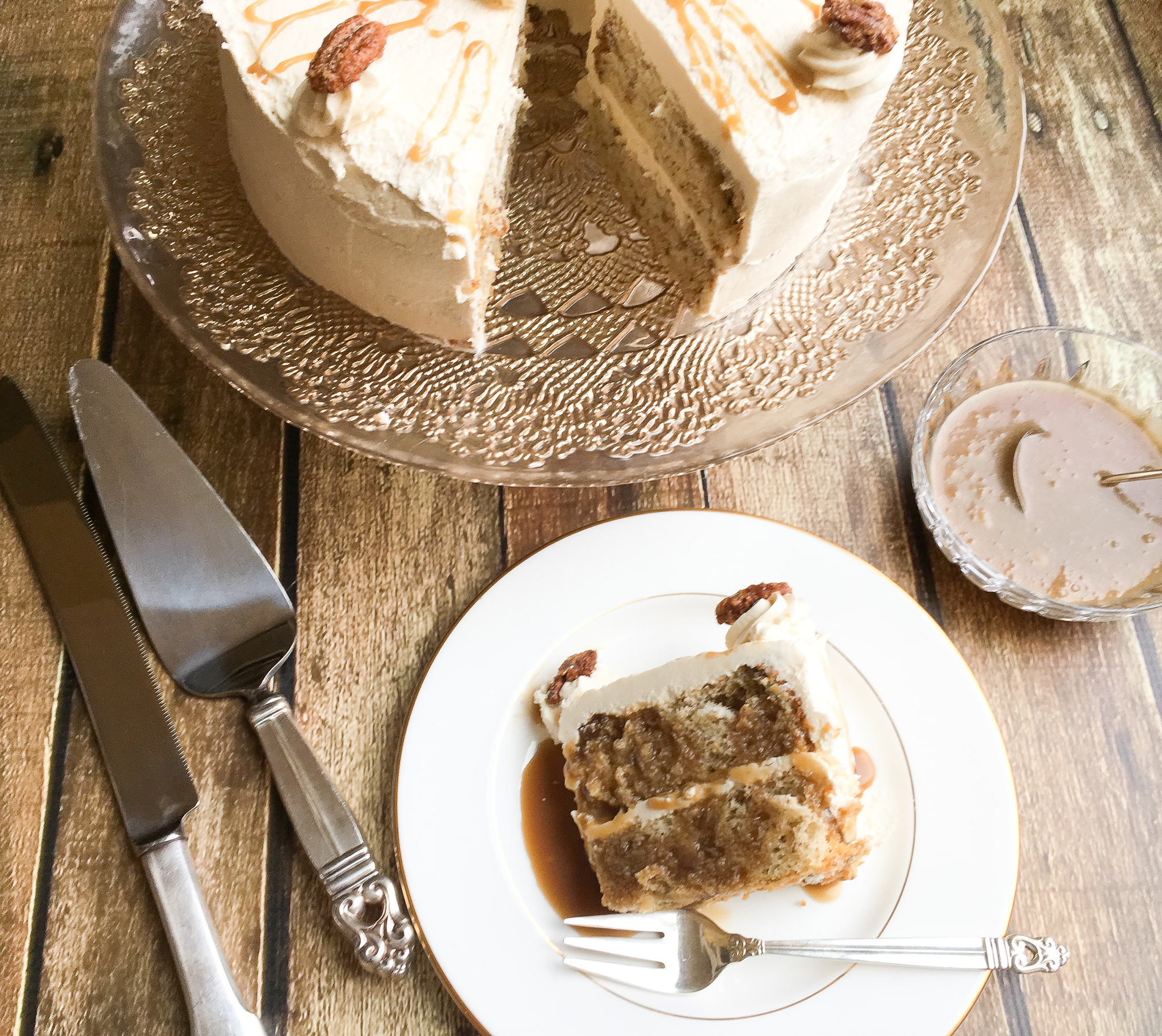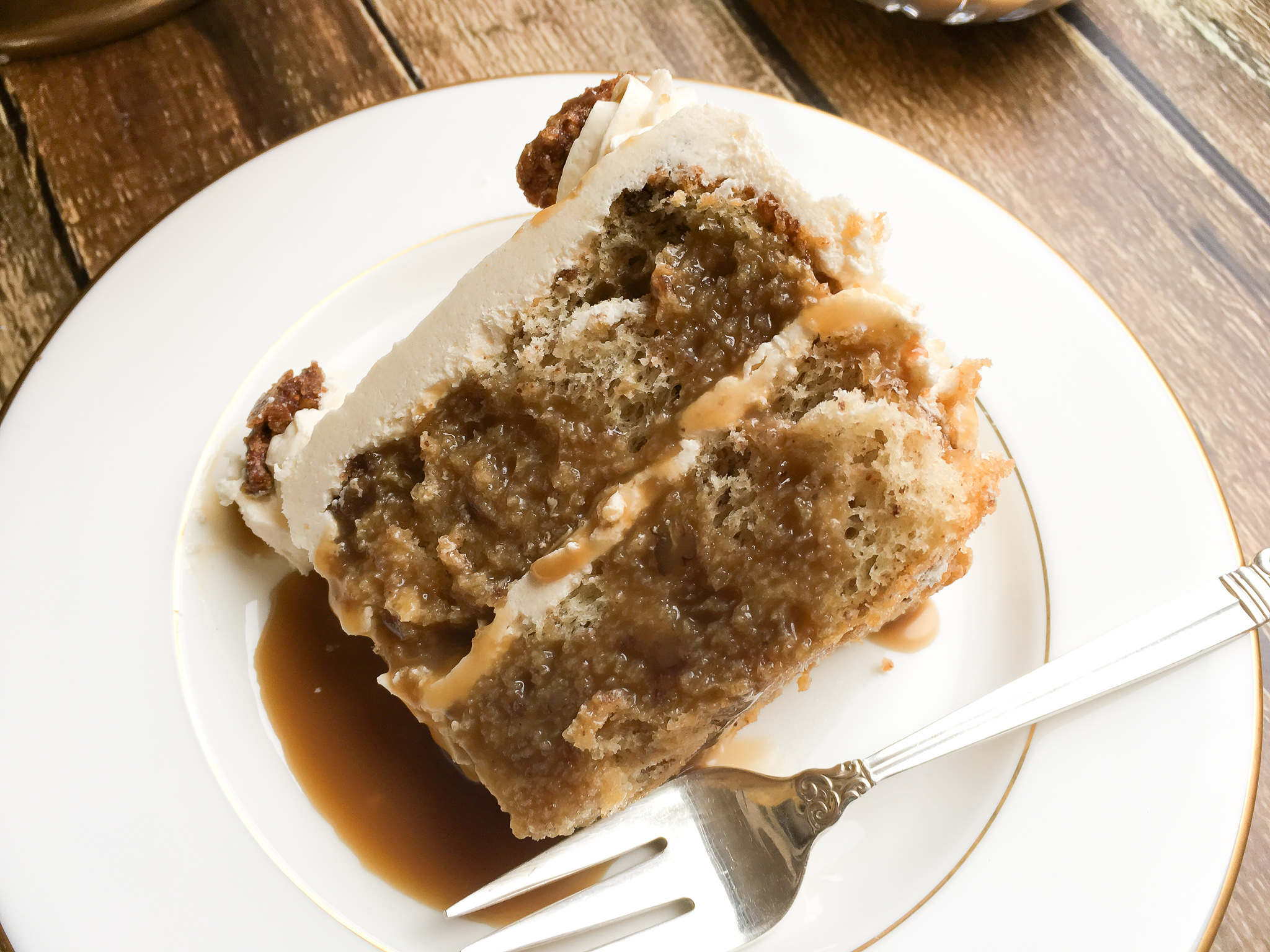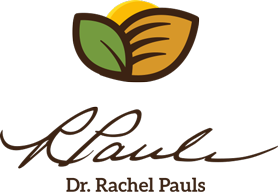 Printer Friendly Version
Comments Rating
( reviews)