Dr. Rachel's Low-FODMAP Grocery Shopping List; IBS-friendly, Gluten-free
September 3, 2019
Printer Friendly Version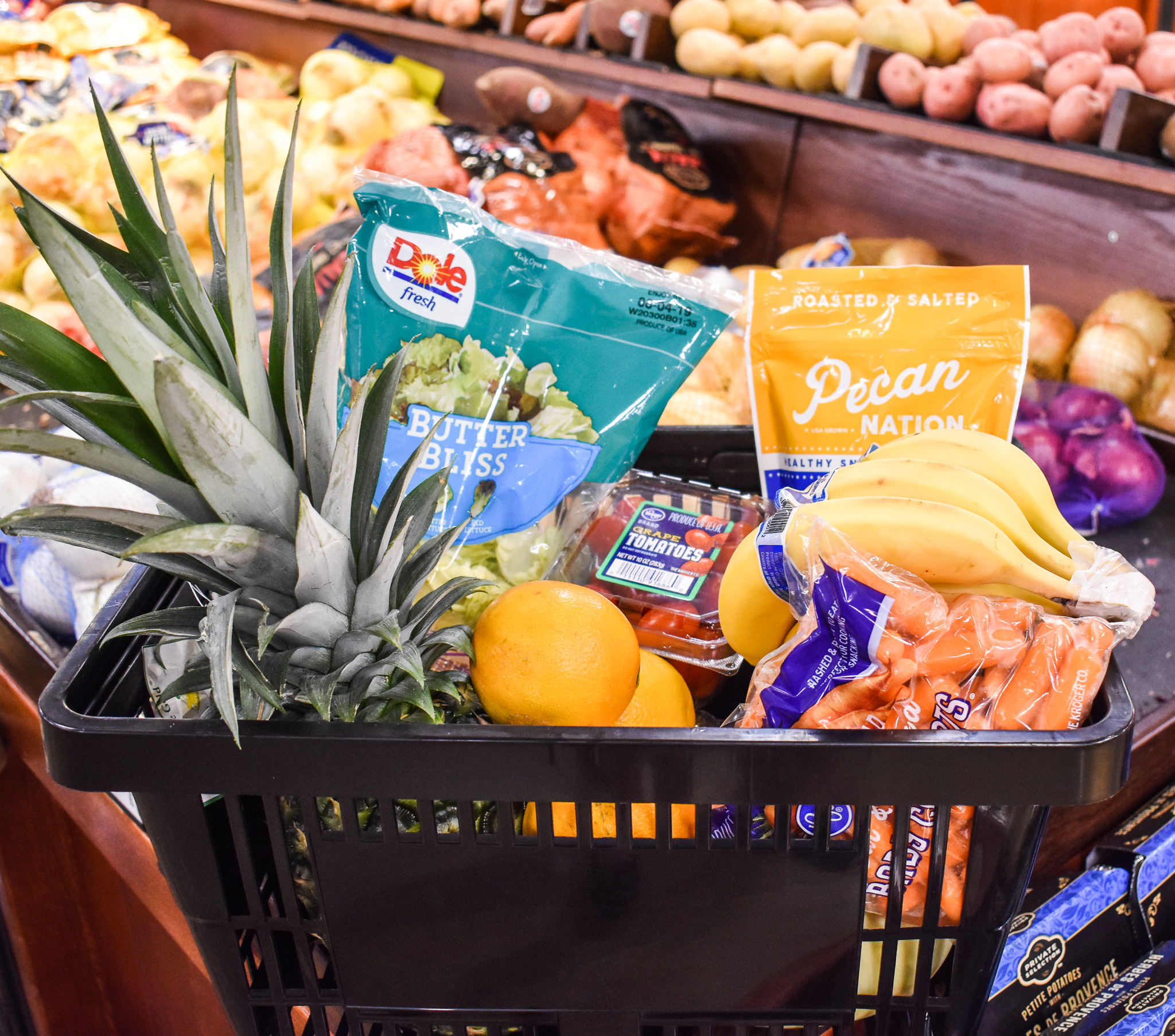 Are you worried about shopping for low-FODMAP safe foods and wondering what resource to use?  Look no further than right here.
I have a simple way to get all your grocery shopping done, stress free!
Take this list with you and it will be a breeze.
You can shop based on location in the store, and get tips on some of my favorite products 🙂
For other hints,  read my low-FODMAP recipe swap blog and low-FODMAP travel tips blog.
And, don't forget to download my Happy Gut Guide (free) to your phone with all the high and low-FODMAP food lists as well!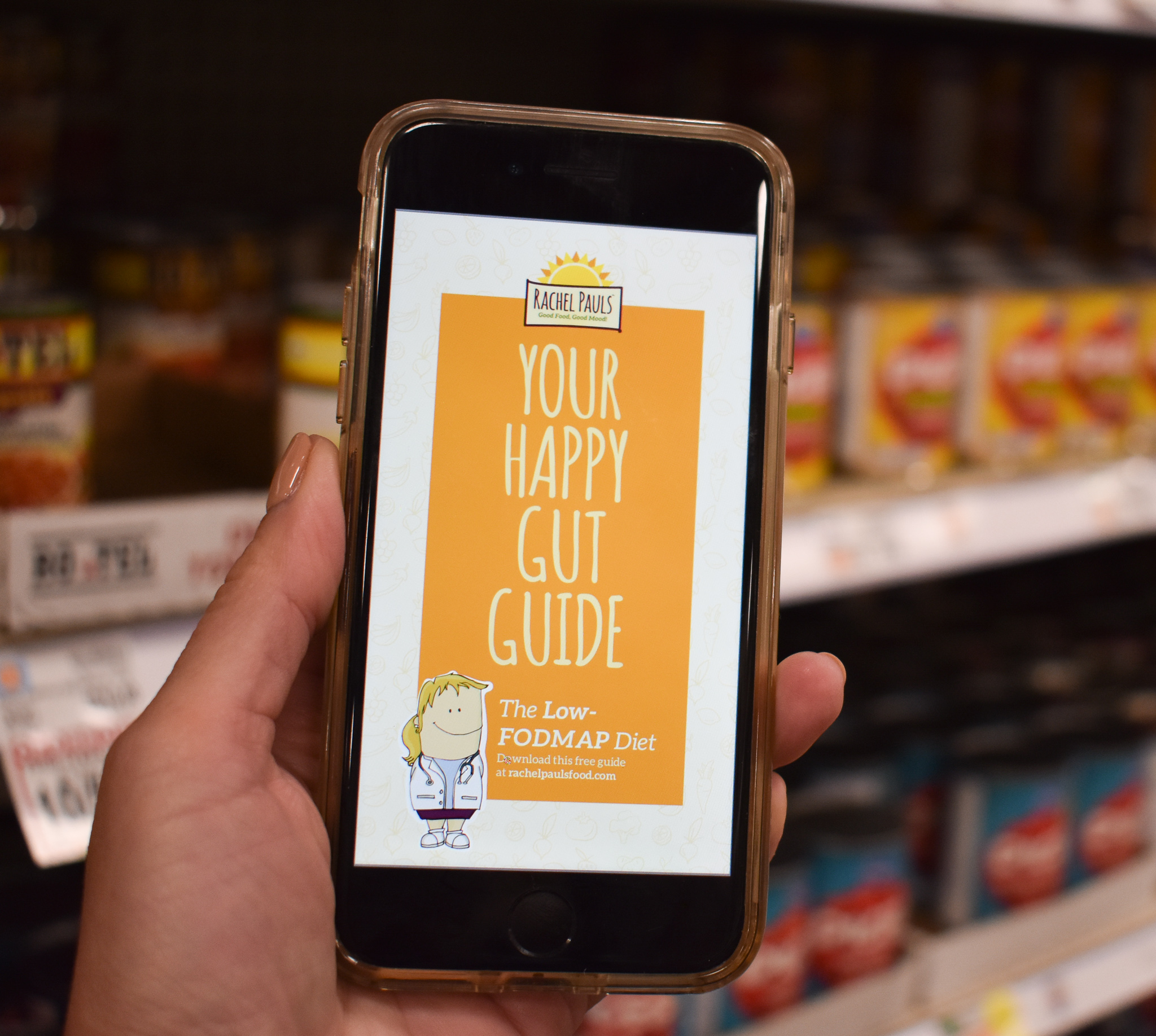 I also recommend purchasing the Monash University app to help you with allowed serving sizes of all these low-FODMAP foods.
Some other thoughts for your low-FODMAP grocery shopping spree:
The key part of knowing what you can tolerate is reading all the labels so you don't have any surprises.  This is SO important
Plan a little extra time for grocery shopping until you are accustomed to the low-FODMAP foods you can eat

You may want to avoid the busiest store hours for your first outing

If you can, check out your shopping list online first, and order items to be picked up in store if available
Low-FODMAP, gluten-free flours may be cheaper online than in the store and other specialized ingredients may be easier to locate. I prefer Authentic Foods GF Classical Blend Flour that I buy on Amazon (see my low-FODMAP Bake off blog for the reasons)
Be savvy: gluten-free does not necessarily mean low-FODMAP

Gluten is a protein, not a carbohydrate (like FODMAPs)
Many gluten-free items contain honey, inulin, processed ingredients, fruit concentrates and other high-FODMAP additives

Just because something is labeled 'organic' does not mean it is low-FODMAP (check ingredients)
Get smart about how to read labels; I have a low-FODMAP label reading blog to help you!
Make sure to check out my other tips and tricks on the low-FODMAP blog as well as over 500 low-FODMAP recipes…IBS-friendly.
Be healthy and happy,
Rachel Pauls, MD
P.S. Did you know that I have 2 COOKBOOKs ?!
Look no further for the BEST resources for low-FODMAP diet know-how, starting out, reintroduction and beyond! Over 160 low-FODMAP Recipes that have NEVER been published on the blog!

---
Dr. Rachel's Low-FODMAP Grocery Shopping List; Gluten-free, IBS-friendly
LIST WAS PREPARED USING AVAILABLE FODMAP DATA AT TIME OF POSTING*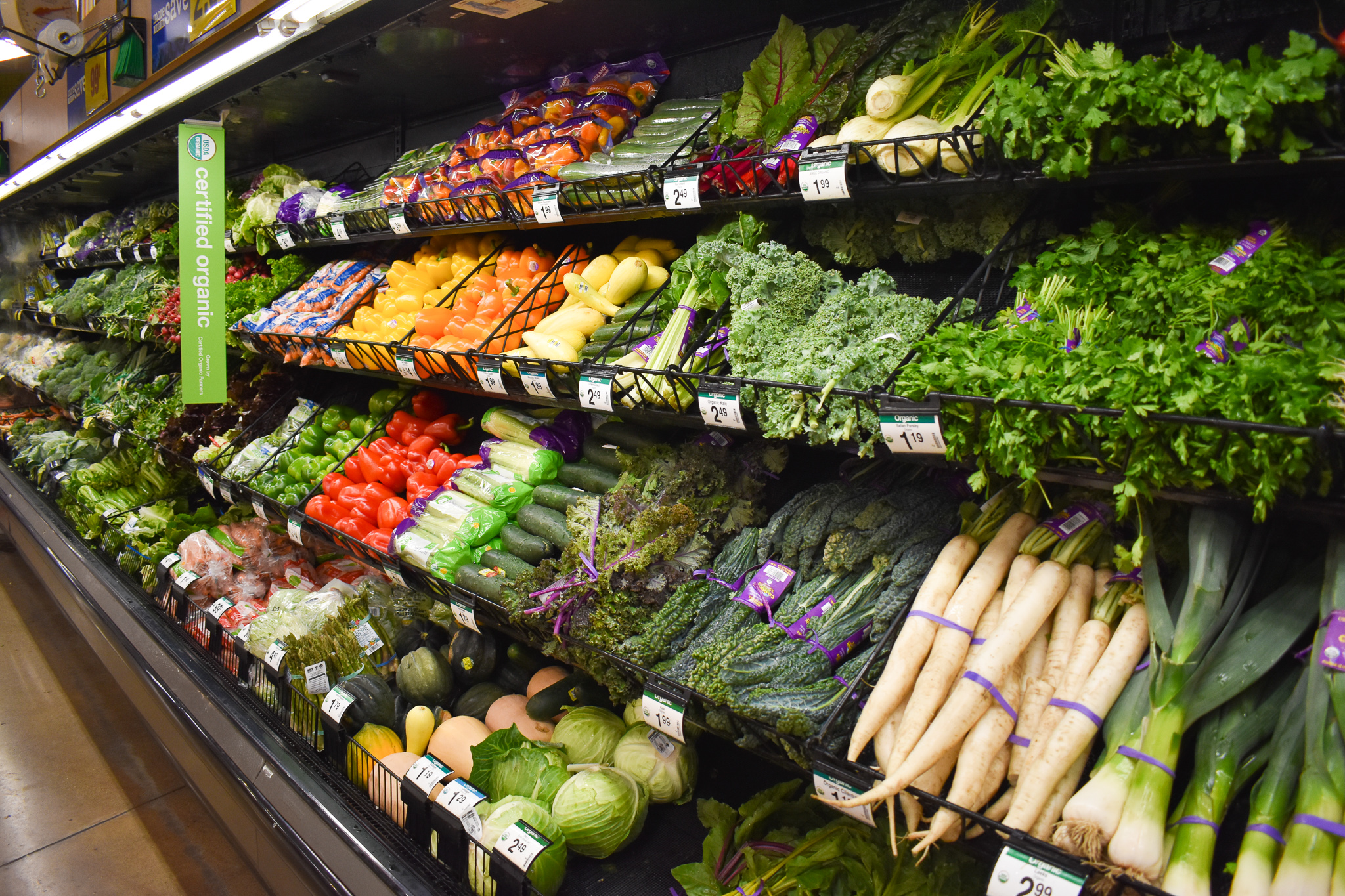 Fruits and Vegetables
Bananas
Blueberries
Raspberries
Strawberries
Cantaloupe
Honeydew melon
Dragonfruit
Durian
Starfruit
Grapes
Kiwi
Kumquat
Oranges
Lemon
Lime
Pineapple
Plantains
Tomatoes
Spinach
Carrots
Parsnips
Kale
Cabbage
Red peppers
Green peppers
Cucumbers
Ginger root
Chives
Potatoes
Sweet potatoes
Butter lettuce, Romaine or Iceberg lettuce
Collard greens
Bean sprouts
Green beans
Eggplant
Zucchini
Yellow squash
Spaghetti squash
Chili peppers
Broccoli (heads only)
Corn (fresh or fresh frozen)
Yams
Canned fruits and vegetables:

Artichoke hearts
Pumpkin
Chickpeas
Lentils
Olives (black and green)
Diced tomatoes, pureed tomatoes and tomato paste (make sure no added spices)
Bamboo shoots
Water chestnuts
Baby corn
Herbs (fresh and dried)
Ensure no onion/garlic added to spice blends
Allspice
Basil
Oregano
Chives
Dill
Oregano
Parsley
Rosemary
Sage
Thyme
Margoram
Cinnamon
Cloves
Nutmeg
Ginger
Cardamom
Cilantro
Corianders
Yellow curry
Garam masala
Ancho chili
Cumin
Paprika
Red pepper flakes
Cayenne pepper
Turmeric
Cream of tartar
Mustard powder
Sea salt
Black peppercorns with grinder
Capers (usually in jars)
Low-FODMAP Happy Spices Spice Blends (online only)

Italian blended seasoning, Taco seasoning, Steak seasoning

Low-FODMAP Happy Soup Soup mixes (online only)
Dairy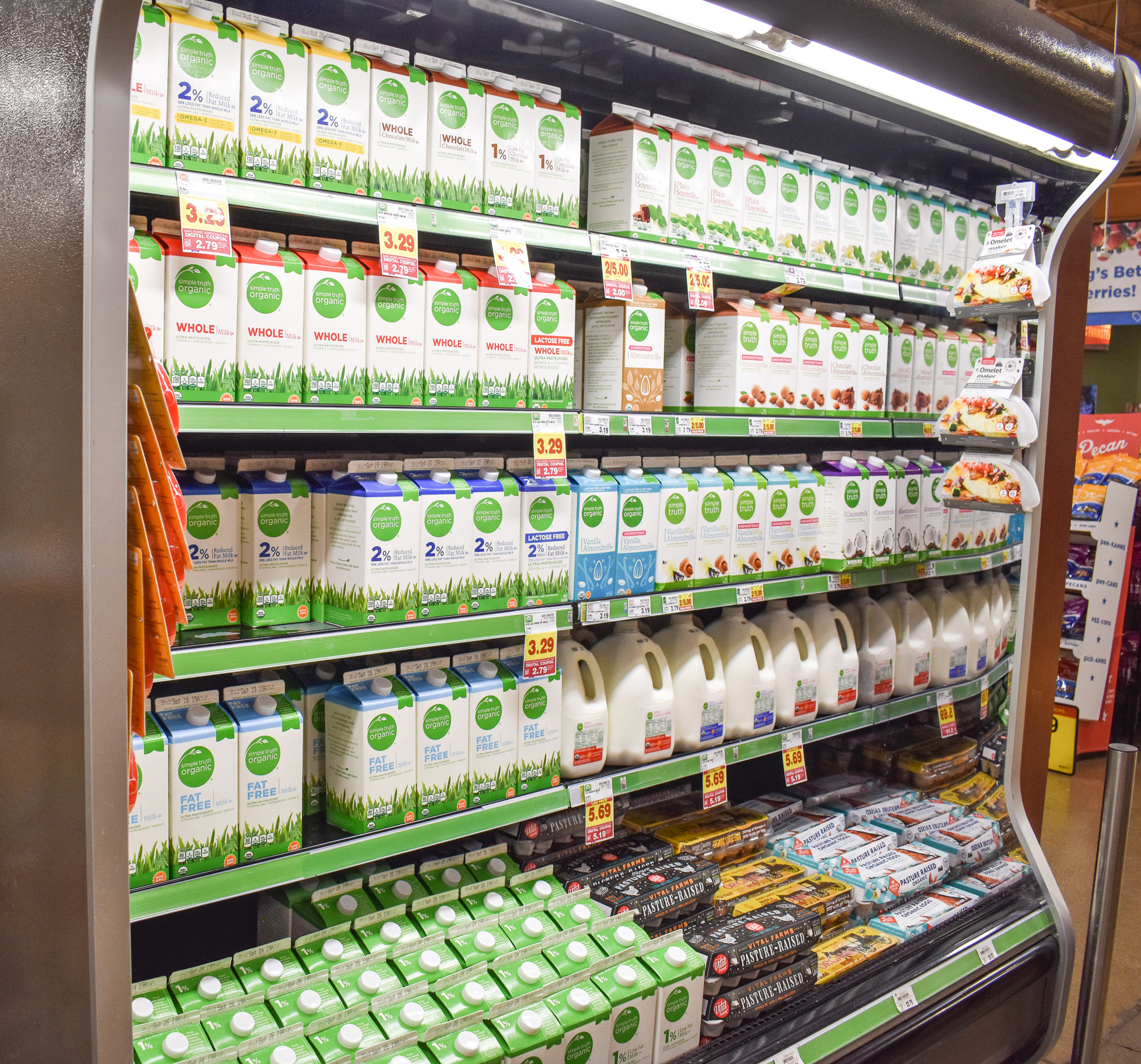 Unsweetened almond milk
Lactose-free milk
Hemp milk
Rice milk
Canned coconut milk and cream

This is usually NOT in the dairy section, but is a great substitute for heavy cream in recipes.  Check the Asian food aisle or the canned goods areas.
Please note: 'Cream of Coconut" is NOT the same as Canned Coconut Milk or Cream.  Do not substitute "Cream of Coconut".   "Cream of Coconut" is a sweet liquid used to make Pina Coladas, and other desserts.
Canned coconut cream is unsweetened, and can be purchased as actual cream, or if you buy full fat coconut milk and chill it, you can skim the creamy layer from the top of the can and use that in recipes instead.  See my low-FODMAP Coconut Whipped Cream Recipe for details. Both work well, but you may be able to find the coconut milk a little easier in stores.
The brands I like for coconut cream are Trader Joe's and Native Forest.  For coconut milk (if chilling, and using the cream) I like Trader Joe's and Thai Kitchen brand (Trader Joe's doesn't even need chilling since the cream is very thick).
If you want to use the entire whole coconut milk, then I find the best flavor in Aroy-D brand.  Unfortunately, coconut milk products have a lot of variation, so be careful when choosing, as it will affect the final result of your recipe.
Typically the coconut flavor is very subtle, if at all, so it will not be noted in the final cooked product.
**Full disclosure, just buying a 'name brand' does not guarantee that your whipped cream will whip!  If you are not required to avoid dairy, then opt for heavy whipping cream.  The FODMAP serve size is the same as for coconut cream (the FODMAPs are different though, coconut is excess sorbitol and milk cream is excess lactose); and you don't have to worry about your dessert not working out!

Lactose-free yogurt or coconut yogurt
Lactose-free cream cheese
Lactose-free cottage cheese
Butter or vegan margarine (I like Earth Balance)

Avoid the vegan margarines with cashews in them

Cheeses

Cheddar, mozzarella, Colby jack, brie, Parmesan, Feta, Swiss, Ricotta, Goat
Be aware that shredded cheese blends often contain added onion and garlic
Condiments and Baking supplies
Low-FODMAP, gluten-free flour blend

I like King Arthur brand if buying from store, or Authentic Foods GF Classical Blend if shopping online

Gluten-free Bisquick baking mix
Cornmeal (polenta)
Garlic infused and Onion infused olive oil (A staple in many recipes)

Infused oils have ALL the flavor, but NO FODMAPs!
The garlic, onion and other ingredients are not soluble in the oil, so they do not end up causing GI issues (not the same if you put onion or garlic in a water based liquid and then strain it)
You may need to buy these online, or find a special 'oil boutique'

Garlic infused oils are available at Fresh Market stores
Amazon.com has several varieties
Can also infuse your own- several websites offer step-by-step instructions

Olive oil
Coconut oil
Tamari or soy sauce

Tamari is gluten-free soy sauce

Dijon mustard
Mayonnaise (I like Hellman's regular and light)
Yellow mustard
Ketchup (no high fructose corn syrup)
Spaghetti Sauce ( I like Prego sensitive formula and Rao's sensitive marinara)
Pure maple syrup
Peanut butter (natural, salted or unsalted)
Almond butter
Sunflower seed butter
Tahini (sesame seed paste)
Coconut oil
Cocoa powder
Pure strawberry jam
Marmalade
Dried cranberries
Semisweet chocolate chips
Dark chocolate
Granulated sugar
Confectioner's sugar
Brown sugar
Corn syrup
Pure vanilla extract
Baking powder
Cornstarch
Xanthan gum (if your flour does not have this, you will need to add it for baking)
Baking soda
Vegetable shortening
Baking spray
Distilled white vinegar
Apple cider vinegar
Red wine vinegar
Rice vinegar
Tabasco sauce
Oyster sauce
Canned coconut milk and coconut cream (see notes above in dairy section)
Nuts and Seeds
Be aware that dry roasted nuts and seeds often have added onion and garlic
Peanuts
Almonds
Pecans
Walnuts
Sunflower seeds
Pumpkin seeds
Black poppyseeds
Chia seeds
Flaxseed meal
Flaxseeds
Hemp seeds
Pine nuts
Hazelnuts
Coconut
Sesame seeds
Breads, Cereals, Pasta and Grains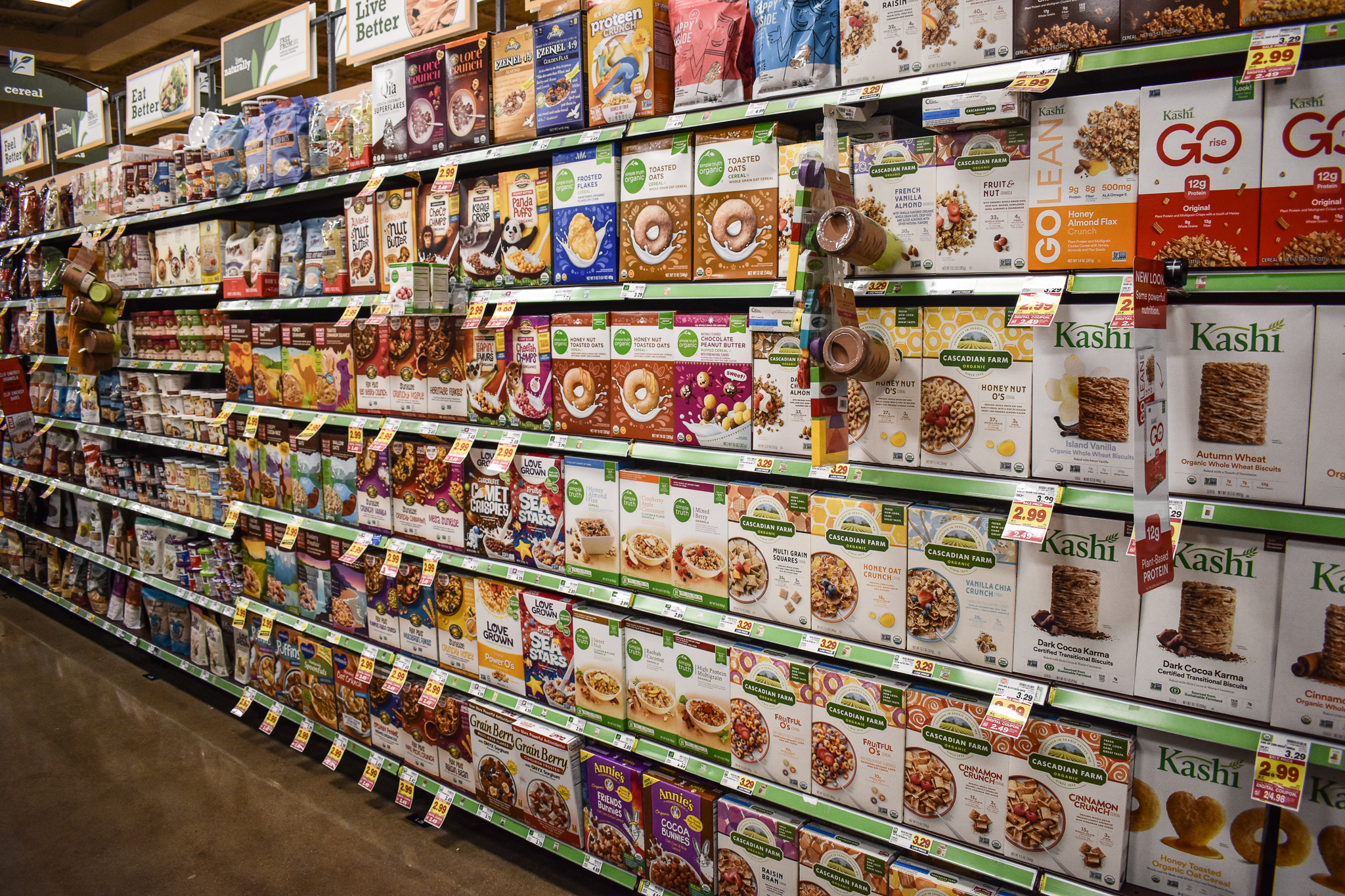 Low-FODMAP, Gluten-free Bread

I use UDI's gluten-free white sandwich bread or hamburger buns (I like the buns better)

Not all the UDI's bread products contain low-FODMAP ingredients, make sure to check labels

Most of these are not-vegan as they contain egg ingredients

These are kept in the freezer section, usually in a gluten-free area
Schar's products are also newly certified low-FODMAP

Corn tortillas and gluten-free flour tortillas (check ingredients to ensure low-FODMAP)
Rice crisp cereal (I like gluten-free Rice Krispies)
Corn flake cereal (I like Kellogg's, note however that it is not gluten-free)
Toasted O's cereal (I like plain Cheerios)
Gluten-free crackers (I like Glutino brand)
Gluten-free cookies (I like Glutino Chocolate cream and vanilla cream and Gluten-free Oreo cookies)
Gluten-free pastas

I like Ronzoni, Barilla and Jovial brands of gluten-free pastas
Le Veneziane is another brand I recently tried that is corn based
Ensure your product does not contain added fibers (like inulin), chick pea or other lentil flours, barley, or excess amaranth
Combinations of rice and corn flours are usually fine
You can find farfalle, penne, rotini, elbow macaroni, linguini, angel hair pasta and wide egg noodles in these brands now!

Asian style rice noodles
Rice cakes (plain)
Potato chips (plain or plain ruffled)
Popcorn (plain or unpopped kernels)
Gluten-free pretzels (I like Snyder's brand, I don't tolerate the corn fiber present in Glutino's product)
Corn Chips
Raw quinoa and quinoa flakes
Rice: Brown, White, Basmati, Arborio, Jasmine

I love the frozen bags of Jasmine and Basmati rice at Trader Joe's

Traditional rolled oats
Quick oats
Plain packaged instant oatmeal
Breadcrumbs- gluten-free, panko is usually good (check ingredients)
Nutritional yeast
Protein powder (I like brown rice protein powder- Nutribiotic brand vanilla flavor from Amazon)
Proteins
Eggs
Ground beef and steaks
Turkey and ground turkey
Pork and bacon
Chicken
Shellfish: Scallops, Shrimp, Crab
Fish: Tilapia, Salmon, Cod, Halibut, Mahi Mahi
Canned tuna
Canned salmon
Deli smoked turkey
Vegan options
Extra firm or firm tofu
Tempeh (no added onion or garlic or other high-FODMAP additives)
Canned chickpeas
Canned lentils
Beverages
Black tea
Coffee
Espresso
Green tea
Honeybush tea
Peppermint tea
Rooibos tea
Cranberry juice
Club soda
Vegetable blend juice
Water
Have fun!  Don't forget to download the high and low-FODMAP food lists to your phone 🙂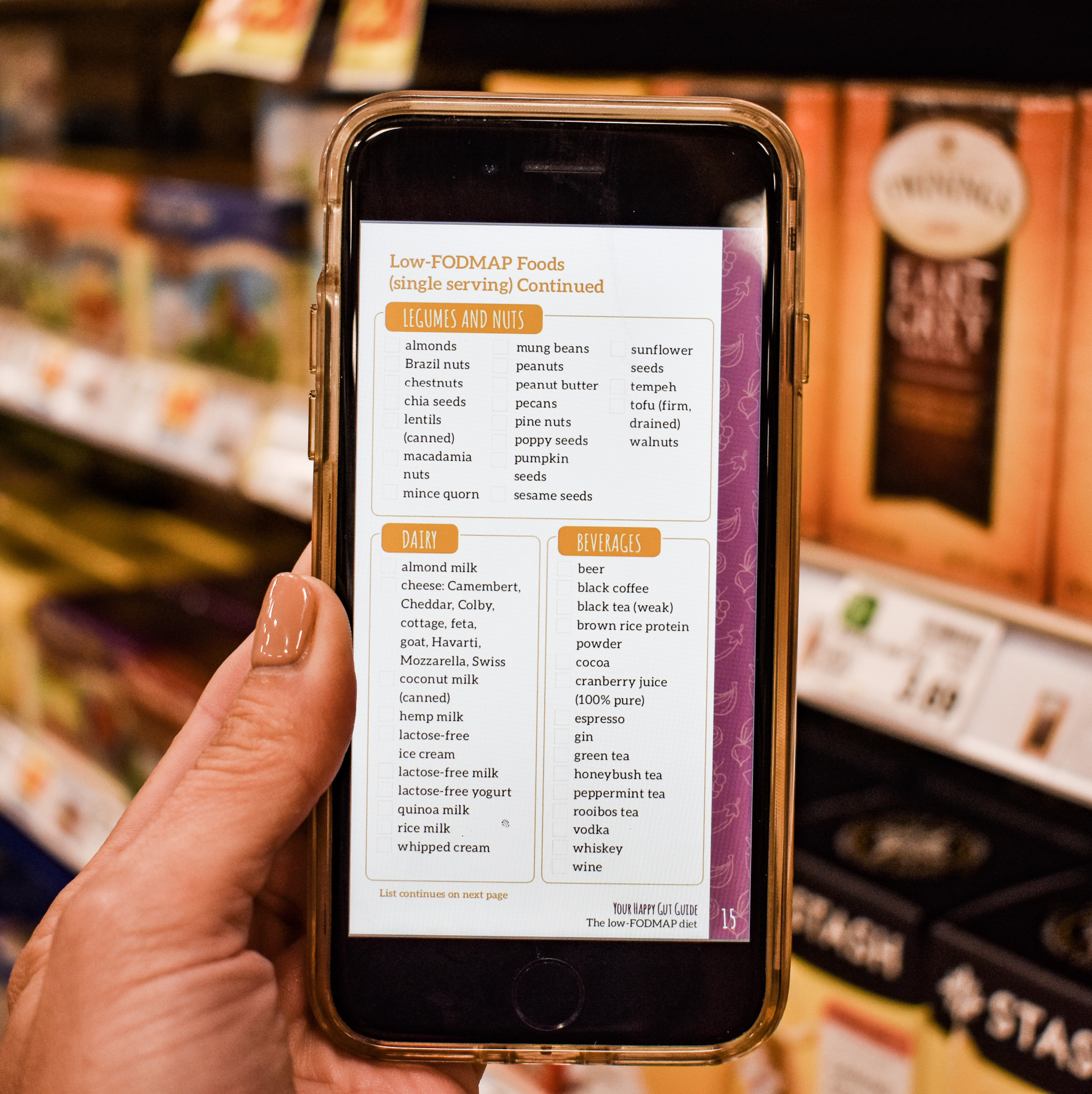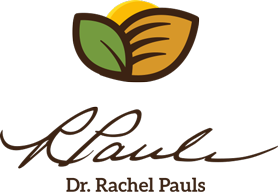 Printer Friendly Version
Comments Rating
( reviews)