Dr. Rachel's Favorite Low-FODMAP Tuna Noodle Casserole; Gluten-free
January 9, 2021
Printer Friendly Version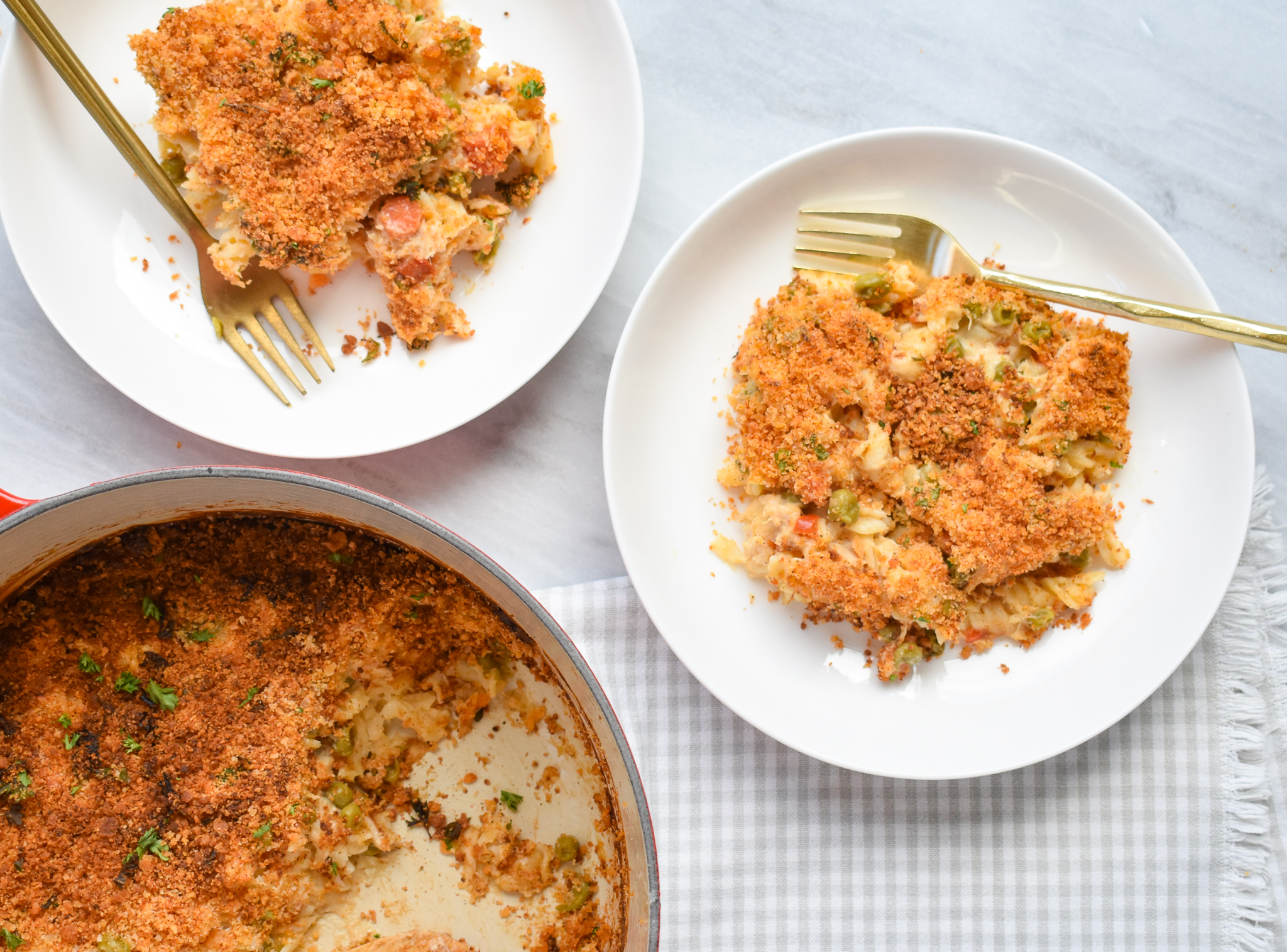 My Low-FODMAP Tuna Noodle Casserole is creamy and tangy, perfect for a hearty meal that will warm you from the inside out.  Everyone loves this low-FODMAP dinner, made in one-pan!  It is so good, it could pass as a gourmet meal.  No canned soups, everything fresh and from scratch.  Just like you expect from my low-FODMAP recipes!
Here are some of the many ways to enjoy it…
Topping:
You can enjoy this Tuna Noodle Casserole topped with low-FODMAP, gluten-free breadcrumbs, crushed potato chips or crackers. Just check ingredient lists to ensure your tummy will tolerate your choice. A salty, crunchy top is the best part of a casserole 🙂
Tuna selection:
I like to use water packed canned tuna for my low-FODMAP Tuna Noodle Casserole recipe, but it will work with oil packed varieties as well.  I personally also prefer white, not light tuna, as the quality and flavor of the fish is much better.  Be sure to confirm that your 'water packed' brand truly contains just water.  Many brands list 'vegetable broth' which is likely to contain hidden onion and garlic.  I choose Wild Planet and Blue Harbor brands (available at Whole Foods).
Stir-ins:
Feel free to try different veggie stir-ins, like broccoli heads, cherry tomatoes or green bell peppers in your low-FODMAP Tuna Noodle Casserole.  I used drained canned peas in my version, as they contain fewer FODMAPs than fresh peas (¼ cup per serving; 45 g), but you could certainly skip them if you prefer.  Note that fresh peas contain a larger amount of FODMAPs, so do not substitute these in your recipe.  Why? Because the canning technique allows the FODMAP carbohydrates to 'leach' into the canning liquid, and when you drain this away you get rid of the FODMAPs!  Great news.
Dr. Rachel's tip: One 15 ounce can of peas, once drained and rinsed will yield 270 grams of peas. You will use slightly more than 1/2 can for this recipe.
Noodle choice:
Tuna Noodle Casserole is all about the noodles!  Be aware that about 1 cup, or 145 grams of cooked gluten-free noodles is one low-FODMAP serving; but you can enjoy larger portions of rice vermicelli noodles.  However, many gluten-free pasta varieties get mushy with cooking, so experiment with the brands and shapes available in your area.  I have not had good luck sourcing out gluten-free egg noodles (although I believe Manischewitz does sell these); so I used gluten-free rotini (Barilla brand).  I also enjoy the look and texture of rotini noodles- they are so pretty 🙂  Gluten-free, low-FODMAP elbow macaroni is also an easy to find, delicious option.  Check out my low-FODMAP Grocery Shopping Blog for other tips!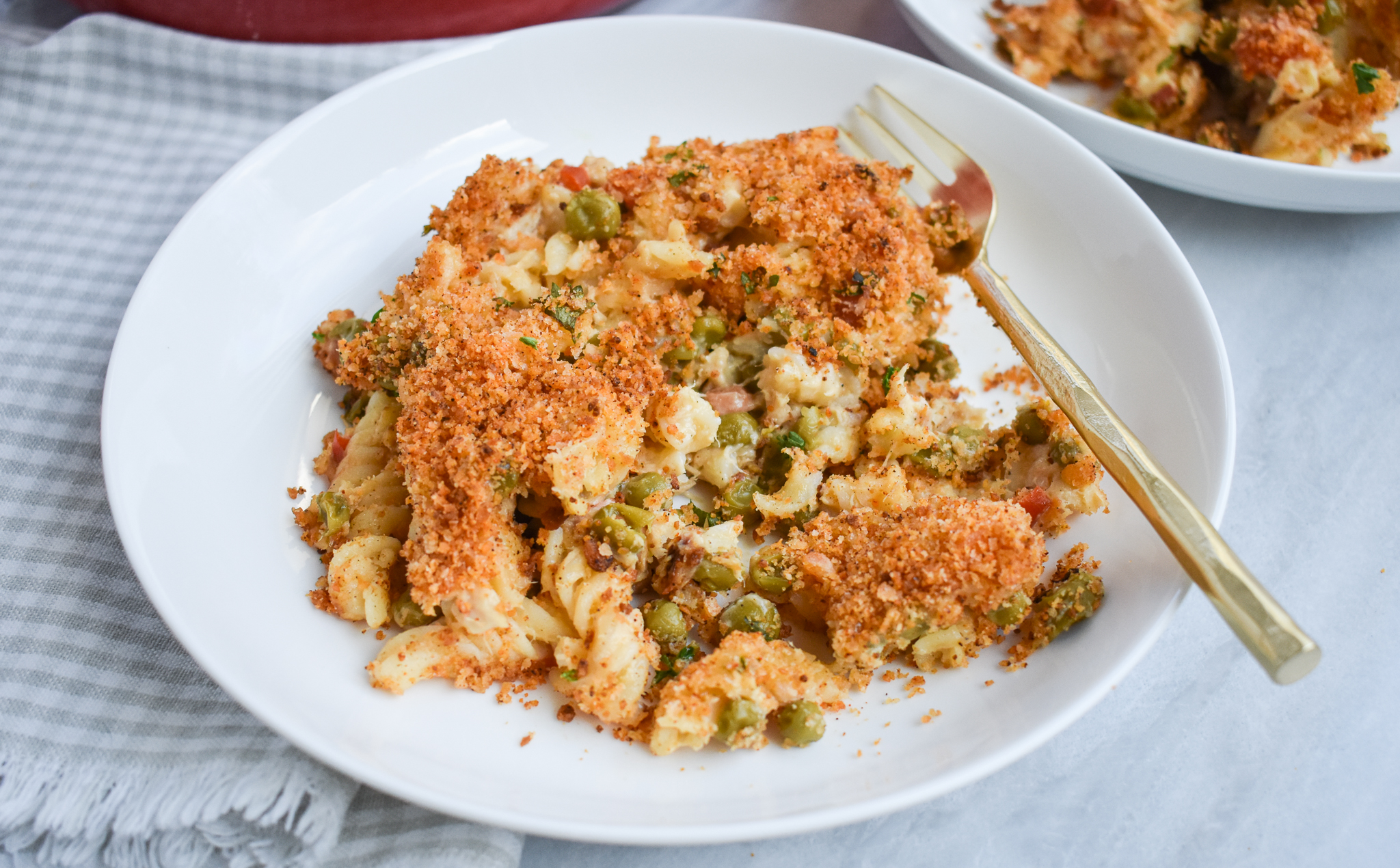 You may also love my:
Or check out over 400 more low-FODMAP Recipes on the blog!  IBS-friendly!
Be healthy and happy,
Rachel Pauls, MD
P.S. Check out my new COOKBOOK for over 100 low-FODMAP recipes, low-FODMAP Meal Plan, FODMAP Tips and everything you need!!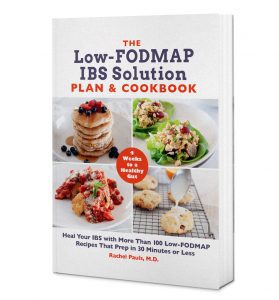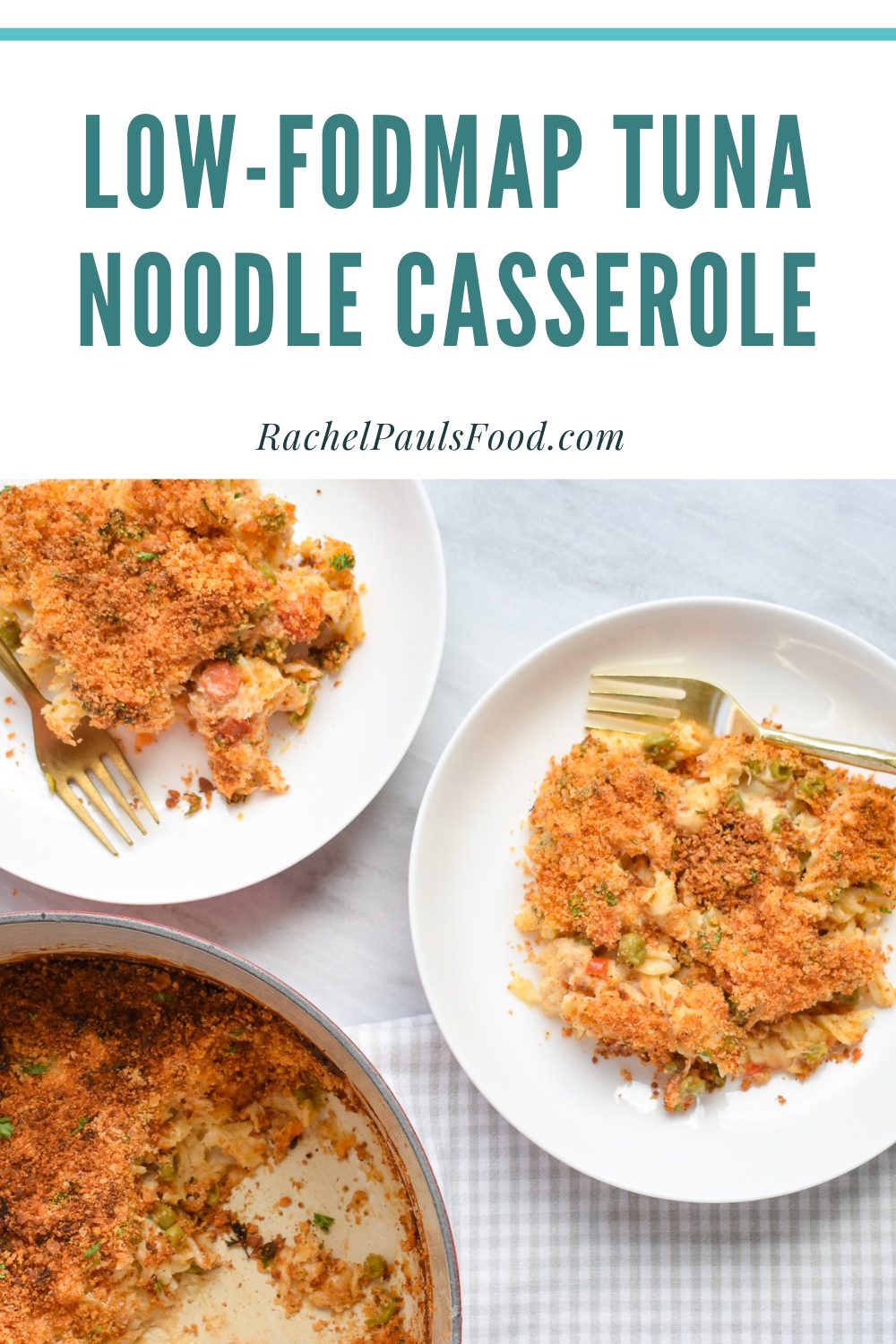 Although this recipe has not been lab-tested, a single serving should be low-FODMAP based on the ingredients *using available FODMAP data at time of posting
Serves: 6
Prep time: 15 min
Cook + Bake time: 30 min
Total time: 45 min
Equipment: Large sized Dutch Oven or Oven Safe Saucepan/Skillet (about 2-3 quart size or larger).  If you don't have one, then you can also transfer the mixture to a large casserole dish for baking
Bake: 400 F
Ingredients
7 ounces (about 2-3 cups) uncooked, gluten-free rotini noodles with low-FODMAP ingredients

This will yield about 3-4 cups of cooked pasta, depending on your pasta brand

1 generous cup (145 g) of cooked gluten-free pasta is one low-FODMAP serving

There are a few brands of gluten-free egg noodles, but to create a denser texture in this casserole I used gluten-free, low-FODMAP rotini. Macaroni would also work well.  Be aware that gluten-free pasta can get mushy, so be sure to prepare it al-dente in the first step!

2 tablespoons mushroom, onion or garlic infused olive oil (your choice, depending on what you have in your pantry or store)

If you have options, I used half mushroom and half onion infused oils, to be similar to the traditional tuna noodle casserole flavors
Infused oils contain all the flavor but NOT the FODMAPs. Enjoy these to help enhance the flavor of your recipes!  See my low-FODMAP Top 11 Tips & Tricks for the reason why!

1/2 cup (70 g) chopped carrot

Carrots do not contain FODMAPs

1/2 medium red bell pepper, chopped (60 g)

1/3 cup (43g) is one low-FODMAP serving due to fructose

1/2 stalk (20 g) celery, minced

10 grams is one low-FODMAP serving due to mannitol
You can also leave this out, if you prefer not to buy such a small amount (we have it on hand in the fridge anyway)

1 cup (150 g) canned peas, rinsed and drained

Canned peas (once drained and rinsed) are low-FODMAP in ¼ cup servings (45 g), as the FODMAPs are leached out in the canning liquid and rinsed away
Higher amounts have higher levels of GOS
Do not substitute frozen or fresh peas as the FODMAP levels will be higher

3 tablespoons low-FODMAP, gluten-free, all-purpose flour
1/2 teaspoon salt
1/2 teaspoon ground black pepper
1  & 1/2 cups low-FODMAP milk (I used lactose-free whole milk, but almond milk should also work well)

If you prefer your sauce a little runny, then increase this to 2 cups

1 heaped tablespoon Dijon mustard

1 tablespoon is one low-FODMAP serving

Two 5 oz cans water-packed light or white tuna, drained and chunked

Make sure your brand contains ONLY water, and not 'vegetable broth', see note above. I like Wild Planet and Blue Harbor white tuna (available at Whole Foods).  It is more expensive, but the flavor is far superior!

4 ounces (about 120 grams) cheddar cheese, shredded or grated

Only trace FODMAPs are found in cheese due to low carbohydrate levels

1/2 cup gluten-free, low-FODMAP breadcrumbs (homemade or store bought-such as panko)

You can also opt for crushed gluten-free crackers with low-FODMAP ingredients or crushed plain ruffled potato chips.  However, if you make those changes, then you may wish to reduce or omit the Parmesan cheese, as the topping will become quite salty

1/4 cup grated Parmesan cheese
1 tablespoon melted butter
1 teaspoon smoked paprika
1 tablespoon fresh parsley, chopped, plus for garnish
Baking spray or shortening, for greasing
Directions
Preheat oven to 400 degrees F
Cook low-FODMAP noodles according to package instructions on your stovetop, and remove when al dente (slightly firm). Drain, and set aside for later (feel free to use your Dutch oven if you have extra time, or use another saucepan for this)

Careful not to overcook your noodles as gluten-free pastas make become mushy

While noodles are boiling, place infused oil in your Dutch oven (or other large oven safe saucepan) over medium to medium-low heat. Add celery, bell pepper, and carrots and cook until slightly softened, stirring frequently (about 4-5 minutes)
Stir in low-FODMAP flour, salt and pepper
Slowly add low-FODMAP milk and cook, stirring constantly until thick and bubbly, like a roux (about 3 minutes). Turn down heat and stir in Dijon mustard
Add the cheese, followed by the chunked tuna and al-dente low-FODMAP noodles, then gently fold in the peas
In a separate small bowl combine gluten-free breadcrumbs, Parmesan cheese, smoked paprika, fresh parsley and melted butter using a fork or your hands. Sprinkle evenly over the top of the casserole

If you don't have an oven-safe pan, then you can transfer the mixture to a casserole dish, lightly sprayed with baking spray, then sprinkle with the topping

Bake casserole for 15-20 minutes, uncovered, or until heated through and golden brown on top
Let stand for about 5 minutes, then serve immediately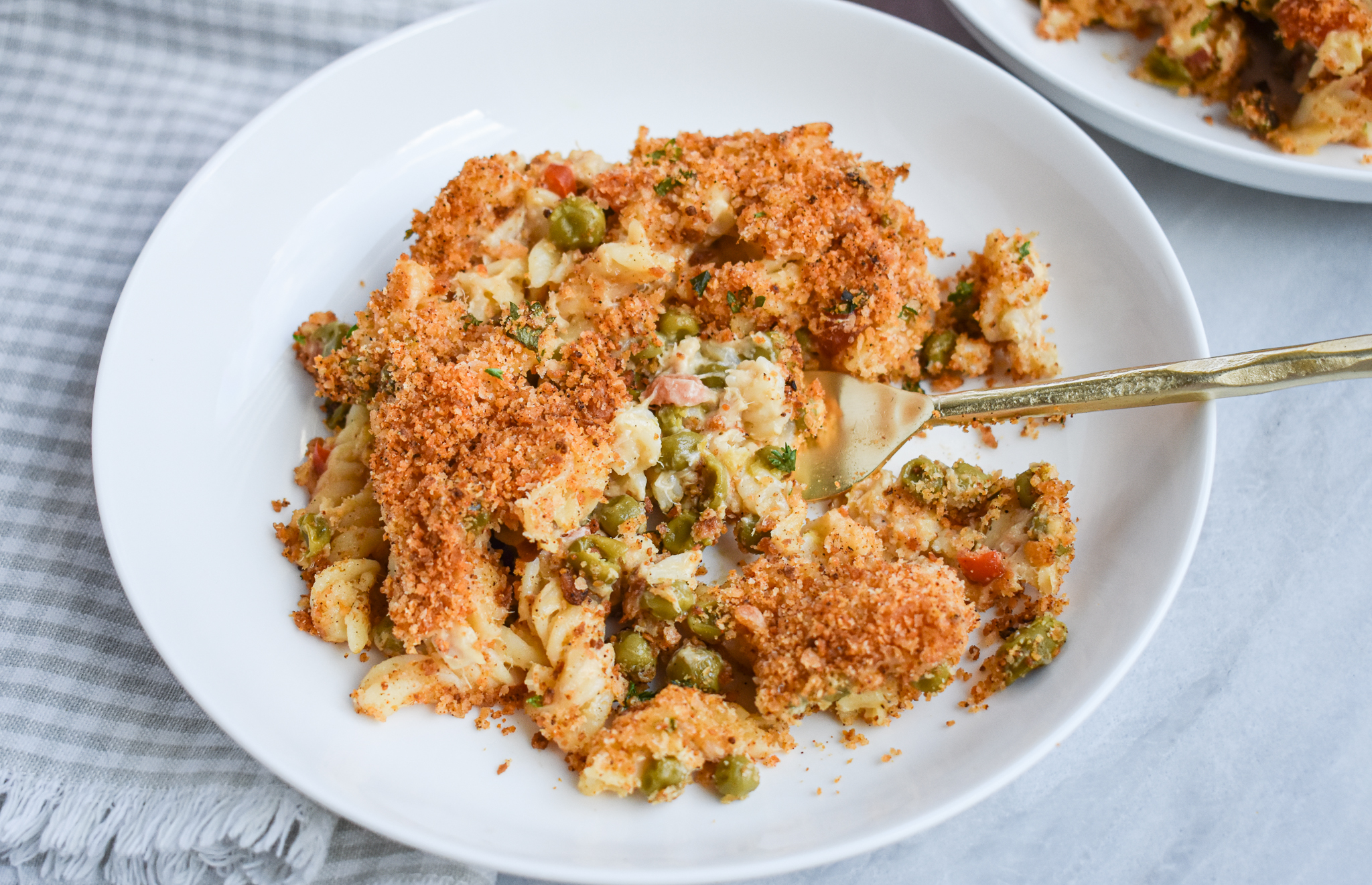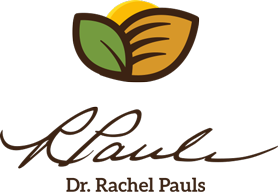 Printer Friendly Version
Comments Rating
( reviews)