Dr. Rachel's Favorite Low-FODMAP Macaroni (Pasta) Salad; Gluten-free
May 26, 2022
Printer Friendly Version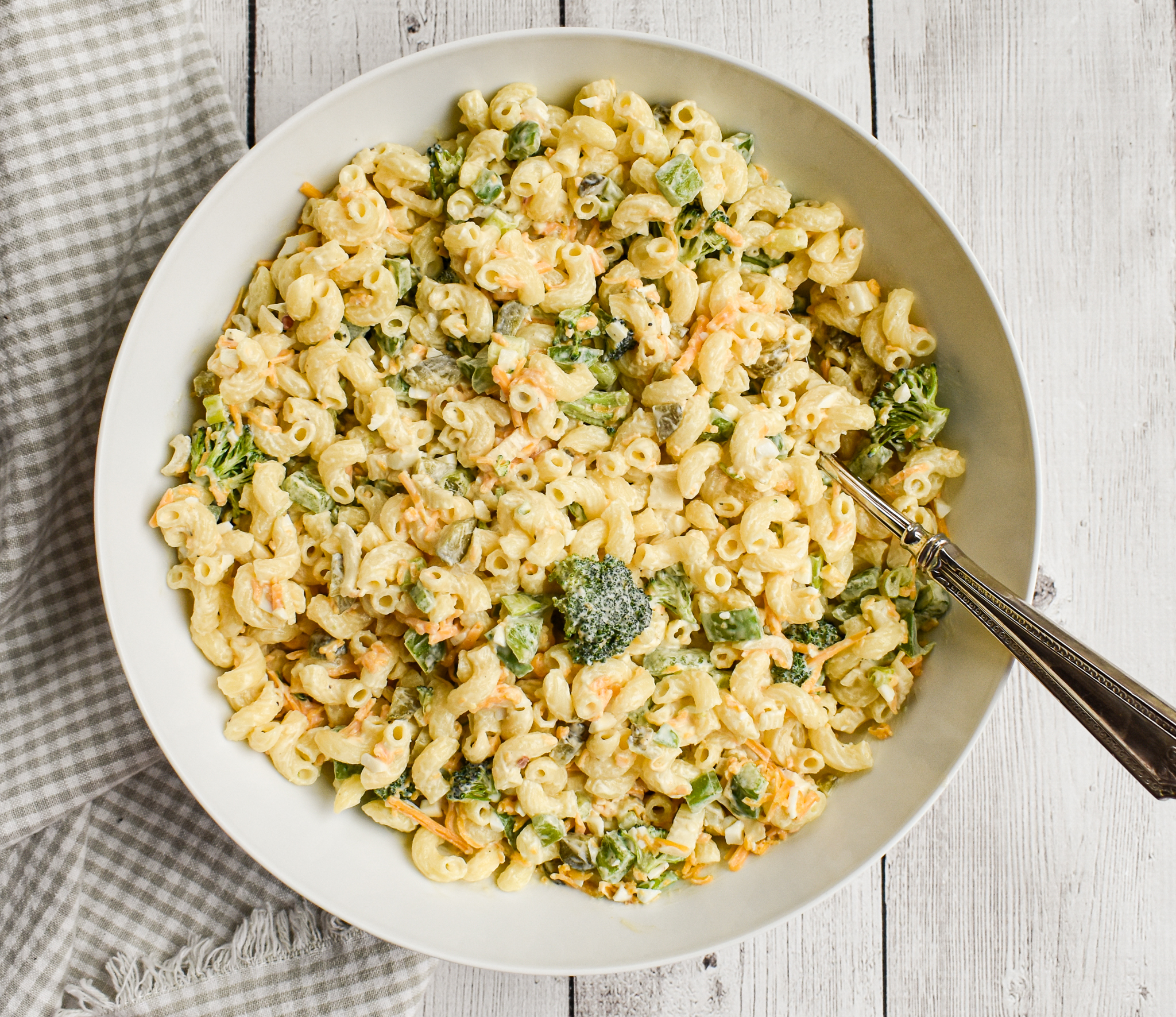 Summer would not be the same without a great macaroni salad recipe.
Macaroni Salad is the quintessential American summer side dish.  Squishy noodles mixed together with veggies, eggs, or cheese, in a creamy, tangy, somewhat sweet mayonnaise-based dressing.
I would not call this picnic staple 'healthy'.  But it is DELICIOUS.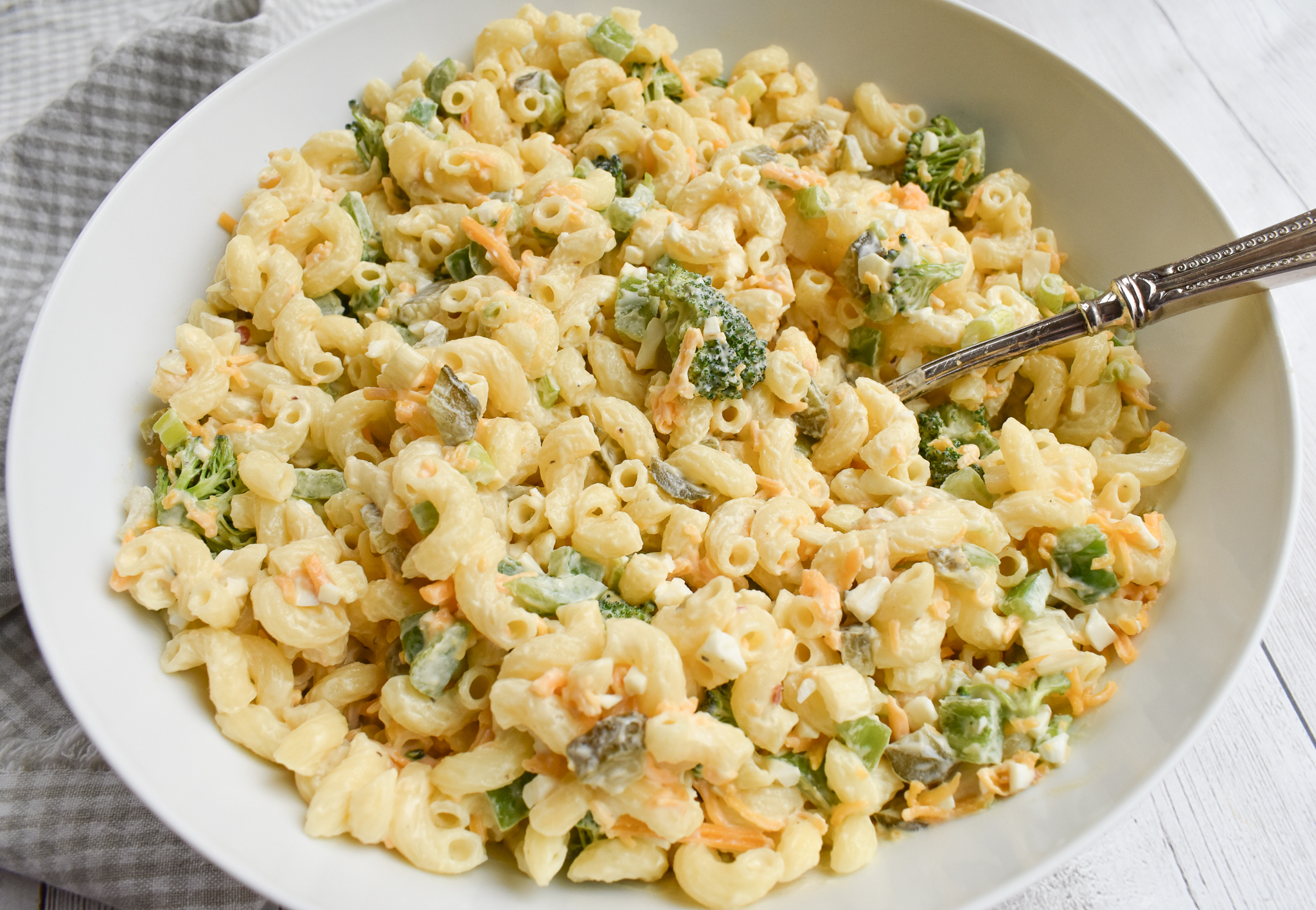 My low-FODMAP Macaroni Salad is teeming with bell pepper, sweet pickles, eggs and broccoli. Just for fun I also add shredded cheddar. It is my absolute favorite combination for this treat.
But you can make this low-FODMAP macaroni salad to your preference. If you like yours with cubed cheese instead of shredded, red bell peppers, grated carrots and canned drained peas, then go for it 😊
FODMAP fact: *Canned peas that are rinsed and drained are low-FODMAP in serves of 45g*
Note: The low-FODMAP diet is NOT a diet to lose weight.  You can enjoy foods like low-FODMAP macaroni salad in moderation.  Just be aware that fat can be a gut irritant and flare up IBS as well.  If you have trouble digesting high-fat meals, then adjust your consumption to your personal tolerance.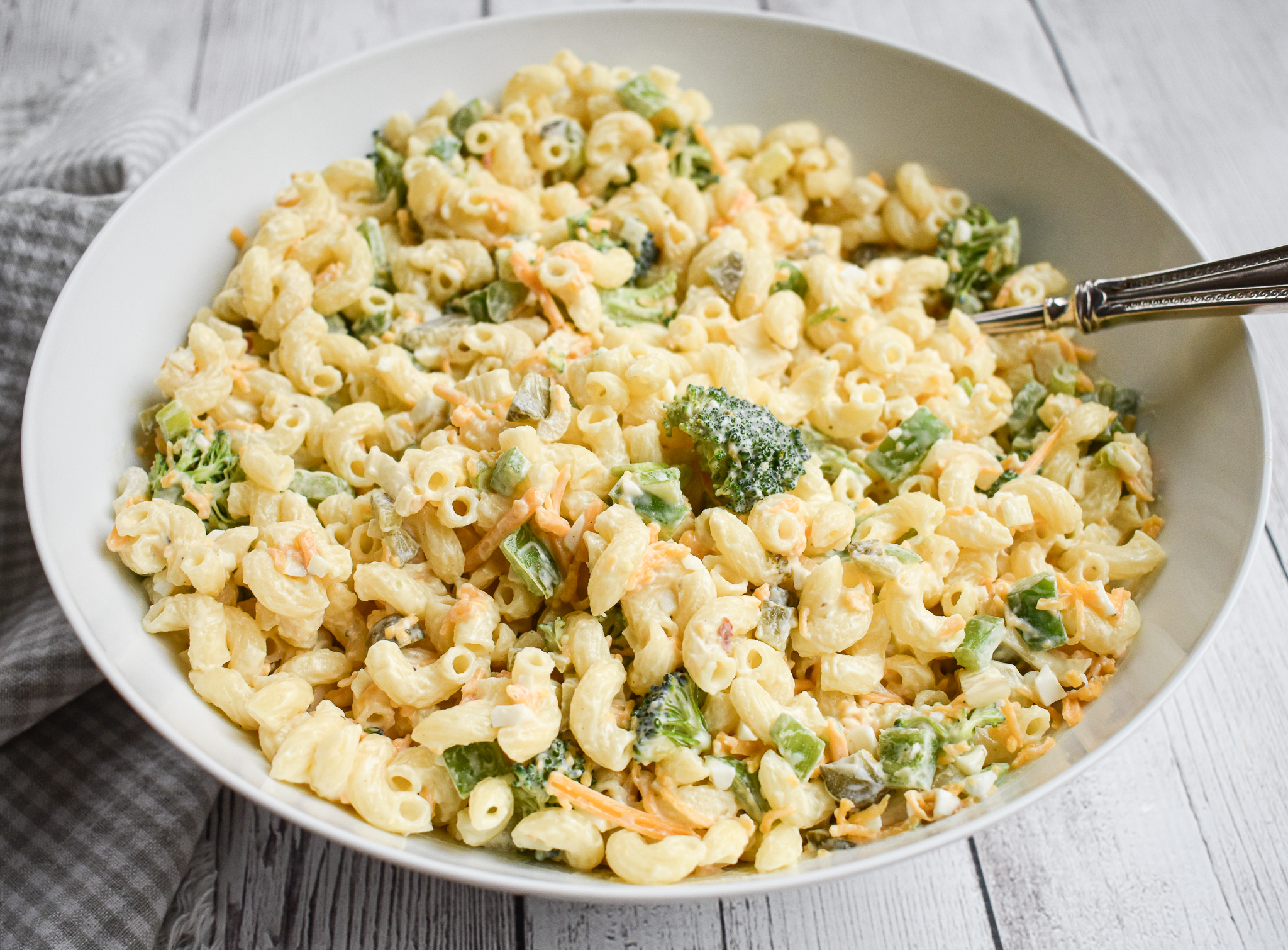 You may also love my:
Or check out over 450 more low-FODMAP recipes on the blog.  IBS-friendly!
Be healthy and happy,
Rachel Pauls, MD
P.S.  Check out my new COOKBOOK for over 100 low-FODMAP recipes, low-FODMAP Meal Plan, FODMAP Tips and everything you need!!  It's the BEST!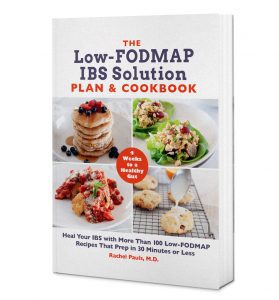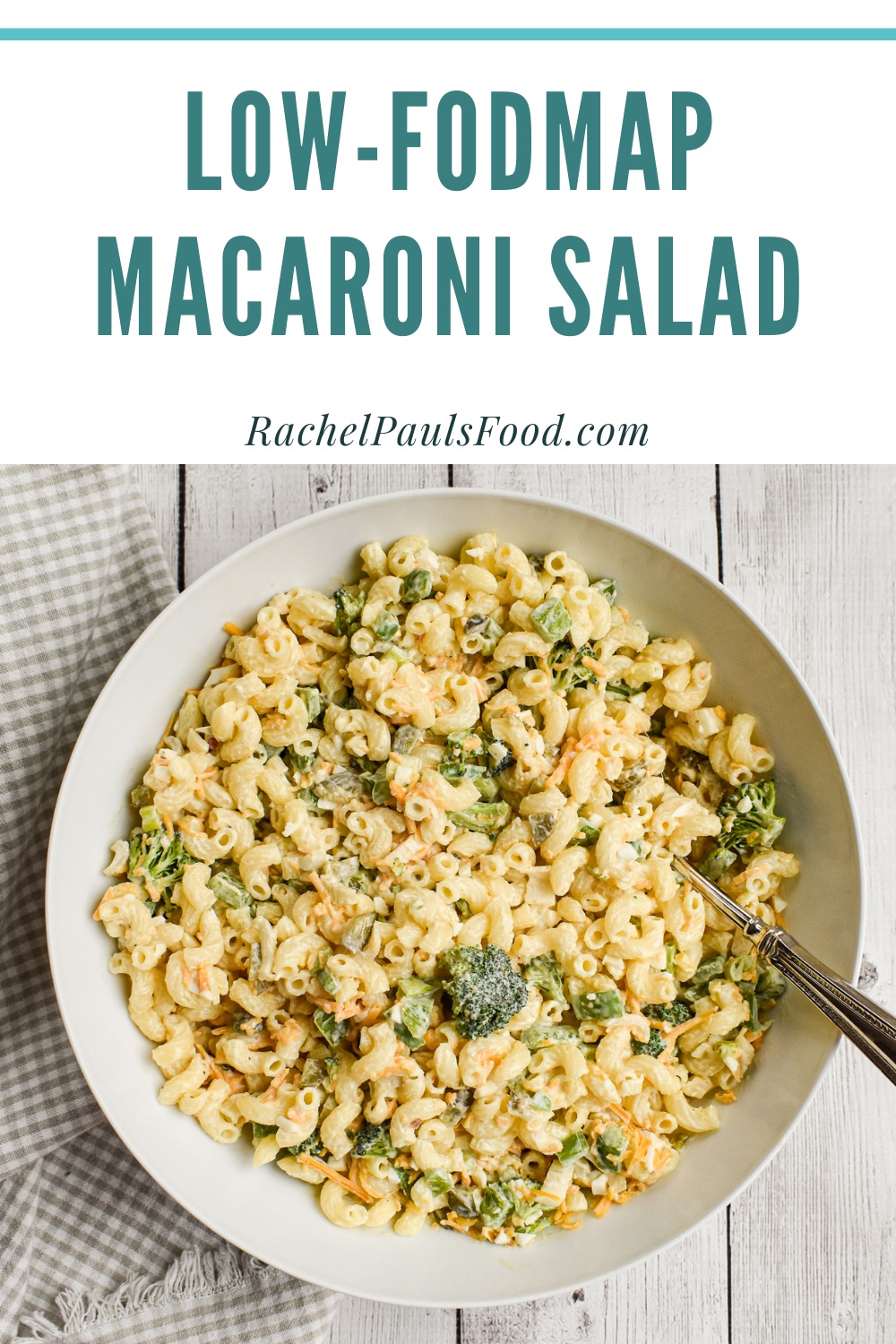 Although this recipe has not been LAB tested, a single serving should be low-FODMAP based on the ingredients, using available FODMAP data at time of posting
Serves: 6; About 1 cup per serving
Prep time: 15 min, plus chilling
Cook time: 10 min
Total time: 25 min, plus chilling
Ingredients
For Macaroni Salad:
8 oz low-FODMAP, gluten-free macaroni noodles (227g)
2 teaspoons garlic-infused oil
1/2 cup finely diced sweet pickles (gherkins) (80g)

75 g is one low-FODMAP serving, due to fructose

3/4 cup finely diced green bell pepper (100g)

75 g is one low-FODMAP serving, due to fructans

1 stalk celery, finely chopped (40g)

10 g is one low-FODMAP serving, due to mannitol

2 large, hard-boiled eggs, finely diced
1/2 cup broccoli heads (50 g)

75 g is one low-FODMAP serving, due to fructose

2 tablespoons green scallion tips (avoid the bulbs)
3/4 cup (100g) shredded cheddar cheese
For Dressing:
3/4 cup full fat mayonnaise

Avoid brands that contain high-fructose corn syrup

1/4 cup lactose-free sour cream

Regular sour cream may also be used, 2 tablespoons is one low-FODMAP serving

2 tablespoons sweet pickle juice from your jar of gherkins (20g)
1 tablespoon red wine vinegar or apple cider vinegar
1 tablespoon granulated sugar (increase for a sweeter flavor)
2 teaspoons Dijon mustard
1/4 teaspoon salt
1/4 teaspoon ground black pepper
1/8 teaspoon crushed red pepper (optional)
Directions
Prepare low-FODMAP, GF macaroni noodles according to package instructions in a pot of salted boiling water (about 7 minutes)

I usually make my GF pasta slightly firm (al-dente) for mixing with a sauce, but like it softer for a cold salad.  I find the GF pastas get chewy when left cold in the fridge after cooking
Experiment with your brand to get your preferred texture for the pasta

While cooking, mix your dressing.  In a medium bowl combine mayonnaise, lactose-free sour cream, vinegar, sweet pickle juice, sugar, Dijon mustard, salt, pepper, and crushed red pepper, and whisk well
Chop and prep your other ingredients
Once pasta is done, drain water, then run pasta under cool water to cool noodles
Place pasta in a large bowl and toss with your garlic infused olive oil to lubricate the noodles
Add chopped sweet pickles, bell pepper, celery, broccoli, scallion tips, and eggs then stir to combine
Pour dressing over your macaroni salad ingredients and toss until well-combined
Sprinkle shredded cheddar over top
Cover and refrigerate for at least one hour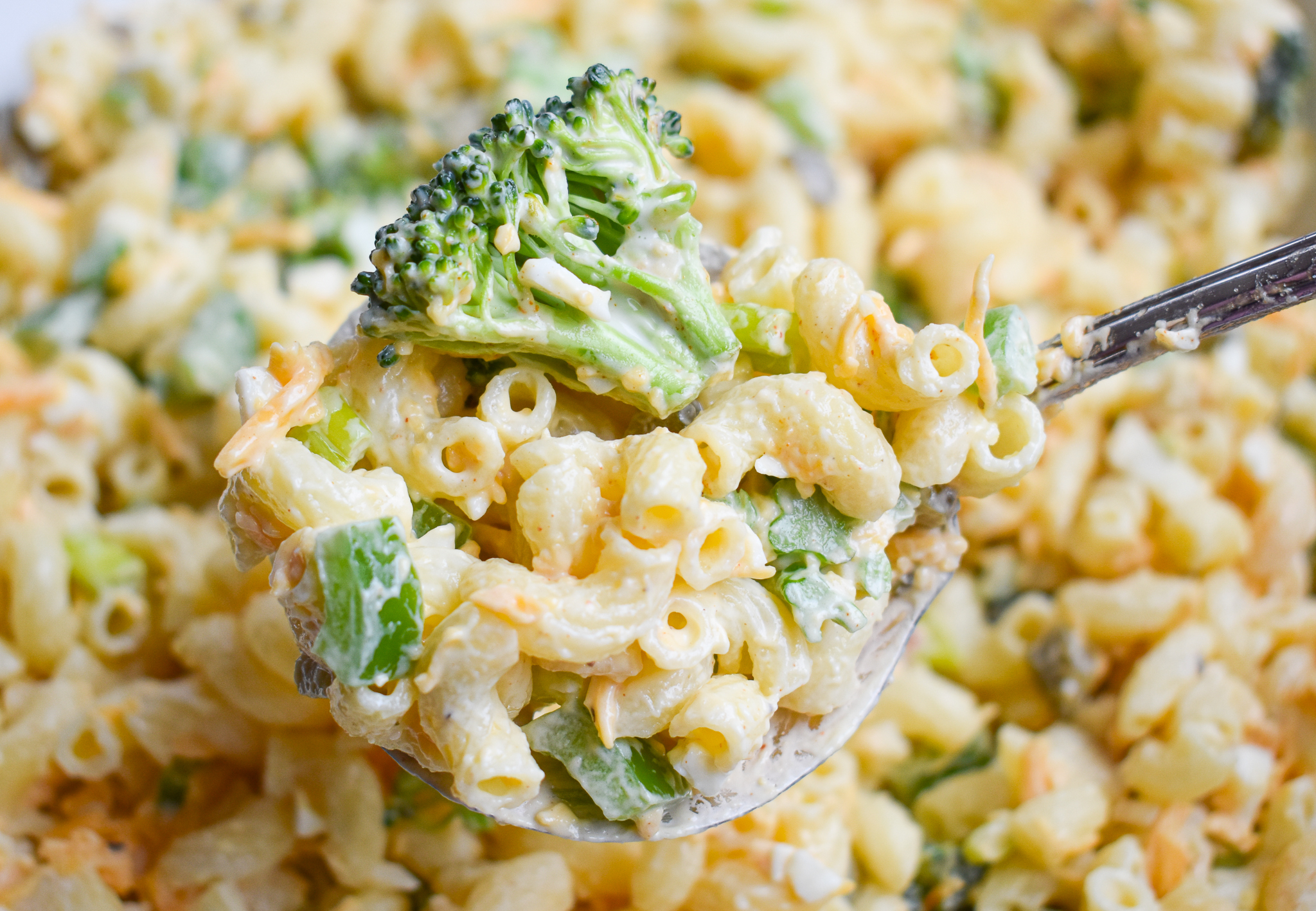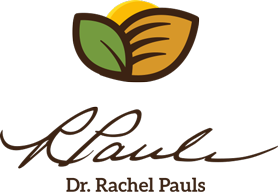 Printer Friendly Version
Comments Rating
( reviews)