Creamy Low-FODMAP Green Bean Casserole; Gluten-free, Vegetarian
June 6, 2020
Printer Friendly Version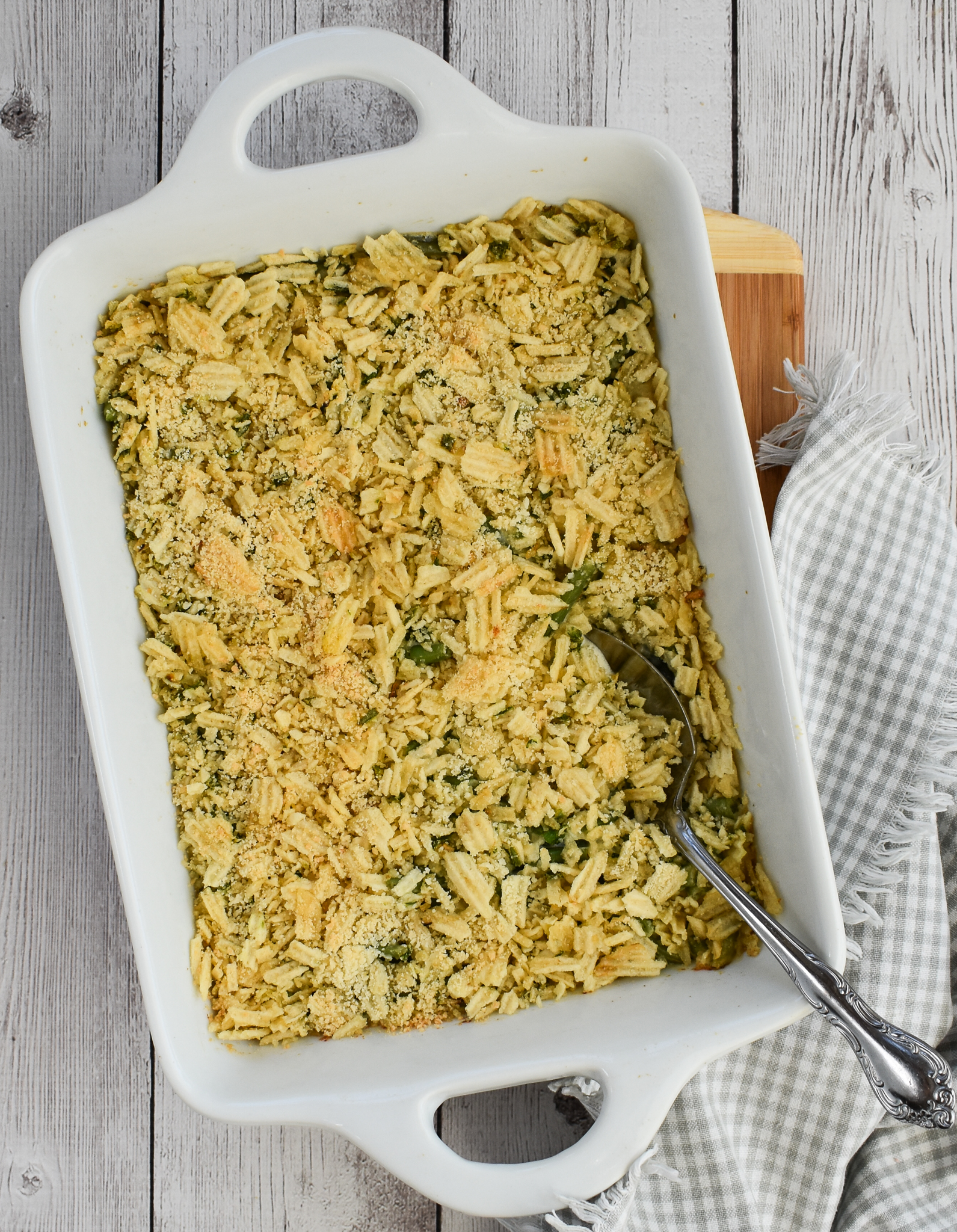 Every year around Thanksgiving I start to ponder all the amazing recipes that are special for the holidays, and not readily low-FODMAP.  I have modified delicious recipes for low-FODMAP stuffing, sweet potato casserole, turkey, gravy and so many more over the years (Check out my low-FODMAP Thanksgiving Recipe Blog for the full collection).
But I hadn't yet worked on a low-FODMAP creamy green bean casserole.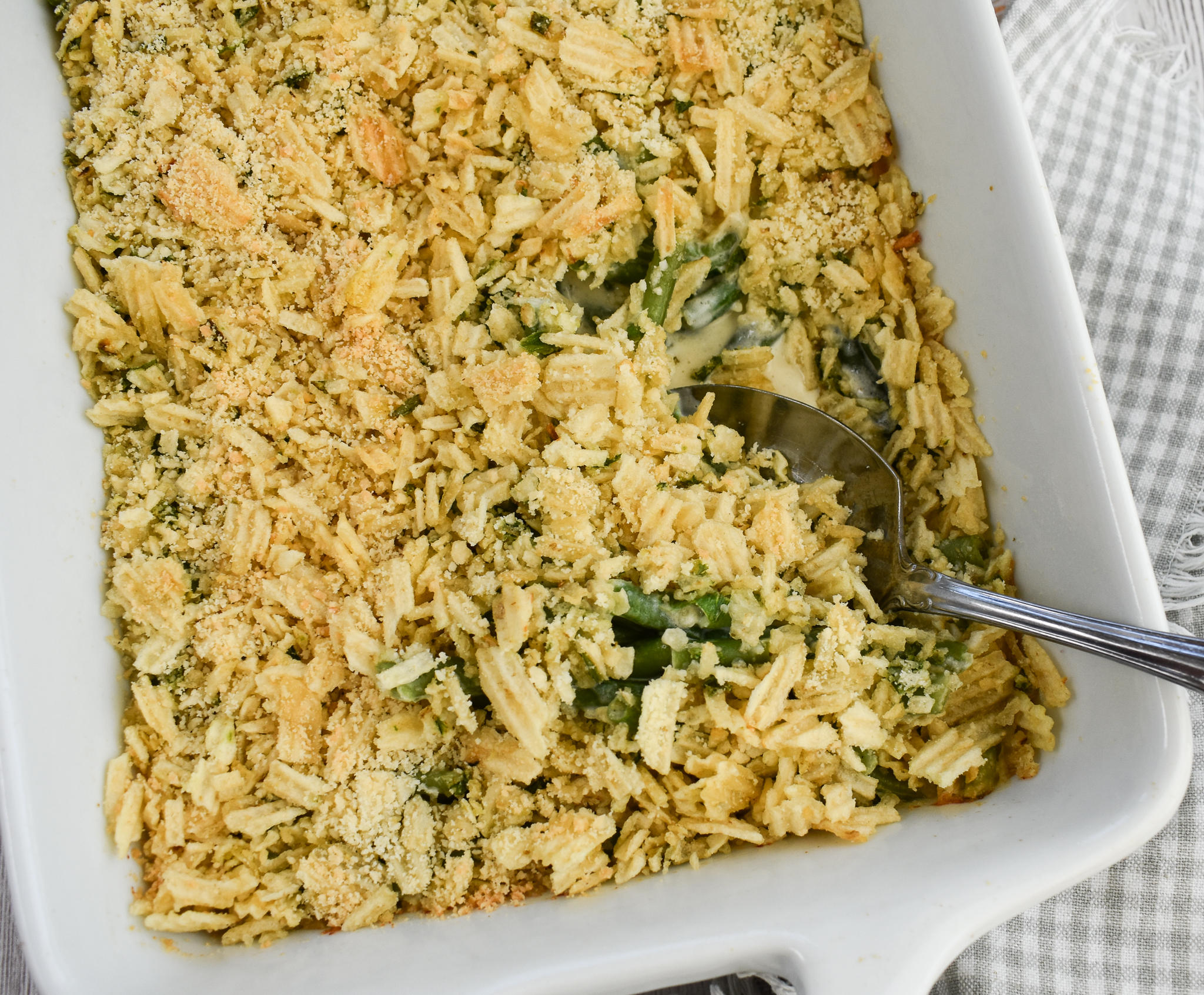 It may be summer outside now, but I have been dying to try out this recipe.  It was definitely time!
Here is an easy, 'no onion', 'no garlic', 'no mushroom', 'no canned soup' version of amazing low-FODMAP Creamy Green Bean Casserole.  I use infused oils to add those flavors without FODMAPs, and add a crunchy top using potato chips tossed with green scallion tips.  You will LOVE it.
Note: Since FODMAPs are not fat-soluble, they are not transferred in infused oils. The same is NOT true for a onion or garlic infused water-based product (like a broth).  Be safe and use infused oils for amazing tastes in your cooking without tummy aches.
This low-FODMAP Green Bean Casserole is creamy and delicious, with tender green bean flavor and the textures you crave.
You may also love my:
Or check out over 350 more low-FODMAP recipes on the blog!  IBS-friendly.
Be healthy and happy,
Rachel Pauls, MD
---
Creamy Low-FODMAP Green Bean Casserole, No-Onion, Garlic or Canned Soup; Gluten-free, Vegetarian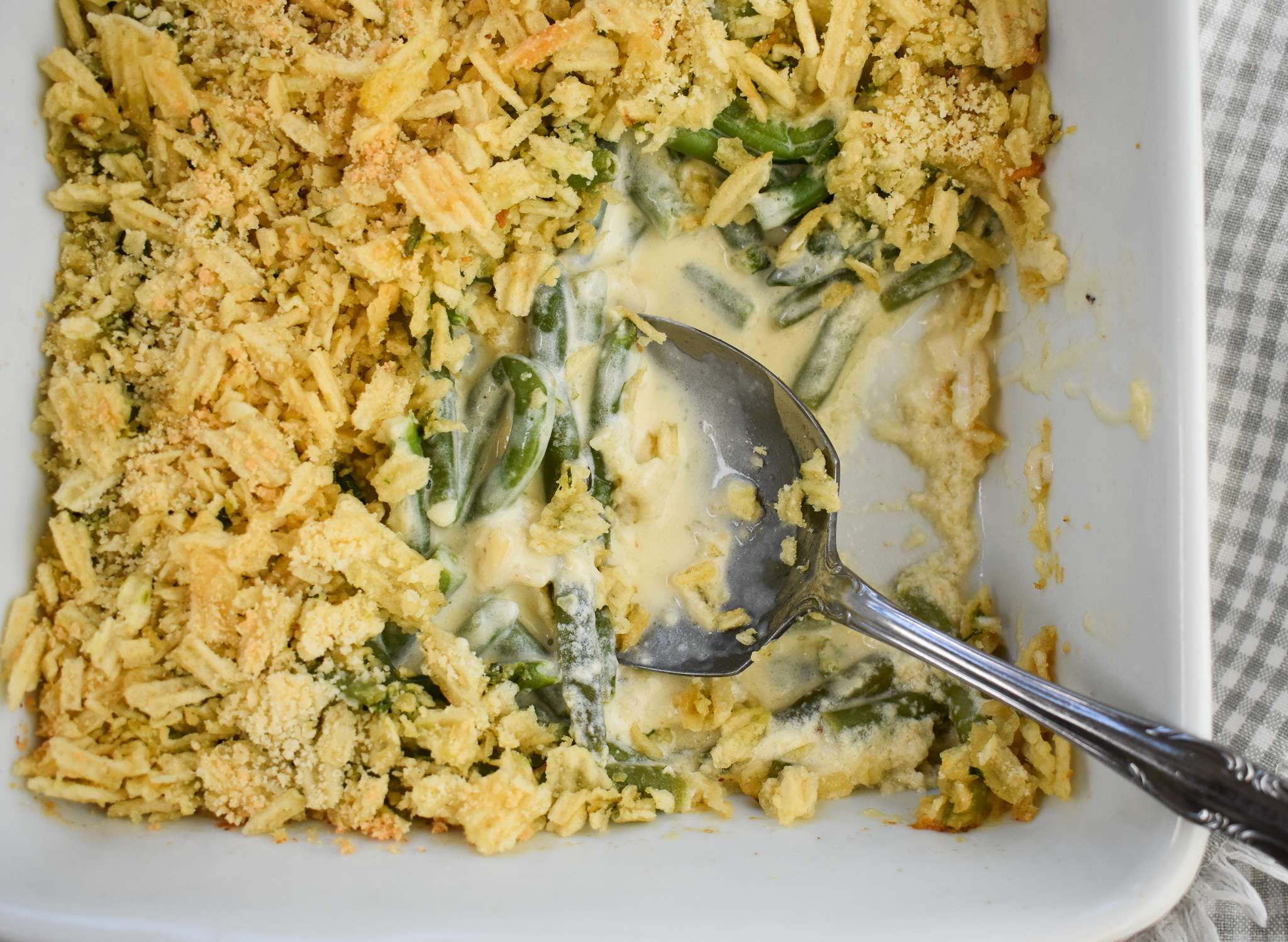 Serves 8
Prep Time: 5 mins
Cook + Bake Time: 40 mins
Total Time: 45 mins
Bake: 350 F
Equipment: 2-3 quart casserole dish
Ingredients
5 ounces crushed potato chips, plain (I prefer ridged/ruffled)

This is about 2 cups when crushed

2 tablespoons green scallion tips or chives

Both these foods are free of FODMAPs, but provide a ton of flavor similar to onion

2-3 tablespoons garlic-infused olive oil, onion-infused oil or mushroom-infused oil  (can also use 1 tbsp of each choice)
½ teaspoon fresh ground pepper
3 tablespoons all-purpose low-FODMAP, gluten-free flour
1 cup vegetable broth or stock (can substitute chicken broth/stock for non-vegetarian), prepared
1 cup lactose-free half and half cream

Can also use low-FODMAP milk for a lower fat option (less creamy but still works)

¼ cup (2 ounces) lactose-free sour cream
20 ounces fresh frozen or fresh green beans

75 g (2.6 ounces ) is one low-FODMAP serving
If using frozen, thaw and drain well.  If using fresh, immerse for 3-4 minutes in boiling water until tender-crisp, then submerge in ice-bath to stop the cooking (this is called 'blanching')

I used frozen green beans

2 tablespoons grated Parmesan cheese (optional), plus additional for sprinkling
Directions
Preheat oven to 350ºF
Crush your potato chips into small to medium pieces, then place in a bowl or bag with the scallion tips or chives.  Shake to combine, then allow to sit to infuse the chips with flavors
Heat a large skillet over medium-low, then add the infused olive oil. Swirl to coat the surface of the skillet, then add a pinch of pepper
Add the low-FODMAP flour, and stir until the flour begins to coat the bottom of the skillet and turns golden brown (about 5 minutes)
Whisk the low-FODMAP vegetable broth into the skillet until all of the flour has dissolved off the bottom of the skillet

Allow the broth to come to a simmer as you whisk, it should begin to thicken

When the liquid in the skillet has thickened, whisk in the lactose-free half and half. Allow the mixture to return to a simmer after adding the half and half, then add the lactose-free sour cream
Continue to whisk well to remove any lumps, and cook until the sauce is well incorporated (I alternated between a whisk and a spatula)
Add the Parmesan cheese (if using) and stir until melted
Taste the sauce and add a pinch of salt and pepper if needed. You want the sauce to be slightly over-seasoned, as the green beans will need that seasoning (they can be rather bland after cooking)
Remove the skillet from the heat and stir in the green beans
Transfer the beans and sauce to a 2-3 quart casserole dish
Top with the potato chips and sprinkle additional Parmesan, if desired
Bake the Low-FODMAP Green Bean Casserole for 20-25 minutes, or until heated through and browned slightly.  Let stand for 5 minutes before serving. Best served immediately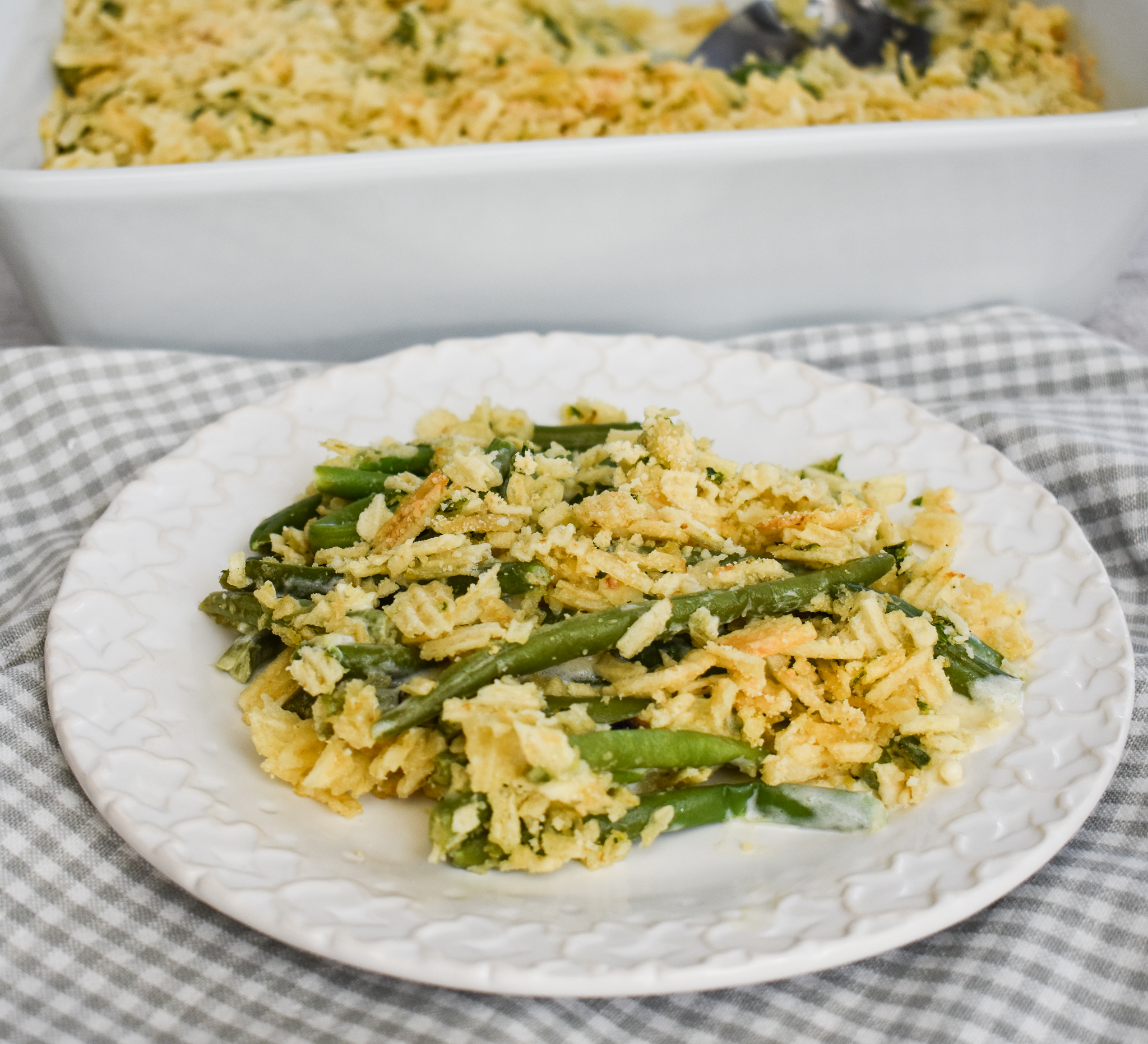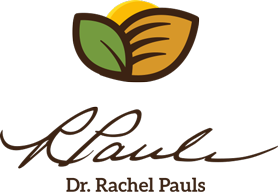 Printer Friendly Version
Comments Rating
( review)