Bubbie Ruthie's Low-FODMAP Mandelbrodt / Jewish Biscotti; Gluten-free, Dairy-free
September 19, 2018
Printer Friendly Version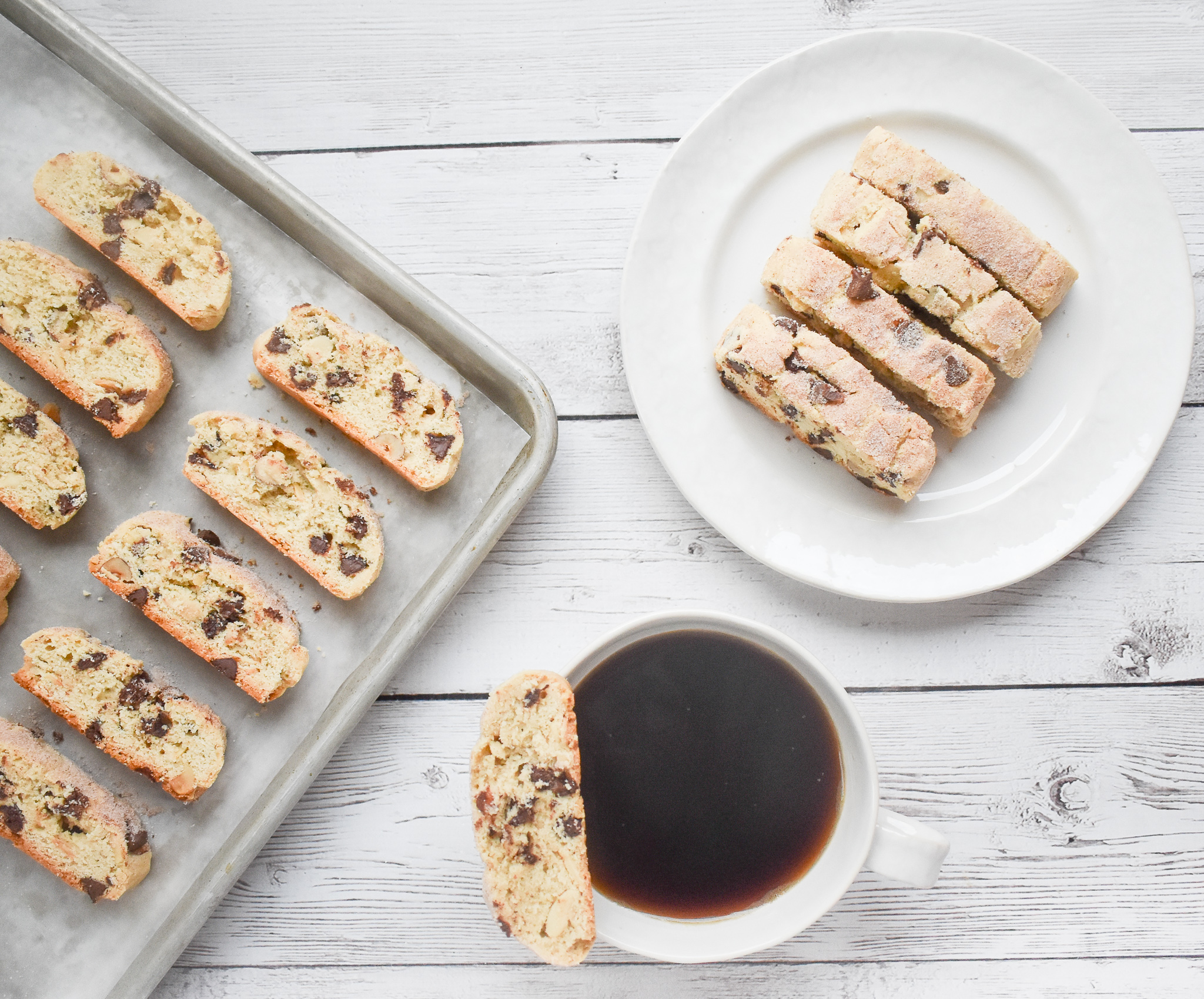 Mandelbrot cookies are a Jewish dessert that are similar to the Italian biscotti cookies.  Their name comes from the Yiddish word 'mandel', meaning 'almond', and 'brodt', meaning bread.  If you love biscotti, and have never tried Mandelbrot, I assure you these cookies are easier to make, and easier to eat (so much softer).  Plus, the taste is amazing (they go perfectly with a nice cup of coffee).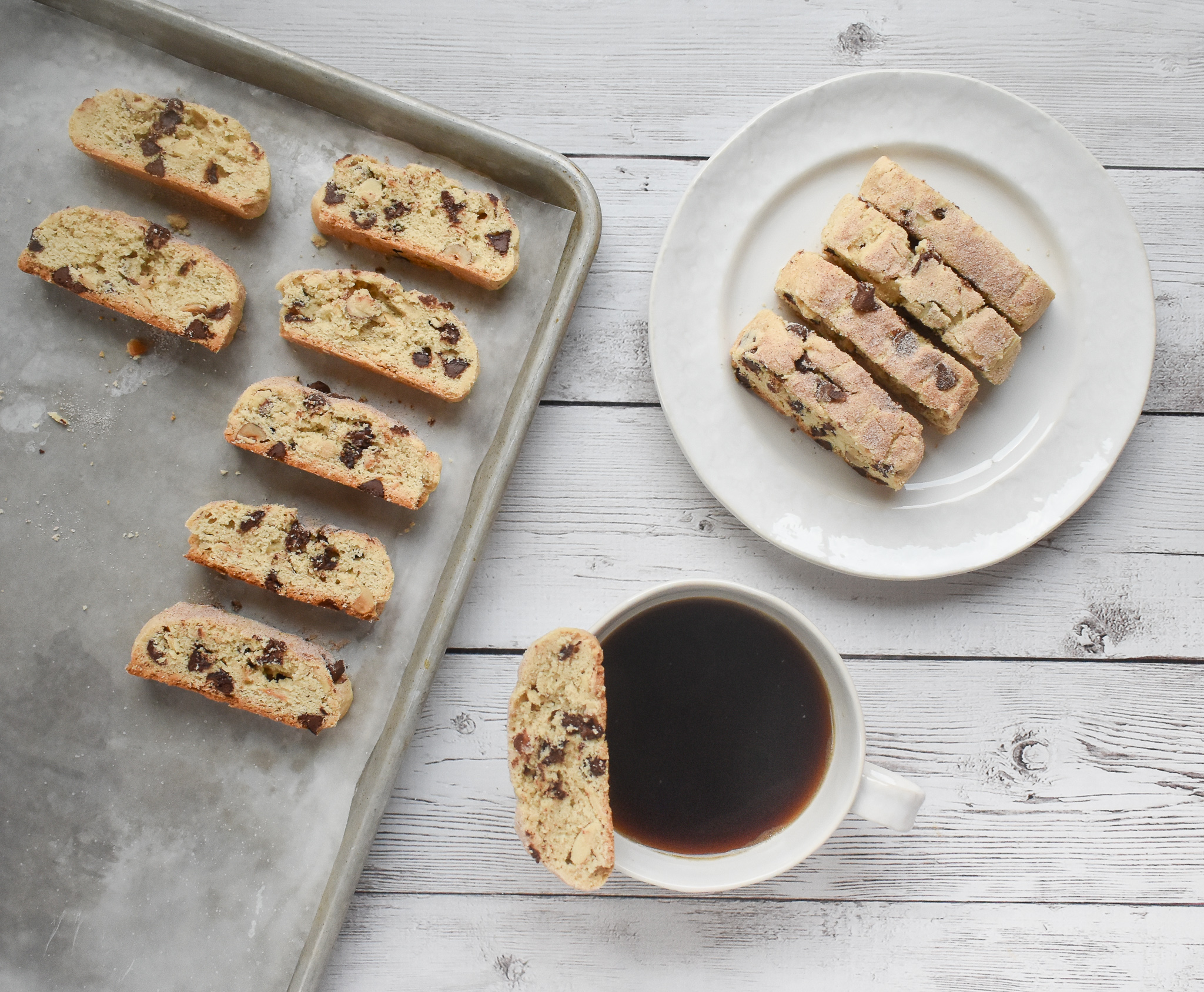 In my house, we called these delicious treats 'Kamish' (my research found this is short for kamishbrot- the Ukranian derivative of the term).  Kamish was always brought to family dinners by the grandma of my cousins, a masterful baker named "Ruthie" (aka Bubbie Ruthie).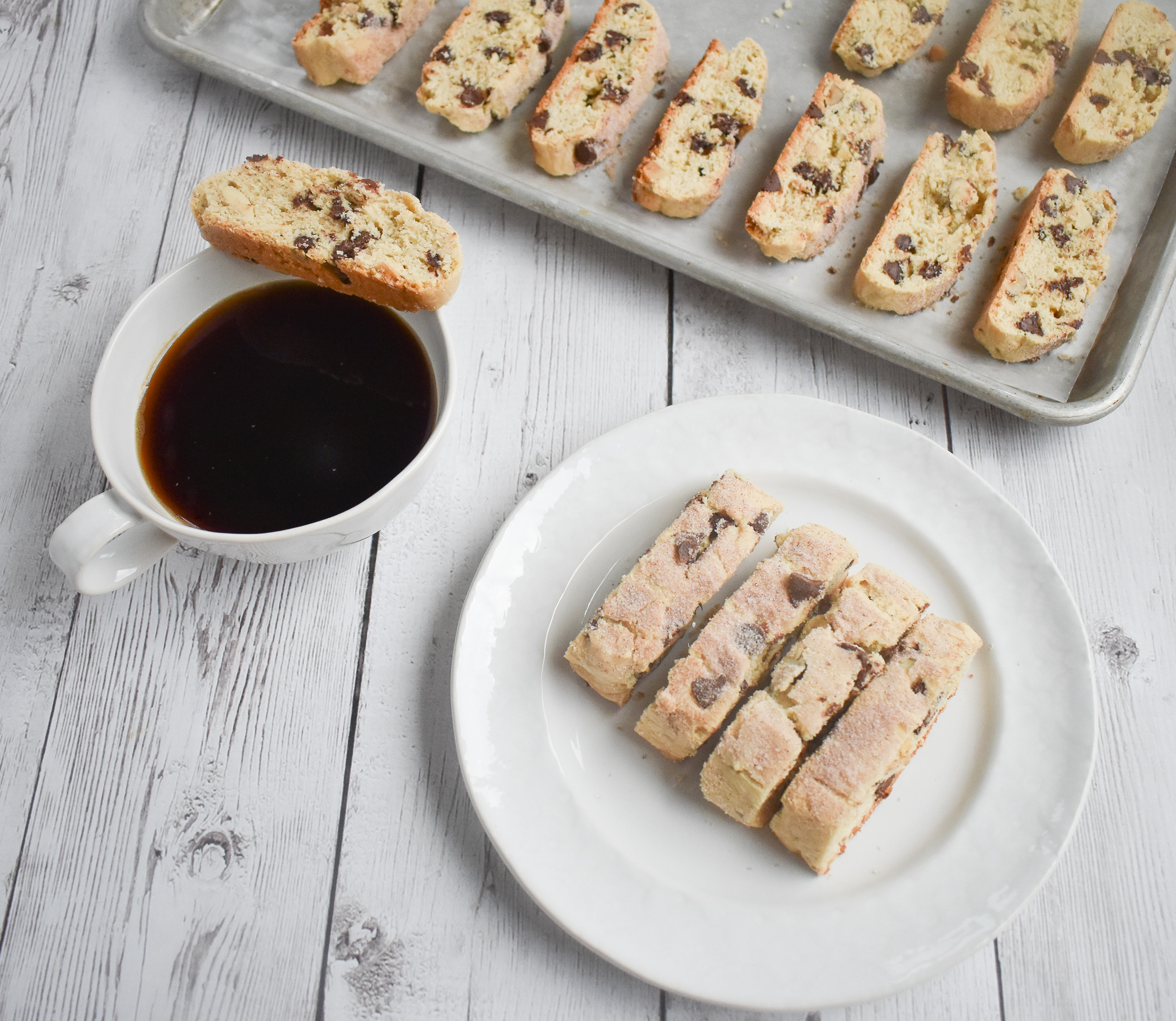 Ruthie was the queen of Kamish. Her's will always be my favorite.  It was teeming with almonds, hazelnuts, and chocolate topped with a generous cinnamon-sugar crust. The perfect combination of flavors- dry but never hard, these cookies were sure to disappear fast at Passover and the High Holidays.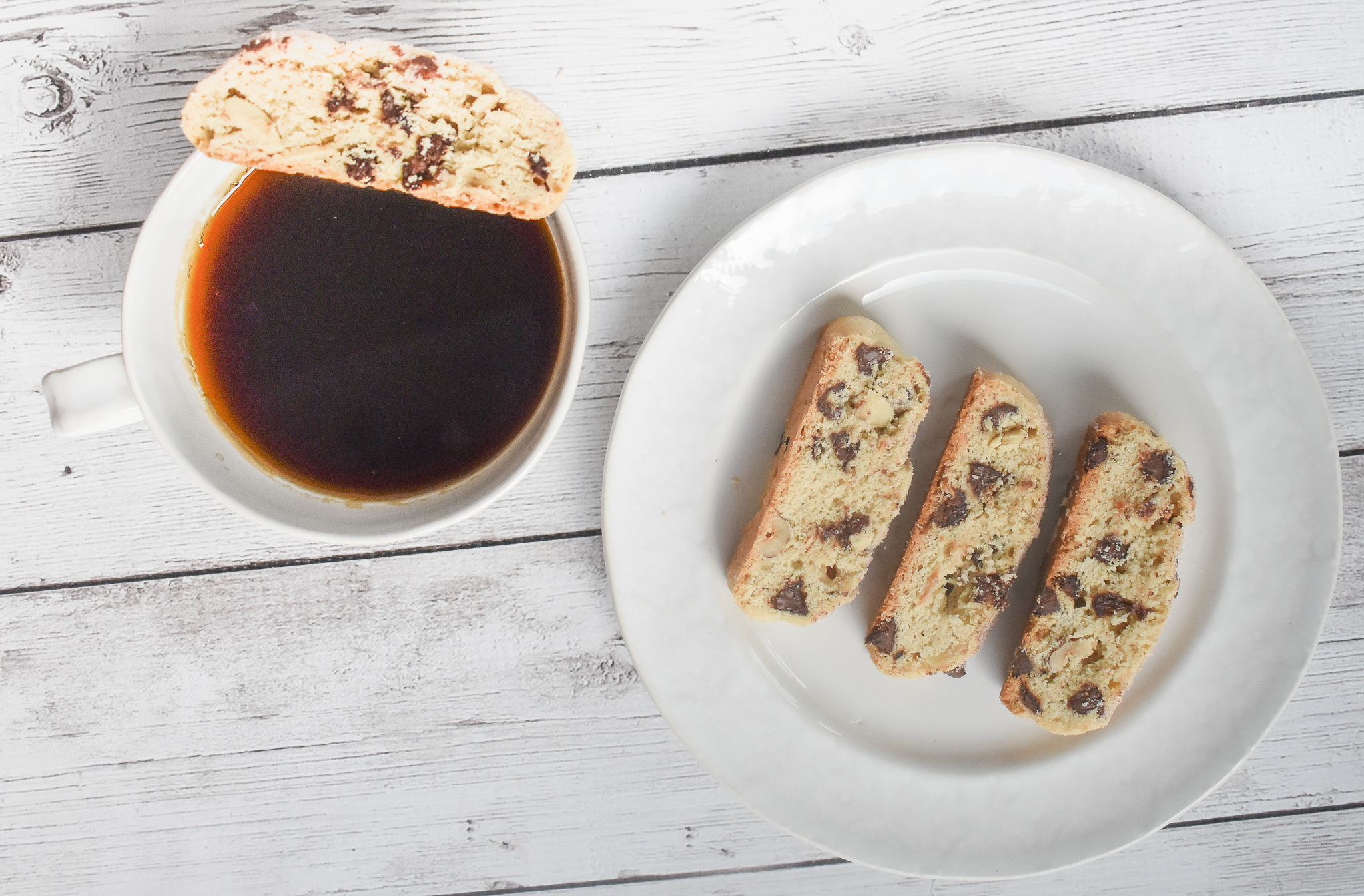 While I can't say I achieved the same success as Bubbie Ruthie, this modification of her recipe for my low-FODMAP Mandelbrot aka Kamish cookies is a very close second.  See my note below for Passover modification.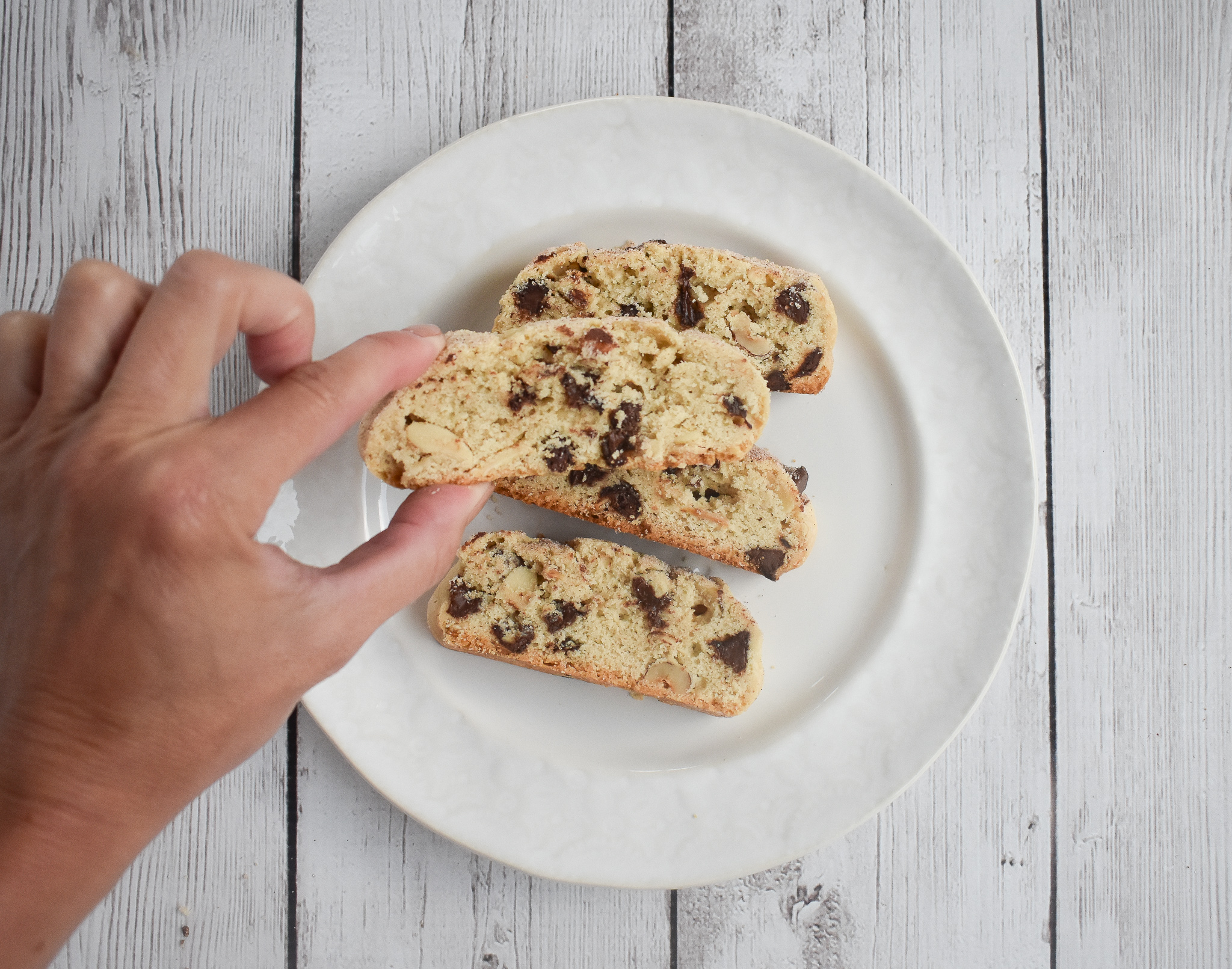 You may also love my low-FODMAP Matzo Ball Soup recipe, my low-FODMAP Gefilte Fish, my low-FODMAP Sweet and Sour Meatballs, or my low-FODMAP Beef Brisket.  Or check out over 300 more low-FODMAP Recipes on the blog.
Be healthy and happy,
Rachel Pauls, MD
---
Ruthie's Low-FODMAP Mandelbrodt / Kamish / Jewish Biscotti; Gluten-free, Dairy-free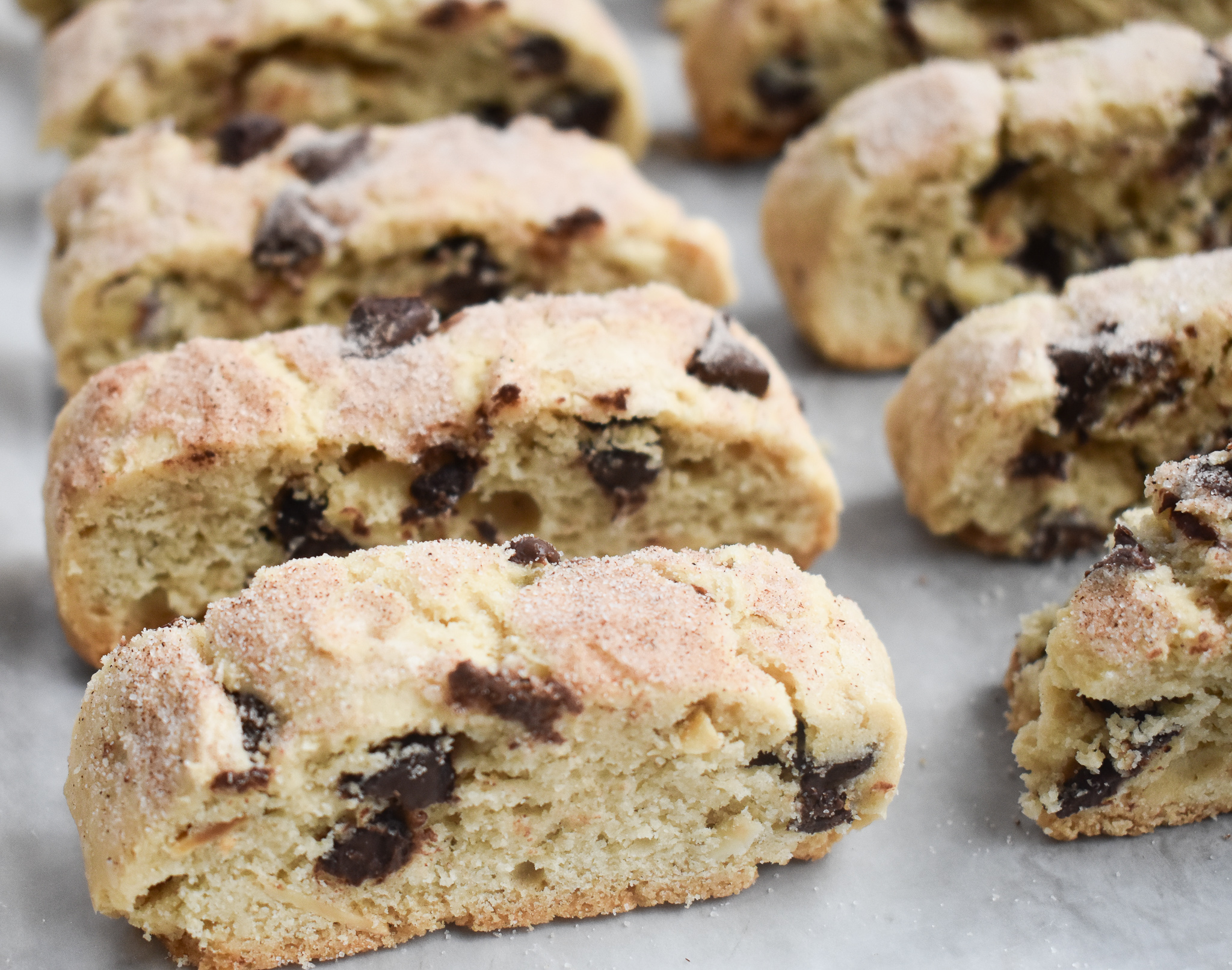 While this recipe has not been tested, a single serving should be low-FODMAP based on the ingredients.
Serves: 30-36 mandelbrot cookies
Prep time 20 min plus 10 minutes for cooling/slicing
Bake time 45 min
Drying time 2-3 hours or overnight
Total time 75 min plus drying time
Bake 325 F
Ingredients
3 scant cups Authentic Foods GF Classical Blend (my preferred low-FODMAP gluten-free flour- check out my low-FODMAP flour bake off blog), or your favorite substitution

Note: Recipe modifications for Passover:

4 tablespoons potato starch, 1/2 cup matzo meal, 2 cups Passover cake meal

You will need to make your own gluten-free and low-FODMAP matzo and cake meals
Making these in the food processor is not difficult (see my low-FODMAP matzo ball soup recipe), I would use Manitschewitz Gluten-free matzo to keep it low-FODMAP. Be aware that cake meal has a finer texture than matzo meal and will need to be processed longer.  Good luck!

1 cup granulated sugar
2 tsp baking powder
¾ tsp xanthan gum, if not already added to your low-FODMAP flour choice

omit if using low-FODMAP matzo meal

3 large eggs
1 cup canola oil
1 tsp pure vanilla extract
3 tablespoons black coffee (room temperature)
3/4 cup (about 150 g) toasted slivered or sliced almonds, or 3/4 cup (about 150 g) toasted and chopped hazelnut filberts or use both together

one low-FODMAP serving of hazelnuts is 15 g
one low-FODMAP serving of almonds is 12 g

1 cup semisweet chocolate chunks or chips (Enjoy Life brand makes dairy-free chips and chunks)
For sprinkling:

4 tablespoons sugar
2 tablespoons cinnamon
Directions
Preheat oven to 325 F
Line a baking sheet with parchment paper or silicone baking sheets
In the large bowl of an electric mixer, with flat paddle, beat eggs, sugar and oil until yellow and slightly frothy
Add low-FODMAP flour, baking powder, and xanthan gum and mix on low to combine
Add coffee and vanilla extract and beat on medium until combined
Mix in chocolate chunks and almonds and/or hazelnuts by hand (dough will be sticky)
Use 2 spatulas or spatula and floured hands to shape dough into 3 logs on the baking sheets, 2-3 inches apart

Logs should be about 8 by 2 inches; 1 inch high

Combine the 2 tablespoons sugar with cinnamon in a bowl and sprinkle liberally over the logs
Bake in center of oven for 40-45 min until light golden brown (logs will flatten)
Remove to a cutting board and cool 10 minutes
Slice logs using long serrated knife, into ½ inch slices
Place sliced cookies back on cookie sheet standing upright and return to oven
Turn oven off and leave cookies in the oven until it is cool, about 2-3 hours (overnight is also fine)
Store in airtight container at room temperature…but these won't last long!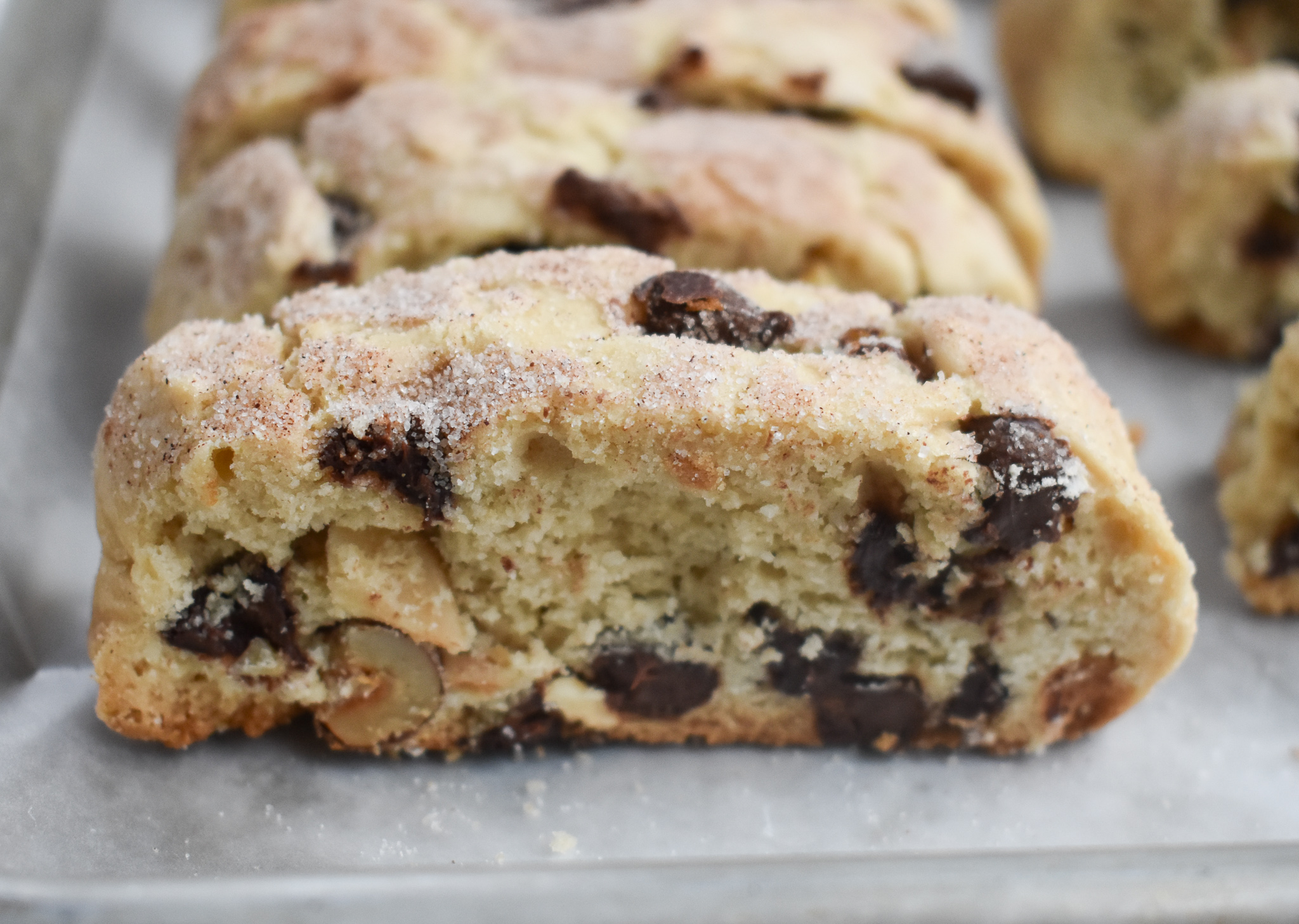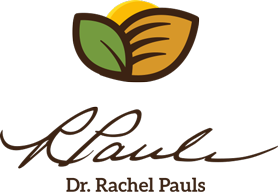 Printer Friendly Version
Comments Rating
( reviews)