Authentic Low-FODMAP Slow-Cooker Bolognese Sauce; Gluten-free
December 11, 2021
Printer Friendly Version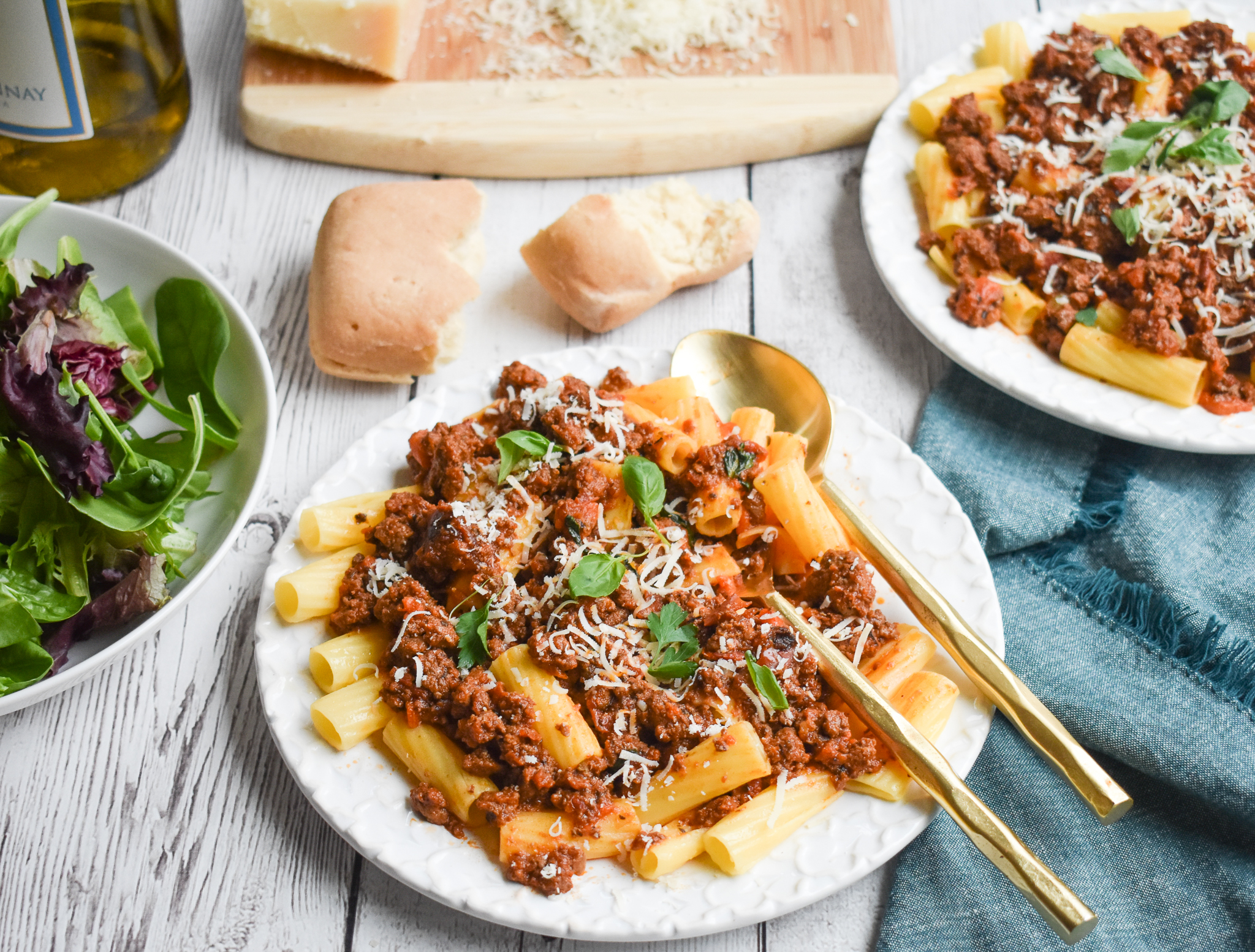 Authentic Bolognese Sauce is one of the most amazing Italian meals.  This sauce is so much more than a 'spaghetti' sauce, mostly due to the richness of the ingredients, and the long simmering process.  Perfect for a slow-cooker that does most of the work!
I adapted this recipe from one that Ree Drummond makes for Food Network.  I find her recipes relatively easy to prepare, and family friendly.  While this low-FODMAP recipe does look complicated at first, most of it is just dumped in your slow-cooker without a lot of chopping/dicing or preparation.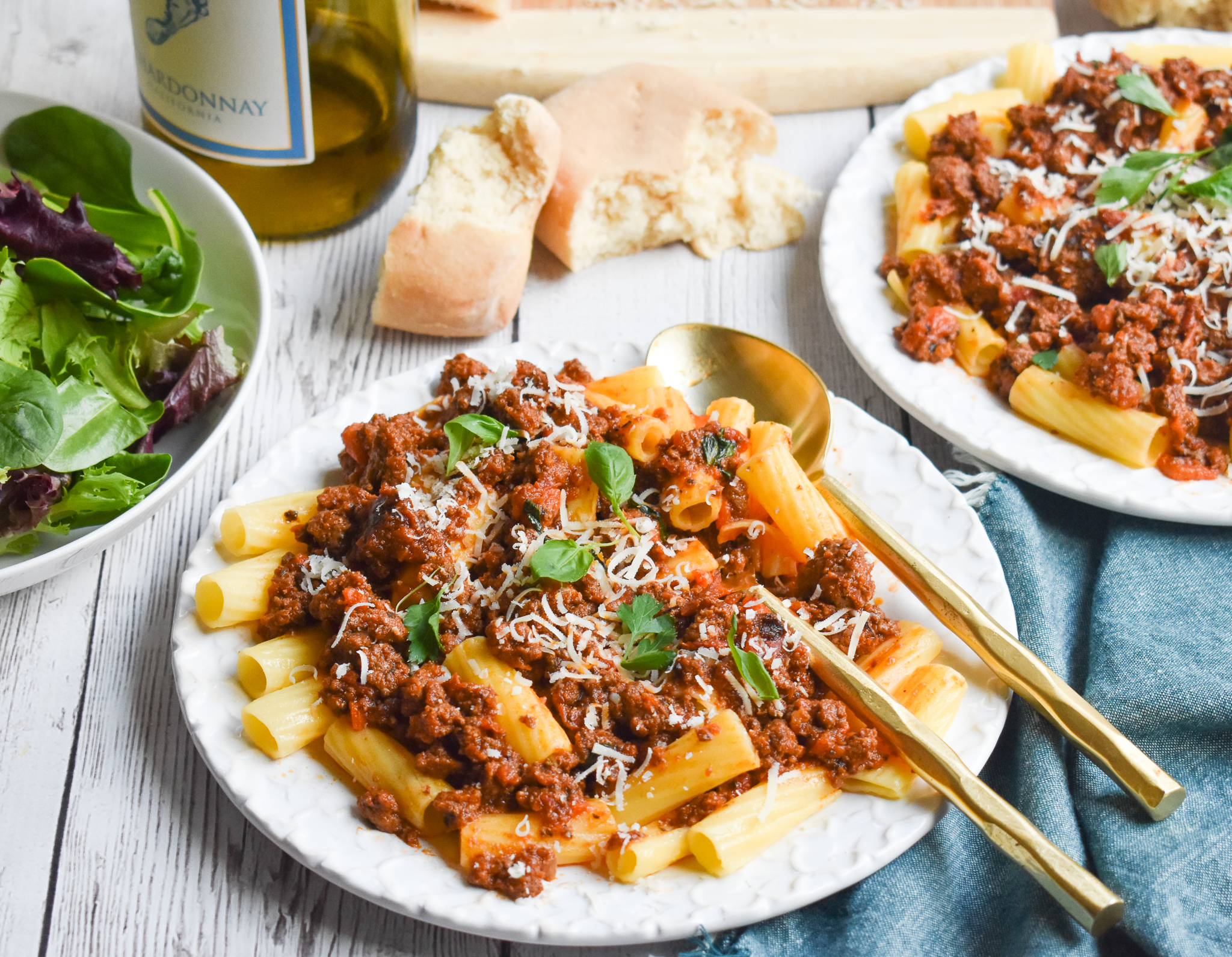 I guarantee, this low-FODMAP Bolognese Sauce is totally worth it. It is so rich and hearty.  Don't worry about having too much, it  tastes better after a day or two in the fridge 🙂
I love to ladle this sauce over low-FODMAP, GF rigatoni, penne, or other wide noodles, and sop up the rest with some LF, GF crusty bread.   Check out some recommended low-FODMAP brands on my low-FODMAP Grocery Shopping Blog!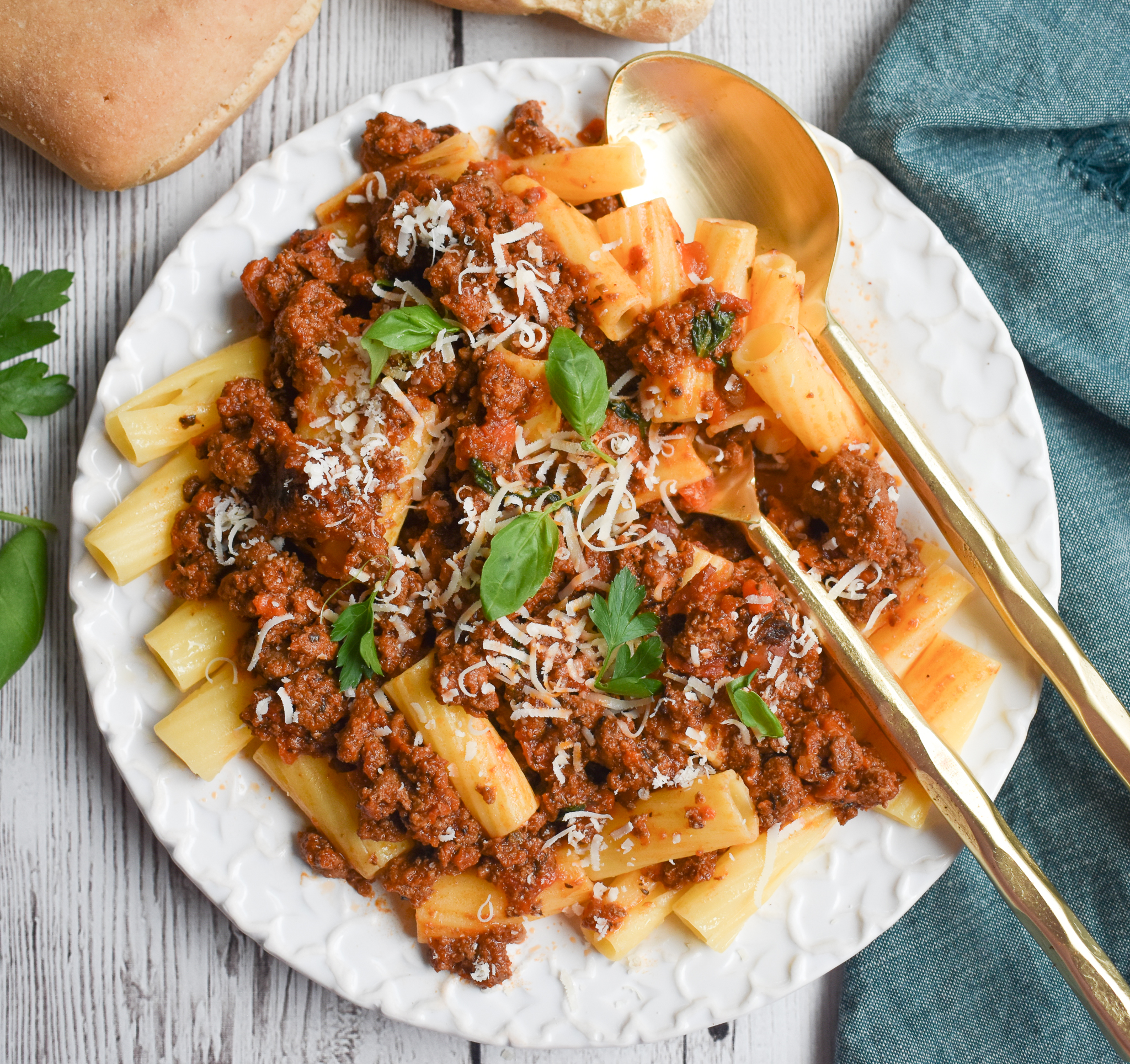 You may also love my:
Or check out over 400 more low-FODMAP recipes on the blog.  IBS-friendly!
Be healthy and happy,
Rachel Pauls, MD
P.S.  Check out my new COOKBOOK for over 100 low-FODMAP recipes, low-FODMAP Meal Plan, FODMAP Tips and everything you need!!  It's the BEST!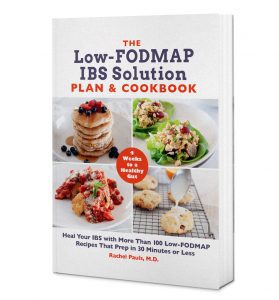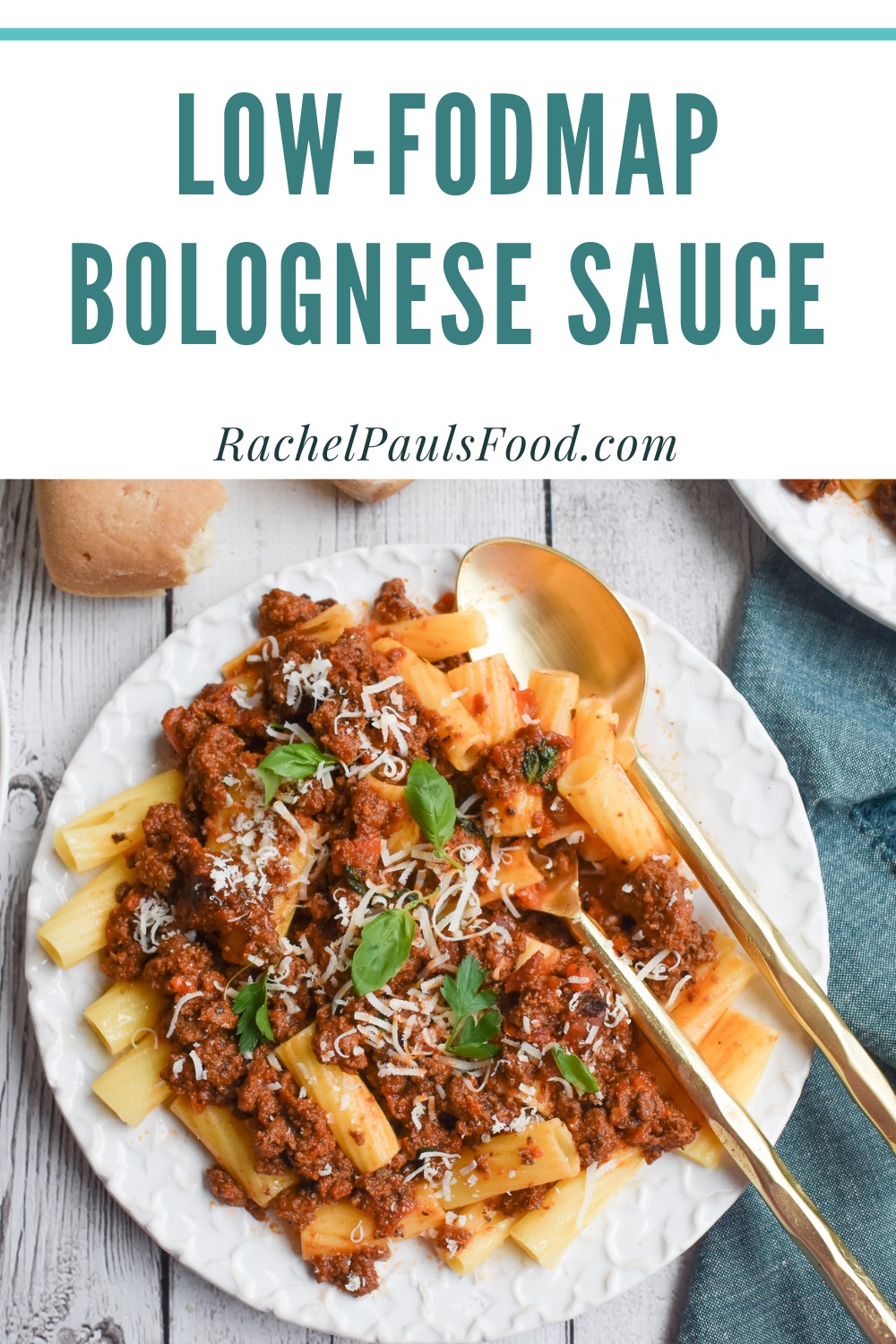 Although this recipe has not been laboratory tested, a single serving should be low-FODMAP based on the ingredients (*using available FODMAP data at time of posting)
Serves: 10
Yield: About 7.5 cups; 50 ounces sauce
Serving size: About 3/4 cup or 5 ounces sauce (amount will vary depending on the amount of liquid in your final product)
Prep time: 45 min
Cook time: 6 hours on low (I recommend using the lowest setting to allow a longer simmering time)
Total time: 6H45M
Equipment: Large skillet (I prefer cast-iron), 5 or 6 quart slow cooker
Ingredients
2 tablespoons olive oil; divided
1 tablespoon garlic infused oil
1 tablespoon onion or shallot infused oil
1 celery stalk, chopped

About 1/4 stalk (10g) is one low-FODMAP serving due to mannitol

2 carrots, chopped

FODMAPs are not detected in carrots

1 teaspoon kosher salt, plus to taste (I used an additional 1/4 teaspoon)
1 teaspoon freshly ground black pepper, plus to taste (I used an additional 1/4 teaspoon)
4 tablespoons tomato paste

2 tbsp is one low-FODMAP serving due to fructans
Select a brand without onion or garlic

1/2 cup dry white wine
2 pounds ground beef

I used organic, lean, grass-fed ground beef for this recipe (85%/15%)

1 cup low-FODMAP milk (I prefer lactose-free FULL FAT or 'whole' milk for this recipe)
One 28-ounce can crushed tomatoes

Under 4 ounces of canned tomato is one low-FODMAP serving.  Higher amounts will contain excess fructose
Select a brand without added onion or garlic

1 tablespoon dried oregano
1 tablespoon dried basil
2 teaspoons dried thyme
1/2-1 teaspoon red pepper flakes (avoid if you don't tolerate spicy food)
1/2 teaspoon ground nutmeg
Parmesan rind, optional
Prepared low-FODMAP Beef Broth or Stock, optional for consistency
For serving:
Freshly grated Parmesan

Cheeses are naturally low in lactose levels

Cooked low-FODMAP, gluten-free pasta of your choice (about 1-1.5 cooked cups per serve)
Low-FODMAP, GF Crusty Bread (I used Schar's ciabatta rolls)
Chopped fresh basil, Italian parsley and green scallion tips
Directions
Heat 1 tablespoon olive oil in a large skillet over medium heat. Add the celery and carrots, season with half the salt and pepper (1/2 teaspoon each) and cook until softened, about 10 minutes, covering if desired
Add the tomato paste and stir together, then pour in the white wine and cook until it is mostly evaporated, about 3 minutes
Pour this mixture into a slow cooker. Wipe out skillet if desired, then return it to your stovetop
Place the beef in the skillet with a second tablespoon of olive oil and season with the remaining 1/2 teaspoon each of the salt and pepper
Cook on medium or medium-high heat, breaking up any lumps, until it is nicely browned (about 10 minutes)
Discard any fat from the pan and stir in the low-FODMAP milk

The milk helps soften the meat, so it stays moist for the slow-cooking process

Cook, stirring occasionally until the milk is mostly absorbed into the meat (about 5 minutes)
Add the meat to the slow cooker along with the 2 infused oils, canned crushed tomatoes, oregano, basil, thyme, red pepper flakes, nutmeg and Parmesan rind (if using)
Stir, cover, and cook on low for 6 hours
Skim off any fat on top (if needed) and check the consistency

If it is thick, you can add a bit of water or low-FODMAP beef broth
If it is thin, then allow to cook 15 or 30 minutes longer

Taste and add salt and pepper as desired, or other spices (I added 1/4 teaspoon each of salt and pepper)
Remove the Parmesan rind if necessary, and serve over low-FODMAP, GF pasta with additional grated Parmesan and fresh herbs
Sauce is delicious the next day, or can be frozen for later use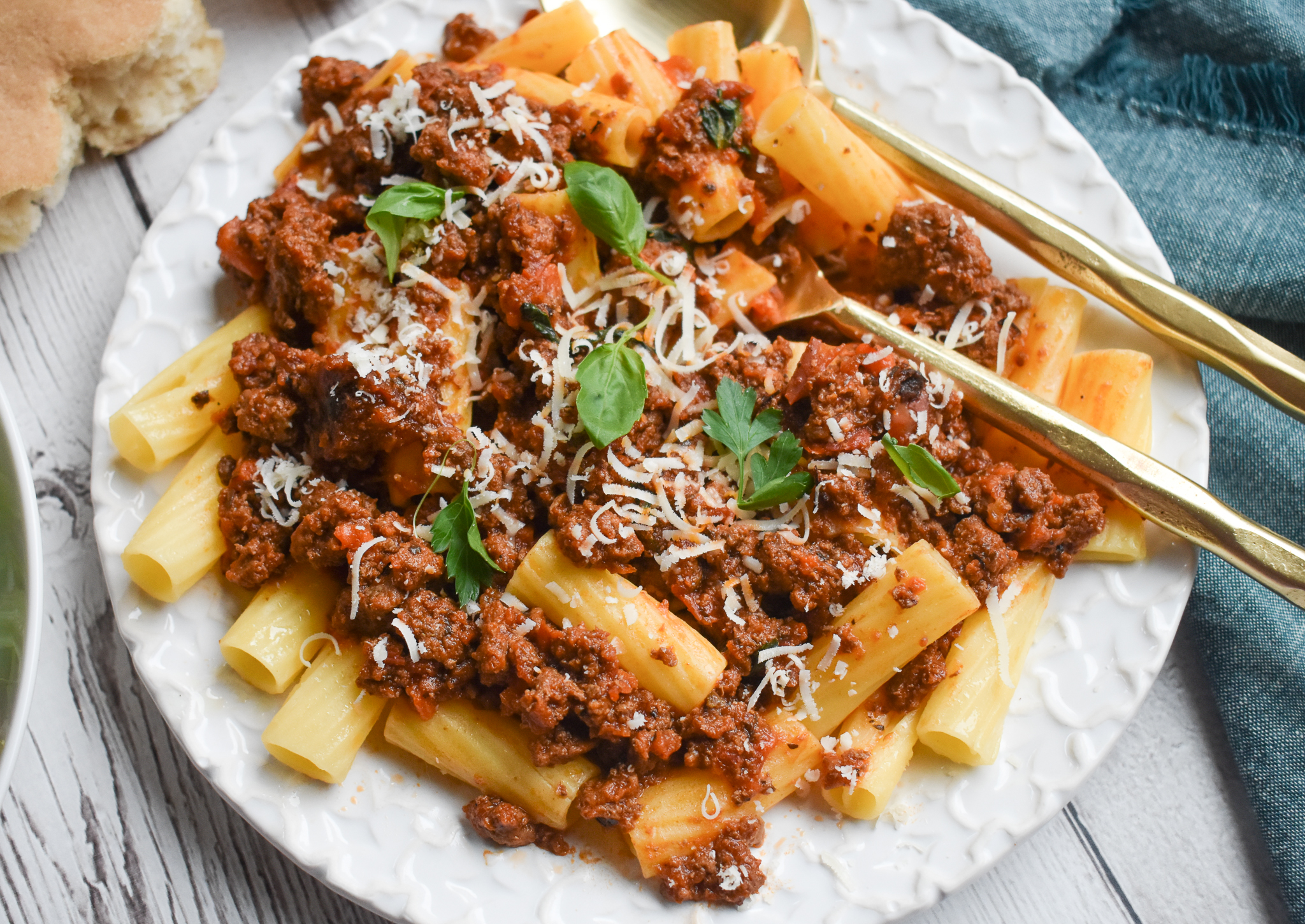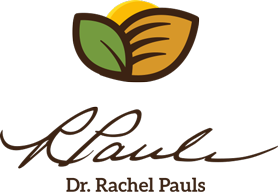 Printer Friendly Version
Comments Rating
( reviews)