Amazing Low-FODMAP Three-Layer Nanaimo Bars; Gluten-free, Vegan
March 4, 2018
Printer Friendly Version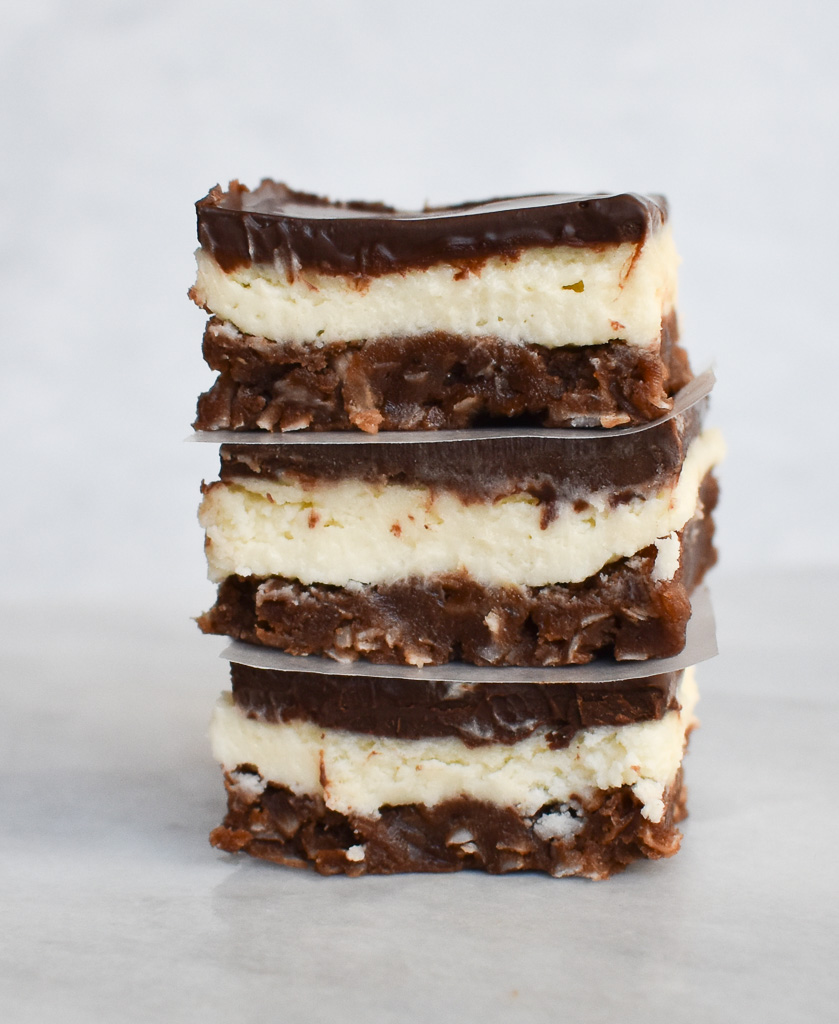 Nanaimo Bars are a tri-layered Canadian dessert square, named after Nanaimo, British Columbia where the recipe hails from.  Nowadays you can find them at most bakeries and coffee shops in Canada.  They are very rich and sweet, so you only need a small taste.
Growing up, my mom used to make these for holidays and special occasions, but I did make a few modifications to her classic recipe.
For one, most recipes call for graham cracker crumbs in the bottom layer.  In order to keep these gluten-free and low-FODMAP I modified this recipe to use oats instead.  Then I took it a step further and replaced the egg with flax seed meal.  Now they are also vegan:)  Finally, since custard powder is not regularly available in the United States, I substituted cornstarch and vanilla extract in the middle layer.
But do not fret, they still taste and look amazing and totally authentic. While many Nanimo bar recipes do not involve baking, I think the bottom layer is better when it is a bit more crumbly than soft. So I bake that layer for a short 8 minutes (but if you prefer not to bake it, that works too).
Although this low-FODMAP Nanaimo Bar recipe has three layers, there is no need for fancy equipment, and it is totally worth it. Everyone will be amazed by the great taste and impressive looks of these low-FODMAP Nanaimo Bars.
You may also love my Best low-FODMAP Desserts and Treats Collection for many other low-FODMAP sweet recipes, such as
Or peruse over 300 more low-FODMAP recipes on the blog!  IBS-friendly.
Be healthy and happy,
Rachel Pauls, MD
---
Amazing Low-FODMAP Three-Layer Nanaimo Bars; Gluten-free, Vegan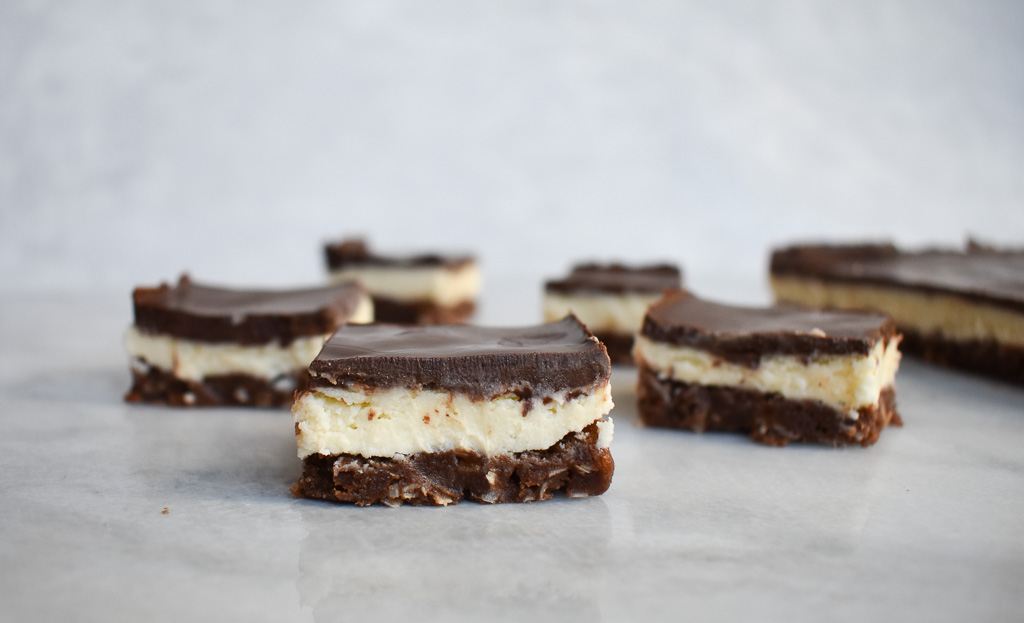 Although this recipe has not been tested, a single serving should be low-FODMAP based on the ingredients
Serves 16 or more
Prep time: 30 minutes, plus 40 minutes for chilling between layers
Bake time: 8 min
Bake 350 F
Equipment: 8 by 8 inch baking pan
Ingredients:
For Low-FODMAP Nanaimo Base layer
1/2 cup butter or vegan margarine (such as Earth Balance) for vegan version
2 (1 ounce) squares semisweet chocolate
1/3 cup white sugar
1 cup oat flour

can also make your own by processing old fashioned oats into ground meal

1 & 1/2 cups shredded unsweetened coconut
1 tsp. vanilla
1 tbsp flax seed meal (ground flax seeds) dissolved in 3 tbsp water
Optional variation: sub out ½ cup chopped walnuts, pecans or almonds for some of the coconut
Vegetable shortening for greasing
For Low-FODMAP Nanaimo Middle layer
1/2 cup butter, room temperature (or vegan margarine)
3 tbsp. lactose-free milk, for vegan version use low-FODMAP almond milk or coconut milk/cream (canned)
2 tbsp. cornstarch
2 tsp. vanilla
1/8 tsp salt
2 cups confectioners' sugar
For Low-FODMAP Nanaimo Top layer
4 oz. semisweet baking chocolate
2 tsp. coconut oil
Directions:
For Low-FODMAP Nanaimo Base layer
Grease an 8 by 8 inch baking pan (optional-place 2 strips of aluminum foil or parchment on bottom and sides of pan and grease this as well)
Preheat oven to 350 F
Place the flax seed meal in the 3 tbsp. warm water, and stir

leave this for one minute (it is a nice egg substitute in the recipe)

In a double boiler or microwave, melt 1/2 cup butter or margarine with 2 squares chocolate
Add the flax mixture and stir for one minute to thicken slightly
Remove from the heat, and stir in sugar, rolled oat flour, coconut, and 1 teaspoon vanilla extract
Press mixture into your greased square pan and bake at 350 F for 8 minutes
Allow to cool prior to spreading the low-FODMAP Nanaimo middle layer
Can also be prepared in advance and refrigerated for 1 week
For Low-FODMAP Nanaimo Middle layer
While the base is cooling, use an electric mixer to cream together the butter/margarine, coconut cream or lactose-free milk and cornstarch until light and fluffy
Add confectioners' sugar slowly until smooth
Add vanilla, salt and combine
Spread middle layer over base
Chill again to set (in freezer or refrigerator for about 20 minutes)
For Low-FODMAP Nanaimo Top layer
While the second layer is chilling, melt the semisweet chocolate and 2 teaspoons coconut oil in a double boiler or microwave
Pour chocolate over chilled second layer
Tip pan gently to cover the chilled bars completely with the chocolate
Let the chocolate set before cutting into squares (refrigerates well)
Hint: Cut with a hot knife so the chocolate doesn't crack (can also score with your knife before chilling)
Serve at cooled temperature as they melt quickly in little hands!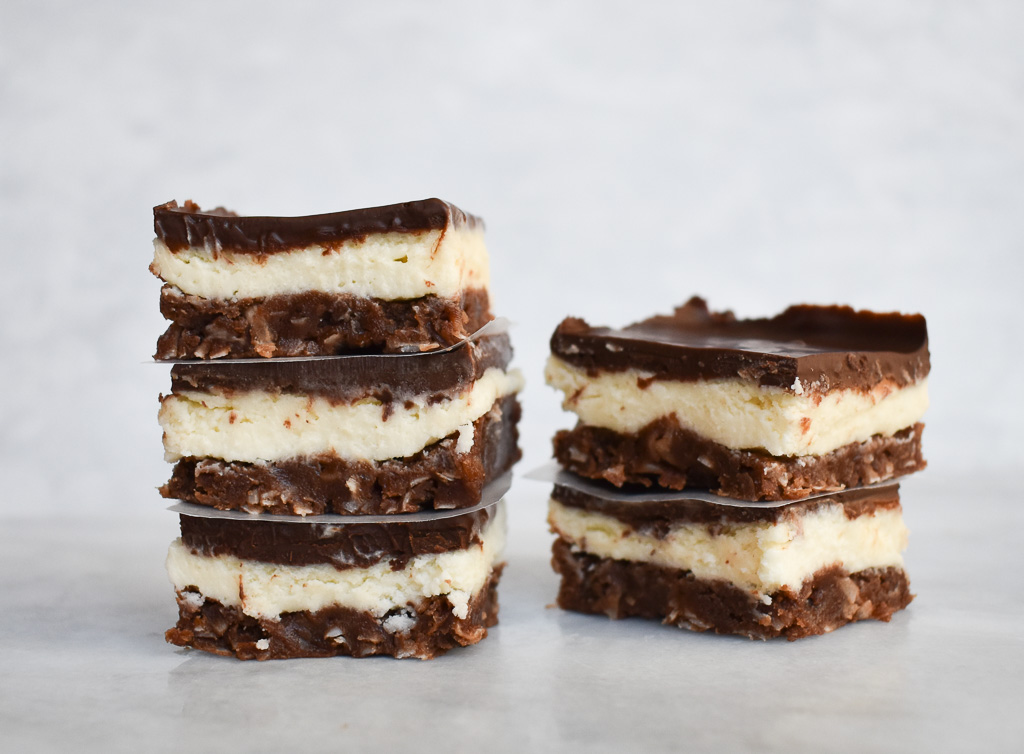 So sweet, chewy, coconutty and chocolatey!  You only need a little taste for a lot of mouth happy with low-FODMAP Nanaimo Bars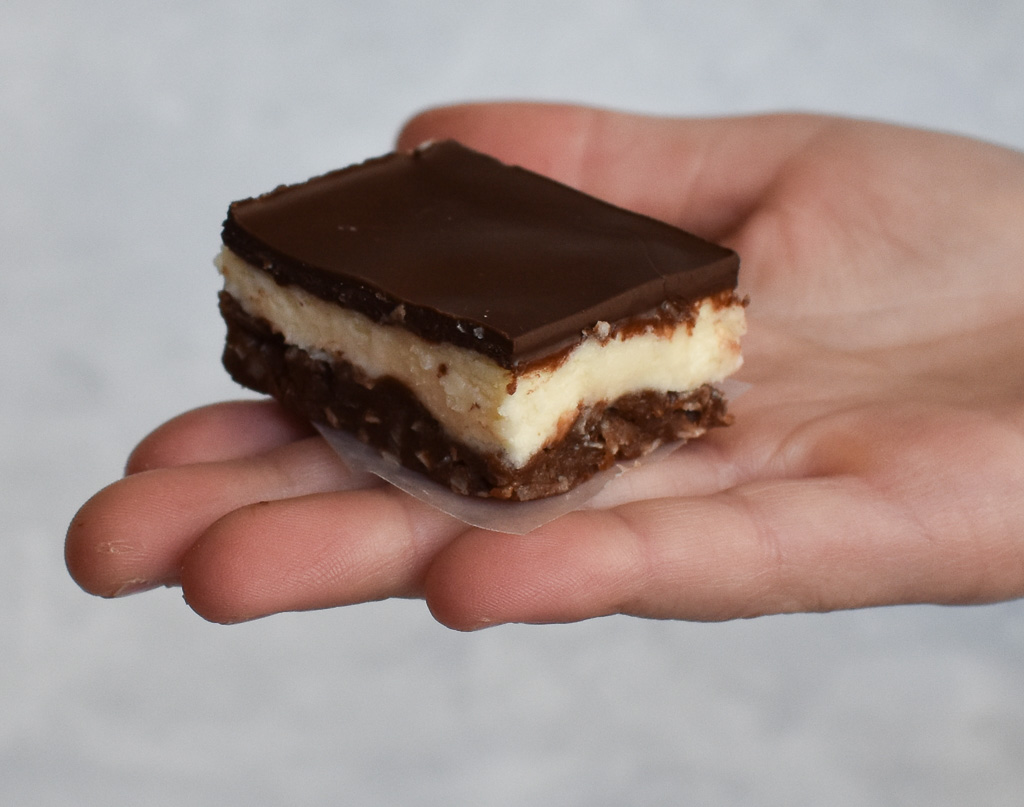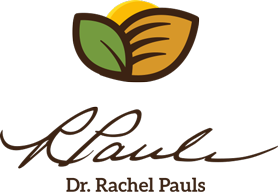 Printer Friendly Version
Comments Rating
( reviews)