Dr. Rachel's Top 11 tips and tricks for following a low-FODMAP diet (that no one ever tells you)
August 26, 2017
Printer Friendly Version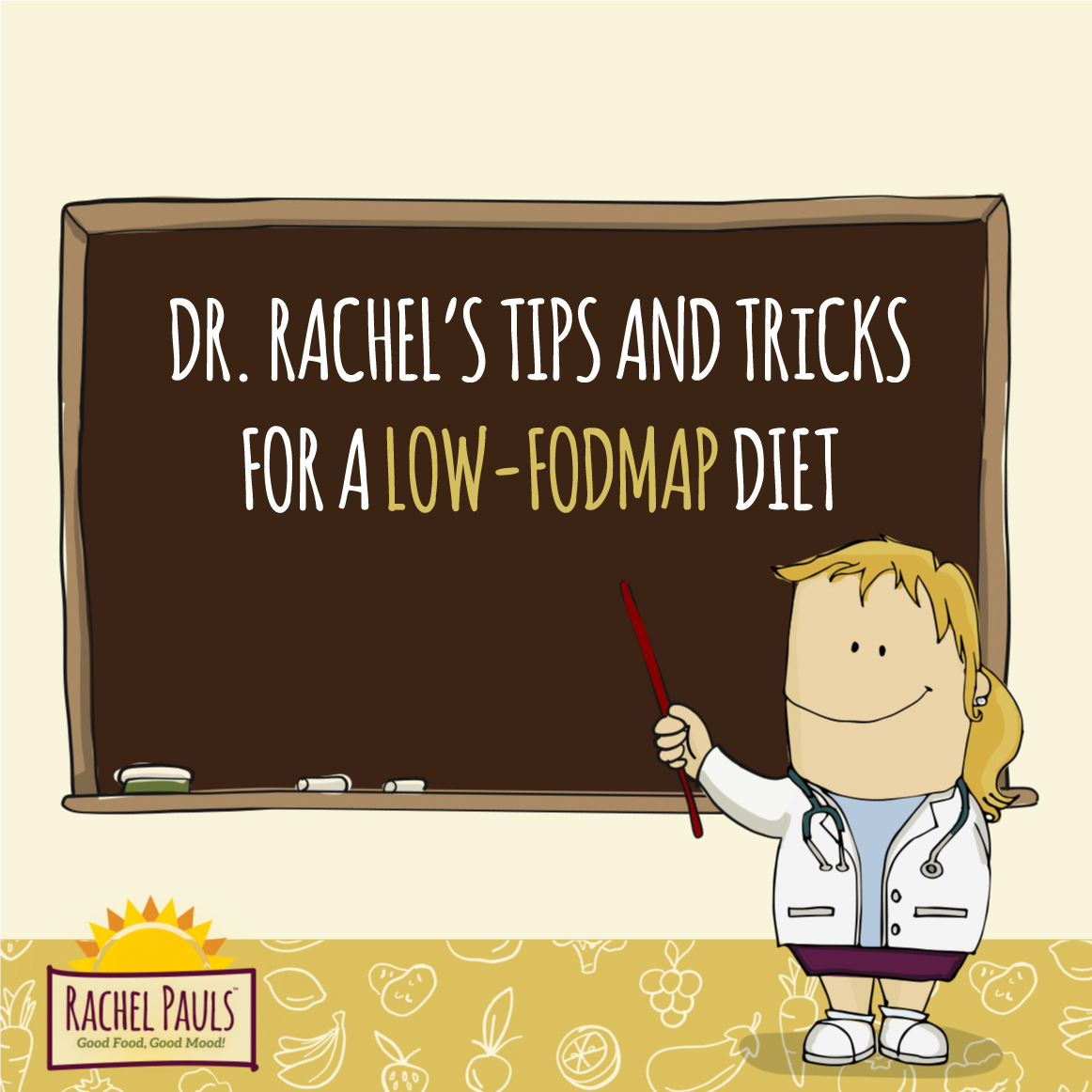 I've now been following a low-FODMAP diet for over 5 years, and there is definitely a learning curve.  Here are the top FODMAP tips and tricks I have learned about low-FODMAP eating that I wish I had known from the start.  Hope these help you on your journey to being healthy and happy!  These are my top 11 FODMAP facts.
Please take a look at our FREE downloadable FODMAP Happy Gut Guide for more tips, as well as high and low-FODMAP food lists.  Know that these lists are constantly evolving, as more and more foods are being tested.  That's a good thing 🙂
Also…Check out over 300 low FODMAP recipes right here on the blog!
Be healthy and happy,
Rachel Pauls, MD
---
Dr. Rachel's Top 11 tips and tricks for following a low-FODMAP diet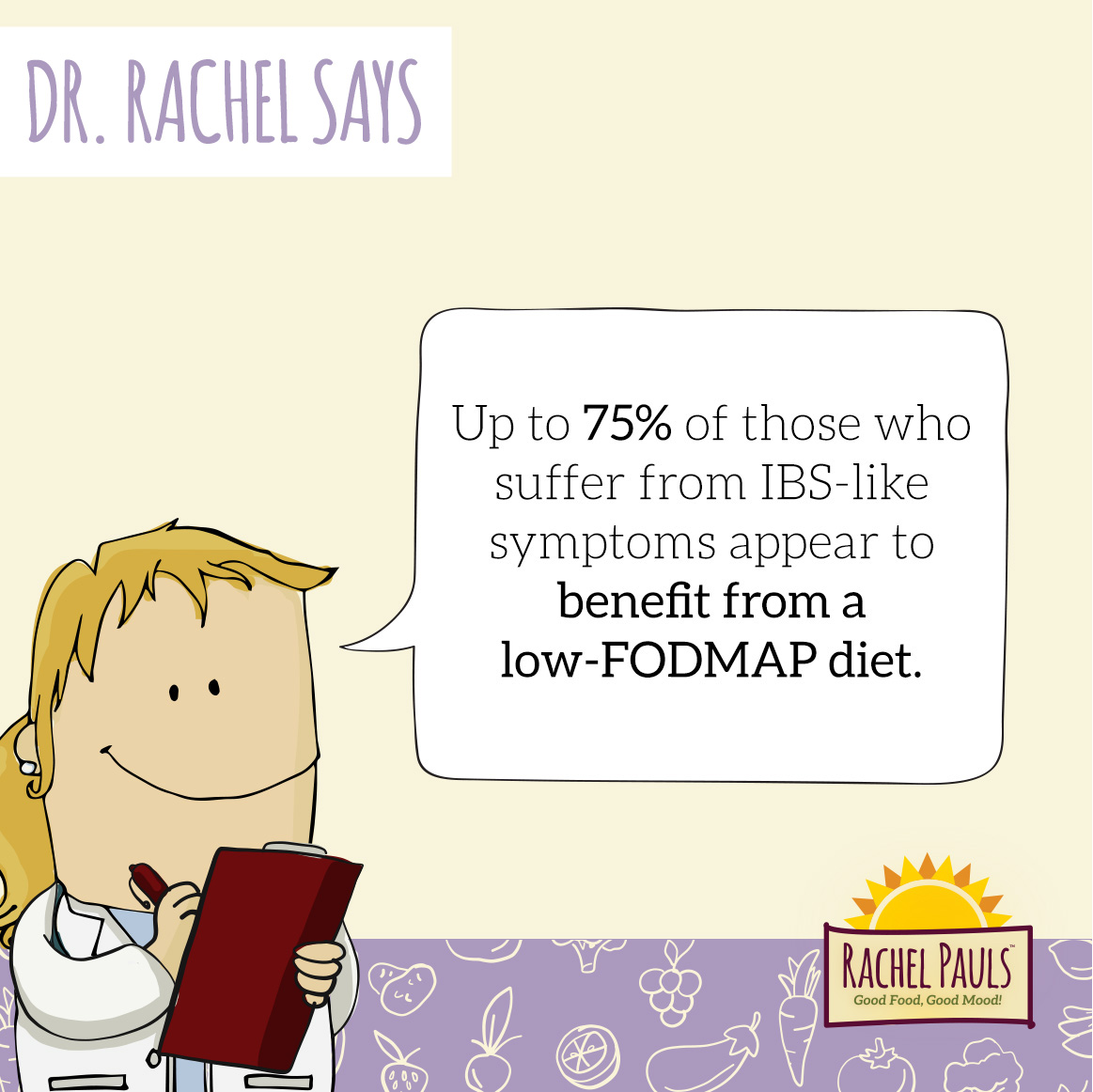 FODMAPS are water-soluble but not fat-soluble. That means, if you cook soup with onion and take the onion out, there are still onion FODMAPs in the soup. Do not eat it! It is safe to use onion-infused oils, since FODMAPS are not fat-soluble, just the taste will remain 🙂 .
High-FODMAP ingredients may have confusing names. Inulin is high-FODMAP, as is chicory root, FOS, fructose-glucose, isomalt, etc.   Carry a list of these additives (Related Post: Dr. Rachel's How to Read Low-FODMAP Labels) so you can be label-savvy.
If a product appears to have a lot more fiber than you would expect, be suspicious of hidden FODMAP additives. Example: microwave white rice that has 5 g of fiber per serving, this is likely from fiber additives and could cause you GI issues.
High fructose corn syrup is in MANY foods and condiments: frozen meals, ketchup, mayonnaise, juices, energy bars, popcorn. Read labels.  It surprises me sometimes too.
'Natural' flavors in savory soups, broths, frozen foods often contain hidden FODMAPs.  Assume these contain onion and garlic, and opt to stay away from large amounts of these additives in a meal.
Onion powder and garlic powder contain FODMAPs. Mixed spices may contain these as well (read the labels). Stick to low-FODMAP seasonings- there are abundant safe selections.  You may love my low-FODMAP Happy Spices Seasoning Blends (Taco, Steak and Italian).  Or see my low-FODMAP recipe swap blog for some great suggestions!
Beverages can contain FODMAPS. Coffee with chicory is not low-FODMAP. Chamomile, dandelion, fennel, strong black, and oolong teas are not low-FODMAP. Just because it has no net carbohydrates does not mean there are not FODMAPs in it.
'Healthy' does not mean low-FODMAP. Apples, asparagus, and agave are good for your health, but not good for IBS and IBS-like symptoms.  There are plenty of other great choices that are not likely to upset your tummy but are just as nourishing.
Lactose levels are the issue behind dairy foods for FODMAPPERS. Some dairy products are low in FODMAPs (ex: butter) since they are low in lactose.
PORTION SIZE IS THE KEY. Low-FODMAP is always in context of a portion. This can be hard, I know. For example with fruits and vegetables, it may be difficult to stick to 10 raspberries or ½ cup canteloupe. But be wise, and know how much you grab from the bowl or you could be getting too much of that product.
FODMAP fact: what you eat all day adds up- this is called 'stacking'. So be aware that if you have a bellyache after dinner, it may be related to your lunch and snack, not just what you ate for your nightly meal!
Finally – enjoy eating! Many foods are low-FODMAP that you can enjoy in abundance.  Check out over 300 low-FODMAP recipes for some great gourmet meal ideas, or grab some low-FODMAP Happy Bars and Happy Jerky for easy snacking.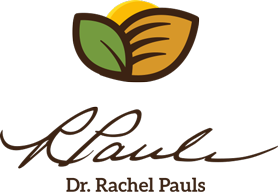 Printer Friendly Version
Comments Rating
( reviews)