Low-FODMAP Packed lunches (for school or work) made easy; Dr. Rachel's Packing List of Low-FODMAP foods on the go
May 1, 2017
Printer Friendly Version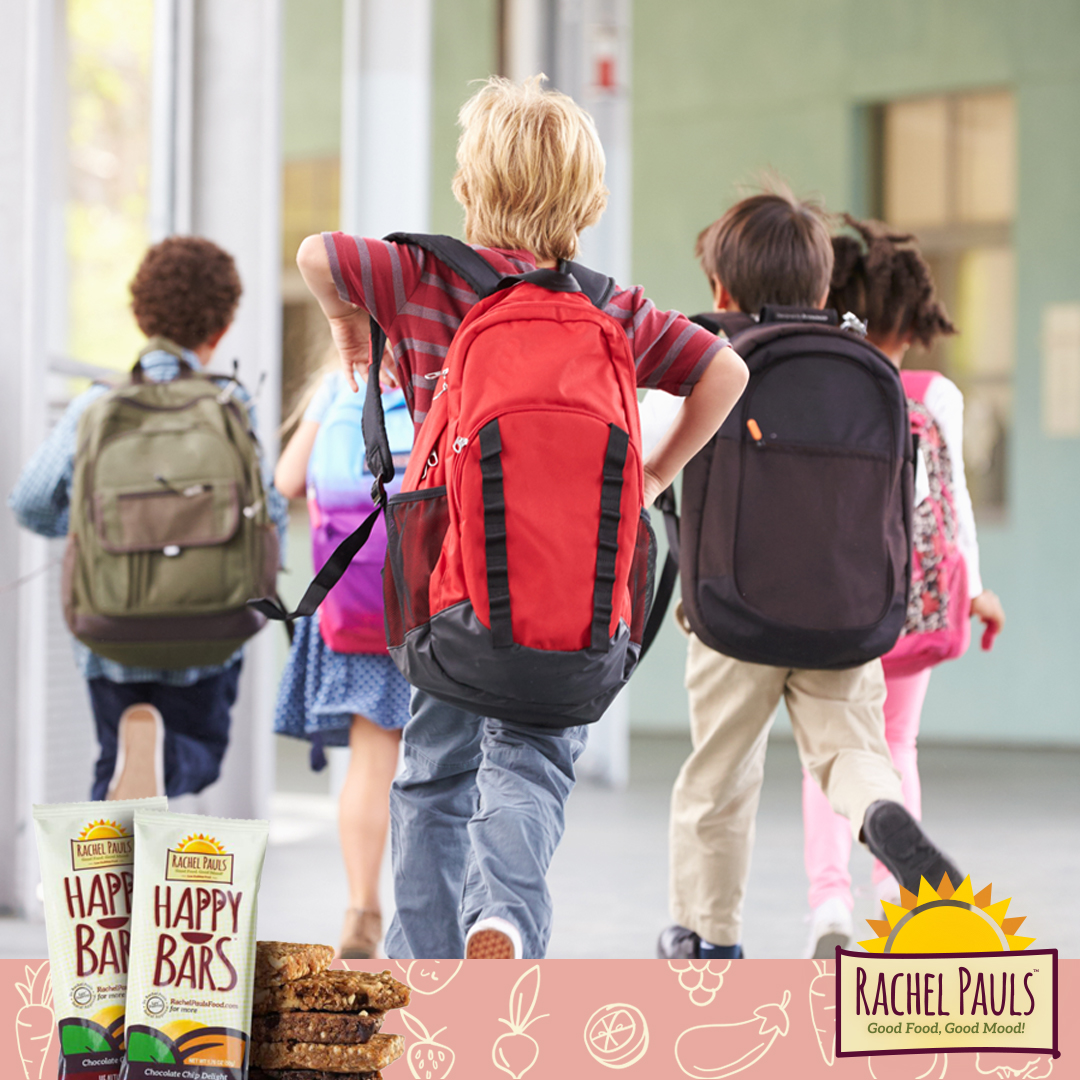 Helping your child eat low FODMAP can be challenging, particularly when it comes to school or summer-camp lunches. It needs to be both tummy-safe and tasty, so even a picky eater will enjoy it. With three fussy children of my own, I can understand how hard this may be!
Here is my list of convenient, yummy, healthy low-FODMAP packed lunch options; your go-to low-FODMAP food list for packing meals on the go.  Hopefully they help make a tough task easier, and keep your little superstar feeling healthy and happy.
But don't stop with your child's lunch…you can also use my low-FODMAP Packed Lunch list for your own briefcase or work bag.  Packing lunch for your daily routine will enable you to be more compliant with a low-FODMAP lifestyle AND eat a healthy and satisfying meal.  You may also like my low-FODMAP Salad Bar/Salad-in-a-jar blog for another awesome lunch option.
P.S. Always double-check labels to ensure no high-FODMAP additives.
P.P.S. Our  free Happy Gut Guide will provide other low-FODMAP food options and low-FODMAP food lists
Also…Check out over 500 FREE low FODMAP recipes right here on the blog!
YOU WILL LOVE MY LOW-FODMAP HAPPY BARS FOR AN EASY TO GRAB SNACK THAT TUMMIES TOLERATE!
Be healthy and happy,
Rachel Pauls, MD
P.S.  Check out my new COOKBOOK for over 100 low-FODMAP recipes, low-FODMAP Meal Plan, FODMAP Tips and everything you need!!  It's the BEST!  EVERYTHING PREPS IN 30 MINUTES OR LESS 🙂
OR MY LATEST BOOK ON REINTRODUCTION WILL GUIDE YOU THROUGH ALL THE PHASES OF THE DIET

---
Low-FODMAP Packed Meals/ Lunch Packing Made Easy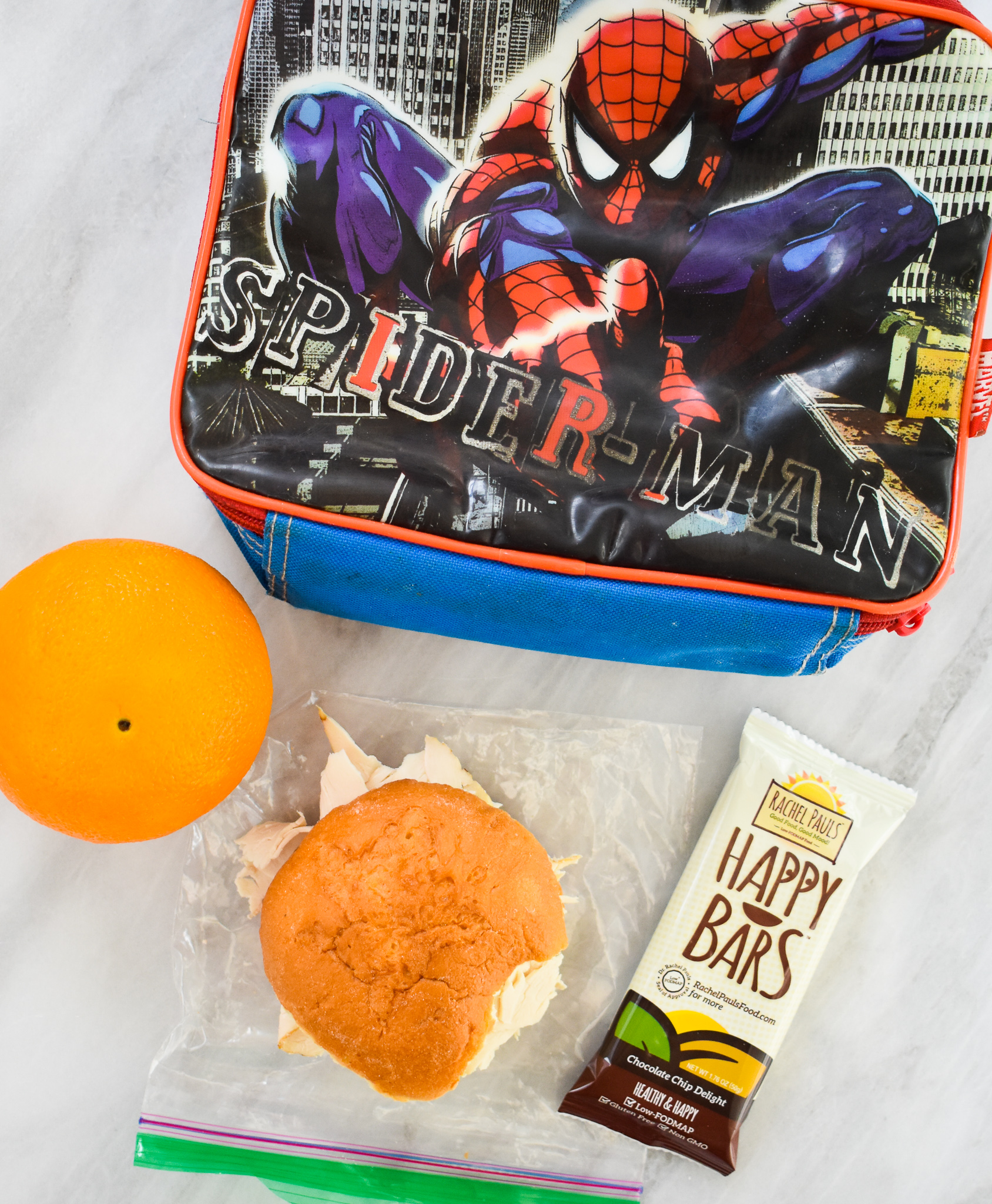 Low-FODMAP Sandwiches
Use your preferred low-FODMAP bread, I like Canyon Bakehouse™ Gluten Free Bread, or buns, or a Udi's™ Classic Hamburger Bun (the buns don't get mushy over time)
You can use low-FODMAP options of low-FODMAP tuna salad, low-FODMAP egg salad, salmon or low-FODMAP chicken salad, smoked turkey or chicken breast, a slice of cheddar, swiss or mozzarella cheese, sunflower butter/peanut butter/almond butter and 1/3 banana or a dollop of maple syrup
My low-FODMAP strawberry or raspberry coulis, low-FODMAP rhubarb jam, low-FODMAP Nutella or marmalade with no added syrups/juice extracts are low-FODMAP and may also be tolerated. For condiments, mayonnaise (make sure it does not contain high fructose corn syrup- try my low-FODMAP mayo recipe) or mustard can work well depending on the type of sandwich
Low-FODMAP Fruits & Vegetables
Good options are a single serving of oranges, bananas, raspberries, strawberries, blueberries, cantaloupe, honeydew melon, kiwi, pineapple, grapes, cucumber, tomato, carrots, cucumber or dried cranberries
Check out my low-FODMAP Salad-in-a-jar recipe blog for a more adult low-FODMAP packed lunch option, or my low-FODMAP 5 Day Meal Plan and Best low-FODMAP Lunch Recipes blog for other helpful hints
Low-FODMAP Sides for packed lunch/snacks
Low-FODMAP sides/snacks can include rice-based/gluten-free crackers (check ingredients), string cheese sticks, plain or salt & vinegar potato chips (check no added onion/garlic powder), peanuts or other mixed nuts (no cashews or pistachios), lactose-free yogurt (check no fruit juice or high fructose corn syrup), rice cakes, toasted oat cereal, popcorn, corn or tortilla chips, low-FODMAP Cinnamon Sugar Baked Banana Chips and low-FODMAP Happy Bars
Low-FODMAP Dessert/treats
A couple of Jolly Rancher candies (or other hard candies with no high fructose corn syrup or sorbitol), gluten-free chocolate or vanilla sandwich cookies (Glutino® has a delicious variety), or dark chocolate squares make a great low-FODMAP dessert
 My low-FODMAP Happy Baking mixes are short-cuts to low-FODMAP Fudgy Brownies, Chocolate and Vanilla Cakes and cupcakes
Also try some of my recipes for low-FODMAP granola, low-FODMAP No-Bake Oats and Chocolate Cookies, low-FODMAP Oatmeal Chocolate Chip energy Bites, low-FODMAP blueberry muffins, low-FODMAP banana bread, 3 ingredient low-FODMAP peanut butter cookies, low-FODMAP chewy chocolate cookies, low-FODMAP oatmeal cookies, and low-FODMAP chocolate chunk cookies, low-FODMAP brownies and low-FODMAP blondies, low-FODMAP kettle corn, low-FODMAP Chex/party-mix and low-FODMAP dessert squares for other low-FODMAP packable treats on the go!
Enjoy getting back to school!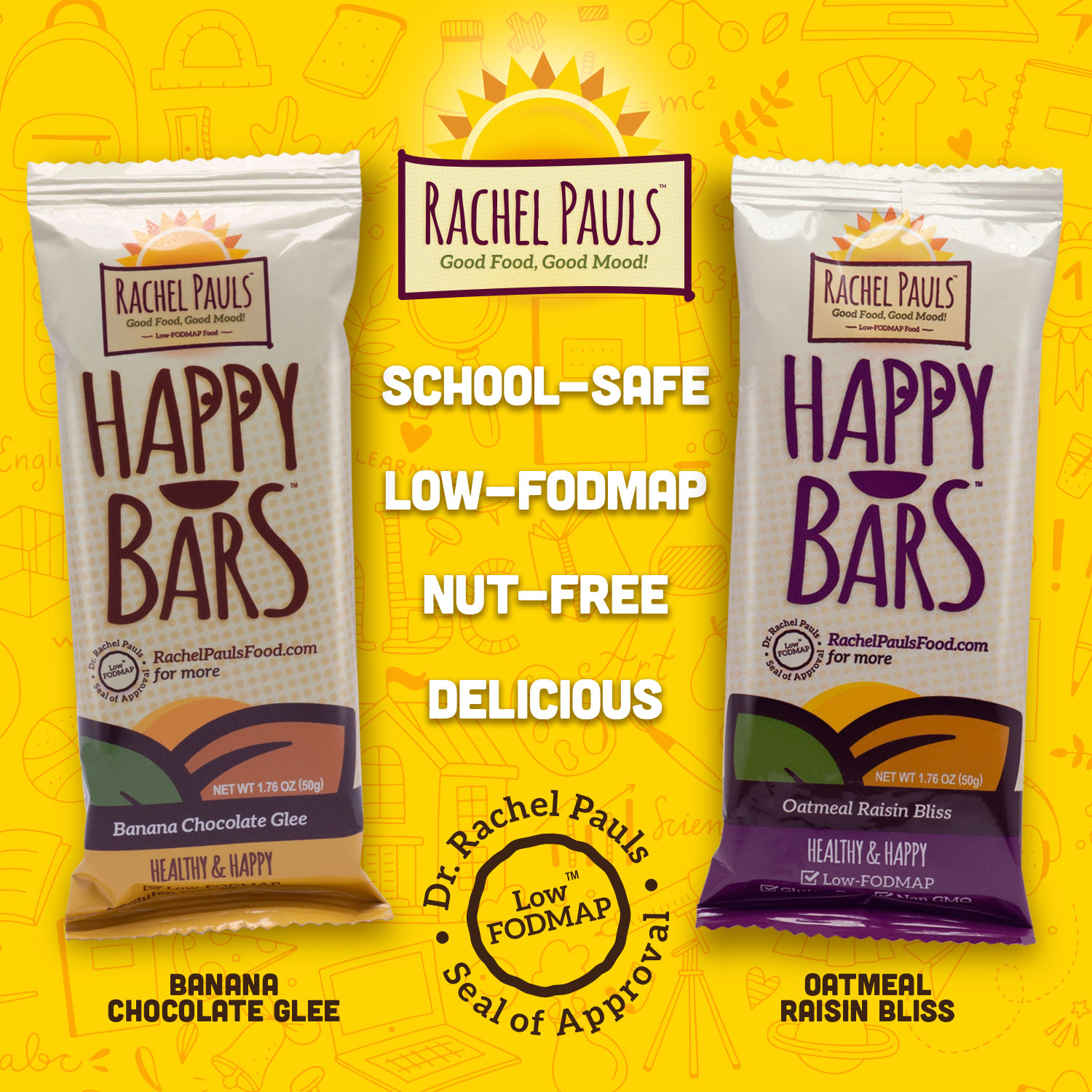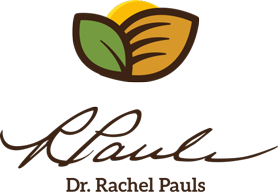 Printer Friendly Version
Comments Rating
( reviews)